Building a brand's reputation is not something you do overnight. It requires time, effort and a darn good communication plan.
But keep in mind that if you are the only one defending the quality of the products and/or services you provide, you won't get anywhere. For that, you need your customers and users to spread the good word.
In fact, when  84% of consumers trust online reviews as much as personal recommendations, it's clear that getting customer reviews is a necessity if you want your business to survive the growing competition.
In this blog post, I'll show you 4 ways to obtain more customer reviews with the help of social media.
1) Enable Reviews Whenever Possible
Businesses used to focus heavily on Google and Yelp, but with about 2.7 billion social media users worldwide, it's safe to say that social media is a gold mine for customer reviews – if you know how to do it properly.

Let's discuss how you can encourage reviews on major social media platforms.
Facebook
Facebook is perhaps the easiest platform you can get reviews from. In fact, it may actually be the only social media site where customers can leave a rating for businesses directly.

However, many businesses mistakenly disable reviews on their Facebook page for fear of encouraging negative reviews, but without any reviews at all, customers are more likely to move on to the next business. Customer rating is critical in building brand trust and authenticity, and the more Facebook stars you get, the likelier it is to make a good impression.
Instagram
It may be harder to obtain reviews through other social media platforms such as Instagram, but not impossible. There are a few ways to get feedback from your Instagram followers:
Share stories. When you know how to do it, stories can be extremely powerful in obtaining customer feedback. One awesome feature you can use in Instagram is question stickers. Adding them to your stories allows your followers to ask you a question, which provides a clue on what your customers are actually looking for. The mere process of asking and answering questions increases engagement between you and your followers. It's important to be creative with your visuals in order for your stories to get attention. Check out these apps to enhance your Instagram stories and help you compete with the major brands out there.
Conduct polls. Companies spend millions in research and surveys to know what customers want, but by simply conducting polls, you are able to collect feedback for free. This poll helped Sephora compare their products, understand current trends (thus they didn't have to waste time on products that don't appeal to the public) and help them identify their target audience: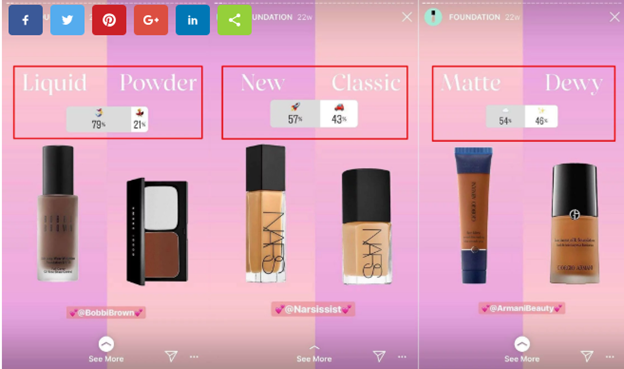 Twitter
Even if you have an account on other social media platforms, you may still want to establish your presence on Twitter due to the platform's focus on immediacy, which allows you to identify relevant discussions about your brand and discover the customer pain points that you can (hopefully) resolve quickly.
Moreover, people don't filter themselves on Twitter as much as they do on other social media sites, so you get a better picture of what your customers truly want and need.
One of the things you can do to get more positive reviews on Twitter is to automate your welcome messages and replies. Not only does automation save you time, but it helps address immediate customer concerns before they get frustrated: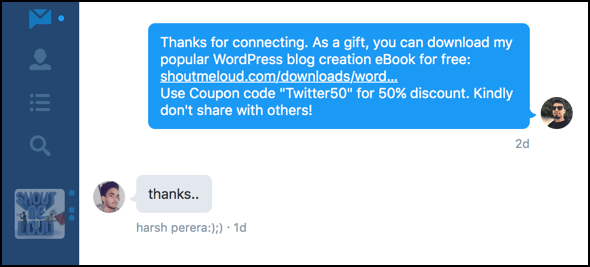 Just as with Instagram, you can also create a Twitter poll, which gives you a deeper insight of your audience's preferences. Just open a new Tweet and then click on the "poll" icon to get started: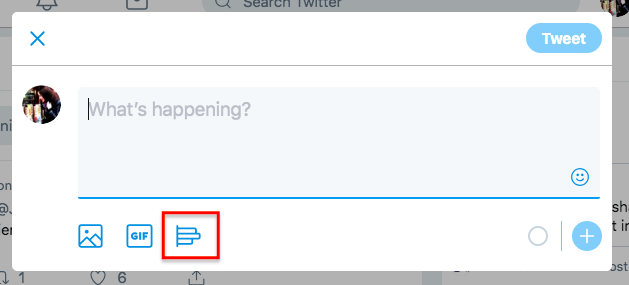 Recommended Reading:
2) Acknowledge and Respond to Reviews
It may be extremely difficult to get reviews for your business when you're just starting out. It's rare for customers to take the initiative and leave feedback after an average or a somewhat positive experience, so once they do, be sure to thank the customers that took the time to leave a review for your company.
This simple act of appreciation increases engagement and gets more people talking about your business. Moreover, other customers who see that you are responding to feedback encourages them to say what they have in mind.
This is a great example of a response to a positive review (notice that after the company responded, another person joined the conversation?):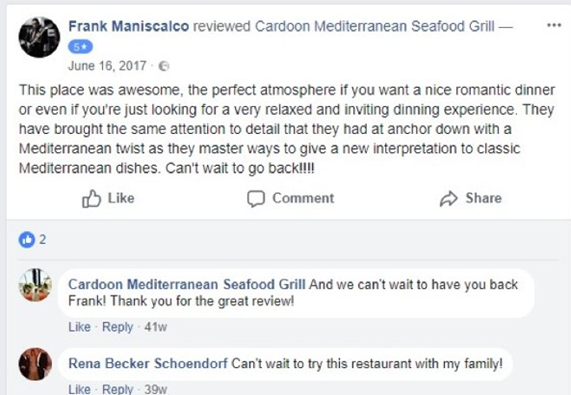 And it's not just positive feedback that you should pay attention to; negative feedback is just as important. In fact, research shows that 42% of customers who expressed their complaints on social media expect a response within 60 minutes. Ignoring complaints will only put you in a bad light.
Notice how JetBlue responded to this Tweet from a customer who was complaining of a broken TV during his flight. While it wasn't a direct review that would affect their overall business rating, responding to the issue shows their existing audience that they are open to communication and are ready to help customers with their issues: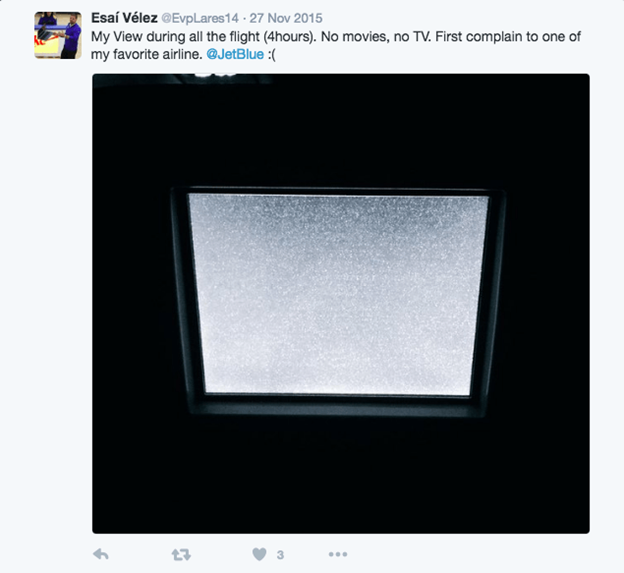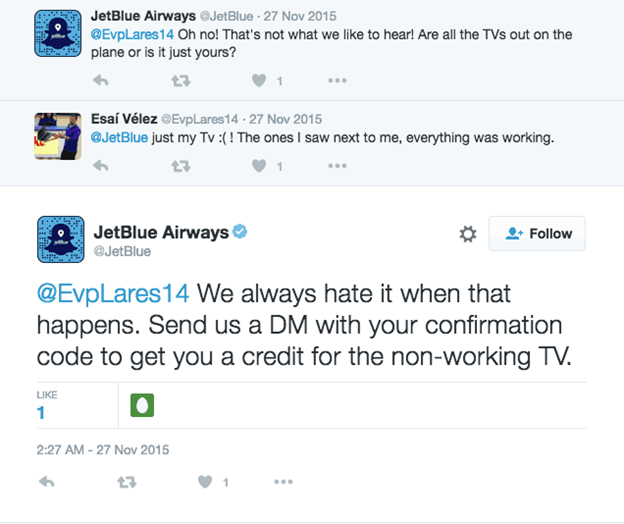 By responding to reviews on your social media pages, you're also opening up an opportunity to point your customers to your own website and third-party sites where they can talk about your products even more. Remember that you want to be as visible on as many platforms as possible, which leads us to our next point.
Recommended Reading:
3) Make It Easy to Provide a Review
Ever wonder why angry customers are more likely to leave reviews than satisfied ones? This is because leaving a review requires some effort, and quite often people will only give feedback when there's something in it for them (getting an issue solved) or if they're so frustrated that they just want to rant about a negative experience.
Acquire Reviews from Happy Customers
To encourage happy customers to leave reviews, make sure that you make the process super easy for them. Fortunately, leaving reviews on Facebook is simple enough, but if you want to encourage those customers to leave reviews on your own website or third-party sites, be sure to keep things as simple as possible. Asking them to create an account or leave lengthy feedback may just prompt them to leave.
If you do want to hear their feedback in detail, consider doing it like Lowe's. While they offer the option for customers to leave a detailed review, customers are only really required to leave their rating: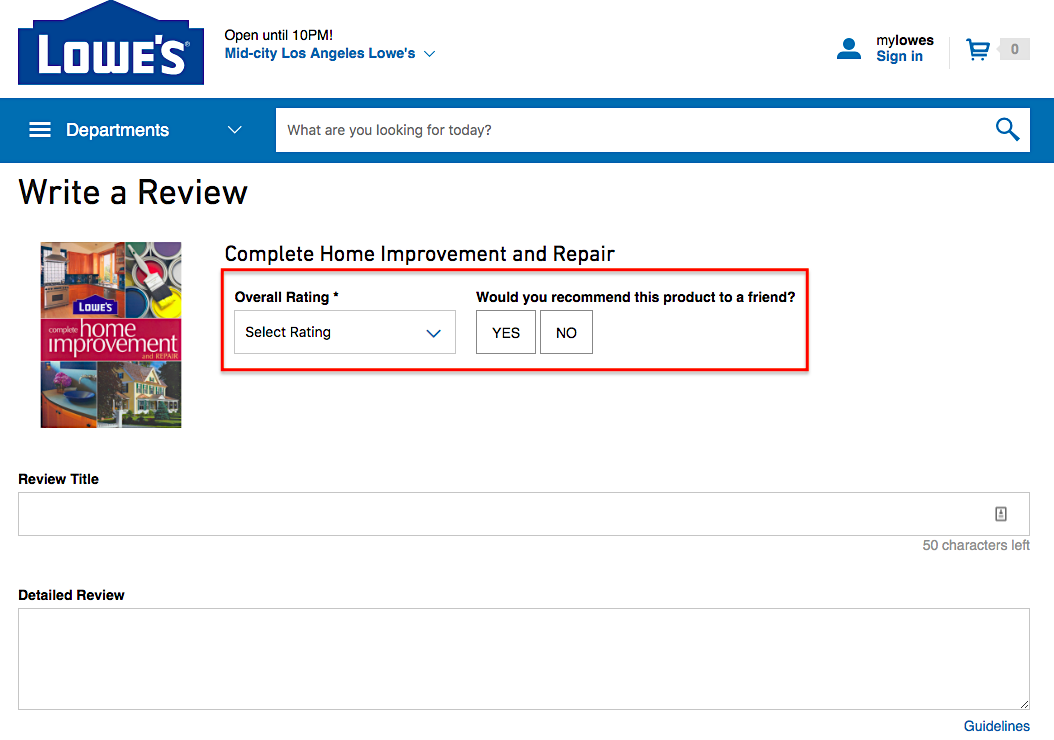 Moreover, they are given an option to enter a $300 gift card raffle simply by submitting their review. Be careful, however, about giving away rewards when asking for reviews. Notice how they did not explicitly ask for a positive review, and even opened up the possibility of leaving a negative rating:

Do Not Discount the Importance of Negative Reviews
Do not worry if you get a few negative reviews in the mix. In fact, you should resist the urge to delete negative reviews for the following reasons:
Negative reviews make your brand look authentic. Negative reviews, especially ones posted on third-party consumer sites, can help customers find out about your company and boost brand awareness. It also helps you establish legitimacy and proves to your audience that you've got nothing to hide. In fact, 95% of customers believe that purely positive reviews are either fake or manipulated.
Negative reviews help buyers make informed buying decisions. Not all negative reviews are a result of poor product or customer support performance. Sometimes, it just so happens that a product or service doesn't meet the client's needs. One review from an unsatisfied customer will not necessarily scare others away who find the product or service helpful for their specific need.
Negative reviews help companies become better. Negative reviews can help a company spot, address and improve specific issues that customers come across. For instance, this negative review about Lowe's that exists on a third-party customer complaint website shows that even the best brands can use some improvement and should listen to feedback from their customers. The fact that they keep this review online shows that they listen to and are aware of public matters: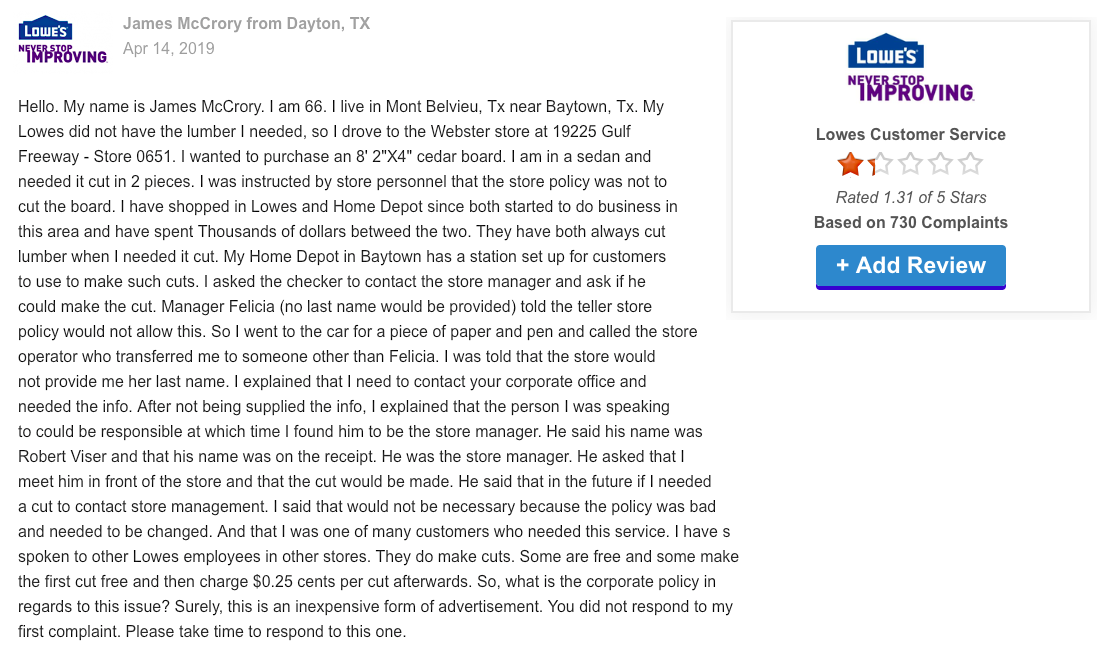 Negative reviews provide publicity and SEO. Remember that every piece of content published about your business, good or bad, means exposure. Moreover, even negative reviews can help you target long-tail keywords that your customers are searching for. Botto Bistro not only turned negative reviews around, but the company outright encourages one-star reviews in order to spark public interest by being the worst-reviewed pizzeria.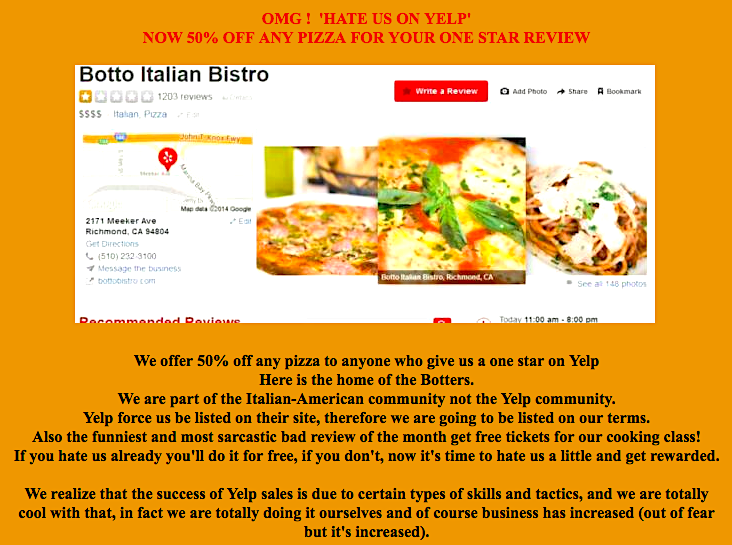 Check out their "special" Yelp menu 🙂 :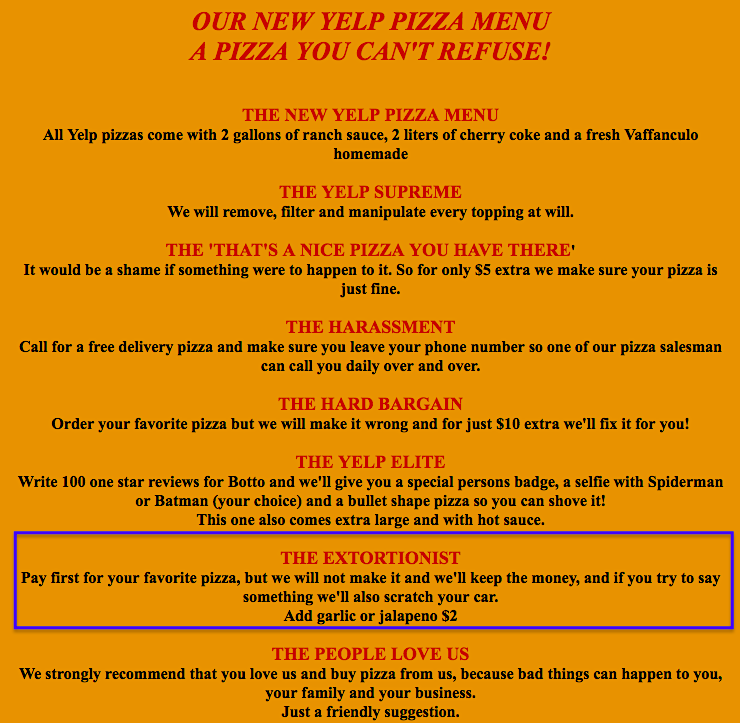 Recommended Reading:
4) Resolve Customer Complaints
While it's important to respond to positive feedback, it's even more crucial to respond to and address customer complaints, as ignoring them altogether may just push your customers away.
According to a study by PhoCusWright, 78% of people believe that observing the management respond to reviews means that they really care about their customers: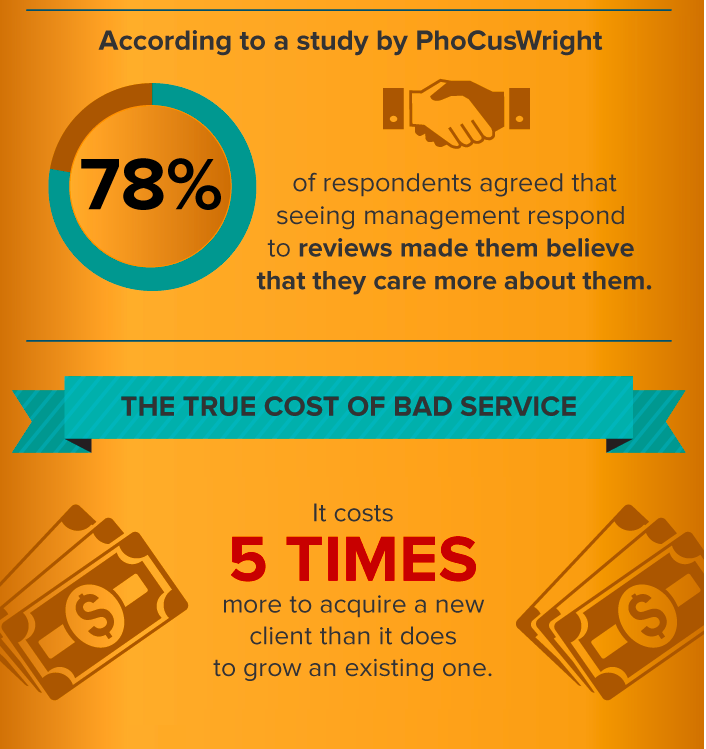 It's important to acknowledge the issue and provide a sincere apology, even if you feel you are not at fault. It's worth mentioning that not all reviews are accurate, and in some cases, it's actually the customer who's in the wrong. However, by taking the high road, you're showing your audience how dedicated you are to providing exceptional customer service.
Lastly, you'd want to take these complaints constructively and apply changes as necessary. What's the use of apologies if you're not going to do anything about your mistakes?
Forest Family Dentistry responded very well to a negative Google review thrown at them. The owner acknowledged the review, was completely apologetic, offered a resolution, and was even able to provide an explanation without sounding like they were making an excuse: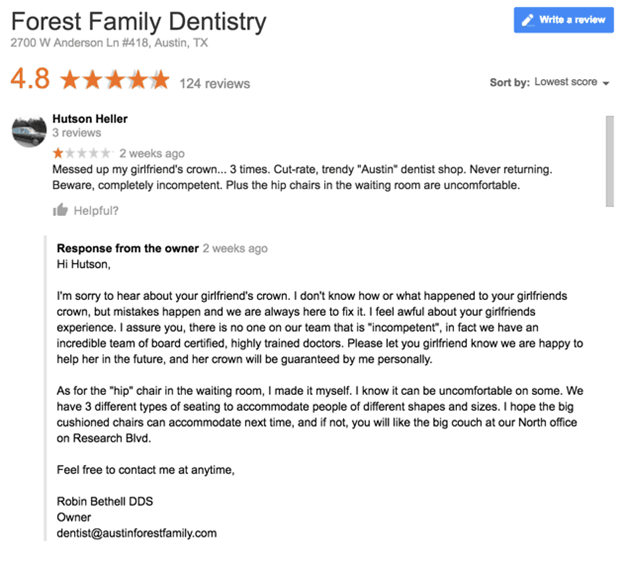 Not all customers are the same, and even if one got away unhappy, there are many more who will applaud how the team handles complaints like these.
You can even highlight the negative feedback you have on other platforms and bring them over to your social media pages. This way, you can demonstrate to your followers how you addressed the issue at hand, which portrays your business in a positive light.
Conclusion
Consumers have gotten wiser over the years, and they know better than to take your brand's word over reviews provided by real people. By leveraging the power of social media and word-of-mouth reviews, you can turn customers into advocates and be well on your way into solidifying your brand's position in the industry.