Did you miss the previous post in this local business SEO series? No worries, you can catch up right here: How to Do a Comprehensive Local SEO Audit
Positive reviews are one of the strongest persuasive triggers that can help boost sales for your local business.
In fact, 90% of customers say that online reviews played a role in their buying decision.
If you don't have online reviews of your business, or if you're not handling negative reviews in the right way, you're leaving money on the table. Reviews for local businesses don't just affect purchasing decisions — they also play a big role in determining which search results get clicked on, and how high your website ranks in search.
Combined with citations and consistent NAP information, building a database of high-quality reviews can help you generate more phone calls and visits to your physical location, which has a direct effect on your bottom line.
In this post, we'll talk about how to generate a large number of reviews and how to use negative reviews to your advantage.
But before we get into that, we have to understand the role that reviews play in your customer's decision process.
Why Reviews Are So Important in the Customer's Buying Process
Reviews and testimonials are relevant in the final stages of your marketing funnel, where customers are on the fence about buying. This is when they are evaluating your product or service against your competition, and are therefore very interested in seeing reviews and testimonials to help them make the best decision.
Studies show that 67% customers will read up to 6 reviews before forming an opinion about a particular business.
Source: Shopify
Studies also show that 90% of buyers say positive reviews impact their buying decision, while 86% say that negative reviews do. This means that the quality of online reviews makes a significant impact on buying decisions no matter which way they swing.
Reviews are also taken into account by Google when prioritizing SEO rankings.
According to Moz, these are the factors that Google takes into consideration when it comes to local SEO rankings  (in order of most significant to least significant). As you can see, review signals are represented by the red color in the pie chart at 9.8%.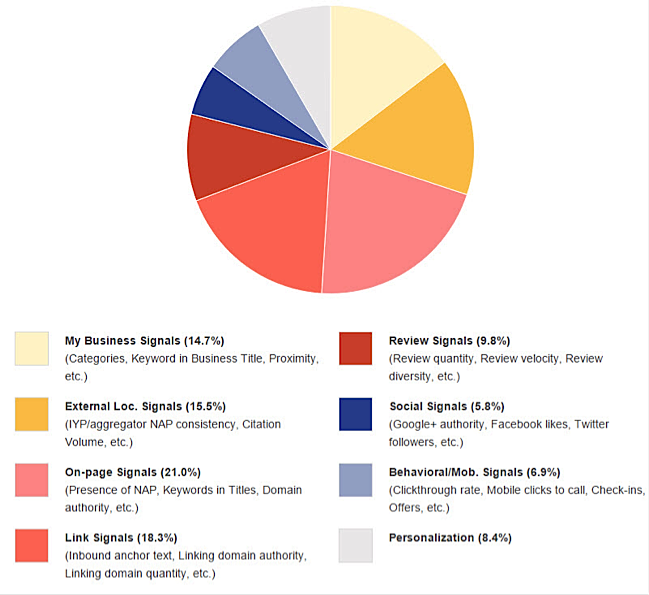 Next, let's talk about how to get more reviews for your business.
Getting Customers to Leave Positive Reviews
Google's algorithm prioritizes natural events over everything else, which means that Google looks for reviews that are posted at regular intervals from unique IP addresses.
In other words, you can't "game the system" by posting a bunch of fake positive reviews yourself. If you do, Google will catch on and penalize you in search rankings. That's why you need to craft a strategy to acquire new customer reviews organically.
There are a few guidelines to keep in mind when it comes to posting reviews on Google. Here are some of the main ones:
Avoid conflicts of interest.

Google likes honest, unbiased reviews since their main goal is to help users make an informed buying decision. If you post your own reviews to your business page, or have your employees or family members do it for you, Google will eventually catch on and penalize you.
No impersonation.

Google also doesn't like it when users impersonate others when leaving a review. It's important that reviews remain as authentic and genuine as possible.
You can check out review guidelines for other major platforms here:

Next, I'll show you som tactics you can use to gather high-quality reviews.
Use the Review Handout Generator
The Review Handout Generator is a free tool from Whitespark that's designed to help local businesses generate more reviews.
Part of the problem with gathering reviews is that customers aren't sure how to leave one. They might have been happy with your service, they might recommend you to their friends, and they might even want to leave a good review — but they don't because it's confusing to figure out where or how to do it.
There are usually multiple steps involved in the review process, and it's not as easy as it could be. That's why it's important to remove as much friction as possible for your customers.
The Review Handout Generator automatically generates an easy-to-read PDF document that you can send to your satisfied customers through e-mail, asking them to leave you a positive review. You can also give it to them in person if they visit you at your store or office location.
The process for generating the PDF is quite simple:
Choose your platform (desktop or mobile).

Enter your basic business information (business name, location, phone number, website, and logo).

Save your PDF and send it to your customers!
Here's an example of what it might look like for a desktop user: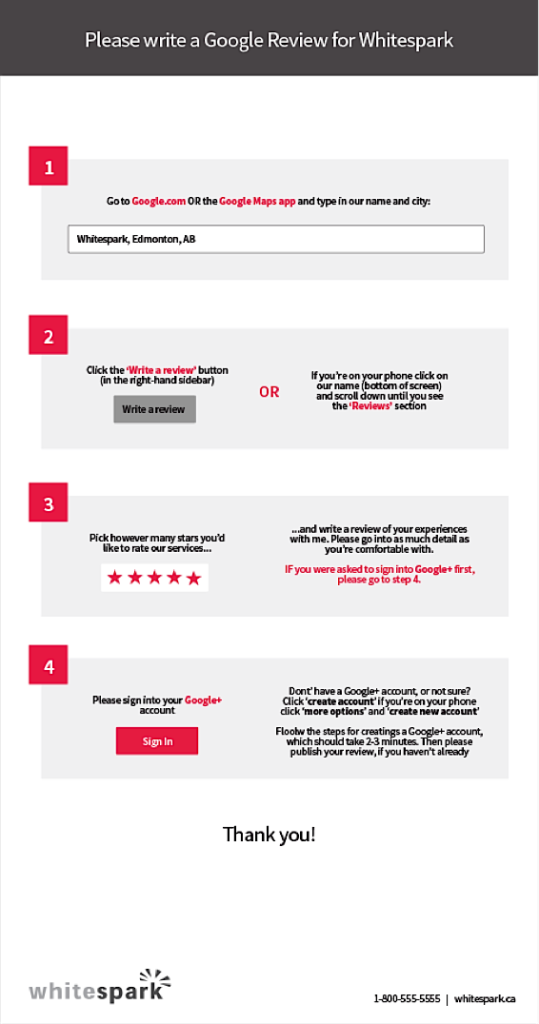 If customers are viewing the form on their desktop, it would make sense that you'd ask them to go to Google.com or Google Maps, and follow the corresponding instructions to leave a review there.
If you want to send it to a customer's mobile device, here's how the PDF would look: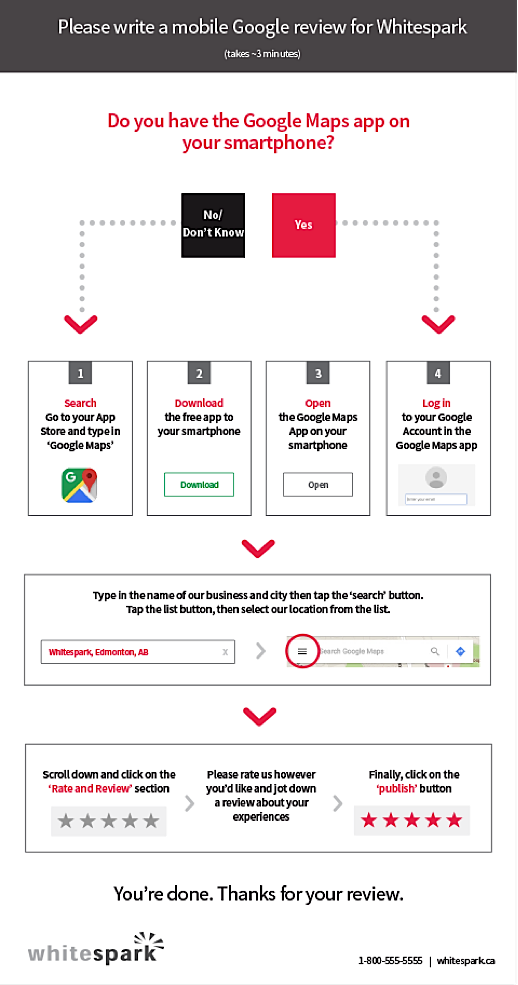 This way, your customers get clear, step-by-step instructions on how to leave a review for your business. By removing some of the friction from the review-writing process, you will increase the number of reviews you get.
Learn More: 6 Cold Email Case Studies with Great Reply Rates
Ask (for Reviews) and Ye Shall Receive!
Online reviews are the modern day word-of-mouth referral. Before, we would just tell our friends about which products and services we liked or disliked. Now, we have the option to tell the world. If you deliver high value as a business, this is great news for you.
That's why it's important to ask for referrals without being afraid.
The main reason that we're afraid to ask for referrals and testimonials from customers is because it feels completely selfish. After all, what would the person leaving the review get from recommending your company to someone else?
The truth is, asking for referrals doesn't have to be selfish. It all just depends on the way that you ask.
For example, let's say a customer tells you that she is pleased with your products, and you immediately say, "Great! Could you leave me a review? It would really help our business!"
That could be seen as selfish.
Instead, Constant Contact recommends that you word it something like this:
"Thank you. I'm so glad you're happy. I know how hard it can be to find a good [insert your product/service]. I've heard plenty of horror stories."
At this point, the customer is probably nodding her head or sharing a story from her own experience.
Then you could say, "Well, there are a lot of others out there who are having a hard time doing [problem that your product solves] and it's hard to come across good people who can help. If you could leave me an honest review about your experience working with me, I'm sure it will give others the confidence to let me help them."
Then hand them the Review Handout Generator PDF.
Just by changing the framing of your request, you've come across as helpful and sincere instead of self-centered. If you follow the second script, customers will see you as someone who doesn't want others to feel dissatisfied, so you're offering them your service (which the customer already knows is good).
And frankly, if your products or services are good, then you should try to promote yourself as much as you can so that you can help more people.
There are a variety of different ways you can ask for customers to leave you a positive review.
For one, you could ask through your e-mail newsletter.  
Your e-mail list could be a goldmine of testimonials, if you have one. After all, people who signed up for your newsletter had a good reason to do so. Maybe they found a piece of content you wrote helpful or maybe they took your advice on something and liked the results, so they decided to sign up to hear more.

In today's world where everyone gets a ton of useless e-mail every day, people are careful about who they give their e-mail address to. If they gave it to you, then chances are you've done something to earn their trust.

You could send an e-mail to your list asking something similar to the following:

"What's one thing that I've said or written about over the past year that you found to be really useful? What results have you gotten from it? Hit 'reply' to this e-mail and let me know. I read every response."

And do make sure that you read every response because you'll get a lot of great information there. When you get replies from raving fans who got some real value out of something you produced, send them the Review Handout Generator and tell them that you'd love to help others get the same results.
Related Content: 7 Emails To Add To Your Conversion Funnel (Templates Included)
How to Handle Negative Reviews
At some point, you will inevitably get a one-star review or a complaint about your business.
Of course, this isn't ideal. I showed you data earlier in this post that shows that negative reviews do impact purchase decisions in a bad way.
However, you can manage the number of negative reviews you get, as well as do "damage control" when it happens.
You can easily manage the number of negative reviews you get for your business by filtering who you allow to leave a review. For example, if a customer is dissatisfied, then they will want their voice to be heard in some way. They'll want to vent.
In fact, an unhappy customer will tell up to 15 people about their negative experience, and they might write a review on your page as well.
You can avoid this by giving your customers a safe space to voice their complaints, without having to tell the whole world about it. Before asking customers for reviews, it's good to ask them to rate their experience on a scale of 1 to 10, or fill out a feedback form.
This will allow you to quickly tell whether a customer is satisfied or unsatisfied. If they're satisfied, you can ask them to leave a review. If not, you can get on a phone call with them or ask them for additional feedback on how you could improve.
This way, you're giving them a place to talk about their dissatisfactions without having it cost you money.
Many software products (especially apps that ask for ratings on the app store) take a similar approach.
For example, WhatsApp asks users to rate the quality of their call once they hang up the phone.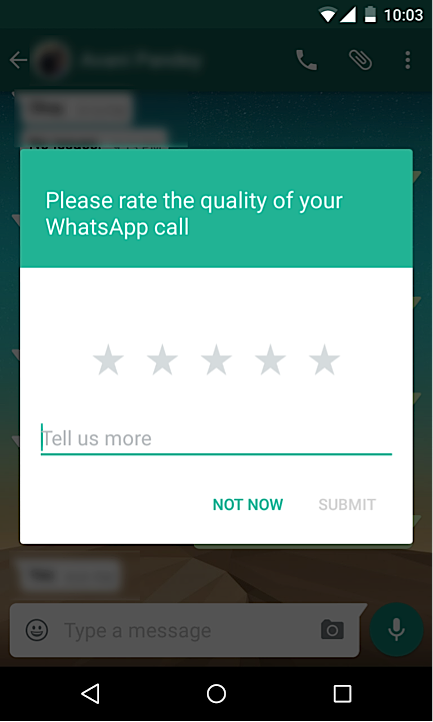 If users rate five stars, then they're presented with a link to rate WhatsApp on the app store.
If users give a low rating, then they're presented with the option to tell WhatsApp about it directly.
You could do the same with your business to source more positive reviews while minimizing the negative ones.
But what if you already got a bad review on your Google page? How do you handle it properly?
According to HelpScout, the best way to handle complaints is through the CARP method (originally authored by Robert Bacal in If it Wasn't for the Customers I'd Really Like this Job). CARP Stands for Control, Acknowledge, Refocus, and Problem solve.
When you get a negative review, first take control of the situation by responding to it directly and addressing the customer's questions, instead of allowing the negative review to dissuade future customers.
Then acknowledge the emotions they're feeling and their dissatisfaction. Show in your comment that you understand what they're going through and the problem they faced.
After that, quickly refocus on what you can do to address their problem, and help them solve it. Is there some sort of bonus you could give? Is there someone else you could recommend to help them? What can you do to repair the relationship?
The goals here are twofold: first you want to try and repair the relationship with your dissatisfied customer, and then you want to show the public that you're capable of handling unhappy customers in an effective and professional way. This is how to minimize the damage of a negative review.
Read More: Here's How Targeting Cold, Warm & Hot Traffic Builds Successful Customer Relationships
Conclusion
Online reviews are something that your customers are paying attention to, and that means that you should pay attention to them, too.
By reducing the friction that satisfied customers have to go through to leave a positive review, limiting the number of negative reviews you get by giving them a safe place to vent, and handling dissatisfied customers in the right way, you can take control of what people say about you online and use it to your advantage.
How will you source more positive reviews for your business? Tell us in the comments!