The Future of SEO: How AI and Machine Learning Will Impact Content
Artificial intelligence development and its impact on different industries have been all the rage in the last year.
The digital marketing medium is facing years of fundamental strategic changes due to revolutionary new intelligent technologies. It shouldn't be difficult, however, as this dynamic medium has already been able to effectively adapt to new changes like the rise of social media, SEO, and content marketing throughout its 15-year existence.
SEO has gone through many transformations over the years, starting from the simple optimization of landing pages on a desktop computer to a more complex and ever-adapting process of enhancing existing content and creating new engaging content that meets its target user on various platforms and gadgets.
While its basic tools remain the same – keyword-consistent content, links buying and optimization of meta tags – SEO also includes in its strategy factors like mobile search, user experience, and social media marketing.
Today there are a number of new elements that need to be rethought, or as Adam Audette, Chief Knowledge Officer of RKG puts it:
"The days of SEO being a game outsmarting algorithms are over. Today content strategy and valuable, sustainable strategies are essential, not just tricks and links."
SEO specialists started freaking out when in 2016 Google introduced RankBrain, "a machine-learning algorithm that identifies patterns and buckets data" that processes search results, and then completely lost it when it was revealed that this new system analyzes all Google searches, making it the third-most important ranking factor.
Since the beginning of the year, a lot of theories have emerged about the forthcoming shifts in SEO strategy, so we've summed up the most talked about topics in this article.
Here is how new technologies will influence the future of SEO and what search marketers can do to include them in their strategy and stay on top of the game.
Learn More: How to Write Content for People and Optimize It for Google
The Changing Waves of Ranking
It's no secret that Google's main focus is the user. From penalty systems to semantics-savvy AI, all efforts of betterment have been dedicated to improving the relevance of content for the searcher.
Google's one-year-old game-changing algorithm RankBrain was introduced to augment Hummingbird by interpreting the context of the content and showing users pages that do not include the words they initially looked for, but which contain information related to the idea, domain or category of the query.

Of the 3 billion searches that Google processes each day, 15% of them had never been seen before. As of 2016, RankBrain is being used to process each one of them, so it has at its disposal extended resources to learn how to investigate all types of inquiries, including rare ones.
Though Google's webmaster trends analyst Gary IIIyes informed the industry at last year's SMXAdvanced conference that optimization for RankBrain is not possible, SEO marketers tried to understand the dynamics of this algorithm and develop dedicated techniques. Of course, artificial intelligence means that the system acquires information without being programmed – by using machine learning – so we can't really know what the final result will be.
Advice regarding adaptation varies a lot. For example, Due founder John Rampton says that getting inspired by authority sites in terms of structure and content can influence RankBrain to evaluate it as professional, while WordStream founder Larry Kim argues that sites with strong domains will come down from top rankings if they feature links to poor quality content.
Writing featured snippets and conversational content is the trending advice for ranking high.
Click To Tweet
We can peek into the future by checking Google's research site, where we find that:
"Recent research interests of the Google Natural Language Understanding Team team include syntax, discourse, conversation, multilingual modeling, sentiment analysis, question answering, summarization, and generally building better learners using labeled and unlabeled data, state-of-the-art modeling, and indirect supervision."
Google is trying to make Hummingbird complex enough to understand not only semantics but also concepts and even feelings. The general conclusion from specialists about how AI will affect SEO is that, as has already been acknowledged in recent years, relevance, quality, and value of content will prevail. This means that:
Marketers will have to expand from keyword-based content to concept-related content.
Click To Tweet
Search engine marketers can try finding out for themselves what the impact of RankBrain is by paying even more attention to SERPs and questioning every traditional SEO technique previously applied. They can collect data like common keywords or phrases that predominate titles, the sources of links on top-listed pages, and even the age of the best-performing pages.
These observations will provide some minimal knowledge about what set of ranking factors are favored by AI for a given subject.
Learn More: 22 Potential Reasons Why Your Organic Traffic Recently Dropped
User Experience Is the Belle of the Ball
Search engines are intuitive and they take into consideration user engagement and linking patterns when assessing a site. User experience has been a top priority for Google for some time now and to make things as smooth as possible, there have been many algorithm updates with different functions:
Pigeon improved local searches
Top Heavy helped avoid pages with bulky ads
Mobile Friendly gave a priority listing boost to mobile-friendly pages
Last year, two real-time penalty tools were integrated:
These two show the importance of spam fighting in Google's policy. When paired up with RankBrain, these features assure a diminution of poor-quality backlinks and content.
Of course, better user experience also implies getting to know a targeted audience and how that audience interacts with the Internet in order to offer an engaging experience. As Debra Mastaler, President of Alliance-Link, said:
"Since people tend to share links that affect them emotionally, it's more important than ever to understand the demographic you're selling to." 
The first solution for enhanced user engagement is to boost the functionality of the website, making it easily navigated and accessible on many browsers and devices. Then comes the consistency of links on the website.
In a Nutshell
Here are some simple link-building fixes:

Limit linking to sites that target the same niche
Build backlinks to reputable sites
Favor linking to authority sites, like scientific publications and well-known news journals
Identify influencers and build relationships that give you linking opportunities to their websites and social media platforms
The Big Bad Data
Five years ago, Google launched The Knowledge Graph, which brings together Wikipedia, Wikidata and CIA World Factbook in an attempt to put together all big information sources and make them accessible from a single platform. But it doesn't just store data; it also makes connections that can impact brands.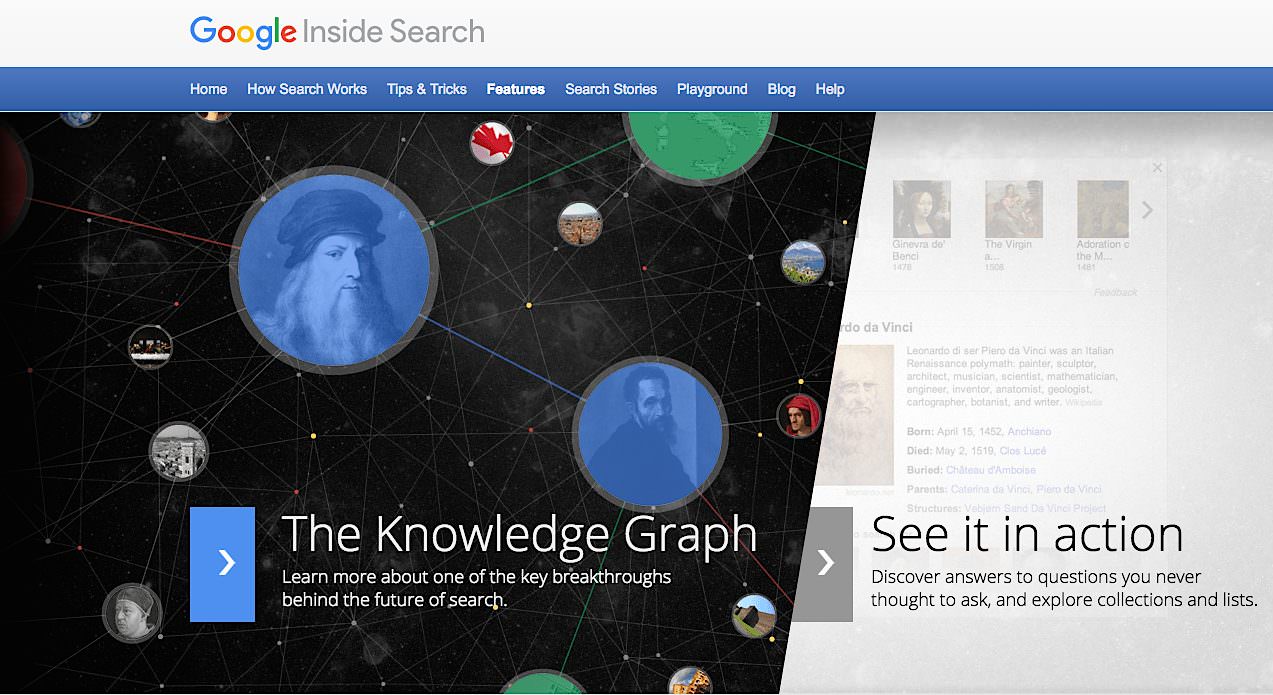 The common formats of The Knowledge Graph are knowledge panels in the form of sidebars that users already expect to see in order to find quick answers: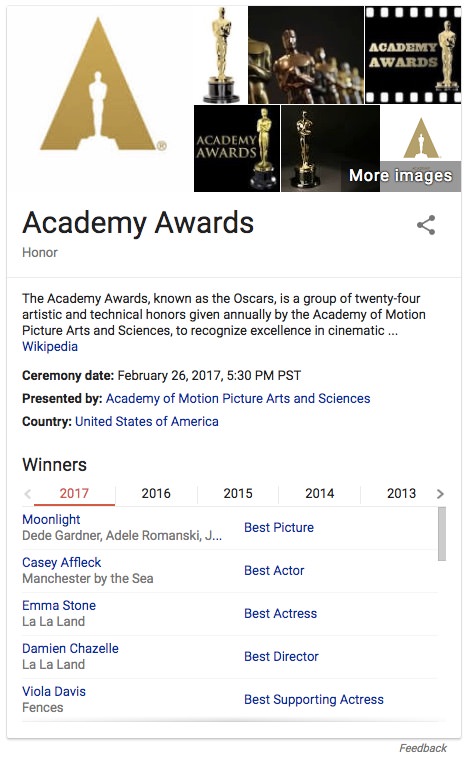 This means that marketers have to influence The Knowledge Graph so that people can find professional up-to-date information on the first search.
In order to control this information, official representatives of companies can suggest changes, but modifications have to go through a validation process, which means that Google will scan the web in search of data about a company.
In a Nutshell
All brand accounts have to contain the same information: Wikipedia Page, Wikidata platform, Google Plus account. Include social media accounts in the description so they will also be displayed on the dedicated sidebar.
Age of the Mobile
These days, mobile search has significantly overtaken desktop search, with 86% of Americans spending their online time using smartphone apps.
As a response to Facebook's Instant Articles, Google introduced accelerated mobile pages (AMP) to enhance mobile loading of search results pages. They upgraded it in May, making pages load twice as fast and ensuring that display ads are seen.
Apple is also catching up and has launched its own Search Ads platform, which was enthusiastically expected by SEO marketers, as Apple has over 2 million apps available monthly in its store. According to Adweek, Apple Search Ads had a promising start, with 50% conversion rates.
In a Nutshell
AMP will likely be the next targeted improvement to be included in the algorithm after Mobile Search and considering that 44% of the world's population will own smartphones by the end of the year, it will probably happen soon. Most big name brands already own AMPs, so it will soon be added to the list of necessary UX advancements.
Related Content: Using Google AMP to Boost Site Speed and Mobile Optimization
The Voice of SEO
The 2013 sci-fi film "Her" is about a lonely writer who falls in love with his virtual voice assistant that is so well-developed it gives him the illusion of a romance.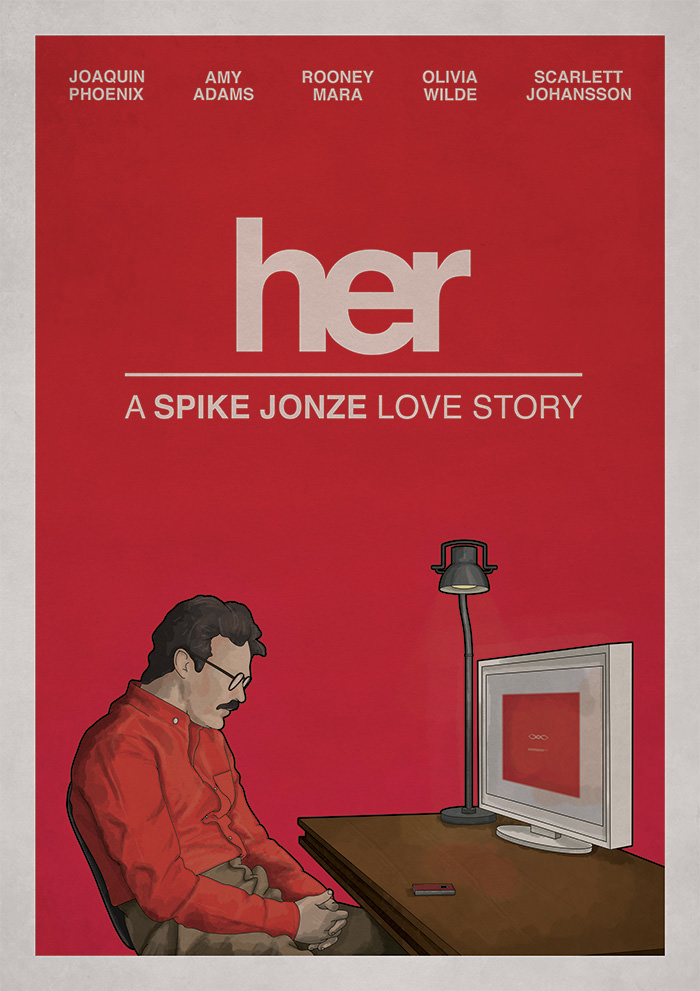 While technology is not yet that advanced, there are a considerable number of available virtual assistants – Cortana, Siri, Google Now, Alexa – that can perform a variety of tasks:
These virtual assistants can answer simple questions, send a dictated e-mail, read the news, set a timer, provide directions for a destination or search for a nearby restaurant. They will continue to be part of an ascending trend, especially because of their utility while driving, but also because they can be incorporated into other cutting-edge technologies like smart homes.
This element re-confirms the necessity of focusing on versatile conversational and user-oriented content that can be easily be understood by AI algorithms and listed in top pages.
In a Nutshell
Talking to virtual assistants makes voice searches conversational, so SEO experts should make use of this opportunity to find out more about their audience and then come up with voice search optimization strategies.
Don't Underestimate the Power of Video
Search engines are becoming smarter and will soon decipher audiovisual language entirely. According to Kleiner Perkins, 74% of Internet traffic will consist of videos this year.
Animoto's Social Video Forecast states that more than 60% of business owners and marketing specialists planned to increase video marketing spendings in 2017.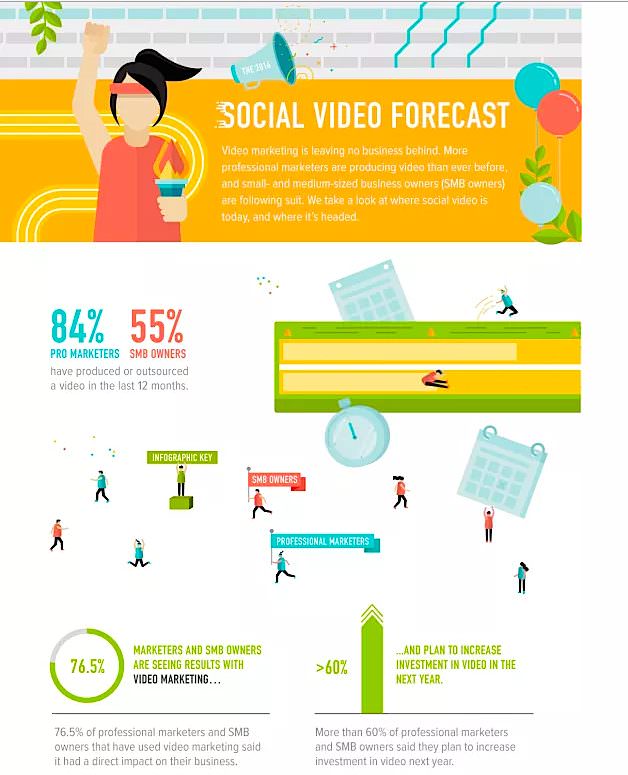 The rise of video will make SEO marketers focus even more on visual content, but it will also force artists to create video with optimization in mind. In fact, it will probably give life to a new category of videographers who will specialize in SEO content, just as it happened with writers.
Social media specialists are already paving the way for this, with video sharing and live transmission increasing in popularity on different platforms.
Facebook was successful with its Live option, Instagram constantly comes up with updates on video customization, and even Twitter allows video posting, but the platform to trust is YouTube, because it is entirely video oriented so it provides long-term engagement, unlike the other more diversified platforms.
Marketers have already adopted SEO YouTube optimization techniques, but the possibilities will diversify as new technologies become even more engaging and accessible for individual users. There is already footage available for 360̊ videos and VR technology is captivating audiences worldwide.
In a Nutshell
Optimize for YouTube by focusing on keywords. The most simple and effective strategy is to include the main keyword in the filename, the title of videos and playlists, and the descriptions and tags.
Learn More: The Complete Guide to YouTube SEO
The Reality of Using Virtual Reality
Virtual reality offers a exciting journey that can be experienced in the comfort of one's home, while allowing marketers to optimize content that is truly memorable.
Although owning a VR system has not yet become as popular as owning a TV, it has been a sensation at special events where companies like Samsung, Phillip Morris, and Volvo have managed to impress audiences with thrilling moments (check out these "11 instances where corporate brands used VR to influence their audience effectively and make an impact.")
The video gaming industry is already ahead of the VR market, but other industries could pick up the pace.
This new entertaining technology has made the headlines of tech news and will continue to be a preferred topic in 2017. Social media is starting to adapt, like Facebook which now features live 360 videos. Other platforms will follow, but the most important aspect is that every new VR attempt can grab the attention of bloggers, media influencers, tech verticals, and marketing authority sites.
This is the year to make a bold move towards VR content and get ahead of the curve.
Click To Tweet
The fuss around VR will provide marketers with a consistent network of partners to link to.
In a Nutshell
VR and 360-degree videos can be filmed, distributed and optimized with various Google tools, such as Cardboard Camera, VR View and Street View. The content can be shared on various platforms, including WordPress and social media such as Facebook.
The VR View plugin allows virtual reality videos to be embedded on a webpage and played by users without the need for a specific headset. Moreover, content produced with the help of Samsung or Ricoh Theta is also listed in organic search results.
Final Thoughts
All things considered, SEO will become more resourceful in the upcoming years, but also more complex, forcing marketers to develop more elaborate strategies that bring more types of content, devices, and tools into the equation.
But no matter which combination of elements you use, the focus should stay on the user and their needs, as machine learning and artificial intelligence technology will transform ranking factors that can better reflect the needs and expectations of searchers.
At the end of the day, as Adam Audette said: "Content is anything that creates a compelling experience. But it's so much more because you quickly realize that you can't really know which content types to create until you understand which content types people want."