The Future of SEO: How AI and Machine Learning Will Impact Content
Artificial intelligence and its impact on different industries have been a hot topic of discussion for the past few years, and with good reason.
The digital marketing space is facing fundamental strategic changes due to revolutionary new intelligent technologies. It shouldn't be difficult, however, as this dynamic industry has already been effective at adapting to new changes in technology as regards to social media, SEO and content marketing.
Search engine optimization has gone through many transformations over the years, from the simple optimization of landing pages on a desktop computer to the more complex process of creating engaging content that meets its target users on various platforms and devices.
While its basic tools remain the same — keyword-consistent content, link-building and optimization of meta tags — SEO also includes in its strategy factors like mobile search, user experience and social media marketing.
In the past few years, a lot of theories have emerged about the forthcoming shifts in SEO strategy, so we've summed up the most talked about topics in this article.
Here is how AI and machine learning will influence the future of SEO and what search marketers can do to include these new(ish) technologies in their strategy and stay on top of the game.
Important Factors in the Ranking Algorithm
Google's main focus is the user. From penalty systems to semantics-savvy AI, all efforts of betterment have been dedicated to improving the relevance of content for the searcher.
SEO specialists started freaking out a few years ago when Google introduced RankBrain, "a machine learning-based search algorithm that helps Google process search results."
And then they really lost it when it was revealed that this algorithm is "the third most important factor in the ranking algorithm along with links and content," because this means that marketers can no longer use "old methods of gaming the rankings with false signals." Now, only the highest-quality content will get the top ranking in Google's SERPs.
RankBrain was introduced to augment Google's Hummingbird algorithm update by helping it interpret the overall context of search queries and showing users pages that do not necessarily include the words they typed, but that contain information related to the idea, domain or even location of the query. For instance, "boot" means footwear in North America, but trunk of the car in the UK.
How the algorithm works — and the best way to optimize for it — has been hotly debated for years. Google's position is that it can't be optimized for. In a Reddit AMA in early 2019, Google's webmaster trends analyst Gary Illyes explained RankBrain like this:
"RankBrain is a PR-sexy, machine-learning ranking component that uses historical search data to predict what would a user most likely click on for a previously unseen query."
Google's most recent algorithm update, BERT, takes that idea a step further by trying to understand the intent of the searcher and focusing on concepts, rather than keywords. For example: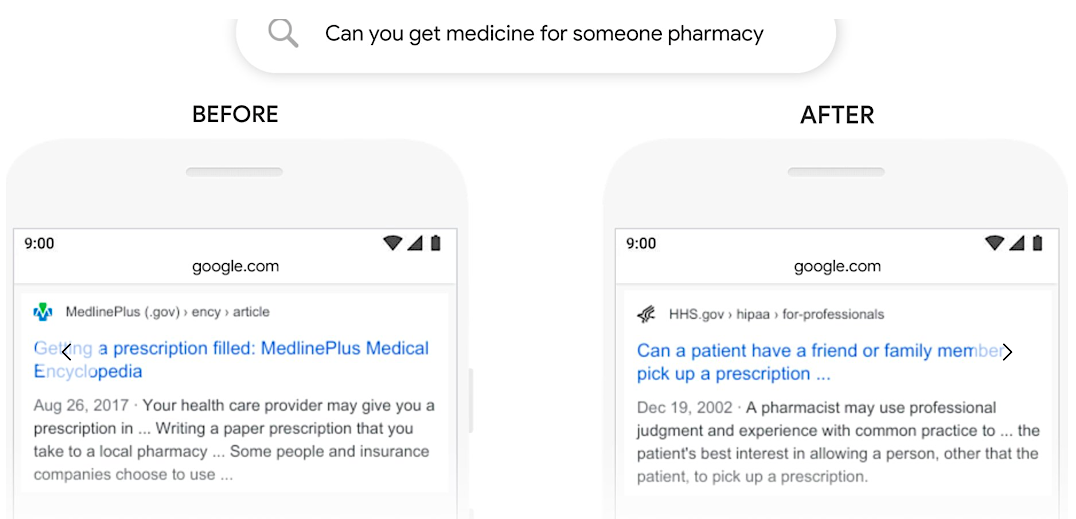 If a searcher asked whether you could pick up a prescription for someone else before BERT, the top answer would be one that didn't answer the question; or rather, answered it in a general way. Now, it has a better understanding of the concept the user is searching for, which in this case includes the words "for someone".
How these expanding AI technologies will impact SEO is basically a continuation of a trend that's been happening in search rankings for years — a focus on relevance, quality and value of content.
As machines get better at figuring out which results to match with each search query, marketers need to get better at creating content that helps this — i.e. that users really want to read.
Search engine marketers can find out for themselves what the impact of RankBrain and BERT is by paying even more attention to the SERPs and questioning every traditional SEO technique previously applied. They can collect data like common keywords or phrases that predominate titles, the sources of links on top-listed pages, and the age of the best-performing pages.
These observations will provide knowledge about what set of ranking factors are favored by AI for a given subject, so you can optimize for it.
Related Content:
User Experience Is Top Priority for Ranking
Search engines have become more intuitive, taking into consideration user engagement and linking patterns when assessing a site. User experience has been a top priority for Google for some time now.
According to Backlinko's Google RankBrain: The Definitive Guide, Google looks at four main user experience signals:
Organic Click-through Rate: The number of users who click on a given search result.
Dwell Time: How long a user spends on your site.
Bounce Rate: How many users leave your website immediately after arriving.
Pogo-sticking: How many times a user clicks the back button to return to search results and try another link.
You can see how important it is that when a user clicks through to your content, it's the right content. If it's not, it affects all of those UX signals, as well as your ranking.
In addition to the quality of the content on your pages, you have to ensure that your website is easy to navigate and accessible on all browsers and devices.
Backlinks are also still an important ranking factor, so make sure that yours come from high-authority sites.
Guest-posting, building relationships with influencers, and getting quoted or mentioned in news stories will all help to boost the quality of your links.
Big Data Keeps Getting Bigger
In 2012, Google launched The Knowledge Graph, which culls its data from Wikipedia, Wikidata and the CIA World Factbook (yes, the Central Intelligence Agency has its own "almanac"), among other sources, in an attempt to make all this information accessible from a single platform.
But it doesn't just store data; it also makes connections that can impact brands.
The common format of The Knowledge Graph is a separate panel on the right sidebar that users now expect to see in order to find quick answers: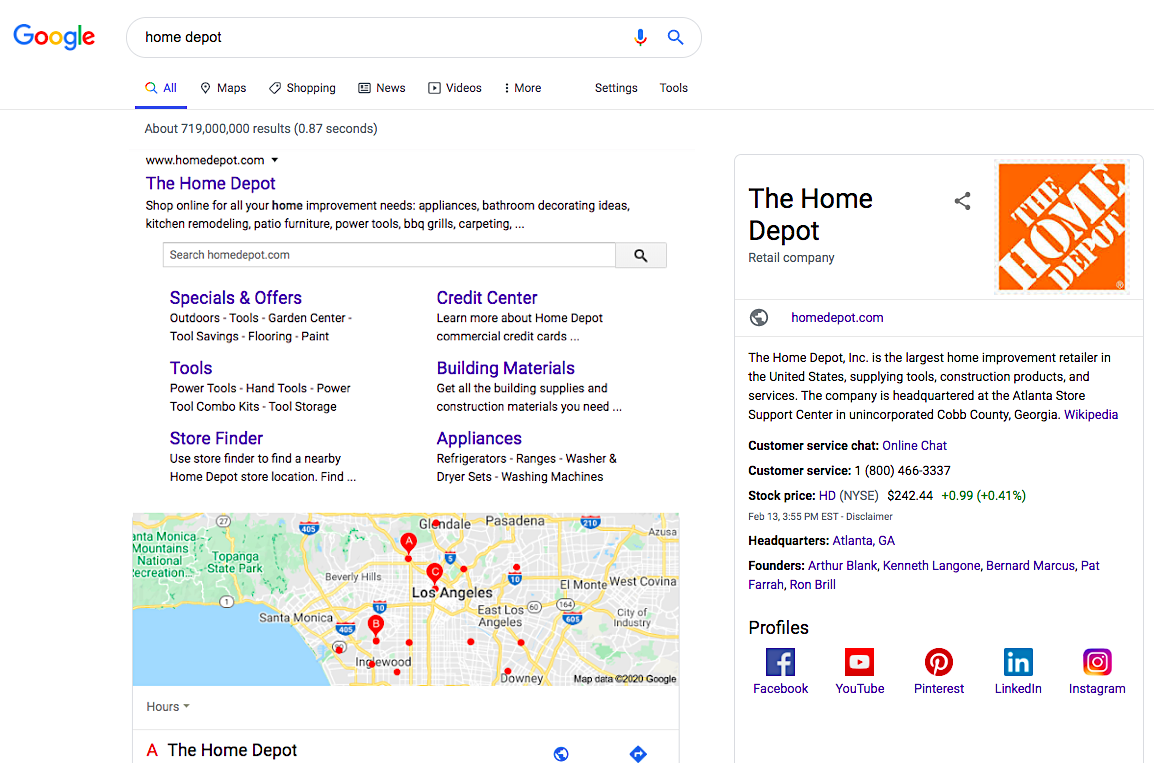 This means that marketers have to influence The Knowledge Graph so that people can find professional up-to-date information on the first search and at a quick glance.
In order to control this information, official representatives of companies can suggest changes, but modifications have to go through a validation process, which means that Google will scan the web in search of data about a company.
Include social media accounts in your company's description so they will also be displayed on the dedicated sidebar.
The Age of Mobile
Pretty soon we won't have to say this any more than motels no longer have to advertise "color TV!" in their rooms, but mobile device traffic has definitely overtaken desktop usage.
Mobile accounts for 52.6% of all traffic worldwide: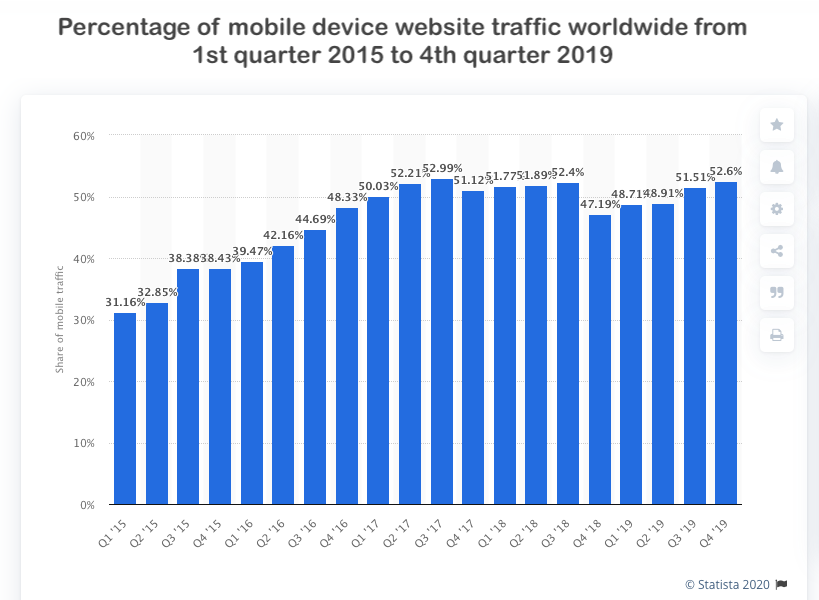 As users continue to shift toward smartphones, mobile search is going to become even more important.
In 2016, Google introduced accelerated mobile pages (AMP), a digital publishing format meant to compete with Facebook's Instant Articles, to enhance mobile loading of search results pages. Over the past few years, they have built upon the initial framework, adding AMP Stories, Email and advertising support.
The basic idea behind AMP is that it's a user-first format: It adheres to a set of coding guidelines that help with page speed and overall user experience. AMP content is listed in search results with a lightning bolt: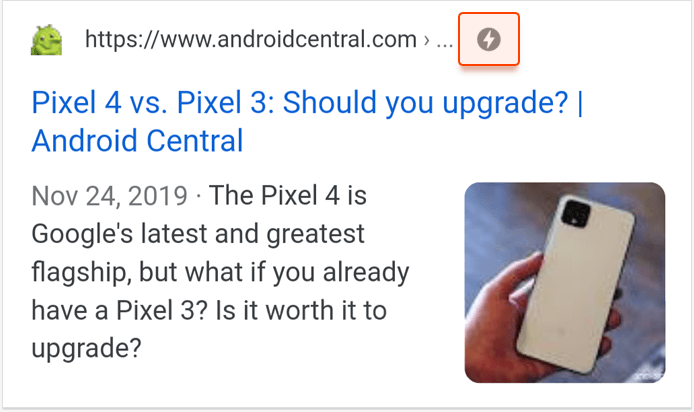 Although AMP is not a ranking feature per se, page performance is. This means that when it comes to mobile search, AMP pages are likely to load faster and have better usability, which will help to boost rankings.
Related Content: Beginner's Guide to Discovering the Competition's SEO Strategy
Voice Search Is Changing the SEO Game
Consider these stats:
What does this mean?
If you aren't optimizing for voice search, you are hurting your SEO.
Click To Tweet
The main difference between voice search and text-based search is the way that the questions are framed. If you want to find out how old Jennifer Lopez is, you would type in "Jennifer Lopez age." If you're using an Amazon Echo, though, you'll say, "Alexa, how old is Jennifer Lopez?"
Voice queries are conversational, which means you have to optimize for those searches. In other words, you have to hit those long-tail queries and, most importantly, ensure that your content is ranked in the top three spots for those queries.
When it comes to voice search, there isn't a page of results to choose from. There is just one result. For queries related to your brand and your important keywords and phrases, you need to be that one result.
Those long-tail queries are also the way that you get into Google's Featured Snippet, and those snippets frequently end up as voice search results: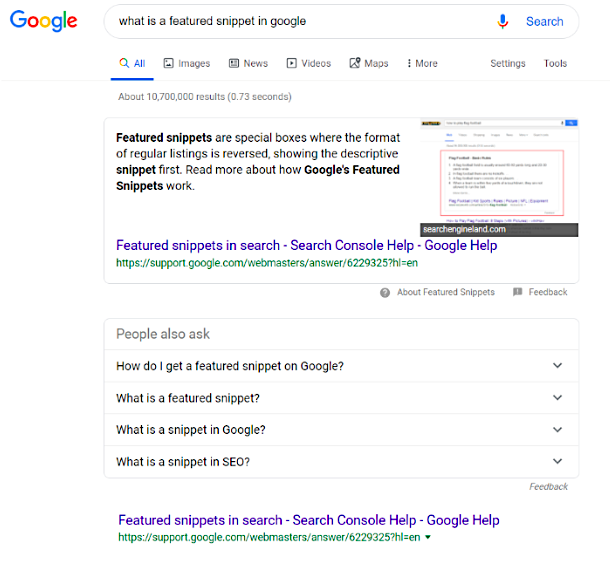 Dive Deeper:
The Power of Video
Search engines have not historically been so great at indexing video. Thanks to AI, that's changing, and marketers now have more opportunities than ever to get their videos seen.
Check out these facts about consumers' preferences regarding video:
78% of people report watching videos online weekly, with 55% of those watching on a daily basis.
68% of people say they'd prefer to learn about a new product or service by watching a short video.
54% of people want marketers to put out more video content.
The continuing rise of video will make SEO marketers focus even more on visual content, but it will also force creators to make video content with optimization in mind. In fact, it will probably give life to a new category of videographers who specialize in SEO content, just as it happened with writers.
Social media specialists are already paving the way for this, with video sharing and live video broadcasts increasing in popularity on different platforms. People spend 3x longer watching live videos than pre-recorded video, which is why we create a lot of our live videos, like this Marketing School live event:
Facebook was successful with its Live option, Instagram constantly comes up with updates on video customization, and even Twitter allows video posting. However, the platform to trust is YouTube as it is entirely video-oriented, so it provides long-term engagement, unlike the other more diversified platforms.
Marketers have already adopted SEO techniques for YouTube, but the possibilities will diversify as new technologies become even more engaging and accessible for individual users.
If you want to embed your videos on your website, keep these SEO factors in mind:
Relevance: In order to be indexed by search (and decrease bounce rate), the video must be relevant to the rest of the page's content.
Multiple videos: Google only ranks one video per page, so if you're adding more than one, make sure the one highest up is the one you want indexed.
Transcripts: Whenever you can, add a transcript of your video to the page. The text will get indexed and help that page rank higher.
Dive Deeper:
The Reality of Virtual Reality
Virtual reality offers an exciting journey that can be experienced in the comfort of one's home, while allowing marketers to optimize content that is truly memorable.
Although owning a VR system has not yet become as popular as owning a TV, it has been a sensation at special events where companies like National Geographic, TOMS, and IKEA have managed to use VR to offer consumers exceptional experiences.
The video game industry is already ahead of the VR market, but other industries are picking up the pace. Social media has adapted to it, with Facebook's new live 360 video feature. The entertainment industry (including commercials) has jumped on board, like this Lexus ad in which you "ride along with the heroes of ABC's Quantico to explore its power and capability in this 360° experience":
VR and 360-degree videos can be filmed, distributed and optimized with various Google tools, such as Cardboard Camera, VR View, and Street View (business listings with photos and a virtual tour are 2x as likely to generate interest).
WordPress plug-ins like VR View allow virtual reality videos to be embedded on a webpage and played by users without the need for a specific headset.
Dive Deeper:
Final Thoughts
Not so long ago, artificial intelligence was a mere sci-fi concept that would get you laughed out of a marketing meeting (or any meeting. Or any room.). Today, AI-powered tools are becoming as common as SEO tools, and using them together will allow us to push the event horizon of marketing into unimaginable reaches.
These advancing technologies will force marketers to develop elaborate strategies that add additional types of content, devices and tools into the equation.
But no matter how much technology you use, the focus should always stay on the user first. Yes, machine learning and artificial intelligence technology are transforming ranking factors, but only to better reflect the needs and expectations of the human searchers.