For better or worse, the number and quality of your backlinks are still one of the most important ranking signals. Since appearing in the first few search results for selected keywords can bring an immense value to your business, it's not surprising that everyone is still putting a lot of effort into link building.
One of the first things a beginner link builder learns is that not all backlinks are created equal. So whenever there is any serious discussion about link building, an unavoidable topic is the value of nofollow backlinks.
If you took a minute right now to Google this topic, you would find many different opinions and some contradictory advice: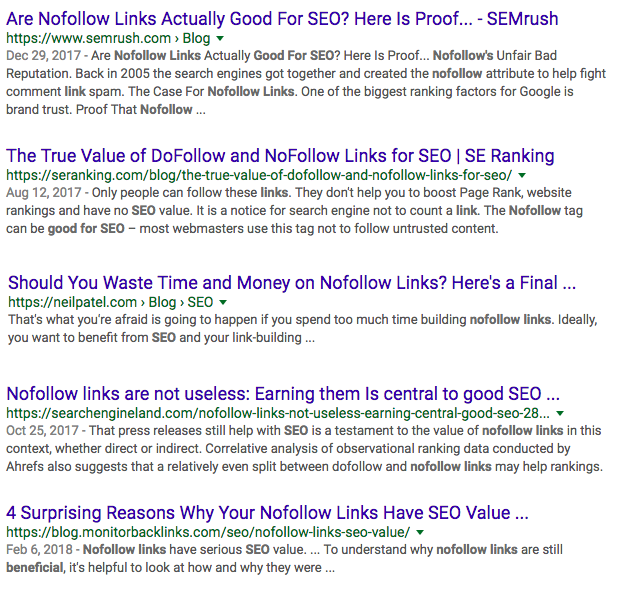 While it is impossible to say if nofollow links have any direct impact on your rankings, it is wrong to assume that they are useless and that they should be avoided at all cost.
The reality is that you will have to deal with nofollow links at some point in your link-building campaigns, so this article will give you a few ideas on how to squeeze the most value out of those links when they come from high-authority sites in your niche.
Follow vs. Nofollow Links
Follow Links – In many cases, backlinks in your content will be follow links – links that are visible to Google, generate "link juice," and work to improve your rankings in search results.
Nofollow Links – Some backlinks, however, will be nofollow links. These links contain an instruction to search engines to disregard the link so that it doesn't help you improve the ranking of your page/domain. Google's official stance on nofollow links is: "in general, we don't follow them":
There is a good reason why nofollow links are sometimes preferred by site owners over follow links. The most notable reason is to minimize the occurrence of bad link-building practices, such as comment spamming and paid links, for example, which hold the potential to unfairly influence search results.
Despite this solid reasoning, nofollow links are often frustrating when it comes to SEO link-building campaigns.
Further Reading:
Are Nofollow Links Ever Valuable?
If nofollow links don't generate link juice and don't count towards search engine visibility or improved PageRank, then is there any point in distributing content through channels that implement a nofollow link policy?
Of course there is. If that wasn't the case, there would be no point in writing this article. ?
What's important to look at is the potential secondary value that nofollow links could bring to any sort of promotional campaign. It can't be denied that nofollow links contribute to improved brand awareness through greater exposure and relevant referral traffic.
A recent study from SEMrush indicates that links are not the only (or the most) important ranking signals: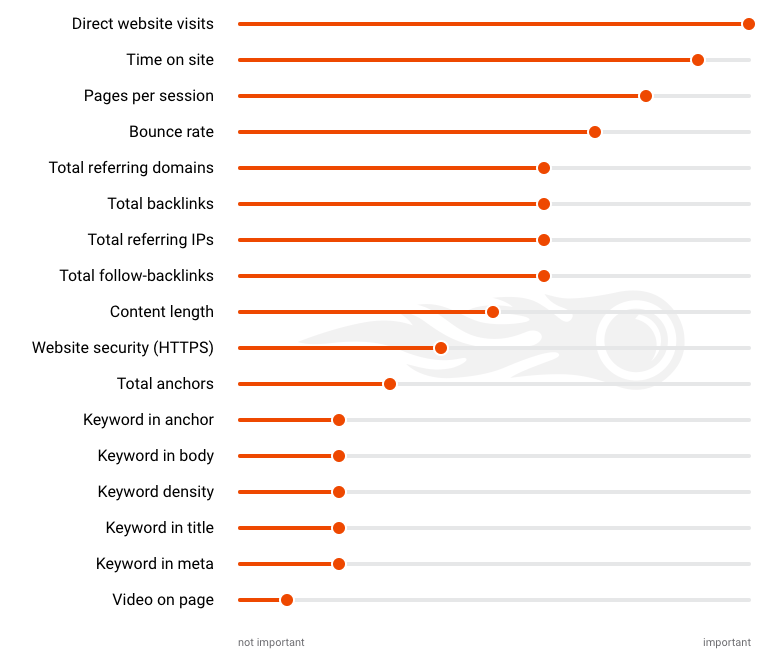 With other valuable ranking factors, including pages per session and bounce rate, it also really shows just how important it is to focus on creating engaging, relevant and optimized content to keep visitors around, not just draw them in.
But we're getting off point here.
In the context of this article, this is interesting because it shows that nofollow backlinks can still indirectly impact your rankings by helping you bring more relevant visitors to your website and improving other signals listed above.
And that's not the only benefit you can get from nofollow backlinks.
Benefits of Nofollow Links
There is a wide range of notable benefits of nofollow backlinks that can prove to be highly valuable to your business.
Building Brand Awareness
A link to a brand — regardless of whether that's a follow link or a nofollow link — serves the purpose of increasing exposure of that brand. Ultimately, greater education and awareness of a brand is a significant contributor towards traffic.
Businesses can choose to distribute their content across multiple channels that naturally boosts visibility with or without a follow link. The more sites on which your content is published and the higher the authority of those sites, the wider the reach of your brand.
Increasing Audience Trust
There's a common saying: "It's not what you know, it's who you know" and this is something that is important to consider with nofollow backlinks. The advantages of association should not be overlooked, especially for young brands or smaller businesses. A mention/recommendation on an authoritative website in your niche can significantly boost the credibility of that brand, regardless of they type of the link.
Bringing in Referral Traffic
A nofollow link is equal to a follow link in terms of referral traffic and is an effective way to drive traffic to your website. However, it is necessary to publish content strategically on websites that are relevant to your business and are of interest to your target audience.
When creating content, marketers naturally want to include links to high-authority websites to form an association and improve the credibility of their sources. By guest posting on these high-authority sites, you're increasing your chance of being linked to from other websites.
These links are referred to as "second tier links." While they don't link directly to your website, they do link to your guest post, which in turn links to your website. These links don't need to be dofollow links as long as they're directing traffic to the right destination.
Generating Social Signals
The correlation between social media and PageRank forms one of the hottest debates in SEO. It is generally accepted that social signals from networks such as Facebook and Twitter do have an effect on rankings, but the exact ways in which they influence SEO haven't been solidly determined. What research does show is that social signals like shares, likes, comments, and retweets may help with SEO:
Further Reading:
Deriving More Value from Authority Sites
To prove that nofollow links can bring a lot of value outside of SEO, here are some tips on how to creatively use them in different digital marketing activities.
Use Engaging Anchor Text
When the dust is settled, the common agreement is that even if nofollow links do bring any direct SEO value, that value is insignificant in the grand scheme of things.
While this may initially seem frustrating, there is another way you can look at this: it gives you complete flexibility to write strong anchor text that isn't restricted by the limitations of your keywords or phrases.
At a time when experts are really emphasizing the need to write for audiences, not simply for SEO, the flexibility to use SEO-free anchor text can be an advantage.
Click To Tweet
What's the point in writing keyword-rich anchor text if Google isn't going to pick up on it? Instead, to really squeeze the value out of a nofollow backlink on a high-authority site, write anchor text that appeals specifically to the sort of audience that would be visiting such an authoritative resource.
Who are these people? What are they interested in? Write text that encourages readers to click and maximize potential referral traffic. Since you're not limited to an exact keyword or phrase, take the opportunity to concentrate on using an engaging anchor and surrounding text that really makes visitors want to click through.
Add a "Featured In" Badge
You don't need a follow link in order to derive value from backlinks coming from high-authority websites. If a high-quality site is willing to publish your content, there is a relationship there. You may as well milk the association.
Adding a 'featured on' badge to your homepage shows your visitors that you're endorsed by a familiar, reputable and well-respected resource. It is an excellent trust builder.
Probably the most common example is adding the featured badge to your homepage as seen on the picture below of PointVisible:

As conversion expert Jeremy Smith puts it bluntly: If they don't trust you, they won't buy from you.
Use Them as Trust Builders
Not so long ago, we had a client that wanted to do a live webinar. The problem was that we were missing some trust builders to help convert visitors who were looking at the landing page.
One of the ways we tackled that problem was by mentioning that the presenter (the client) was featured in many top publications in the niche:
This is just one of the ways to use association with high-authority sites to your advantage. You can use this in similar ways in everything from newsletters to social media promotion. Anything that needs to contain a trust builder is a good candidate.
Build Partnership Opportunities
Any type of association that is formed between websites can create the cornerstone of a future partnership. By building and nurturing connections with high-authority websites, as well as with a range of different publications and 'influencers', you have more options available for potential future collaboration projects.
Further Reading:
Improve Your Future Link-Building Efforts
While this technically qualifies as a trust builder, we felt it was important enough to get its own section since it is closely related to blogger outreach and link building.
As you probably know, an important part of a guest post pitch is convincing the editor that you deserve a chance to publish some content on their blog. A great way to do that is by showing them your previous work. They are not going to care what type of links your samples have, but they might be more inclined to give you a chance if you've published posts on other respectable sites in your industry.
Nofollow & the Future of SEO
Recently, one of the biggest questions surrounding digital marketing was: How long will links dominate as the strongest ranking signals?
It's a tricky question to answer. On the one hand, we can say that the introduction of Web 3.0 — the semantic web — is expected to change some standard SEO practices. On the other hand, as long as audiences are still beginning their purchasing journey with an online search, SEO will always be a primary consideration.
The focus of SEO certainly appears to be shifting. As discussed, there is obvious value to be derived from nofollow links, particularly those on high-authority websites, which suggests that aspects such as keywords and anchor text are becoming less important, while context is starting to dominate. Some experts claim that we need to stop focusing on keywords, and instead value the importance of topical authority.
While the real impact of a semantic web remains to be seen, one thing that marketers got used to is constantly learning new things and adapting their practices. Whatever happens, the need to change their approach to link building certainly won't be anything new.