Conducting an SEO analysis can yield important insights about how your site is performing, what SEO issues it has and, thus, where to improve. Since you're reading this article, there's a good chance you know that already.
But what exactly is a search engine optimization analysis? What are the different types and how do you conduct one without a huge team and budget?
In this article, you'll learn a beginner-friendly way how to approach an an SEO diagnostic and find high-impact insights – by yourself and without breaking the bank. We'll take a look at:
Disclaimer: it's possible to go much deeper on any of these analyses. The goal of this article is to help you quickly find the most impactful areas to analyze and work on, in a way that is easy to understand.
What Is SEO Analysis?
An SEO analysis is the process of reviewing the organic search performance for your website's content. The goal is to find out how well or poorly optimized your site is, and discover any opportunities to grow further.
This can also go beyond just looking at your own website. Analysis of the broader search landscape in general, and of your competitors, can yield useful insights for your SEO strategy.
When done properly, an SEO evaluation is a critical first step for any SEO endeavors that will set you on the right track.
Having said that, SEO analysis is a broad term. In order to conduct this type of analysis, it's necessary to break it down into different areas. We'll examine four of the most common types of SEO assessments.
Make data-driven decisions to improve your ranking with:
100 SEO Statistics That'll Help You Dominate Search Rankings in 2023

4 Types of SEO Analysis
Let's look at four of the most common types of SEO analysis, how you can conduct each one, and tools that will help you do the job.
Note: An SEO score shows you the health of your website by category, such as technical SEO or backlinks, which we discuss in #2 and #3 below.
Want more info on SEO scores? Check out:
SEO Score: How to Grade Your Website (in 5 Minutes)

1) SEO Content Analysis
SEO content analysis is the process of reviewing your content's organic search performance.
During the process, you can dive into issues like:
Does your content target the correct keywords?
Does it satisfy the search intent?
Is it well-written, well researched, and up to date?
Does it convert readers and generate revenue?
Which new opportunities can you pursue?
And much more.
Onpage SEO analysis is a big topic, and there are several different angles from which you could approach this. Here are a few things to think about when analyzing your website SEO performance.
How SEO-Friendly Is Your Writing?
Writing perfectly optimized content can be tricky. To improve your SEO ranking, there's a lot to consider, like:
Nailing the search intent
Using the correct primary and secondary keywords (including in your headings and meta tags)
Answering the right questions
Covering all relevant topics
Ensuring readability
Writing an article of the correct length
And more
If your website has lots of content already, reviewing your existing articles is a great place to start your content analysis. It's likely there are some quick wins to be found by simply updating or optimizing pages.
Here's what you can do. Start by identifying prospective pages to review.
Your pages that get the most organic traffic are likely to be some of the highest impact pages you can work on optimizing and updating.
You can find those in your website analysis report. In Google Search Console, it's under: Google Search Console in the: Performance report > Pages tab > sort by clicks.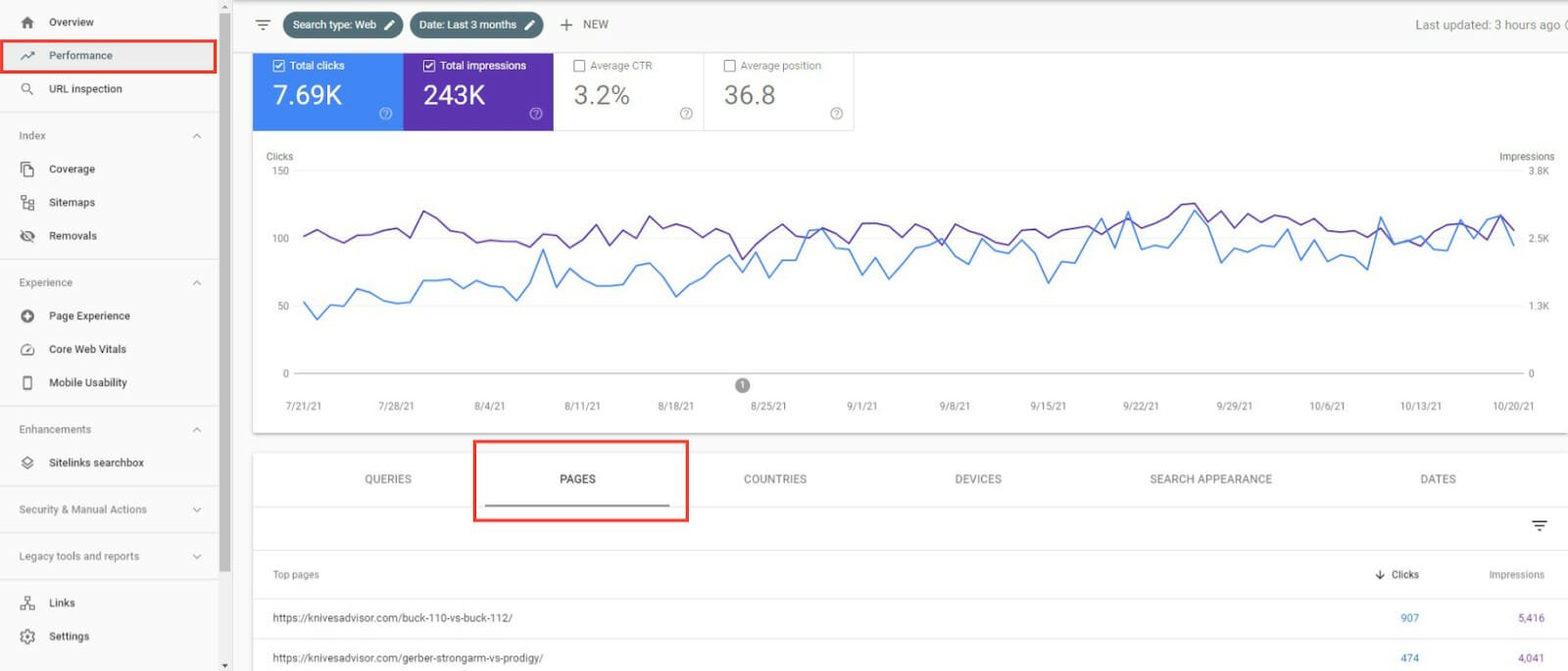 When it comes to better keyword rankings, look for 'striking distance' keywords. These are search terms where your average position is around 11-20. With some extra effort, you can bump these up onto page one, and start generating some clicks. Once again, you can find those in the Search Console: Queries report > sort by position.
Next, you'll need a content optimization tool.
Once you've updated your content, track your Google keyword rankings using Search Console positions and clicks or a dedicated rank tracking tool to measure the impact.
Looking for info on enterprise SEO metrics?
Enterprise SEO Metrics: The Key Metrics to Track for Success

How Well Does Your Content Convert Traffic?
Even if your content is written amazingly, expertly researched and easy to read, that's not enough on it's own. It also needs to generate revenue and a return on investment. That means getting conversions from your organic search traffic.
A 'conversion' here could mean several different things depending on your goals and business model. It could be:
A free trial sign up
An e-commerce purchase
A lead magnet download
An event registration
A contact form enquiry
And so on
If you haven't already, you can set up Goals in Google Analytics to track SEO metrics like these. Then, in the Landing Pages report, you'll find out how many people are taking your desired action per page that they entered through:

Look for pages that have high traffic but low conversions. What could you do differently to get more conversions from that page?
Like in the first step, it's important to consider search intent. If someone is searching for 'what is market research' and landing on an informative article, it's unlikely they're ready to inquire about services with a market research agency, or sign up for a SaaS tool.
Instead, try to find a logical 'next step' for that user. It could be a downloadable guide or a webinar where they can start learning to do market research for themselves, for example. It's a more logical next step that encourages the user further down the funnel and, thus, closer to buying.
Think about what the user is trying to achieve by reading your content, and push them towards it with calls-to-action (CTAs) in your writing.
Want to improve search ranking opportunities for your website?:
How to Optimize Your Site for Search Ranking with Your Web Analytics Data

Check if Any of Your Older Content Is Losing Traffic
As you produce more content over time, it's likely that your organic traffic growth won't be exactly linear. While you're producing and ranking new articles, older ones can become outdated and start to slip.
This is known as content decay, and with a little effort in the right place, you can prevent it from holding back your website's performance.
You can manage this either manually by reviewing Google Analytics/Search Console data, or with a software tool that'll speed up the process.
It will connect with your Search Console data and automatically detect which of your posts have been declining in traffic over the past one, three, six or twelve months. You'll also learn exactly how much traffic has been lost, so that you can prioritize your efforts to update old content.
Here's a short video to show you how the Content Decay tool works:
Get inspired by this case study:
Why You Should Update Content – Or Risk Losing The Traffic You Have

Which Keywords Does Your Site Not Yet Rank for in Google?
SEO content analysis can be as much about the content you don't have, as the content you do have.
Keyword research can help you find new search terms that people in your target market are typing into Google, but your site doesn't yet rank for. It's an important aspect of any SEO report and content strategy.
Keyword research is a big topic which is beyond the scope of this article to get into the nitty gritty. If you want help on how to analyze keywords for SEO, start with tools like Ahrefs or KWFinder, digging into your Search Console impressions, your PPC data, and more.
You can also learn a lot by analyzing which keywords drive traffic for your competitors, which we'll touch on later in the competitor analysis section of this article.
Need a refresher on keywords? Check out:
SEO Keyword Research Made Easy in 2023

Tools for Analyzing SEO Content
For SEO content analysis, consider these tools:
Tools like Ahrefs and KWFinder will help with finding new opportunities, analyzing keyword difficulties and search volumes, and prioritizing topics.
A free tool like Hemingway App can be a great addition for making your writing easier to read and error-free.
The Search Console is a great free way to learn which search queries drive traffic to your pages currently.
2) Technical SEO Analysis
Technical SEO covers all the necessary aspects of making sure your website meets the technical requirements of search engines.
The objective of a technical SEO analysis is to ensure that there's nothing preventing crawlers from crawling, indexing and navigating your website. It doesn't stop there though, either. A good technical SEO checker should also consider ranking factors like page experience, that reflects how easy it is for a human to get around your site, too.
Let's cover five key steps in a technical SEO analysis. For some of these steps, you'll need a search engine optimization site analysis tool. I'll demonstrate with Ahrefs, and suggest a few other technical SEO tools at the end as well.
Ensure That Your Website Can Be Crawled
The very first step is to make sure your website allows search engines to crawl your pages. After all, there's no point in creating great content if a search engine will never find it, right?
Every SEO site has a file called robots.txt that helps to manage access for web crawlers. This is how a typical robots.txt file might look:
User-agent: *
Allow: /
Disallow: /wp-admin
Sitemap: https://yourwebsite.com/sitemap.xml
This effectively means that we're allowing all bots to crawl the site, other than URLs in the /wp-admin subfolder. This area is accessed via logging in, so we don't want to have those pages present in the SERPs.
If you're using WordPress, common plugins like Yoast can easily manage this for you in a few clicks.
Google has a robots.txt testing tool that you can use to verify whether or not your site is currently accessible: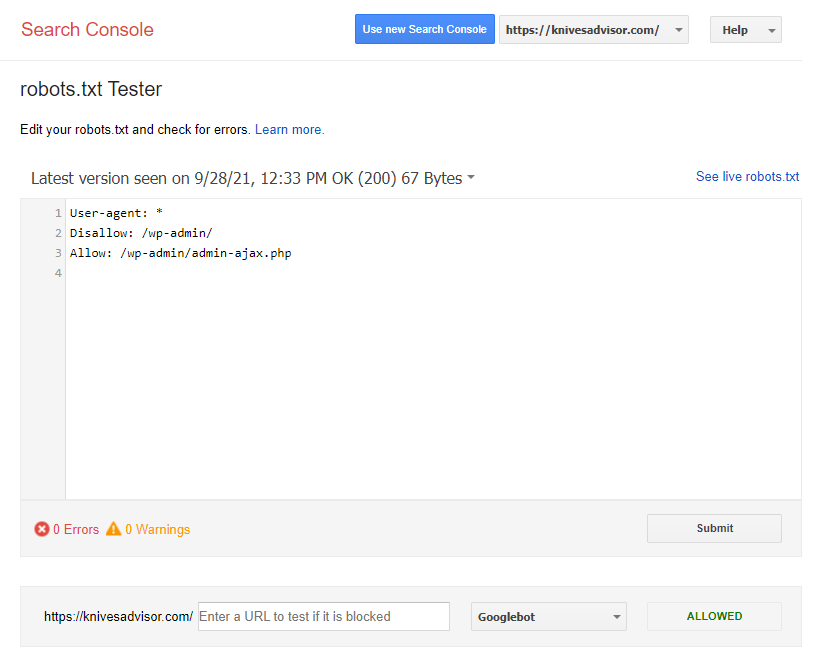 Make Sure Your Pages Are Indexed
Next up, you should check for indexing issues. Getting your pages crawled is the first step, but that doesn't guarantee they'll be indexed.
You can get an overview of this using the Search Console, in the Coverage report: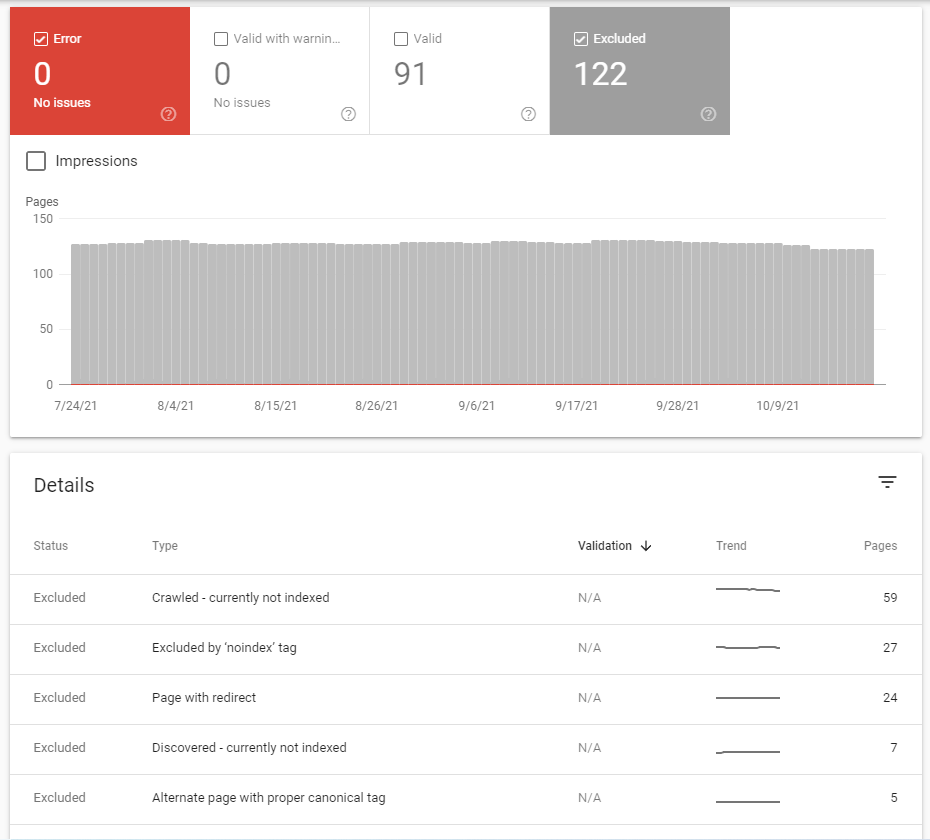 Clicking into the 'Excluded' tab will give you information on each of the pages that Google is aware of, but hasn't indexed for a variety of reasons.
Some should be intentional (e.g. because of a noindex or canonical tag), but some might be less obvious, and not intentional.
If you identify any such pages, it could be because of issues like:
Duplicate content
Security issues
Google considers the page 'low quality'
You can read their documentation on this issue to learn more and work through any problems you find.
Need a refresher on technical SEO? Check out:
How to Fix 15 Common On-Site Technical SEO Issues

Core Web Vitals
Core Web Vitals (CWV) is a relatively new ranking factor for Google that reflects how good the user experience is on your web pages. There are three metrics:
largest contentful paint
first input delay
cumulative layout shift
You can check your CWV using the Search Console, where you'll find an overview of your current scores: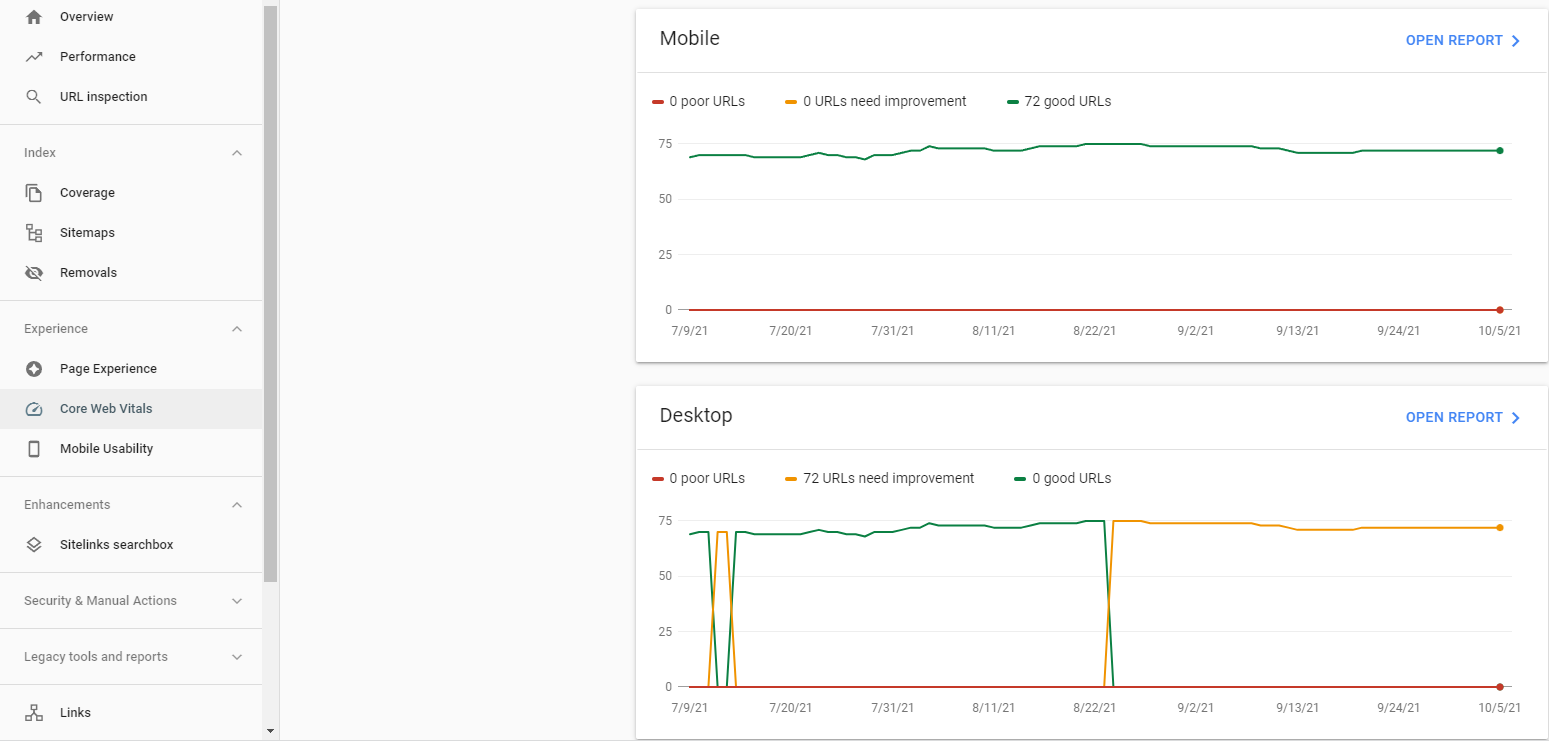 If there are any pages that require improvement, you'll be able to see which of the CWV metrics it relates to:

To dig deeper and find where you can improve, use Google's PageSpeed Insights report, which identifies specific issues that are hurting your scores: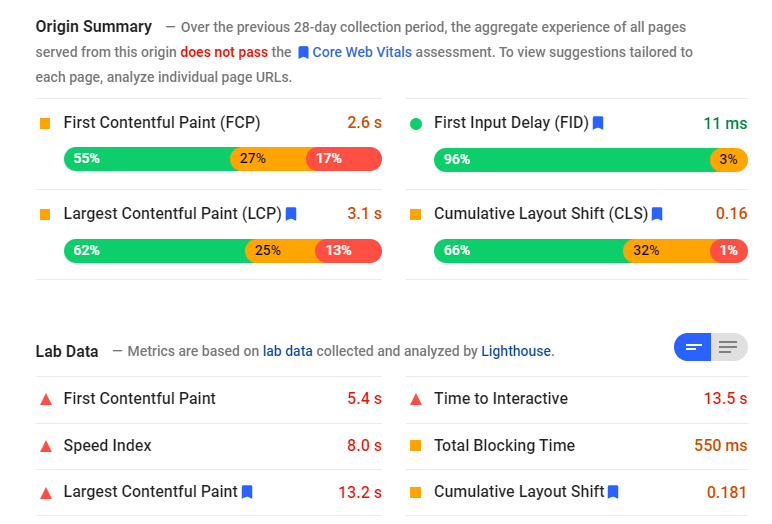 Need a quick overview of CWV? Check out:
CWV Update: Why Google Keeps Changing How It Measures Your Site's UX

Look for Duplicate Content
If you have any pages with duplicate content, they will be flagged by your SEO checker tool, like Ahrefs Site Audit.
Duplicate content is unlikely to cause a penalty, but it can sometimes cause indexing issues. Why would Google want two pages with the exact same content in their index, after all?
This can sometimes occur with things like:
www. and non-www. URL variations
E-commerce pages (e.g. different colors or pricing of the same product)
Trailing slash vs. non-trailing slash URL variations
You might also find duplicate meta descriptions and meta titles across your site. Ahrefs will help you identify the URLs, and you can work through them (find Site Audit on the top menu of Ahrefs):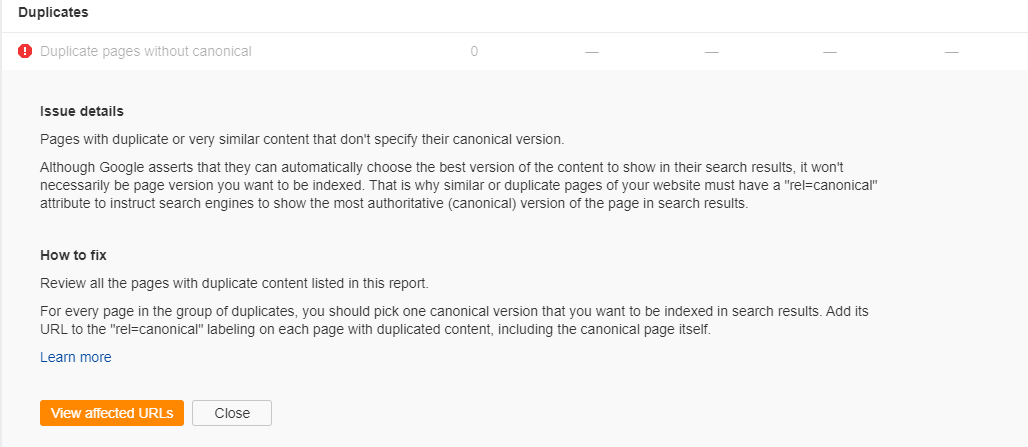 Manage Redirects and Status Codes
Every time you visit a web page, your browser requests a response from the server. The server responds in the form of a status code: 301 (a redirect), 404 (error, not found), or 200 (success), for example.
These are important for technical SEO and user experience, and as websites get older and larger, status codes are more likely to be an issue. That's why it's crucial to perform regular SEO assessments.
If you haven't already, it's worth looking for any broken pages on your website, and deciding what to do with them. Your Site Audit report in Ahrefs will flag any such pages, including 404s: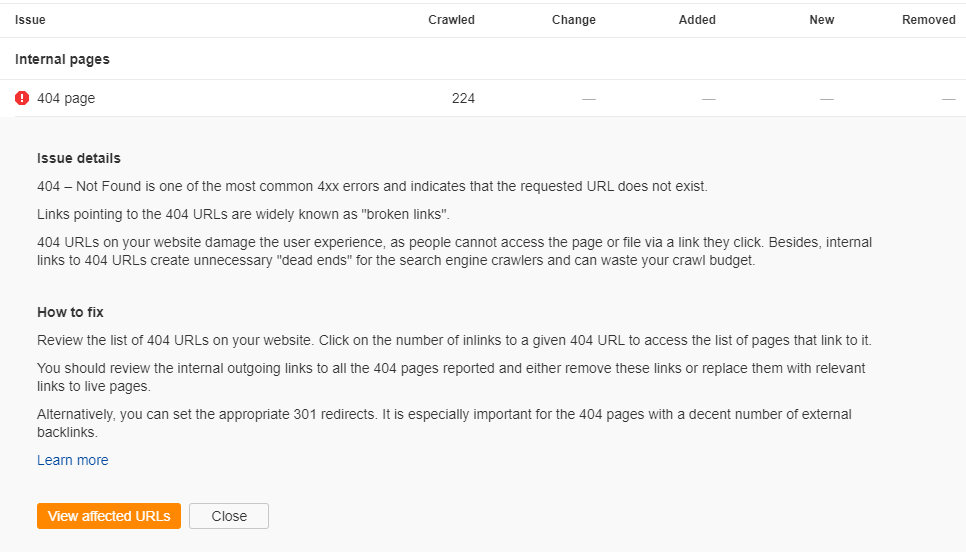 You can click to view the effect URLs, and figure out the best course of action, for example 301 redirecting the page elsewhere. This is especially useful if the page has broken links, as it helps you retain the SEO value of those links.
Tools for Analyzing Technical SEO
For technical SEO analysis, check out these tools:
If you have an all-in-one SEO platform like Ahrefs or Semrush, technical SEO audit tools are included in the feature set, and some offer a free SEO audit.
Screaming Frog is a well-known technical SEO tool that has a great free version which you may want to check out. It doesn't have the user-friendly prompts and helpful tooltips though, which makes it trickier to use for beginners.
Sitebulb is similar to Screaming Frog in that it is a standalone desktop application for technical SEO, with a couple of main differences. One, it has no free plan, and two, it has a big focus on helping you understand & prioritize issues – making it a good beginner tool.
Google Search Console is another important (free) tool that you'll want to have in your arsenal for technical SEO analysis.
3) Backlink Profile Analysis
A backlink analysis is used to review all the backlinks that point towards your website.
The objective is to understand:
If there are any harmful links
When and why people link to your content
Where you might find new link building opportunities
Once again, you'll need software for this (a backlink monitoring/analysis tool). Most all-in-one SEO software tools include a backlink monitoring feature, but there are purpose-built backlink analysis tools, too.
To get started, you'll need to use a tool to find your website's backlinks. You can find these in Ahrefs Site Explorer. Simply enter your URL, then click on 'Backlinks' in the left sidebar:

Now that you know how to check your backlink profile, here are four things to analyze and think about during a backlink analysis.
New to internal link building? Check out:
How to Implement Internal Linking for SEO (Step-by-Step)

Anchor Texts
In any link building strategy, one of the objectives is to ensure that links appear as natural as possible. Anchor text plays a significant role in external links.
If you're targeting the main keyword 'plumber in Chicago', and every single one of your backlink anchors is 'plumber in Chicago', that's going to raise a red flag and risk incurring a penalty.
Take a look at your top pages, their top links, and the anchor texts, and consider whether they need to be more varied. In addition to exact match and partial match anchors, consider using:
Branded anchors (e.g. 'John's Plumbing')
Generic anchors (e.g. 'here', 'learn more')
Naked URLs (e.g. johnsplumbing.com)
Relevance
The more relevant a backlink, the more value you'll get from it.
Google's John Mueller has confirmed that relevance of backlinks is superior to volume of backlinks.
One powerful and highly relevant link could outweigh 100 irrelevant ones in the algorithm's weighting.
Measuring 'relevance' is tricky, but one way I like to do it is by checking what kind of keywords the domain is ranking for. If you're building links to a page about SEO tools, and the referring domain ranks for a ton of related keywords like 'backlink monitoring', 'on-page SEO', and on on, that's a great sign.
If it doesn't, that doesn't necessarily mean you should be worried. Just that the link may carry less value. You can quickly check this by putting a URL into Ahrefs Site Explorer, and looking at their Organic Keywords report:

Authority and Traffic
Authority and traffic also impact the strength of a backlink.
Ahrefs Backlinks report gives an overview of the Domain Rating (DR) and organic traffic from each of your referring pages, which helps to understand at a glance how strong your links are:

Your own website's Domain Rating will also reflect the overall strength of your backlink profile (where 0 is the weakest, and 100 is the strongest).
Like relevance, though, lower authority and traffic doesn't mean the link is harmful. You can simply use this step to discover which are the most authoritative sites that link to you, and why. Are they linking to your resource pages? Your free tools? Your 'how to' articles? Considering this can help inform your link building strategy.
And if you don't have many links at all yet, well, that's good to know, too. Spend some time learning about link building techniques, and research how your competitors are building links (more on this later).
Consider Using a Disavow File
A disavow file is a .txt file you can submit to Google to request that they ignore those links. It is used to recover from penalties, like if a site received a manual action for bad or paid links.
In my SEO career, using a disavow file hasn't been necessary very often. Google is pretty good at figuring out which links it should pay attention to and which are spammy rubbish that it (and webmasters) can safely ignore.
That being said, it's worth being aware of in case you get a manual action or you believe that one is likely due to toxic backlinks. That could be, for example, due to a negative SEO attack or your own black hat link building.
You can export URLs that link to you from Ahrefs (some, or all of them), and edit it down to just those you deem toxic. Applying a filter can speed up this process. Some ideas include:
A particular domain(s) you don't want to be associated with
Certain language anchors (e.g. lots of mystery Russian or Chinese links when your site is in English)
Minimum Domain Ratings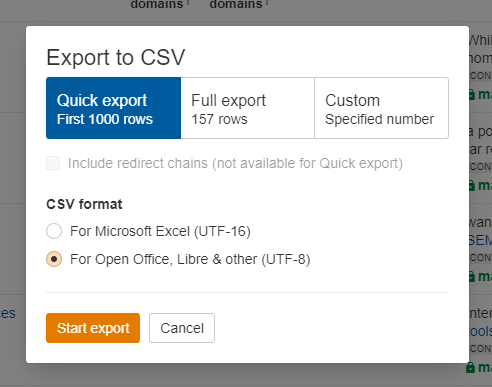 Look for Lost Backlinks
Ahrefs has a Lost Backlinks report, which will alert you when sites remove their links to your site. This is valuable information, and sometimes you may be able to recover the link:

For example, let's say you published some data and someone cited it in their writing. One year later, they update their post and decide to link to another resource because yours is outdated. With that knowledge, you can take action and either try to recover that link or at least prevent losing more in the same way by updating the post.
New to link building? Check out:
The Skyscraper Technique: How to Build High-Quality Backlinks to Your Content

Tools for Analyzing Backlinks
For analyzing backlinks, consider these tools:
Once again, the all-in-one tools like Ahrefs and Semrush have backlink analysis features built in.
If you're on a tighter budget, Mangools is a cheaper SEO toolkit that includes backlink monitoring.
You can also find your backlinks for free (without any additional analysis features) in Google Search Console.
There are some standalone tools such as Monitor Backlinks in case you don't need other features (although it doesn't work out much cheaper, usually).
4) Competitor SEO Analysis
SEO competitor analysis is the process of reviewing how your top competitors get organic traffic.
From this exercise, you could expect to learn:
What kind of content they're publishing
Which pages and keywords drive the most traffic
How they're building backlinks, and from where
How powerful their backlink profile is and how hard it would be to compete
Analyzing competitor SEO strategies can be a goldmine for new ideas. Assuming you already know who your competitors are (if not, that's step zero), here are the things you should be looking into.
For this you'll need a software tool. For consistency, I'll stick with Ahrefs, and list some other tools at the end.
Top Pages
This step is fairly straightforward. Simply enter your competitor's URL in Ahrefs Site Explorer and visit the 'Top Pages' report.
You'll get a list of the highest traffic pages (based on Ahrefs estimations, not their actual data, but it's a good indication) by organic clicks: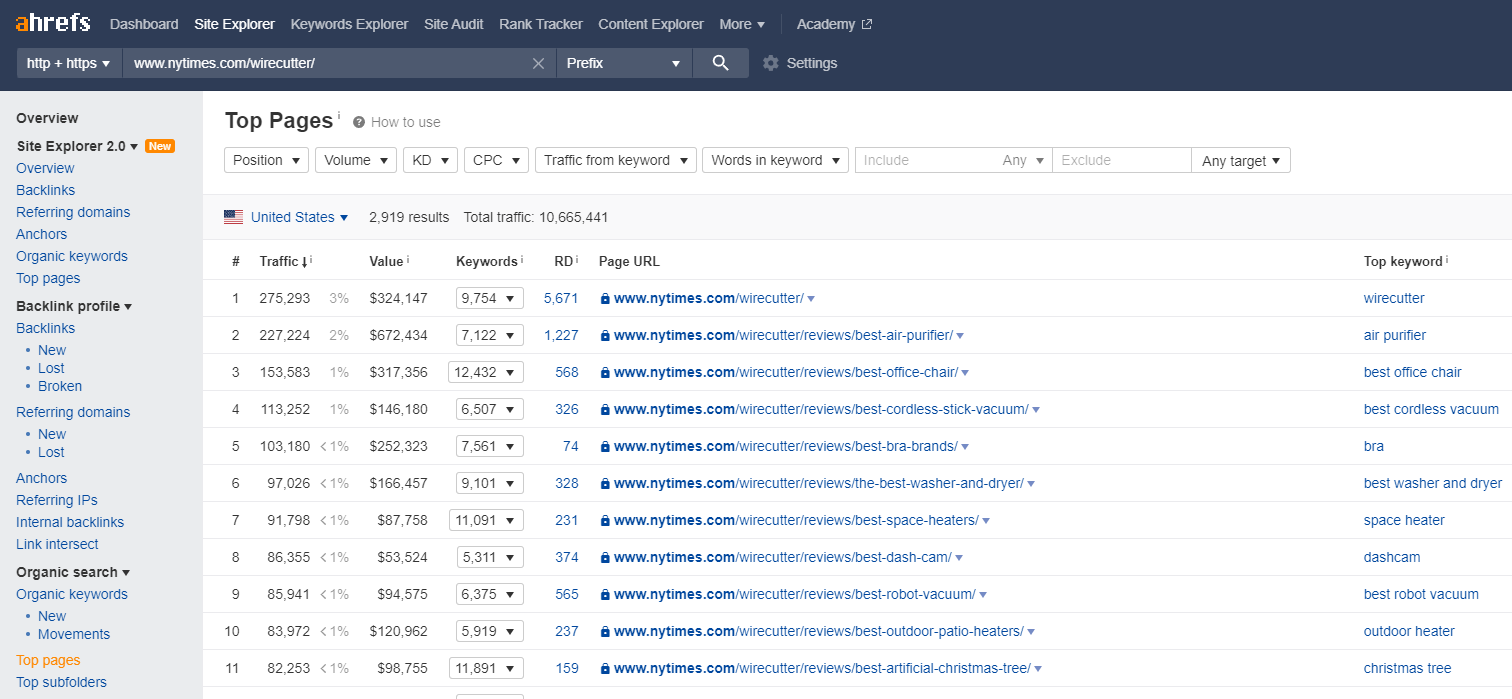 At this point, you can simply look for high-level themes. What kind of content is driving lots of traffic? You might find things like:
Free tools
Data-driven studies
'How to' informational content
Template galleries
E-commerce product and category pages
Competitor comparisons
Listicles
By checking out a handful of direct competitors, you'll quickly get an idea of their most successful content.
Top Organic Keywords
Now that you know which pages drive the most traffic for your competitors, you can go one step deeper and discover which keywords drive traffic to those pages.
You can either analyze this page-by-page or for a whole domain or subfolder. Simply enter the URL into Ahrefs like before, then go to the 'Organic Keywords' report: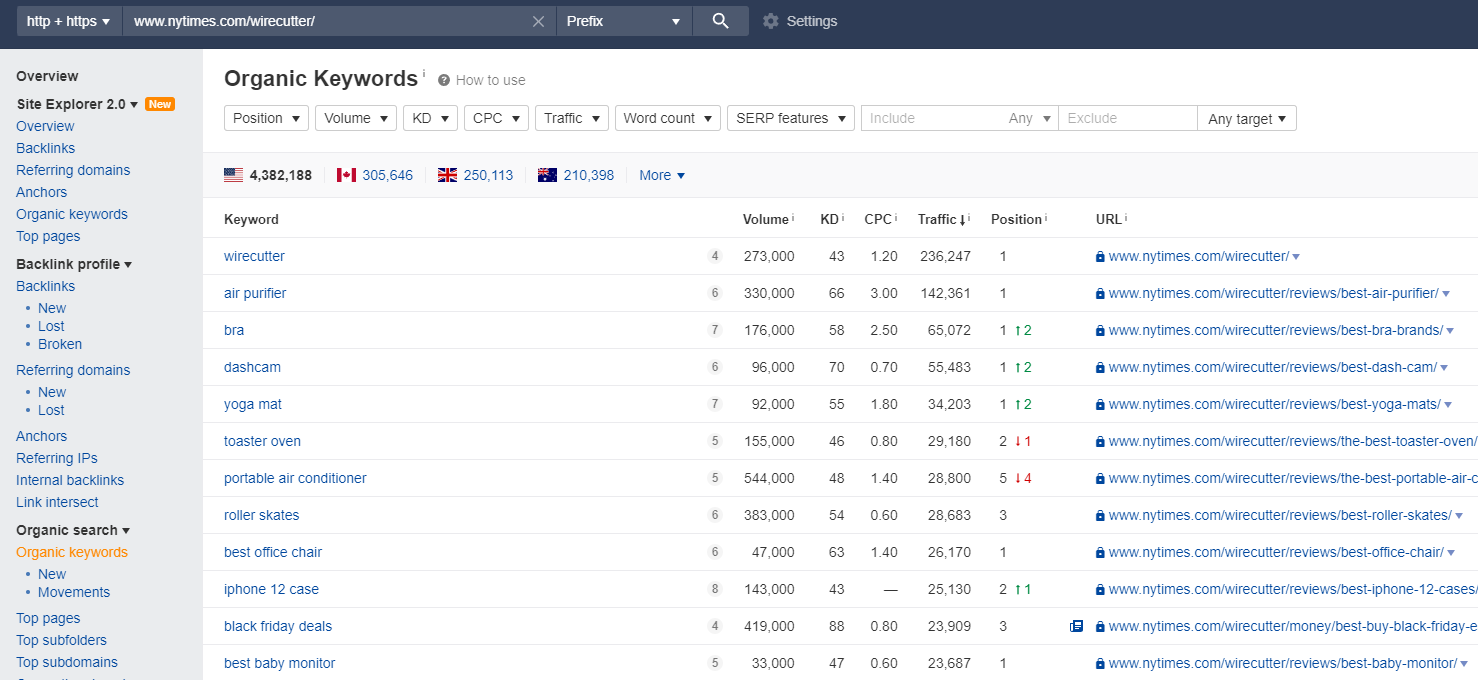 This step will help you determine how valuable the traffic is, too. It's common for websites to have a handful of very high-traffic pages which offer close to zero commercial value. Usually it's very low-intent content such as 'top 10 leadership quotes'.
On the other hand, if the keywords that your competitor's page is ranking for seem to be high-intent keywords ('best SEO agency', 'buy dog food online', 'trello alternative', etc.), then there's a good chance they're worthwhile pursuing. Ahrefs offers an estimate for cost-per-click in paid ads for each keyword, which could be helpful. Usually the higher the traffic value, the higher the intent (hence why people are bidding more per click):

Content Gaps
A 'content gap' analysis is used to identify search queries where your competitors have a presence in the SERPs, but you do not (yet). This is a great way to bulk-analyze your competitors organic keywords and figure out where there could be opportunities.
In Ahrefs Site Explorer, simply click 'Content Gap' in the left vertical sidebar, and enter your own site plus a handful of competitor domains: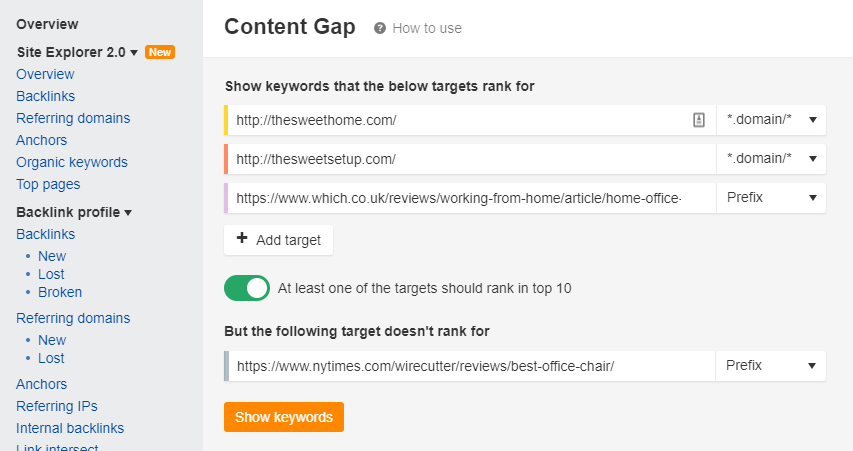 You'll get a list of keywords that at least one (or two, or all – whatever you specify) of the competitors rank for.
Ahrefs has a great video lesson on how to use the Content Gap feature and narrow down the results to find some actionable insights:
Broken Pages
Finding that your competitors have broken pages can be a great link-building opportunity.
In Site Explorer, try entering a competitor URL and visiting the 'best by links' report. Add a filter for status code = 404: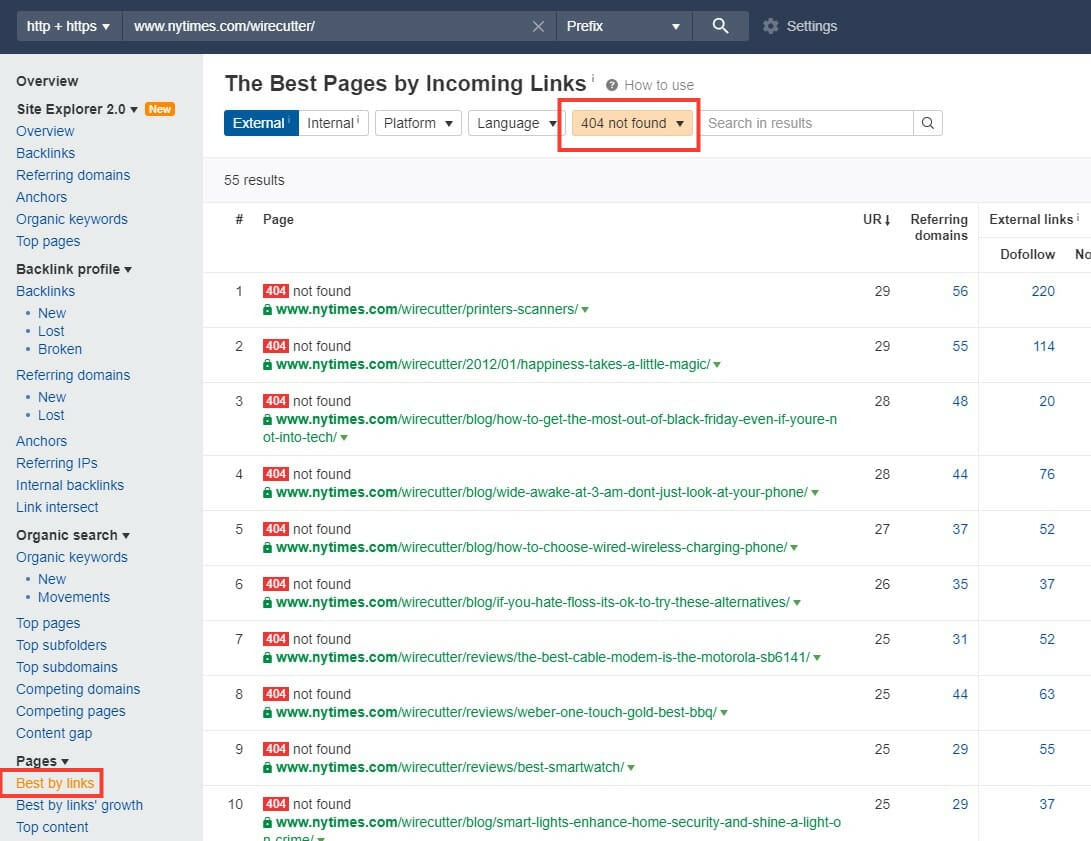 You'll be left with a list of broken pages on your competitor's site which have backlinks. Naturally, the larger the site, the more likely this is to work.
If you have any similar content, you can reach out to these sites and suggest replacing their dead link with your resource instead.
New to competitor research? Check out:
How to Conduct Smart Competitor Research for Better Customer Acquisition

Backlinks
Lastly, it's worth taking a look at which sites are linking to your competitors.
In Ahrefs, you can find this in Site Explorer by clicking on the 'Backlinks' report. Here are some things to keep an eye out for when looking at competitor backlink profiles:
Guest post links. Look for sites they've contributed content to. Could you pitch the same site and get a link of your own?
Citations. Are there any business directories they're listed in and linked from, but you aren't?
Earned links. Which links look like they've been earned naturally with content? Perhaps they're earning links from data-driven studies or free tools. Can you do something similar?
Tools for Analyzing Competitor SEO
For SEO competitor analysis, check out:
Once again, we have our all-in-one tools: Ahrefs, Semrush and Mangools.
In addition, there are dedicated tools for competitor research, including SpyFu and SimilarWeb.
Using a tool like SimilarWeb lets you go beyond SEO analysis and see competitor traffic estimates for other channels, such as paid search, social media and affiliate referrals (but the trade-off is fewer SEO features, e.g. no site auditing).
Wow your clients with these SEO reporting metrics & templates:
10 Underrated SEO Reporting Metrics That'll Impress Your Clients in 2023
12 SEO Report Templates to Help You Prepare Your Next SEO Report

Conclusion
If you want to conduct an SEO diagnosis for your website, it's best to break things down into categories. Content, technical, backlink and competitor analyses are a great place to start, and well worth the time.
Some issues you find will be easier and quicker to fix than others, and some will be more impactful than others. Collate all of your analysis and prioritize the tasks that will make the most impact on your organic search performance.
If you need help with your SEO analysis and just want an SEO agency to do the work for you, Single Grain can help! Click the orange button below. 👇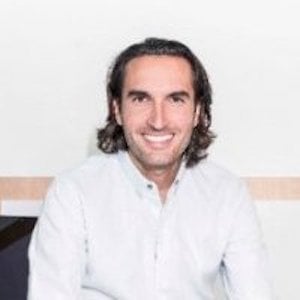 Yaniv Masjedi
CMO, Nextiva
Their expertise has helped Nextiva grow its brand and overall business