Lost in a jungle of marketing tools?
As your website scales, it becomes more and more difficult to keep track of your SEO strategy. You're creating new content and looking for ways to grow your traffic, but in the background, your old content could be suffering, which could undo all your hard work.
There are lots of different areas to focus on with SEO, and there comes a point where you need help to see the big picture. If this feels like the situation with your website, then it's time to look at SEO platforms.
What Is an SEO Platform?
An SEO platform is an all-in-one software tool that brings different elements of your search engine optimization efforts together, from researching to ranking.
But SEO is constantly changing, so it can be very hard to track progress. To maximize your organic reach, you need a comprehensive SEO strategy that includes:
Technical SEO
On-page SEO
Keyword research
Content optimization
Link building
Being visible in the search engines and bringing in organic traffic is a priority for most businesses.
Companies invest huge amounts of money — to the tune of $389 billion in digital ad spend by the end of 2023 — in order for their name to show up at the top of the Google search results, and they need evidence that this investment is being used effectively.
Large websites may have many different team members working on different aspects of SEO, and bringing their hard work together isn't easy.
This is where an SEO platform comes in: It allows marketers to see everything that's going on from an SEO perspective, track progress, and use data to inform their decisions.
Dive Deeper: Enterprise SEO Software: How to Choose the Best SEO Platform for Large Sites
SEO Platforms vs SEO Tools
SEO software is a bit of a minefield for marketers, complete with a never-ending list of tools and technologies.
Whether you're doing keyword research, competitive analysis, website analytics, conversion optimization or anything else related to SEO, you probably have at least 10+ different tools to choose from. But although all of these tools offer benefits, it's just not manageable to have a different tool for each part of your SEO strategy.
If you're going to keep track of SEO performance, then you need everything to be in one place. Not only does this mean you're no longer paying for lots of different subscriptions, but it also makes your data much easier to manage.
SEO tools tend to perform individual functions, like analysis (Google Analytics, for example) or keyword research (BuzzSumo, for example).
But for a large-scale website, you need multiple tools all in one place, and this is where an SEO platform comes in.
Of course, you can have a complete SEO strategy and do everything manually. The only difficulty is that the more your site grows, the more you need some level of automation. At this point, you may turn to a single-function SEO tool, but as your website continues to grow, this approach can become unmanageable as well.
Ultimately, the SEO platform you choose should enable you to benefit from automation, while also supporting your entire SEO strategy from a single place.
Learn More:
* 9 Quick SEO Tactics That Only Take 10 Minutes to Implement
* 48 Content Marketing Tools to Make Your Life Easier
* How to Write a Strong SEO Title Tag (with Formulas & Templates!)

Which Businesses Should Use an SEO Platform?
One of the main benefits of an SEO platform is scale.
If you're running a small website that produces a minimal amount of content each month, it's much easier to keep track of your SEO strategy by hand. But as you add more and more pages and build a larger body of content, these manual processes become much more difficult.
The more you scale, the more difficult it can become to implement and track your SEO strategy.
An important piece of content that's three years old may have slipped from the top spot in the SERPs for a big keyword and lost a lot of traffic. If you've only got 50 blog posts, you're going to notice this change.
But if you've got thousands of posts, are you really going to be able to notice in order to react quickly and optimize it? And when you do notice a problem, are you going to be able to identify the reason for the drop in traffic?
Why Use an SEO Platform?
Let's break your SEO strategy into three parts: managing, implementing and measuring. If you're going to be successful with SEO, then you've got to have a strong focus in each area.
Managing SEO
The first part of your SEO strategy is managing your site.
This is where you look at your target audience, your competitors, and your existing content in order to come up with ways to improve your SEO. This might involve:
Putting questionnaires on your site to find out what your audience wants from your business
Conducting competitor analysis
Identifying backlink opportunities
Doing keyword research
Putting together a content plan
Finding content opportunities
Essentially, it's all the hard work that goes on in the background that enables you to create high-ranking content.
When you click on the top result for a competitive keyword, it's easy to forget just how much effort went into this part of the strategy. Yet, every successful piece of content likely involved multiple collaborators and lots of back and forth that eventually led to its high rankings.
Given how energy-intensive this process can be, you don't want to have to toggle between lots of different SEO tools (that may or may not be compatible with each other) just to get the job done. Instead, you want everyone to be working in a single SEO platform where they have a clear overview of your website and marketing priorities.
Dive Deeper:
* SEO Keyword Research Made Easy in 2023
* How to Perform Marketing Competitor Analysis (+ 6 Best Tools Comparison)
* The Skyscraper Technique: How to Build High-Quality Backlinks to Your Content

Implementing SEO
Once you've come up with a plan for a certain page or piece of content, your next step is to implement it. This involves everything from finding a writer who can carry out your vision, to making sure the final piece is loaded onto your website following SEO best practices: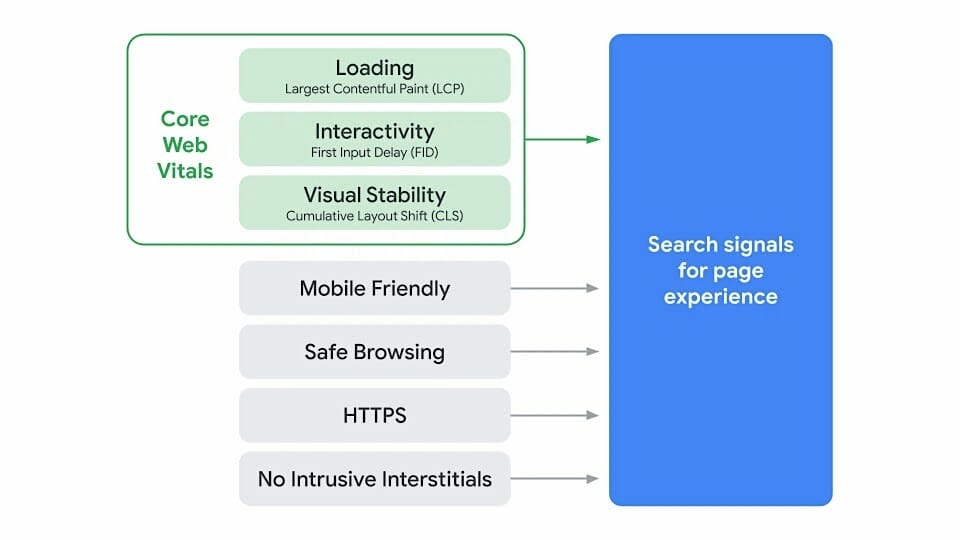 It's a competitive world out there in the search engines, and small details make a difference. To be successful, you need to create the best piece of content out there for your chosen keyword, but this isn't an easy task.
When you've got people in different departments working from different to-do lists, you risk little things slipping through the cracks. Instead, you need a plan not just for how you'll get each piece of content to the top of the SERPs, but for how you'll make sure your SEO plan is implemented correctly.
The right SEO platform makes this process easier by flagging errors and providing insights that can help ensure that your content follows modern SEO best practices.
Measuring SEO
There's no point creating an SEO strategy and producing content if it doesn't bring in a return.
At this point in the process, you've invested a lot of effort into planning and implementing your SEO strategy. You need to be able to measure the results. Sure, your performance data may reveal that you haven't got your strategy quite right. But at least with proper analytics, you can pinpoint what's worked and what hasn't.
This is vitally important in SEO. Ranking isn't an exact science; Google doesn't provide us with a perfect blueprint on how to get the number one spot (it does give us some pointers though). Otherwise, everyone would be doing it.
Instead, you've got to be able to test different things and work out what is – and what isn't – effective. Some of the content KPIs (Key Performance Indicators) you measure and track might include:
Content Engagement Metric. Engagement metrics should help you determine whether or not visitors to your website are engaging with content in the way you expected.
Content Conversion Metric. The next question to answer with your chosen content KPIs is: are my content consumers taking the action I want them to take?
Content Outcomes Metric. Look at what results the conversion actions you chose in the previous section are producing for your business. For example, which keywords are hitting page one of the SERPs, number of email subscribers added to your list through content, revenue produced from those engaged with one or more pieces of content, etc.
Content Spend. Keeping track of what you spend on your content creation efforts, including fees paid to content creators or subscription costs of content creation tools.
When you have a small website, it might be possible to do this manually, or with the help of a single-function SEO tool. But when you're carrying out SEO at scale, measuring your results in order to iterate your strategy will be much more efficient with an SEO platform.
Dive Deeper:
* Top Marketing KPIs that Every B2B Company Needs to Track
* The Only 4 Marketing/Content Marketing KPIs That Really Mattere

What to Look for in an SEO Platform
The benefits of an SEO platform for certain businesses should be clear. But what should you look for when it comes to selecting a specific platform?
Ideally, an SEO platform should use automation to take some of the load off your shoulders. In addition, by constantly analyzing your site and your competitors' sites, it should be able to offer valuable insights that help you manage, implement and measure your SEO strategy.
Here's what to look for:
Audience Insights
SEO starts with understanding your audience. You need to understand your target audience's pain points, the questions they have, and the type of content they consume so you can develop blog posts that'll resonate with them: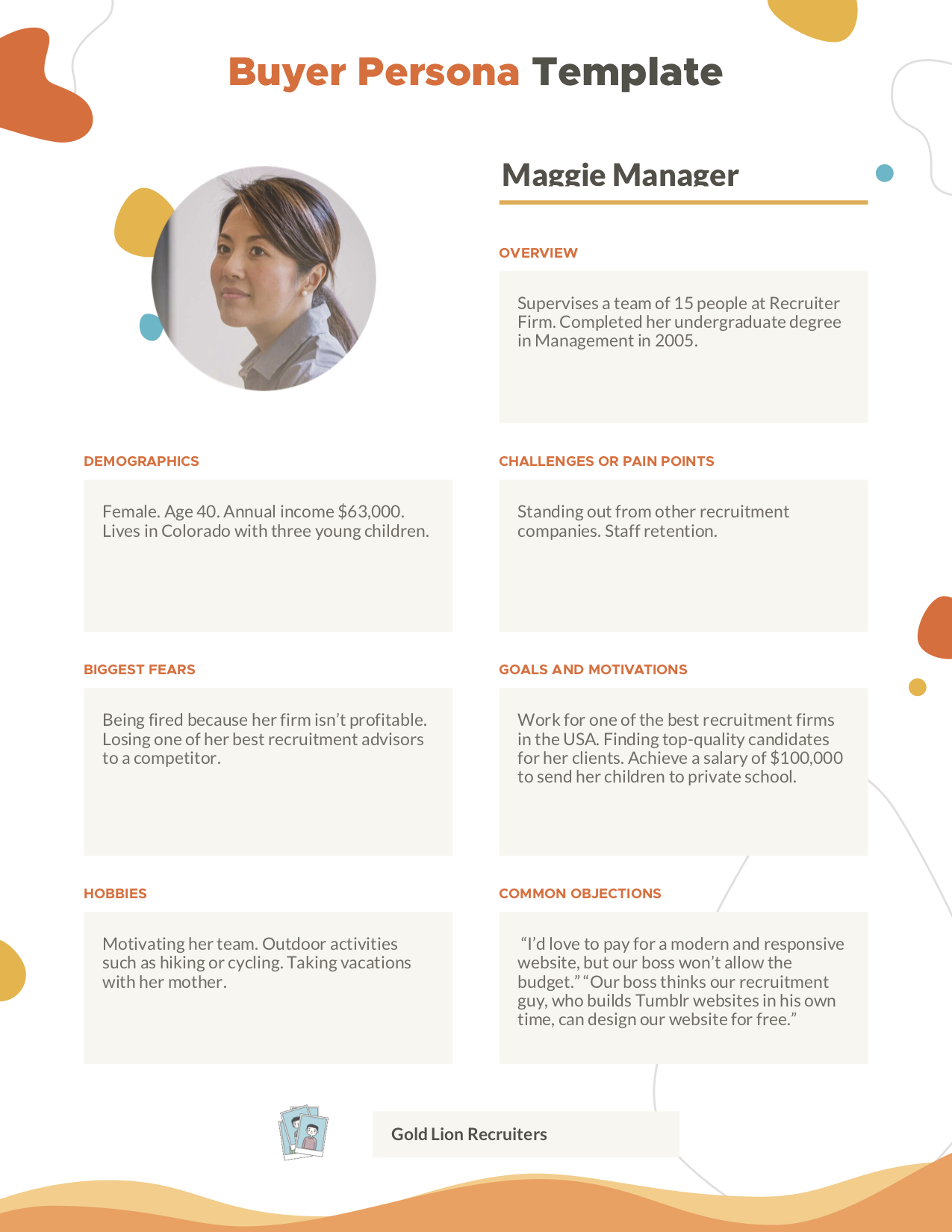 Your SEO platform can do this by looking at the ways people interact with your site. Through integrations with your analytics tools, an SEO platform can give you insights into what your audience looks like and the content they interact with. This can inform future content production and help make your SEO more targeted.
Competitor Analysis
Understanding who your competitors are and what makes them successful can help inform your SEO strategy.
If you're going to create the best content in your industry, then you need to know what others are doing. Not only will this also help with content ideation, analyzing your competitors' backlink profiles can highlight potential link-building opportunities.
Once you've collected all of this data about your competition, what do you do with it? Start with a SWOT analysis, a vital part of any competitive marketing analysis: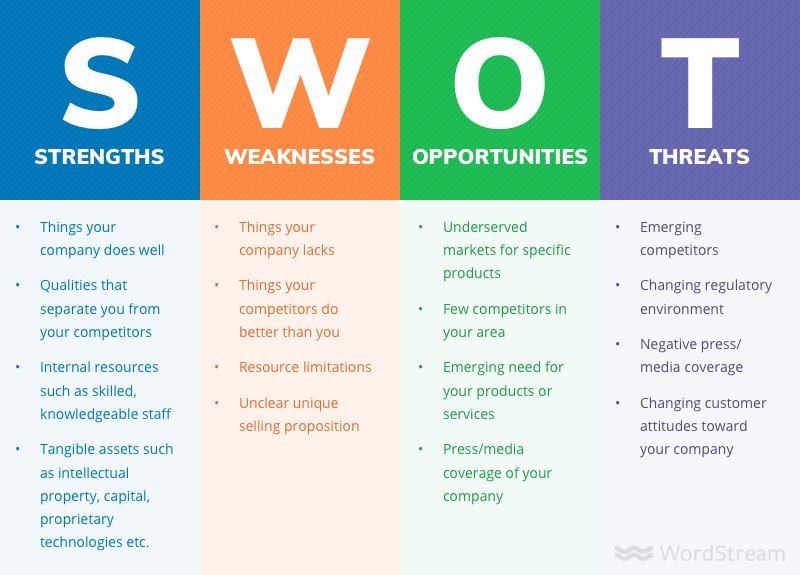 Keyword Tracking
Keyword tracking is a core aspect of SEO. There are lots of tools that can do this for you, but an SEO platform helps you integrate keyword data with other insights to make it more powerful.
Besides content planning, you need to keep an eye on how your website is performing to address any performance issues as they arise. One of the easiest ways to measure this is through keyword tracking:

Content Decay
In many ways, SEO moves slowly. You gradually build your site authority, and your content moves up and down in the rankings based on small changes in the SERPs.
The difficulty is that when you're looking after a huge website – or even multiple websites – content decay can set in without your even realizing it. All of a sudden, you've dropped off page one for a few major keywords and it's hurting your traffic.
To stay ahead of the game, you'll need a tool that monitors for content decay to alert you when it's time to update your existing content.
Content Editor
The SERPs are a reflection of how people search for information. User intent changes with time, and the keywords people use change as well.
So even if you've written a successful article for a target keyword in the past, it may gradually become less relevant to the people searching for it. Your SEO platform should be able to suggest new keywords for your existing content, helping to keep it evergreen.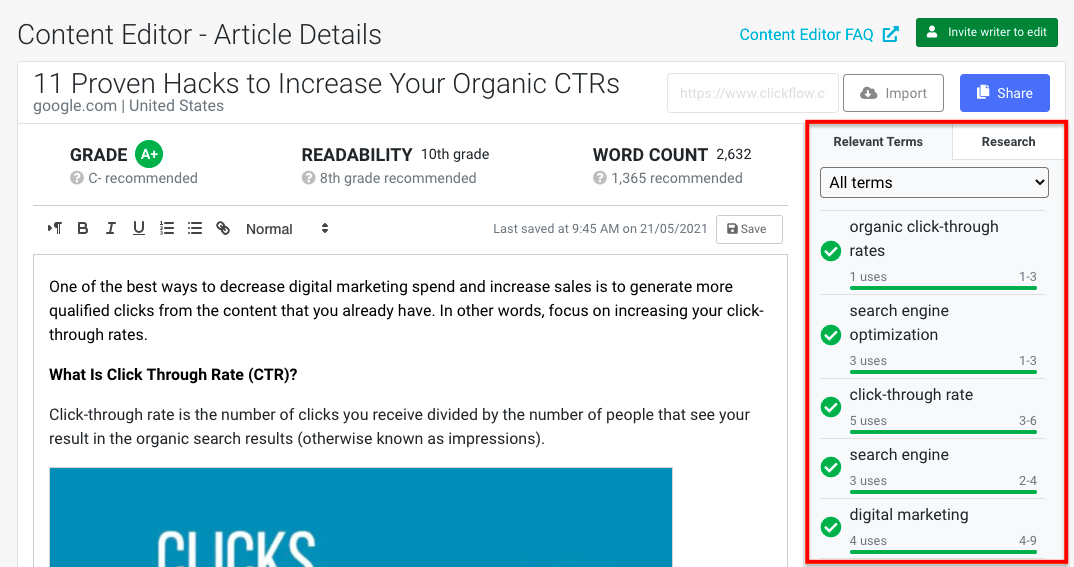 Change Monitoring
How do the changes you make to your site affect your SEO?
This can be a difficult question to answer, but with change monitoring, you can see the SERPs impact of each adjustment you make. Measuring your success is key, and a change monitoring feature within your SEO platform can make it much easier.
Page Element Testing
Small details make a big difference in SEO. Detailed insights features can help you understand what page elements you should change.
From changing your H1 to adding a meta description, page element testing can show the potential impact of your proposed changes. This page-level testing can give you detailed data and help inform your entire SEO strategy.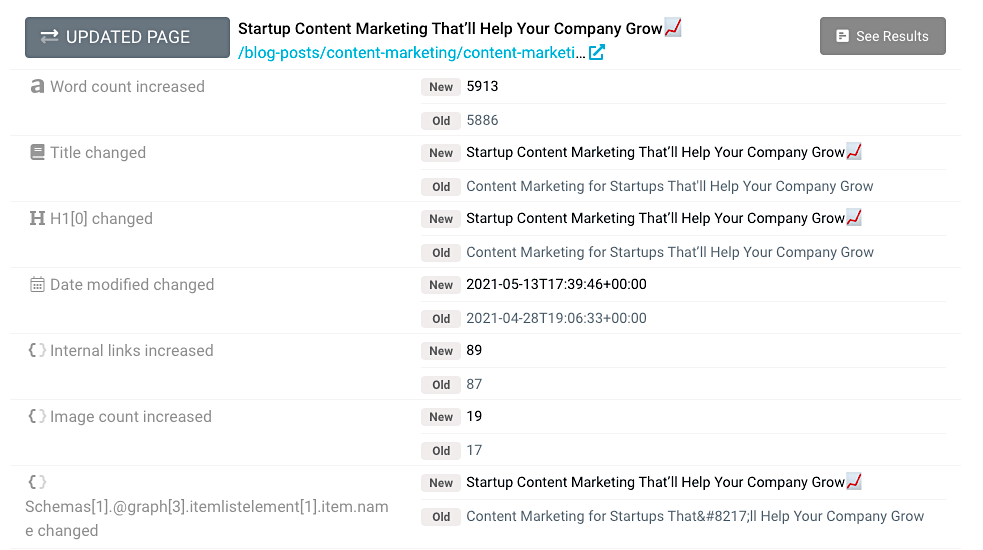 Reporting
A large part of what your SEO platform should be able to give you is insights, as you'll use this data to make tangible improvements to your website's performance.
This makes the reporting element of your SEO platform extremely important. Reporting features should give you easy access to the data you need, as well as turn it into insights you can use to carry your business forward.
The more flexibility your platform offers you to personalize your reports, the better.
Related Content: 8 Essential SEO Reports to Create for Your Client in 2023
Collaboration
Implementing an SEO strategy for a large website isn't a one-person job. There are lots of stakeholders and collaborators, and your SEO platform should be able to facilitate collaboration between all of them.
For this reason, your platform should allow you to grant different levels of access so that each member of your team can contribute to your site's performance. With everything in one place, your platform should make it easier to share ideas and ensure high-quality work.
Efficiency
An SEO platform brings together many different functions and one of its main benefits over using lots of different SEO tools is efficiency.
However, if your platform isn't intuitive, or if you can't get to grips with the layout, then it's not going to offer the level of efficiency you need. Most SEO platforms offer a free trial. Take advantage of these to make sure the system works for you.
Additional Considerations
Finally, keep in mind that choosing an SEO platform isn't just about features. Other aspects of the service matter, too. To maximize the benefits of your subscription, consider additional elements like customer service and security.  
When you invest in an SEO platform, you're paying for a piece of software that can help you implement and manage huge growth. But you won't be able to reach your site's SEO potential if you don't know how to get the most out of each feature of your SEO platform.
Make sure the platform you're considering invests in your success by offering great customer support. For example, workshops, masterclasses and specific video tutorials can help you get the most out of your SEO strategy.
There's also the security consideration, which should be a priority for any modern business – and not just for cybersecurity reasons. Poor website security negatively impacts SEO rankings, too. So make sure your SEO platform takes it as seriously as you do.
Getting Started with SEO Platforms
It's easy to look at SEO as a very specific, standalone part of your business. As a result, an SEO platform might seem like a big investment when you think of it just in terms of SEO. But the thing is, the data you gain from this type of platform can have a huge impact on your entire business.
Good SEO requires that you do a lot of things right. The bigger your website, the more unruly it can become – and the harder it is to keep doing the things that make you successful in the SERPs.
There comes a point where you need to embrace automation and the efficiency that comes from having everything together in one place. If it feels like you're taking a scattergun approach to SEO, or if you're struggling to measure the success of your strategy, it could be time to look at an SEO platform.