From the type of tests that Google has been running over the past few years, it's pretty clear that they're focused on one thing: getting out of the way of their users.
When it comes to user experience, Google's ultimate goal is to give their users what they're looking for in the most frictionless way possible. For example, they rolled out their "zero rank" feature to let users get the info they're looking for without even clicking on any links.
Most recently, SEO consultant Dan Shure caught a new test that Google has been running – a new job board feature in search results: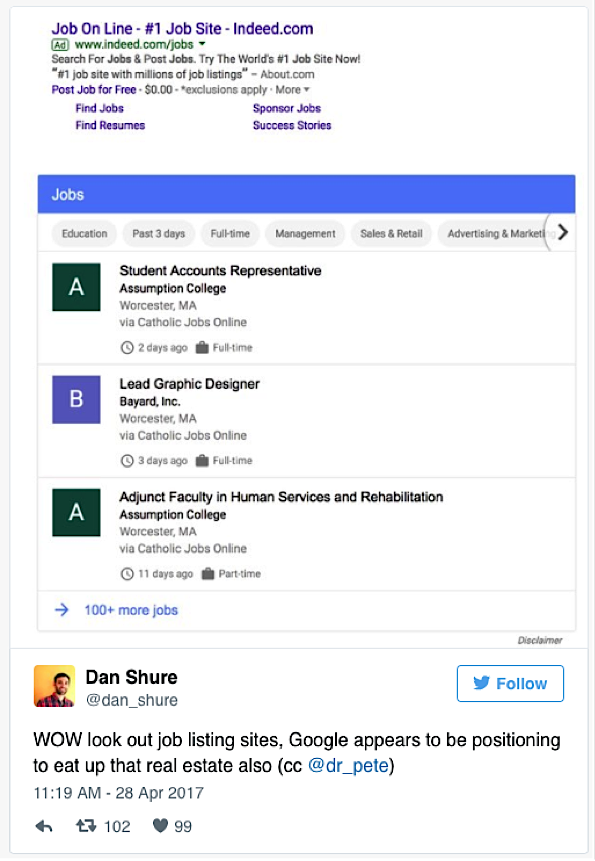 Since this is just a test, it hasn't yet rolled out across their entire search platform, which means you probably won't see it in your own search results page.
Here's How Google's New Job Portal in Search Works
Let's say you search for "data entry online jobs." Instead of pulling up a list of job sites with that type of job posting – like Indeed, Monster or LinkedIn – Google aggregates them all into its own portal: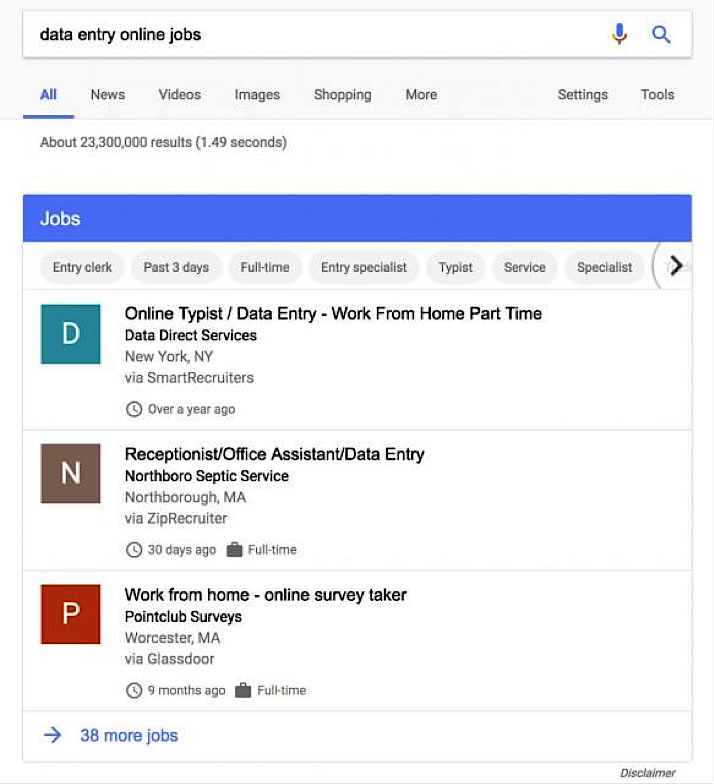 You can also search for jobs in a specific location, and Google will pull up an aggregate list of jobs posted on different sites in that specific location.
Notice how the listings don't just include jobs that are posted on sites like Indeed or Glassdoor, but also include direct postings from a company's individual career page.
When you click through on any of the postings, Google expands the interface and gives you more details on the posting that you clicked on. You can also do a more advanced job search by filtering by category, type, date posted, and location.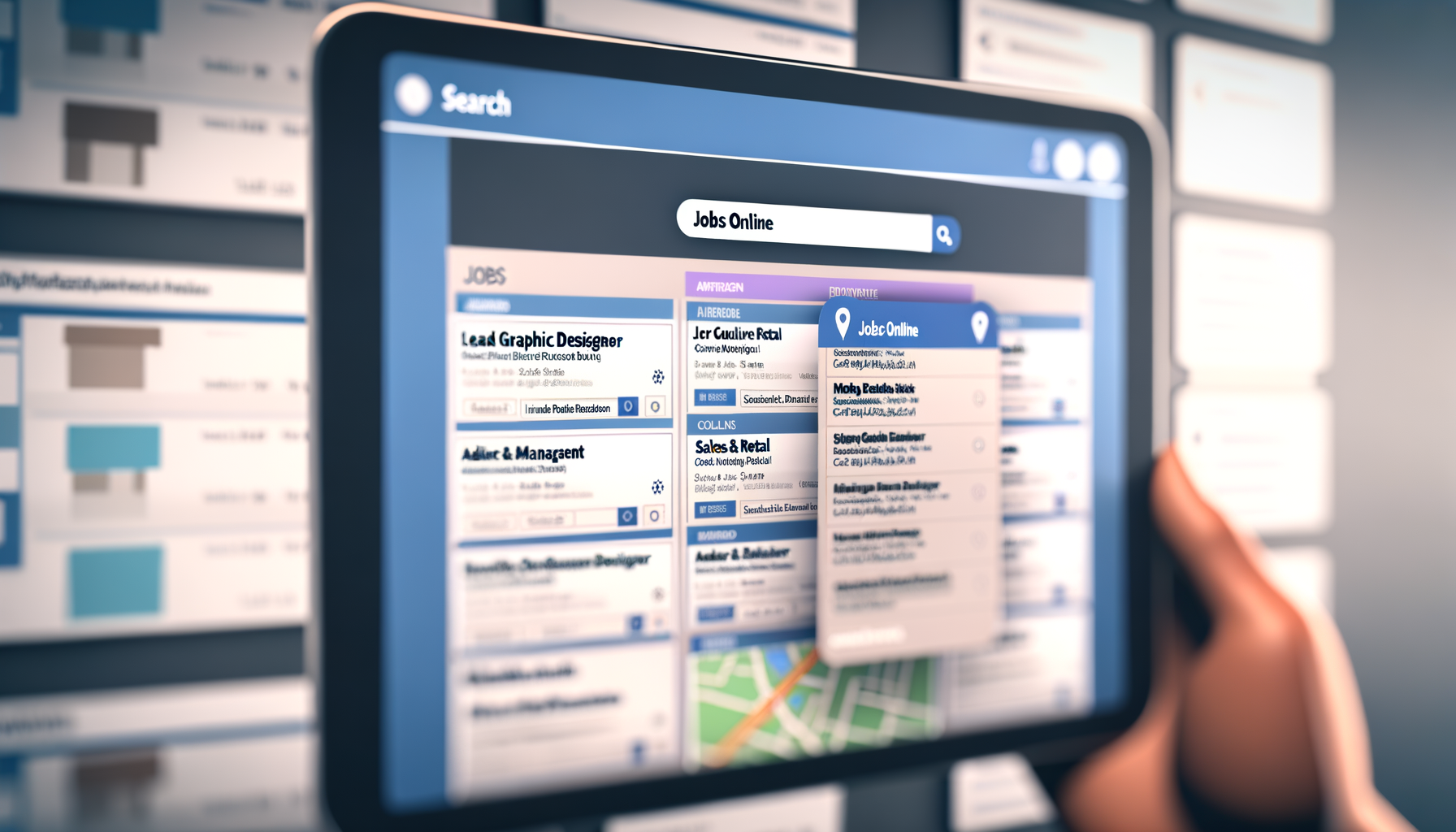 It doesn't seem like Google lets you apply to jobs via their job search interface – yet. The call to action on each of the postings takes you to the original site.
Here's a more complete screencast by Dan Shure showing this new feature.
Implications
Google's new interface has broader implications than just making job searches easier for candidates. What they're actually doing is trying to become the main aggregator for all jobs posted on the web. Because there are so many aggregator sites out there like Indeed, LinkedIn, Monster, etc., Google can significantly reduce complexity for its users by combining everything into one interface that can be easily browsed.
With so many job sites, Google can reduce complexity for its users by aggregating them in SERPs.
Click To Tweet
They did the same thing in the airline space with Google Flights.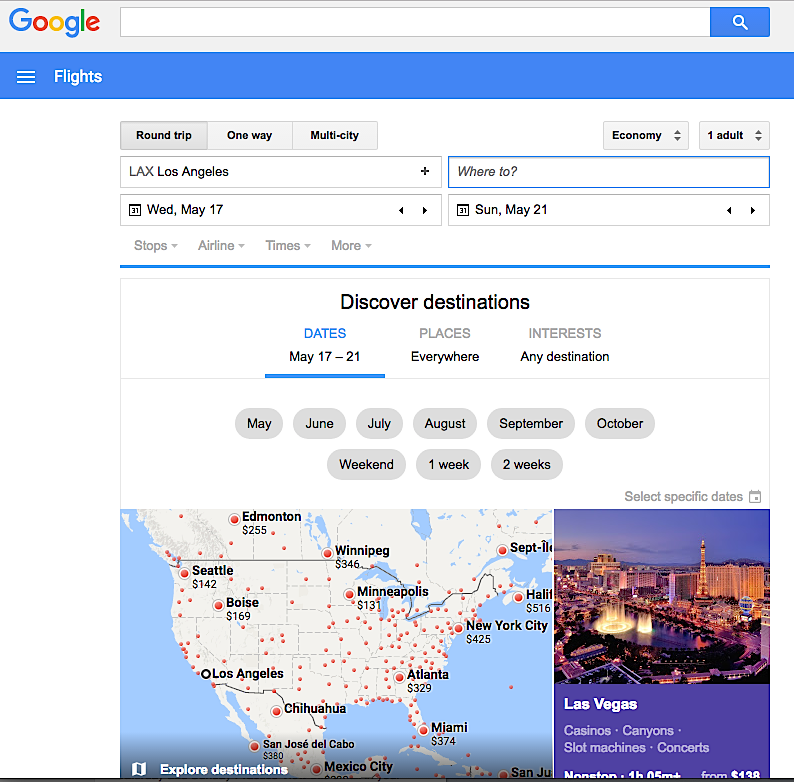 And chances are, they're planning to create a similar interface in other areas that are dominated by a variety of aggregator sites (perhaps local product sales, hotels, etc).
It's unclear how this will affect sites like Indeed, or how they'll respond to this.
One of the biggest benefits that Indeed provides to companies is a wider reach than they'd be able to get by posting jobs on their own site. But if Google is able to scrape companies' career pages and surface their job postings to the top automatically, then there might not be as much value in posting on an aggregator site.
But for now, it's still a limited test.
Update:
Google announced on May 17th, 2017 that its going to launch a new jobs search engine for users in the US.
CEO Sundar Pichai said that there's a huge disconnect between employers and candidates in the job search market — employers are having difficulties recruiting the right people for the job, while candidates are having a tough time finding the right job openings.
Google plans to focus their efforts on all different types of jobs, from entry level roles to jobs that require a high level of education. To start out, they plan to partner with sites like LinkedIn, Facebook, CareerBuilder, Monster, etc.
This way, they'll be able to use the help of these different sites to aggregate job listings, instead of competing with them.
Google's job search function will leverage AI to get a complete picture of the types of jobs users are searching for — even if they're not explicitly searching for them. For example, if you search "marketing jobs", then Google will display jobs involving content marketing, paid advertising, marketing strategy, etc.
This is what will make Google's job search tool different from everything else out there. Instead of just displaying search results that match what you searched for, it'll use AI technology to batch all related jobs together.
The search function will also give more relevant information to candidates so they can gauge whether the job would be a good fit for them. It might show data like commute times to help with the decision.
According to Google, this feature will be rolled out to users in the US over the next few weeks.