The holidays are truly the most important time of the year for retailers. Even this year.
Deloitte forecasts that:
Holiday retail sales are expected to increase between 7-9%
Overall holiday sales will total $1.28-1.30 trillion during the November to January timeframe
E-commerce holiday sales are expected to reach between $210-218 billion this holiday season, compared to $189 billion last season
KPMG predicts that for 2023:
Holiday sales for U.S. retailers will be 7% higher than last year's
U.S. retail executives forecast that this year:
E-commerce holiday sales will grow 35% compared to the prior year.
Holiday sales will represent on average of 35% of their company's total annual sales
But when it's already November and you're not ranking for your target keywords, it's probably too late to push your website for SEO or social media. You need results and you need them fast.
The holiday season is a tough time for PPC advertisers. With soaring competition and ever-increasing CPCs, it's very easy to lose thousands of dollars. This is where Pay-per-Click (PPC) advertising comes in.
In this post, I'm going to show you how you can optimize your PPC campaign to get the most out of the holidays.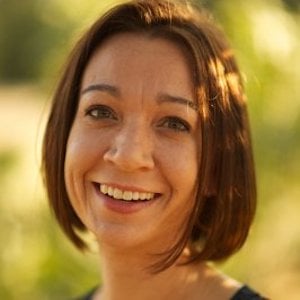 Kim Cooper
Director of Marketing, Amazon Alexa
Single Grain enables us to increase our impact without increasing our headcount
Why PPC?
Consider this:
Ad impressions typically increase 50% and direct traffic goes up by 150% during holidays
Conversion rates can go up by 60% as people are more willing to shop online during the holidays
92% of shoppers buy or at least research online during the holidays
With more clicks and stronger buyer intent, PPC spending increases heavily around the holiday season.
On the flip side, there is also more competition in PPC listings around the holidays. You might see higher CPC (Cost Per Click) and will have to bid accordingly. Increased competition also means that you will have to optimize your ads heavily.
Learn More: How to Gauge the Success of Your PPC Campaign
How to Better Use PPC During the Holidays
The holidays is the perfect time to clean house and spruce up your PPC campaign. You'll want to zero-in on your best performing keywords while also using holiday-themed landing pages.
Here are a few things you can do to get the most out of the holiday season:
1. Focus on Solving Holiday-Related Problems
The way that shoppers make decisions changes radically around the holidays.
Instead of traditional problem-solving models, holiday shoppers focus on administrative factors. This includes, but isn't limited to, a level of involvement (in the purchase decision), anticipation, and situational factors such as availability of resources or expected delivery dates.
In other words, holiday shoppers aren't looking to solve complex problems; they are looking to fulfill a wish or find suitable gifts before a deadline.
Typically, holiday shoppers want:
Deals to push them to make a purchase decision
Discovery of popular products to make gifting easier
So your PPC advertising needs to take advantage of this fact. Don't promote obscure products in your inventory. Instead, focus on making gifting easier by offering deals on your best selling products.
To do this, start by:
Making a list of your most popular products (sort inventory by sales for each item)
Making a list of deal-focused and holiday-focused search terms for your popular products
For example, if your most popular product is a lawn mower, your search terms might look like this: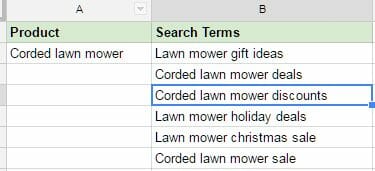 Doing this will help you give customers what they want: easy discovery of your popular products and deals to incentivize purchases.
2. Use Existing PPC Data
Your existing PPC data can tell you a lot about what keywords to target and which products to promote.
Start by digging through the data to find the best performing:
Keywords
Ad copy
Deals
Landing pages
Time of day/day of the week
This will give you a clear idea of what you have to do next and what to avoid while creating your campaign for the holiday season. Try combining different winning keywords/copy/landing pages for this year's campaign. It might look something like this:

You can also use data from your PPC campaigns from earlier in the year and add holiday-themed keywords to them.
For instance, if your data shows that the keyword "[product category] discount" has been successful for you, try making it holiday themed by adding holiday-focused keywords (such as "holidays", "Christmas", "gifts", etc.) to it, like this:

3. Target Last-Minute Shoppers
According to National Retail Federation, nearly 40% of holiday shopping happens in the last 10 days before Christmas.
These people leave shopping to the last minute because they either:
Forgot to shop and now want to buy gifts before Christmas
Were waiting for heavier last-minute discounts
There are two ways to target these shoppers:
A) Use terms like "last minute deals" in your keywords and copy
Target deal-seeking shoppers by emphasizing terms like "last minute" in your keywords and copy.

You can even create custom coupons that focus on last-minute deals, like this:

To further improve ad performance, use landing page designs that emphasize the FOMO aspect of your last-minute deal.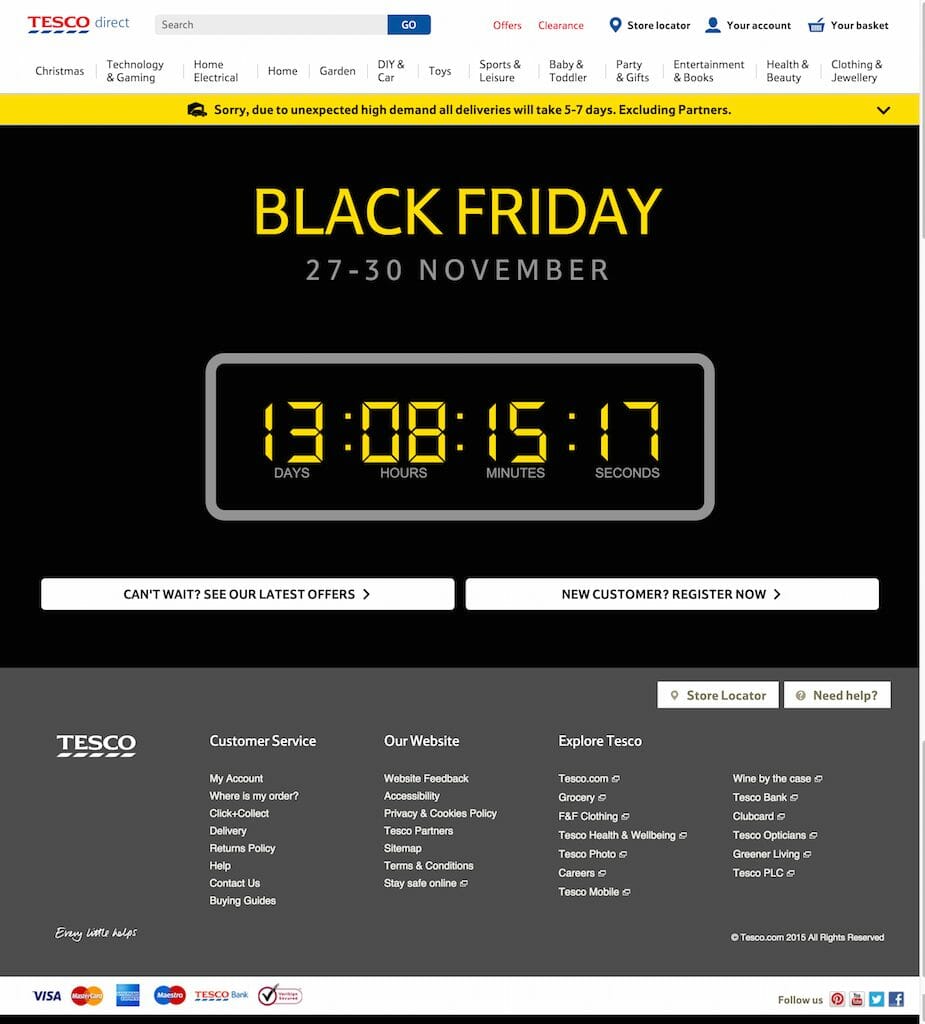 B) Promise priority or guaranteed shipping
Late shoppers who forgot to buy earlier in the season are looking for one thing: guaranteed shipping by Christmas.
Target these shoppers by offering priority or guaranteed shipping in your ad copy.

You can emphasize the "deliver by Christmas" aspect of your offer in your landing page as well, like this: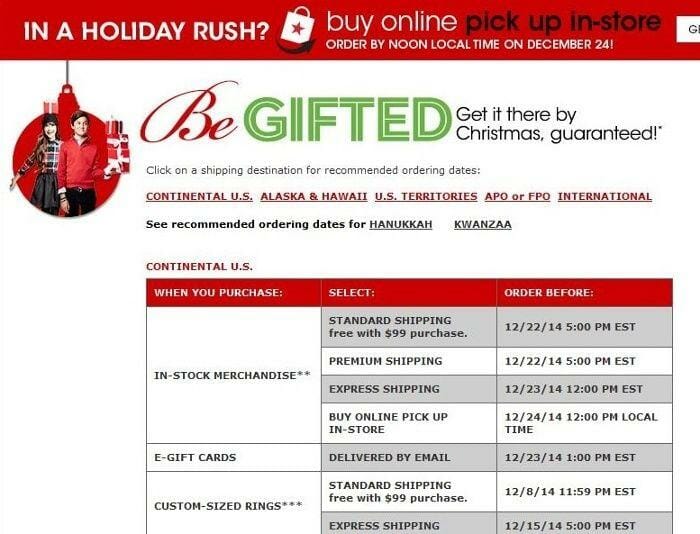 4. Track Data Hourly on Major Shopping Days
Your competition will be immense on major shopping days like Black Friday and Cyber Monday. With high volume and intense competition, it's a good idea to keep track of your PPC data on an hourly basis on these days.
Although the AdWords service level agreement states that data is updated every 3-4 hours, in reality data is usually updated within 2-3 minutes and reflected on the dashboard in under 20 minutes.
Here's a simple PHP script to track this data as it comes in.
Using this,  you can track data on an hourly basis. While it's not going to make a big difference on regular shopping days, the high volume on Black Friday, Thanksgiving and Cyber Monday will make it worthwhile. You can use faster data collection to see what's working and what isn't, and streamline your ads accordingly.
Related Content: 3 Simple Ways to Save Money on SEO Using PPC [podcast]
5. Use Scarcity-Focused Ads
Understand that holiday shoppers have urgent needs. They want to make sure that all their gifts are delivered by a deadline (usually Christmas). You can target them by using scarcity in your ads.
This can be achieved in two ways:
A) Using a countdown timer in your ads
Use timers to show the time left to avail a particular deal on your site.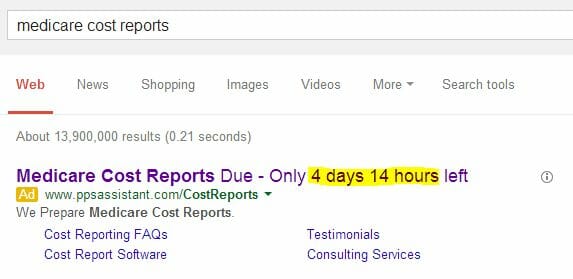 Here's Google's own guide to creating a sale countdown in your AdWords ads.
B) Use scarcity copy in your ads
Words like "Stock is limited" or "Only 3 items left, hurry!" or "Last minute discount" can get you more clicks.

You can also use this tactic to show limited availability of your products ("only X items left!").
6. Use Ad Extensions
Ad extensions are exactly what they sound like: snippets with additional information about your ad or product. There are a number of manual and automatic ad extensions which means that the former have to be set up manually and the latter is automated.
Some manual ad extensions you can use are:
Call extension which lets users place a call to your store – very effective for mobile shoppers.

Locations extension which shows your location. This one is particularly useful for local queries.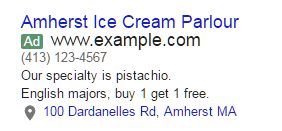 Sitelinks extension which directs visitors to additional pages on your site.

Ad extensions do not have any additional cost associated with them, though they can lead to higher CTR, landing you more clicks at lower rates. Depending on the products you sell and the customers you target, any or all of these options might make sense for your business.
Related Content: 10 Ways Your Paid Marketing Campaign Can Go Wrong
7. Focus on the Post-Click Experience
When prospects click on your ad and they are directed to your homepage or a category page, it can put them off. There is a very good chance that those visitors will not spend the extra time just to find that deal in some corner of your website. They will likely move to your competitor's website.
To make the experience as consistent as possible for your visitors, make sure that you create a custom holiday-themed shopping page for targeted products or product categories.
For example, consider this holiday landing page from Target: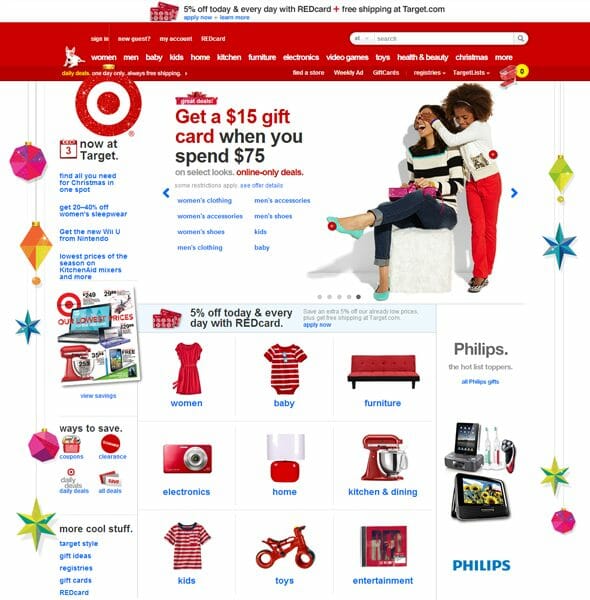 Note the:
Uniform, holiday-themed colors (red) everywhere
Discount emphasized above the fold
Left pane that mentions Christmas shopping
Similarly, REI helps shoppers find the perfect gift by featuring a separate "Gifts" tab in its navigation menu: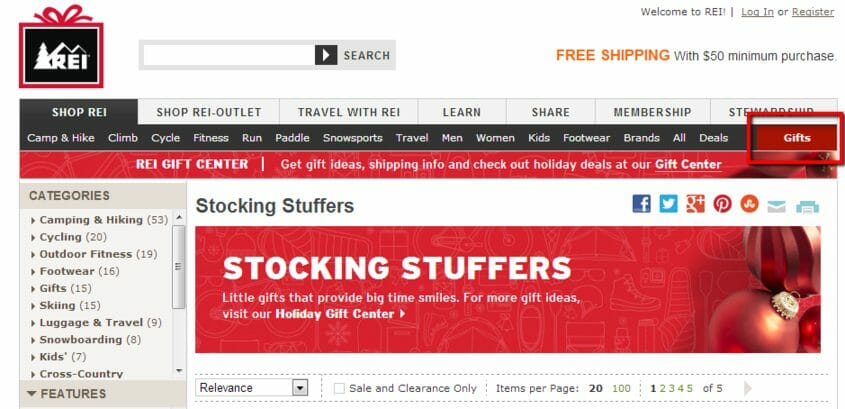 Don't shy away from integrating some holiday imagery to your website, like Oriental Trading Company's landing page: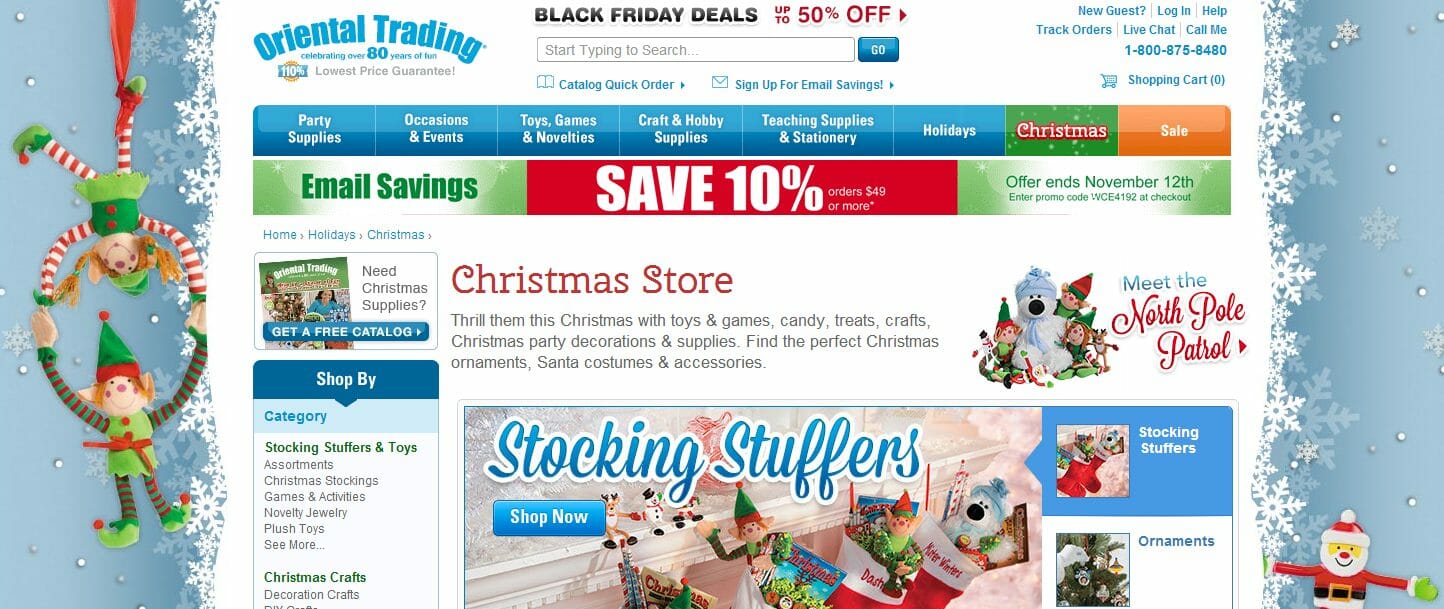 It's important to think of the entire customer experience, and not just the CTR on your ads when planning a PPC campaign.
Learn More: What Amazon's Marketing Strategy Can Teach SMB Owners
Conclusion
Just as with every other website, marketing, testing and tracking is extremely crucial to a successful holiday PPC campaign. Keep in mind that holiday buying starts way before the season, so make sure to take advantage of early shoppers as much as you can before the CPCs start rising and competition increases.
Whatever your results from this holiday season, be sure to bookmark this post and get a head start on your PPC advertising campaign for next year!