6 Tools that Make Tracking Your Influencer Marketing Campaigns Easy
If you're reading this post, you've probably already come across plenty of industry data about the power of influencer marketing. As per Raghav Haran:
Influencer marketing is a type of word-of-mouth marketing that uses key leaders to drive your message.... Rather than marketing directly to a large group of consumers, you pay influencers to get the word out for you.
Click To Tweet
Here are some food-for-thought stats on influencer marketing:
Influencer marketing content delivers 11X greater ROI than traditional forms of digital marketing.
49% of people say they rely on recommendations from influencers when making purchase decisions.
73% of marketers say that they have allocated budget for influencer marketing.
Twitter users report a 5.2X increase in purchase intent when exposed to promotional content from influencers.
40% of people say they've purchased an item online after seeing it used by an influencer on Instagram, Twitter, Vine, or YouTube.
70% of influencers feel that the most effective way to collaborate with brands is through an influencer marketing platform.
Statistics like these offer an industry snapshot, but how do you make sure that you manage the same level of success for your brand?
Part of the answer lies in finding the right influencers to begin with — the other part is being able to track your efforts, determine which content, influencers and platforms are really driving engagement, and adjust your efforts with each campaign.
To do that accurately and effectively, you'll need more than Google Analytics and your social media automation platform to get insights.
Here are 6 tools that help brands track each step of their influencer marketing efforts.
More on influencer marketing:
Traackr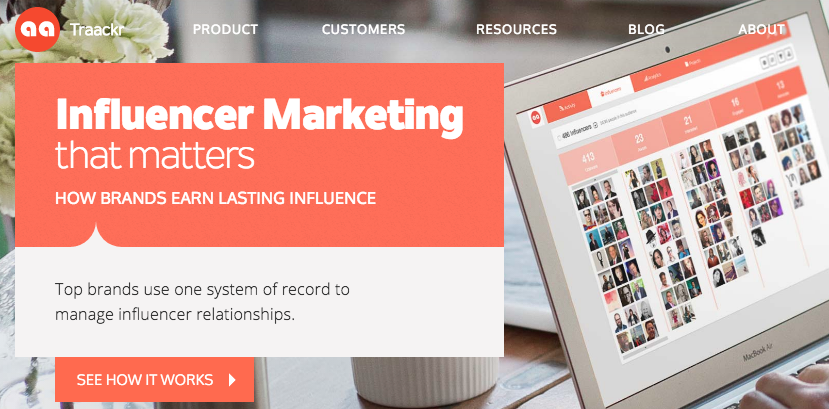 Just like the name implies, Traackr is one of the top tools out there to help you build and track your influencer marketing campaigns. Traackr was built on the idea of helping brands manage their relationships with influencers, but it also comes with a host of features that help you monitor the effectiveness of your campaigns.
How It Works
Traackr is a system of record to manage influencer relationships. It offers standardized metrics across teams, brands, and geographic locations to help you scale your influencer strategy.
Upload your list of existing contacts and use Traackr to search for new potential influencers. Traackr helps you validate your influencers by offering in-depth metrics about who they are and where they're active on the web.
Next, you can tier and organize your influencers into meaningful groups based on their niche, team members they're relevant to, which projects they're associated with, etc.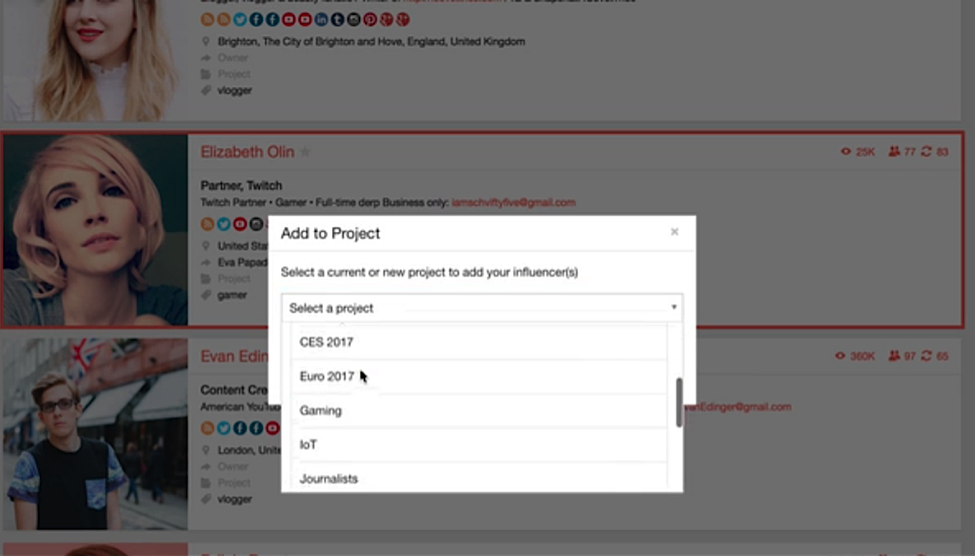 This information all becomes valuable when you launch and track your campaigns. Traackr helps you keep tabs on influencer activity and engage in order to build relationships. You can focus on tracking topics related to your niche, your brand mentions specifically, etc.
All your communications with influencers will appear in a universal record, no matter which of your team members is engaging.
Traackr analytics features allow you to:
Set a benchmark for your brand's current influence in the market so you know your starting point for improvement. Compare your share of influencers against competitors to set a baseline.
Get a complete picture of how each influencer marketing initiative is performing (content, platform, etc.). Track changes in mentions and engagement with new influencers.
Analyze your investment and influencer results together to determine who is the most effective at driving engagement for your brand.
Set up reports to track fulfillment and compliance when you ask influencers to help promote your brand.
Traackr also helps paint a picture of the stage of influencer relationships with a funnel breakdown: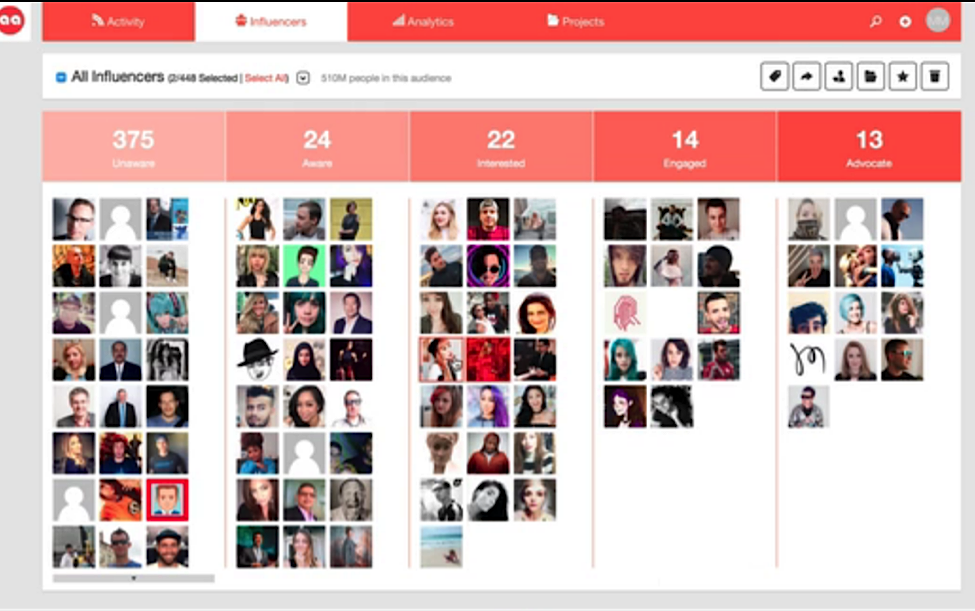 This makes it easy for any team member to select influencers that are best for your latest campaigns. Assess progress and continuously monitor how your funnel is changing based on influencer data.
The main pain point Traackr aims to address is eliminating cross-functional conflicts when you work with a large team and a lot of influencers.
Pricing
Traackr does not list any set pricing, and asks you to contact them directly for a quote. Discussions around the internet suggest that they are not cheap. That said, whatever they do charge will be customized to your influencer marketing needs, so you won't have to pay for features you don't use.
Learn More: How to Grow Your Business with Influencer Marketing
Dealspotr Marketplace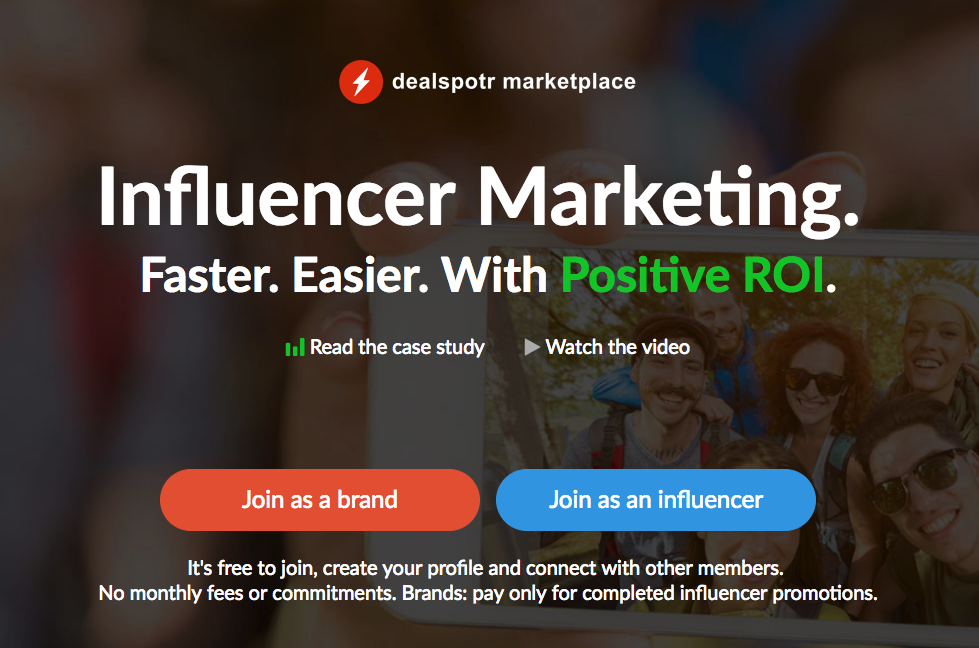 The Dealspotr Marketplace is a free influencer marketing platform that combines the benefits of a promo code website with a CRM-type management system to track your influencer marketing campaigns. You can add exclusive codes to the platform, browse Dealspotr's database of micro-influencers to enlist in promoting these codes and your product, and track everything from one comprehensive dashboard.
How It Works
Since Dealspotr functions as a hybrid promo code database and influencer marketing platform, you'll have access to two basic types of marketing capabilities:
Promoting your promo code(s) on the web
Partnering with influencers to run sponsored content about your brand/store
Much like posting a job on LinkedIn, Dealspotr allows you to create a sponsored campaign that is visible to their network of over 3,000 micro-influencers. Interested influencers can then apply to your campaign, and you have final say on the ones you want to work with. You can also search for influencers by niche, and invite them to join your campaign.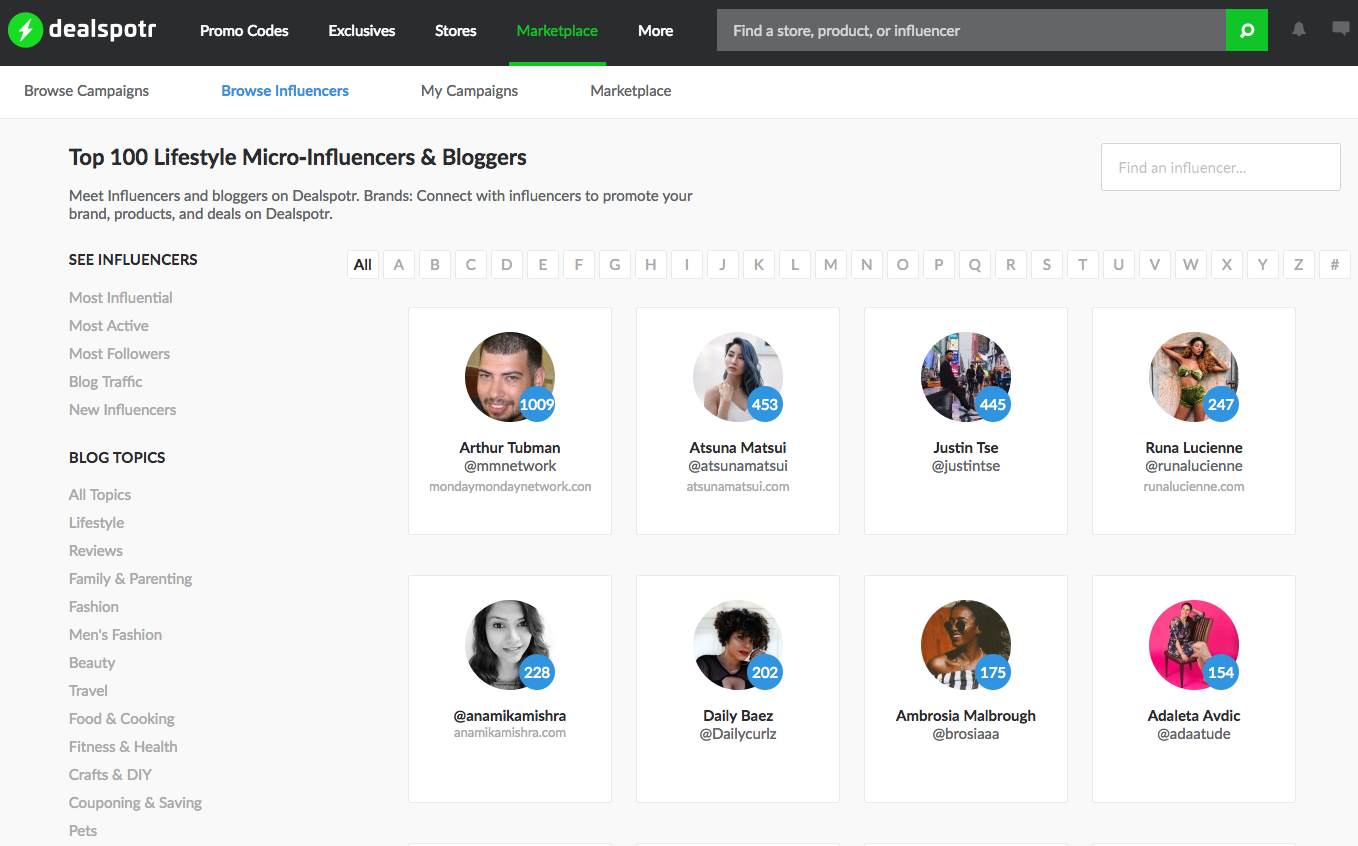 Other features include:
1) Pre-calculated Influencer Rates
When running an influencer marketing campaign, a lot of time can be spent negotiating with influencers on their rates. Many influencers tend to price themselves high – and with issues of purchased followers and fake engagement rampant, an influencer's rates aren't always a reflection of the actual reach that influencer has.
In the Dealspotr Marketplace, each influencer is given an Influence Score, which is calculated by an algorithm. This score determines the fee an influencer is paid, and is designed to combat these fake followers and overinflated influencer rates.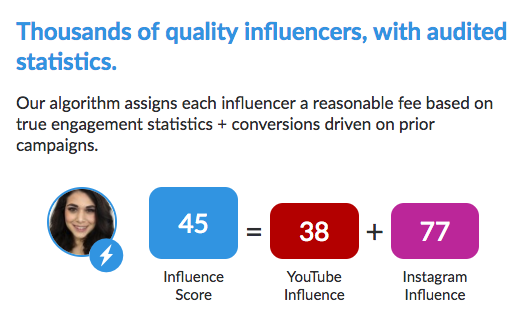 An influencer can see their Influence Score and pay rate when applying to campaigns, which takes the negotiation and guesswork out of the process.
2) Manage All Your Campaigns from One Dashboard
When you create an influencer marketing campaign in the Marketplace, you'll have access to a full dashboard – your hub for everything you need in order to track your campaign. You'll be able to see pending applications from influencers who want to work with you, and track the status of each one. You'll be able to track invites you've sent out as well.
Once you decide to work with a particular influencer, you can track your whole relationship right from the dashboard. You'll be able to do things like send out a product sample, check your influencers' sponsored post due date, and add funds to your campaign.
Dealspotr's Marketplace fully automates content scheduling and notifications, so you won't have to track down your influencers via email or Instagram message. The platform enforces timelines and automatically sends out reminders to keep your campaigns moving forward.
3) Track Clicks and Conversions
If you've run an influencer marketing campaign before, you know that one of the hardest things to do is track ROI. It can be a hard number to quantify and requires a lot of analytical data and processing.
The Dealspotr Marketplace automatically tracks clicks and sales for each influencer you work with. The platform's tracking technology integrates with Shopify, Magento, WooCommerce, and other popular e-commerce platforms, and gives updates on clicks and conversions in real time.
Pricing
The Dealspotr Marketplace is completely free for brands to use. Any type of "fee" is baked right into the exposed influencer's rate, so what you see is what you pay.
Brands also have the option to offer a free product-only campaign, where they compensate influencers with just a free product. It's a good starting point if you're not sure whether you want to work with one influencer or 20, since you can freely pay per influencer.
Klear

Klear is first and foremost a place to search for and find influencers to work with, but it has also become a sophisticated platform to manage and track your campaigns as well.
How It Works
Klear is fully equipped to help you find, analyze, manage, and monitor your influencers. Here are some key features:
1) Find and Analyze Influencers
Klear offers a database of 500 million influencer profiles with five years of historical data. You can browse or search through more than 60,000 categories based on skill, location, platform, and more.
Once you click on a profile, you can see a snapshot of the engagement level on different platforms, reach, content, and overall influence to help you make an informed choice.
2) Manage Campaigns
Klear offers a built-in CRM to help you manage your influencer campaigns. It was designed specifically for influencer marketing so you can focus on key insights that matter most, like hashtag mentions for your campaigns, influence, reach, and total fans for each influencer.
The CRM helps you contact potential influencers and keep track of your activation and outreach with easy-to-use tools.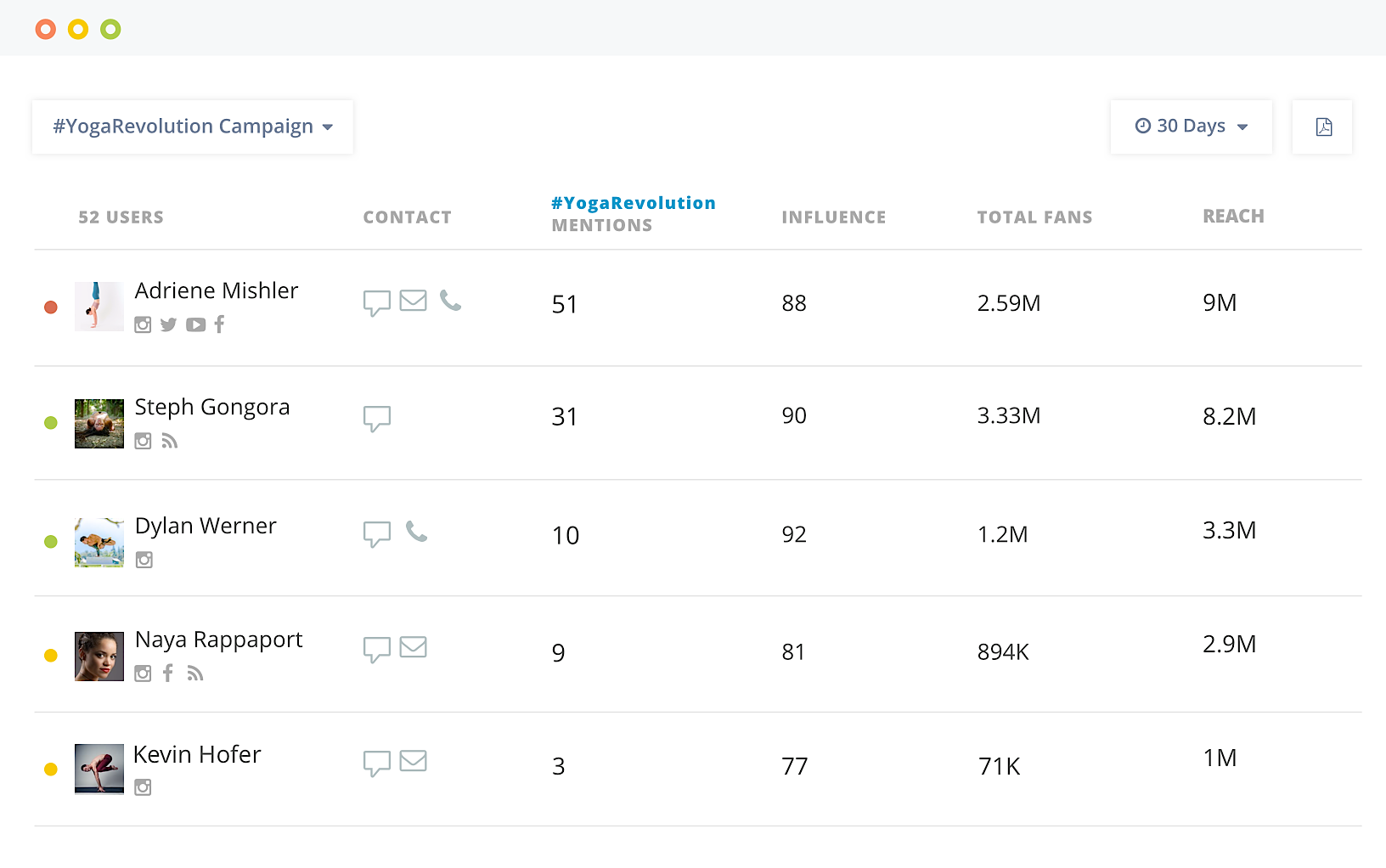 Most importantly, you also get access to detailed reports of the impact each influencer and user-generated content in terms of mentions, engagement, reach, and other key line metrics.
3) Monitoring Performance
With Klear's Performance Report, you'll see hard data for your influencer campaign key performance indicators. All these metrics are tracked in real-time, keeping you up-to-date on your true reach. You can also create your own custom reports to visualize the impact of your influencer marketing efforts.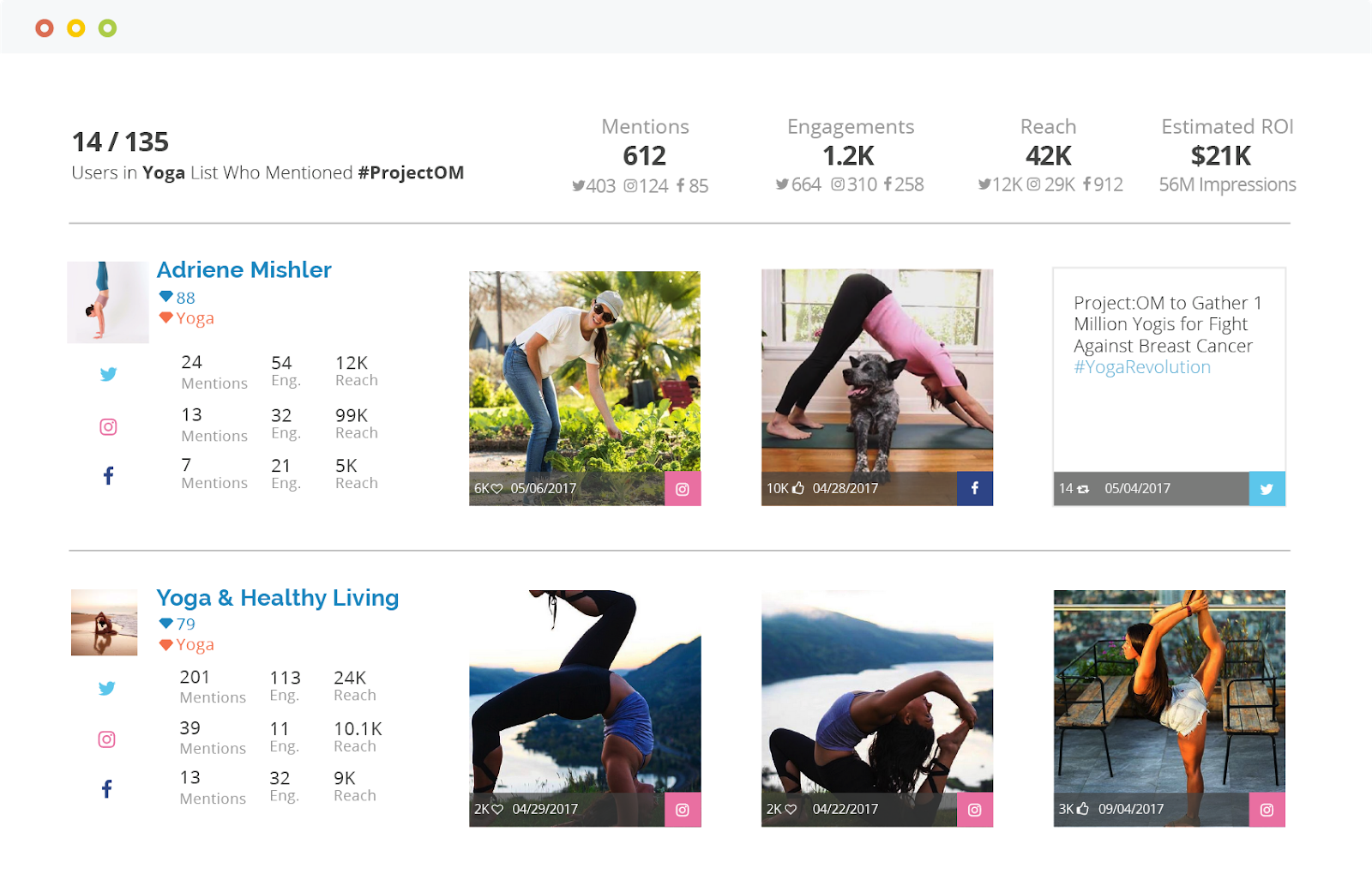 Klear lets you dive deep into your data to determine which influencers contributed most to your overall ROI, or you can split data across networks and determine how much ad spend you're saving overall. Insights from Klear's Performance Report are all you really need to determine what factors contribute to your campaign success so you can shift focus and improve your efforts.
Pricing
Klear offers 3 different price plan to access their tools and data:
Free Plan – (free) Sign up for free to test out Klear's features before moving to a paid plan. You'll get access to limited influencer search and social profiles, as well as demo monitors.
Advanced Plan – (contact for price) You'll need to contact Klear directly for a quote based on your brand or agency's needs. You can get full access to search features, relationship management, tracking, influencer research, campaign monitoring, and account management.
Startup Plan – ($249/month) For small businesses, Klear offers a limited plan for $249/month. With it, you can manage up to 50 influencers, do 50 search results, and 5 monitors.
Klear also offers some free tools to help you find influencers, but if you're interested in the platform to track your campaigns, then you'll have to opt for one of the paid options above.
Learn More: Influencer Marketing for SEO: How to Build Links with Influencer Outreach
GroupHigh

GroupHigh is an all-in-one tool to help you find bloggers and social influencers, manage your relationships with them, and measure the impact of the content that they create for your brand or agency.
How It Works
GroupHigh has quite a few features that will help you launch, track, and improve your influencer marketing campaigns:
1) Blog Search Engine
GroupHigh offers a database of 15 million blogs you can search to find the right influencer to fit your brand message.
2) Website Research
If you have spreadsheets from your old influencer outreach efforts, you can upload the URLs to GroupHigh to get deeper insights into their social footprint, traffic, SEO, and other key website metrics. Use this information to track key blogging influencers and make informed decisions about which to work with.
3) Influencer CRM
GroupHigh's Influencer CRM offers some advanced features to help you track your influencers and manage your relationships with them.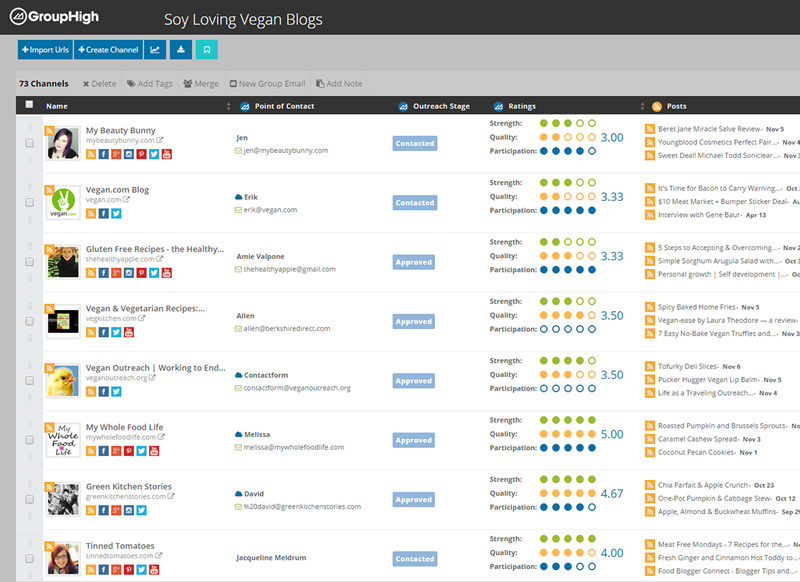 Use folders and lists to organize them based on performance, affinity, niche, and other metrics. Then, filter down based on recent content, followers, keywords, etc. You can easily export the most important information to create custom reports and spreadsheets.
4) Blog and Social Content
GroupHigh makes it easy to collect all your brand or campaign mentions related to your influencer marketing efforts. It scours the web to find blog posts, Tweets, Instagram posts, and YouTube videos associated with your campaign so you can see the results of your efforts.
5) Content & Engagement Reporting
Lastly, track the performance of your campaigns as a whole and individual influencers with Content & Engagement Reporting. See which content is driving the most engagement, mentions, conversions, impressions, etc. The report will also rank your influencers to give you insights and encourage them to share and post.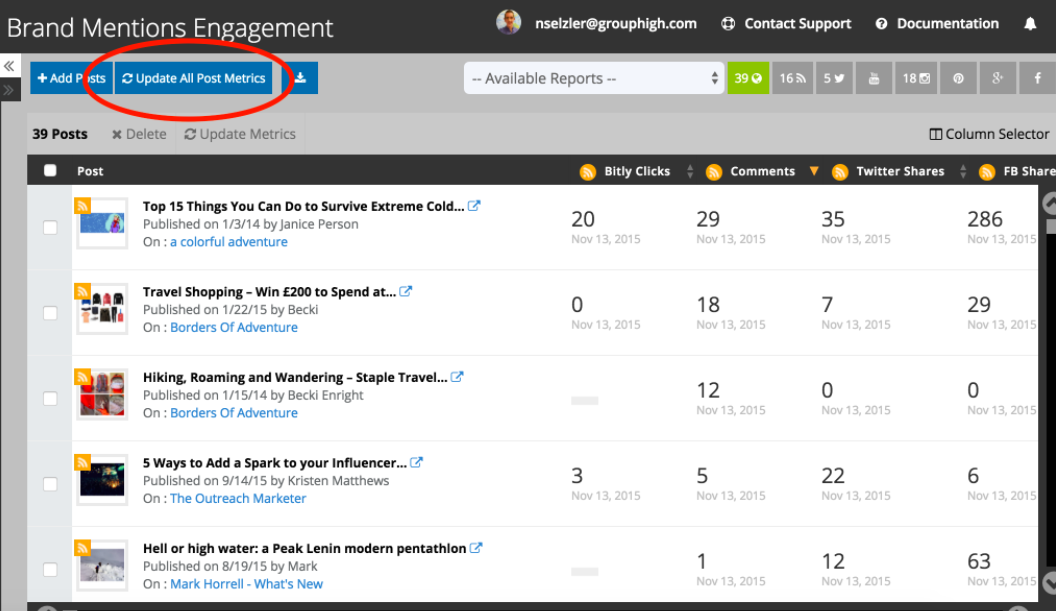 Pricing
GroupHigh doesn't list any pricing options on their website — you'll need to reach out to them for a quote.
Third-party sources around the web say full-access can range between $5,000-$9,000, making it a pricey option to track your influencer marketing campaigns. But it's likely that GroupHigh customizes their pricing to the needs of each user so you can focus on the features that matter to you most.
Onalytica

Onalytica is influencer relationship management software to help you find, reach out to, and track your influencers. It offers an impressive amount of data to help you track and measure your campaigns.
How It Works
Onalytica has influencer discovery software and a relationship management platform, as well as professional services to help you optimize your campaigns.
If tracking features are what you're interested in, then check out their Influencer Relationship Management (IRM) platform. It offers:
1) Customizable Dashboards
See and analyze your influencers all in one place. Customizable dashboards offer a snapshot of top influencers and their conversations, along with whatever other charts you want to see.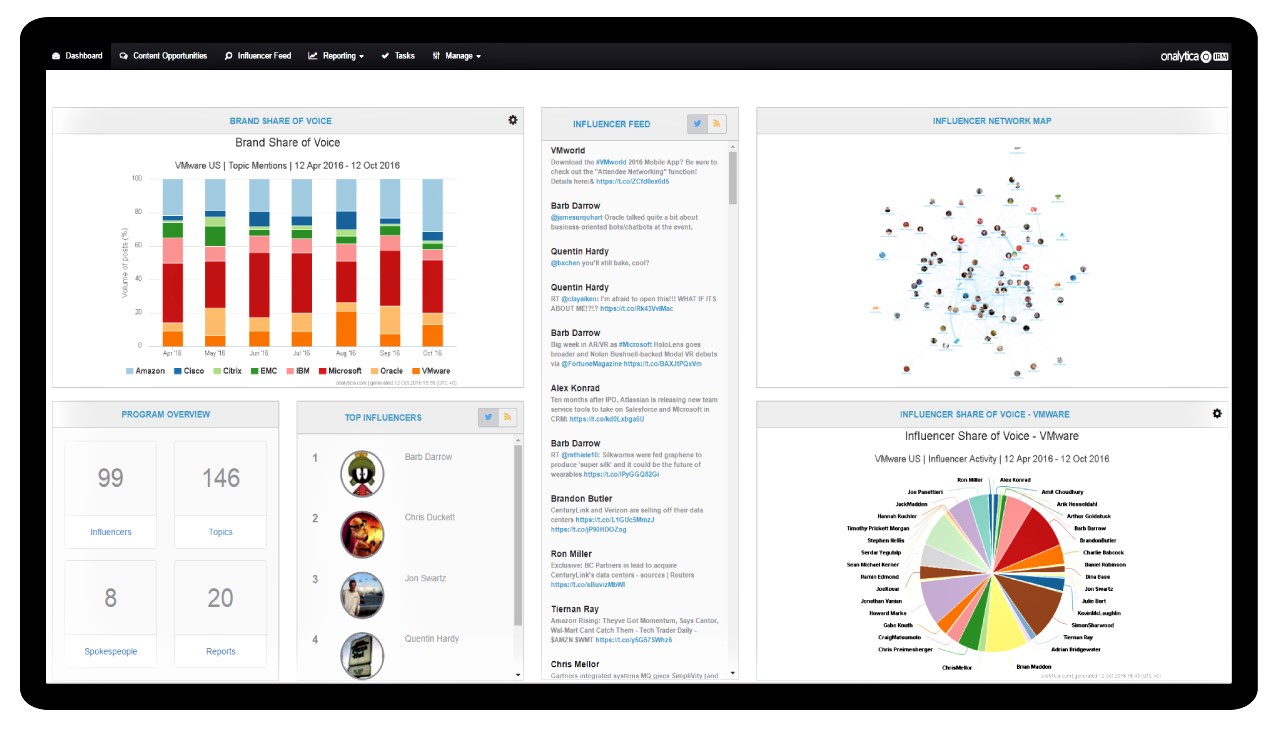 2) A Real-time Influencer Feed
Here you can keep track of key market influencers and see real-time reports of their social conversations. You can set this feed to focus on certain influencers, topics, time periods, or social channels.
3) Influencer Profiles
If an influencer catches your eye, you can visit their profile to get more insights into what they talk about online and who they're connected with. This information can help you make your engagements more relevant.
4) Content Sharing Opportunities
Here you can upload your white papers, case studies, and other marketing content, and Onalytica will automatically alert you when that content becomes relevant to an influencer.
5) E-mail Topic Alerts
Receive automatic e-mails when opportunities to influence come up, such as one of your target influencers mentions a topic that you can share with your audience to further nurture your relationship with them.
6) Insights & Measurement Reporting
Lastly, Onalytica offers powerful analysis features including 12-months' worth of historical data on your influencers, their social discussions, and your relationship with them. You get access to key insights such as volume trends, share of voice, and share of reach to help you monitor and analyze the impact of your efforts.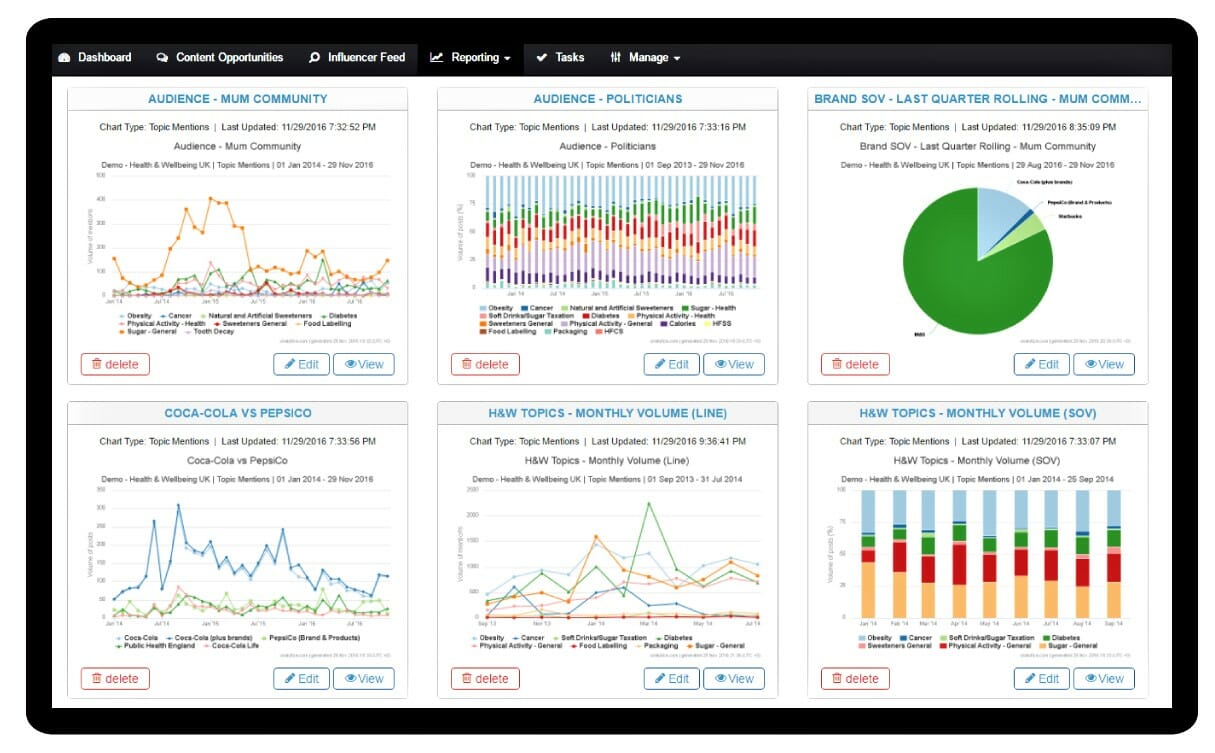 Pricing
Onalytica offers a free trial, then 3 payment tiers to use their platform:
Starter – ($195/month) Get access to unlimited influencer searches and rank influencers by reach, relevance, and other metrics. View up to 500 influencer results per search.
Pro – ($495/month) Save personalized influencer lists and get access to in-depth influencer profiles. Get real-time network analysis and demographic breakdown of each influencer.
Enterprise – (starting at $1,495/month) Get access to the full package, including real-time influencer tracking and insights & measurement reporting.
Onalytica's starter plan is a great place to begin your influencer marketing campaign, but if you want access to some of the best tracking features in the industry, then you'll need to opt for the Pro or Enterprise packages.
Learn More: How to Find Influencers on Instagram [podcast]
Tomoson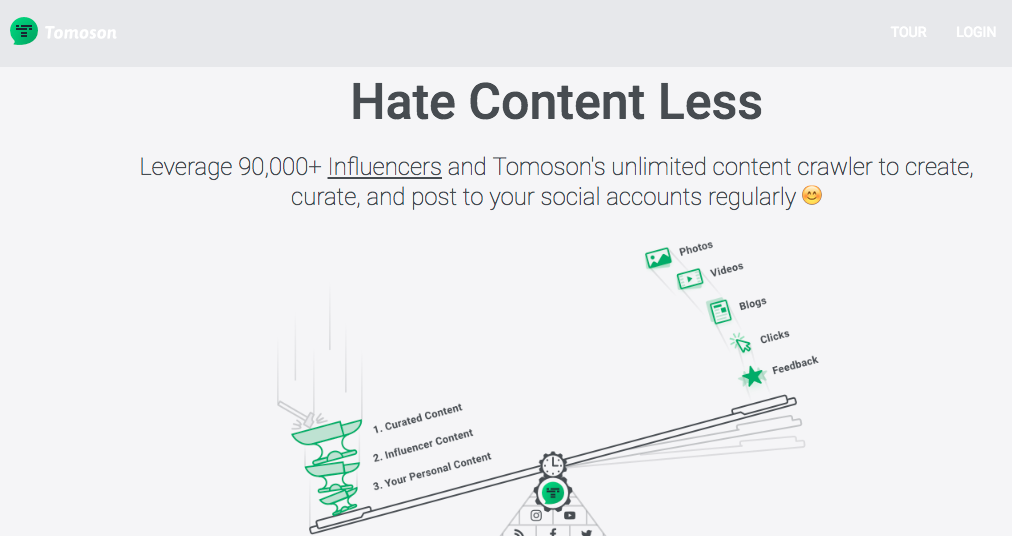 Tomoson is an influencer marketing dashboard that helps you gather and post branded content. It allows you to fully manage your influencer relationships while tracking their effectiveness to help you make better decisions for your marketing strategy.
How It Works
Tomoson offers a three-pronged approach to marketing:
Influencer Marketing
Content Crawler
Do It Yourself
Tomoson starts by offering an integrated inbox of all the content that matters most to your brand, so you can easily share and keep your social profiles active. Create content feeds based on certain hashtags, blogs, Tomoson campaigns, and more, then schedule your posts in advance. You can also connect all your social accounts to this platform and share your own unique content with one click.
But it's much more than a set-and-forget social media automation tool. You can search through their native database of influencers and explore detailed metrics about them, such as following, average engagement, Alexa ranking, and more.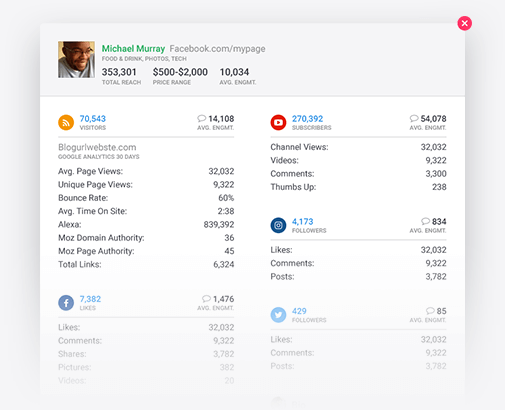 Once you've found the right influencers for your campaign's needs, Tomoson helps you set up predetermined task deadlines to walk influencers through exactly what you expect them to do and when. Decide on all the details of the content that they'll create before agreeing to work together.
Once influencers complete your tasks successfully, they'll be paid through escrow. You'll walk away with detailed analytics of total campaign exposure for each influencer and how their audience engaged with your branded content. This helps you get an overview of how each influencer impacts your return on investment.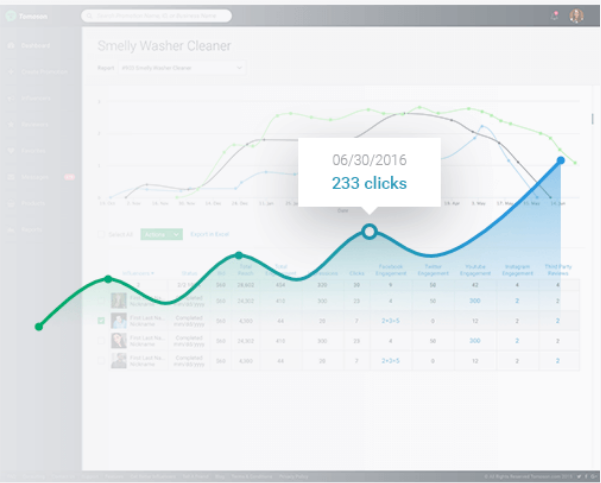 Pricing
If you're budget-conscious, you're in luck with Tomoson. They offer 5 different packages that work for any size brand:
Basic: $49/mo for 1 active campaign
Starter: $99/mo after a free trial for 10 active campaigns
Business: $199/mo for 30 active campaigns
Agency: $399/mo for 100 active campaigns
Scale: $599/mo for unlimited active campaigns
Choose the Starter package or higher, and you'll get a 21-day free trial, no credit card required. You can also reach out to Tomoson directly to get a customized quote to fit your business needs.
Wrapping up
Tracking your influencer marketing campaigns is an important strategy to help you make informed marketing choices to drive better ROI. The more detailed metrics you have access to, the more precise your efforts can be.
The one-dimensional insights you gather from UTM codes and social impressions simply aren't enough for many brands to maximize the value of influencer marketing. Consider trying one of these advanced tracking tools and see the benefits for yourself.
More on using YouTube to grow your business: