When it comes to engagement – videos rule.
Even a 10-second video has the ability to tell an extensive story, generate a generous amount of emotional cues and appeal to a wider range of our senses better than any other form of content. And the reason is pretty obvious: our brain absorbs visual content better than long passages of text: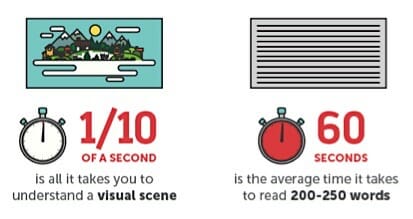 Video content is arguably the best medium for marketing and advertising. It is a perfect tool to reinforce your brand identity by establishing an emotional and personalized connection with your customer – which is why:
64% of consumers are more likely to buy a product after watching a video.
Click To Tweet
Video marketing has been around for decades now, but it's far more different today than it was ten years ago. The ease of uploading videos straight to the Internet and social networking sites has made video content marketing accessible to companies of all sizes and budgets. Businesses are taking advantage of this consumer-friendly format to create and promote interesting video content to get their products and ideas to a wider, global audience.
However, with 8 billion video views daily on Facebook alone, the volume of online video content clearly indicates more and more competition. Gone are the days when advertisers used to get away with lame and boring videos; today companies have to work hard to get their video noticed online. Video must be more interesting, more entertaining, and more shareable to succeed. In a world where content is king, video content needs to be exceptional to have the biggest impact.
Above all, the tremendous shift within digital marketing from desktop to mobile and the exponential rise in multi-device content consumption have emerged as the biggest challenge for video marketers. Mobile usage has surpassed desktop by miles with the average user spending three hours on mobile phones: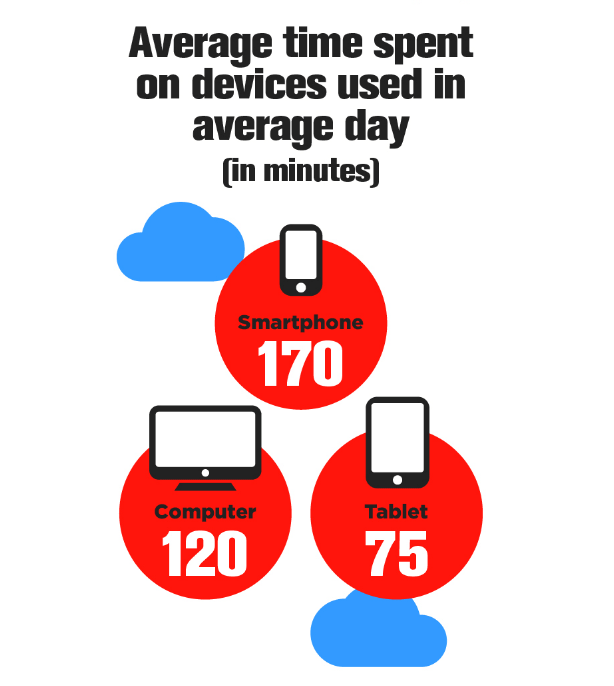 And talking about the amount of video content consumed on mobile phones, just take a look around and you'll see how common it is to see people deeply engrossed in a video on their mobile device. According to YouTube, mobile video consumption has risen 100% every year. Since people like to watch videos on the go, and the number of smartphone users is growing, your video audience keeps getting bigger and bigger.
Learn More:
8 Tips for Successful Mobile Video Advertising
Mobile video marketing has turned out to be the most critical part of any marketing mix as it has the ability to get shared, go viral and engage users immediately.
However, given that this video-first strategy is dominating the market, advertisers must develop a well-thought-out video marketing strategy that defines metrics for success. Thanks to the abundance of free and paid available tools, you can create some cool videos for your products without requiring too much money and technical knowledge. You need to put your efforts in the right direction, though; otherwise, you may end up spending hundreds of dollars without seeing actual results.
Although there is no definite guide on how your brand should be doing mobile video marketing as it is completely subjective to the nature of your brand, there are still some tips that you need to consider before creating your first (or next) video ad.
1) Optimize Your Videos for Low Bandwidth Connections
Marketers need to keep length and quality of video ad in mind when targeting mobile phones, particularly as the nature of being mobile means potentially spotty reception. Having grown up with short-form content, millennials respond best to micro ads – so keep your video under 15 seconds in length – and because of the small screen real estate on smartphones, shorter ads have a leg up on longer ones.
Be it smartphones or desktops, people expect an online video to load in just a few seconds or they will abandon it. Nothing destroys an advertising experience like a choppy or slow-loading video that looks like this: Though there is a complex relationship between page load time, available bandwidth and latency, you can still design videos that perform reasonably well on low-bandwidth connections.
With the increased use of mobile devices, more and more content is being delivered as HTML5 video rather than the standard Adobe Flash plugin. Video files themselves contain a number of optimization options that you can use to improve their speed and performance. Without effective optimization, videos can be delayed for hundreds of milliseconds and megabytes of bandwidth can be wasted by visitors just trying to play your videos.
2) Optimize the Quality with Advanced Video Streaming Techniques
Video quality is arguably one of the key factors in satisfying your audience.
There are some innovative ways that video publishers can optimize their video streams and increase quality without using more data. Publishers can use Multi-Codec Streaming, a technology that reduces the need for a lot of bandwidth, which allows the player to stream the most efficient codec for that particular browser that it's playing in.
This technology is being used by some giants of the online video industry such as Netflix. According to Netflix's experiments, H.265 (also known as HEVC) can deliver up to 50% bitrate savings when compared to previous generation codecs like H.264/AVC. Depending on your customer demographics, these modern techniques have the potential to deliver a whopping 50% bandwidth saving with no loss of quality and still cover every browser. Thanks to codecs like HEVC and VP9, the ability to deliver great-quality video and an excellent user experience is a "must have" when it comes to your competitive advantage.
This example short movie from Sintel shows that "HEVC reduced the bit rate of natural content by 51% to 74%, and synthetic content by 75%, with no loss of perceptible video quality":
Learn More:
3) Offer Something of Value for Your Target Audience
In order create an effective and powerful video, you first need to have a clear idea of what you want to achieve with it. Do you want to focus on a particular product or service? Or you just want to show to your amazing company culture? Though the ultimate goal of any marketing and advertising campaign is to sell more of whatever you're offering, nobody wants to see a display of your products 24/7.
It's not wise to incorporate too much product-promotional content in your marketing strategy as it is received as spammy and often goes unnoticed or even blocked. The goal of your video marketing strategy should be customer-centric, i.e educate, entertain, and inspire your viewers. This is the type of content that gets shared and remembered. Although as a marketer you still want the viewer to take the next indicated action, if they feel like you're just pitching your product or service relentlessly, you've most likely lost a future customer.
The official Facebook page of Starbucks has just over 37 million followers and their 5-second video "Celebrating Pride Month" managed to earn 575 shares and 7.3K views. The reason is pretty obvious: they don't focus solely on their product but instead they prioritize providing something memorable for their customers who support their business. However, for this marketing strategy to work, you must understand your target audience and what makes them share, like and buy.
All together now. ❤️ #Pride

Posted by Starbucks on Monday, June 18, 2018
4) Maintain Brand Consistency in Your Videos
A well-crafted and powerful video is one that has the ability to communicate a definite message in the shortest possible run time. Psychologically, our attention spans become shorter and shorter when the demand of it increases, so a good mantra for any successful video is "bang per buck."
Keep the information in your video to the bare essentials. The moment your video gets sloppy or takes a long time to deliver the message, the viewer is going to simply scroll down their feed to view other content. The key is to make sure your brand is present in some form or another right from the first frame of the video. This helps you leave a brand impression even if viewers don't watch the rest of the video.
In an attempt to grab user attention, video marketers often overlook the importance of brand identity elements such as logos, colors, fonts and overall tone, which are vital to keep the brand messaging consistent and visual identity alive. Businesses like McDonalds, Uber, Target and Starbucks are all known by their logo.
So don't hesitate to include a large and clear logo in your mobile video ad (like this one from McDonalds) and keep the brand recognition elements consistent. Consistency makes your branding clear and memorable.
It's reward time!For years, foodies have paid for their food. It is now time for them to claim their reward. Can you guess what will the MacCoins be traded for?#BigMac50

Posted by McDonald's on Monday, July 30, 2018
Learn More:
5) Your Video Should Make Sense without Sound
The primary role of music in any video advertisement is to multiply the impact that the ad creates on the viewers. However, because people keep their mobile phones on them all the time, they are hesitant to play music as they (usually!) don't want to disturb people around them. Moreover, when you scroll through some mobile apps such as Instagram, content doesn't play audio until you tap the video for sound. In fact…
Nearly 85 percent of video views happen in silent mode.
Click To Tweet
Nonetheless, this doesn't imply that advertisers should totally refrain from including audio, but it is recommended that the storyline of your ad should not have sound as a prerequisite to make sense.
Some marketers rely more on audio and thus their message gets lost, but there are dozens of ways to create short, silent meaningful clips that can still stick. First, try to use catchy colors. For instance, red, blue and yellow are bright colors that are effective at capturing a viewer's eye. Make it easy for the viewer to see what is happening in your video by keeping the editing cuts to a minimum and reducing distracting backgrounds or chaotic actions.
Another perfect way to get your message across without the use of sound effects is to employ text overlay or captions. The use of text or captions in your videos is an excellent way to increase engagement, but don't overuse it or it will simply add to the confusion. Nobody wants to try to read tons of text on their small smartphone screen. A good example is this Women's Health ad:
6) Include Clear Call to Actions (CTAs)
CTAs are called "call to action" for a reason: they make users do what you want them to do. The lack of a good (or any) CTA is one major reason why some brands fail to nudge their viewers down the sales funnels despite a very powerful ad. Every video must include a call to action. It can be anything such as simple hashtag, a URL or a button that says "Download Your Free E-book Now!".
The placement of your CTA matters a lot and there are three location choices:
Pre-roll CTA: Put this before the video begins so that the viewer sees it even if they don't watch the whole video.
Mid-roll CTA: Put this anywhere between the beginning and the end so that viewers see it in a moment when they are most engaged with your video.
Post-roll CTA: Put this at the end of your video when the viewer is most interested and, since they've watched the entire video, most likely to buy or to seek more information.
Wistia studies show that mid-roll CTAs (which can be added at any point during the video, so you have a lot of choice) convert the best:
Learn More: How To Create CTAs that Actually Cause Action
7) Optimize for all Major Platforms
As more and more people are now accessing social media via mobile phones, video marketers must take the time to review whether their content is working well on all major platforms. All social media platforms work differently and for effective mobile marketing brands need to analyze where the bulk of audiences are today and will likely be in the next 12 months. There's a lot to keep straight when it comes to effective mobile video marketing.
It is important to optimize video ads for each platform, as it significantly contributes to the success of the ad. For example, different networks have different aspect ratio specifications:

Learn More:
8) B2B Mobile Video Marketing
Most B2B marketers know the importance of mobile video advertising, but it gets really tricky when it comes to business to business marketing. The problem is that B2B products or services aren't typically thought of as flashy enough to generate some entertaining videos – although this is a huge misconception. With a bit of imagination and creativity in design, everything from SaaS to marketing automation can be marketed in an engaging way that captures the viewer's attention.
FME extensions uses YouTube to demonstrate a wide range of their SaaS applications in a fun way using other, more conventional mediums. They engage their audience through DIY videos, explainer videos, video tutorials, testimonials, and other relevant educational videos. Their video shows how you can "Increase traffic with responsive and feature-rich Magento 2 blog extension":
Conclusion
Mobile video marketing is the best way to engage your audience and ensure your brand's presence at the point of purchase. As a vital component of your content marketing, it is important for you to understand that video marketing will continue to evolve as social media plays a more critical role in shaping the future of video marketing. You have the opportunity to play, experiment, analyze and interpret what your audience appreciates the most. With the help of various tools and by integrating your brand uniqueness, you can achieve the best possible results.