Did you miss the first part in this video marketing series? No worries, you can catch up right here: The Ultimate Guide to Video Marketing
There are a variety of channels that companies can use for video marketing and YouTube isn't the only option anymore. Facebook, Instagram, and even Twitter are options to post videos in order to build awareness for your business.
These channels can be great for generating immediate awareness through video marketing. For example, when fast food restaurant chain Wendy's launched a video marketing campaign on Facebook, 50% of their total views came within the first 24 hours.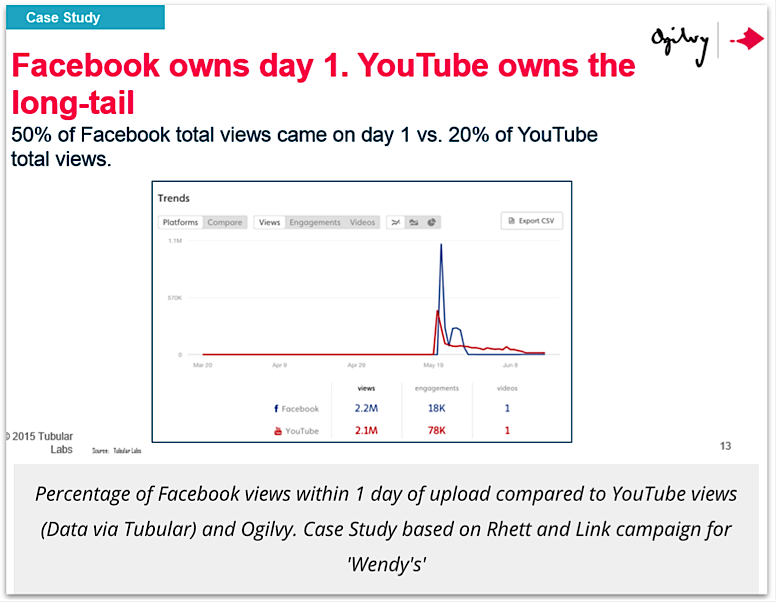 Facebook also has a wide range of targeting features that can help you get your video content in front of the right people. However, there's one critical way in which video marketing on social media channels like Facebook differ from YouTube:
On YouTube, users come to the site with the intent of watching videos.
In the early stages of the buyer's journey, customers are trying to find out as much about their problem and potential solutions as possible from search. This naturally leads them to sites like YouTube, where they may end up watching multiple company or product videos.  
On Facebook, users don't have any pre-existing intention of watching marketing videos from companies, so it's harder to capture that type of attention.
YouTube also has the upper hand when it comes to long-term video engagement. If you upload a video to Facebook, most of your views will come within the first day, but if you upload to YouTube, only 20% of your total views will come on day one.
This means that there's huge potential for evergreen content on YouTube, so leveraging this platform can help brands push more prospects down the marketing funnel more effectively.
In this post, I'll talk about a few marketing tactics you can use to get maximum benefit from YouTube. But before that, let's dig into how YouTube fits into the bigger picture in your marketing funnel.
The YouTube Marketing Funnel
At the top of the funnel, the main priority is to build awareness for your business and start a long-term relationship with your potential customers.
This is how your overall marketing funnel should look:
                                                                             Source: KISSmetrics

For example, Charisma On Command, a business that sells social skills courses, uses YouTube videos to display educational content that relates to what their target audience is searching for. Here's one of their videos that talks about how to read anyone:

What many people don't realize is that YouTube is an effective way to rank higher in organic search. If you craft a good description under the video, it will help with your SEO.

For example, when you type "how to read anyone" into Google, the first thing that pops up is Charisma on Command's YouTube video:

Another place users go to find information about their problems at the top of the funnel is directly to YouTube search itself. In fact, informational how-to videos are the most  popular types of videos watched on YouTube.
For example, let's say you're selling a product that sells B2B software for sales teams, like Close.io. One type of content that might resonate with the target audience for this product are YouTube videos that teach you how to sell and close deals faster or more effectively.
If a prospect is interested in educational sales content, they might type "sales hacks" into YouTube's search field. And sure enough, they would stumble upon a video by Steli Efti at Close.io that talks about how to get over rejection in sales: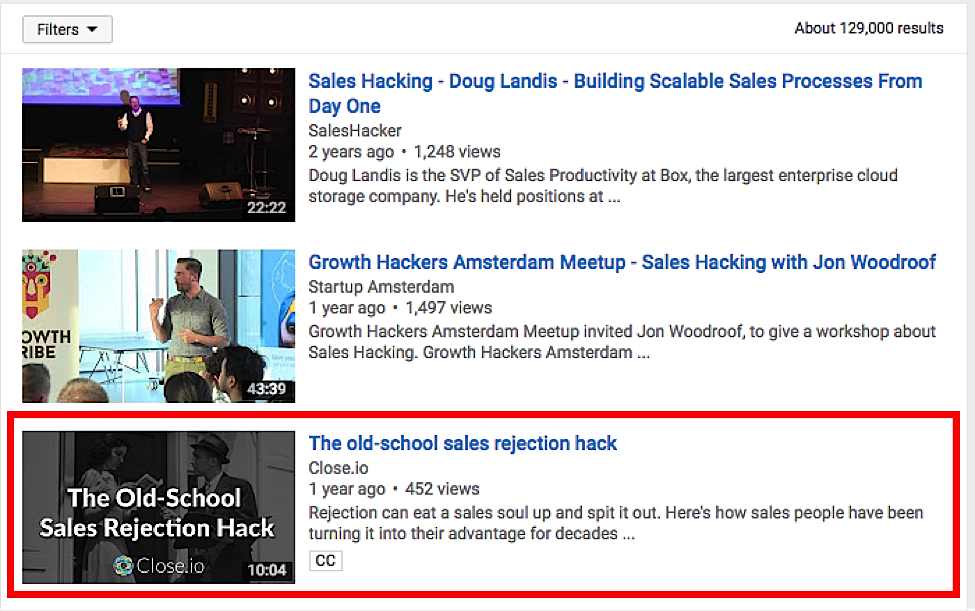 Once they click on the video, Close.io has a couple of ways of moving them further down the funnel.
In the description box of the video, they have a link to a long-form blog post that includes the video plus covers more in-depth how to get past rejection in sales.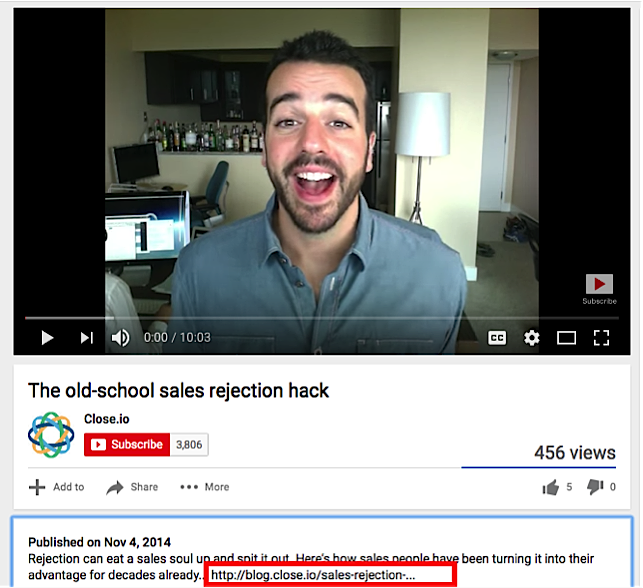 Once prospects go to the blog post page, they have the option of expressing interest in Close.io by opting into their startup sales e-mail course.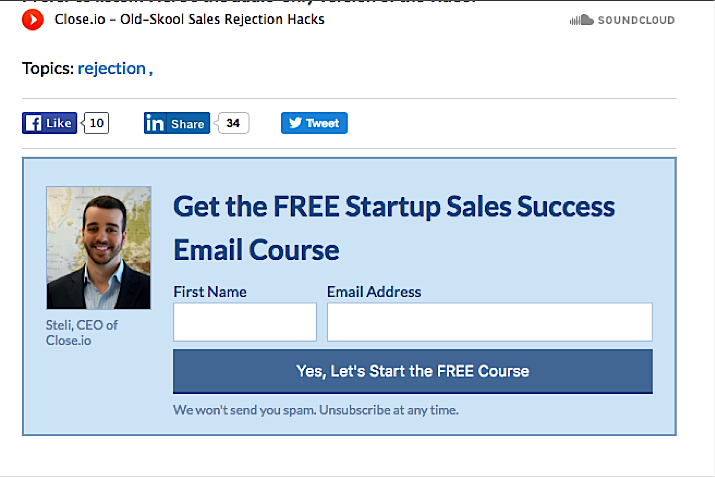 Then when they're on the e-mail list, Close.io can send leads even more valuable content as they move along the funnel closer to making a purchase.
Now that you understand how to fit YouTube into your overall marketing mix, let's dive into some specific marketing tactics you can use to see success on YouTube.
Learn More: The Ultimate Guide to Creating Your Marketing Funnel
YouTube Marketing Tactics
1) Leverage YouTube SEO
YouTube is the world's second largest search engine, and gets over 30 million visitors every single day.
And because 72% of buyers turn to Google search to do their research at the top of the funnel, there's massive potential for companies to leverage YouTube SEO to rank in both Google and YouTube.
The first step in producing a video that ranks high in your niche is finding the right keywords. You should find keywords that have YouTube video results on the first page of Google so that your video also has a high likelihood of ranking near the top of the page for the relevant search terms.
The following keywords tend to rank high in Google for videos:
How-to keywords (i.e. "How to make better sales calls")

Reviews (i.e. "review of HubSpot")

Tutorials (i.e. "Salesforce tutorial")

Fitness related keywords (i.e. "exercises you can do at your desk")

Funny videos that often get shared virally (i.e. "cute animals")
Because Google dynamically displays YouTube videos on the SERPs, you can rank in both Google and YouTube for your keywords, which could potentially skyrocket your traffic.
For example, this YouTube video appears on the first page of Google for the phrase "how to cold call for sales."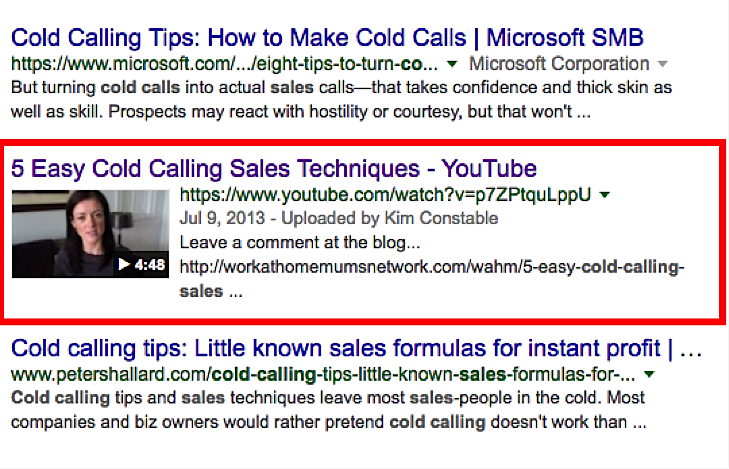 One way to discover keywords in your niche is by looking for keywords for which there are relevant videos already displayed. From there, use Google's keyword planner to make sure that your target keyword has enough search volume each month. Keep in mind that your keyword should get at least 300 searches per month via Google. If it does, then you know it also gets a good amount of searches on YouTube as well.
Another factor that contributes significantly to your rank in YouTube is production quality. While production quality isn't directly analyzed by YouTube, it does affect the level of user engagement — and that impacts YouTube rankings.
YouTube rankings can't be influenced by things like backlinks or other tactics that would otherwise help content to rank in Google. The only thing that matters is how many people engage with your video, and YouTube viewers care about quality and design.
Here are the various metrics that YouTube uses to gauge the level of engagement your videos are getting:
Video retention.

Do people watch your video all the way through, or do they bounce soon after it starts? The more that people watch your whole video, the better.
Comments.

The number of comments also indicates how engaged people are with your content.
Subscribes.

The greater the number of people who subscribe to your channel after watching your video, the more YouTube is going to think that your video is good.
Shares. At the bottom of each video, users have the option to share the video on social media sites. The higher the number of people who share, the better your ranking is going to be.
Favorites. Users also have the option to add videos to their "watch later" list. The more people do this, the higher your video will rank.

Thumbs up / thumbs down.

Below every video, users have the option to click a "thumbs up" or a "thumbs down" depending on how they felt about the video. The more users like your content, the higher it will rank.
When you upload your video, there are a few other things to keep in mind to make sure that you rank high for your selected keyword:
Use your keywords in your file name

. For example, if you want to rank for the keyword phrase "how to cold call for sales," then name your video "cold_call_for_sales.mp4."
Keep the title of your video at least five words long. Keeping your video title at least five words long allows you to include your full keyword without keyword-stuffing.

According to Backlinko, YouTube gives you a slight SEO boost if you put your keyword at the beginning of your title. C

heck out the titles on the top cold calling instructional videos on YouTube: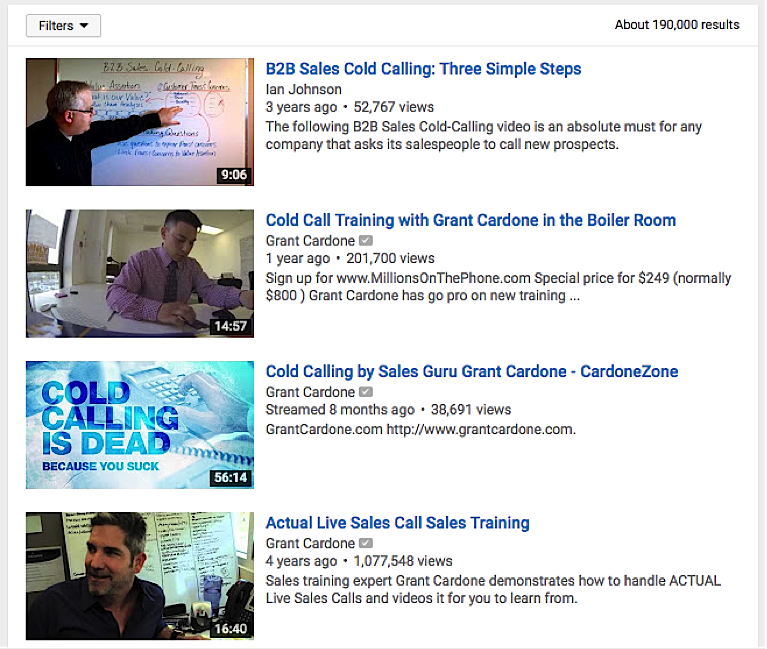 Notice how the top videos have the keyword "cold calling" or "sales" at the beginning rather than at the end?
Write a high-quality description

. Your YouTube video description is how YouTube determines what the content of your video is. Many people just leave this blank or write a basic description, but in reality this is one of the most important parts of uploading your video on YouTube.

You should:

 
1) put your link at the top of the video to maximize CTR to your site
2) include your keyword in the first 25 words
3) make the description at least 250 words
4) include your keyword 3-4 times to let Google and YouTube know what your video is about
For example, this is a description of a video optimized for the keyword "Advanced SEO." 
By keeping these few points in mind, you can skyrocket the reach of your video by ranking high in both YouTube and Google, get the attention of more prospects at the top of your funnel, and ultimately convert them into long-term paying customers.  
Read More: Effective SEO Techniques that Work In 2016
2) Pay attention to your production quality
Similar types of videos tend to do well on both Facebook and YouTube. The main difference lies in the user experience of the products.
For example, when people browse through their Facebook feed and they come across a video, it automatically starts playing. The problem with this is that many users are watching without headphones or for whatever reason aren't able to turn on the sound. Because of this, Facebook videos need to be able to function without sound — either with subtitles or other visuals.
YouTube users usually watch videos with sound, and because they come to YouTube specifically to watch videos, production quality becomes a lot more important. So filming yourself with a smartphone for this platform won't get you the same reach and popularity as it might on Facebook.
According to Convince and Convert, you need five skills to succeed in YouTube video marketing:
Storytelling/writing

Editing

Composition

Networking

SEO
Storytelling
Good storytelling is what's missing from many online videos. Some businesses believe that their services or products are too "boring" for them to be able to create interesting videos about them. 
There are always boring teachers in school who can make even the most enthusiastic students dislike subjects that would've otherwise been pretty interesting. But on the other hand, there are teachers who can make even the driest subjects seem like the most exciting thing in the world.
So there's always a way to create interesting content on a "boring" business — it just depends on how you tell the story.
For a good example, check out this YouTuber giving a review of the food at Five Guys. Notice how his personality and message tie together to craft a video that you love watching.
Editing
Editing is one the the most frustrating, time-consuming elements of video production, but it's also the most important because good editing increases video quality.
Writing the script, figuring out your locations, and planning camera angles are all important. But once the filming is done, you need to cut out all the excess parts that don't add much to the story line. It's important to pare down the video as much as you can to create a focused, high-quality video. In fact, the average 90-minute video takes nearly 5,000 cuts to finish.
Composition
If your video involves any sort of complex production or movement, it's important to storyboard it before you start filming.
Storyboards allow you to get an idea of how your video will flow from beginning to end. Even if your video isn't something that's going to be a complex production, it still helps to storyboard an outline to ensure that your message is clear and how you'll communicate it.
Transcribe your videos
As mentioned previously, part of what makes your videos rise in YouTube and Google search rankings is optimizing the description of the video since that's what YouTube uses to gauge what the video is about.
Another way to boost your SEO after your video is published is by uploading a video transcript. Google and YouTube will be able to scan through the transcript to get a better sense of the content of your video, which gives it greater chance of being ranked high for your specific keywords.
Here's a short video on how to add a YouTube video transcript:
3) Include a good thumbnail to boost clickthroughs
Most YouTube views come as a result of being related to other videos (in other words, showing up in the "suggested videos" section). One way to get a higher click-through rate from people who are browsing through their "suggested videos" section is by having a high-quality thumbnail.
According to ReelSEO, Jeremy Vest from VidPow and Matt Gielen from Frederator Networks ran A/B tests to figure out what the best thumbnails on YouTube were. They found that the best thumbnails are those that include close ups of expressive faces that look directly into the camera.
You might also want to create a vertical "stripe" on the side of your thumbnail to make it stand out more, as well as to give viewers an immediate glimpse into your brand.
Here's an example of a good thumbnail: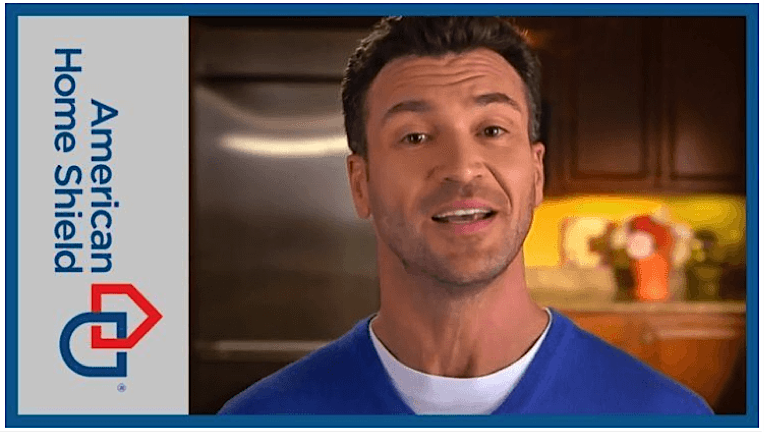 4) Use built-in analytics to track your engagement
If you're putting a lot of time into crafting a high-quality video, optimizing for SEO, and creating great content on video, then of course you want to know what your ROI is.
Are the right people watching your videos? Are they completing your CTAs? Are they moving through your funnel?
Once you have your business goals in mind, you can turn to YouTube analytics to measure your progress towards those goals. In your analytics you'll discover who is watching your videos, how long they're watching, and where they're watching from.
Demographics
For example, let's say you want to figure out which demographic is watching your videos to see if it lines up with your buyer persona. You can click on "Analytics" under any video you've uploaded on your YouTube account. Then click "Demographics" on the side bar.
Source: Marketing Profs
You'll be able to see specific details on the age, gender, and location of the people who are watching your video. The image above shows you a sample of what that dashboard looks like.
Traffic sources
You can click on "Traffic sources" in your analytics sidebar to see where the traffic for your videos is coming from.
You'll be able to find out whether your videos are mostly being found through Google, YouTube search, other websites, and much more. 
Using this data, you can figure out what's currently working as well as where you should put your attention going forward.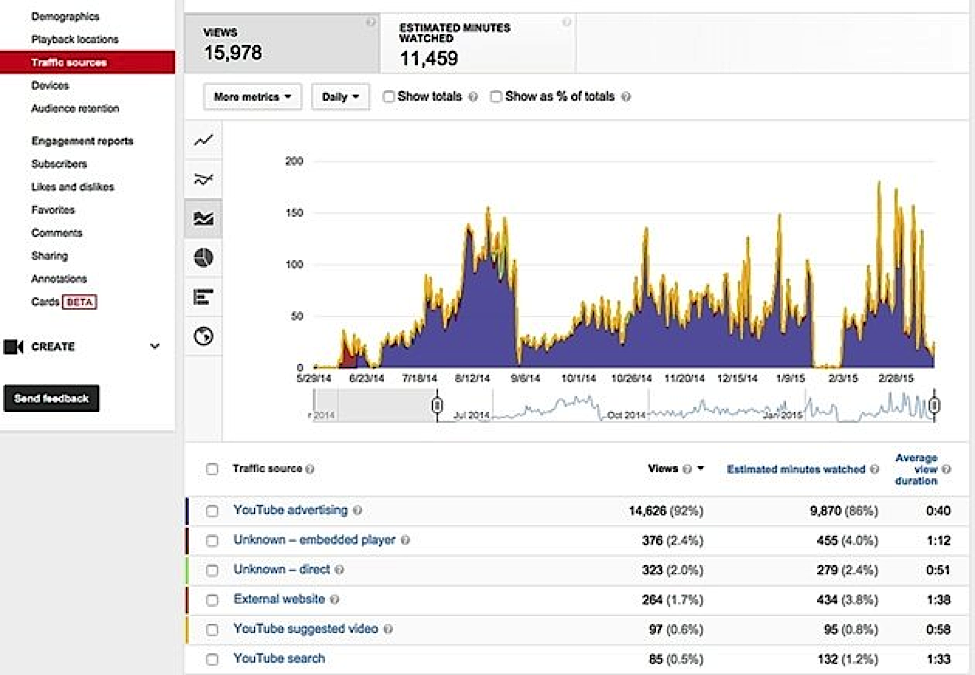 Source: Marketing Profs
Playback locations
On the left sidebar of YouTube analytics, you can also see your video's playback locations. Playback locations track where your videos have been played — whether it's on YouTube itself or a different platform.
For example, the information in the following image shows that most of the views occurred on YouTube, but viewers were more likely to watch the video for a longer period of time when it was embedded on other websites.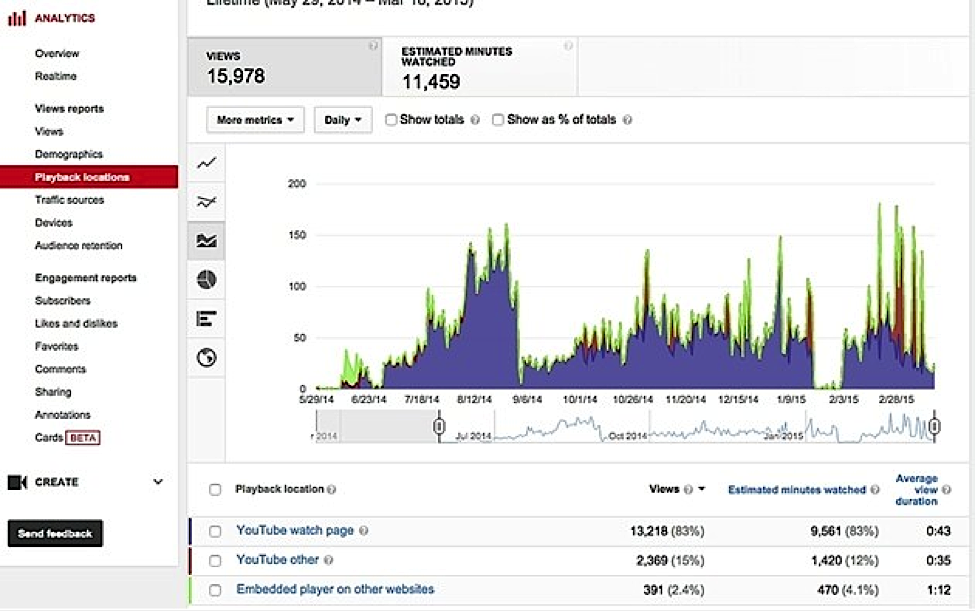 Source: Marketing Profs
Using this information, you'll have a better sense of where to focus your promotion. If you're getting better engagement with users who are on different sites, then you might want to start doing some influencer outreach to get your video posted on other high-traffic blogs.
YouTube analytics can show you what's working and what isn't working with your videos, so you know what to focus on to get good ROI.
Conclusion
YouTube is an extremely valuable channel to use in order to capture people in the early stages of the buyer's journey because your potential customers are already going through the process of learning about their problem. In other words, they've come here because they want to watch your video.
Additionally, YouTube videos are displayed in Google SERPs, which puts your relevant video content in front of those 72% of buyers who turn to Google to do their top of the funnel research.
By using a few key SEO strategies, paying attention to your production quality, and keeping an eye on your analytics, you can acquire many more prospects with YouTube video marketing — and ultimately convert them to paying customers!
Stay tuned for the next post in this video marketing series: How to Use Snapchat for Video Marketing
Now, I want to hear from you. What video content will you create for your YouTube channel? Leave your answer in the comments below; I read every response.