If you're not using influencer marketing tools to boost brand visibility, drive traffic and increase sales, you're missing out on one of the most effective and affordable marketing channels available to you.
Influencer marketing routinely enjoys an ROI of up to 11X. For that reason, 60% of marketers agree that influencer marketing has a higher ROI than traditional advertising.
But without the use of tools, accomplishing influencer search, management and relationships is a tedious and time-consuming task.
In this post, we'll recommend the best 16 influencer marketing tools and how to use them for marketing goals.
---
---
How Do Influencers Act as a Tool for Marketing?
Using the status and popularity of others to promote products and services is hardly a new concept.
For years, we've seen major celebrities earn millions of dollars by endorsing well-known brands, and sports stars and the teams they play for earn big money in sponsorship fees.
The reason why such endorsements continue to be such a popular form of advertising is simple: People admire their favorite actors, singers and athletes, and therefore trust what they have to say. So when that famous person tells their fans that they love using Product X or Brand Y, those fans are more inclined to try that product or brand, too.
Influencer marketing works in the same way except that it's a more accessible way of getting high-profile endorsements for brands who lack the billion-dollar budgets to pay Hollywood actors and international sports heroes.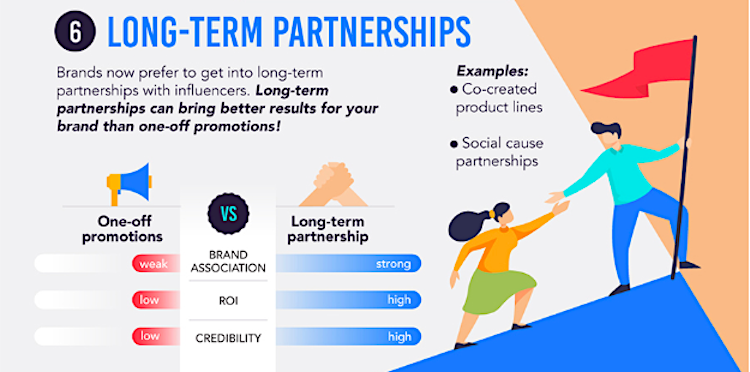 Rather than spending a few million to get Samuel L. Jackson or Billie Elish as your brand ambassador, you can spend much less by partnering with Instagrammers, TikTokers, bloggers, podcasters or YouTubers who will promote your products to their hundreds of thousands or millions of fans.
By taking advantage of this partnership, you get a healthy boost to both your brand visibility and reputation.
Sounds good, you might be saying, but…
How do you find these online celebrities who are willing to partner with your brand?
How can you discern whether an influencer is the real deal and will produce the results you want from your influencer marketing campaign?
And once you've found them and verified them, how do you go about collaborating with those social media superstars?
Don't worry, we're going to answer all these questions AND recommend specific tools to help you do specific tasks!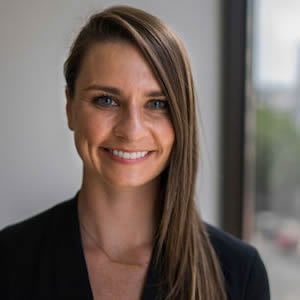 Jacqueline Foster
Demand Generation Marketing, Lever.co
We can count on them to bring new ideas to the table consistently
How to Use Social Listening Tools to Identify Your Biggest Fans
If you offer a great product or service and you've been promoting it via methods such as Pay Per Click (PPC) advertising or content marketing, then there are already people who love your brand enough that they want to tell others about you.
These people – especially those with an influencer-level following on social media – can become invaluable assets to your brand and, with the right engagement, can form the cornerstone of your influencer marketing strategy.
This is where social listening tools come in.
Listening tools such as Sprout Social allow you to monitor multiple social media platforms at once:
By doing so, you can not only keep track of what customers are saying directly to you on your social media pages and direct mentions, but you can also "listen in" on public conversations users are having about your brand, industry, competitors or other relevant keywords.
As a result, you can  identify:
Who's talking about your brand and what they're saying
Key influencers in your industry or niche
Users who are facing a problem that your product or service solves
Identifying these individuals can ensure that your influencer marketing strategy gets off to a flying start.
Imagine, for example, that you discover an influencer who is already a diehard advocate for your brand. You could then engage that influencer to keep spreading the word to their (hopefully) large following about the good things you do by enlisting them for a paid campaign. Or maybe you provide them with an exclusive promo code just for their audience.
Alternatively, it may be that you discover a few high-profile influencers in your industry who have been talking about your competitors but don't yet know about you. Social listening tools will help you to find those people so that you can reach out and let them know about your product or service. The ultimate goal here, of course, is to win those relevant influencers over so that they want to tell their audience about you and not the competition. 😁
Whatever the case may be, identifying people who are already passionate about what you do makes it much easier to convince them to get on board as your brand ambassadors.
Related Content: How to Boost Your Social Media Marketing Efforts with Content Marketing Tools
Top 3 Social Listening Tools
If you're ready to start using social listening to find your first influencers, here are our top three recommended tools.
1) Best Overall Social Listening Tool: Sprout Social
Sprout Social is a popular all-in-one social media management platform that offers a wealth of features designed to help you develop, implement and track effective social media campaigns.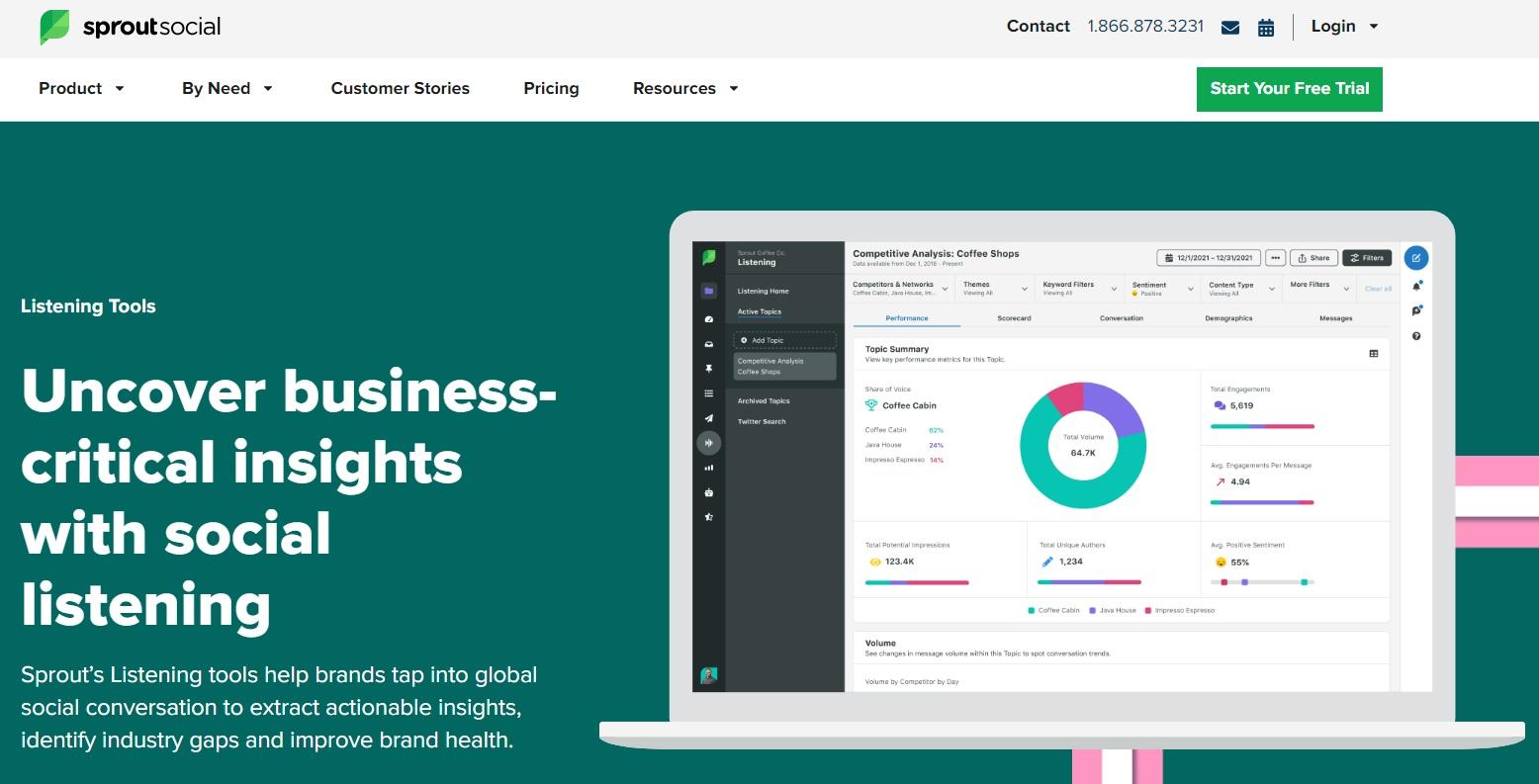 The service offers features that allow you to create and schedule social media posts across multiple platforms, track your ROI on those posts, and even improve your ability to offer top-notch customer service via Facebook and Twitter.
Beyond all that, however, it's Sprout Social's best-in-class social listening features that have made it the go-to social media platform of choice for major brands like Amazon, Microsoft and Samsung.
Along with Facebook, Twitter and Instagram, the platform can also monitor Reddit, YouTube and website/blog mentions to help you track emerging industry trends, discover what your audience is saying about you, and identify the best influencers to engage with.
All this data is presented in an easy-to-understand visual format which empowers you to make informed decisions when it comes to targeting your next potential brand advocates.
Pricing: Sprout Social offers three plans priced at $89, $149 and $249 per user, per month depending on the features you need. A 30-day free trial is also available.
2) Best Free Social Listening Tool: Hootsuite
Hootsuite boasts 18 million users, making it by far the most widely used social media management platform:

This unrivaled popularity is partly thanks to its highly intuitive interface which makes it a breeze to schedule and track posts across multiple social media platforms simultaneously.
It's also partly thanks to Hootsuite's excellent social listening features, which allow you to:
Identify thought leaders and potential brand advocates
Get real-time analysis of social media conversations as they happen
Track your competitors' social media activity
And more
One of the main reasons why Hootsuite is so popular is that it offers a generous free-forever plan, which makes it an ideal choice if you're launching a business on a budget or simply want to test the waters with social listening before you invest any money.
Pricing: Hootsuite offers a 30-day free trial of its Professional plan, after which you can choose to stay with the free version or pay for one of its premium plans. Those start at $49 per month.
3) Best Social Listening Tool for Analytics: Brandwatch
Brandwatch is a consumer intelligence and market research platform used by a host of international corporations such as Coca-Cola, Toyota and Unilever: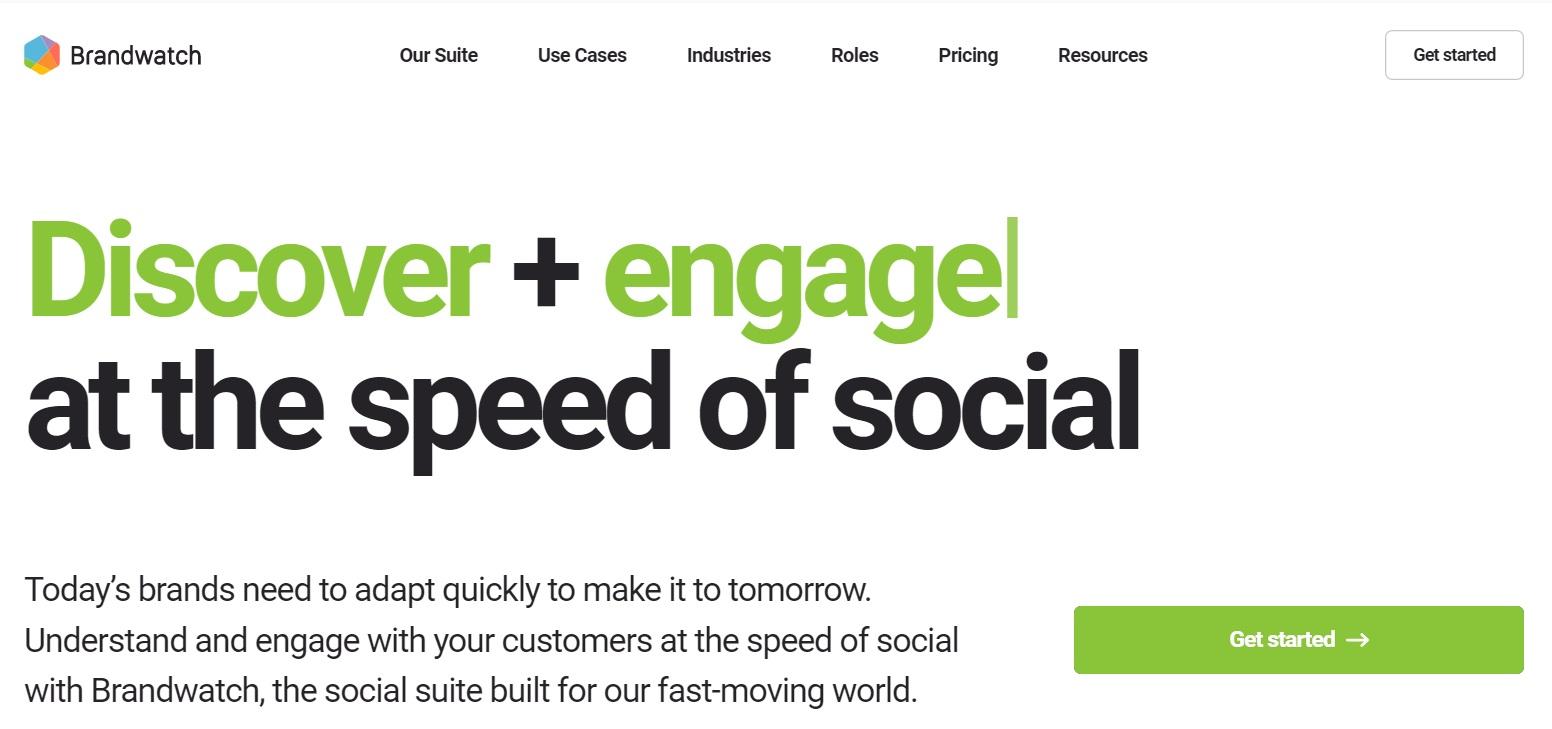 Like most good social media platforms, this one offers a full suite of tools, including outstanding social listening features, post scheduling, and an all-in-one inbox for managing all your direct messages from multiple platforms in one place.
Brandwatch's Consumer Research tool utilizes industry-leading artificial intelligence and Natural Language Programming (NLP) to monitor more than 1.4 trillion posts from across 100+ million sources to provide rich insights into your brand's online reputation.
This enables the platform to serve up more data than any other platform, with 50 different data visualization tools giving you insights into everything, including customer sentiment (how customers feel about your brand), total mentions and industry thought leaders.
Pricing: Brandwatch offers custom pricing based on your needs. You can get a quote by booking a meeting with a Brandwatch representative.
Related Content: Social Media Marketing for Business Owners: How to Get Started in 2023
How to Identify the Best Influencers to Work with on Your Campaign
So, you've used social listening tools to identify your first brand advocates, but none of the influencers have the kind of large-scale following you want for your influencer marketing campaigns.
If that's the case, your next step is to turn to top influencer marketplaces and discovery platforms to find, connect and work with those high-profile influencers who are the right fit for your brand.
These platforms pre-vet thousands of influencers from across a wide range of different niches and industries and store key details about each one in a vast searchable database, including:
Primary platforms used
Follower counts
Industry/niche
Using the database not only saves you endless hours trying to track down the best candidates manually, but also eliminates the hassle and hard work of vetting and verifying potential influencers yourself.
The better influencer discovery platforms also make it possible to connect with your chosen influencers directly via the platform, so it's easier to manage campaigns with multiple people in one location.
You may also like:
* Best Paid Social Media Agency: Top 5 Choices in 2023
* How Artificial Intelligence Is Transforming Influencer Marketing

Top 3 Marketplace & Discovery Platforms
Here are the top three marketplace and discovery platforms for finding influencers.
1) Best Overall Influencer Discovery Platform: Intellifluence
Intellifluence is one of, if not the biggest influencer marketplaces in the world, boasting 200,000+ influencers, ranging from micro-influencers with a few thousand followers to high-profile influencers and bonafide celebrities with audiences of millions:

The platform doesn't just verify typical social media influencers, but also podcasters, bloggers and other content creators, giving you more options and opportunities to promote your brand.
In addition to using filtering tools to find your ideal influencers, influencers themselves can approach you with bespoke offers or one-off services (such as posting a single review of your product) for a set fee. All these options can save you the time, effort and expense of building a new campaign from scratch.
However you choose to work with your chosen digital media stars, you can use Intellifluence to manage the collaboration process and pay influencers without having to use third-party tools.
Pricing: Intellifluence offers a limited free plan along with three premium packages priced at $99, $249 and $599 per month.
Related Content: 10 Critical Content Creation Mistakes (and How to Avoid Them!)
2) Best Free Influencer Discovery Platform: Afluencer
Although you'll get the most from Afluencer by signing up for one of its premium plans, budget-conscious brands can still get a lot of mileage out of the platform's solid free plan: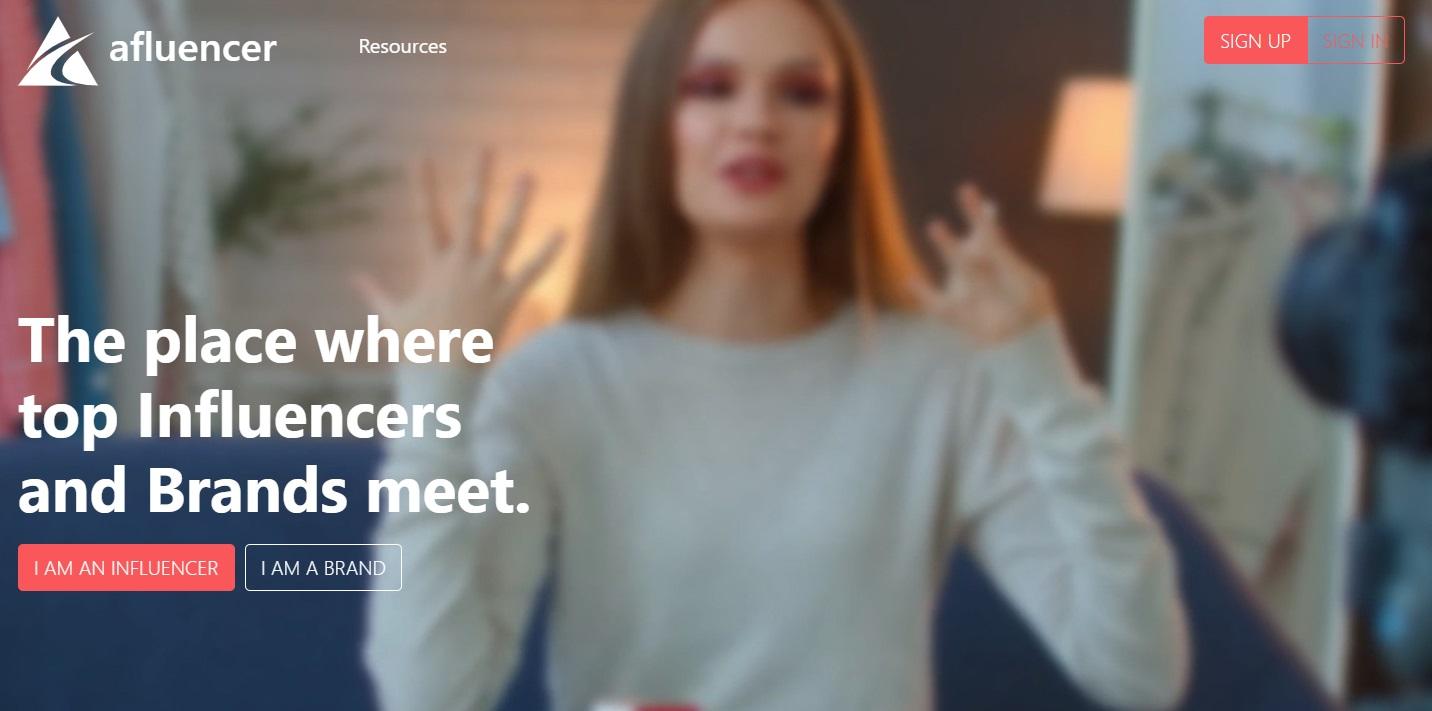 Sign up and you'll be able to tap into a network of over 15,000 pre-vetted influencers from across 53 different interest categories, including food, fashion, fitness, technology, travel, and more.
Each one of those influencers has been verified by Afluencer to ensure that you're only ever connected with highly engaged creators who have a genuine interest in working with brands such as yours.
You can choose to either browse through the platform's influencer directory, searching by category or other metrics, or you can use a comprehensive set of demographic filters to narrow your selection and find influencers who are an ideal match for your brand.
Once you've found the individuals you want to work with, you can send messages to them, chat with them in real time, and manage your entire collaboration all from within the Afluencer dashboard.
Pricing: Afluencer offers a free plan with access to most features. Premium plans start at $49 per month and offer more opportunities to promote your brand to influencers.
3) Best Platform for Identifying TikTok and Twitch Influencers
If you're targeting a young audience demographic, Heepsy is a great choice for an influencer discovery tool:
Instagram, TikTok, YouTube and Twitch remain the most popular platforms among 18-29 year-olds. Those are the exact services that Heepsy focuses on, providing you with reliable, accurate statistics about some of the biggest stars on each platform.
The service offers some incredibly useful features, such as the ability to weed out influencers who use fake followers to boost their credibility and compare any influencer's audience with that of your own to make sure they're a good fit for your brand.
As well as using the platform to search for influencers who have already been checked over by Heepsy, you can also use it to run a search on any influencer who may reach out to you so that you can be sure they're legitimate and worth partnering up with.
Pricing: Heepsy is available in three premium plans priced at $49, $169 and $269.
Related Content: How to Get on TikTok's For You Page and Increase Your Reach
How Influencer Marketing Tools Can Help You Perfect Your Pitch and Manage Outreach
One of the great things about the influencer discovery tools we listed above is that they all feature some form of direct messaging feature so that you can reach out to your preferred influencers without leaving the platform.
However, if you're new to influencer marketing and want to be extra sure that you're really nailing your initial pitch, or if you just find that other tools don't quite pack in the kind of communications features you need, you may want to consider influencer outreach tools.
These tools can not only help you track down vital contact information for the influencers you want to reach, but also manage your entire communications via one central dashboard so that you never miss an important message.
The best tools, including those we'll look at below, will also help you get your pitch perfect by providing message templates, automation and other essential outreach tools.
Top 4 Influencer Outreach Tools
If influencer outreach is exactly what you're looking for, try the following tools.
1) Best Overall Influencer Outreach Tool: NinjaOutreach
NinjaOutreach is the industry leader in influencer outreach software: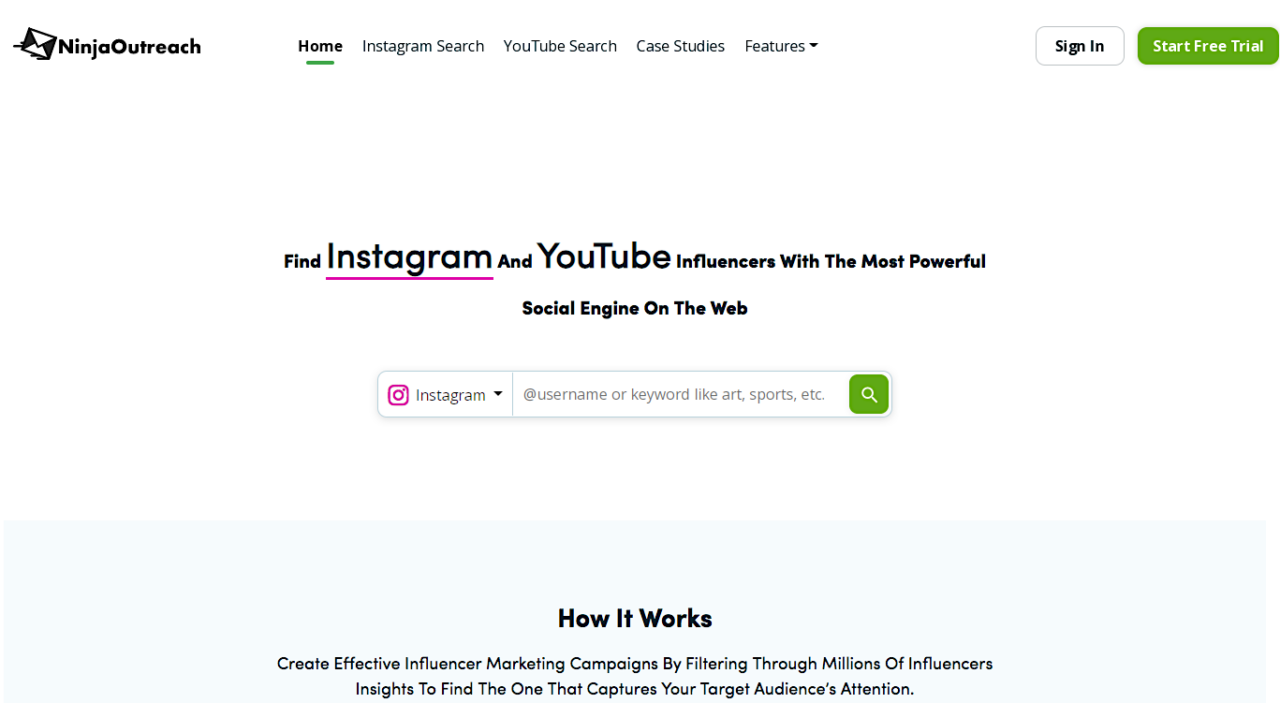 The platform features an extensive database of social media influencers and bloggers that you can use as a discovery tool. This database also contains email addresses and other contact details so that you can make sure your message is getting to the right people.
For my money, though, the highlight of NinjaOutreach is the outreach tool itself. This platform offers customizable email templates that can be personalized for each recipient and are designed to ensure maximum response rates.
Once your templates are ready, you can use them to set up automated email outreach campaigns that send your messages at timely intervals. They even provide automated follow-ups if you haven't heard back from a recipient.
Combine that with a dedicated outreach inbox so that you can manage communications in one place and the kind of open and response rate analytics usually found in top email marketing tools, and it's no wonder NinjaOutreach is the number one platform in its field.
Pricing: NinjaOutreach plans start at $155 per month. A 7-day free trial is also available.
2) Best Influencer Outreach Tool for E-commerce Brands: Aspire
If you're running an e-commerce store and want to use influencer marketing to help drive more product sales, Aspire is a platform that's worth checking out: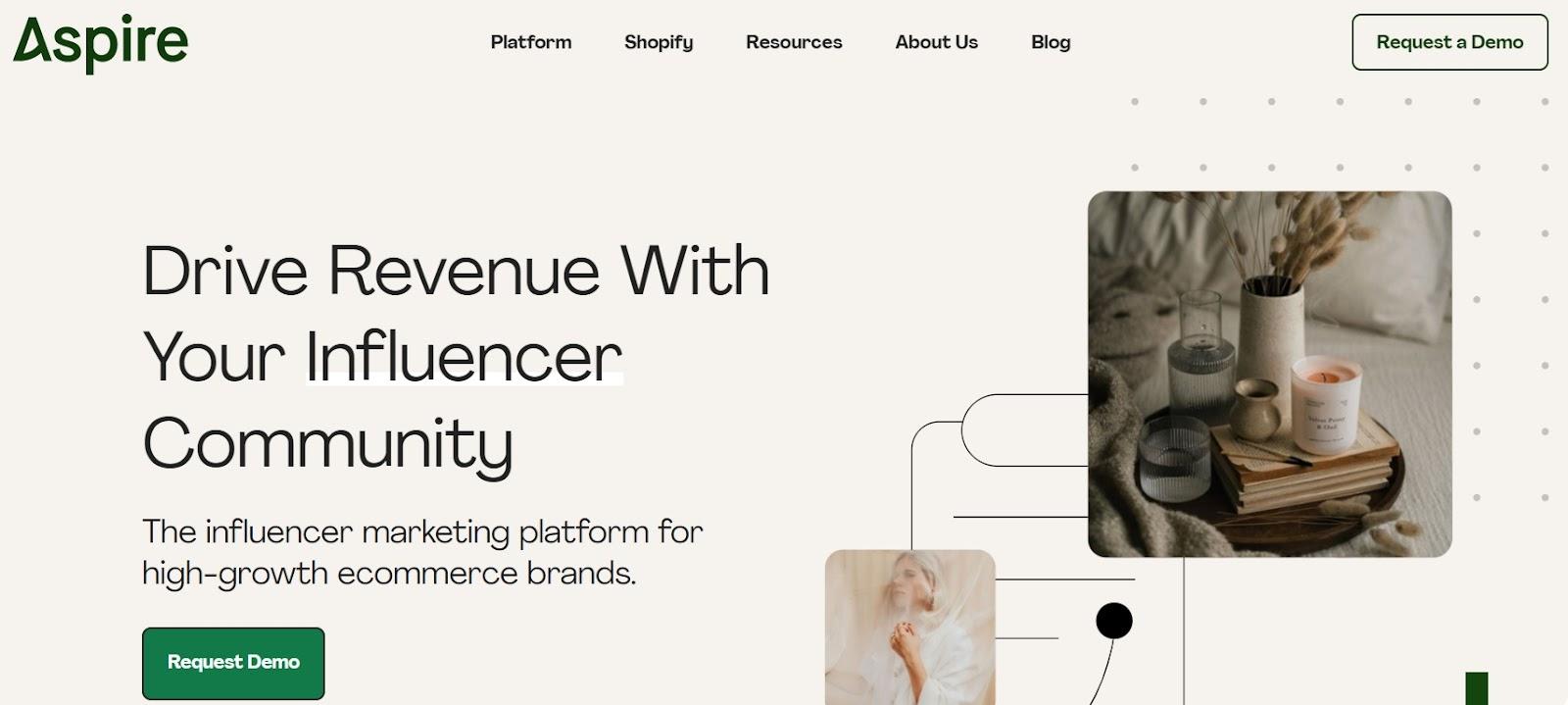 One of the highlights is the ability to create custom, branded landing pages so that you can simplify the way you invite new influencers to your campaign.
Once they're signed up, the incredibly useful onboarding and workflow management dashboard provides you with everything you need to manage your collaboration, including the ability to send welcome kits and brand guidelines, affiliate links to products or your entire store, and influencner content briefs.
The best part for online store owners using Shopify or WooCommerce is that Aspire integrates flawlessly with both platforms to further streamline your influencer marketing campaigns.
Pricing: Aspire offers custom pricing based on your needs. You can request a demo in order to get a quote.
Related Content: E-commerce SEO for Product Pages: 15-Point Checklist to Boost Traffic and Sales
3) Best Blogger Outreach Tool: Pitchbox
So far, we've talked a lot about engaging with social media stars. But we can't ignore how important blogger outreach can be to your overall marketing campaign.
After all, there are plenty of bloggers and content creators with audiences to rival even the most successful TikTokers or Instagram influencers.
By working with them, you not only get to promote your products to a brand new audience, but also build a solid backlink portfolio that can prove essential to boosting your search rankings, driving organic traffic and establishing your credibility as a brand.
If you're going to do this, then Pitchbox is undoubtedly the best tool for the job: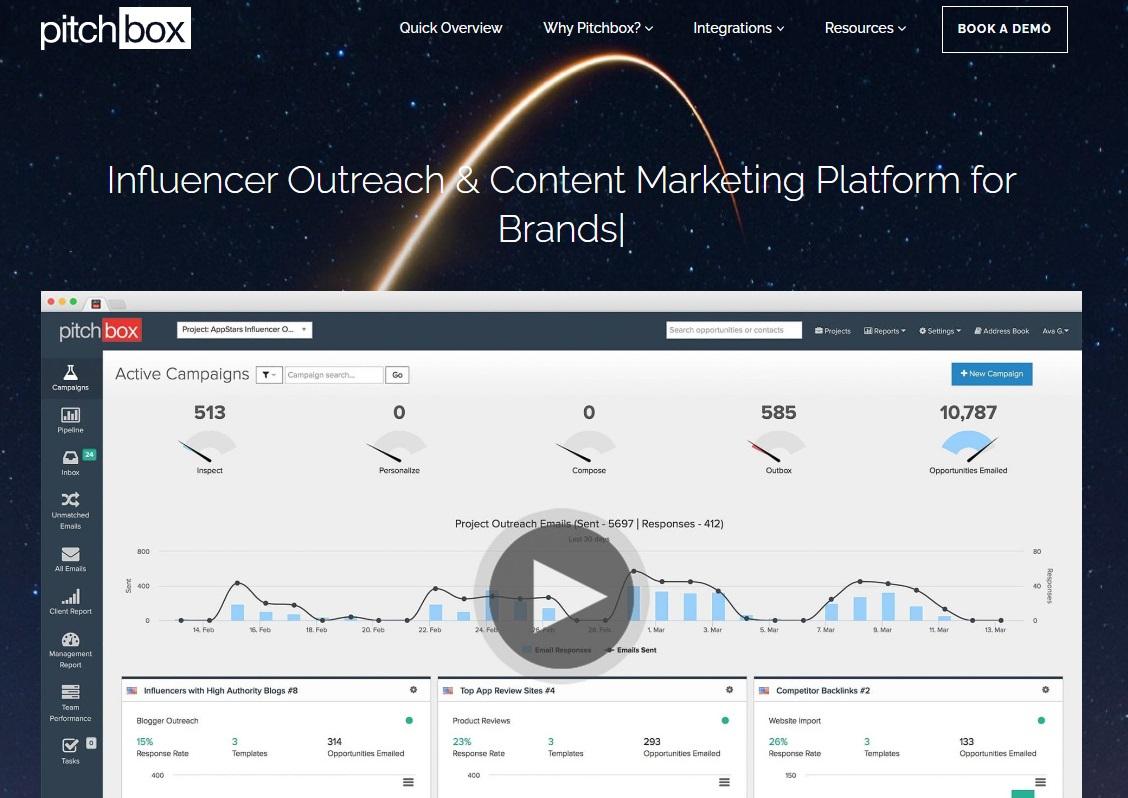 Along with the standard influencer directory offered by most influencer marketing tools, Pitchbox allows you to track down popular bloggers and authoritative bloggers in your niche.
From there, you can save the hours of time it would normally take to reach out to those bloggers by quickly creating pitch-perfect introductory messages and even using automated follow ups to increase response rates.
Pricing: Pitchbox doesn't reveal its pricing. You can contact them to book a demo and receive a quote.
4) Best Influencer Relationship Management Tool: SARAL
If you're a DTC (direct to consumer) brand that wants to work with influencers long term while automating a lot of the manual work, it's worth checking out SARAL: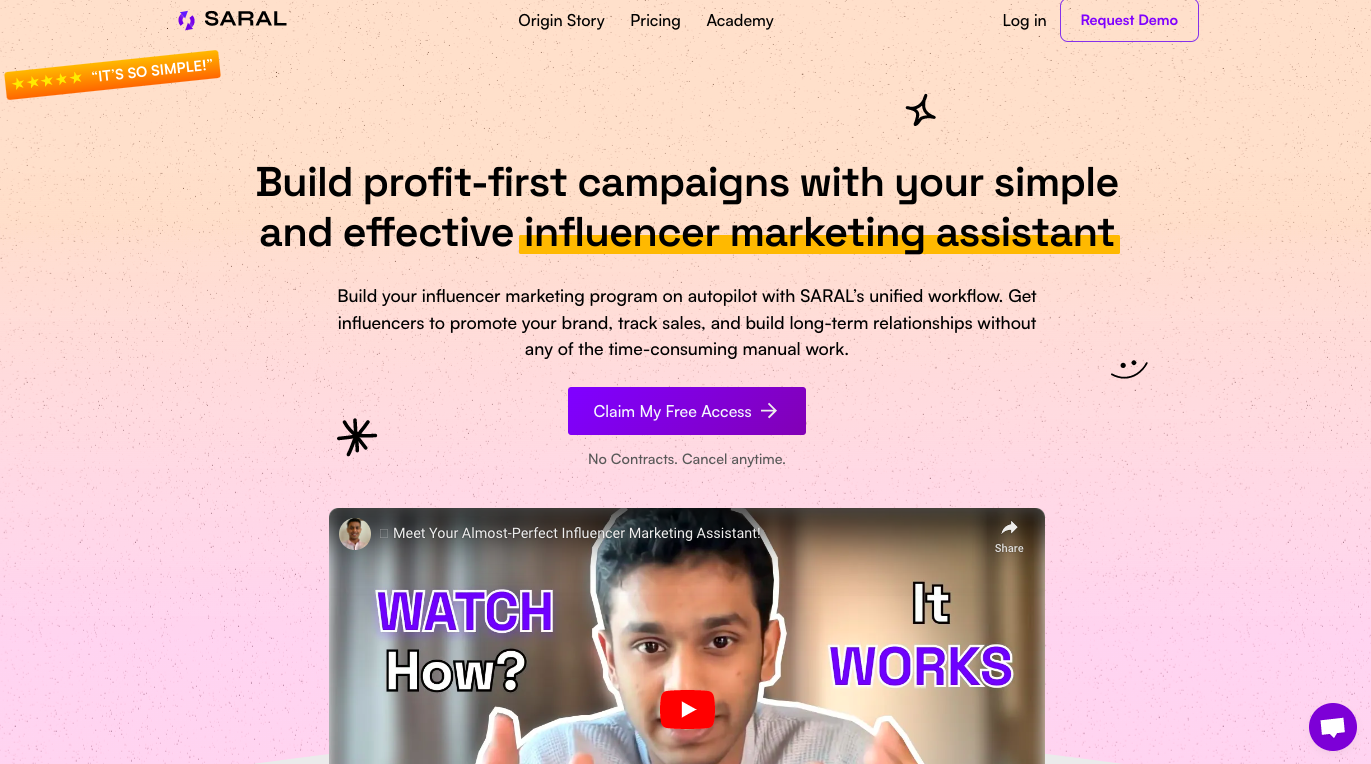 SARAL covers influencer management from A to Z, bringing together everything from Discovery and Outreach to Management and ROI Tracking.
One big highlight in SARAL is the "Relationships" board which puts the creators front and center for you, so you never miss out on deepening a relationship: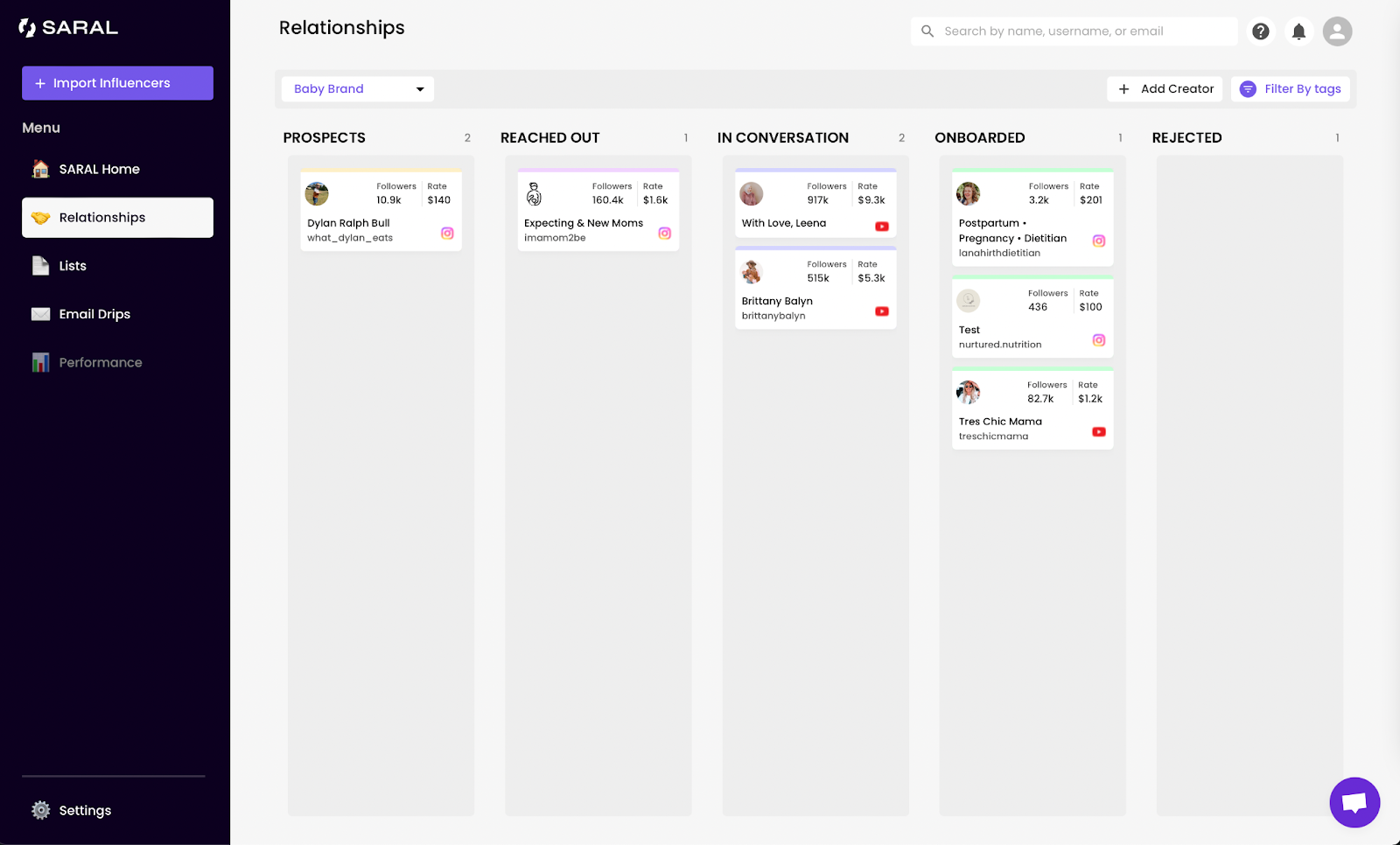 They also have a solid outbound tool built in to the app so that you can automate outreach emails and follow ups to influencers.
SARAL might be your best bet for an all-in-one solution to test or scale influencer marketing as a channel.
Pricing: 7-day free trial, then $150 per month. You can request a demo.
How to Use Influencer Marketing Tools to Manage Your Campaigns and Relationships
You've found influencers who are a perfect fit for your business, reached out to them, and learned that they're keen to work with you.
Now comes the fun part: campaign management. You'll need tools to manage all your relationships with those influencers, collaborate on content and track your ROI from each influencer post.
Sure, you could do that with some good, old-fashioned spreadsheets and messaging tools such as Slack, but let's be honest. The more tools you need to work with those influencers, the longer everything is going to take. The longer everything takes, the more frustrating the entire process becomes and the longer you have to wait to start seeing any return on your investment.
If the very thought of all that is enough to make you consider scrapping the whole idea of influencer marketing, take a look at the following three tools first.
Top 3 Influencer Marketing Management Tools
These platforms combine many of the features found in leading CRM (customer relationship management) solutions with influencer-focused features so that you can communicate, collaborate and calculate your ROI using one single tool.
Ultimately, this saves you a ton of time and plenty of headaches by making the entire management of your influencer marketing campaigns much more efficient. And greater efficiency equals greater results.
1) Best Overall Influencer Marketing Management Tool: Grin
Grin earns its reputation as the ultimate influencer relationship management platform, thanks to its highly intuitive communication features. These make it effortless to manage messages between you, your influencers, and the rest of your marketing team.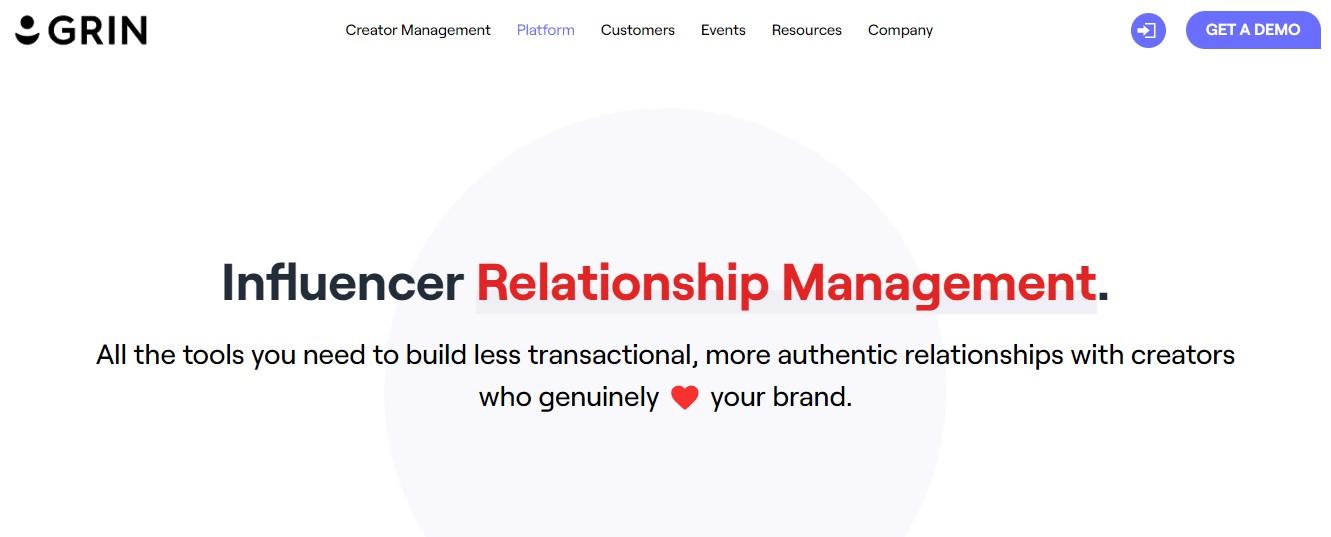 Tailored email sequences with tracking options and a detailed yet easy-to-use contacts database make it possible to nurture long-term relationships with your influencers. Deeper relationships will continue to reap rewards for both creators and brands long after the first piece of sponsored content is out there.
With all that said, what I really like about this one is the clear, visual interface that allows you to manage multiple influencer relationships within a single campaign or develop unique one-off campaigns tailored to each influencer.
Pricing: Contact Grin to book a demo and get a custom quote based on your needs.
Related Content: 10+ Follow-Up Email Examples You Should Share With Your Team
2) Best Influencer Marketing Analytics Tool: Onalytica
A key part of developing fruitful relationships with influencers is understanding just how much those relationships can boost brand visibility, increase sales or achieve whatever goal you have in mind.
To do that, you're going to need data, and that's something that Onalytica does better than many other top influencer marketing tools:

Though the platform provides a full suite of tools for influencer discovery, outreach and engagement, it's the tracking features that are the real jewel in Onalytica's crown.
Customizable dashboards allow you to set your own KPIs (key performance indicators), take an in-depth look at the top converting influencers working on your campaigns, and analyze the ROI generated from any campaign or influencer.
By measuring your activities against your goals, you get a better understanding of what's working well and what isn't so  that you can fine-tune your influencer marketing strategy for greater long-term success.
Pricing: Request a demo to access Onalytica's pricing information.
Related Content: Top Marketing KPIs that Every B2B Company Needs to Track
3) Best Influencer Collaboration Tool: Klear
If you want to be more hands on with the content your influencers create for you, I recommend giving some serious thought to using Klear: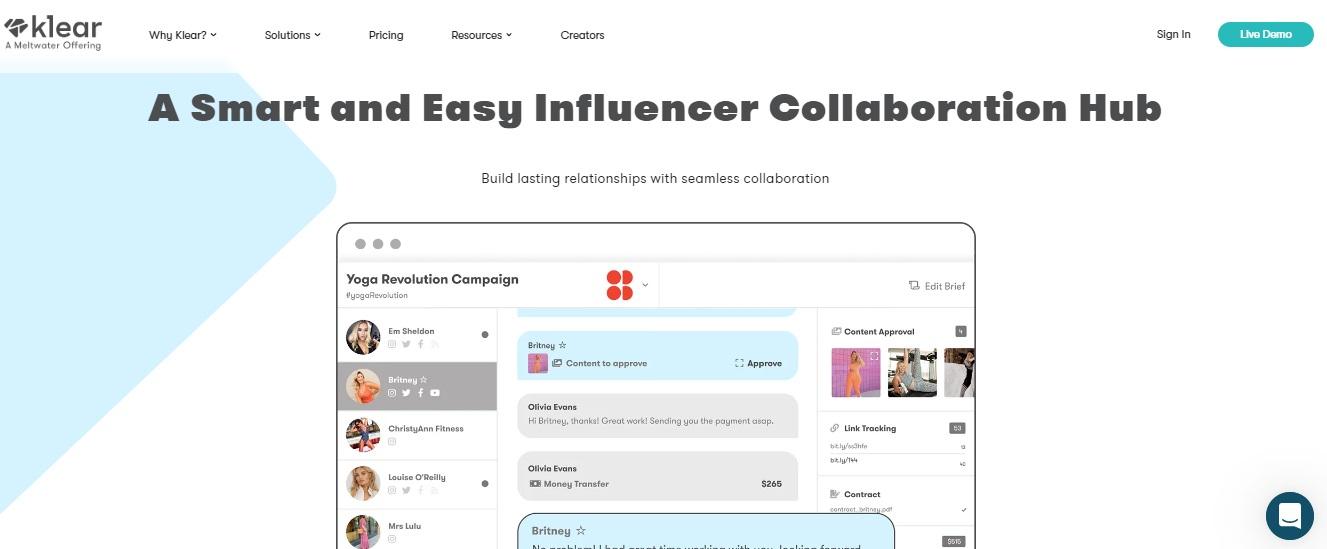 You can invite influencers to the user-friendly platform where the onboarding process is quite efficient, thanks to pre-made, customizable briefs as well as clear, detailed guidelines to ensure that all parties are on the same page.
One pretty unique feature offered by Klear is the ability to create mood boards to provide your influencers with inspiration and ideas for the content they create for you. I'm also a big fan of the multiple integrations that make it possible for influencers to submit content for approval before it goes live.
However, even with all this, the big selling point here is the way that Klear takes the hard work out of managing your influencer contracts, with the ability to automate the entire contract-signing process with just a few quick clicks.
Pricing: Book a demo to receive a custom quote from Klear.
Related Content: Influencer Marketing Strategy: The Ultimate Guide to Growing Your Business with Brand Partnerships
3 Bonus Tools to Help You Grow Your Brand with Influencer Marketing
If you've read this far, then you've already discovered several amazing influencer marketing tools that can significantly improve the way you work with high-profile content creators to grow your brand and boost sales.
But there are still a few more tools worth checking out.
Here are three more top tools, each one offering a unique way of making your influencer marketing campaigns both more efficient and more effective.
1) Best Influencer Marketing Tool for New Businesses: Dealspotr
As a new business, you may not yet have the budget nor the brand recognition you need in order to attract the kind of celebrity influencers your competitors work with. But that doesn't mean you can't still use influencer marketing to your advantage.
One way to do this is with Dealspotr, a platform that's part influencer marketplace, part affiliate marketing network.
It's free to join (making it great for bootstrapped brands) and share promo codes for specific products or special offers with a large community of influencers.
The influencers themselves can browse for new products to promote and apply to work with you, or you can browse influencer profiles and hand-select those you want to work with.
Whichever route you take, your chosen influencers then share your promo code with their audience to create a win-win-win situation: Influencers earn a commission fee, you boost your sales and attract more new customers, and the customers get a great deal (that may just well draw them back to your brand).
This helps you leverage the power of influencer marketing to get your new brand off the ground without investing any money.
Pricing: Dealspotr is free to use. The company simply asks that you don't share a better special offer anywhere outside of its platform.
2) Best All-in-One Influencer Marketing Tool: Affable
Many of the platforms we've looked at offer a variety of features that make it easy to manage multiple aspects of influencer marketing from one location, but few do a better job of streamlining the entire process from start to finish than Affable: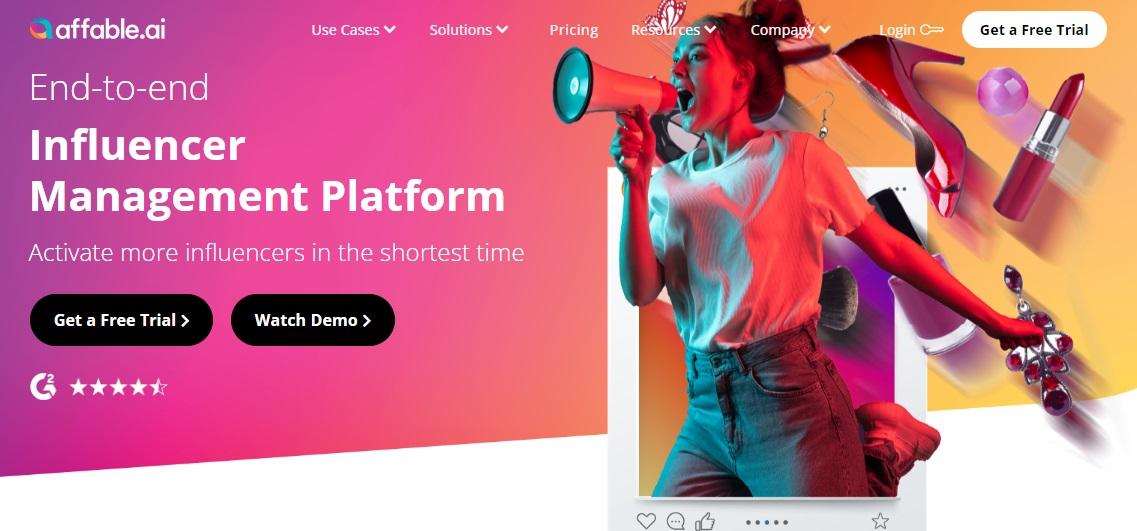 Once you're on board, you can use over twenty advanced filters to find the perfect influencers for your campaign, based on location, niche, follower counts and other essential details, as well as eliminate those whose followers are fake.
From there, you can build white-labeled landing pages to invite your chosen creators to work on your campaign and use the built-in CRM platform to communicate and collaborate with them.
Add in excellent conversion-tracking options, a handy dashboard for overseeing all the influencer-created content related to your brand, and the ability to monitor your competitors' influencer marketing activities, and you won't find many all-in-one solutions that match this one.
Pricing: Affable offers a free trial along with custom-priced plans for SMEs, large-scale companies, and international enterprises. You need to contact them to start your trial or receive a custom quote.
3) Best Enterprise-Level Influencer Marketing Platform: NoxInfluencer
NoxInfluencer is one of the most expensive influencer marketing tools on the web right now, and while that may rule them out of the running for small and growing businesses, enterprise-level organizations will find a lot to like about this powerful platform:

Once connected, you'll have access to a vast database of over 30 million influencers from around the world. Not only that, but calculator tools to help you determine the value of getting your brand promoted by top YouTubers, and several other useful tools tailored to help you get the most out of your relationships with creators on platforms such as Instagram, TikTok, and Twitch.
You can use these tools to analyze industry trends to determine the direction of your next campaign, handle your influencer outreach activities, and manage entire campaign performance.
With all this going on, it shouldn't be surprising that NoxInfluencer is the enterprise-grade influencer marketing tool of choice for well-known brands like Huawei, AliExpress, and even TikTok itself.
Pricing: NoxInfluencer's plans cost between $3,899 and $7,999 per year.
Conclusion: Best Influencer Marketing Tools
Whether you're simply looking to boost your brand visibility, establish your company as an industry leader or generate a tangible increase in sales and revenue, collaborating with well-known digital media stars to get your brand in front of a new audience is a cost-effective way to go about it.
Every one of the 16 tools on this list can help you make that process even more effective by streamlining and simplifying each aspect of your campaign, from finding the right influencers to tracking your overall ROI.
Which one you ultimately decide to use will all depend on your priorities:
Starting a new business on a shoestring budget? Free tools like Hootsuite and Dealspotr should definitely be in your influencer marketing toolkit. If you're looking to make a serious investment in this kind of marketing, opt for an all-in-one solution like Affable.
Biggest concern is weeding out fakes and frauds? To ensure that you only work with credible, legitimate influencers, then a top discovery tool such as Intellifluence should be high on your list of influencers.
Need help with the collaboration process? In that case, the excellent workflow management features offered by a leading platform like Klear is a good choice
Whatever tool you decide to use, be sure to check out our guide to developing an influencer marketing strategy to help you get the most out of this unique form of digital marketing!
---
Influencer Marketing FAQs
Which app has the most influencers?
Instagram is the most popular social network used by influencers, with TikTok and YouTube close behind. This is why so many top influencer marketing tools focus on connecting you with creators on those three platforms.
What makes a successful influencer marketing campaign?
The key to successful influencer marketing is understanding your target audience, finding influencers whose audience closely matches your own, and working together with those influences to create a compelling message that encourages their followers to check out your brand.
What is a good ROI for influencer marketing?
Given the unique nature of influencer marketing, there's no standard metric for calculating ROI. That said, the average return on investment in this field is around $5.75 in revenue for every $1 spent, though some brands report making up to $18 per dollar spent.