Sending out follow-up emails is often overlooked by marketers.
And yet research shows that an email sequence as part of your marketing campaign can increase the average rate of reply from 9% to 13%!
I get it. Follow-up emails can be pretty tricky to write.
To make your follow-up email strategy easy for you, I've compiled this guide of follow-up emails that provides:
Real life email examples split into different categories (click on the table of contents)

Email templates that you can use

Suggestions on how to use

effective CTA

that can make your customers take action
P.S. Be sure to scroll all the way to the bottom for the infographic with an easy-to-follow framework to help you write powerful sales emails!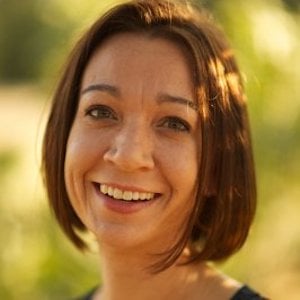 Kim Cooper
Director of Marketing, Amazon Alexa
Single Grain enables us to increase our impact without increasing our headcount
---
---
Follow-Up Email After No Response 
Let's start with the basics. You sent an email to a prospective consumer but failed to get a reply.
With this second email, it is time to up your game. There are two ways you could go about this:
The first approach is to provide a context that you had tried reaching them out earlier. Your email can sound more personal and supportive if readers feel like you understand their trouble.

Source: FreshSales
Notice how the tone is sympathetic and understanding. This email also highlights an essential rule of thumb: always give the consumer an option to decline—no such thing as forcing your way to conversion.
The second approach is generally shorter and looks to add value to your previous email.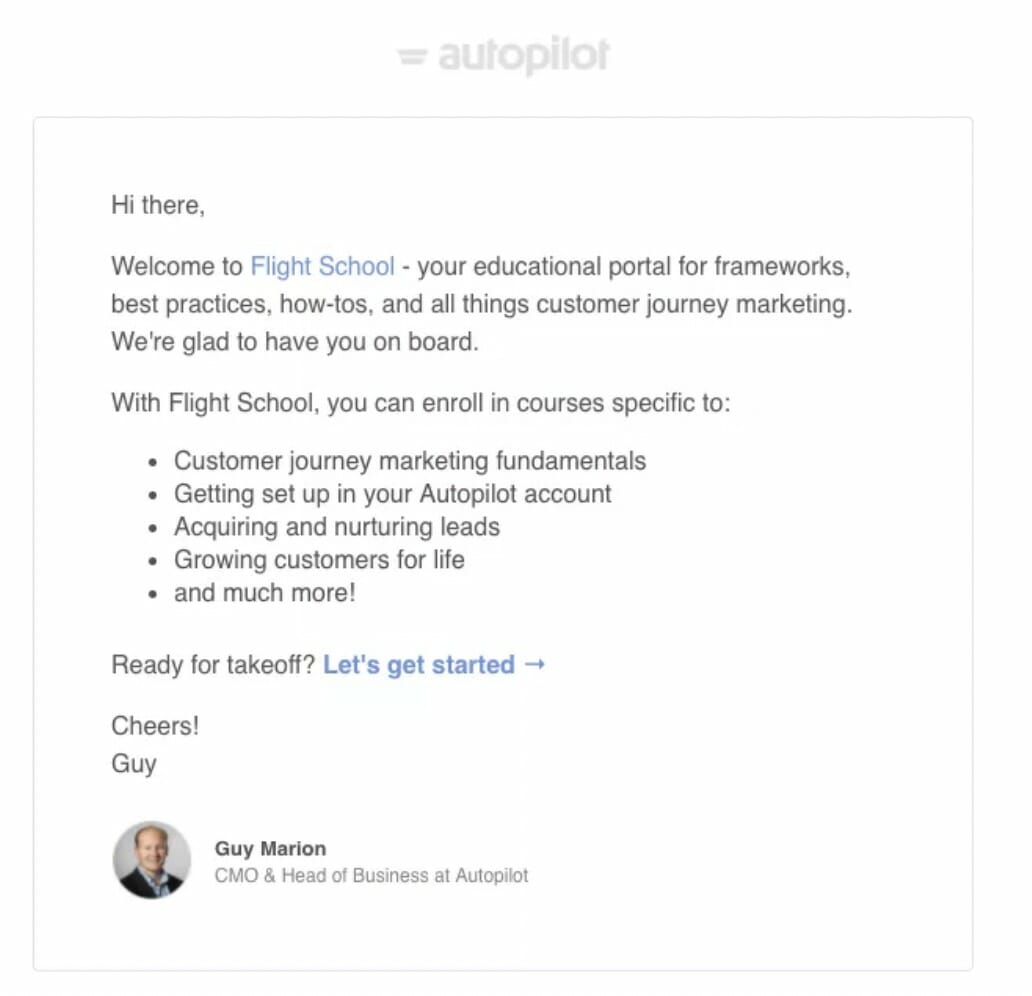 Source: Sumo
It includes adding significant research or statistics that support your service and avoids using complex jargon. Consumers are on the lookout for value that can add to their business or life. Giving the reader what they want increases the likelihood of nurturing a potential lead into a sale. 
Follow-Up Email After A Conference or A Networking Event
Conferences and networking events are a great place to pick up your leads. Such gatherings allow you to meet people who are likely to support your service and entrust you with their contact details to touch upon later. Make good use of this! 
You can send these prospective clients some essential information about your service and how it will benefit them. 
Your first email should always be short, sweet, and direct.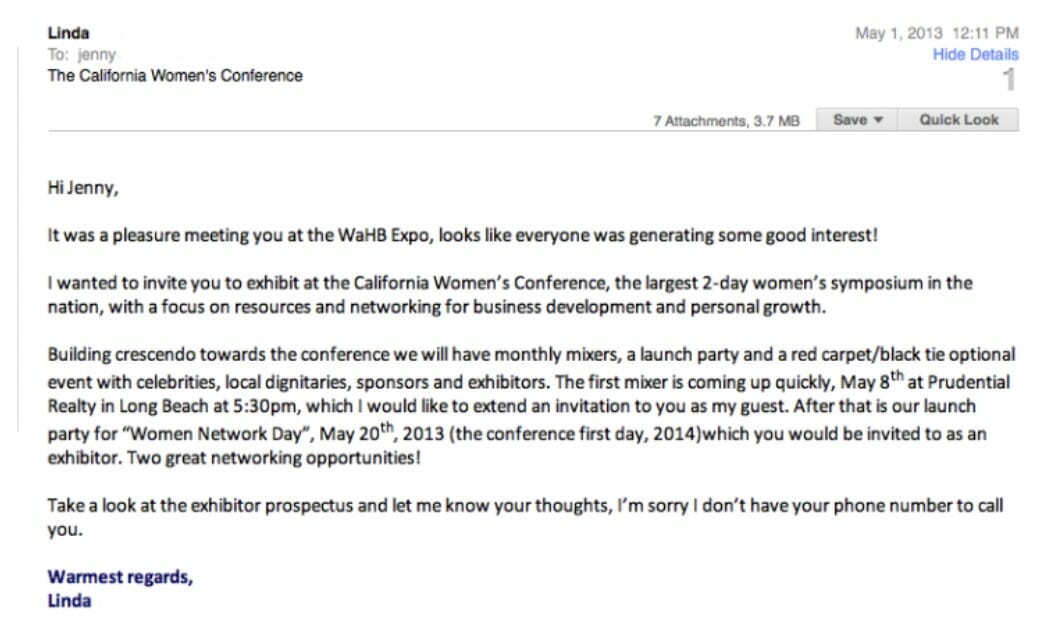 Source: Business2Community
Take this example from Linda at the Women's Networking Conference. She follows up by reminding the client where they met and why she's writing the email – in the first two lines! 
Related Content:
* SaaS Email Marketing: 12 Best Strategies to Follow
* Top 10 Best Email Marketing Services
* How to Analyze Your Email Campaign Performance and Optimize It

Follow-Up Email After Your First Discussion
You have met with your client and have made your first pitch. The client has shown a lively interest in closing the deal with you; however, you still haven't heard back from them. What's next?
Check out this example by Kevin Donlan, a marketing expert, who provides a quick, value-added follow-up email with a potential client.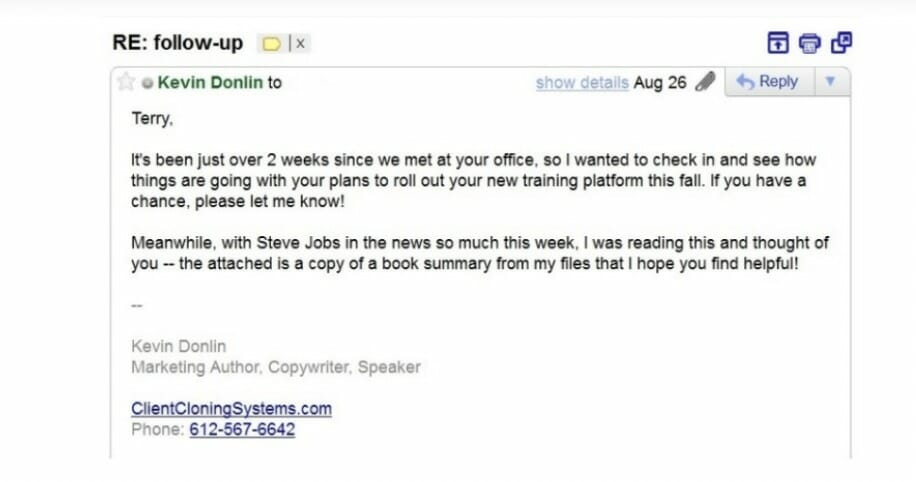 Source: Quickmail
It is preferable that you email with a follow-up of your previous interaction, followed by a light suggestion that could grab your potential client's attention.
This email will serve as a "gentle reminder" of what has been discussed already and move the conversation further. 
Follow-Up Email After A New Product/Service Innovation
You've just launched your ecommerce business and are excited to show clients how it can make their lives easier. A grave mistake you can make here is to assume the clients will contact you – it is your job to do so!
Book Outlet has a brilliant follow-up email strategy where they email their customer list about any new arrivals and seasonal discounts. They use this opportunity to update clients about recently published books and use a tactful, interactive subject line to make sure customers open the email!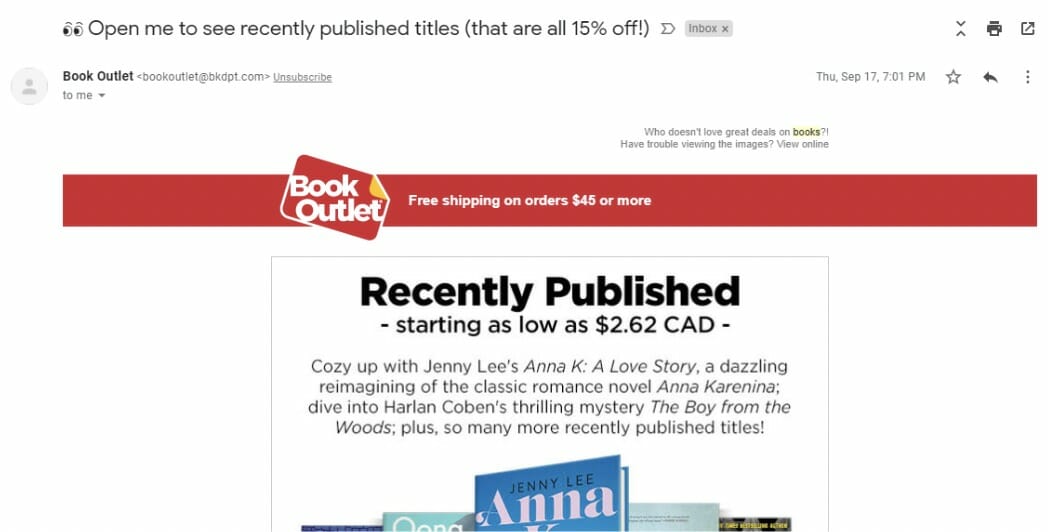 Source (BookOutlet)
Follow-up emails provide a brilliant opportunity to tell your prospective clients about any new products or services your brand has introduced. Tell them what services you offer to help solve pain points similar to the ones your client might be experiencing.
You can use various online tools to verify and make your subject lines more appealing!
Similarly, you can also update your client about a new sale or new arrivals that they can shop from your website.
Follow-Up Email After A Trigger Event
When you create an email campaign, you are bound to use analytics to track your emails' progress. Different tools can show you whether your client has opened your email, re-opened an email, or visited your site through the email. 
You can also use your analytic tools to see the time at which your emails get opened the most and target your email's schedule accordingly. For example, 23% of all emails are usually opened within 1 hour of delivery, at the popular "lunch break" time at 1 pm, or early on around 10 am.
Whatever the reason, an open email shows that the client is willing to read through your email. You have to make sure to hit the right points!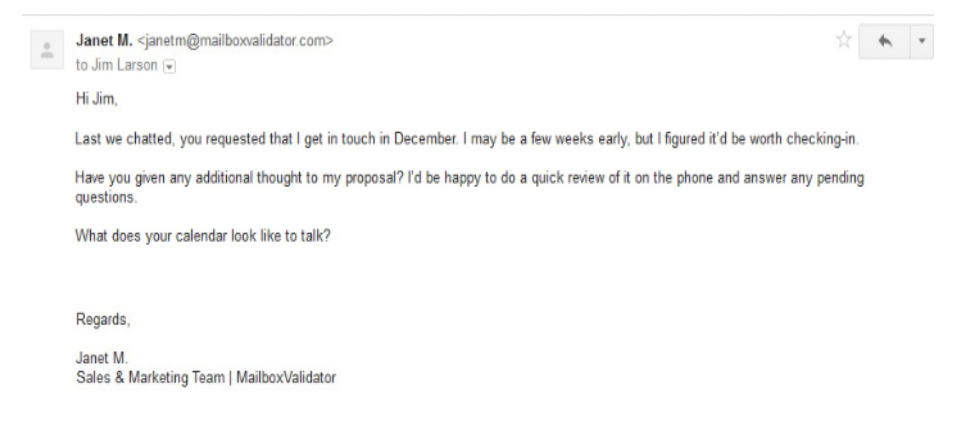 Source: Mailbox Validator
Tracking and following-up your customer like in the follow-up email example above can establish you as a helpful resource and allow you to gain insight into consumer behavior, further personalizing your emails.
Related Content:
* How to Get More Responses From Your Cold Emails
* 11 Best Cold Emailing Tools to Help You Quickly Close Sales Deals
* Best Lead Generation Tactics for Content, Email & Social Media Marketing

 Follow-Up Email After You Give An Interview
Sending an email after you've had an interview with a prospective client should essentially be a thank-you note for taking time out to interview you. Additionally, it also shows your enthusiasm and seriousness to take up the prospect as your client.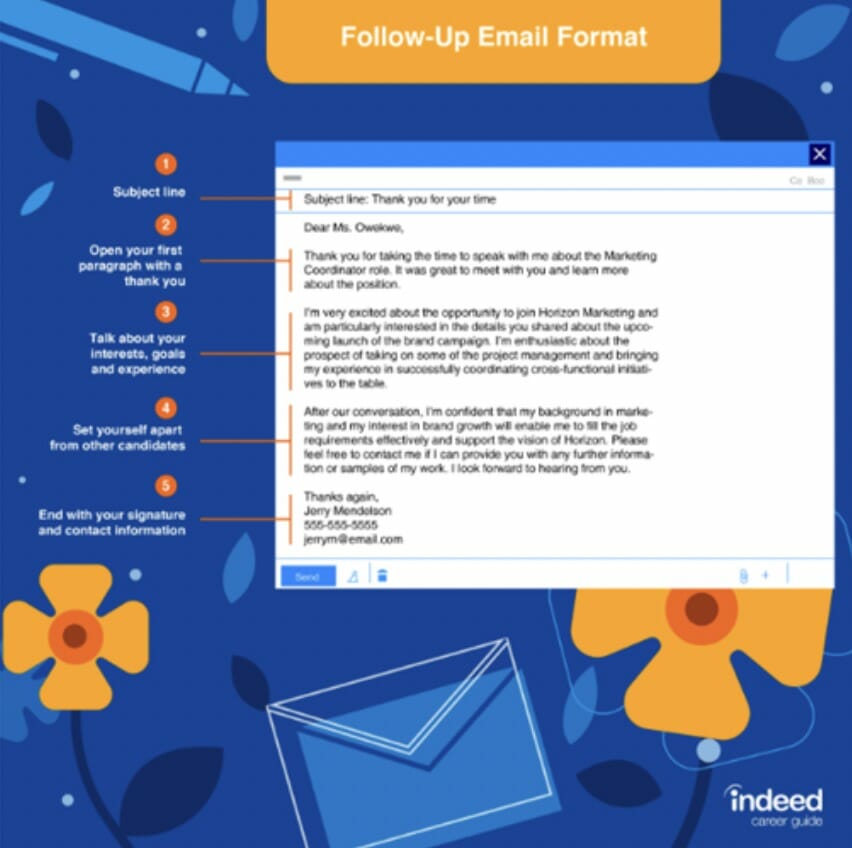 Source: Indeed Career Guide
A short follow-up email expressing a few words of gratitude is the most appropriate to spend. Try not to sound too over-eager!
Follow-Up Email As Part Of An Email Thread
This is where an email campaign gets tricky. After you have sent out your 3rd email and you're still waiting for a response, your next email in the sequence may likely start to sound pushy or desperate. 
How can you make your email, at this point in the email thread, interesting?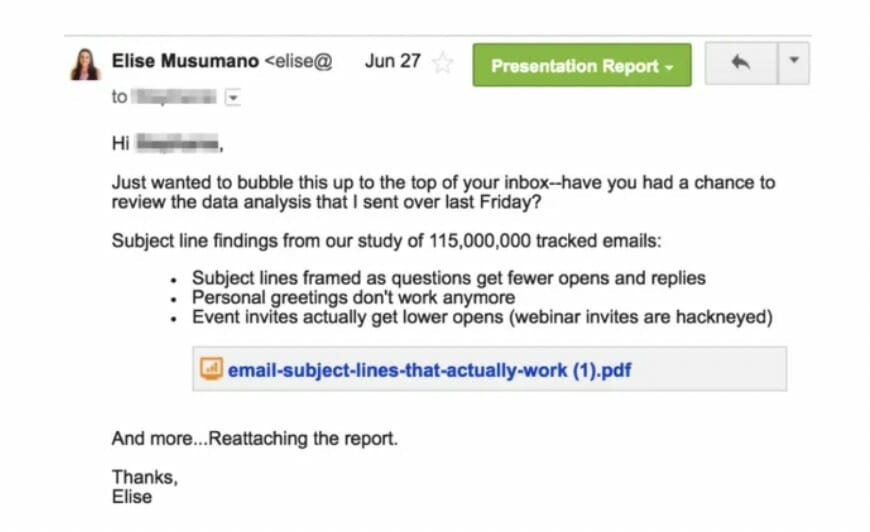 Source: Yesware
Now is the time to loosen up with your clients and show them what they're missing out on by not being part of your client base
Develop engaging bits of information about your service – like a list of successful, famous clients or any collaborative effort that your product has been a part of.
Like in the follow-up email example above that Yesware sent to its client, make your email concise and to the point.
Point out any data or research that your company conducted, like Yesware did.
Follow-Up Email To Reconnect With A Client
When old clients stop visiting our website or go silent, most companies assume that they may not want to avail of their services anymore. 
However, that's the greatest mistake you can make if you're looking to increase engagement. Retaining your previous and loyal clientele is as easy as sending them a simple follow-up email to check with them. 
The creative director of JVM Design, Sherry Holub, emphasizes that the email script should be as conversational as possible, with no pressure placed on the customer.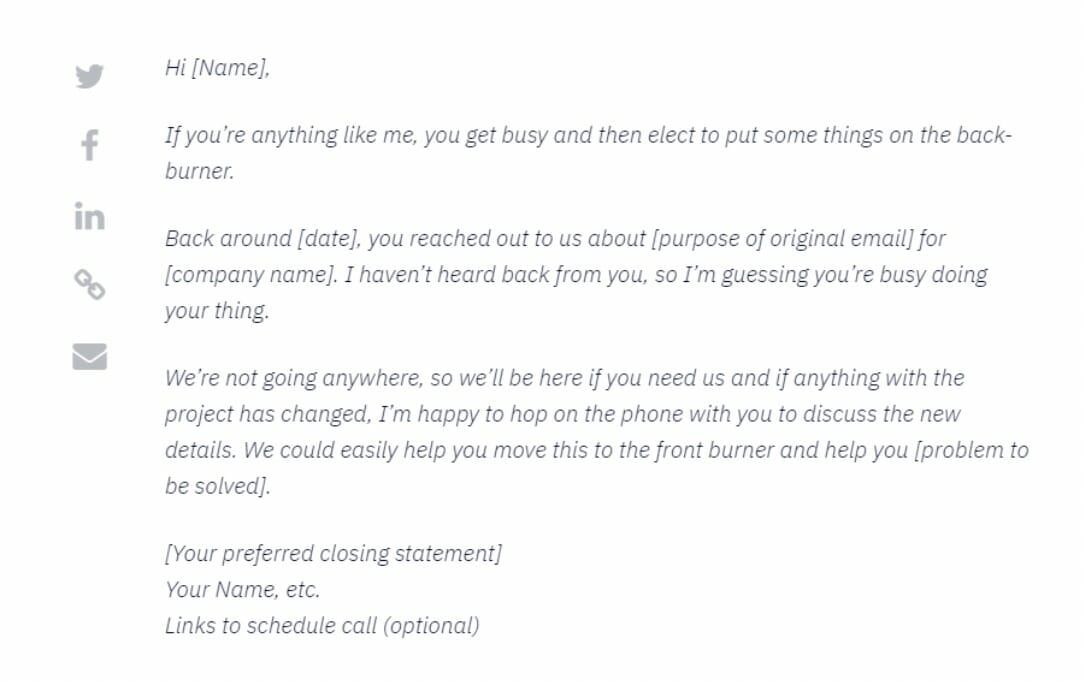 Source: Nutshell
The above follow-up email example is a template by the creative director of JVM Design, Sherry Holub, who emphasizes on the email script to be as conversational as possible, with no pressure placed on the customer.
Follow-Up Email After A Business Meeting
Every email that you send is a reflection of your brand and its ethics. Sending a follow-up email after a business meeting is reflective of good etiquettes and values. 
You may mention the minutes of the meetings and even a few notable accomplishments in your email. This ensures that everyone on the project is aware of the core objectives and helps them stay connected.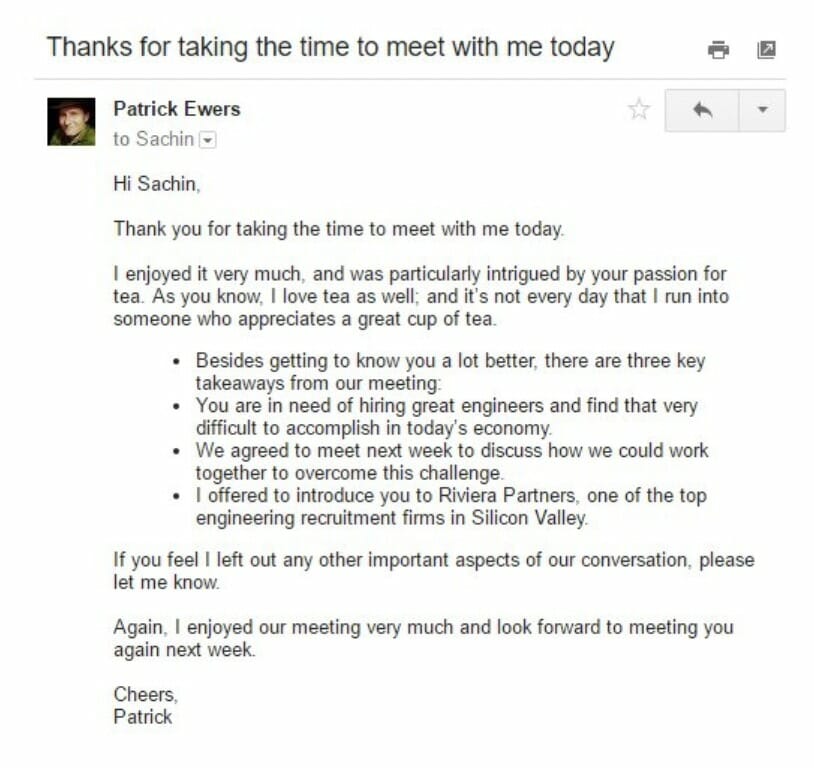 Source: MindMaven
Take a look at the follow-up email example below. In just one email, the sender has made sure that the recipient has everything they need to remember at their fingertips.
Follow-Up Email To Ask For Feedback
Asking for feedback is an excellent way to see how your prospective clients think you can improve. A client's perspective will help you to gather useful insights and think from your audience's perspective.
Here's an email example that Nordstrom sent to all their current and former clients. This email shows Nordstrom's aim to provide the best customer service which is evidenced by their need to conduct a survey.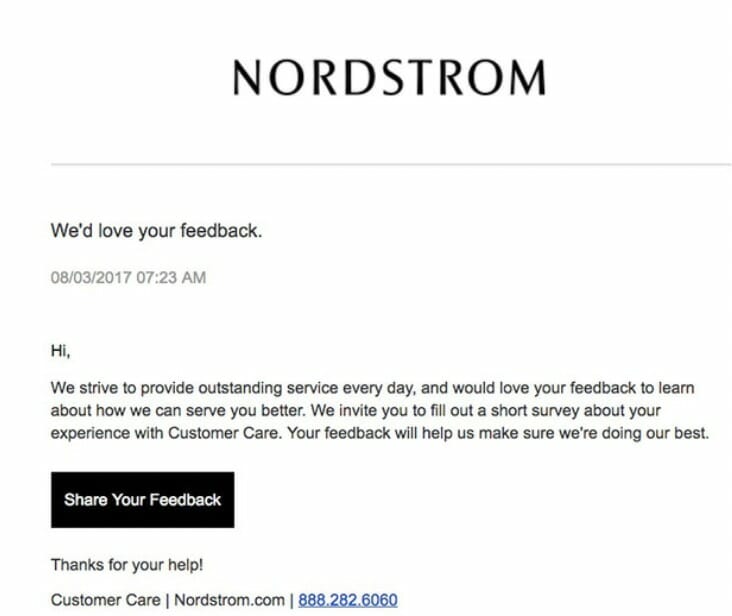 Source: Sleeknote
Apple is also known to have the best customer service. They give prompt replies to customers' requests and follow them up with emails to thank them for being friendly and patient. It is no wonder people are a fan of their service! 
Source: Superoffice
If you want to up your game at customer support and provide the best customer experience, you should read up on these effective communication approaches.
Follow-Up Email After A Voicemail
Suppose you phone a customer, and the call goes directly to voicemail. In that case, the customer is not interested in your service, or the customer might be unavailable. In either case, following-up with an email reiterates your value statement.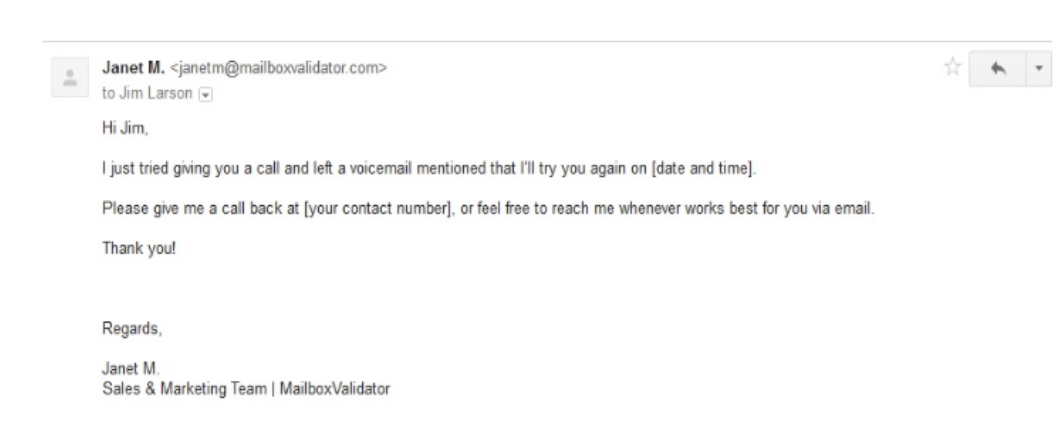 Source: Mailbox Validator
Your email should typically:
Confirm that you tried reaching before through voicemail

Very briefly mention how you think your service can benefit the customer

Give them an easy way to contact you
Follow-Up Email For An Inbound Lead
An inbound lead is a visitor who downloads any form of content or subscribes to your newsletter when visiting your website. This usually means that the visitor is interested in the service/product you provide and want to know more about it.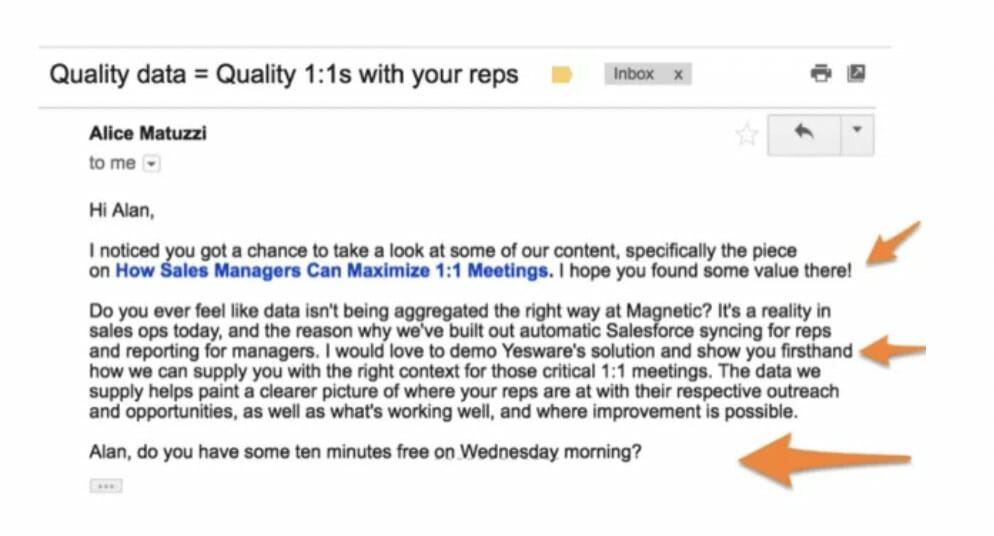 Source: Yesware
Sending up a follow-up email adds value to the customer's journey as your client and is a great way to welcome them to your brand. As an introduction, this email should be short and bulleted.
Most companies personalize this email by using the first name in the template. According to

research

conducted by Experian Marketing Services, using the recipient's first name in the subject line can boost email open rates by 29.3%

Your email should make clear why you're contacting them. They may not remember downloading your content or subscribing to your newsletter

Provide a valuable piece of information that demonstrates how your service can help them. Providing social proof is excellent for this
The following email example provides the context for the new email. Also, it adds value by directly asking for the customer's opinion on data.
Related Content:
* 7 Creative Ways to Collect Emails Without Being Spammy
* The Fastest and Easiest Way to Increase Your Email Open Rates
* How to Use Personalization to Increase the Impact of Email Marketing

Follow-Up Email For Giveaway Entrants
The reason behind a giveaway is usually to get more leads, create higher engagement or build brand awareness.
So what do you do when a participant enters your giveaway? 
Follow them up with an email confirmation and congratulate them on being a part of something big.  
Moreover, don't just forget about your participant list once they have entered. If you want to engage with your customers and build a relationship truly, keep reminding them about the contest they have partaken in. 
There are different types of follow-up emails that you can send prospective leads after participating in a giveaway to offer them warm wishes from your brand. 
An email to thank them for taking part 

An email to remind them when the result is going to be out

An email to prompt them for future giveaways and contests

An email to tell them how their referral link is bringing them closer to the win

An email at the end of the giveaway 
Following is an example of an email sent out by Healthy Hair Plus to follow up with all their giveaway participants at the end of the contest. This kind of attention builds a relationship between a brand and a consumer and encourages them to subscribe to your service. 
Source: JeffBullas
Below is another example of a giveaway follow-up email that ensures people are motivated to keep spreading the word about the brand.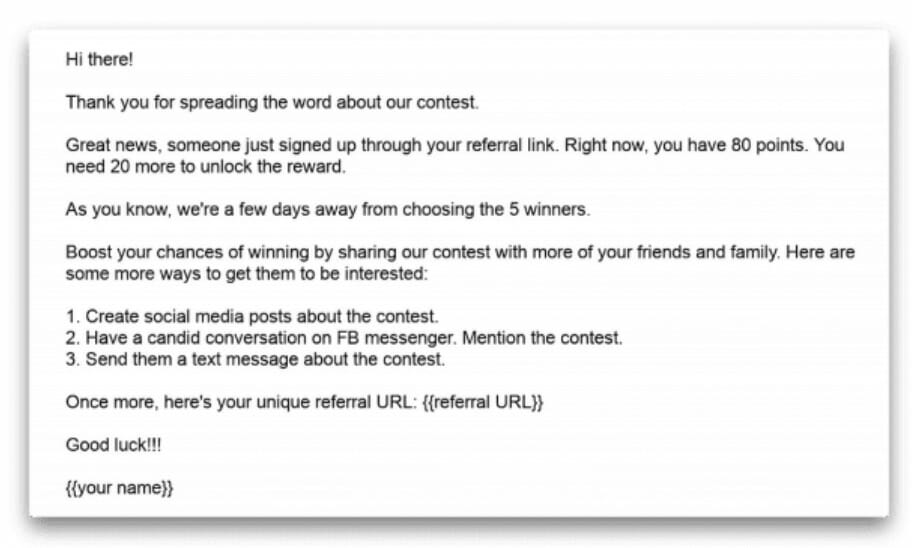 Source: UpViral
Follow Up Email For The Last Time 
After sending various emails, leaving voicemails, and text messages – it is finally time to part with your lead. However, you can still play around for the last time here.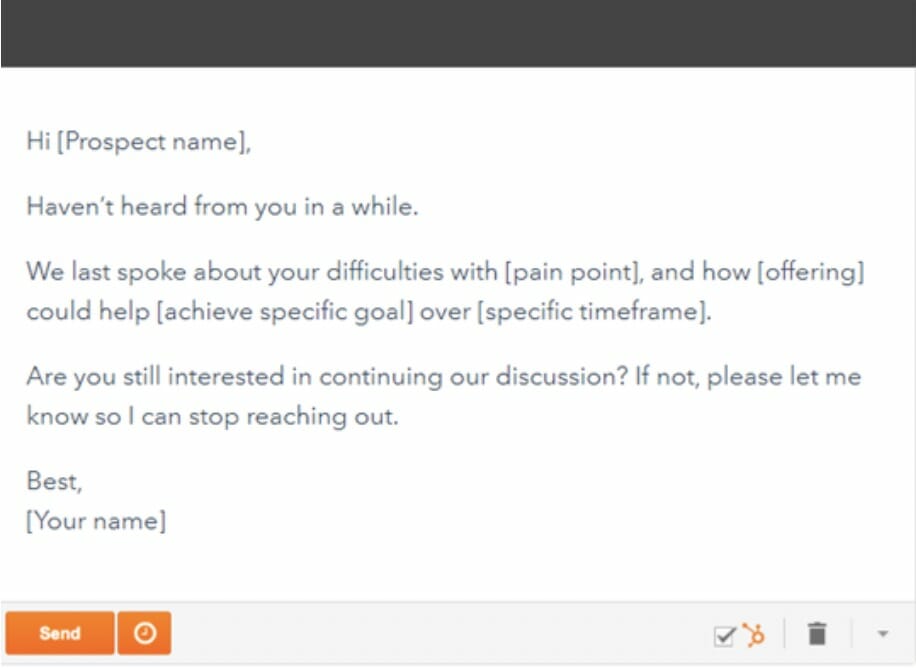 Source: Hubspot
Sending an email to a potential client telling them you won't be contacting them again is also a matter of values and ethics. It shows customers that you value their time.
In the best-case scenario, your courtesy and respect might earn you a customer!
This is a great follow-up email example for a last email because:
Tell them why they were in your contact list in the first place

Reiterate very briefly how your service could have benefited them

Remind them that this is your last interaction
To Conclude
If you want to increase your brand awareness and customer engagement, it is time you start following up with every customer who interacts with your brand. Make sure that you're using the right email address. Otherwise, every effort is wasted. But don't worry. Use this guide to learn how to find every email address you need.
Want to know whether your emails are accessible enough to land clients? We have got your back! These great email templates can ensure that your prospects are ready to get on board with you and your services.
Hopefully you learned how to write the perfect follow up email for every situation! But if you just want an expert digital marketing agency to do it for you, click the orange button below 👇
This infographic is an easy-to-follow framework to help you write powerful sales emails, based on the years of sales experience from IRC Sales Solutions, Spencer Smith: