7 Twitter Advertising Benefits: Boost Your Brand's Social Presence
Rest assured, there are plenty of Twitter advertising benefits.
Because of its broad and global reach, Twitter is one of the best social media advertising platforms for businesses to showcase their brand and interact with their target markets.
Twitter ads carry their own distinct advantages over other paid social advertising sites, such as Facebook, Instagram, LinkedIn or Pinterest.
In this post, we'll take a look at the different benefits of Twitter advertising to show you how you might strengthen your company's social media presence.
Why Twitter Ads?
Twitter is one of the biggest social media platforms in the world with over 330 million active users per month:

Put simply, Twitter is one of the few mainstay social media sites that to this day harbors an incredible amount of users that businesses can access to promote their brand.
Similar to how TikTok popularized short-form video reels, Twitter solidified its niche in the social media scene as the go-to short-form written content platform.
Initially limiting users to 140-character posts (and later doubling that to 280), Twitter was iconic for deliberately forcing users to distill and contain their thoughts into brief messages: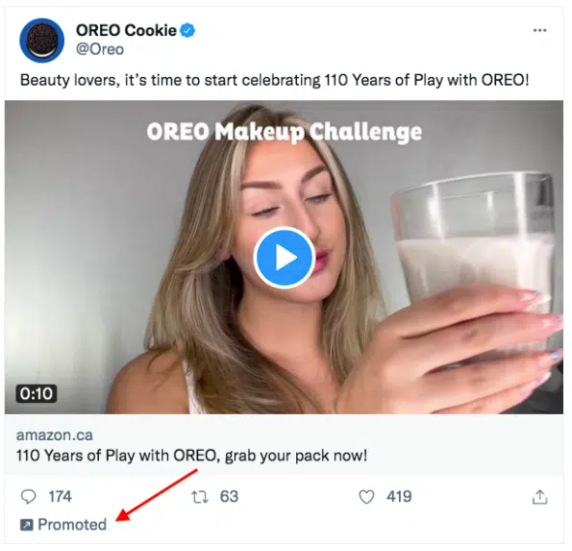 This naturally led to a mode of discourse that was quickly digestible and intended to circulate rapidly, which intentionally led to users of the platform being able to process and consume dozens or hundreds of posts in a single browsing session.
So how is that useful for advertisers?
It's incredibly useful in the sense that you can position your brand in small, bite-sized snippets multiple times intermittently to your audience, thereby inserting your brand (via promoted content) in front of your audience in concentrated, frequent doses.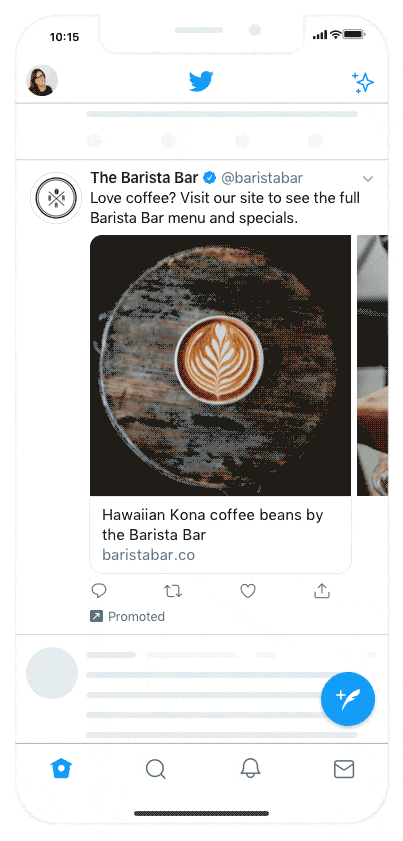 Not to mention that the established standard of most display ad messaging is usually compact and brief, which Twitter lends itself to by its very nature.
Dive Deeper: Are Twitter Ads Worth It in 2023 and Beyond?
7 Benefits of Twitter Advertising That You Can Wield for Your Brand
Every social media platform has its own signature strength:
Twitter is unique in that it is one of the most pure social platforms there is. A notch above Instagram in terms of complexity, it is probably the best platform for connecting a brand to its audience in the most down-to-earth way.
Let's dive into the seven core aspects of Twitter's advantages when it comes to melding organic and paid marketing strategies together.
1) Twitter's Trending Lists Are Like Looking into a Crystal Ball
The real-time trending lists on Twitter are probably one of the most useful advertising support features of any social media platform.
Because these trending topics lists are dynamic and always changing, you can stay current on the hottest subjects and interact with your audience about them: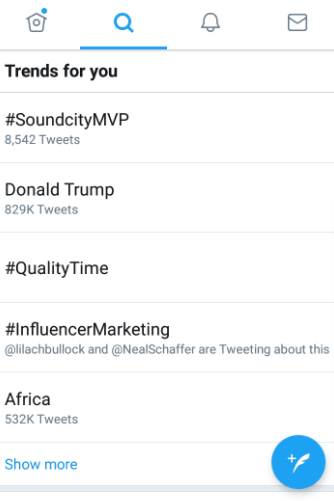 Advertisers can tap into current events, popular topics, and trending hashtags to increase their reach, drive engagement, and generate buzz around their brand. The real-time nature of Twitter makes it a great platform for creating timely and relevant content that resonates with audiences.
Here are a few examples of how brands could leverage the trending lists to access their audience around a highly relevant topic:
Pop culture media trends: A clothing brand creates a tweet about a popular TV show using a trending hashtag to capitalize on the buzz and reach a wider audience.
Seasonal trends: A brewery brand develops promoted tweets using a frequently used holiday-related hashtag to promote a limited edition flavor and encourage followers to share their own holiday traditions.
Trending buzzwords and phrases: A fitness influencer creates a tweet using a trending workout-related hashtag to share a quick tip and drive traffic to their blog or YouTube channel.
Dive Deeper: 15 B2B Social Media Trends You Can't Ignore
2) Twitter Is a Fantastic Place to Drive App Installs
Twitter is possibly the best ad platform when it comes to successful app installs sourced from ads. Since more than 80% of Twitter users access the service on mobile devices, it's a great place to attract new users and encourage app downloads.
Twitter account users are 38% more likely to download an app from an ad while looking through their Twitter feed.
App re-engagement and app install campaign settings are the driving force behind optimizing ad delivery to users that are likely to interact with ads promoting an app they might be interested in: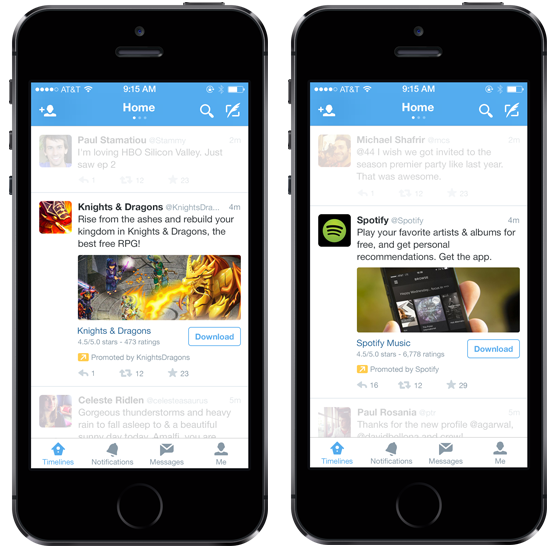 You can target users based on their device kind, OS version, and carrier using Twitter's app marketing tools. Additionally, you can keep track of app downloads and improve the effectiveness of your ads.
3) It's a Paid Social Platform that Allows Keyword Targeting
Like Google or Bing Ads, Twitter possesses unique ad targeting features, allowing you to independently design and manage your campaigns.
Based on their interests, keywords and demographics, you can create a custom audience, select your budget and choose your ad formats. Twitter features also provides thorough reporting and analytics, enabling you to monitor the success of your efforts and come to informed judgments.
Twitter is likely the best online advertising platform when it comes to hashtag-connected keyword inventory. Keyword targeting in Twitter uniquely contrasts from other online ad platforms, like Facebook, which doesn't utilize a keyword system for targeting users: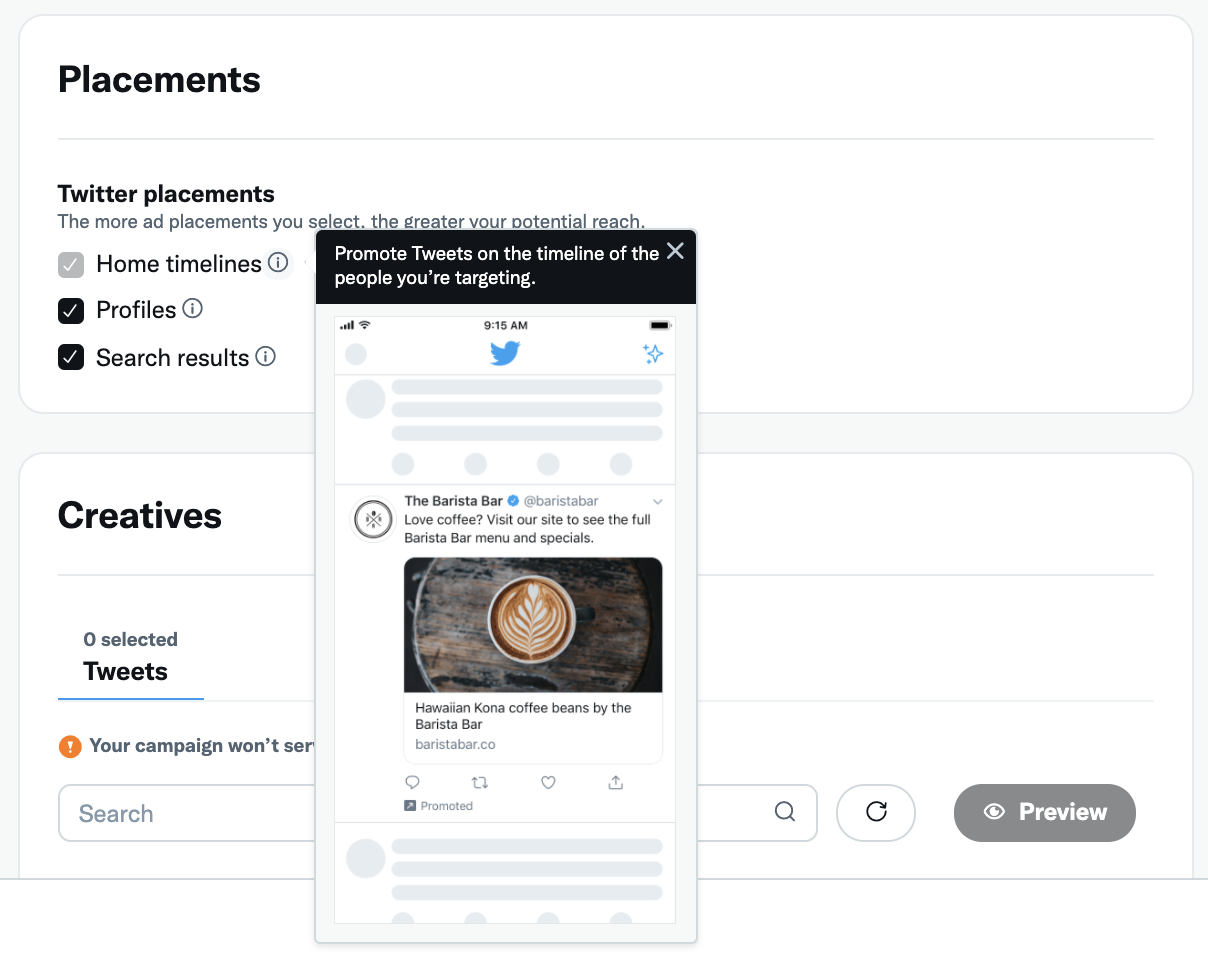 As you may already surmise, the keywords you select are directly correlated to hashtags used by people on Twitter. The reason this works so well for Twitter and less so for other social media sites, like Facebook, is because Twitter essentially conceived the entire premise of "the hashtag."
Remember that, before any other popular platform used hashtags, it was pioneered by Twitter in 2007. It was their clever way of involving users in organizing their post content in a pseudo-Boolean search method: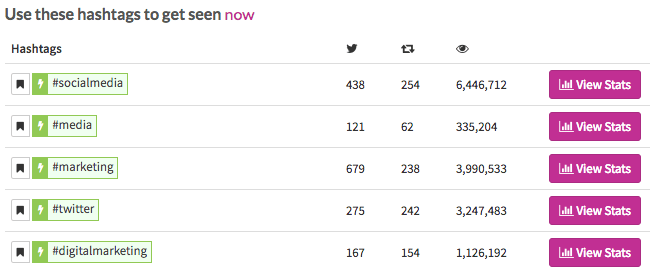 People can use hashtags to categorize their posts and increase their discoverability. Including hashtags in your tweets as a brand can expand your audience and boost interaction.
Additionally, you can make your own customized hashtags for your ad campaigns and promote user-generated content with specific hashtag targeting that you control.
Dive Deeper: 8 Ways to Encourage More User-Generated Content (UGC)
4) Ad Delivery and Results Are Practically Immediate
The immediate delivery of Twitter Ads is one of its key advantages. Your ads will begin running almost immediately after you create and launch a campaign. This usually means you can instantly communicate with your audience and react to Twitter engagement as it happens.
Because Twitter Ads usually have immediate delivery, and therefore quick engagement turnaround, businesses can respond in real-time to audience interaction. Using Twitter's analytics tools, brands can track the effectiveness of their advertising and make quick changes to enhance performance. If your ad campaign doesn't perform as you intended, you can alter the ad copy, adjust targeting, or even halt or end the ads entirely.
Twitter's real-time nature also lets you quickly find out what strategies are resonating with your audience.
To that end, it can give you vital intel on how to develop subsequent posts based on audience behavior. You can learn a lot about what material is effective and what is not by tracking engagement metrics like likes, retweets, and responses.
Dive Deeper: The Best Twitter Traffic Hacks to Grow Your Business
5) You Can't Really Overdo It With Your Twitter Posting Frequency
Twitter is a platform that moves quickly. Tweets have a brief shelf life. As a result, you may publish regularly without fearing that you'll offend or overload your viewers.
Posting on Twitter more frequently can help you grow your following and increase interaction. To balance quantity and quality, though, it's crucial to make sure that your tweets are useful to your audience: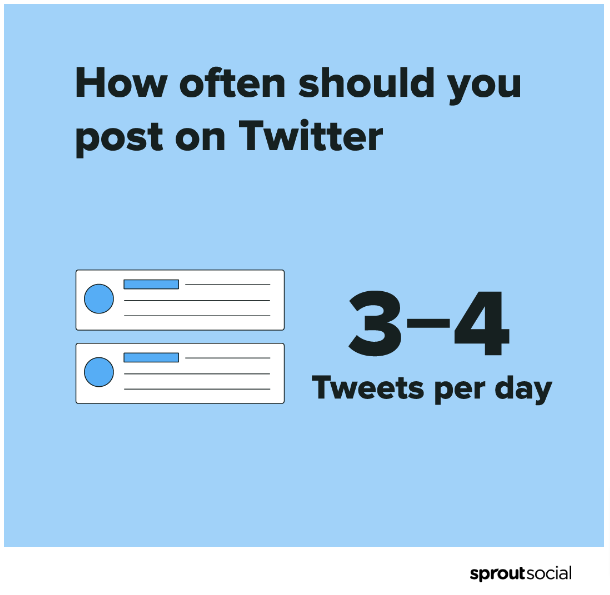 A well-timed cadence of recurring content will ensure that your brand is steadily present in your audience's feed. You have more chances to be viewed by potential followers, consumers, or clients the more frequently your ads are running.
Consistent posts may support the development of your brand as a thought leader in your field by demonstrating your interest in and engagement with current events.
Again, it's crucial to check that your tweets are useful to your audience and not just filler content. It is always preferable to prioritize quality over quantity. Your tweets should be timely, interesting and engaging.
6) Anything Can Go Viral
Twitter is arguably most recognized for its virality, which presents a large potential for businesses looking to swiftly expand their audience. A tweet may go viral in a couple of hours thanks to the platform's millions of active users if it strikes a chord with the correct group of people and grabs their attention: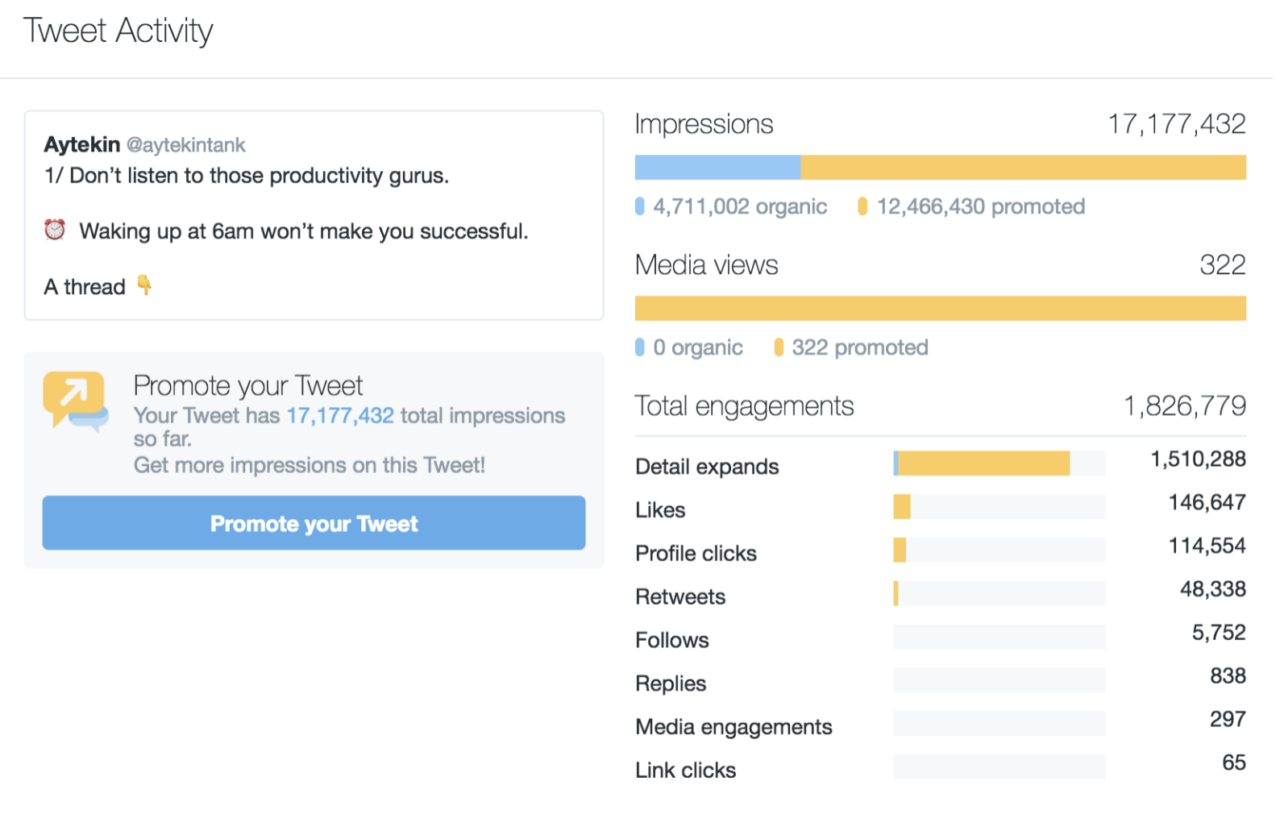 The simplicity with which users may share and retweet material is one of the key factors behind Twitter's success in fostering viral content. Users may quickly forward tweets to their own followers that they find interesting or helpful, which can dramatically increase the number of people who view the information: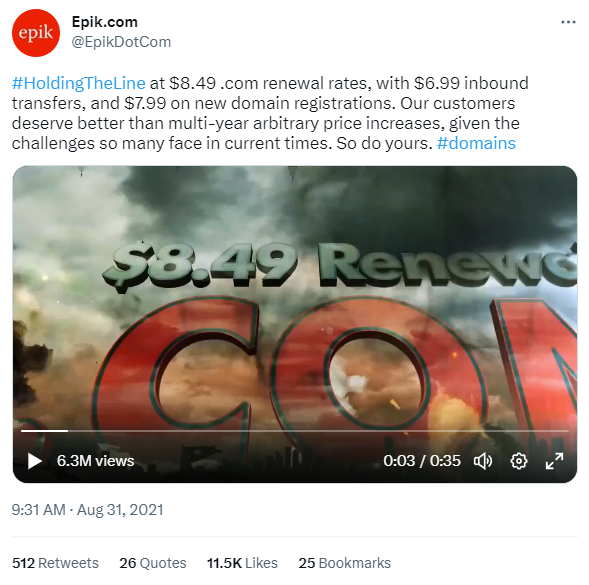 You should concentrate on creating engaging and shareable material if you want to boost your chances of becoming viral on Twitter. This might range from amusing memes to instructive infographics, as long as the information is pertinent to your business and useful to your target audience.
To produce relevant and topical content that might assist in boosting engagement and shareability, you could also think about exploiting current events or trends – also known as newsjacking.
It's crucial to remember that advertising on Twitter can carry its downsides, as is the case with any open forum website. You should be ready to address any consequences that may result from a trending tweet, such as distracting or offensive user comments. Try to stay on top of these things as they are more likely to happen the more frequently that you post ads on Twitter.
Dive Deeper: The A-to-Z of Viral Marketing (+ Infographic)
7) Audience Targeting Is More Precise
Pinpointing the targeting for your audience is one of the ways that makes Twitter shine.
The targeting tools available on Twitter's system let you reach the individuals most likely to interact with your business based on:
Interests
Demographics
Hashtags they use or search
With this granular degree of targeting, you can zero in on the potential customers who are most apt to engage with your content: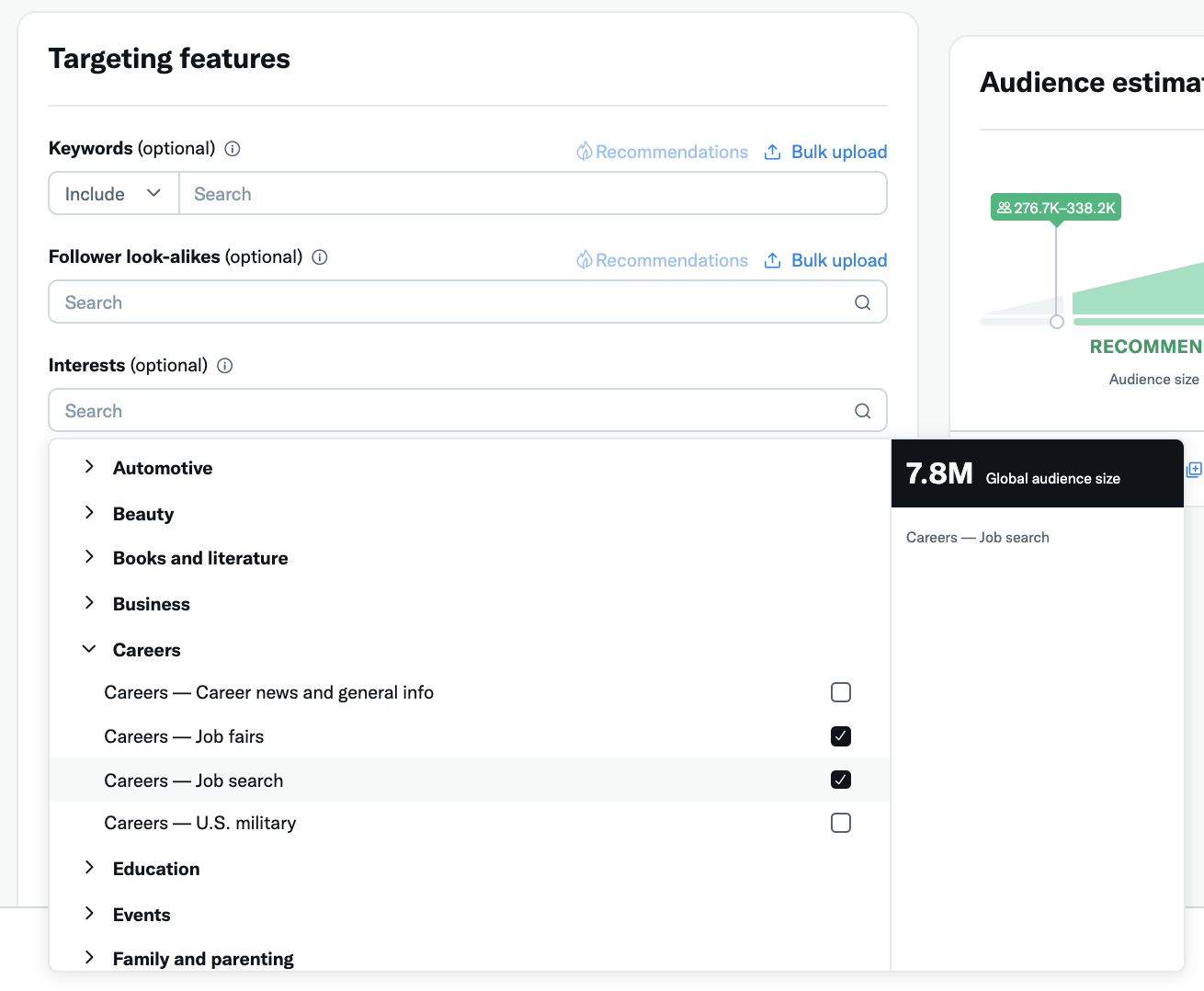 You may contact individuals who are already interested in what you have to offer by targeting users on Twitter based on their interests and habits.
For instance, if you are a fashion business, you may focus on individuals who follow fashion influencers on Twitter or who have recently posted about fashion. This increases the probability that they will interact with your business by ensuring that your adverts are exposed to those who are already interested in your items.
Twitter offers the option to target people according to their:
Age
Gender
Region
Language
This is especially beneficial for companies with a local presence or those that target certain age groups.
Are You Ready to Try Out Twitter Ads?
We've covered a lot. And we've barely scratched the surface. But by now, you should have a glimpse into how paid advertising on Twitter can be utilized for your brand. It's a niche space of its own with deliberate content limitations that are in place to create a specific vibe of behavior.
So long as you treat it as an audience engagement tool first, you will have the right expectations going into it. It's not to say that e-commerce sales and website conversions can't be driven by Twitter, but it tends to excel best at stirring up buzz and conversation around your brand beyond any other application.
Remember that any digital marketing strategy ought to include a "combined-arms" approach from the onset to determine which ad spaces your brand can thrive best in. And we believe Twitter has a place in that.
If you're ready to level up your business with social ads, Single Grain's paid social media experts can help.👇