As any savvy marketer knows, the social media landscape is constantly changing. The advertising tactics you used in previous years may not generate the same level of leads and conversions today.
That's why it's important to keep up with new tactics and trends.
In this post, we'll go through the social media advertising trends that are expected to rise in popularity – and that you should consider adding to your social advertising strategy.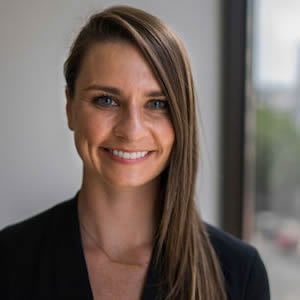 Jacqueline Foster
Demand Generation Marketing, Lever.co
We can count on them to bring new ideas to the table consistently
Which Social Media Platforms Should You Focus On?
Social media advertising is essential to any digital strategy, which is why ad spend is projected to reach $268 billion in 2023.
The first step to leveraging the power of this advertising opportunity is to know the platforms you should optimize. This ensures you're putting your ad dollars toward the most popular channels.
Keep in mind that your audience may be more active on other platforms, so always dedicate your ad spend to those channels.
TikTok
Even though the future of TikTok is unclear, it is arguably one of the main channels for brands to advertise on. TikTok has 1 billion monthly active users, proving this channel is still one of the top social media trends.
Even though the future of TikTok is unclear, the app has still experienced a 73% increase in American users. This continues to make it a great channel for your ad dollars.
What type of ads should you post on TikTok? Stick to what the app is best known for: bite-sized native reels that blend into organic content. Businesses should also use some social commerce features that the app offers, such as Live Shop: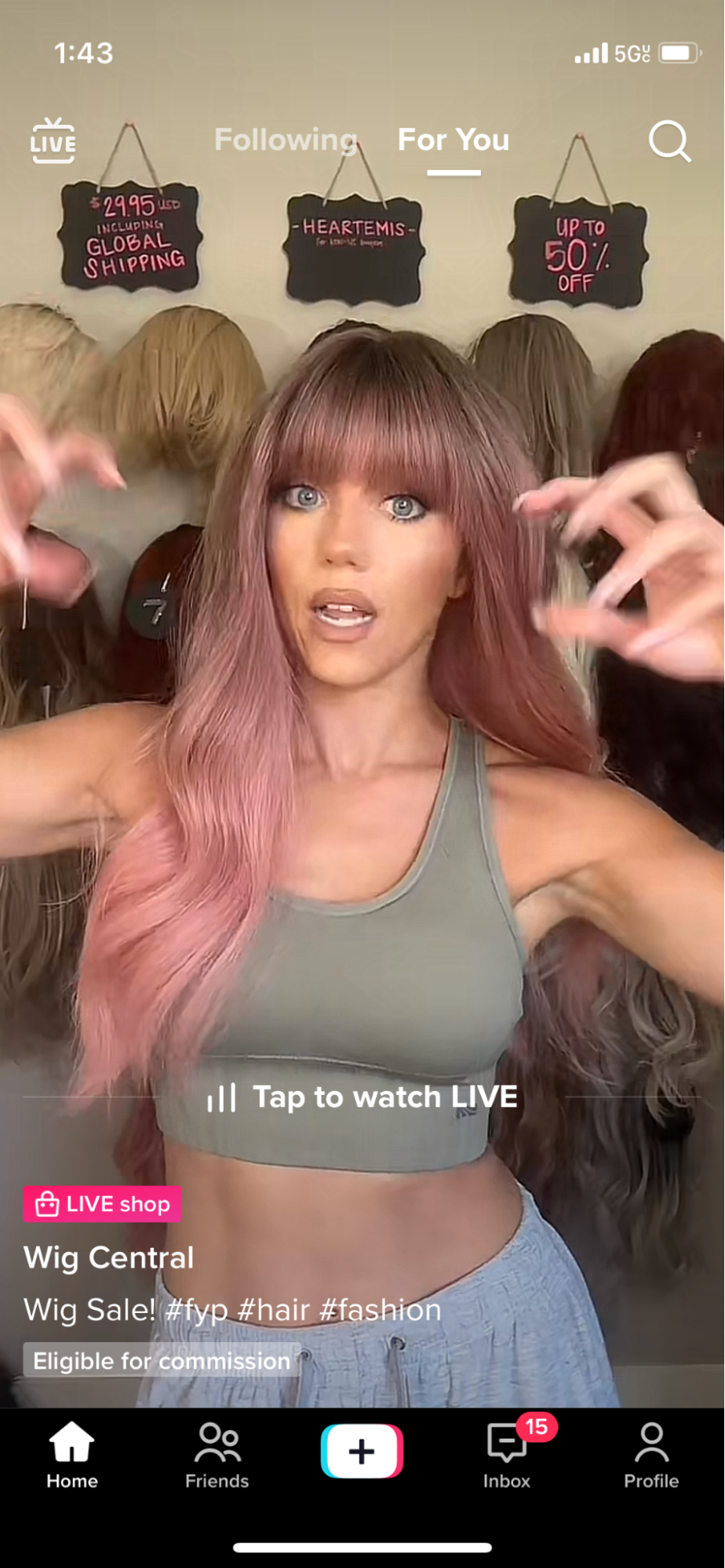 Dive Deeper: TikTok Marketing: How to Get Started with Ads on This Platform
Instagram
In January 2023, the social media gargantuan platform Instagram had two billion monthly active users. Because of that, more advertisers are investing in Instagram ads. And since over 90% of the platform's users follow at least one business, this is an effective platform to achieve a decent advertising ROI.
It is also a great place for users to find new businesses. That's because of its advanced algorithm. It monitors every interaction from its users to deliver content recommendations they know they will like.
And the benefits don't end here. Instagram engagement rates are at 0.71%, extending to all business account types:
This means Instagram is not only a lead-generating machine, but brands will likely attract quality leads.
Brands should also take advantage of Instagram's social commerce features. 25% of users aged 18-34 did their shopping on Instagram, making it one of the best social commerce platforms.
Dive Deeper: Understanding the Instagram Algorithm: A Marketer's Take
LinkedIn
LinkedIn has become one of the most surprisingly popular social media advertising platforms. But if you spend enough time on this channel, it's obvious why.
LinkedIn has over 774 million users worldwide, making it the perfect outlet for B2B businesses attracting a global audience.
More people have also been turning to this platform for content since 73% of professionals see this channel as a trustworthy source for information. That's why businesses should advertise information, such as case studies and surveys. Look at this ad by Cision as an example: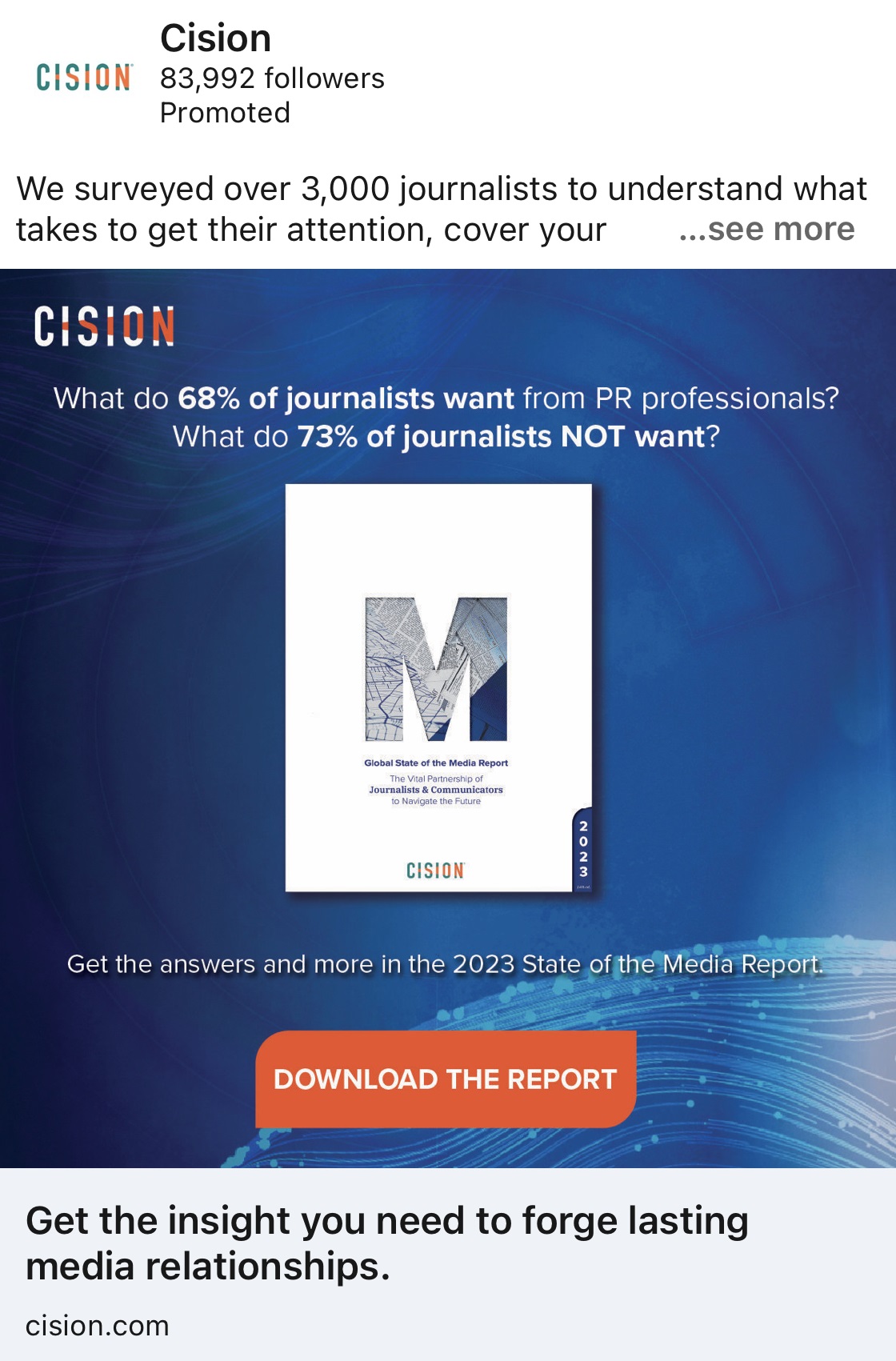 If you're already advertising on LinkedIn, know this platform is receiving an upgrade.
Even though it's a business networking platform, more users are gaining momentum by posting personal experiences. That's why your ads should focus on building a community rather than making business connections.
While more users convert leads with image ads, the current changes being rolled out are presenting new opportunities. LinkedIn is officially one of the best platforms for video marketing, and carousel ads attract 10X more clicks than sponsored static content.
Dive Deeper: LinkedIn Ads for Enterprise B2B SaaS: The Only Guide You'll Need
Twitch
Twitch has been one of the latest social media trends and a prominent platform for advertisers. 7.6 million channels stream on Twitch every month.
This platform is most famous as a gaming streaming hub, with users streaming approximately 118,098 games at any time. Even if you're not a gaming company, you can still advertise here and capture the 2.58 million viewers it generates.
But if there's one thing advertisers should know about Twitch is: Make your ads innovative to capture the platform's typical audience.
AR and VR advertising is the perfect example; the gaming sector benefits from these ads, and 29% of media agencies already invest in AR and VR ads.
Dive Deeper: Beginner's Guide to Virtual Reality Ads
New Platforms
While advertisers should put most of their ad dollars toward popular platforms such as Instagram, businesses shouldn't ignore the up-and-coming ones.
WeAre8 is a great example:
It is an environmentally conscious social media app that pays users to watch ads.
They also share advertising revenue with charities. In one study, 8 in 10 users said they recalled the brand later after watching their ads on this new platform.
11 Social Media Advertising Trends to Drive More Conversions
Are you ready to discover the latest trends impacting the future of social media advertising? Advertisers should know which tactics to continue investing in and the new ones to focus on.
Trend #1: Brand Authenticity
One past trend that isn't fading is brand authenticity:
86% of consumers prefer when a brand has its own authentic image.
Plus, consumers want brands to develop connections – 59% of consumers feel brands have lost touch with the human side of the customer experience.
There are also big payoffs for companies that display themselves as a trustworthy business. 44% of consumers worldwide spend at least $500 per year towards the brands they trust.
How can brands convey this in their advertising? Create ads that tap into the human experience. Personalized messages from the CEO, interviews, and customer testimonials are excellent examples.
Plus, creating these ads doesn't have to be as complex as you may think. Take this ad from Semrush as an example. It features a simple quote from a client and their image against a pink background: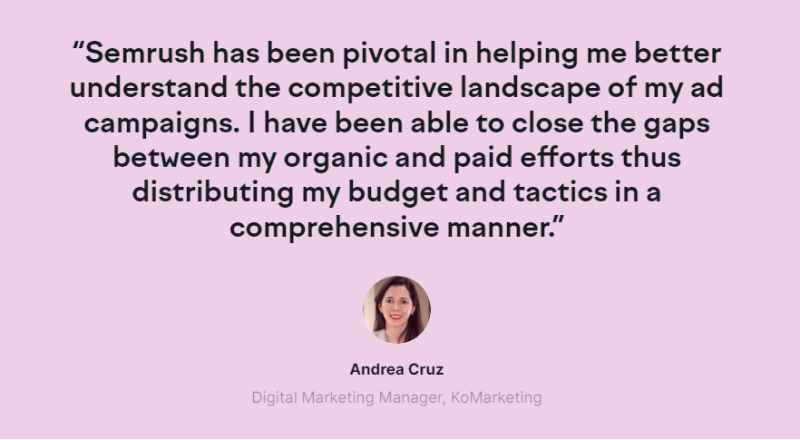 The color draws attention from any onlooker, and the client's quote resonates with other small business owners.
Trend #2: Search Advertising on Social Media Trend
More people are getting off Google.
With a growing number of social media users preferring outlets like YouTube and TikTok for their content needs. For example, a quarter of American adults get their news on YouTube.
Gen Z has also turned to TikTok for their search needs and uses the app to find new information. Because of this, the short-form video platform has improved its search functionality to recognize more keywords and hashtags.
In March 2023, TikTok released new search ad features where businesses can bid on keywords and phrases.
How can brands use search advertising on social media? Take a look at Pinterest as an example. A simple search for "dresses" shows both organic and ad listings, with paid results displaying a "Promoted" tag: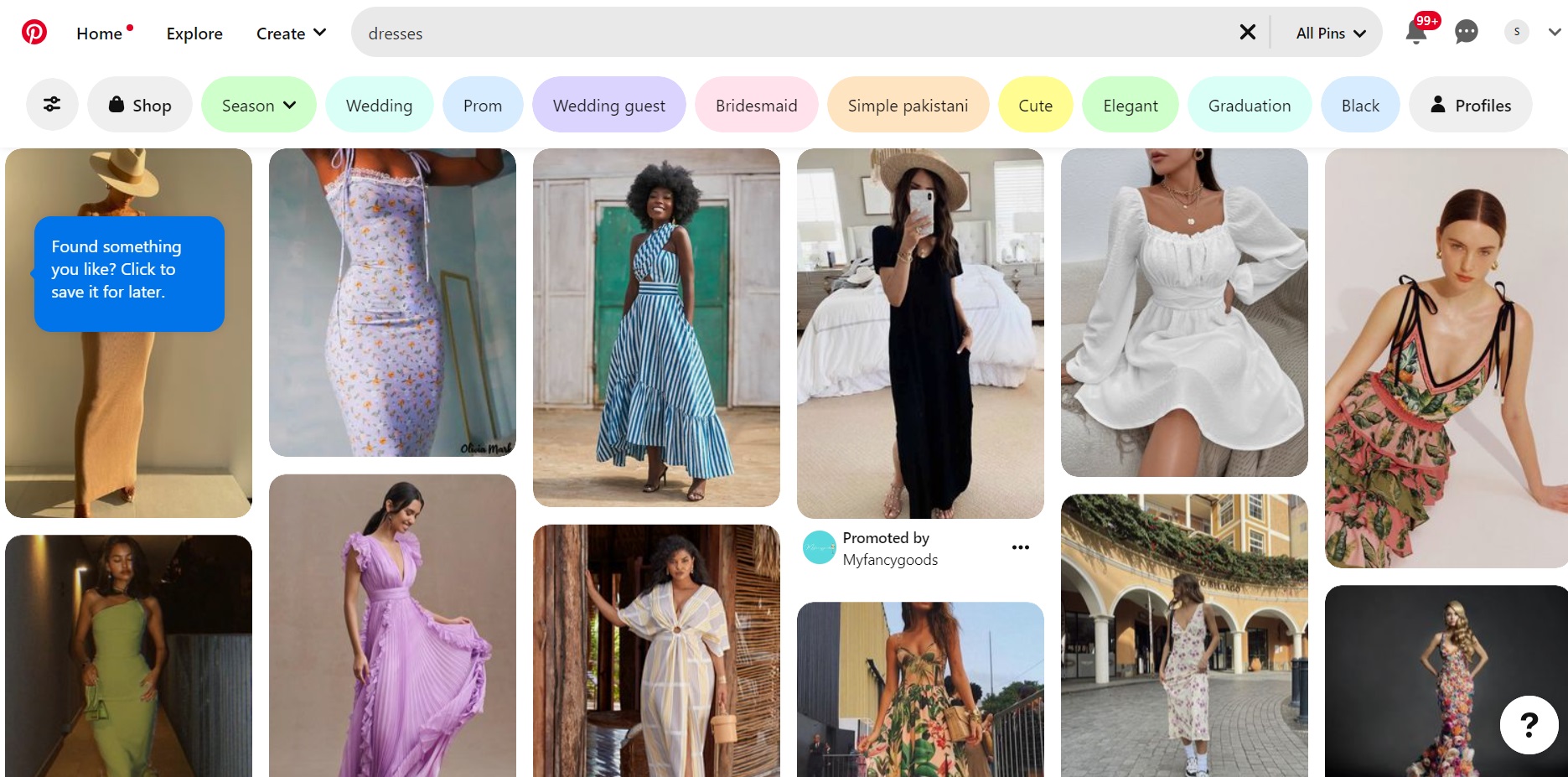 Many social media platforms are still developing these capabilities. Instagram is currently testing search ads so users can have a better experience finding new products, businesses, and content. Businesses can also post ads on the Explore tab.
Learn More: What Is the Difference Between SEM and SEO?
Trend #3: DM Advertising
When talking about social media trends, you can't forget direct messaging (DM). Facebook Messenger is the seventh largest social media platform. WhatsApp is the most popular messaging platform, but isn't the only one social media users are on.
For example, 15 million people use the messaging app KiK every month:
As you can see, more users are on these apps, making them an effective advertising medium. While there are many examples of messenger ads, they can be intrusive if not created well. For best results, create ads that inspire meaningful interaction.
Absolut did this with a free drink ad. Users can reach out to the Absolut bot, which will direct them to a nearby bar. From here, the user can pick out the drink they want: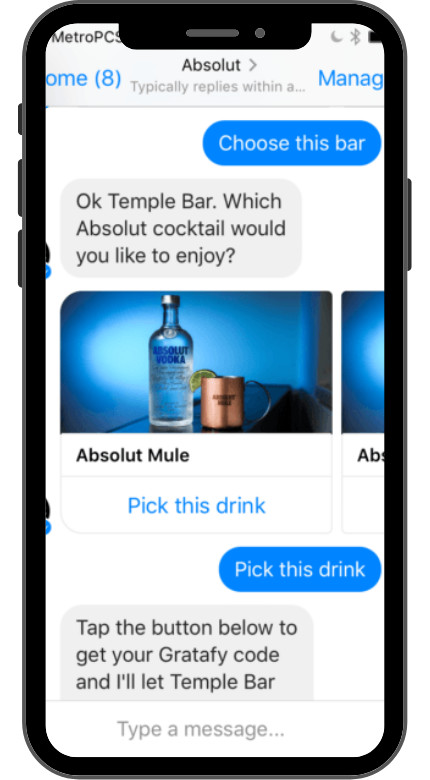 Trend #4: Social Media E-Commerce Advertising
Social e-commerce is growing three times as fast as traditional e-commerce. Users enjoy the convenience of browsing a brand's social media channels and buying products directly on the platform.
Instagram is the leading social commerce platform that brands should advertise on. 130 million users tap on the platform's shopping posts monthly.
Brands can also create shoppable ad posts or boost existing shoppable posts as an ad. For users to better find your ads, include product tags in your post. This Sephora ad is a great example.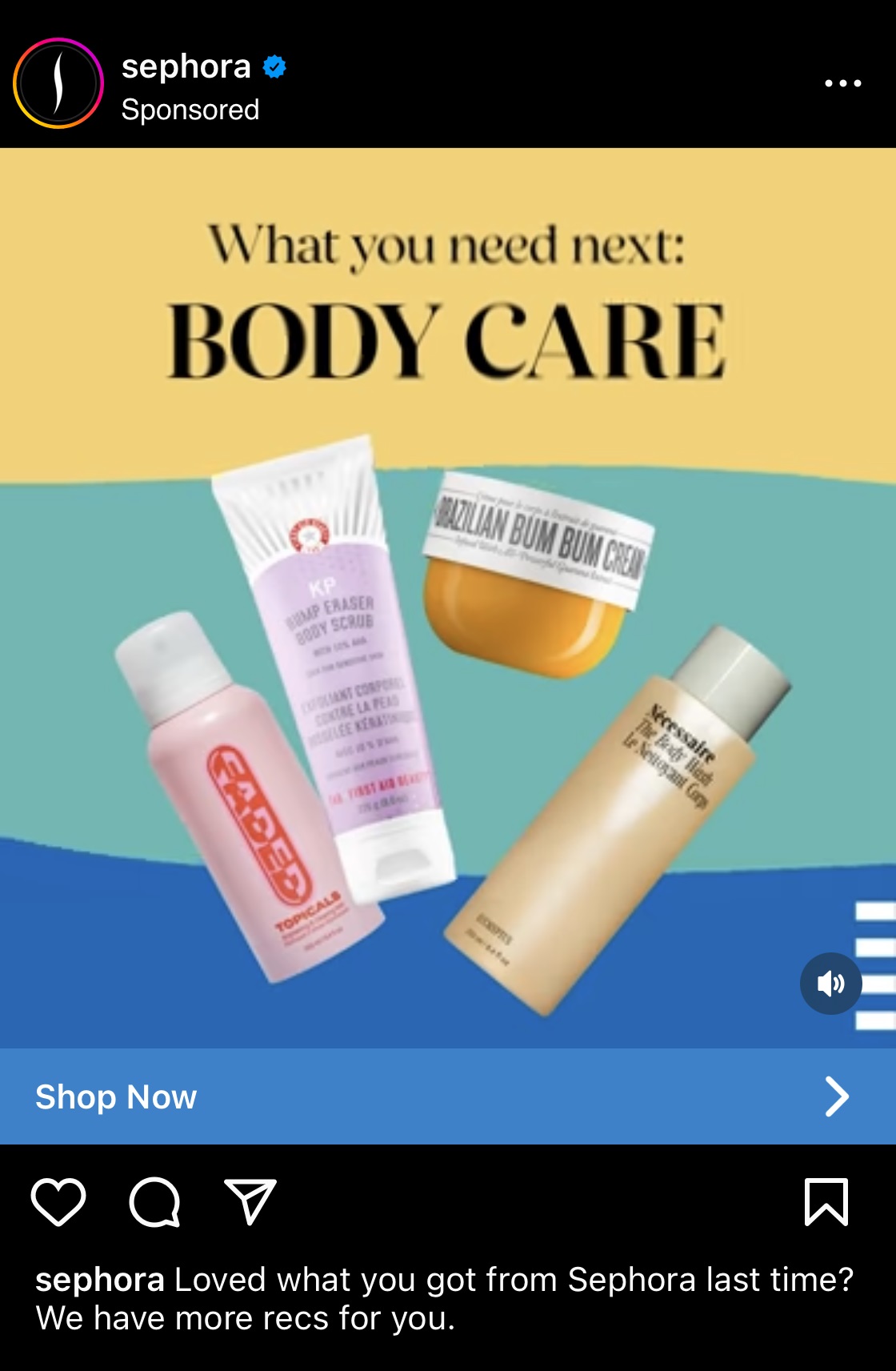 They're promoting their body care line and include a Shop Now link.
Trend #5: Short-Form Video Ads
Short-form video is one older trend that isn't slowing down. 73% of consumers prefer learning about a product or service by watching a short video, making this advertising medium an excellent investment. Look what you can do in just 10 seconds:
According to Influencer Marketing Hub, short-form videos produce the highest ROI and engagements, and they're the best format for lead generation.
Why are short-form videos so popular? This goes back to the easy-to-enjoy and browse nature of TikTok. They allow users to access entertainment or information without committing to a full-length video.
Short-form videos are especially popular among the younger generation, preferring videos less than one minute long.
Should you continue repurposing video ads you used in previous years? Even though viewers still engage with short-form video ads, their needs are changing. Instead of trendy dancing videos, more viewers demand educational clips. 58% of users prefer watching a short video to learn new skills, and 69% use TikTok for educational purposes.
Sans Forgetica is a great example of an educational video ad. In only 45 seconds, users understand the importance of typeface and memory and how Sans Forgetica merges both principles.
Trend #6: User-Generated Content
User-generated content is another old trend that will continue to be at the forefront. That's because 93% of marketers believe UGC performs better than branded content.
The success of UGC stems from the brand authenticity point we mentioned earlier – customers want to build a relationship with brands. They will engage with their social media channels to strengthen that bond. Posting UGC establishes social media proof, fostering brand loyalty among users.
Plus, these customers don't need a big social media presence since they're not influencers (we'll discuss that more later).
Because of this, some brands dedicate all or most of their ads toward UGC. Loews Hotels is one of them; instead of using models or professional photos, they use photos and videos taken by hotel guests in their social media strategy.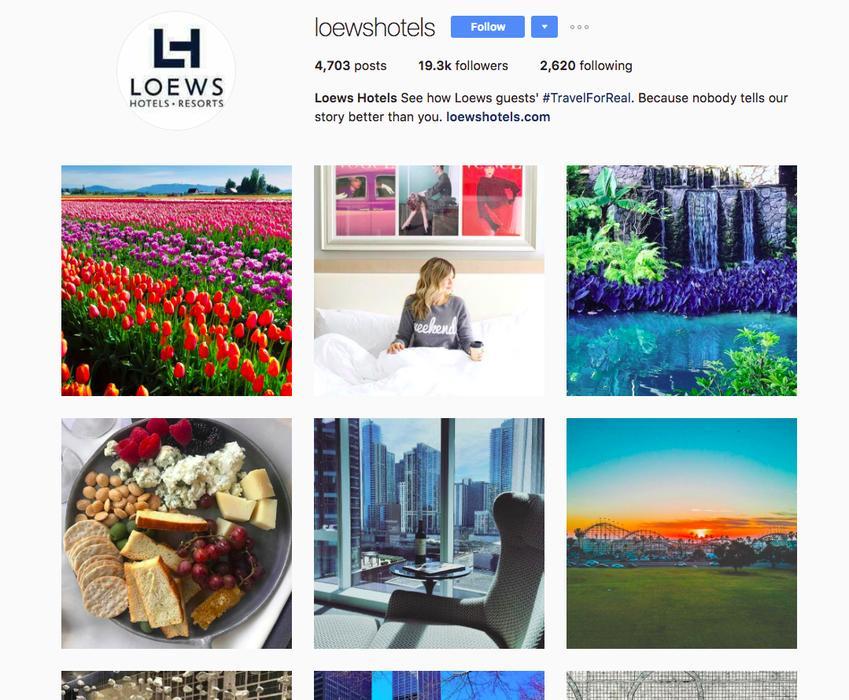 To find the photos, Loews has users include the hashtag #TravelForReal.
Learn More: 8 Ways to Encourage More User-Generated Content (UGC)
Trend #7: Funny Ads
On the opposite end of the spectrum, consumers also want more humor in their feeds. And the science backs this up – 90% of people are more likely to remember funny ads.
According to HubSpot's Video Marketing Report, funny content has a higher ROI.
But advertisers may struggle to convey their message, educate the viewer, or use a compelling CTA while balancing their ad with humor.
There are many ways to create a high-quality ad that's also humorous. Dr. Squatch is great with this. Their "You're Not a Dish" campaign aired during the Superbowl in 2021:
The commercial educates their male consumers on the dangers of synthetic ingredients in their soap, reminding them that "you're not a dish, you're a man." At the same time, the commercial features funny scenes with crafty dialogue, such as "for men who open the pickle jar on the first try."
Trend #8: AI-Enabled Ads
Whether you like it or not, AI is here to stay. Ad spending for AI-enabled ads is now at $370 billion USD worldwide.
In what ways should advertisers use AI in their campaigns? It can now create videos, written ad copy, and images. These tools can create high-quality ads quickly, saving money and time.
Does this mean you need to fire your entire advertising staff? Hold on – there are many drawbacks to consider. First, there are the ethical concerns. As of May 2023, its implementation forced companies to eliminate nearly 4,000 jobs, many of them in creative fields such as writing.
But there are more reasons not fully to rely on AI:
Since machine learning is creating your ads, there's limited creativity.
There's also the risk of biases and errors in AI-generated ads.
So, what's the solution? Put your staff members first. You can use AI as a tool to create ads, but have them reviewed by humans before publishing them. Collect first-party data and have your staff members base the messaging and imagery off your target audience – not what AI recommends.
Trend #9: Nano-Influencers and Micro-Influencers
The days of paying a celebrity millions to post a picture are over. These days, businesses are seeking help from micro-influencers and even nano-influencers for their advertising efforts:
There are many reasons why the industry prefers these alternative influencer marketing strategies. Even though celebrities have a massive social media presence, they charge hefty fees for their influencer services.
Take Kylie Jenner as an example. She has 395 million followers and charges $1,835,000 for a post. Additionally, many brands find that contacting these celebrities is very difficult because of their popularity.
There are also other reasons to work with micro and nano-influencers. The UGC they post is more authentic, and they're more willing to work with smaller brands.
Companies will also experience some serious benefits when working with these influencers. Nano-influencers have the highest engagement rates, with micro-influencers generating a close second with an average engagement rate of 3.86%.
Dive Deeper: Influencer Marketing Strategy: The Ultimate Guide to Growing Your Business with Brand Partnerships
Trend #10: Audio Ads
62% of people 12 years of age and older listen to online audio on a weekly basis. Because of its popularity, audio was becoming a big social media trend.
Should businesses jump on this social media trend with their advertising campaign? Yes and no. Brands should take a different direction with audio ads. Major social media platforms such as Meta are shelving their social audio projects since their users aren't interacting with them as much as they planned.
Instead, advertisers should put their dollars toward audio-specific social media platforms, such as Clubhouse. This audio-based platform has 10 million active users weekly – while not the biggest number, they attract a devoted following, and you can still convert their visitors: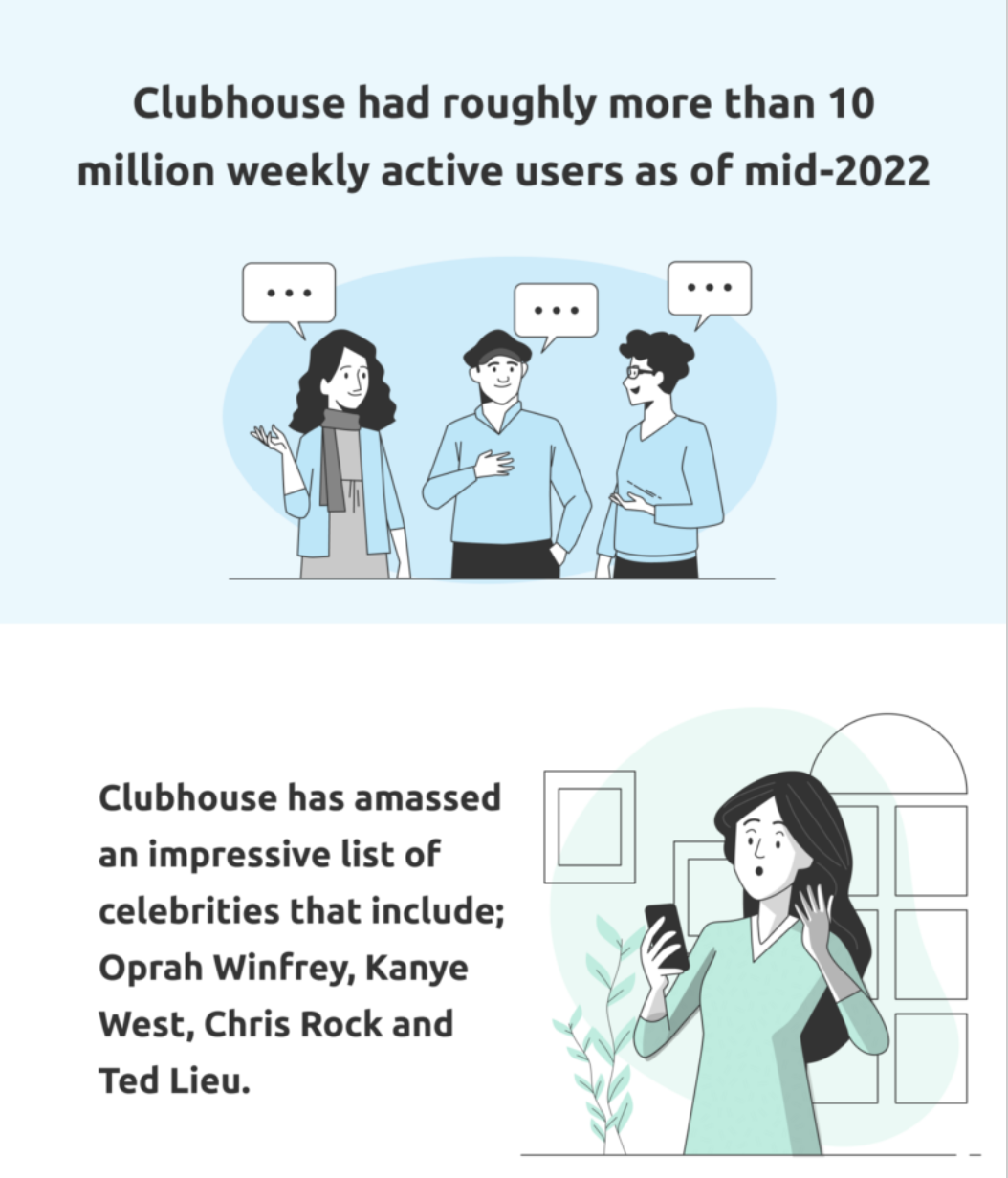 Businesses should also put their ad dollars toward unconventional social media audio platforms, such as Spotify (yes, it's technically a social media platform). This is an excellent opportunity to increase brand awareness since it attracts 295 million users on its ad-supported platform.
While advertising on podcast platforms is a smart move, collaborating with podcast hosts on an influencer marketing campaign can also increase brand awareness. 90 million Americans listen to podcasts weekly, so you can still convert serious leads by adding podcast hosts to your social media influencer campaign.
Trend #11: Microscopic Budgets
For the last couple of years, businesses kept a close eye on their marketing and advertising budgets, specifically due to inflation. As of May 2023, ad spend dropped to 0.6%, largely due to inflation.
Even though inflation rates fell to 4.0% in May 2023, working with a smaller social media advertising budget is expected to be the trend for the rest of the year. Even when talking about using the biggest social media trends, you'll first need to know if these tactics fit your budget.
Does this mean you need to decrease your social media advertising efforts? Not at all, but advertisers should monitor their campaigns and budget carefully.
For starters, focus on ROI. Create budget-friendly content, such as shareable ads, influencer marketing, and UGC, where you can still convert leads with little investment. If you are making a serious investment in content, focus on engaging forms of media such as short-form videos.
When creating ads, ensure your efforts are successful with A/B testing. Most social media advertising platforms, like Meta, offer A/B testing tools.
Remember, you won't be working with a smaller ad budget forever. Keep up with economic trends, ad prices, and conversions before increasing your budget.
Add These Social Media Advertising Trends to Your Campaign
There are many social media advertising trends to follow throughout the rest of 2023 and into the future.
Use specific forms of content, such as UGC, short-form videos, and audio, where it is most relevant. Invest your ad dollars toward popular platforms, such as TikTok, Instagram, and Twitch.
Focus on innovation, such as social media search advertising, social commerce, and AI. At the same time, don't forget the power of brand authenticity and trust.
While these are social advertising best practices, you should only use the trending tactics that will result in conversions. Every business has a different audience, so always put your social media users first before creating an ad campaign.
If you're ready to grow your social presence with ads, Single Grain's

paid social media experts

 can help!

👇