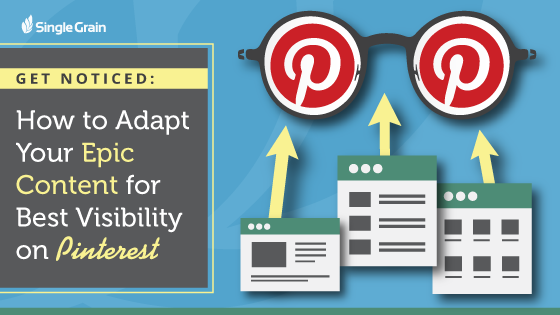 When it comes to marketing, Pinterest has been in the news a lot this last year. With recent developments like Buyable Pins, Place Pins, updated Analytics, and an increased amount of Promoted Pins, it's easy to see that they're making big strides as a marketing platform.
Because Pinterest is so different from most other social media platforms (at least in my opinion), marketing your content on Pinterest is very different than marketing elsewhere. For one, there isn't as much traditional interaction, and I'd argue that the platform is much more focused on content (compared to other platforms, where who's saying what has a bigger impact).
To get your content noticed, you'll have to be clear on why you want to market on Pinterest, get up to date on this platform's usage, and learn some strategies to adapt your content for best visibility on Pinterest.
In this post, I'll walk you through it.
Why Market on Pinterest?
All social media platforms offer the opportunity to reach new audiences in a new way, and the more relevant eyes that are on your content, the better. There may be some (or even a lot of) audience overlap between platforms, but with Pinterest you're giving people an additional opportunity of viewing your content in a new context.
With over 100 million active users on Pinterest, there's a lot of potential for extra reach.
As far as I'm concerned, Pinterest is more product- and content-driven than the majority of social media sites. Users often use Pinterest to browse topics they're passionate about, as well as to get ideas (like home design or weddings) and to research purchases.
Pinterest doesn't fit into the mold that promotes status updates or stated opinions; instead, it's a primarily visual platform of products, DIY how-tos, and high-quality images (the last of which is part of Instagram's allure and success). People often go to Pinterest to find ideas, but not necessarily to share them—though, of course, this isn't always the case.
Because Pinterest can often be product focused and is frequently used by people to research future purchases, having a strong following on Pinterest can increase your sales, leads, and conversions.
Even if you're sharing blog posts and not products, Pinterest offers a great benefit: when users pin it to save for later, they'll share it with their followers, keeping your content organically circling on the platform and continuing to expose it to new users.
This can feel more natural on Pinterest than a retweet on Twitter might, for example. The goal for users is to save content for themselves and share it, and in doing so vouch for it in the process. Because of this, the number of people who see your Pins can easily be larger than your number of followers—and that kind of reach and exposure is incredibly valuable, especially with proper content strategies in place.
What We Know About Pinterest Usage
Creating and adapting content to perform well on Pinterest relies heavily on understanding who uses Pinterest and how they use it.
As Pinterest grows in popularity, we're starting to see a shift in demographics. Though this platform has always been notorious for predominantly attracting female users, that's changing: about 71% of users are women, but 1/3 of all new users are men, a number that is slowly increasingly.
Some other important statistics to keep in mind about Pinterest usage:
93% of active pinners use Pinterest to help them decide what to purchase
Leading up to the holiday season, the number of Pins sees an average increase of 41% each month, with last year seeing 90,000 "Christmas Gift" Pins saved each day since August
93% of active Pinners shopped online within the past six months
The average order value of a Shopify sale coming from Pinterest is $50, which is currently higher than all other major social platforms
Pinterest is the #2 overall source of traffic to Shopify stores
70% of Pinterest users actively engage with Pins by either clicking on them or pinning them (so they're not just looking)
Companies with access to Buyable Pins have noted major increases in sales (with one company citing a 30% increase in Pinterest-generated sales coming from Buyable Pins)
What this data is telling us is that the users who are on Pinterest are active online shoppers and will use Pinterest to research and make some of those purchases. With the number of male users increasing, Pinterest's value as a marketing tool could increase even further, offering a larger and more varied number of customers that businesses can reach.
6 Ways to Adapt Your Content for Best Visibility on Pinterest
As with all types of marketing platforms, the campaigns only work when the content gets noticed—if it doesn't get noticed, it can't even begin to have an impact.
There are plenty of ways you can drive relevant users to pin your off-Pinterest content or to get them to your Pinterest boards. You can add PinIt buttons to products and content on your site to help it end up on Pinterest, and you can promote Pins in your Newsletter to gain new followers. These are important tactics, and they're relatively straightforward.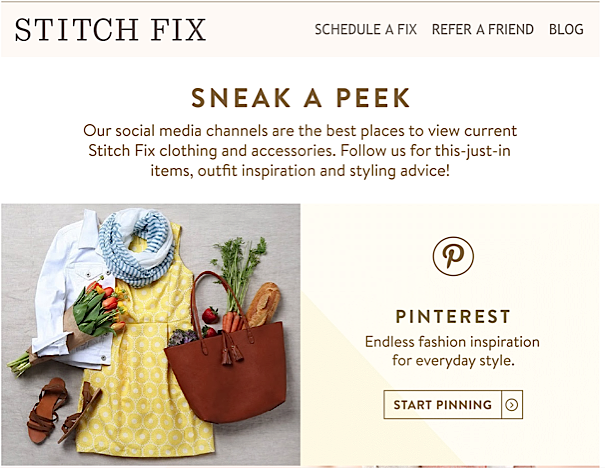 If you're looking to drive new users to Pinterest, prompt them to visit your profile via your website, other social media platforms, or your newsletter.
We're going to look at some of the trickier aspects of Pinterest marketing—how to get your content that's already on Pinterest noticed.
Here are 6 of the best strategies that you can implement as a business marketer to get the best visibility on Pinterest.
1. Always Focus on Keywords
This is probably the single most important thing you can do when marketing on Pinterest, rivaled only by using the right images (which will be strategy #2).
Since users are actively utilizing this platform to research potential purchases, Pinterest is frequently used as a search engine. To boost visibility of your content, you'll want to make sure that you've got keywords in all of your posts.
There are multiple areas where you should be featuring keywords. The most obvious, and perhaps most important, place to add keywords is in the description of your pins. "Who loves dessert" might be enticing, but it won't rank in search engines. "Delicious and easy chocolate cake recipe" will.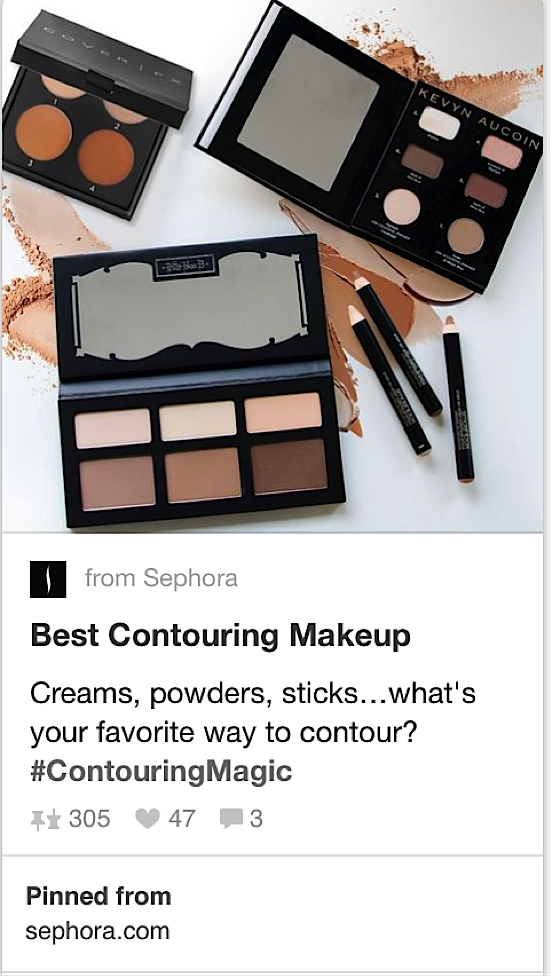 Sephora's keyword phrase "best contouring makeup" helps relevant users find their Pin fast
In addition to the text that you add to your Pins, you'll also want to add keywords on your boards and your profile. Having themed boards with titles and descriptions that are full of your chosen keyword(s) will help users find you quickly and can greatly increase your visibility.

PetSmart has a board all about dog training; its keyword is in the title, and a potential alternative keyword phrase "training your pet" is in the description.
Even better: because keywords help people who are using the search engine, you'll be able to grab users who are still in the buying cycle and increase your chance at—or value of—a conversion.
Bonus tip: Though keywords are the most important thing to place in your descriptions, having a price listed for products can also help increase conversions. You can do this by using rich Pins.
2. Use Only High-Quality, Platform-Optimized Images
Pinterest is a highly-visual platform, filled with images of products, projects, designs, ideas and, of course, adorable puppies that users are excited to share. To compete, must use only high-quality, high-resolution, eye-catching images. There are also several other factors to take into consideration.
Vertical images perform better than vertical Pins, taking up more space (in a good way) and fitting better into Pinterest's layout. According to Pinterest, the ideal size has an aspect ratio of between 2:3 and 1:3.5, with a minimum width of 600 pixels (meaning, therefore, that the height of the image should be between 900-1200 pixels).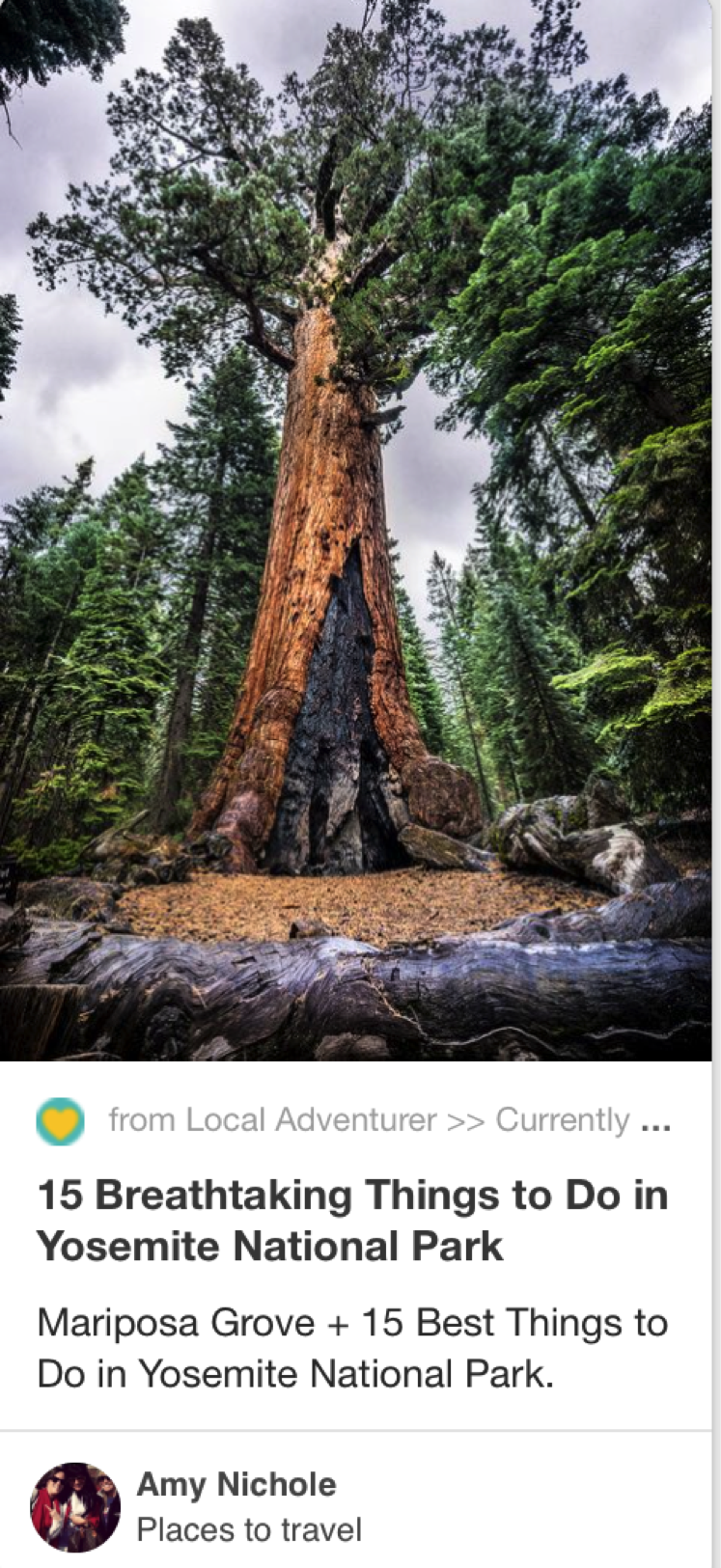 Images on Pinterest need to be vertical and much taller than they are wide to perform well.
Color also matters when it comes to Pinterest. Curalate found that the most repinned images have multiple dominant colors, and that these types of images got 3.25 more repins than those with a single dominant color. In addition, they found that images with red, orange, and brown as dominant colors got roughly twice as many repins as images with blue as the dominant color.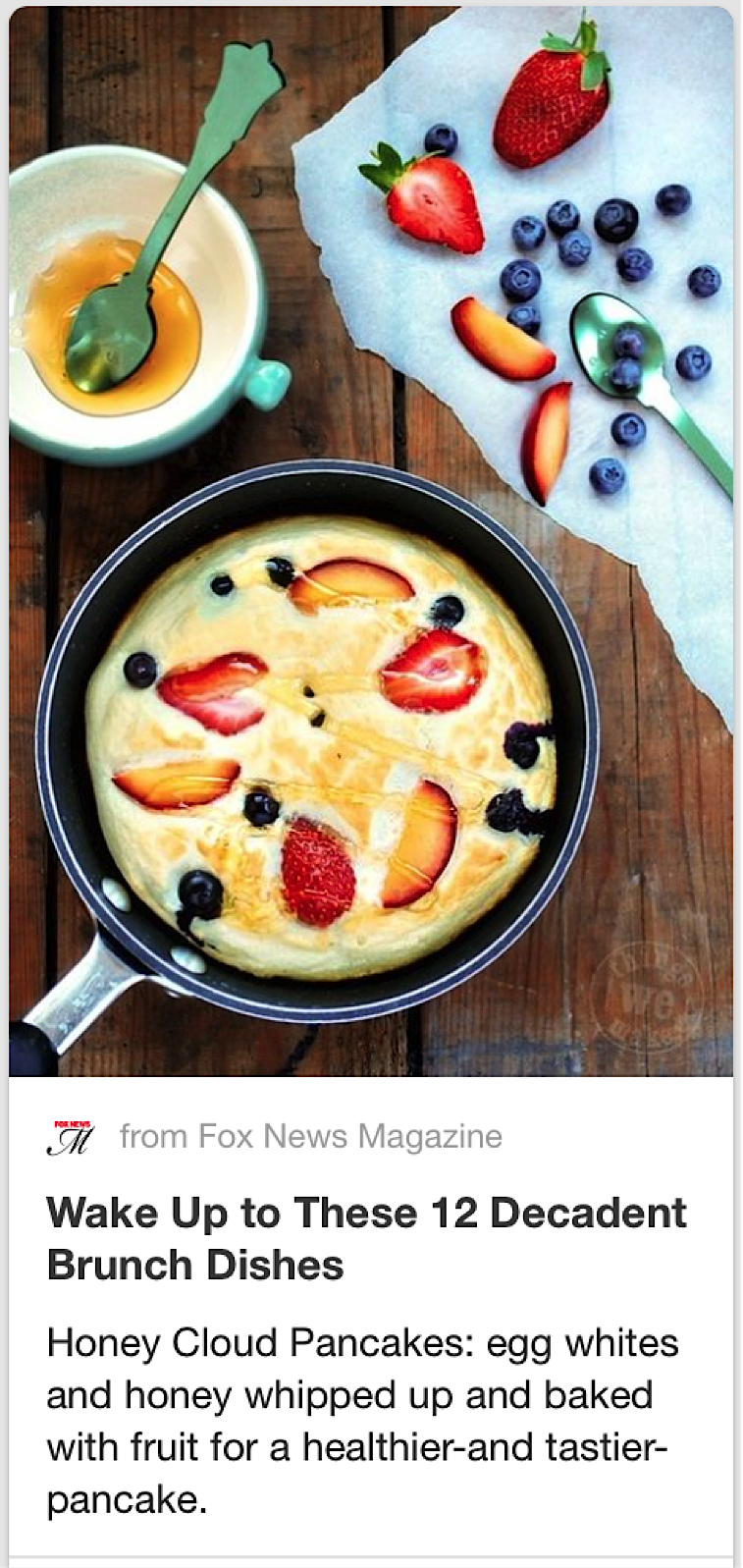 This image has multiple dominant colors, making it more likely to be repinned.
One final important trick to note: brand images without faces in them get 23% more repins than those with human faces in them. This is basically the opposite of Facebook Ads, where images with smiling, attractive women can actually increase conversions.
Before you start creating your content and images for Pinterest, log onto the site and click around in your areas of interest and in the professional field you'll be posting in. See what images draw your eye, which ones don't, and why. On top of the visual strategies we just discussed, this is a great way to get the feel of what works and what doesn't.
3. Maximize Profile Settings for Visibility
When it comes to boosting your visibility, you need to make sure that, first and foremost, your content is visible and easy to find. In order to do this, you'll need to set up your profile in a way that allows for this.
Some steps to optimize your profile for visibility include:
Verify your business. Verified businesses have that little red check mark by their name, and without it, people may not trust that your profile actually belongs to your brand. Currently, you can't request that Pinterest verify your business, but if your profile has your logo and your name, Pinterest will likely reach out to you. Doing what you can to verify your business—and making it clear that it is your profile, with or without the red checkmark—can go a long way.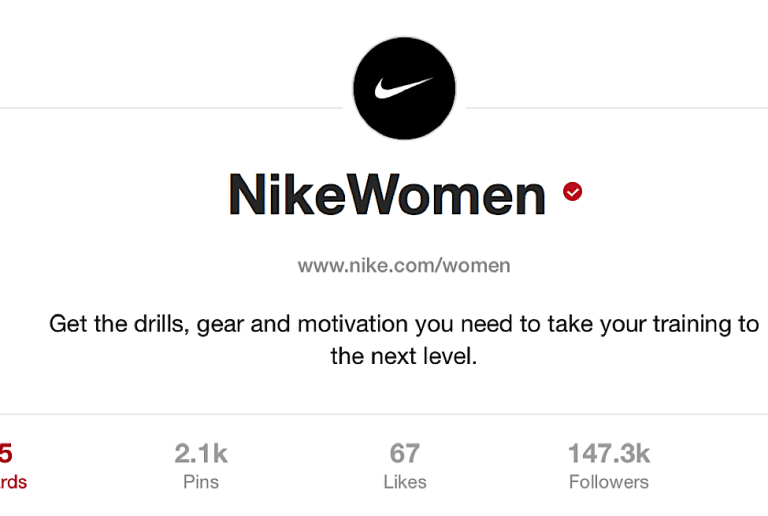 Make sure that your profile name is the same name as your brand. This ties in with the point above.
Fill out all the information you can when setting up a profile. Include your location if you're a local business, add and confirm your website, and always, always fill out the "About Me" section. Mentioning your brand name in the description works like a keyword.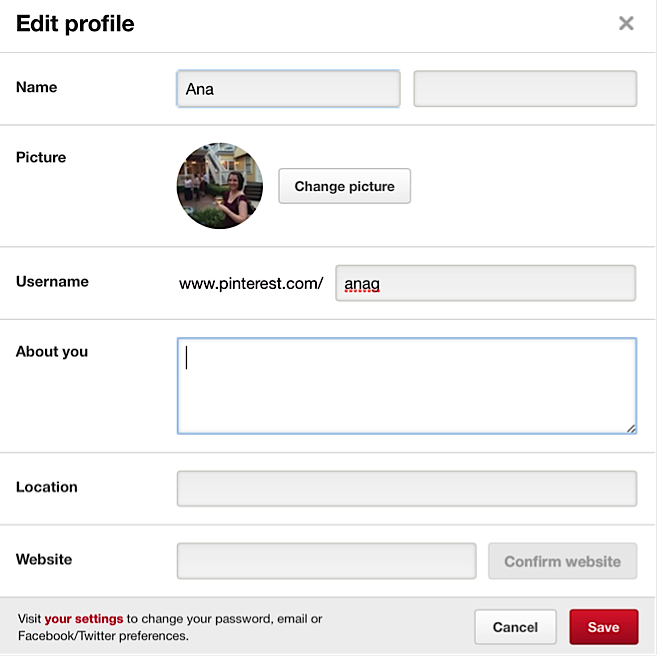 Turn off search privacy. When you have search privacy enabled, people can't find your profile with a search engine. You definitely don't want that. You can change this under your profile settings.

Don't set any of your boards to private. Many know this, but I once worked with a client who thought setting his boards to private meant that no one else could pin on them, but that others could still see the content. That's not true—no one could see them. Boards are public by default, so just don't change them, unless you're using one secret board for internal purposes.
Following these points makes your content visible to all users, and makes it easier for those users to find you.
4. Have A Board with a Guest Pinner
While anyone can repin your content, not everyone can pin to your boards (which is definitely a good thing). You can, however, invite another specific pinner to pin onto one of your specific boards.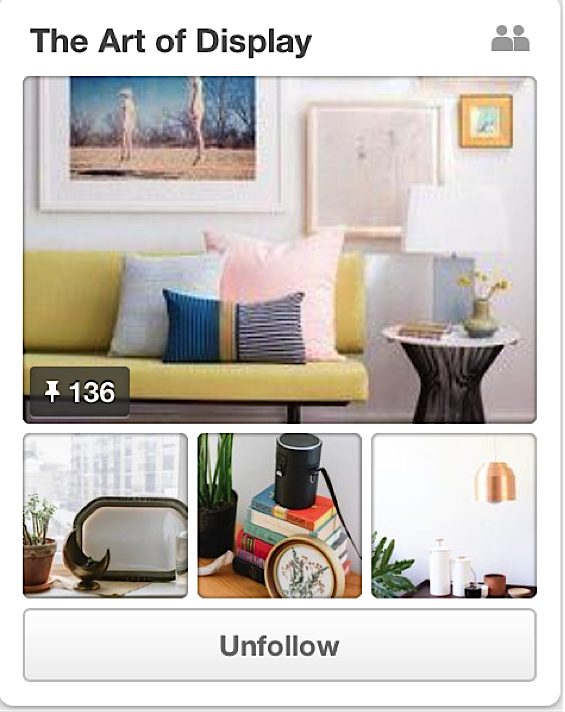 The two gray people in the top right hand corner signifies that it's a guest board.
A lot of brands are using guest boards to increase visibility, working with a relatively well-known expert either in their own or a coinciding field to create these boards.
Guest pinners and guest boards can offer a lot of value and boost visibility in several ways. The first is obvious: the guest pinner is likely to bring new audience members to see your pin. The guest pinner can often also lend expertise and added authenticity to your content, as well as offer a new perspective, giving additional life and substance to the content you currently have on Pinterest.

Etsy is known for having a variety of boards with specialized guest pinners.
To invite a guest pinner to your boards, create the board and go to view it. On the upper left-hand side, right above where you'll see the "Add Pin" option, you'll see your own profile image and the "Invite" button, where you can invite your guest pinner.

When using this strategy, always make sure to inform people that it's a guest board and tell them who the guest pinner is. This can attract attention to it.
5. Use Analytics for New Insight & New Ideas
Last year, Pinterest updated their analytics system. While it isn't quite on a par with Facebook's Insights, it still offers a ton of valuable information.
There are several things you can learn from Pinterest Analytics. You can see how your profile is performing overall in terms of average daily viewers and impressions; you can discover which Pins you've posted are performing best (broken down into metrics of impressions, clicks, likes, and repins); and you can learn some valuable information about your audience.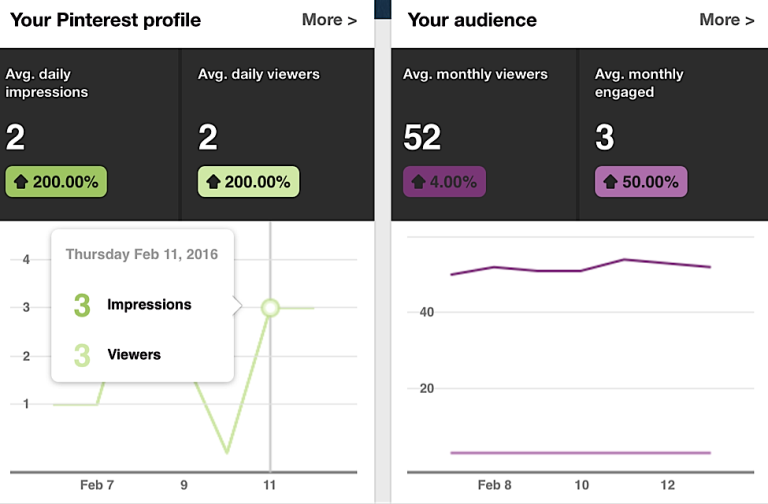 By seeing which of your Pins are performing well (and which aren't), you can try to create content with similar features in the future, increasing the odds of engagement.
When you view your audience's demographics, you can also see who's engaging with your content, and if there's a core part of your target audience that you aren't reaching on Pinterest.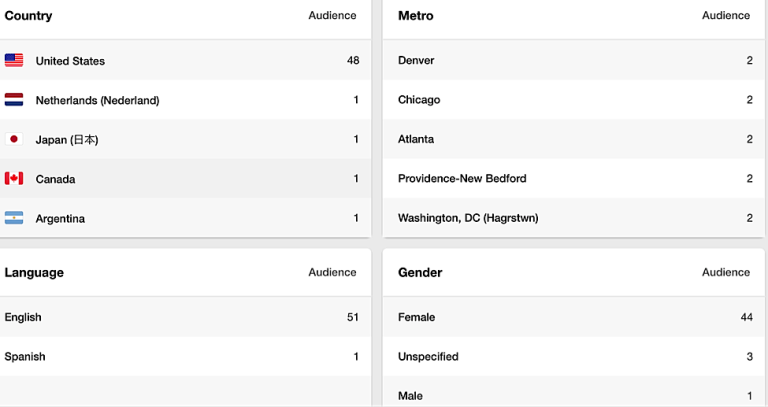 Finally, Pinterest offers us a great chance to create more high-quality, relevant content for the audience we already have on Pinterest by showing us our audience's interests. Under the Interests tab, you'll be able to see commonly shared interests that members of your audience have. I'll take this information from shared interests to create specific, targeted content for my Pinterest audience.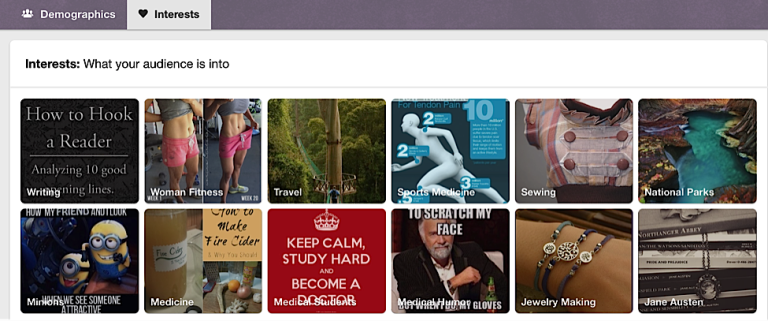 These are the commonly shared interests of the audience of one of my Pinterest boards.
I have a site, for example, that discusses diets and recipes for people with a certain stomach condition. My Pinterest Analytics tells me that my audience is also interested in National Parks, Jane Austen, and Women's Fitness (among others, as seen above). I could write a blog post with high-protein recipes for a better muscle-building workout, creating specific content that touches on two of my audience's interests, which increases value and the odds of engagement.
You won't be able to create content relevant to every interest—for example, I could easily create a post about food that's safe to eat when traveling, but on the other hand I would have no idea how to incorporate sewing into a post. Finding common interests that work with the content you're creating can help elevate it, and can help you find new audience members that you may not have gotten otherwise.
6. Use Promoted Pins
Promoted Pins are one of the tools in Pinterest's ad platform (the other being Buyable Pins), and allows brands to pay to promote specific Pins to a relevant audience. You'll be promoting Pins from your actual boards, so they'll be around even after the campaign has ended.
When creating Promoted Pins, you can choose whether you want to focus on creating engagement on your Pins or sending more traffic to your site. You can schedule how long you want the campaign to run and your daily budget.
Here's the part I love: after you've chosen the Pin you want to promote, you can target specific terms, which will help your Pin be shown to users searching for it. Pinterest recommends targeting between 20-30 terms. These terms are essentially keywords, which is a great way for Pinterest to allow for targeting.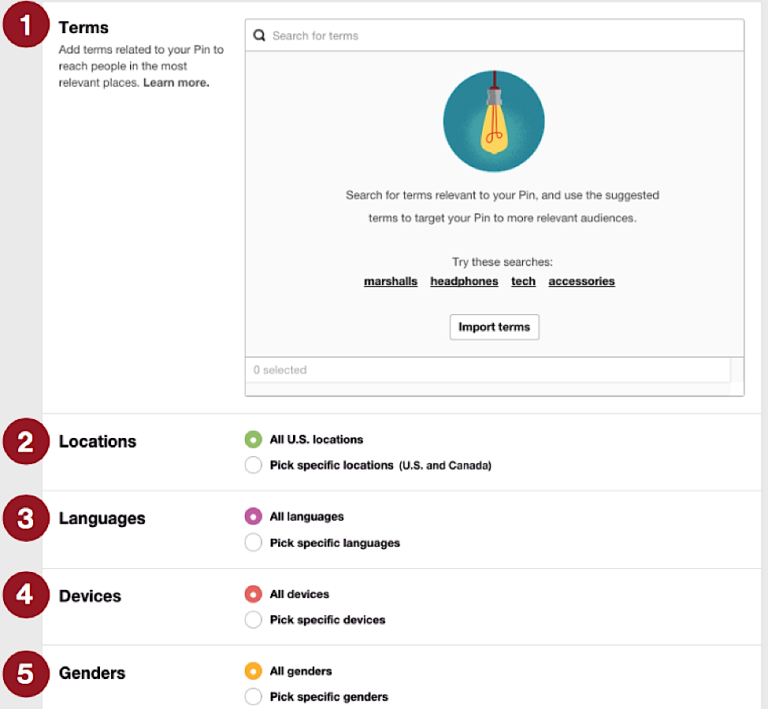 If you have access to them, Promoted Pins are a highly-effective way to boost the visibility of your Pins and get access to a highly-relevant audience.
Promoted Pins aren't available to everyone yet; in order to get access, you have to first register as a business profile and sign up on a wait list. They're currently only available in the US while testing, and brands can only target US and Canadian pinners. With their current success, though, I'm hoping we'll see them extend to more brands in more places soon.
Final Thoughts
Pinterest is its own unique marketing platform, and it needs to be treated as such. Posting the same content in the same way (or close to it) on Facebook and Instagram (and maybe even Twitter) might work for some businesses, but it's not going to work on Pinterest no matter who you are.
By understanding what users are pinning on Pinterest and how they're using this platform, you can better adapt your content to boost visibility and get it noticed. When in doubt, these 6 strategies to increase the visibility of your content on Pinterest can do the trick.
What do you think? Do you use Pinterest as part of your marketing strategy? How do you get your content pinned and shared? Leave us a comment and let us know what you think!