Beginner's Guide to Virtual Reality Ads
---
Virtual reality marketing helps businesses reach prospects by using virtual reality technologies. VR allows brands to showcase their products in a digital environment that mimics the real world.
The biggest benefit (besides the fact that it's just cool!) is that brands can allow potential customers to virtually try their products before buying them.
Check out these impressive VR stats:
In this article, I will explain what virtual reality ads are, share the advantages of VR technology in advertising, discuss some of the best VR ads examples, and also learn about the future of virtual reality advertising.
What Is Virtual Reality Advertising? 
Virtual reality ads are a form of advertisement that uses immersive technologies to offer a real-world experience of the products or services that a company sells.
Imagine that you are an outdoor products company looking to leverage the power of VR in advertising. You can create a VR ad that gives people the opportunity to hike through popular national parks and mountain ranges while in their homes or the office.
When people receive a completely immersive experience, they remember the ad for a long time. Moreover, they are motivated to buy outdoor products (in our example above) to experience hiking in the wilderness. This is the power of VR ads.
VR vs AR – What's the Difference?
Augmented reality and virtual reality are reshaping the digital marketing landscapes, and brands are using these technologies to offer better customer experience and redefine relationships.
AR and VR are often used interchangeably, and while they can be considered two sides of the same coin, they are, in fact, different:
Augmented reality combines the digital world with the real world. When the real world is viewed through a camera or a digital screen offering AR, virtual elements are superimposed over their field of vision. Thus, AR technology works in the real-world setting.
Virtual reality, on the other hand, is entirely virtual

 –

that is, not physically existing in the real world, but only appearing so with the help of software

 –

where headsets completely take over your vision and give an impression that you are somewhere else.
AR applications can easily be created and deployed on smartphones without high entry barriers.
VR requires designing programs for headsets and is much more complex and expensive to build and deploy.
The SkyView app is an excellent example of AR. It helps lay people explore the universe using overlays of the night sky:
The IKEA Place app is a great example of VR. It allows customers to virtually place furniture in their homes to see how it looks before buying it: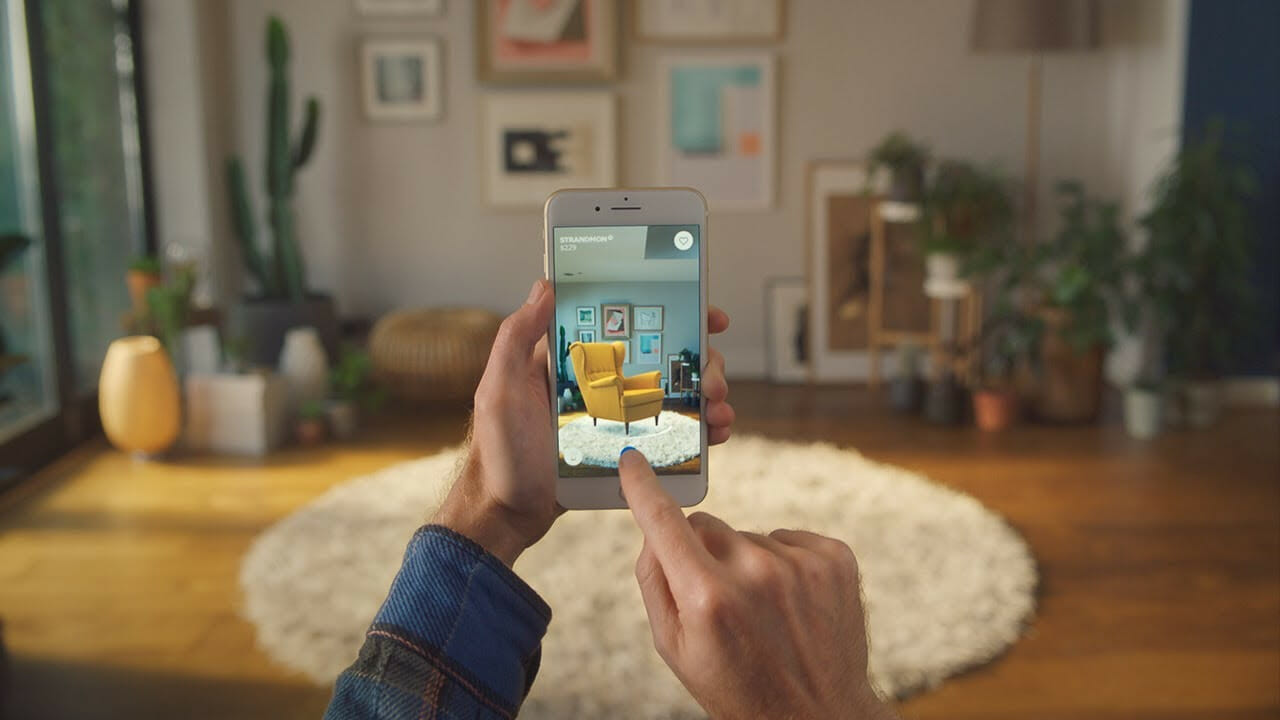 Benefits of VR Advertising
In the last decade, virtual reality technology has improved significantly. Today, VR is used in gaming and other fields like education, engineering, tourism and construction.
Savvy businesses are using VR in marketing and advertising to reach millions of customers online. VR can showcase products and services in a totally new and accurate way, thereby improving the customer experience.
VR may look expensive from afar, but when an organization implements it to the fullest, it can actually be very cost-effective in helping achieve higher marketing ROI.
Here are some of the top advantages of VR in advertising:
1) Improves Customer Engagement
The number one reason most brands create VR marketing experiences is to improve customer engagement and to inspire audiences to become loyal to the brand.
Your business is more likely to capture customers' attention when you opt for VR ads because these advertisements mimic real-world scenarios. VR enables online shoppers to get a virtual experience of a product or a service.
2) Leverages the Power of 'Try Before You Buy'
It is challenging to convince customers to buy products if they can't see, touch, feel or experience the item in reality.
VR enables a business to leverage the "try before you buy" concept so they can feel confident about making the purchase.
For instance, brands such as Volvo offer a VR test drive using just your smartphone. You can "drive" a Volvo in virtual reality to experience the same joy as taking the car out on the road. Once convinced, a person can opt for a test drive in reality or just go straight to the next step: buying the car.
3) Easily Introduces New Products to the Market
Another benefit of VR is that it helps you introduce new products to your customers and brings product presentation to another level. You can use this technology to create an interactive shopping experience and showcase your products virtually to your customers.
VR enables customers to consume your marketing content in a way that creates an emotional connection with your brand. Emotions allow customers to fall in love with your brand, increasing conversion rates and profits in the long run.
Patrón Tequila is the perfect example of a brand that used VR to introduce a new product to the market. The company created a VR video that combines computer graphics and live-action:
The content is a 360-degree journey that follows a product life cycle from production to the brand. It is a perfect example of how you can introduce a product to your customers and make them trust the quality you're offering.
4) Takes Your Customers on a Journey
Virtual reality takes your customers on a journey that is like no other in terms of experience. Ideally, the customer feels like they are having an authentic experience with your product or service.
With VR, customers go back in time, fly far places, and look into the future with the help of their smartphones. National Geographic Explore VR is the perfect example of taking their audience on a journey that most will never experience in real life.
Teaming with Oculus VR, this educational game lets the user become an explorer on an expedition to Antarctica ("navigate around icebergs in a kayak, climb a massive ice shelf and survive a raging snowstorm as you search for a lost emperor penguin colony" and Machu Picchu ("witness mummy worship, raise a cup of sacred chicha and encounter alpacas").
As NatGeo explains: "this interactive experience lets the entire family discover the world without ever leaving home."

5) Reduces the Language Barrier
The language barrier is a significant problem when it comes to creating adverts for any business. With virtual reality, you can customize a simulation that fits every customer.  
It is not easy talking to clients from different countries if you don't know their language. With the advancement in VR, it is now easier to remove the language barrier in your marketing and create content that fits all customers regardless of where they come from or the language they speak.
6) Higher Ad Conversion Rates
Everyone knows that video offers a high conversion rate. For instance, when you include a video on your landing page, it boosts conversions by up to 80%. And VR is one step ahead of standard video.
Therefore, when you use VR ads in your marketing campaigns, you can see more conversions and higher engagement than traditional mediums such as text-only landing pages. That is because customers are 58% more likely to buy a product if they had the opportunity to try it out.
Additionally, many people use ad blockers as well as skip ads, but with VR it is different: 360-degree ads have an 85% completion rate (in contrast, 2D ads have a 58% completion rate). This leads to a better engagement rate, which leads to a better conversion rate.
Related Content:
* How to Increase Your Conversions with Online Customer Engagement
* Hulu Advertising 101: A Guide to Running Streaming TV Ads
* 9 Google Ads Trends You Can't Ignore in 2023

7) More Profitable and Less Competitive
VR is still a new thing for most businesses, which means that the VR advertising space is less competitive than traditional advertising. Talk about gaining an additional USP (Unique Selling Proposition)!
There are millions of businesses online, so to stand out, you must do the extraordinary in marketing. If you take advantage of this opportunity to be ahead of the crowd, you can design VR ad campaigns for your brand and see some significant improvement in your sales revenue.
VR improves product sales and maximizes brand awareness and customer retention: For many of the reasons listed above, such as better customer experience, try before you buy, etc., this technology can qualify incoming leads right away and fetch you 49% more qualified leads.
9) Helps Create Winning Marketing Content
Ideally, human behavior comes from desire, knowledge and emotions. That means if VR can combine these three aspects, it can create winning marketing content to showcase your brand.
How customers behave and make decisions is vital to any marketing team. The use of VR in marketing can help capture novel user data, like behavior, eye and gesture tracking, and use these insights to provide better content and products:

Best Examples of Virtual Reality Ads
Virtual reality is breaking free of its limitation of being successful in the gaming industry only. Presently, almost 91% of business organizations have already adopted (or are planning to) VR technology.
With the pace that virtual reality technology is growing, its current market size of nearly $5 billion is projected to increase to over $12 billion in the next three years. These stats illustrate the effectiveness of VR technology that different industries are leveraging to promote their products.
Here are some of the best examples of virtual reality ads to inspire your VR marketing campaigns:
1) Qatar Airways
When Qatar Airways planned to introduce Qsuite, their all-new business class suite, they chose VR to advertise it (note: move the video image left or right with your mouse or finger):
Qatar used VR very smartly to provide a near-real experience of the new level of luxury that their business class suite offers.
The advertisement gives a 360-degree virtual tour of the business class cabin, where viewers can have a virtual experience of one of the most luxurious business class seating environments. 
The VR video gives the viewer the option to take a look at the cabin from every angle and experience the comfort of the cabin first hand. The background music in the video makes the experience even more soothing.
This 2-minute advertisement gives a complete idea of what Qatar's business class cabin has to offer, which was only possible using VR.
2) OREO
Mondelēz, the parent company of OREO, partnered with 360i to create OREO's 360-degree video of the fantasy world of cupcakes and cookies.
The idea behind using VR here was to create a story of the different flavors OREO has come up with so far. At the same time, they introduce their new Filled Cupcake while building emotional cues on a ride through their "Wonder Vault".
The creative tactic helps viewers remember how long the brand has been satisfying their taste buds, as well as creating curiosity among Oreo fans with its new flavors.
3) Boursin 
This advertisement by Boursin, a cheese supplier, is unique because VR "tour" ads are not standard in the food industry:
The company used virtual reality technology to exhibit the actual appearance of their products, their packaging, and the variety of cheeses they offer.
The video shows the inside view of a refrigerator packed with Boursin cheese products as well as herbs and veggies (which are those that the brand uses to flavor its cheese products, such as garlic, fig, apple, cranberry, etc.). In this way, viewers have a complete idea of what goes into their favorite products.
This advertisement has set a milestone in the food marketing industry by cleverly using VR to uplift their marketing standards.
4) Walmart
A retail company could not have a better technology to promote their virtual shopping store than VR.
Walmart created a fully immersive "in-store" shopping experience that depicts the future of shopping and retail technology (this video is a behind-the-scenes look):
Shoppers in the VR tour video have a nearly real shopping experience in the Walmart store, just as they would have in real life.
Virtual shoppers have to put on a VR headset to begin their shopping. They can enter the store, pick up products from racks, check full product details, and put them in their cart. If they wish, they can remove products from their cart and put them back, too. They can also see their virtual cart and the bill as it is tallied en route.
Walmart has used this technology to introduce customers to their VR store in a fun and engaging way.
5) VERYX
VERYX needed a demo that could provide customers with a hands-on look at how the digital food sorting company works, so KEY Technology used a virtual reality demo to explain its product:
Since the business is B2B, the product demonstration had to be detailed yet to the point, and catered to a specific level of customer.
At the beginning, the video displays the machine's technical descriptions and features, and then how it sorts foreign particles.  
The explanation of the product in the VR demo is exceptional, as the customer can see what precisely the machine looks like from the inside and how it performs food sorting.
If you are from the B2B industry, VR is a sophisticated technology that can be an apt choice for immersive demonstrations of a machines or software.
Related Content:
* 22 Brands with the Best Content Marketing Campaigns
* Beyond the Blog Post: 21 Inspirational Branded Content Examples
* 31 Best Digital Marketing Campaigns You Can Swipe

6) Volvo Cars and Varjo
Volvo collaborated with Varjo to offer the world's first mixed reality test drive. The VR technology helps the driver evaluate the car's prototypes, designs and active safety features by wearing a Varjo mixed reality headset.
With Varjo's mixed reality headset, the driver gets the feeling of driving on the actual road and encounters virtual objects on the way, like pedestrians or a moose that suddenly darts into the road.
Varjo's vision creates incredible mixed reality, making it difficult for the driver to differentiate between real and virtual objects. This helps expose the driver to actual scenarios in order to test whether the car could save their life as well as the lives of the people around the car.
Varjo used a highly advanced version of VR technology and top-quality cameras to prove the reliability of Volvo cars under any challenging situation.
7) Conquest Cars Canada
Conquest Car Canada is a car review and shopping advice site. The website regularly uploads 360-degree test drive videos for cars introduced in the market as a part of their car review:
VR use in test-driving videos creates interest, as the viewers enjoy a real driving experience. With a 360-degree view, they have the perspective of being inside the car, just as if they were really there. They can imagine the available space, legroom, design, and other features.
At the same time, the outside view of the car from a different angles provides a complete idea about the unique design features that the vehicle boasts.
VR works wonderfully in reviewing cars and providing genuine "hands-on" pros and cons of a car.
8) National Marine Sanctuaries
Marine life is always exciting to explore, but due to the COVID outbreak, marine sanctuaries were closed for more than a year. To entice visitors back, the National Marine Sanctuaries used a 360-degree video that perfectly captures the ocean's beauty:
This is a virtual diving experience with sea lions in Channel Islands National Marine Sanctuary, and the video takes you on a tour through the sanctuary's kelp forests and rocky outcrops. It captures every angle under the sea to provide an accurate and vast view.
For a better experience, you can click and drag if you are on a desktop or pair your phone with your virtual reality headset.
The VR videos of marine life used by the National Marine Sanctuaries are a fantastic way to advertise the unique experience of sea diving services and help attract more tourism.
9) Pullman Brisbane King George Square Hotel
The video incorporates a view of every hotel segment, from reception to the dining area, gym, lounge, kitchen, bar and, of course, the hotel rooms.
Using VR, customers can get a 360-degree view of each part of the hotel and check out the facility's standards. No more being duped by incomplete photographs on a hotel's website!
Apart from the visuals of the hotel, the VR tour also includes an audio guide that delivers essential information such as the number of available rooms. The addition of an audio guide makes this video even more helpful and informative for potential customers.
The hotel VR video tour successfully exhibits the spacious and luxurious Pullman Hotel. For any business from the hospitality industry, this example can be a great inspiration for creating VR advertisements.
Top VR Advertising Platforms
Now that we've seen some examples of inspirational VR advertisements, here is a list of some of the top VR advertisement platforms that you will need to share your VR and 360-degree videos. These platforms are also exciting places to discover and watch virtual reality videos.
Here are the best VR advertisement platforms:
1) PubNative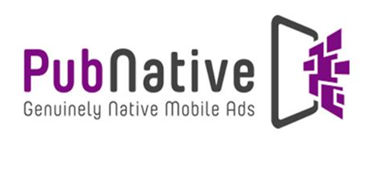 PubNative is a popular platform for VR advertisements. Previously a mobile publishing and programmatic ad exchange platform, PubNative now allows ads in gaming and VR environments, thanks to their partnership with in-game monetization platform Admix.
Admix aims to empower game developers to generate revenue from their VR apps or games through non-intrusive ads. So with this partnership, PubNative advertisers can show their ads to users playing games in an immersive and constantly evolving environment without compromising the user experience.
Hence, PubNative can be a great platform to grab the attention of game lovers through VR ads.  
2) YouTube 360

With 3.42 million subscribers, YouTube 360 is a platform for a variety of 360-degree and VR video content in different genres like music, travel, gaming, dance, movies and thrillers: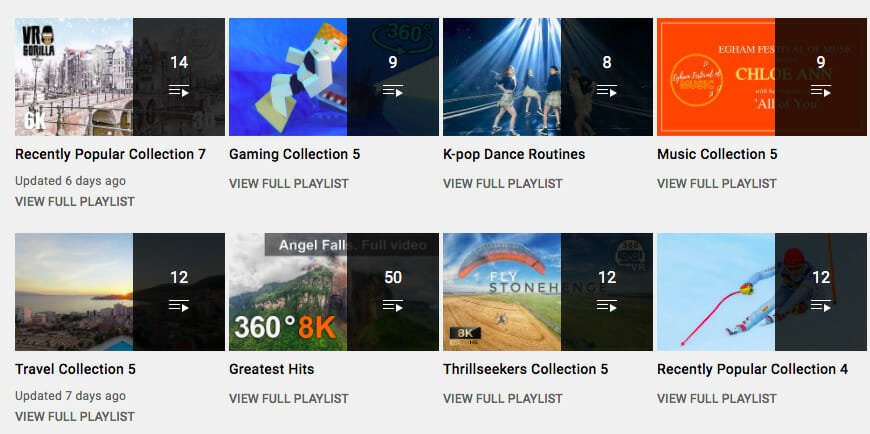 Many VR videos are sourced from the BBC and movie studios, but there is a large community that includes individual VR video content creators and brands from different industries.
The eligibility for uploading VR content on YouTube 360 is the specific frame rate, which has to be 24, 25, 30, 48, 50, or 60 frames per second. Moreover, you should include metadata like maker, date and location. Once added, you can upload your 360-degree video just like any other video on YouTube.
YouTube is a brand name. Hence, it makes sense to have your ad content on YouTube, primarily if you target a global audience.
3) Vimeo 360 
Vimeo 360 is another popular platform where you can upload your VR videos for free, as well as watch an array of videos for your inspiration. The platform has dozens of video categories to explore, such as travel, art, instructional, sports, documentary and fashion.
The free basic plan is perfect for individuals looking to join the community to share their videos. The uploaded videos are sharable with friends, even on YouTube and on Facebook. However, there is a limitation on the length of the video.
If you opt for a paid plan, you can upload longer videos and enjoy additional benefits, like more extensive storage, advanced player customization, and privacy options, along with access to powerful marketing and analytics tools, stream live events, etc.
The videos can also be embedded on your website, making them more accessible to your site visitors. Vimeo offers its apps for different platforms, including macOS, iOS, Android, etc.
You can run immersive storytelling ads on Vimeo to reach your audience based on specific niches.
4) Steam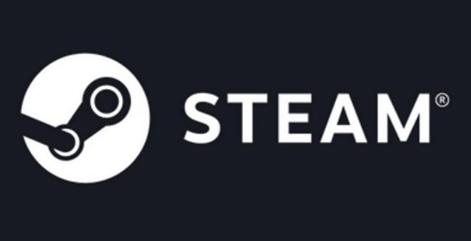 Steam is a dedicated platform for all types of videos and offers extensive services for the VR experience. Steam provides a tool for experiencing VR content, designed to support the Valve Index, HTC Vive, Oculus Rift, Windows Mixed Reality headsets, and more.
It has a library of more than 10,000+ 4K 360/180 3D videos, images, and interactive experiences. You can find a vast collection of immersive categories such as live performances, interactive stories, animations, documentaries and travel.
Nearly all popular VR headsets support Steam since it is a renowned home to VR titles, and the Steam VR store has thousands of VR titles available for sale.
Hence, advertising on this platform is a good idea if you are a creative VR video maker.
5) Oculus Gear VR Store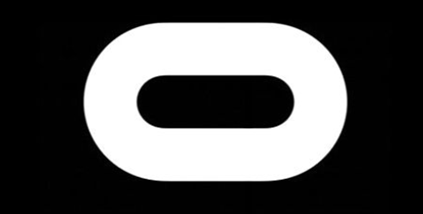 The Oculus Gear VR Store is a unique platform for VR content because it has VR videos, games, apps, and other experiences to download and watch.
Oculus is a popular choice for uploading VR content as many apps support VR videos on Oculus, such as the Samsung VR app, Samsung XR, and SkyBox VR Video Player. Several other devices fully support Oculus, too, like Samsung Gear VR, HTC Vive, and Valve headset devices.
Hence, advertising on Oculus is undoubtedly a great way to attract valuable customers.
6)VeeR VR

VeeR VR is featured by some famous brands, such as Oculus, Steam, Viveport, and Windows MR. It has thousands of VR content that includes award-winning films, animation, and extreme sports vlogs. That means uploading videos on this platform will attract a good number of viewers.
VeeR has a global community of VR creators who create and upload videos in abundance. It is easier to upload content here as you can do it using your mobile phone. It's also simple to embed or share your videos with friends.
Users can watch VR videos by downloading the Veer VR app for Oculus, Gear VR, HTC Vive, Daydream, Steam VR, and Windows VR. Viewers can also watch the videos on the web and mobile browser without any additional devices.
Hence, it is beneficial for your business to advertise your VR ads on VeeR.
7) Facebook 360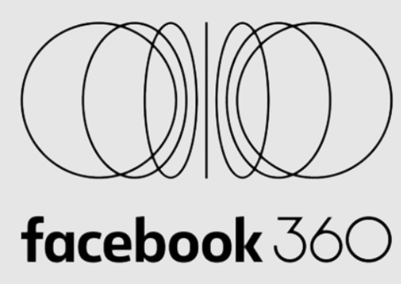 Facebook needs no introduction, of course, but Facebook 360 is their content platform for 360-degree photos, videos, and Facebook Lives.
This VR platform provides video makers, publishers, and advertisers a captivating way to share their immersive stories, picturesque sites, and unforgettable experiences with their audience. So far, Facebook 360 has collected millions of 2D images and videos.
Facebook has acquired two successful companies for best user experience: Two Big Ears, an immersive audio company, and Oculus, maker of virtual reality gaming headsets.
To watch VR videos on Facebook, the user can simply browse them from their Facebook account. Alternatively, they can get a Facebook 360 app from the Oculus store and use a VR headset such as Oculus Go or PlayStation VR to watch the videos with a breathtaking experience.
Facebook VR Ads Using Oculus Quest
Oculus is a VR headset brand founded in the United States by John Carmack. Oculus develops various VR headsets, with "Oculus Quest" being the most popular one.
Apart from headsets, Oculus also creates different VR-based apps and games.
How Does Facebook Use Oculus Quest for VR Advertising?
Facebook has chosen an Oculus game called "Blaston" for their first-ever VR ad. It is an action/shooting/sports game that supports the Oculus Quest headset and is available in different languages other than English, like German, Korean, Spanish, Chinese and Swedish.
Here's how ads look in VR apps and games:
In the above GIF, users can see an advertisement by Jasper's Market with the tagline "Fast, Free Delivery."
Users can either click and open the ad in the browser or save the link (which can be available in the mobile app's explorer section). However, if a user selects a link, then Oculus Quest's web browser will launch.
Ads are launched when relevant and high quality, so Oculus ads will follow Facebook's ads principles. In order to maintain relevance and quality, Oculus ads have also included various control buttons so that users can manage the ads according to their preferences.
These controls offer different functionalities to users, such as hiding the ad, reporting the ad, and even learning more about it by selecting the default text.
For instance, when you click "Why am I seeing this ad?" Facebook will offer more guidance on why the ad was displayed. 
How Will Facebook Show Personalized Ads in VR?
Facebook claims that it will show ads based on the user's Facebook profile information (new headset owners will be required to open or log in to their Facebook account to activate VR devices).
Here are some of the privacy points that matter:
Facebook will not use a person's private content like conversations via Messenger or voice conversations to target ads.
Facebook will not use any information stored locally in a user's headset hand images (if the user has enabled hand tracking in the games) or personal information such as height, weight or gender that the user provided to the Oculus Move app.
The Future of VR in Advertising
Virtual reality is a technology that you can leverage to convey your brand story engagingly.
When coupled with different VR techniques, solid creative concepts take your ad campaign to the next level and make your brand storytelling more enjoyable for customers to consume.
VR makes advertising fun for users, and its interactive ability draws them in. People have begun to develop an immunity to ads across social channels because they have become accustomed to scrolling past them or skipping them whenever they can.
VR advertising, however, does something different: It immerses the user into another type of reality with fewer distractions and gamifies the ad experience.
VR advertising hasn't yet gained massive adoption like social media and digital video. But it is only a matter of time before virtual reality takes over living rooms and office spaces.
Like most technology, businesses will be using virtual reality long before consumers have wearables or personal VR devices. This transition period puts marketers in a unique position to share their brand's current application of new technology, primarily when it benefits the consumer.