Customer acquisition is a vital aspect of business growth.
While various channels contribute to acquiring customers, one platform that stands out is YouTube. Whether you run a B2B or B2C business, understanding how YouTube can drive revenue and expand your customer base is crucial.
In this post, we will explore the versatility of YouTube as a customer acquisition channel, discuss different techniques, and share examples of successful customer acquisition strategies.
So if customer acquisition is your main goal, keep reading to find out whether or not YouTube is worth your efforts!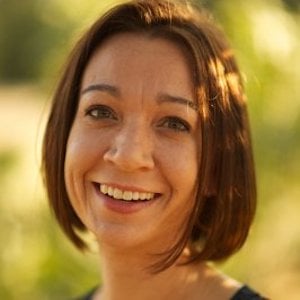 Kim Cooper
Director of Marketing, Amazon Alexa
Single Grain enables us to increase our impact without increasing our headcount
The Power of YouTube for Customer Acquisition
YouTube, despite its evolving algorithms and shifting trends, remains a formidable channel for driving new business and accessing prospects. While some claim its reach is declining, it continues to generate exceptional results for many businesses.
For NP Digital, YouTube ranks as the third most successful customer acquisition channel for their clients, following referrals and SEO: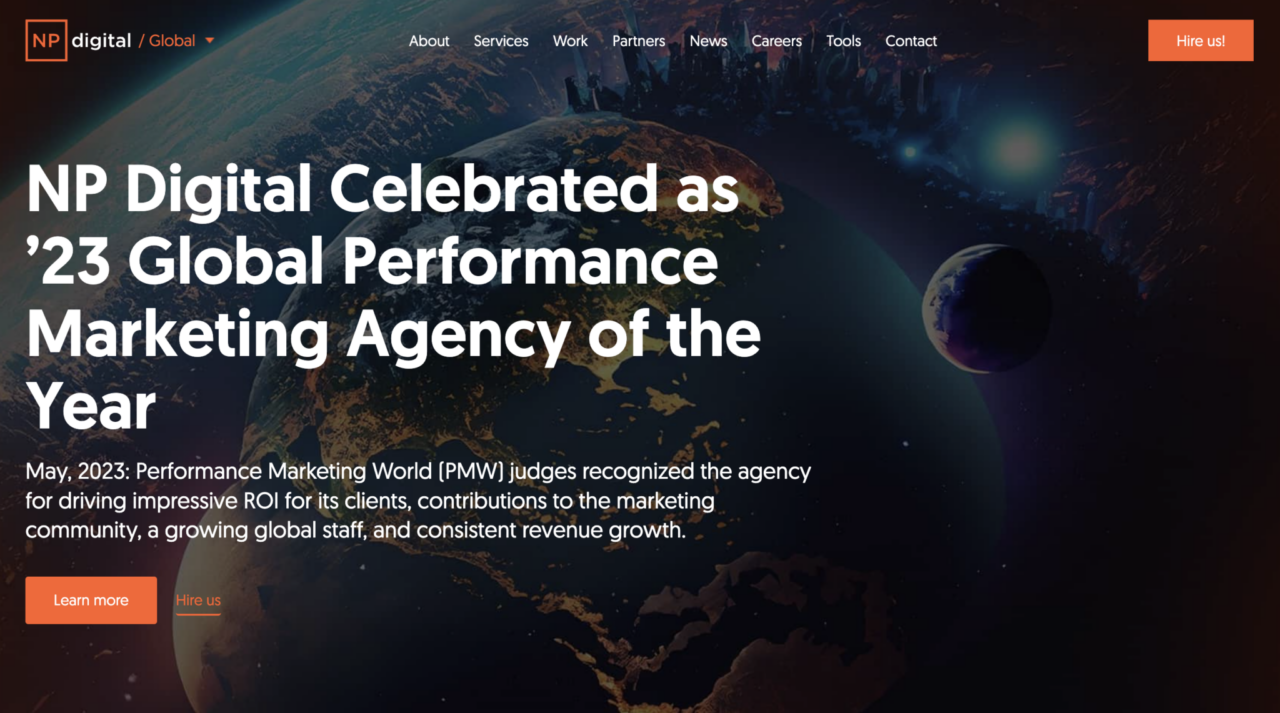 And keep in mind:
Both B2B and B2C businesses can leverage YouTube effectively, capitalizing on its unique strengths.
Consider diversifying your business's channel mix to encompass a variety of platforms and mediums, with which YouTube conveniently integrates. With how prevalent short-form content has become, this video platform has steered into that curve by featuring highlighted shorts that users with increasingly limited attention spans can watch: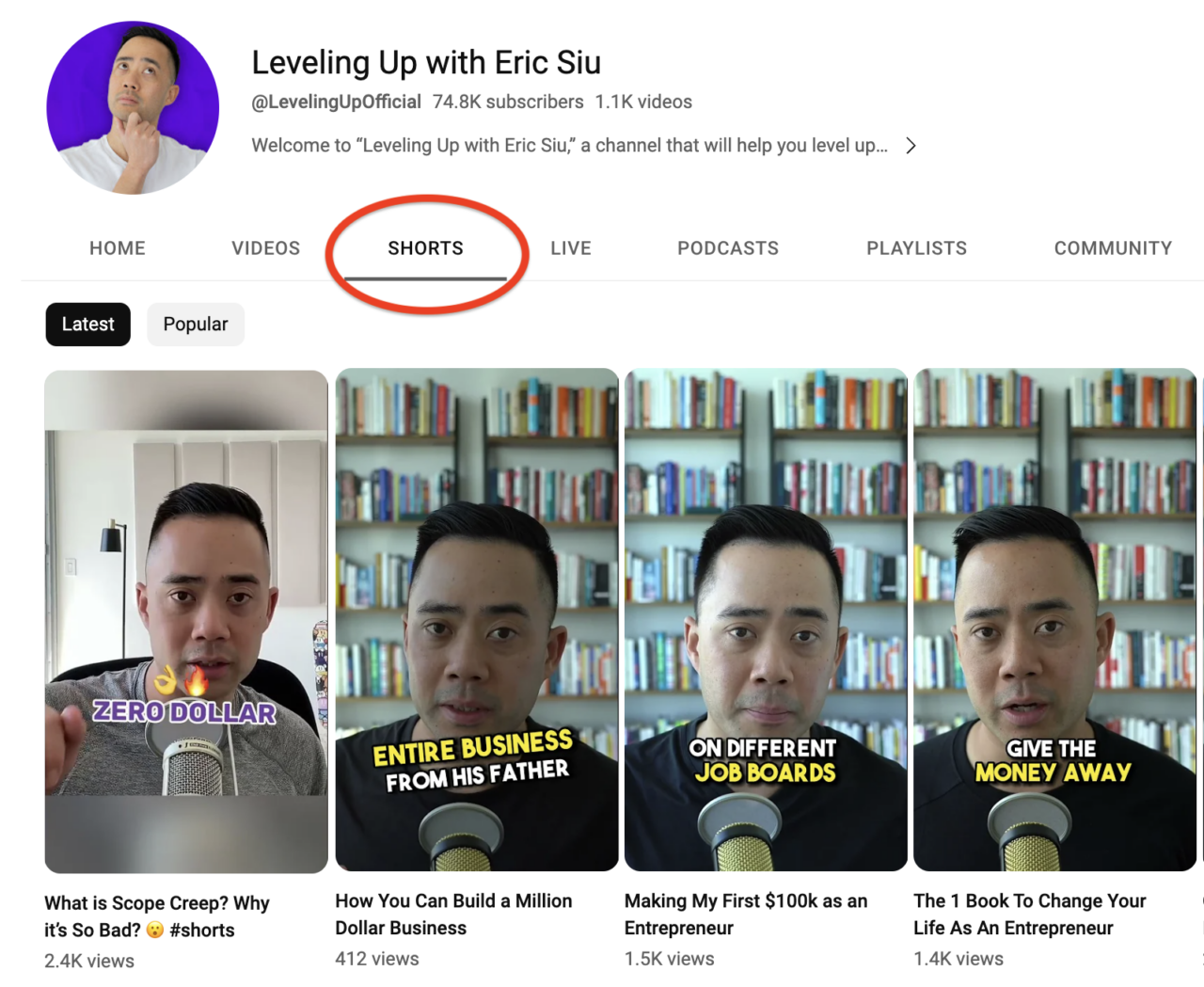 These shorts can be interlaced through a variety of social sites like Instagram, Facebook, LinkedIn, Twitter, TikTok and more. This creates additional touch points for reaching potential customers.
Related Content: 7 LinkedIn Growth Hacks That You Might Not Know
Tailoring YouTube Content for B2B and B2C
B2B Strategies
In the B2B realm, YouTube offers opportunities to create technical videos, focusing on specific tactics, strategies and problem-solving.
YouTube is capable of reigning in and capturing the attention of B2B professionals who seek valuable insights, expertise, and industry knowledge. There are plenty of ways that businesses can use YouTube to grow their reputation and brand authority in their verticals.
Here are a few examples:
Case studies and customer testimonials: You can use YouTube to feature customer sentiments and constructive thoughts about your brand, showcasing the satisfaction and delivery of their goods or services for their customers.
Thought leadership content: You can champion a segment of your industry by producing progressive and profound commentary on YouTube that gives viewers the impression that you're a credible source of new information and forward-thinking
Behind-the-scenes content: A lot of your brand's followers (old or new) will want to feel engaged with your brand. What better way can you do that than pulling back the curtain of your operation and showing them your company culture, working environment, and day-to-day goings on? It's a subtle tactic that can solidify customer loyalty and attract new prospects to check out what you have to offer.
Training or educational videos: Video content on YouTube can teach its audience, from the perspective of the business, how to accomplish a task or approach an issue. These often take the form of "how-to" videos that establish the instructive authority of your brand.

Brands can establish themselves as venerated authorities in their respective fields. YouTube becomes the central hub where B2B decision-makers can find video solutions to their challenges, making it an excellent platform for customer acquisition and new business development.
Related Content: 8 B2B Digital Marketing Case Studies to Inspire You
B2C Techniques
For B2C businesses, YouTube excels in providing tutorials, product demonstrations and educational content. These types of videos not only help consumers understand products better but also build trust and credibility, ultimately driving revenue.
YouTube is equally adept at attracting B2C consumers across different demographics and interests. Whether it's beauty tutorials, product reviews, travel vlogs or gaming content, YouTube offers an extensive array of content that caters to diverse consumer needs.
This creates an opportunity for your brand to engage with potential customers by delivering valuable and entertaining content that resonates with your target market and drives them to engage with your brand.
Real-World Examples of YouTube's Impact on Customer Acquisition
One compelling example is the case of Andrew Henderson, who runs the YouTube channel "Nomad Capitalist":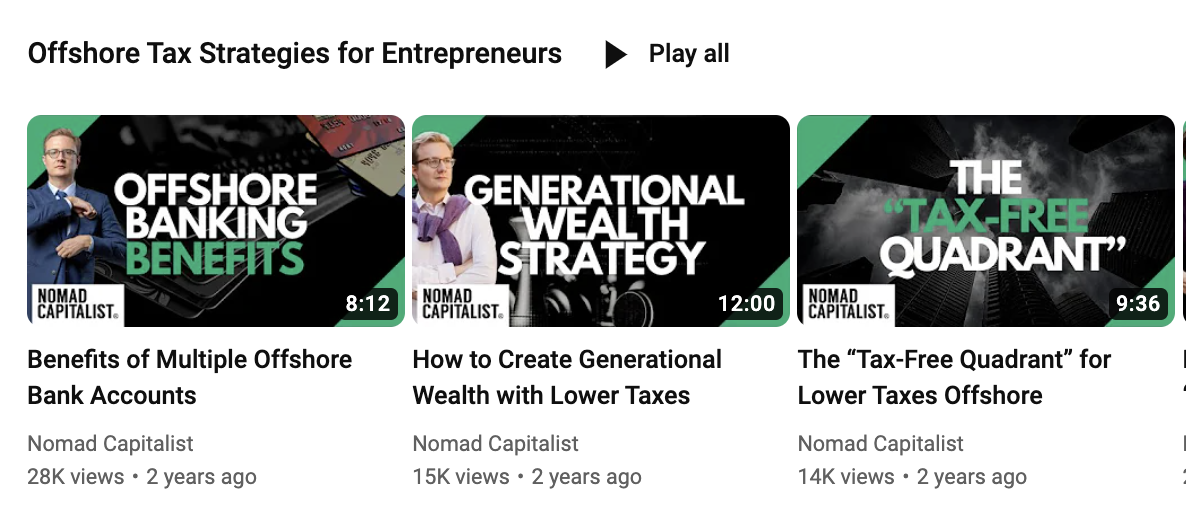 Targeting high-net-worth individuals, his channel educates them on tax-saving strategies, including renouncing U.S. citizenship.
With approximately 3,000 leads per month, YouTube has proven to be a highly successful prospecting platform for his business. While algorithm shifts can impact results, investing effort and adapting strategies can still yield positive outcomes in the here and now.
YouTube attracts a diverse audience, ranging from individuals seeking entertainment to professionals looking for educational content.
This diversity makes it an ideal platform for businesses targeting both B2B and B2C audiences.
If you produce content that caters to the interests of your specific audience, you'll be able to reach a much wider breadth of customers that frequent YouTube. Understanding the needs and preferences of the target audience is crucial for developing content that resonates with them and ultimately drives them to action.
Related Content: How to Conduct Smart Competitor Research for Better Customer Acquisition
The Impact of YouTube Algorithm Changes
Recent adjustments to the YouTube algorithm have affected viewership for many content creators. However, analyzing competitors and experimenting with different content types can uncover new opportunities.
Shorts have gained popularity, but longer-form videos (in-depth tutorials or demos) often lead to higher revenue.
YouTube's algorithm favors quality content that offers value to viewers. As the platform continues to evolve, it's essential to focus on creating high-quality videos that captivate and educate your target audience. Invest in improving production value, enhancing storytelling techniques, and providing actionable insights or entertainment.
By consistently delivering valuable content, you can maintain viewership and enhance your chances of acquiring customers.
YouTube's Potential for Small Businesses and Enterprises
YouTube's customer acquisition potential extends to both small businesses and enterprises. While small businesses predominantly benefit from YouTube, enterprises can also secure valuable customers through the platform. The success on YouTube ultimately depends on the industry, target audience and the content's relevance and quality.
Whether targeting B2B or B2C audiences, YouTube offers a level playing field for businesses to access the right audience and achieve their customer acquisition goals. Take these core strengths of versatility, for example:
Inclusive Reach: One of YouTube's greatest strengths is its inclusivity. It attracts individuals from all walks of life, regardless of their income range. This diversity allows you to tap into a wide range of potential customers, ensuring that your message and offerings reach a broad audience
Cultivating Trust and Authenticity: YouTube's emphasis on user-generated content fosters an environment where authenticity and trust are highly valued. This aspect plays a significant role in attracting both B2B and B2C audiences to the platform. Consumers appreciate the genuine, unfiltered content that YouTube creators offer, establishing a sense of connection and credibility. You can leverage this trust factor by creating authentic and valuable content that resonates with your target audience, ultimately driving new customers.
Accessible and User-Friendly: YouTube's accessibility and user-friendly interface make it an ideal platform for individuals of all backgrounds. With a simple search bar and intuitive navigation, users can easily find and engage with content that aligns with their interests and needs. Your brand can optimize its videos with relevant titles, descriptions, and tags to increase the likelihood of customer engagement and inevitable customer acquisition and retention.
Related Content: Customer Acquisition Tactics (with FAQs)
Test, Analyze and Adapt
In determining whether or not YouTube is an effective customer acquisition channel for your business, it is essential to tinker with different types of content and compare the results of your experiments, such as:
A controlled cadence of short-form reels
Periodic, long-form How-to videos
Scheduled, live topical videos
The format options on YouTube are expansive, and that's wonderful for your brand's marketing because it gives you a wider variety to spread your branding throughout the platform in varying doses of content that may appeal in different ways to people. Your job is to test which modes of content work with your intended audience by stirring them to engage with your company.
Research competitors within your industry to identify their strategies and assess how YouTube is working for them. You may learn a thing or two from how they are using the platform to their strengths. Recognize that the impact may vary based on your business type and industry.
Related Content: Best YouTube Marketing Agency: Top 5 Choices for 2023
Last Words on Customer Acquisition Through Organic YouTube
YouTube remains a powerful channel for business growth, providing businesses with opportunities to showcase their expertise, educate consumers and drive revenue.
Gone are the days when YouTube was merely a video-sharing platform for recreational entertainment. It is now a fully-fledged social media network with a bustling community and multiple utilities.
If you tailor content to B2B or B2C audiences, test different approaches, and learn from the results, you can get a lot of mileage out of YouTube with respect to acquiring new customers.
If you're ready to acquire more customers for your business, Single Grain's digital marketing experts can help (we have two successful YouTube channels!).👇
Repurposed from the Marketing School podcast.