With so many digital marketing tactics available, it can be challenging to know which ones will work best for your B2B business. That's why we've put together a collection of eight B2B digital marketing case studies to inspire you.
From email marketing to influencer marketing, these case studies showcase successful campaigns from a variety of industries and highlight the tactics that made them work.
Whether you're just getting started with B2B marketing or looking for fresh ideas to add to your existing strategy, you can get inspired by these effective approaches to reaching and engaging more prospects.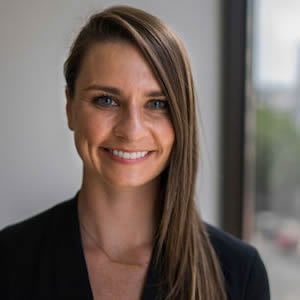 Jacqueline Foster
Demand Generation Marketing, Lever.co
We can count on them to bring new ideas to the table consistently
1) Buzzvil – Mastered Focus on a Particular Ad Placement for Clients
Buzzvil, the South Korean mobile advertising company, specializes in lock-screen advertising to grow revenue for its clients.
A lock screen is the security feature on smartphones and computers that locks access to your device and usually displays an image, the time, the security keypad, etc.
Although Buzzvil offers a robust suite of ad placement services, it has found continued success with lock-screen ad technology.
The company's unique approach to mobile advertising has garnered attention and accolades from partners around the world, solidifying Buzzvil's brand identity as a top-performing mobile advertiser:
One of Buzzvil's most successful campaigns was for a major airline company in Asia looking to build brand awareness and drive ticket sales through a mobile advertising campaign.
Buzzvil applied its lock-screen advertising method to create a highly visible and engaging ad campaign for the airline: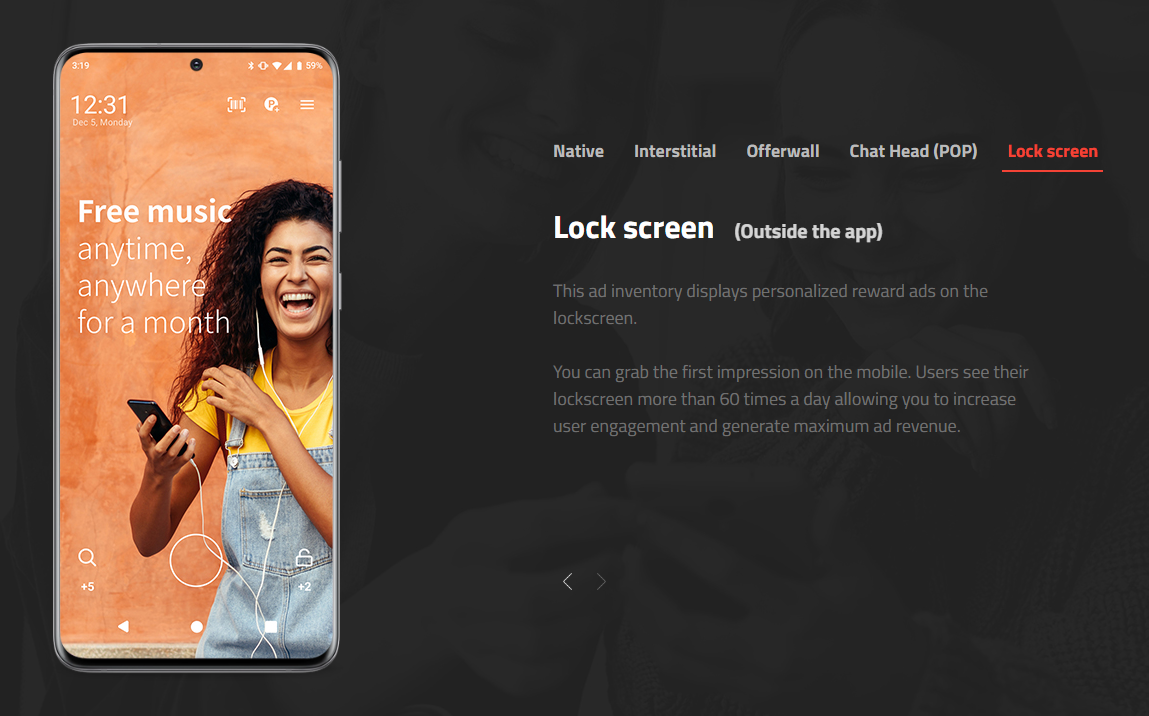 The lock-screen ads featured stunning imagery of the airline's destinations and offered users the opportunity to book a flight directly from their lock screen.
The campaign was a remarkable success, exploding brand awareness and driving an impressive ROI for the airline company. The lock-screen ads received an average display click-through rate of 8% for their display ad campaign, which was significantly higher than the industry average of 0.47%.
Buzzvil's inbound marketing campaign is a textbook example of how creating highly engaging and effective display campaigns can help companies expand their reach and leads.
Buzzvil analyzed the 5.4 billion monthly impressions earned from its partners' lock screen programs to identify positive industry trends, which showed that lock-screen campaigns have:
An average CTR of 0.28% (much higher than the .04% CTR with traditional media)
A 700% higher CTR than banner ads for mobile devices
No accidental clicks
With its unique lock-screen advertising approach and expertise in mobile marketing, Buzzvil is poised for continued success in the years to come.
Dive Deeper: 11 Brands That Are Doing Mobile Advertising Right
2) Salesforce – Leveraged an Asset to Establish Authority and Generate Leads
Salesforce, the cloud-based marketing automation software company, is immensely popular for providing CRM solutions to businesses worldwide. We can learn a lot from their inbound marketing journey, given their success in commanding digital placements and their position as a leading provider of CRM services.
When they released their "State of Sales" report, it created all sorts of activity and buzz surrounding sales efficiency and productivity: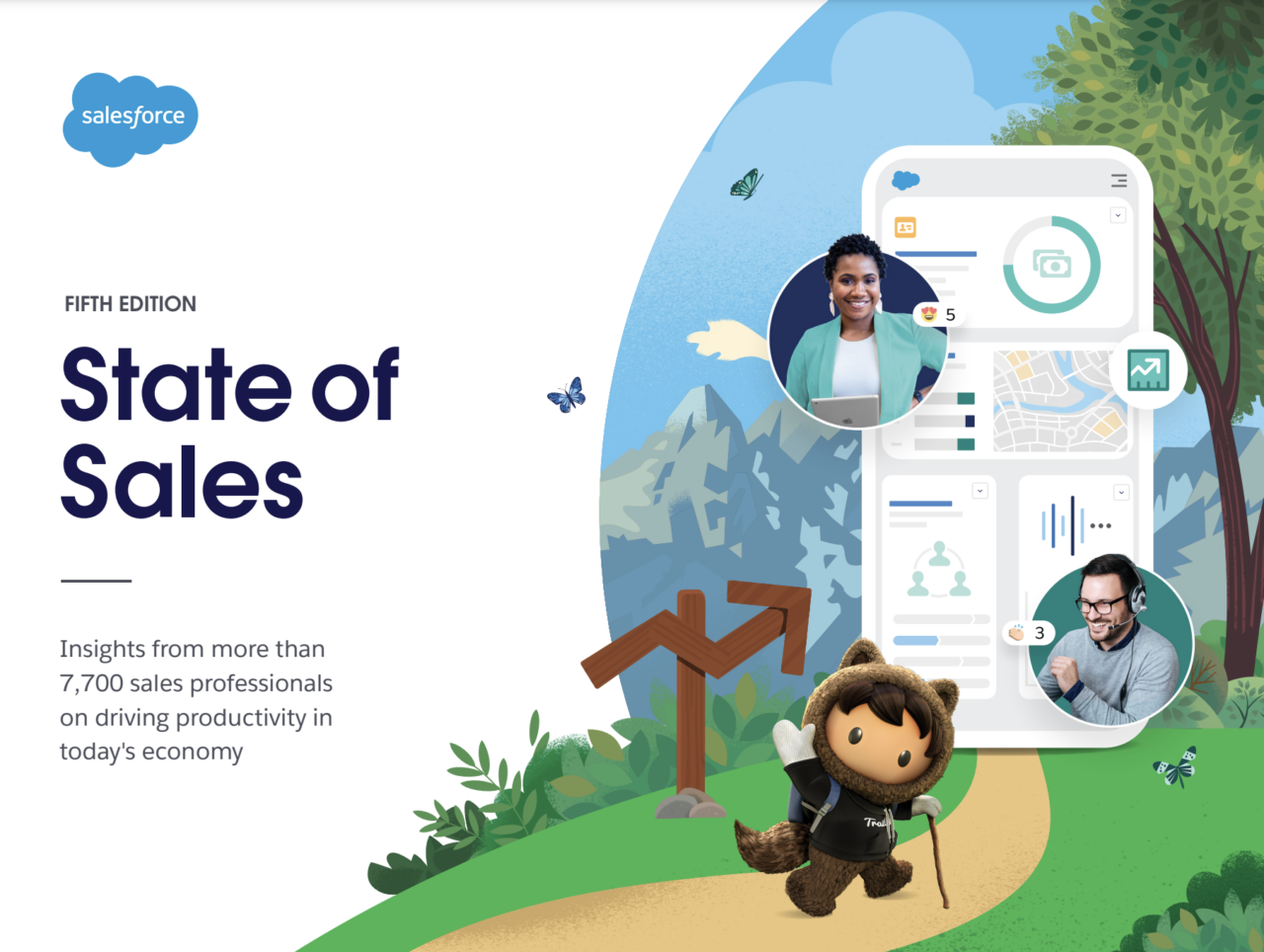 The asset-forward campaign gave an insightful analysis of the latest trends and challenges facing sales professionals. People loved it.
The report included data on sales performance, buyer preferences and technology adoption, giving sales professionals the information they needed to stay ahead of the game: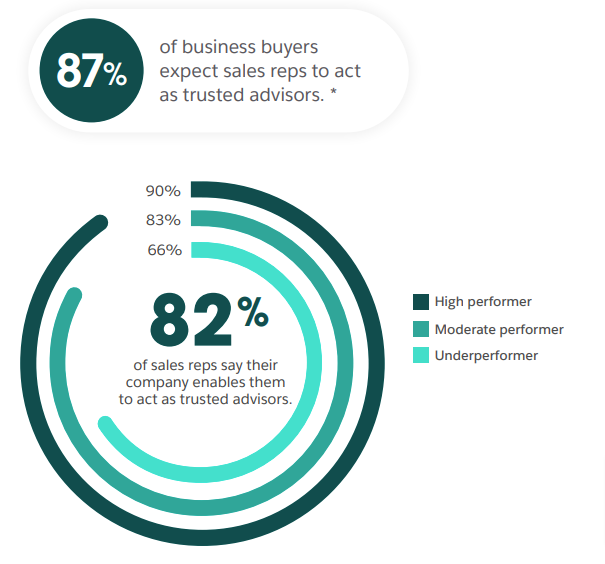 The after effects of the campaign made Salesforce's audience recognize them as an industry authority, given the vast amount of anonymized data they had to work with.
Salesforce was able to position itself as a thought leader in the business analytics scene and establish trust with its audience through the dispersal of the asset. The report was widely shared, which that helped drive website traffic, leading to increased product trials, sales and revenue.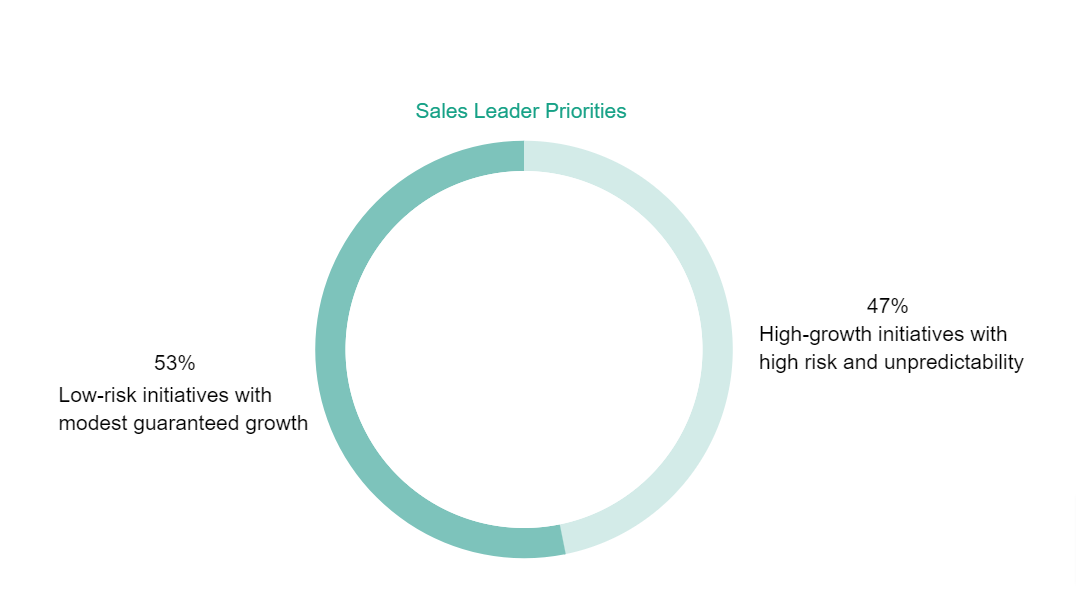 Salesforce was committed to providing high-quality content to its audience. It has helped them stand out in a crowded market, making them a staple in their industry.
Through leveraging their expertise and vast coffers of big data, they have been able to create an engaging and effective content strategy that satisfies an expressed need and generates results.
Dive Deeper: Absolutely Everything You Need to Know About 10x Content
3) BambooHR – Reduced CPL by Refining Their Lead Generation Campaigns
BambooHR, a fully inbound B2B organization, aimed to enhance its lead generation capabilities and generate more leads from new buyers. To achieve this, they focused on providing an engaging and relevant experience for prospects throughout the buyer's journey while reducing cost-per-lead.
To accomplish this goal, BambooHR implemented a strategic, four-tiered approach:
Image Ads: BambooHR's marketing professionals used single image ads to promote thought leadership content such as "How to Onboard Like a Pro" and "The Ultimate DIY HR Guide" to their target audience. These ads were designed to pique the interest of potential customers and educate them about HR-related topics.
Message Ads: They then used message ads to directly invite those prospects to sign up for a demo. This approach provided a more personalized experience, which was designed to appeal to their audience and encourage them to take action.
Lead Generation: After that, they implemented lead gen forms to provide prospects with a seamless sign-up process without having to leave the page. This feature made it easy for potential customers to sign up for a demo, making it more likely that they would follow through with their intention.
Retargeting: The last step was implementing website retargeting, which enabled them to reach site visitors who did not convert with single image ads. This approach allowed BambooHR to continue nurturing its audience, even after they had left the website.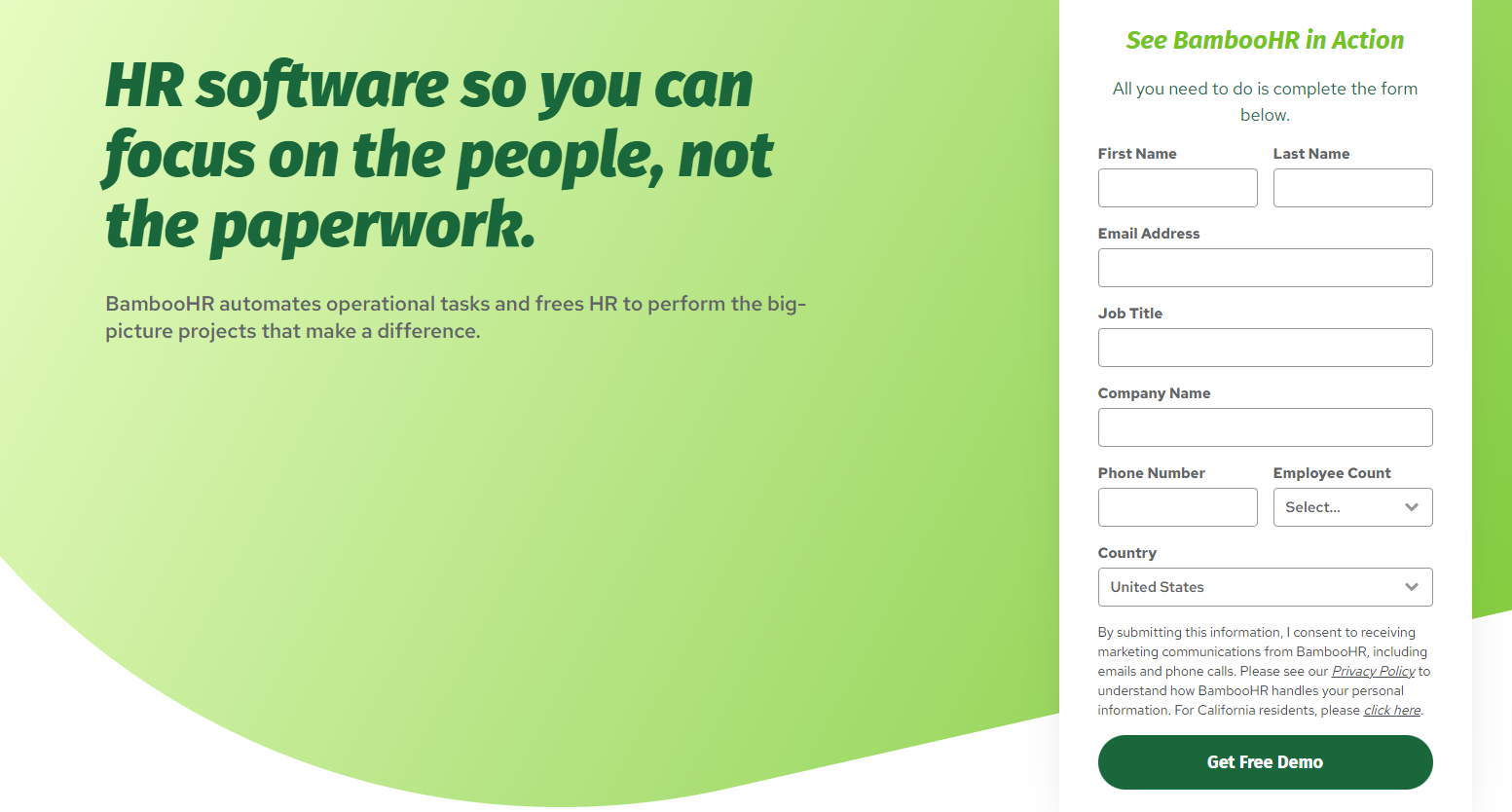 The lead gen form campaign performed significantly better than benchmarks, achieving over 40% higher efficiency in terms of cost per lead. Additionally, they achieved 53% higher submission rates versus forms on their website, indicating that their approach resonated with their target audience.
BambooHR's strategic, four-tiered approach to lead generation helped them break new ground, being highly effective in creating interest and generating leads from new buyers.
By providing a personalized and engaging experience for prospects at every stage of the buyer's journey, BambooHR has been able to achieve impressive results while breaking records with low costs per lead.
4) Nestlé Professional – Implemented a Paid Search Advertising Strategy That Drove Phone Calls
In the case of Nestlé, they partnered with the group Tenlo to help them grow their qualified leads and product sales for their juice dispensers. The main objectives for the Nestlé CoolPro commercial juice dispenser were to:
Establish a preference among potential buyers
Generate marketing-qualified leads for the sales team to follow up on
Assist the sales team in securing machine placements from Q2 through Q4 of the project year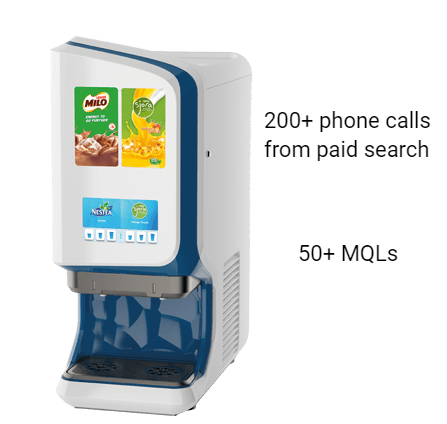 The paid media strategy followed a path of targeted placements that housed B2B prospects, such as LinkedIn and Google Ads, and followed this path structure:
Demonstrated Relevance: They first adapted the client's audience and buyer personas into well-crafted and efficient targeting structures through our primary social channels.
Identified Points of Engagement: Then, Tenlo conducted tests using LinkedIn and paid search ads to pinpoint the areas where different target market segments were most likely to connect with the valuable content.
Validated Business Value: They then employed both emotional and logical creative approaches to clearly communicate the product's value proposition and determine what motivates the audience to request a product consultation.
Adhered to the Sales Process: Leveraging the value proposition, they attracted and captured potential buyers using paid search and email marketing and directed them to a landing page that facilitated a product consultation request.
Executed, Experimented and Analyzed: Tenlo and Nestlé crafted a comprehensive plan, tested various creative approaches and channels, and successfully scaled the tactics that demonstrated the best performance.
The campaign efforts amounted to over 200 phone calls from paid channels measured by a call tracking service, leading to inquiries regarding the dispenser. From that, 50 considerable leads were generated, marking the campaign as a resounding success.
Dive Deeper: MQL vs. SQL – Serve Up The Right Type Of Content To Your Leads
5) ADP – Entered the Community by Engaging on Social Media Accounts
The payroll solutions group ADP wanted to improve the brand's reputation beyond just payroll and benefits administration. They wanted to connect more with people through social media outreach to build rapport in the community.
To do this, they decided to focus on LinkedIn because it's a great platform for business-to-business connections: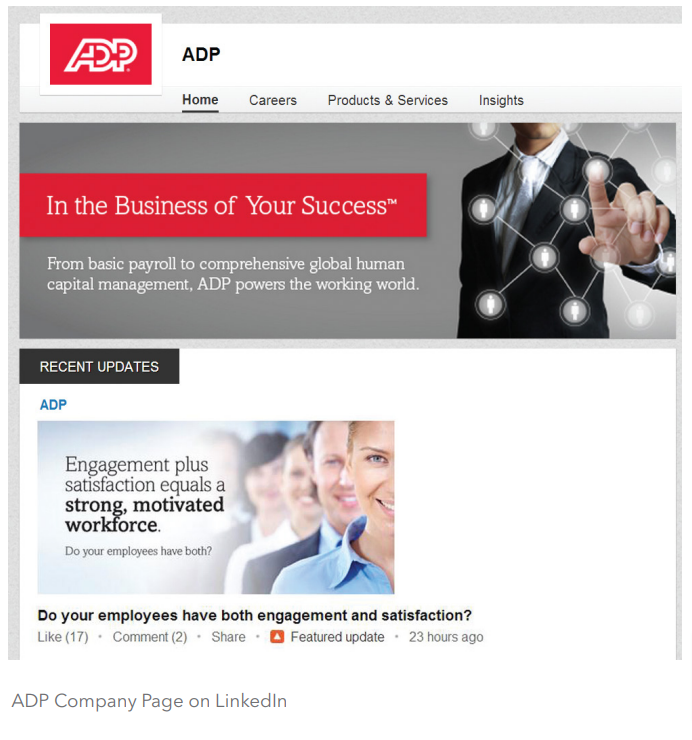 They used the social tools available on LinkedIn to share content and increase engagement with their audience. After creating a LinkedIn Company Page and targeting sponsored content, they were able to double their followers to 85,000 in just one year as well as: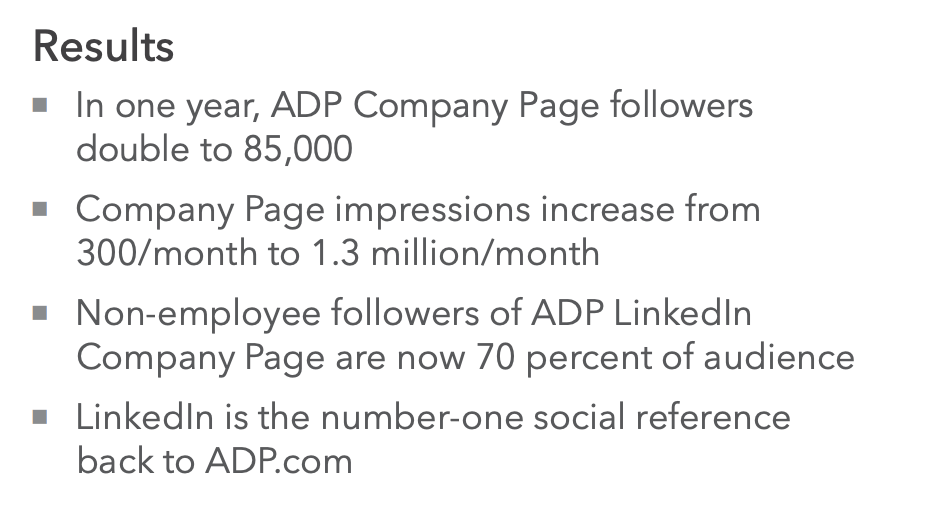 ADP's Company Page on LinkedIn has become a go-to reference for people wanting to learn more about the company: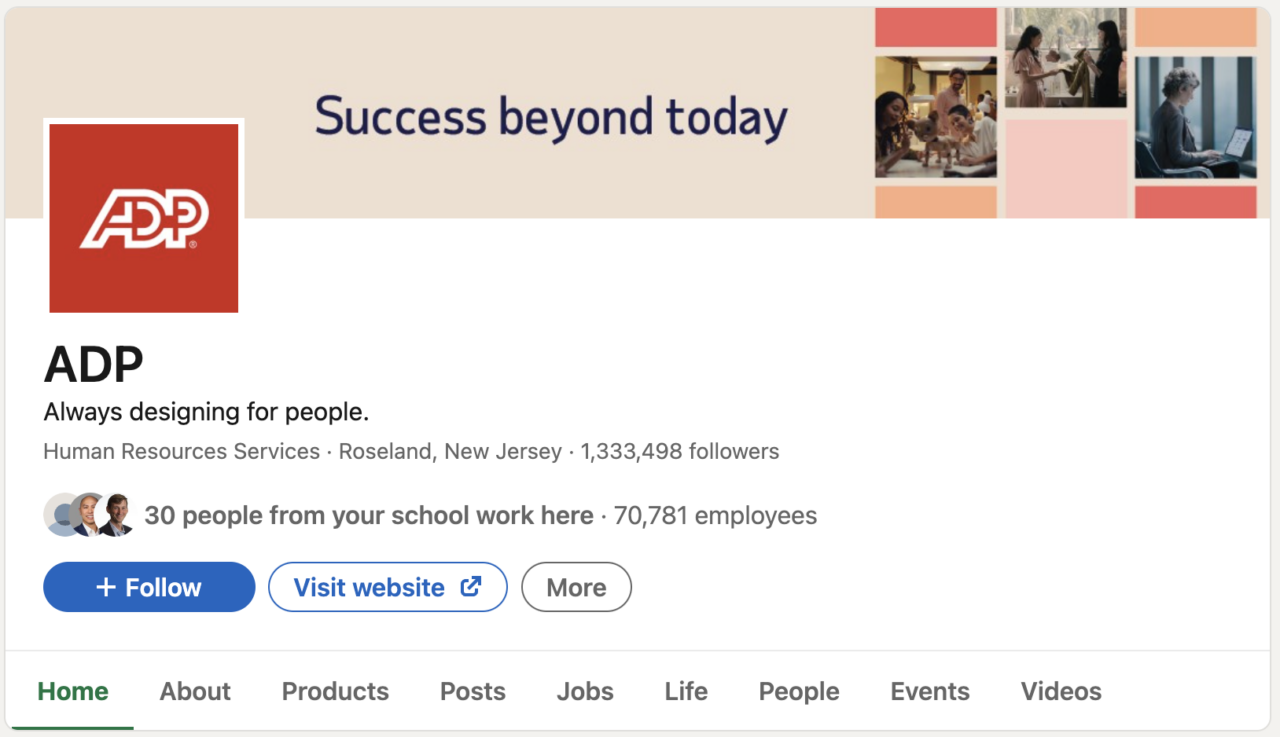 By sharing thought leadership and having real conversations with its audience, ADP has successfully boosted its online profile. And the best part? LinkedIn is now their number one social reference back to their website!
Dive Deeper: LinkedIn Ads for Enterprise B2B SaaS: The Only Guide You'll Need
6) Cisco – Optimized Their Lead Nurturing Strategy Through Conversation Ads
Cisco, the multinational software solution for networking hardware, telecommunications equipment and other high-technology services, needed to find a better way of communicating its service offerings with its potential new customers.
The business challenge for CISCO was to effectively connect its diverse data security solutions to the right buyer needs. This was difficult to achieve solely through data-driven marketing, since it was hard to predict the exact needs of each buyer.
To address this challenge, CISCO and its inbound marketing agency, DWA Media, developed a Conversation Ads campaign that engaged with data center buyers directly to understand their specific needs.
The campaign guided buyers through the sales funnel…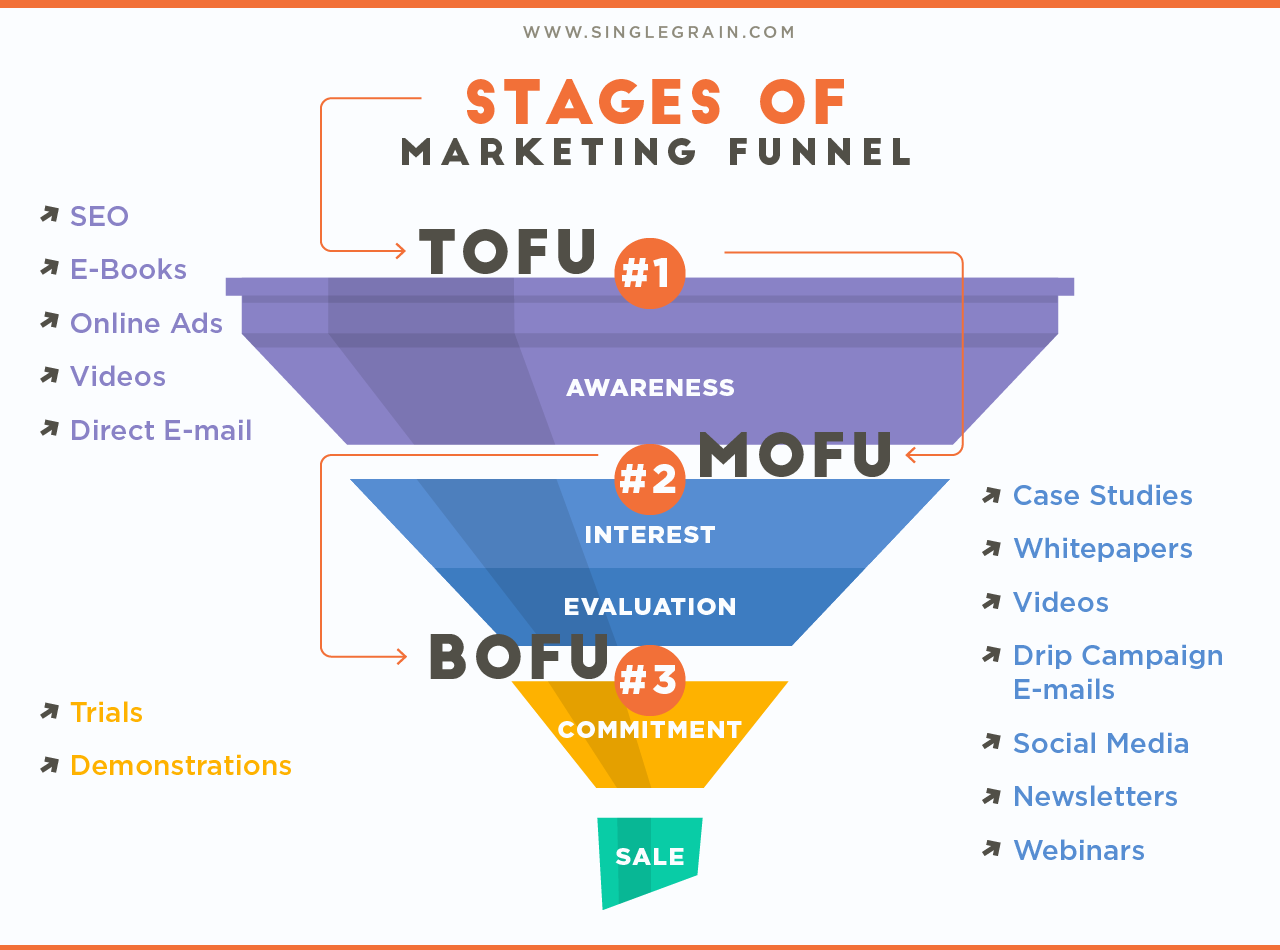 …and offered them different options based on their needs, including:
E-books
Video talks
Webinars
Demos
Speaking to product specialists
The targeting strategy of DWA Media reached likely data center buyers, and the retargeting of visitors to the CISCO data center website proved to be effective.
The Conversation Ads generated:
an open rate of over 62%
a click-to-open rate of over 7.6%
leads at a rate of over 14.6% (and the conversion costs were significantly lower than CISCO's targets)
Dive Deeper:
* Retargeting 101: Why It's Essential for Any Marketing Funnel
* What's the Right Content for Each Stage of the Marketing Funnel?
* The Types of Videos to Use at Each Stage of the Marketing Funnel

7) Adobe – Connected Account-Based Marketing Strategy with LinkedIn
Adobe Experience Cloud faced inefficiencies due to siloed strategies within their content marketing strategy and sales teams.
They needed to have a more unified process that delivered marketing-qualified leads into the right stage of the sales process to support sales.
They turned to LinkedIn to connect relationship-based sales with marketing efforts through a focused account-based marketing framework. By targeting top decision-makers and business owners on LinkedIn, Adobe gained more clarity and precision in their ABM efforts.
Matt Rozen, Adobe's Director of Enterprise Editorial and Social Media at Adobe phrased ABM marketing like this:
"ABM is clarity on who we are trying to meet. And you can't really do that on any platform other than LinkedIn."
The results of the project showed that 42% of closed-won deals were influenced by marketing on LinkedIn, and 55% of closed-won deals were influenced by sales powered by Sales Navigator:

The collaboration across marketing and sales on LinkedIn helps Adobe deliver consistent, relevant experiences throughout their customer's journey.
Adobe's results speak for themselves with higher close rates and bigger deals.
Dive Deeper:
* How Adobe Does SaaS Marketing: A Case Study
* The Account-Based Marketing (ABM) Mega Guide

8) Dell – Expanded Audience Reach and Maximized CTR
Technology company Dell used LinkedIn to showcase its state-of-the-art monitors and client peripherals by combining engaging graphics with clear messages about ergonomics and productivity.
The objectives were to:
Present both IT and business decision-makers with Dell's product line
Create greater awareness among influential end-users via a customer engagement strategy
Move businesses through the customer journey stages from awareness to readiness to purchase
Solidify Dell's position as the leader in the commercial monitors market

The campaign exceeded internal targets and industry benchmarks, with a click-through rate of 0.52%.
By combining data-driven insights with striking visuals and short video ads, Dell's LinkedIn campaign played a vital role in its integrated, full-funnel marketing strategy to move businesses through the funnel from awareness to readiness to buy.
The ability of LinkedIn to generate high-value engagement at scale gave it a valuable role in Dell's multi-channel, always-on strategy for promoting monitors and client peripherals.
Dive Deeper: The Ultimate Guide to Creating a LinkedIn Ads Campaign
Final Thoughts on B2B Case Studies
There's a lot to be learned from the way other B2B brands tackle their online marketing strategy. Sometimes it's hard to conceptualize until you've read or watched the testimony. And after that, it can spur whole new ideas that you can apply to your own brand.
Remember, it's vital to stay up-to-date on the latest digital marketing trends and continually test and refine your approach to stay ahead of the competition. Resist stagnation and constantly look forward to what you can do next.
Ready to grow your B2B business with innovative digital marketing? We can help! Click below to request your free B2B marketing consultation. 👇