5 YouTube Trends You Can't Ignore in 2023
[Free Consultation] Are you spending money on advertising but not getting the results you want? Are you looking for more sales and leads but have no idea where or how to start? Get help from our world-class marketing experts in a free consultation call.
Click Here To Schedule Your Free Consultation Now
For websites, Google reigns as the king of search results. For images, that's Google Images, the second-largest search engine in the world. And for video, you probably know the answer: YouTube.
With an estimated 2.24 billion users, YouTube has become ubiquitous for marketers and consumers alike.
A big part of YouTube's extreme popularity comes from its capacity to adapt to the latest consumer trends and habits (you know, Facebook isn't the only company trying to copycat TikTok and Snapchat).
If you aren't aware of what these latest trends are, keep reading. 
Book My Free YouTube Ads Consultation
5 YouTube Trends You Can't Ignore in 2023
Marketers benefit from engaging a massive audience with informative content, which is why 55% of them use this platform in their marketing strategy. At the same time, consumers get to connect with their favorite brands on a level unparalleled to almost any social network.
According to Alexa, YouTube is the second most engaging website globally, with a daily average time on site of 19 minutes. In the U.S. alone, 81% of adults use it, making it the most widely used online platform: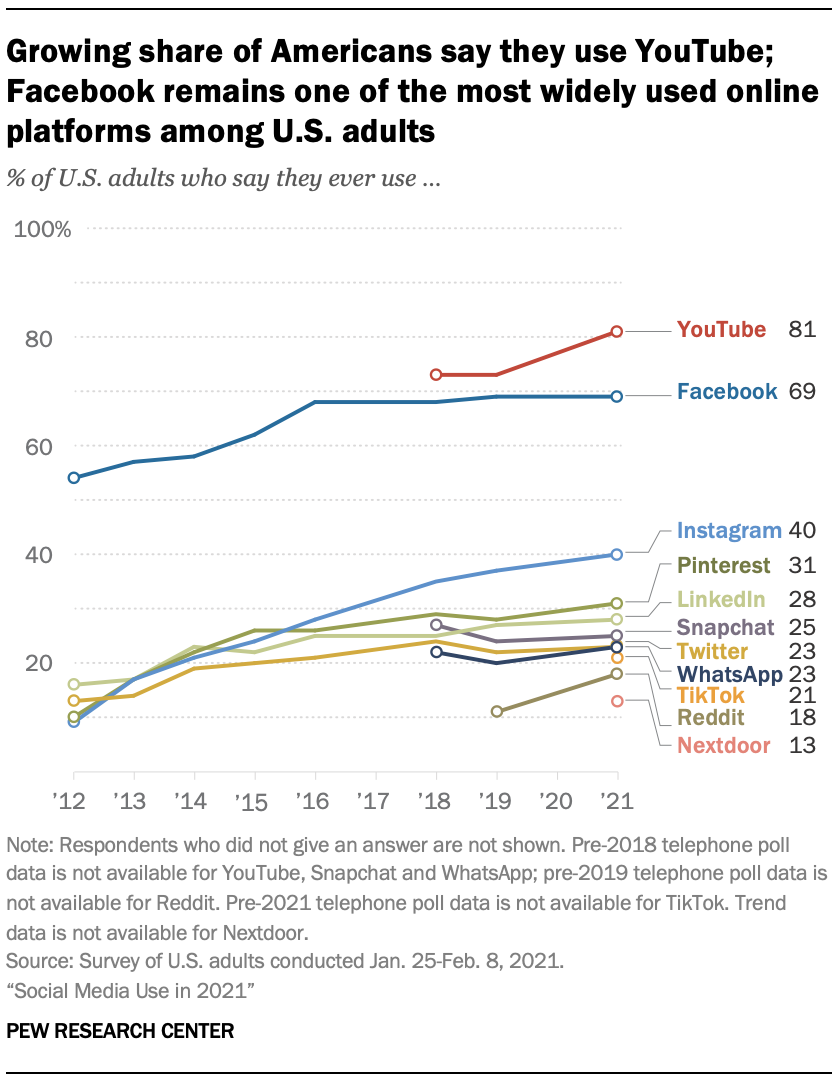 In this article, you'll learn what the YouTube trends are in 2023 (and going into 2022) that will help you get on the top of its algorithm and grow your following massively.
Trend #1: Live Streaming
Live streaming, the process of broadcasting a live event online, is slowly taking over TV broadcasting. A 2019 report found that live video streaming had grown 93% compared to the previous year, with an average viewing time of 26.4 minutes per session.
YouTube knows that consumers like the convenience of live streaming, which is why they made Live, their live streaming functionality, a core part of their business model:

As a matter of fact, YouTube's live streaming of Coachella 2019 attracted a record-breaking 82.9 million live viewers.
So how does live streaming relate to your brand? To start, live streaming is a must if you run events regularly.
Whether you run industry-wide conferences or small meetups, you want to give your subscribers the option to watch your events live from the comfort of their homes (or offices).
Even without COVID-19 restrictions, such as indoor masks and event attendance limitations, not every attendee is able to participate in your events; live streaming offers a solution to such a challenge.
You can also use live streaming to engage your audience and project an aura of authority by:
How to Live Stream on YouTube
To start running live streaming on YouTube, all you need to do is enable it on your channel by:
Clicking on the "Create" button that's next to your search bar

Then clicking on the "Go live" option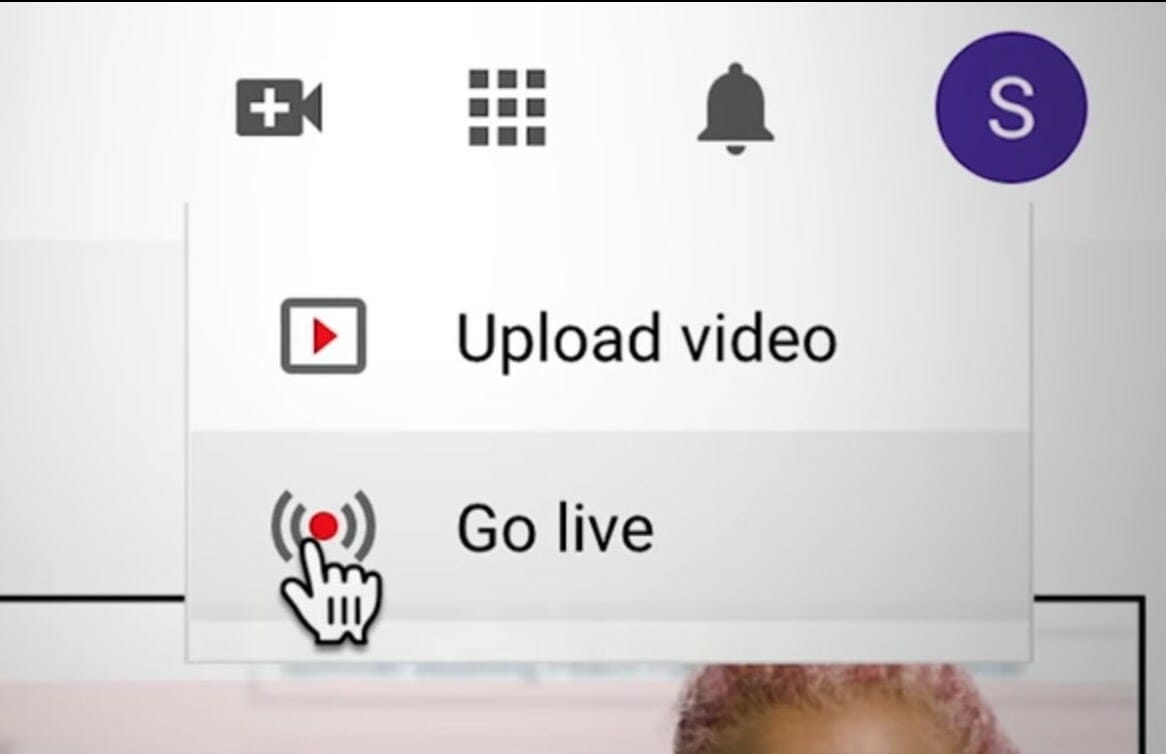 Within about 24 hours, YouTube will activate your account for live streaming, and you will be ready to go.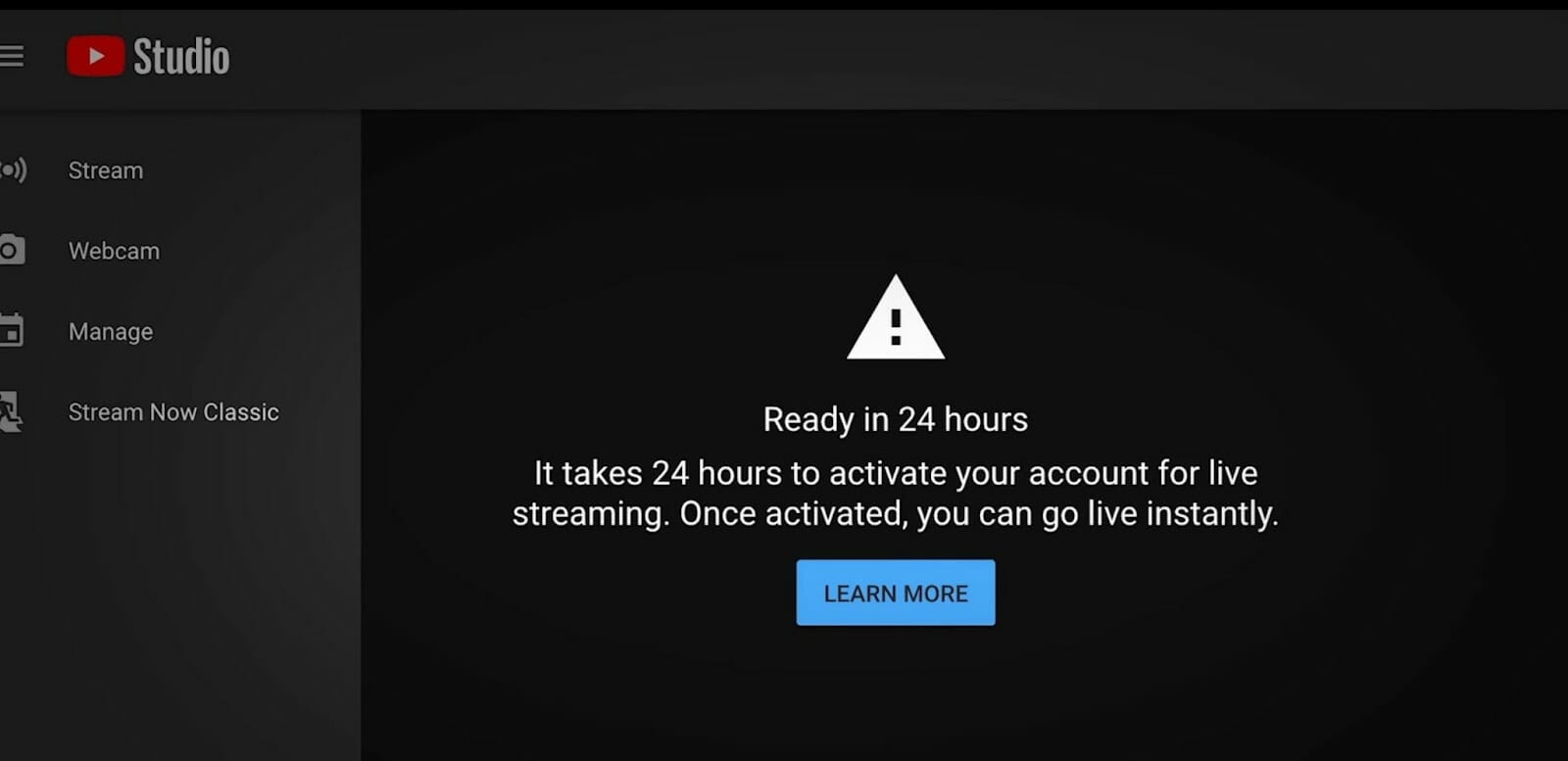 After YouTube enables your account, you can start live streaming by repeating the two steps shown previously. You will also have to set up your video's title and description as with a regular video.
Since setting up a live stream event can be a bit of a hassle, make sure to test your setup, Internet connection, camera framing, and audio quality by running a private stream inside YouTube Studio.
Schedule your session so you can take the time to promote it to your current subscribers (more on that later), your social media following, and your email list.
Finally, during the live stream, engage with your audience by checking the live chat and comments. After the live stream is over and your video goes live on your channel, your viewers will be able to see the entire live chat and find any answers to their questions.
Learn More:
* 5 E-commerce Trends You Can't Ignore in 2023
* Live Streaming Videos: The Most Powerful Way to Share Content
* The Ultimate Guide to YouTube SEO: How To Get More Video Views

Trend #2: YouTube Shorts
In 2020, TikTok was the most popular app in the world with 850 million downloads. Snapchat, one of its main competitors, took seventh place on this list with 281 million downloads. 
While these apps were taking the app market by storm, YouTube got to work. The goal? Create a feature that would provide the same experience as TikTok and Snapchat but for YouTube's extensive network of creators. 
Thus, the video platform launched YouTube Shorts. Although the app is still in beta mode, its aim is clear: Let users create videos up to 15 seconds long and make them go viral:
Like their competitors, Shorts allows content creators to take multiple video segments and clip them together using a wide range of music tracks and captions. Unlike YouTube's traditional video search menu, Shorts give users an algorithmically generated feed with videos from their favorite creators.
YouTube's enthusiasm was so strong that they put Shorts right on its mobile dashboard, replacing their "Explore" button: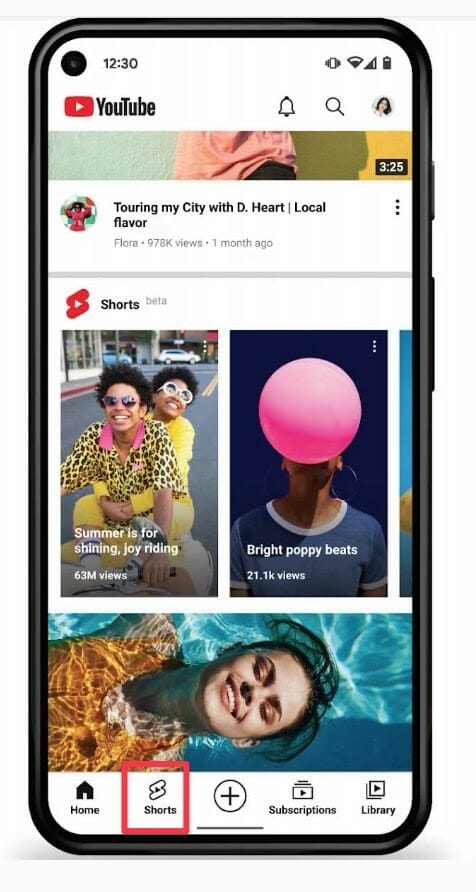 And if this wasn't enough, they even launched a $100 million YouTube Shorts Fund to reward their most active creators.
It's too early to tell the results of YouTube Shorts compared to TikTok or Snapchat, but it would be hard to deny that its future looks bright. 
To start using YouTube shorts in your content marketing strategy, you need to think of it as a complement of TikTok, Snapchat and Instagram Reels.
Whatever you do on these platforms, you want to take it to YouTube. Better yet, consider adapting your current and future videos to this new format, leveraging YouTube's music library and hashtags.
You can also use Shorts to build excitement before and after you publish a video.
Learn More:
* 17 Types of Video Content That People Actually Want to Watch
* 20 Pre-Production Tips to Create Successful Video Content
* How to Build a Massive YouTube Presence for Your Brand or Business

Trend #3: New Content Creation Practices
YouTube is in a state of constant evolution, launching new features that give creators the ability to engage with their audiences in fresher and more innovative ways.
Over the last year, YouTube launched two features that will change how you present your videos:
Chapters
Chapters allow creators to segment their videos into sections, each with its unique name, so that their viewers can skip to the parts they want to see by clicking on the video progress bar (similar to book chapters, hence the name):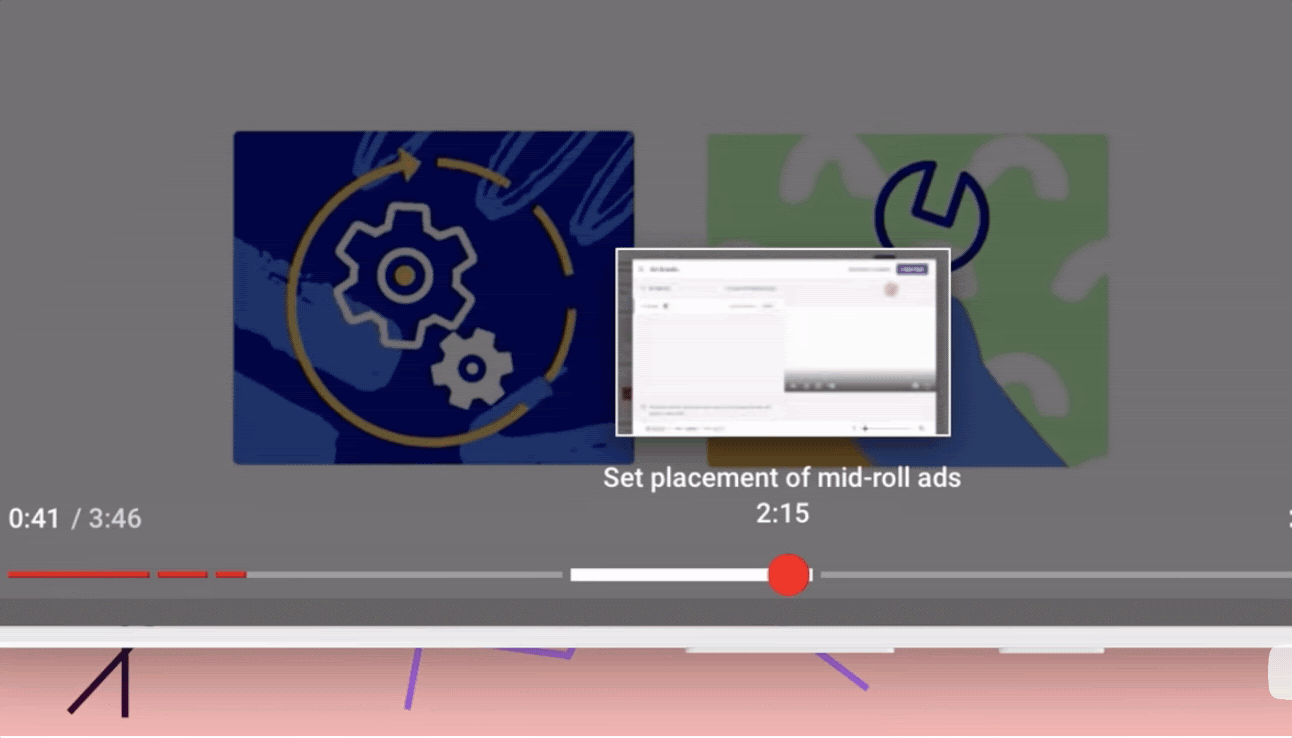 To add chapters to a video, you need to manually add the name and timestamps of each section in the description. You are required to set up the first chapter with the timestamp 00:00. You also need to add at least three timestamps listed in ascending order, with each one having a 10-second minimum length: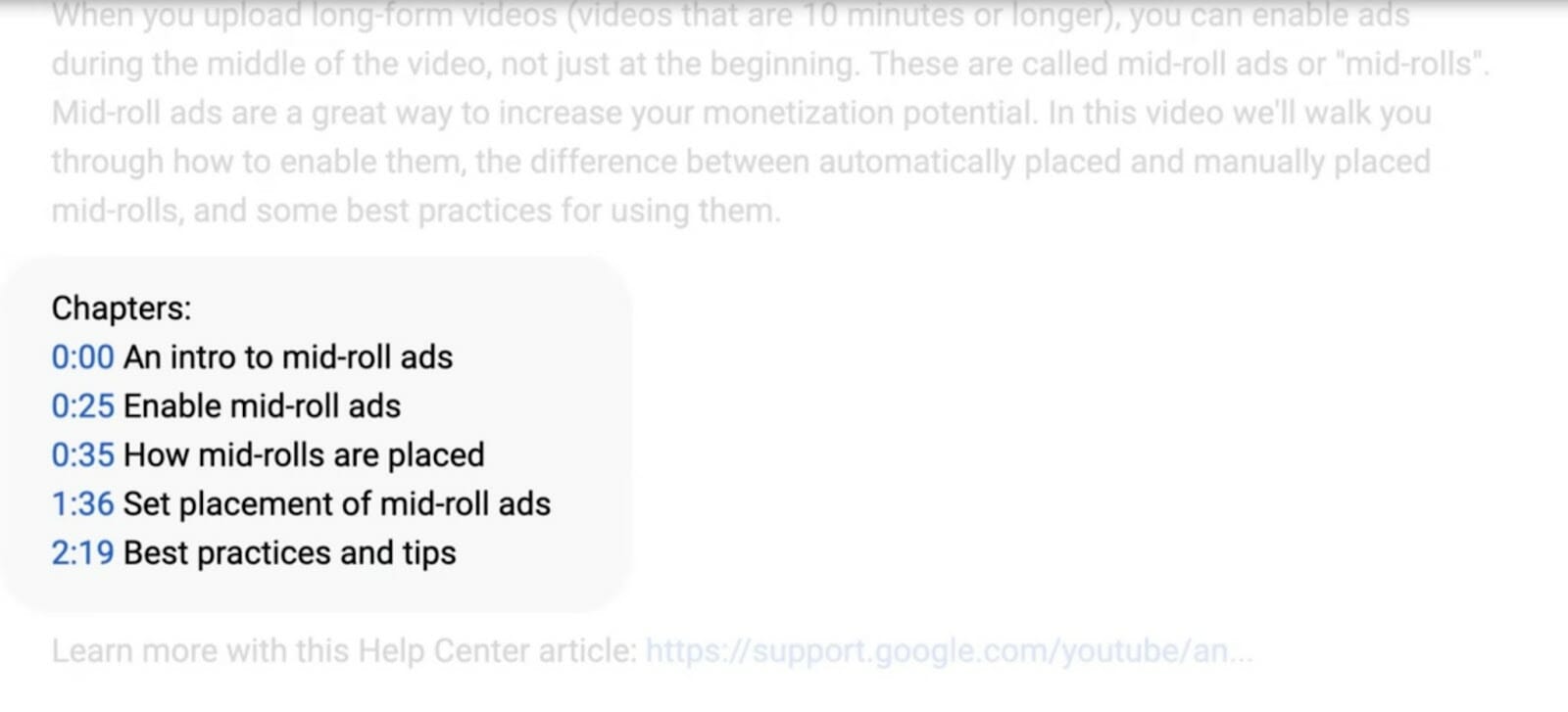 Note: You can also set up automatic chapters by checking the "Allow automatic chapters (when available and eligible)" on your video description page.
Here's a short tutorial from YouTube that explains how chapters work and how to set them up properly:
One benefit of using chapters is that your video can end up positioned as a "Suggested Clips" on Google above most (if not all) search results. This helps creators diversify their traffic source even further.
When a user is shown a Suggested Clip in the SERPs, they can jump to a specific point in the video where the answer to the search query appears: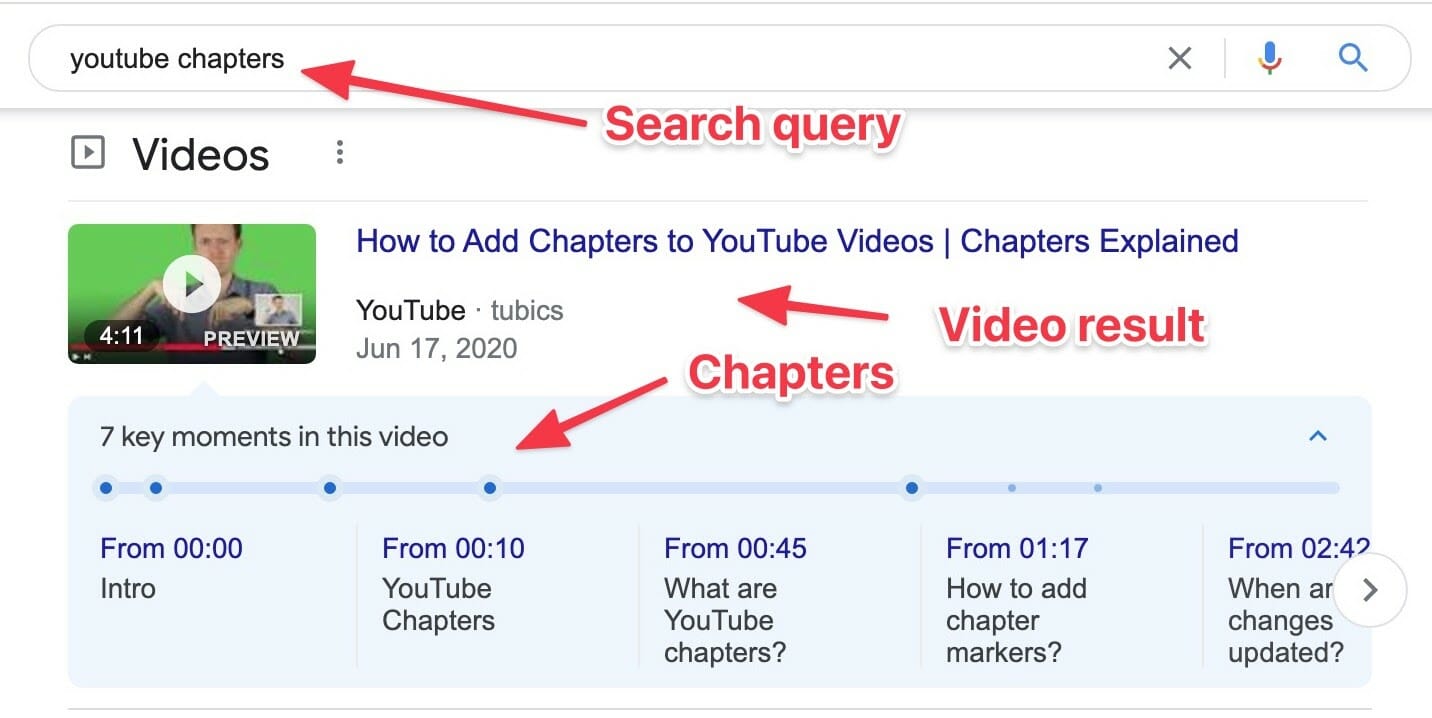 Premieres
Premieres allow creators to publish a new pre-recorded video while simultaneously engaging with their fans through live comments, reminiscent of a live streaming experience. Here's a basic rundown on how Premieres work:
To make the most out of a Premiere, you want to promote your video as much as possible using some of the newer community engagement options shown above.
By the time the video goes live, be sure to answer any questions that arise and communicate openly with your viewers. After the Premiere ends, your video will get a "Premiered" and the date when it was published. Your viewers will also be able to see the live chat as it happened during the Premiere: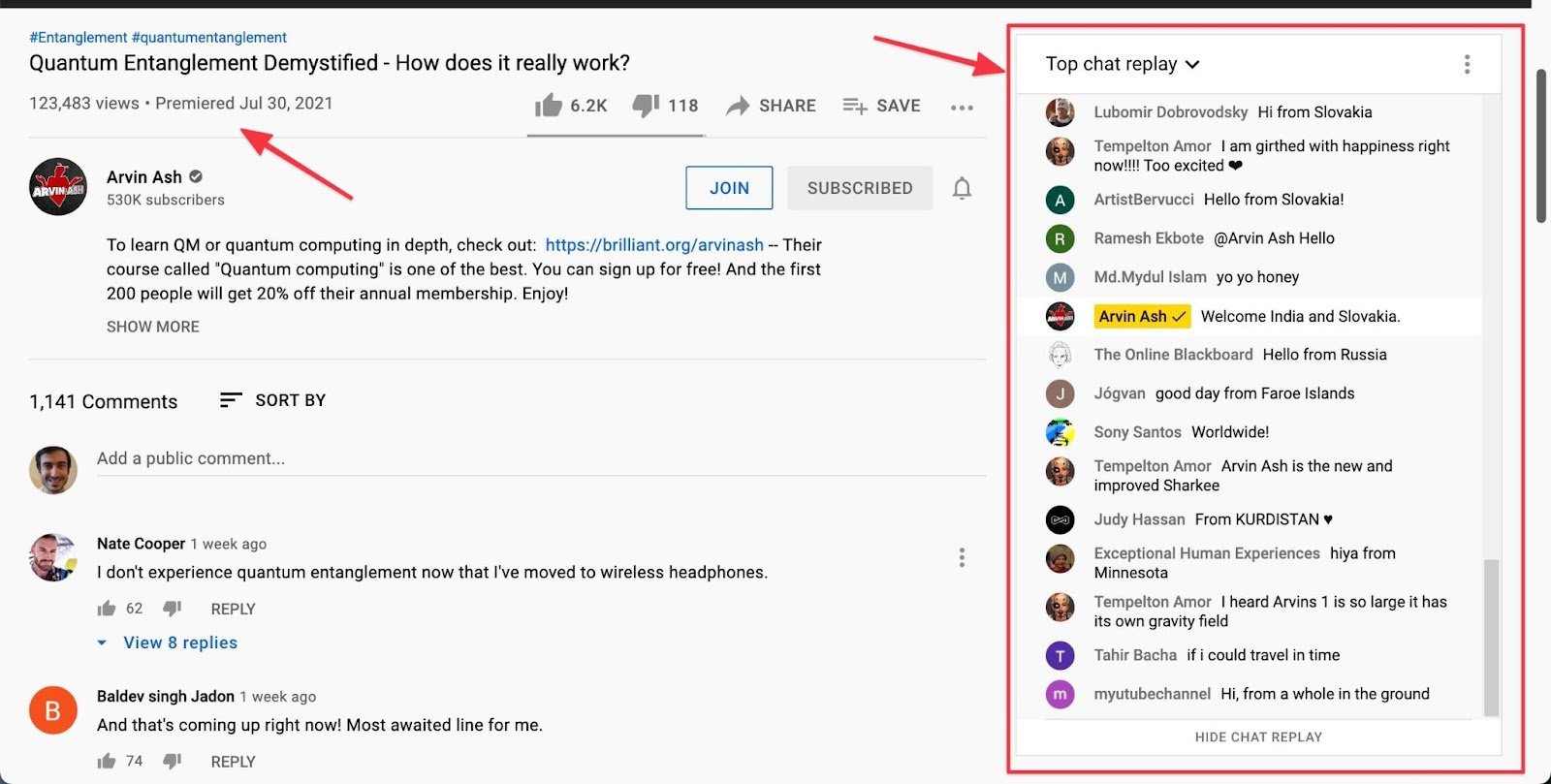 Book My Free YouTube Ads Consultation
Trend #4: Community Engagement
Until recently, users could communicate with creators through comments and likes (or dislikes), but not the other way around. For whatever reason, YouTube has never given creators the option to engage with their audience other than through their videos, descriptions or comments. 
Now YouTube has created a "Community" tab that allows creators with over one thousand subscribers to interact through polls, text, images, video and GIFs: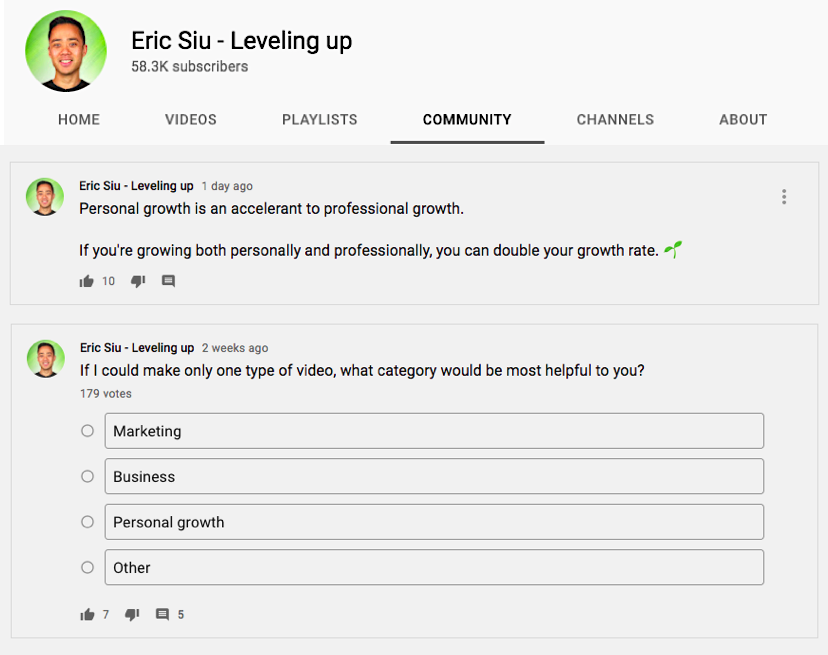 Content creators use the Community tab to message their audiences about the latest news, ask them interesting questions (some of which may guide their content creation efforts), and more. In this sense, the Community creates an experience similar to a Facebook page.
Here's a quick explanation that explains how to create content on the Community tab:
From all the options available on the Community tab, here are three that are trending right now:
Polls
Polls are a sure-fire way to engage a community. One such way that YouTubers use polls is to ask their subscribers about the type of content they want them to create.
Polls are also useful to start a discussion about an interesting or controversial topic about the channel:

To create a poll, you need to create a post and then select the "Poll" option:

Then enter the question in the text field and the answers in the "Add option" fields. Repeat the process until you have added all your questions and potential answers. (Note that each option can be 65-characters long.)
Promote New Content
You can use the Community tab to build excitement before and after publishing a video:

When you create a post, YouTube will notify those subscribers who have activated notifications.
YouTube also promotes Community posts to mobile users regardless of whether they have subscribed to your channel or not. As a result, your content may end up receiving much greater attention than you'd expect from your subscriber count.
To spice up your content even further, you can add images, videos and GIFs:
Communicate Openly
The best part of the Community tab is that it allows you to communicate freely with your subscribers without being confined to just one video's comments section. This allows you to take a creative and unique approach to engage with your subscribers:

You can also ask your subscribers to engage with you by giving their opinions on various topics:
Trend #5: YouTube Ads
Although YouTube Ads are not new per se, I've included them in this trends piece because they continue to improve and drive value, so marketers should still take advantage of them.
Until recently, Facebook was the leading platform for video advertisements, but as advertisers have reported ever harsher policies towards them, many have been moving their budgets to YouTube. This isn't a matter of looser ad policies — Google isn't known for such a thing — but, rather, results.
YouTube mobile advertising is 84% more likely to grab consumer attention than TV ads.
Intent-targeted YouTube ads have a 100% higher lift in purchase intent and a 32% higher lift in ad recall than those targeted by demographics.
Types of YouTube Ads
Advertisers can choose between four ad types:
Pre-Roll Video Ads: These ads show up before a video load. They usually last between 15-20 seconds and are usually non-skippable. Since advertisers pay per click and not impressions or views, pre-roll video ads are the most cost-effective for conversion-focused campaigns.
In-Stream Ads: These are similar to pre-roll ads, except users can skip them after five seconds and they work on a per-view basis. Advertisers use in-stream ads for brand awareness campaigns.
Bumper Ads: These are a mix of the last two ad types — they are up to six seconds long and can't be skipped. Although they may not be as common as pre-roll and in-stream ads, Google found that, in 600 bumper campaigns, 90% drove a significant lift in ad recall (average lift was 38%).
Overlay Ads: These are display ads that show up at the lower 20% of a video. They only work on desktop and show up when users start playing a video. Advertisers pay based on CPM, which fits in brand awareness campaigns.
Unlike traditional display and text-based ads, video ads on YouTube should focus on engaging the user quickly. As we explain in our ultimate guide on YouTube advertising:
You should aim to get 20% of people to watch your video ads with an average 1.6% click-through rate.
The first 5-8 seconds should entertain, shock or inform the viewer about something that relates to their problems. If you can get a user to connect the dots between your ad and their life, it will be easy to get them to watch the entire ad. Take a look at the following 30-second example:
The video by Hack Reactor, a coding bootcamp, quickly takes the viewer throughout the day of a student — that is, their target audience they are trying to persuade with the ad.
In the first few seconds, they say: Welcome to the life of a Hack Reactor student, where you just don't learn to code; you learn to think like a software engineer.
By presenting their target audience with their value proposition, Hack Reactor hooks them right away. Their sole focus is to present the story of how their life will change once they enroll, which is also engaging on its own.
If you want to learn the basics of how YouTube advertising works, here's a 3-minute video that we put together:
Learn More:
* How to Pick the Right YouTube Ad Types for Your E-commerce Business
* YouTube Analytics: Your Guide to Measuring Channel Performance
* How to Grow Your YouTube Subscribers Without Spending a Ton of Money

Last Words on YouTube Trends
These five YouTube trends from 2021 are just the beginning. By the time you read this article, it's likely that new practices and features will emerge.
Take advantage of these opportunities before everyone hops on them or they become a thing of the past. And you never know – YouTube's algorithm may reward those creators who use the latest trends that are proven to work.
Take action today to expand your following from YouTube's latest trends.