YouTube trends refer to the popular topics, themes and content styles that dominate the platform at any given time. By keeping a finger on the pulse of current YouTube trends, you can produce content that people are watching right now to enhance your chances of success.
In this article, I will share the top YouTube trends to help you reach a wider audience by creating viral content that resonates with the most viewers. Let's begin!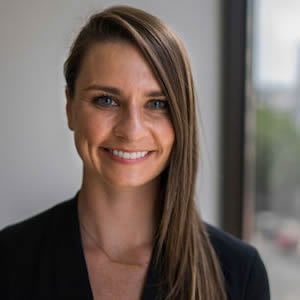 Jacqueline Foster

Demand Generation Marketing, Lever.co

We can count on them to bring new ideas to the table consistently
The Hottest YouTube Trends to Keep an Eye On
With an estimated 2.68 billion users, YouTube has become ubiquitous for marketers and consumers alike. At the same time, consumers get to connect with their favorite brands on a level unparalleled to almost any social network.
As a marketer and YouTube content creator, you should track the latest trends via statistics and reports. This will help you reach and engage with audiences in an impactful way and discover current popular topics to drive higher views, increase engagement, and attract new subscribers.
Here are the top 13 trends to incorporate into your YouTube content creation:
Trend #1: Leverage the Power of Challenge Videos
Challenge videos are one of the most popular trends on YouTube. They are a fun and effective way to engage your audience and create a sense of community around your channel.
Google Trends tracks and displays YouTube search data, scaling the numbers in a 0 to 100 range, with 100 being the most popular and 0 being the least popular. The term "challenge" has a popularity that remains in the 80s.


This ongoing interest in YouTube challenge videos can help you increase your subscriber count and get more views than regular videos. Challenge videos typically involve setting a goal or completing a task within a specific timeframe, often with a humorous or lighthearted twist.
Here is an example challenge video from Dobre Brothers uploaded on their YouTube channel, where you can see them competing in a spicy food challenge:
Challenge videos are a great way to showcase your personality, helping you differentiate your content from other channels. Choosing a challenge that is relevant to your spectators and aligns with your brand or channel's values is essential. Also, you should ensure that the YouTube challenges are safe, appropriate, engaging and entertaining for your followers.
Dive Deeper: 18 Engaging Video Content Types that People Love to Watch
Trend #2: Create Mini-Masterpieces with YouTube Shorts
More than 1.5 billion viewers watch trending YouTube shorts monthly, which makes them one of the leading trends on YouTube.
Shorts videos are a relatively new feature on the YouTube platform, similar to TikTok videos or Instagram reels. These are vertical videos up to 60 seconds long displayed in a separate section of the YouTube app or website. They are designed for quick and easy consumption by your followers.
They can be a spectacular sports moment, like this one that got 1.6M likes and 3.8K comments:   
Or they can be humorous, like this example of a YouTube short with over 795 million views:
YouTube Shorts are popular among the younger generation watching. It is one of the most popular YouTube trends, offering a fun and engaging way for creators to help their followers discover new and trending videos quickly.
Trend #3: Make Use of Live-Streaming to Enhance Your Reach
YouTube knows that consumers like the convenience of live streaming, which is why they made Live, their live streaming functionality, a core part of their business model:

As a matter of fact, YouTube's live streaming of Coachella 2019 attracted a record-breaking 82.9 million live viewers. According to Google,
"Of the 100 most popular YouTube live streams, in terms of greatest number of peak concurrent viewers, over 60 happened in the past two years."
Most social media sites offer live streaming options to showcase your action or work to your viewers. YouTube also allows spectators to watch captivating live video streaming for both educational and entertainment purposes. These live videos significantly attract viewers' attention and enable you to enhance your reach. You can also use live streaming to engage your audience and project an aura of authority by:
Live streams make video content appear more authentic and reliable. Content creators and businesses use this live-streaming feature of YouTube to start unfiltered conversations and spread important news with their subscribers and spectators.
Learn More:
* 5 E-commerce Trends You Can't Ignore in 2023
* Live Streaming Videos: The Most Powerful Way to Share Content
* The Ultimate Guide to YouTube SEO: How To Get More Video Views

Trend #4: Build Strong Relationships with Community Engagement Videos
Building a strong sense of community helps content creators and YouTubers establish a loyal and engaged audience base that significantly helps them to grow their channel. Now YouTube has created a "Community" tab that allows creators with over one thousand subscribers to interact through polls, text, images, video and GIFs: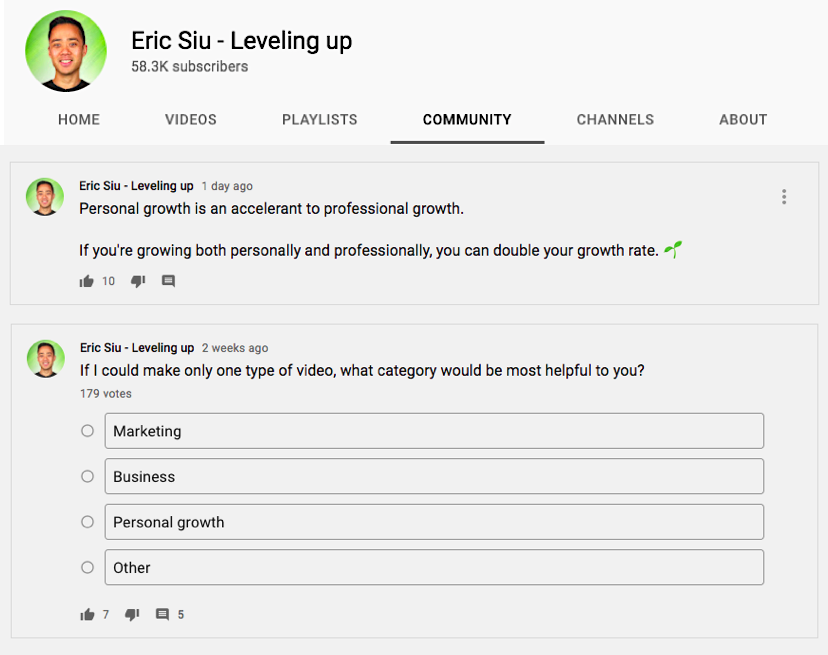 Content creators use the Community tab to message their audiences about the latest news, ask them interesting questions (some of which may guide their content creation efforts), and more. In this sense, the Community creates an experience similar to a Facebook page. Here are the best examples of popular and trending community engagement video ideas:
Q&A Videos: Answer questions from your audience about a variety of topics, from personal experiences to advice on different subjects.
Collaborations: Team up with other YouTubers or influencers to create trending content that brings the audiences together.
Behind-the-Scenes Videos: Share exclusive glimpses into your life and creative process, giving your audience an inside look into your content creation journey.
Meet and Greets: Hold special events to meet and interact with your followers and subscribers in person.
Dive Deeper: 12 High-Performing Facebook Group Engagement Tactics
Trend #5: Go High on Soul Satisfying ASMR Videos
One of the most liked and emerging trends on YouTube in recent years has been ASMR (Autonomous Sensory Meridian Response) videos. This is a tingling sensation that some people experience in response to certain stimuli, such as whispering, soft sounds or gentle touches.
ASMR videos on YouTube are designed to trigger this response. They often feature people whispering, tapping or making other soft sounds. Some ASMR videos also feature people performing tasks such as hair brushing, makeup application or cooking:

ASMR videos have become increasingly popular in recent years. There are now millions of these videos on YouTube, and the genre has spawned its own subculture. ASMR fans often find the videos to be relaxing and calming. They can also help people sleep, reduce anxiety and relieve stress.
As per the Google Trends for YouTube search data, the term "ASMR" is quite popular and remains in the 75-80 range: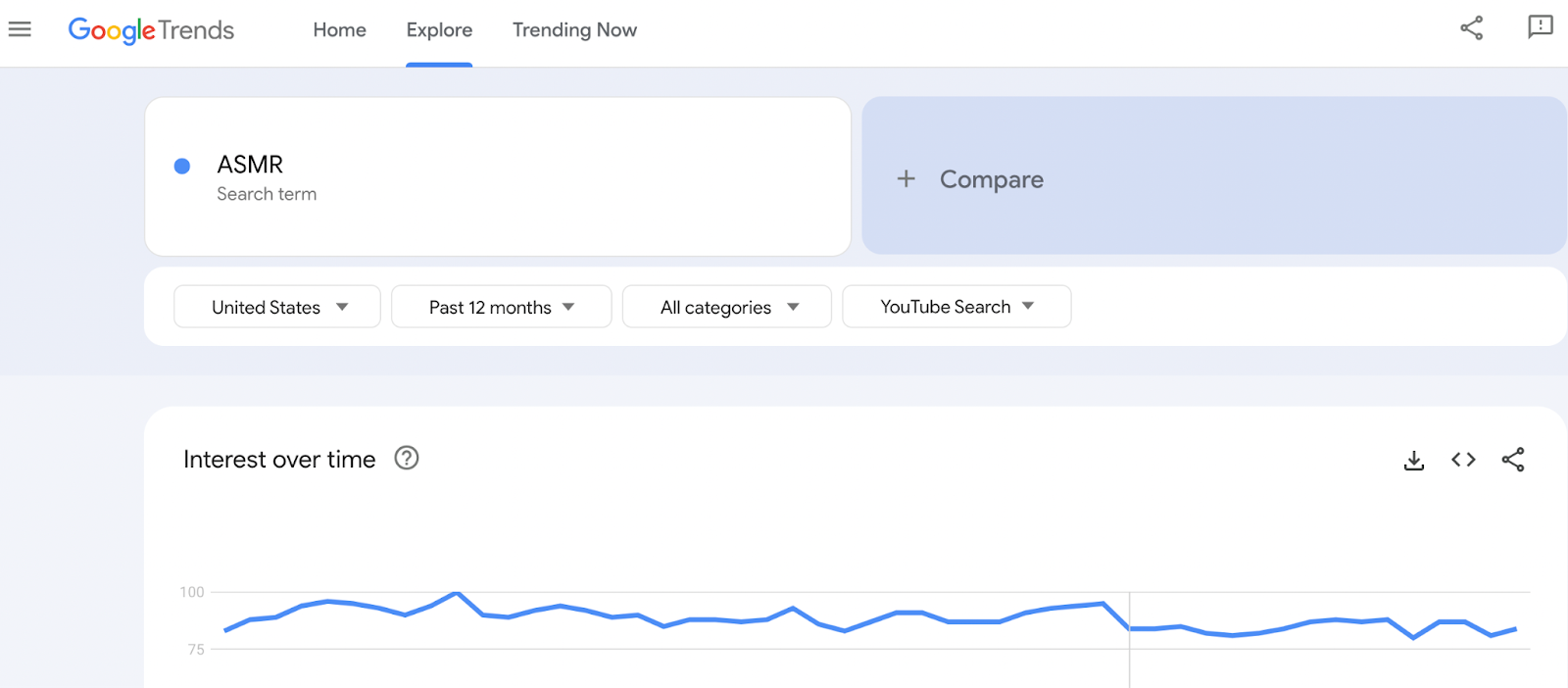 Here are some ASMR video ideas that you can use to capture the attention of more viewers on YouTube:
Whispering and Soft Speech Videos: Use soothing whispers and soft speech to attract more audiences to watch your videos.
Trigger Sounds Videos: Use a range of sounds, including tapping, scraping, and crinkling, to make users' scalps and spines tingle.
Role-playing Videos: Role-play situations like getting a haircut or going through a medical exam.
Videos of Eating and Cooking: Make videos of yourself eating or cooking.
Videos with Visual Triggers: Employ a range of visual triggers, such as hand movements or up-close pictures of items, to give spectators a calming and immersive experience.
Trend #6: Create Life-Sorting Hacks or DIY Videos
DIY videos and "how-to" YouTube video tutorials are already popular and still emerging trends on YouTube. These trending videos enable spectators to better understand how to accomplish something, making these videos a valuable resource in YouTube search results.
According to Statista, 28.7% of users like watching how-to videos on YouTube: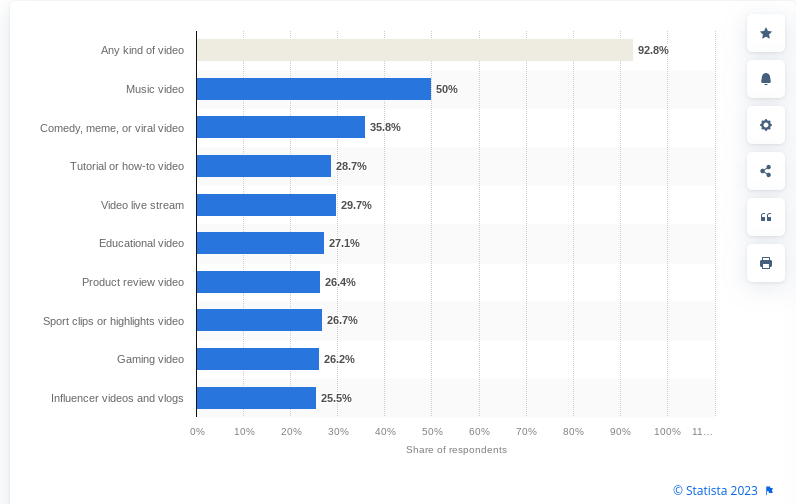 Here are some of the top YouTube channels that create engaging "how-to" or DIY videos:
You can also run YouTube ads to promote these videos, as how-to keywords are popular.
Trend #7: Market Your Brand with Immersive Shopping Videos
Immersive shopping videos have become one of the leading trends on YouTube today. These popular videos aim to create an immersive shopping experience for spectators unable or reluctant to visit physical stores. They often use augmented reality (AR) or virtual reality (VR) to create a simulated environment where viewers can interact with the product or service:
Immersive shopping videos can be used to promote a wide range of products and services, from clothing and furniture to cars and homes. They can be used to help viewers visualize how a product will look or feel in their own home, or to give them a sense of what it would be like to drive a particular car. The benefits of using immersive shopping videos include:
They can help businesses increase sales.
They can improve customer satisfaction.
They can build brand loyalty.
They can help businesses reach a wider audience.
They can be used to promote a wide range of products and services.
Here are some of the popular types of trending shopping videos:
Haul Videos: Show off your recent purchases and give your audience a closer look at the products with your commentary.
Try-On Videos: Try on different outfits or pieces of clothing, giving your audience a sense of how the items look and fit.
Unboxing Videos: Unbox new products and give your audience a first look at what's inside the packaging.
Shop with Me Videos: Take your audience along with you to shop in stores or online, offering tips and recommendations along the way.
Product Review Videos: Review products thoroughly, offering your thoughts and opinions on quality, performance, and overall value.
Dive Deeper: Beginner's Guide to Virtual Reality Ads
Trend #8: Entertain Audiences with Gaming Videos
Gaming videos are a well-liked trend on YouTube, and their appeal is only increasing. These channels have devoted followers who appreciate conversing with YouTube creators who have similar interests. Here are the trending gaming video types:
Let's Play Videos: Play through games from beginning to end, offering commentary and real-time reactions.
Walkthroughs and Tutorials: Provide step-by-step guides on how to complete specific levels or challenges in a game.
Esports and Competitive Gaming: Compete in high-level tournaments and matches, often featuring live commentary and analysis.
Total Gaming is a popular YouTube gaming channel with over 34 million subscribers.

Trend #9: Promote Originality with Vlogging Videos
Vlogging videos have been another popular trend recently as they offer an intimate and authentic glimpse into the lives of content creators or YouTubers. Spectators enjoy following their favorite YouTube creators' daily experiences and adventures, like Roman Atwood Vlogs: 
Vloggers add instrumental music to their videos to make even the most mundane activities more entertaining. Their fans often feel like they have a personal connection with them. Here are the trending vlogging videos types that have gained popularity on YouTube:
Daily Vlogs: Film and upload a daily video documenting your activities and experiences, including your morning routine
Travel Vlogs: Document your travels, offering a glimpse through video editing into different destinations and cultures around the world.
Food and Cooking Vlogs: Talk about your culinary exploits with soothing music, frequently displaying original dishes or interesting dining situations.
Lifestyle Vlogs: Offer your personal opinions and guidance through video editing on various subjects, including soothing music, fashion, beauty, and health and wellness.
Family Vlogs: Talk about your relationships and experiences with your families and reveal the latest news to your audience. This style of video is frequently filmed with your kids and significant others.
Dive Deeper:
* 20 Pre-Production Tips to Create Successful Video Content in 2023
* The Video Structure that Big Agencies Use to Create Successful Videos

Trend #10: Take the Audience for a Round with Virtual Reality Videos
According to Google Trends, YouTube virtual reality videos or 360 videos have been quite effective in gaining significant traction in the last few years. Their popularity is expected to grow even more exponentially in the future.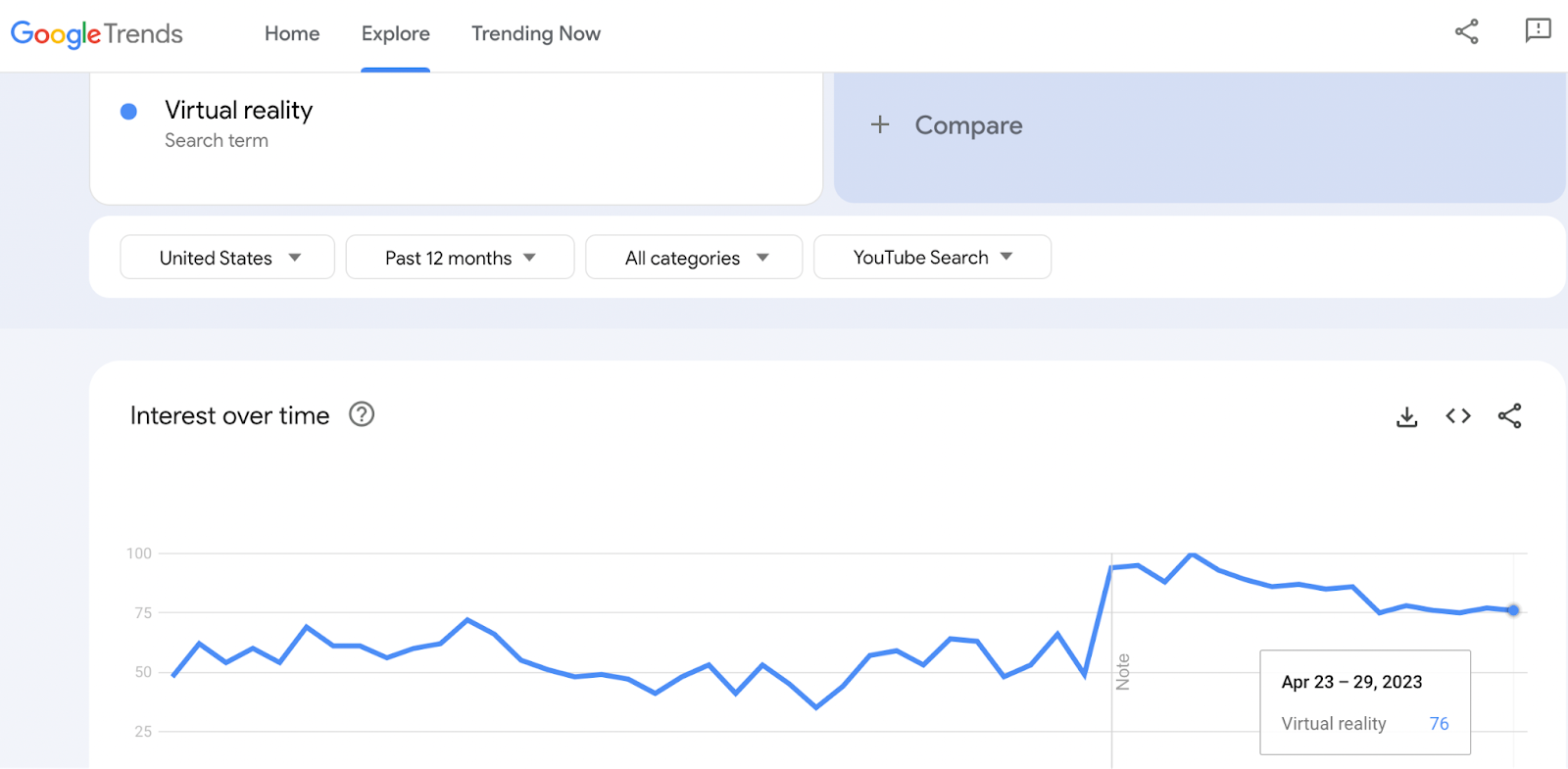 YouTube VR videos or 360-degree videos offer an exciting and engaging way for spectators to watch their favorite content. VR videos enable users to visit amazing places and go on thrilling adventurous trips without even leaving the living room.
Here's an excellent example of a 360 VR video (be sure to use your mouse or finger to move the video left, right, up, down):
You can easily access the YouTube VR app using a compatible headset, cardboard viewer, desktop, or mobile device to immerse yourself in the world of virtual reality.
These are some of the best examples of YouTube VR videos that have gained efficient traction:
Travel and Adventure Videos: Take viewers on a virtual tour of different locations.
Music and Concert Videos: Enable spectators to experience the musical performance as if they were there in person.
Gaming Videos: Offer a more immersive and interactive gaming experience.
Educational and Documentary Videos: Provide users with an immersive and creative educational or documentary video.
Brand Marketing Videos: Use VR videos to create engaging content that enables the audience to explore and experience your products and services efficiently.
Trend #11: Engage Viewers with Influencer Videos
According to Statista, the global influencer marketing market size has more than doubled since 2019: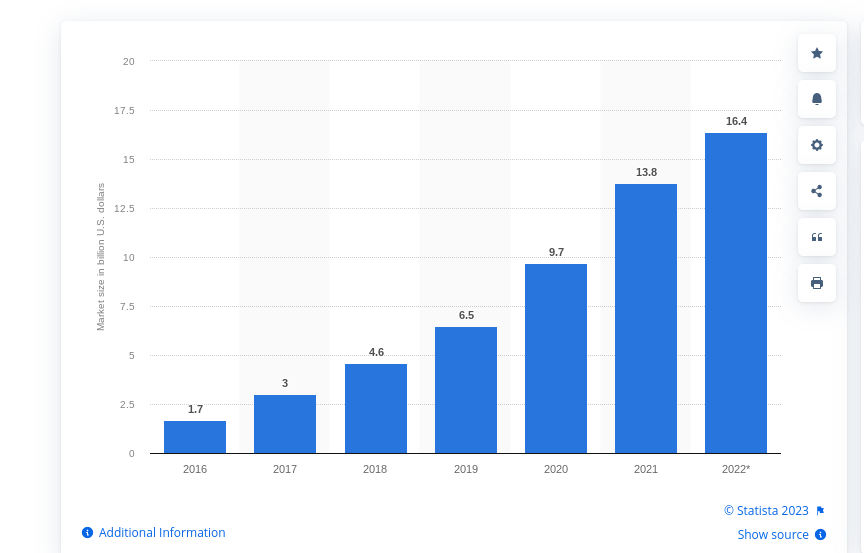 Social media influencers with large followings share their experiences, opinions and insights with their subscribers in these trending videos.
The top YouTube influencer is MrBeast with 153M subscribers and an engagement rate of 3.67%. He posts crazy challenges, such as "I didn't eat food for 30 days" or "Would you swim with sharks for $100,000?".

You can collaborate with these content creators or participate in popular challenges or trends, which enable people to connect with the influencers in a fun way.
Dive Deeper: Influencer Marketing Strategy: The Ultimate Guide to Growing Your Business with Brand Partnerships
Trend #12: Promote Sustainability with Environmental Videos
According to Statista, most U.S. YouTube users are 34 or younger and spend most of their time online.
For the Millennial and Gen Z generations, environmental awareness is crucial. Around 67% of Gen Z audiences and 71% of Millennials believe the climate should be the top priority: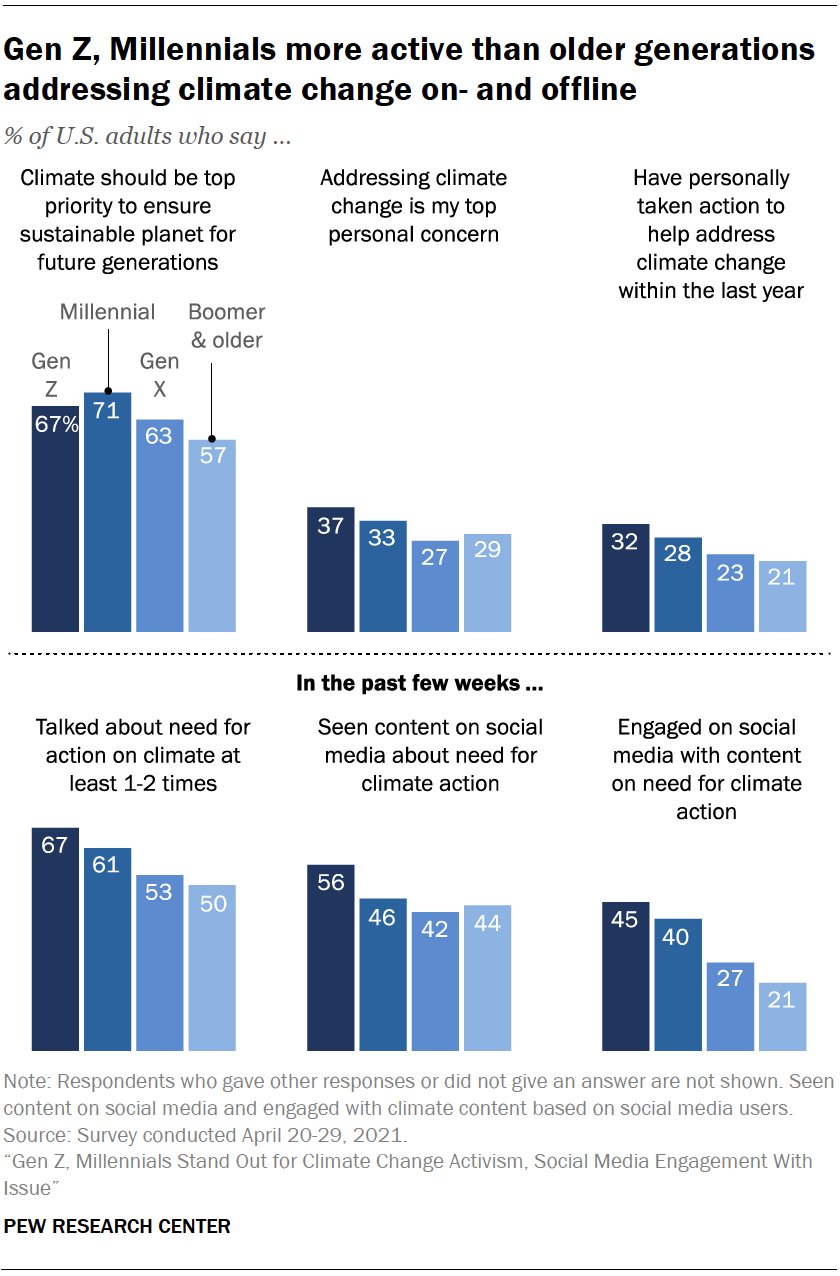 Environmental trending videos often emphasize supporting sustainable lifestyles, increasing public awareness, and highlighting the richness and beauty of nature. Here are the top environmental videos that have been trending on YouTube:
Climate Change and Sustainability: Share valuable information and news about promoting sustainable practices and the impacts of climate change.
Eco-friendly Living: Share practical tips and tricks for a more eco-friendly lifestyle, such as composting, reducing plastic waste, and choosing sustainable products.
Wildlife and Nature Documentaries: Present the beauty and diversity of the natural world, which often features rare or endangered species and the importance of protecting natural habitats.
Environmental Activism: Use YouTube to promote environmental causes and raise awareness about environmental issues, often featuring stories, news, and interviews with activists and experts.
Trend #13: New Content Creation Practices
YouTube is in a state of constant evolution, launching new features that give creators the ability to engage with their audiences in fresher and more innovative ways.
Over the last year, YouTube launched two features that will change how you present your videos:
Chapters
Chapters allow creators to segment their videos into sections, each with its unique name, so that their viewers can skip to the parts they want to see by clicking on the video progress bar (similar to book chapters, hence the name):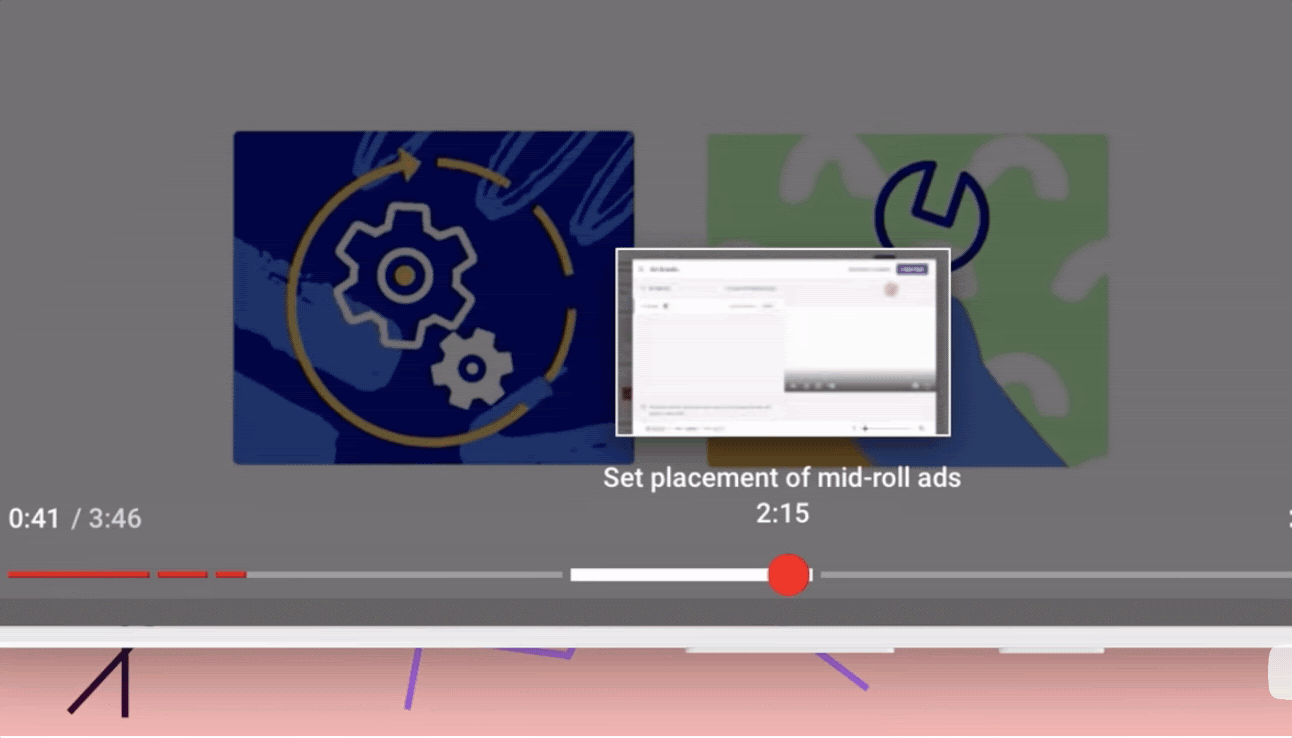 To add chapters to a video, you need to manually add the name and timestamps of each section in the description. You are required to set up the first chapter with the timestamp 00:00. You also need to add at least three timestamps listed in ascending order, with each one having a 10-second minimum length: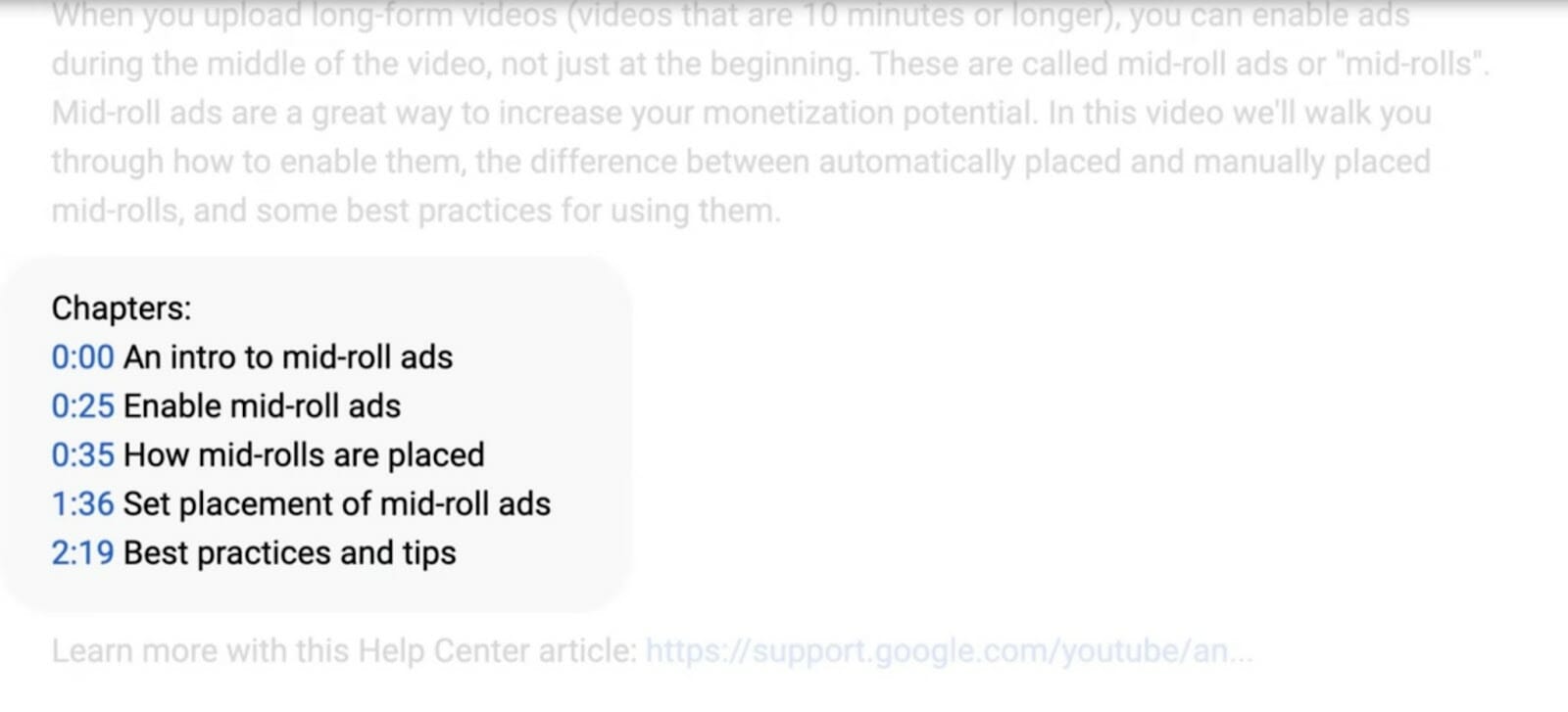 Note: You can also set up automatic chapters by checking the "Allow automatic chapters (when available and eligible)" on your video description page.
Here's a short tutorial from YouTube that explains how chapters work and how to set them up properly:
One benefit of using chapters is that your video can end up positioned as a "Suggested Clips" on Google above most (if not all) search results. This helps creators diversify their traffic source even further.
When a user is shown a Suggested Clip in the SERPs, they can jump to a specific point in the video where the answer to the search query appears: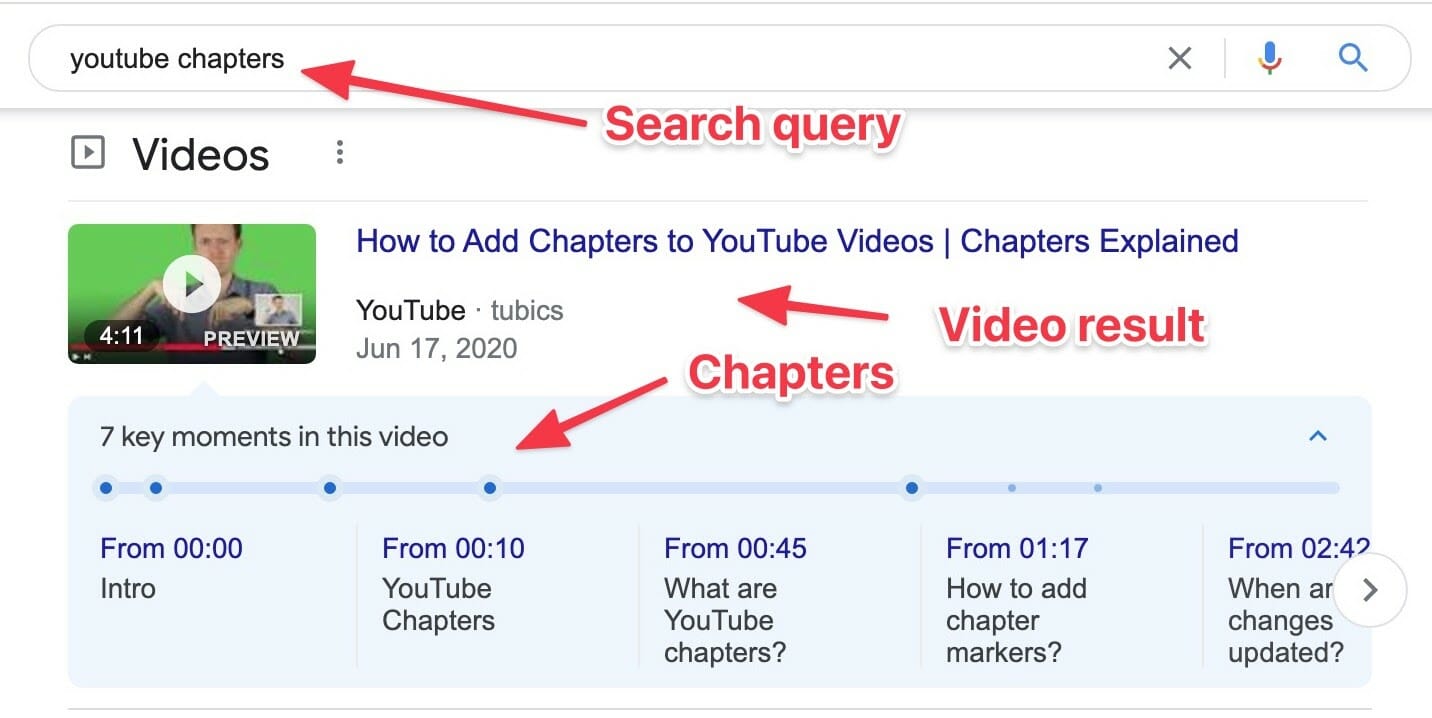 Premieres
Premieres allow creators to publish a new pre-recorded video while simultaneously engaging with their fans through live comments, reminiscent of a live streaming experience. Here's a basic rundown on how Premieres work:
To make the most out of a Premiere, you want to promote your video as much as possible using some of the newer community engagement options shown above.
By the time the video goes live, be sure to answer any questions that arise and communicate openly with your viewers. After the Premiere ends, your video will get a "Premiered" and the date when it was published. Your viewers will also be able to see the live chat as it happened during the Premiere: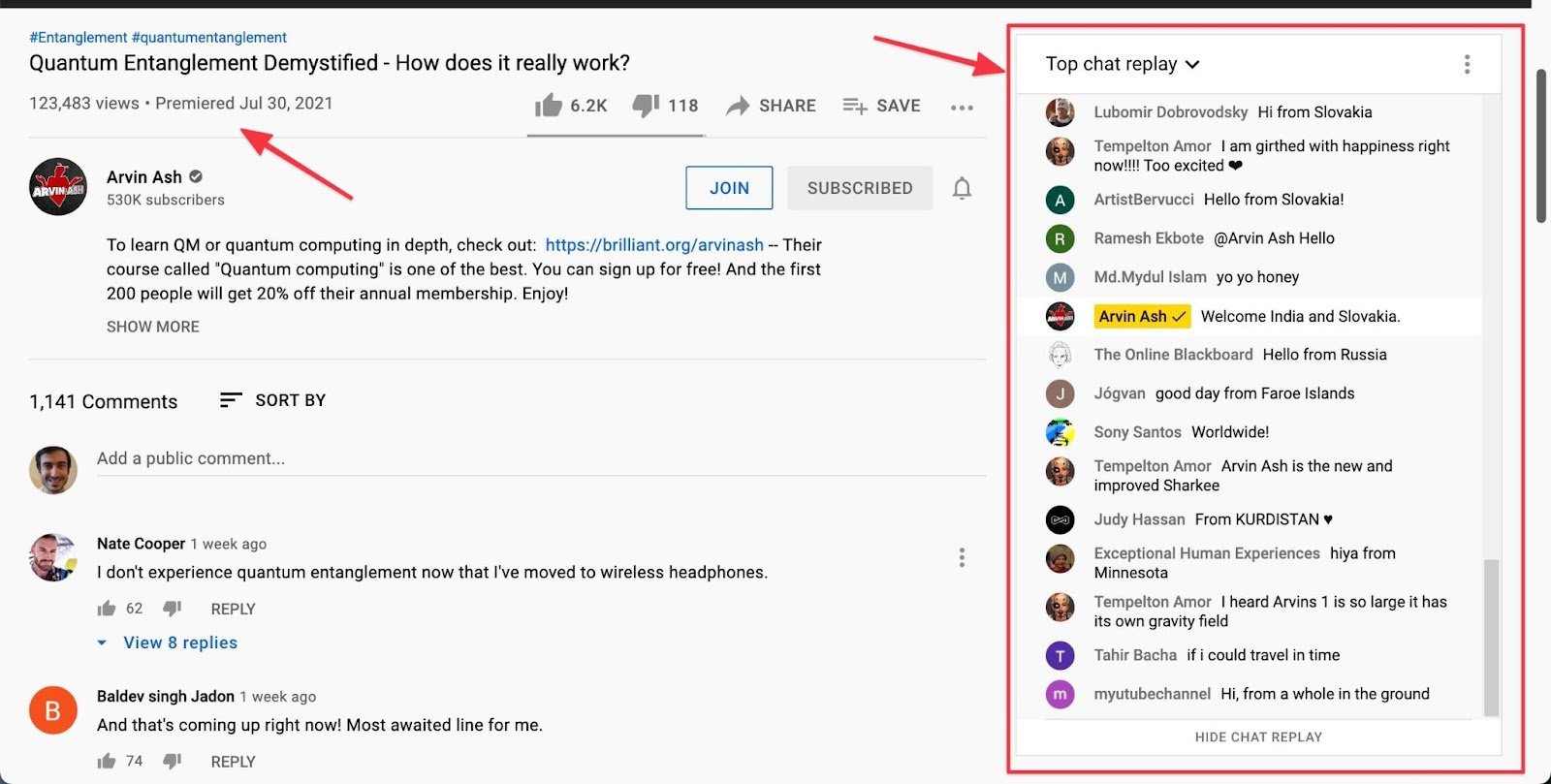 Final Thoughts: Leveraging YouTube Trends for Video Success
Identifying and harnessing the power of YouTube trends is an effective way to boost your video marketing plan. They help you stay relevant, attract new subscribers, maximize engagement, and drive significant brand growth.
As the popular video platform continues to grow and evolve, you must keep an eye on changing or emerging trends. This will allow you to jump on these trends early, significantly increasing their positive impact. Brands and content creators can publish video content that will be seen by an even larger number of users.
If you're ready to level up your business with YouTube, Single Grain's video marketing experts can help!👇
---
YouTube Trends FAQs
What are YouTube trends?
YouTube trends refer to the popular forms of video content on the platform. In other words, popular trends on YouTube means highly-viewed videos, news stories, channels, and topics that can easily attract potential users.
These trends may include breaking news, viral challenges, memes, popular videos, or subjects that YouTube users actively discuss and share. These are established by looking at various engagement metrics, such as the number of views, likes, comments, and shares received by videos.
What are the current trends on YouTube?
Here are the hottest trends on YouTube in the last two years:
Short-form videos
Live videos
Social commerce
Gaming videos
VR videos
Where do I find YouTube trends?
You can find trends by tapping the "Trending" tab on the left-hand column of the YouTube homepage (under "Explore") or visiting the YouTube Trends Dashboard, which provides insights into the top videos and topics.
How long do YouTube trends last?
The length of YouTube trends varies according to the subject matter and viewer involvement levels. While some trending videos only last a few days, others may continue for several weeks or months. Monitoring engagement metrics is crucial to identify when a trend is waning in popularity.
Is YouTube TV a popular YouTube trend?
YouTube television is a popular service provided by the video platform. It is accessible in most major U.S. areas and delivers live TV from over 100 broadcast, cable, and regional sports networks.