11 Creative Fashion Ads to Inspire Your Own Campaign
Creative fashion ads are a must if you want to stand out from other clothing brands online.
By it's very nature, the fashion industry makes it easy to take your advertising to the next level. Creative clothing ads will help your fashion brand stand out and attract more customers.
In this post, we've curated 11 creative fashion ads to inspire your next strategy.
11 Creative Fashion Ads That Nail It
21% of retail sales worldwide are from e-commerce, meaning internet shopping is only becoming more popular. And since more clothing companies are emerging online, competition is only becoming fiercer.
Using photography, video and art, these 11 examples of creative fashion ads will help you come up with your own innovative clothing ad campaign!
1) Hollywood-Esque Video Ad: Burberry
Even in the span of two minutes, your brand can make compelling fashion ads with a sense of entertainment. A captivating way to do this is by making your ad look like a Hollywood film.
Take a look at Burberry's Open Spaces campaign as an example. This video takes four models as they walk through an open field. Once the wind picks up, the models fly and float in the air.
But the main detail is in the movement. Each model does all sorts of acrobatics in the air, making the video more compelling to watch. There are even action-packed scenes, such as when they soar through a cluster of trees. In the final scene, the models jump off a cliff, holding each other as they float over water.
With this ad, fashion brand Burberry proved they are true creatives. They created this ad to illustrate that their clothing pushes boundaries, such as how the models in this video defy gravity. Fashion ads such as this represent freedom in the way few clothing ads do.
This ad contains everything you would find in a Hollywood movie: adventure, action, captivating visuals, and an intriguing concept.
Dive Deeper: 9 Examples of Storytelling Marketing to Inspire Your Next Campaign
2) Surrealism on the Runway: Prada
Models strutting down the runway is a classic example of fashion ads. But what if you took this trope further and added a sense of artistry?
One of the world's most iconic fashion brands, Prada, took a fashion-meets-Dali approach with its 2016 Fall/Winter Advertising campaign. The campaign features 27 models walking on what appears to be the runway, but clashing images and different backgrounds appear.
Each scenery is different: The models walk and pose against a sky before sunrise, a starry night sky, the Northern Lights, a mountain scape, and a storm brewing overhead, plus eclectic static serving as the background music. The models also appear to be walking on air, giving the ad a more ethereal element.
With this campaign, Prada injects a little wanderlust into its feminine and couture flair. The surrealist elements don't take away from the dramatic vibe of the runway, and all 27 models are as fierce as you would expect.
With their coats and cross-body bags, the models all have a high-fashion traveler's look, inspiring viewers to visit that dream destination – and look good while exploring the world. Some of the models included in this video include the celebrity Milla Jovovich.
Dive Deeper: 8 Tips for Running Instagram Clothing Ads that Convert
3) Rave Innovation: Puma x Dua Lipa
Singer Dua Lipa is Puma's ambassador for their fashion ads. But she does more than rock Puma's athletic apparel and sneakers, playing sports or running. Dua Lipa is proving Puma's innovation by showing off a more colorful side of the brand in their stunning fashion ads.
In the second collection of the Flutur collaboration, Dua Lipa and a group of models (her real dancers) unveil a rave-inspired look in the ad campaign. Audiences are captivated by bright colors, and their poses give off a sense of dancing. The models all wear bright orange tracksuits, complete with a holographic finish.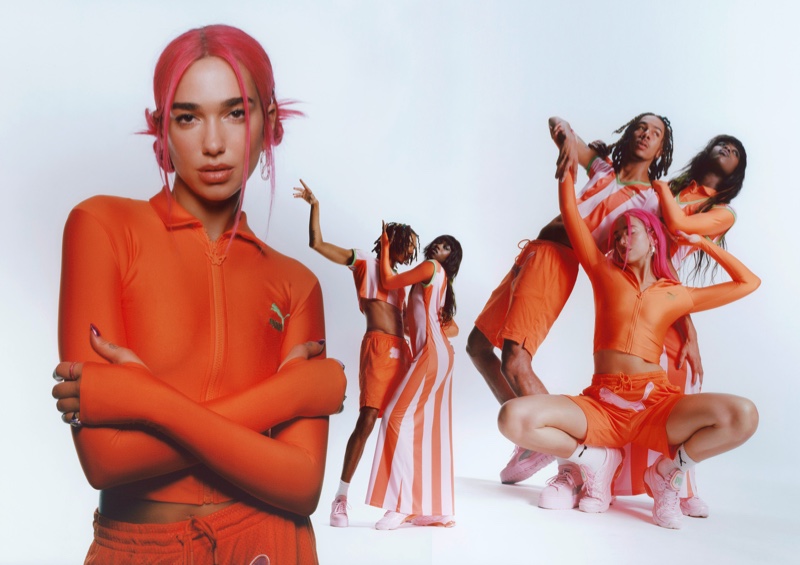 Flutur is a collaboration inspired by vintage looks while taking a modern approach. In the second Flutur collection, Dua Lipa took inspiration from rave culture to give nostalgic sports apparel a playful look in their ads. Puma uses this collection to promote their sports-meets-aesthetics apparel, inspiring fashion and fitness enthusiasts.
Dive Deeper: The Benefits of Investing in Luxury Ads
4) Shop the Look Campaign: Lulus and MICAS on Pinterest
One of the best examples of creative fashion ads is to make advertisements not feel like an ad campaign. A great way to do this is to give your audience inspiration rather than showing off your outfits.
Social media platforms like Pinterest offer the perfect outlet to post your "Shop the Look" fashion ads. While this Pinterest feed combines organic posts with ads, users can reference the two promoted brands: Lulus and MICAS.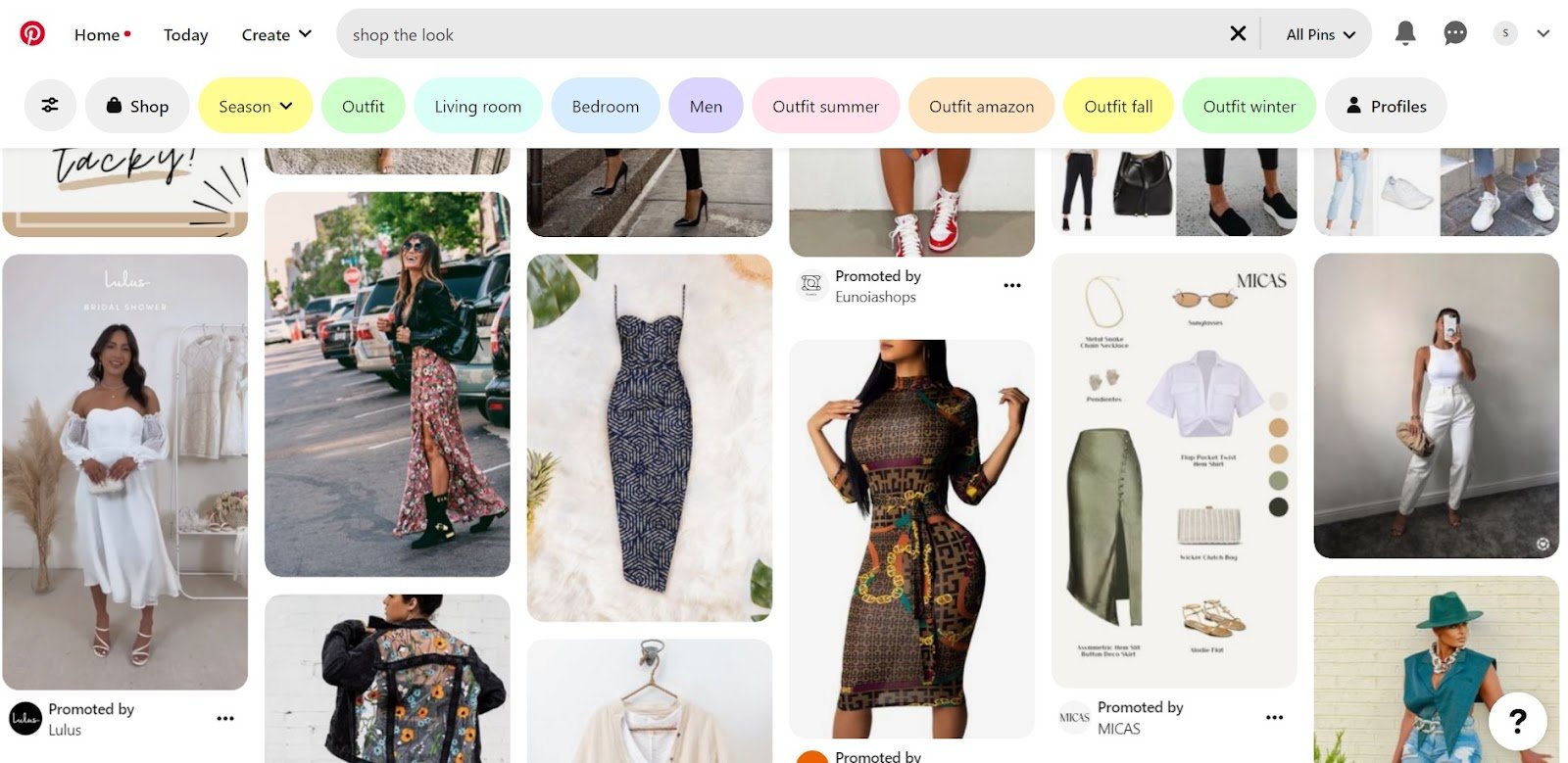 Let's start with MICAS since they have the traditional "Shop the Look" post.
In this instance, users can see a full recommended outfit, including a crop button-down white blouse, green slit maxi skirt, beige sandals, white clutch bag, and various jewelry pieces. All users have to do is click the ad, and it will direct them to MICAS' summer collection, where they can buy different pieces for the outfit (and some more):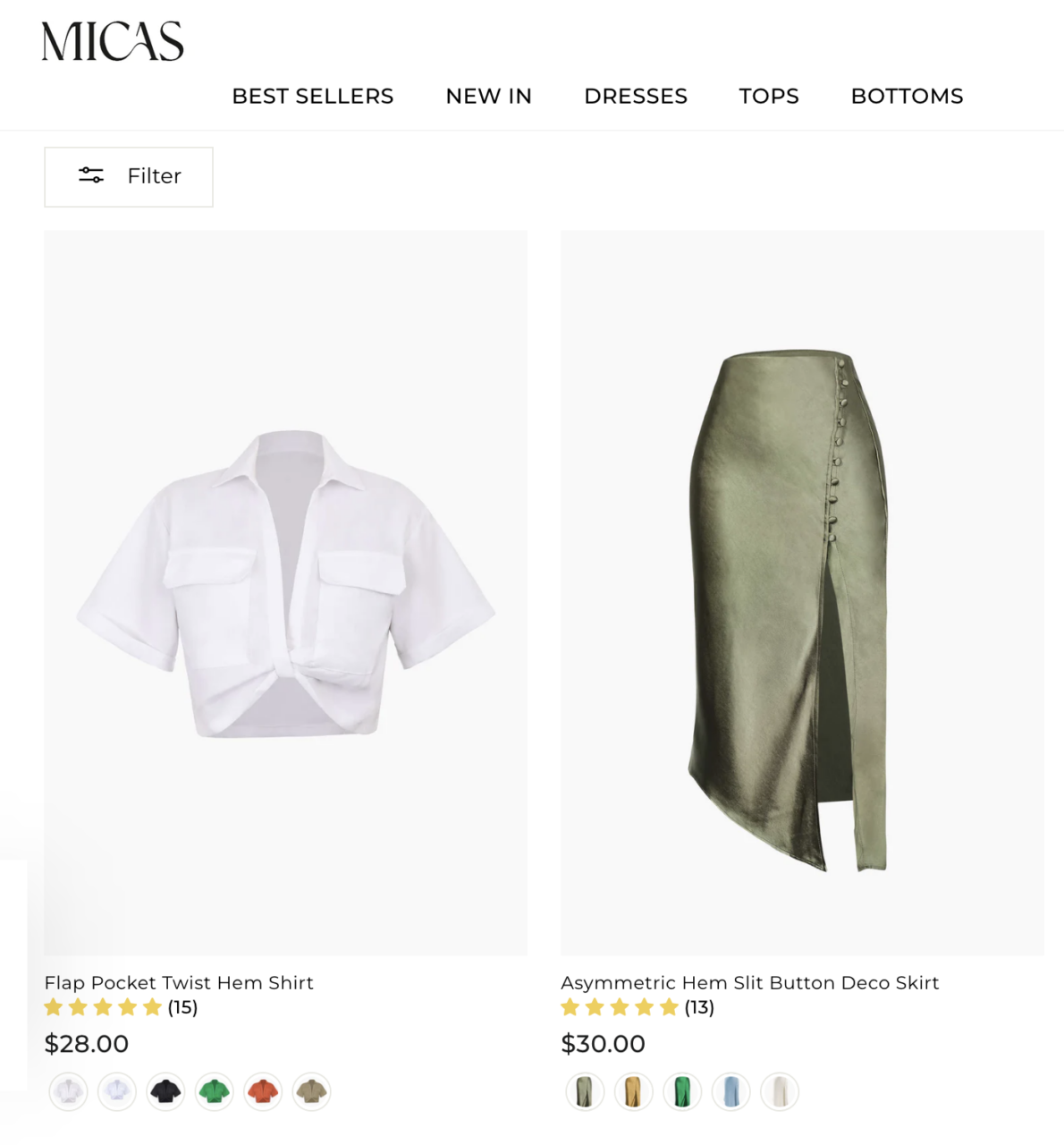 The Lulus ad is a video showing off different bridal dresses. They recommend dresses for different parts of a wedding, such as the bridal shower, bachelorette party, rehearsal dinner, and a wedding gown for the ceremony.
When users click the ad, it takes them to the Lulus Wedding Collection, where they can shop for different pieces in various wedding categories: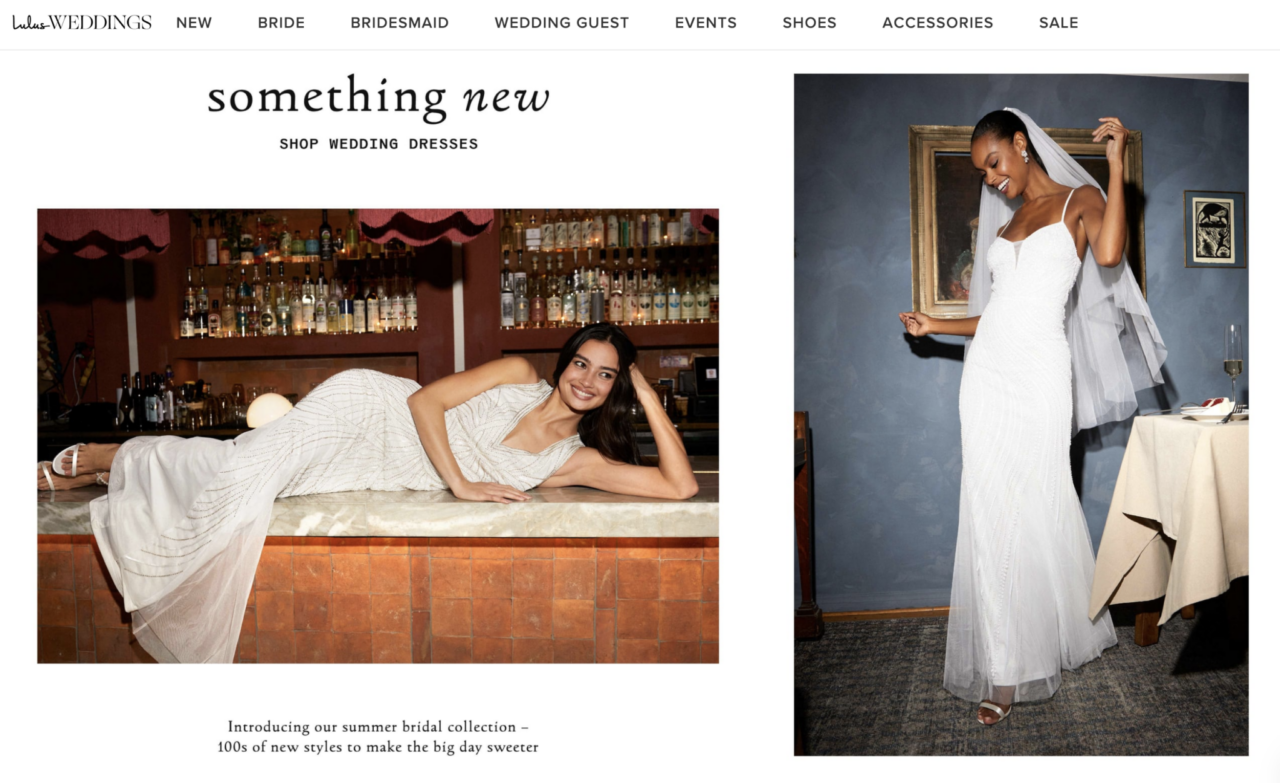 Dive Deeper: Is Pinterest Still a Good Platform to Advertise On in 2023?
5) Theme Ad Campaign: Svaha Clothing
Fashion is one of the many ways your audience reflects their interests and passions. Brands targeting a specific niche can use these ideas in their fashion ads, centering their campaign around a theme. While some themes are more common, such as vintage and goth, niche clothing brands can take theme fashion ads a step further.
Let's use Svaha Clothing as an example. They make STEM and geeky clothing for adults and children passionate about science. But unlike other brands in this niche, Svaha Clothing makes stylish pieces anyone would want to wear, such as colorful dresses and blouses in fun, science-inspired patterns.
This ad is a perfect example of exceptional theme videos. The dress features a constellation pattern unfolding on its own. Shoe and jewelry recommendations crawl onto the shot, making this ad a fun way to explore science-inspired clothing.
Because Svaha focuses on the science theme in their advertising, they create a lasting brand impression, which is pivotal during the lead generation phase. Since this brand also makes children's clothing, science-loving parents will be more willing to treat their children to clothes from this company since it offers a dose of education with style.
6) Express Brand Ethics: Girlfriend Collective
More fashion consumers understand the environmental and social costs that come with fashion. Waste, human rights issues, supply chain inefficiencies, lack of diversity/inclusion, and sizing/fit restrictions are only some relevant issues that the fashion industry faces.
If your company isn't sure how to support these issues, you've got the perfect opportunity to promote this in your fashion ads and destroy the competition.
88% of consumers want brands to help them be more ethical and environmentally conscious.
And buyers will pay attention to your social initiatives before supporting your company.
There are ways you can express brand ethics that are still fun and engaging. Take planet-forward activewear brand Girlfriend Collective as an example. They hosted an ad campaign comprised of four print fashion ads with clever eco-friendly slogans.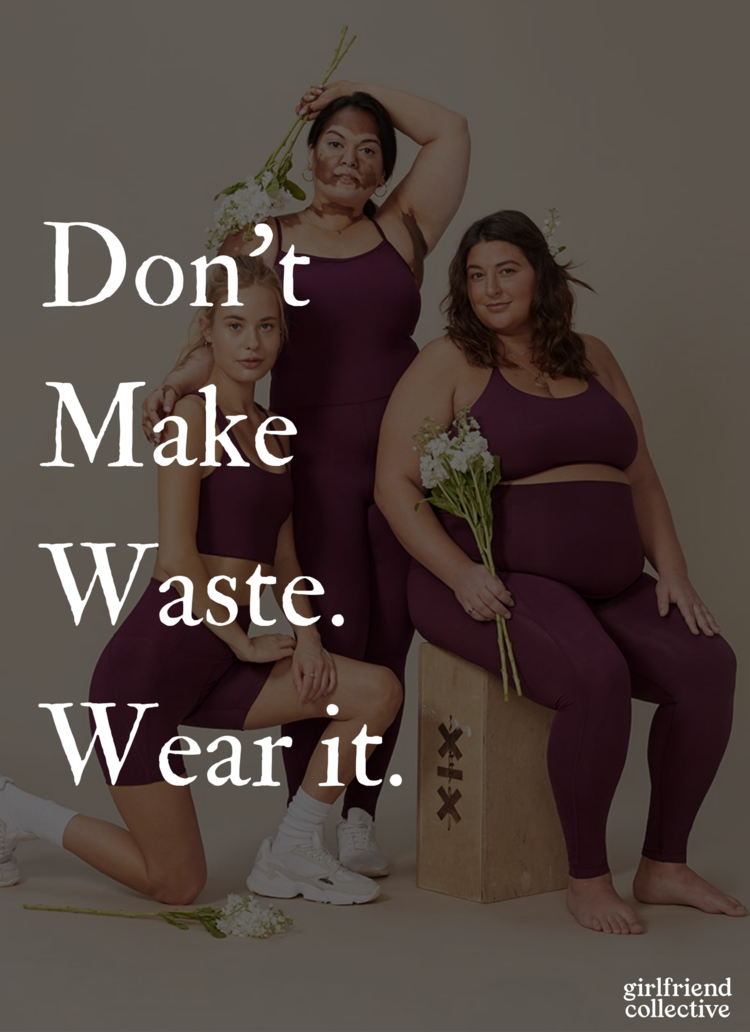 Slogans like "Don't make waste, wear it" are catchy and inform consumers that Girlfriend Collective makes high-quality activewear with recyclable materials. Their advertising stays on brand and connects to customer values. This will attract a specific consumer base, leading to increased sales.
7) Be Fun and Silly: Fashion Nova
Fashion ads tend to be oh-so-serious, highlighting stoic models walking rigidly down the runway or in fierce, robotic poses. While these fashion ads may influence consumers to want to be glamorous, most buyers don't relate to those ads. People want to smile, laugh, dance, and have fun. And why not look great while living your best life?
Fashion Nova is becoming one of the biggest clothing stores on the planet, and they changed the game when they were advertising their "stretchiest jeans ever" with playful videos.
The video shows the model wearing various Fashion Nova jeans. Throughout the video, she's doing yoga poses, exercising, and dancing – things that you normally can't do that comfortably in tight jeans. This ad engages the viewer, making anyone want to join the fun.
With this video, Fashion Nova is not only proving their jeans are flexible enough for exercising and dancing, they're also showing off the entertaining side of their branding with their smiling and laughing model.
The ad campaign still has many aesthetics. Fashion Nova shows off their most stylish jeans, and there's light-hearted music playing in the background. The aesthetics mixed with the fun model makes the ad more engaging to deliver a perfect social media ad campaign.
Dive Deeper: Why Facebook Clothing Ads Are a Must-Have for Fashion Brands
8) High-Tech Ad Campaign: ASOS
With the push to make fashion ads more interesting, clothing companies create their ads with high-tech elements to boost user engagement. There are many ways that clothing brands can create a high-tech fashion ad, such as with games and "choose your outfit" posts.
You can also achieve high-tech visuals in your ads. That's what ASOS did with social media-inspired effects in their Feed Your Style campaign.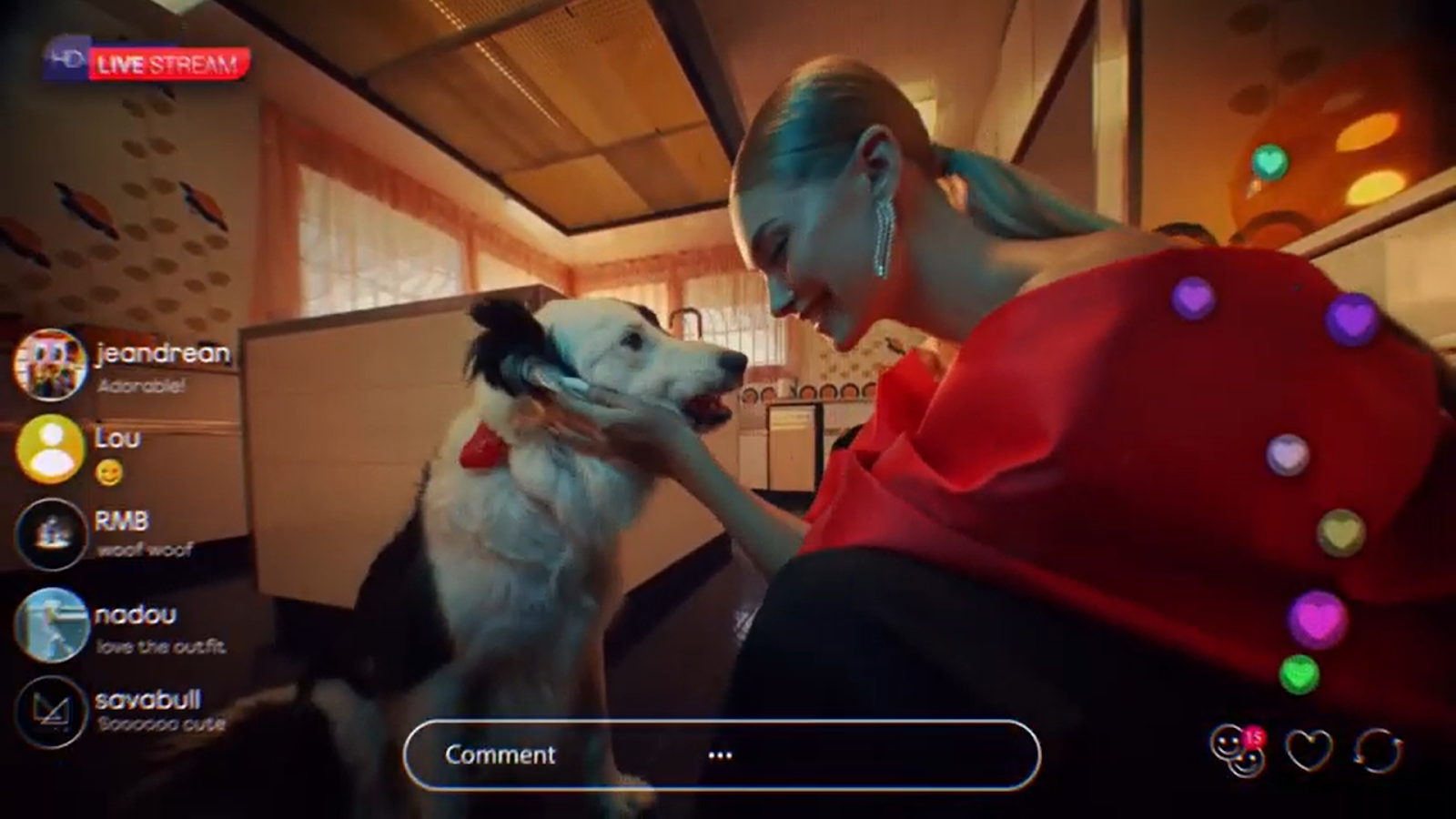 Throughout the course of the video, the ad takes a social media approach imposed over real-life events. Some effects consumers will see include a close-up of fingers scrolling on a screen, a live stream screen, Snapchat filters, low-battery warnings, and models playing fashion games.
This ad is not only engaging but fits the modern social media aesthetic. With this ad, ASOS engages young consumers and informs them that this is a modern and technology-driven clothing company.
Dive Deeper: The Art of Storytelling in Luxury Ads: Examples and Insights
9) Go Back in Time: ModCloth
Of all the different fashion trends, vintage clothing is one of the biggest. Since what was popular in years past almost always makes it back to the present, the secondhand apparel market is set to grow by 127% by 2026.
If your brand sells secondhand clothes or you create vintage-inspired clothing, you can take the aesthetics from the past and revolutionize them in your fashion ads. That's what ModCloth does in its ad campaign. These images promote ModCloth's range of fruit-inspired clothing, featuring models holding sliced oranges and ice cream cones.

Both models wear '50s-era skirts and retro dresses, all adorned with colorful fruit patterns. This ad is modern and features diverse models, adhering to ModCloth's inclusivity and body positivity approach. But the style and aesthetics are nostalgic, making consumers want to rock some fun and classic 1950s outfits.
10) Unusual Location and Background: Jacquemus x Bad Bunny
Another simple way to stand out from competitors is to put your model in odd locations or feature unique backgrounds.
French designer Simon Porte Jacquemus owns one of the most vibrant fashion brands. His clothing is inventive and colorful, and he hosts unique fashion ads to promote his latest collections. But Jacquemus turned heads when he collaborated with Puerto Rican rapper Bad Bunny.
Bad Bunny is a fashion connoisseur, so it was no surprise that he became the face of Jacquemus' fashion ads. To promote the range "Le Splash," Bad Bunny is seen wearing a lime green suit next to a swimming pool, pouring water from a hose over his head.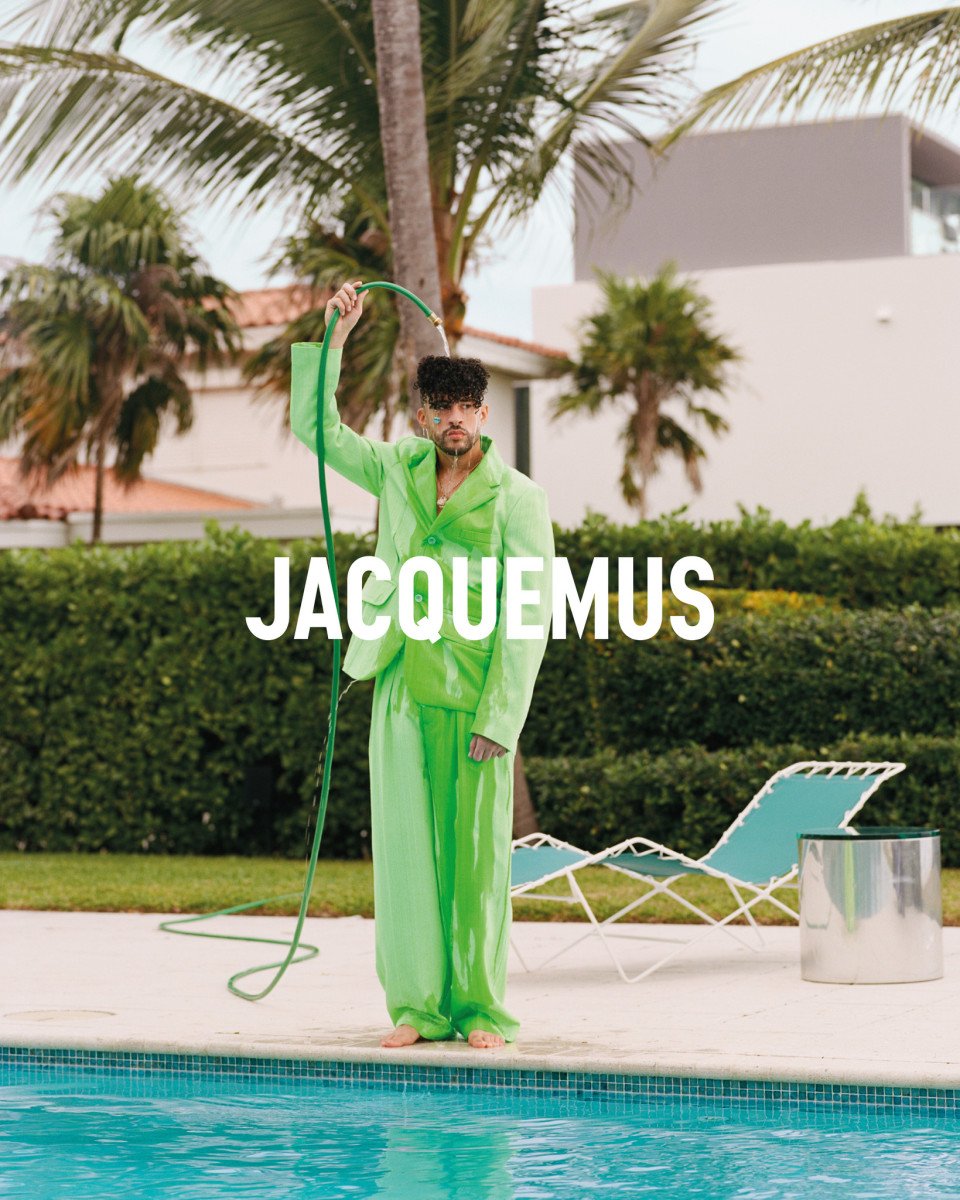 The outfit is vibrant, the pose is eye-catching, and the background stands out.
Tom Kneller photographed Bad Bunny in Miami, but not the glamorous South Beach Miami synonymous with fashion and luxury. Bad Bunny stands next to your average middle class-home swimming pool with tops of brick roofs and bland buildings in the background. This ad doesn't look luxurious but is still colorful and interesting, staying on brand with Jacquemus.
Dive Deeper: 13 Jewelry Advertising Ideas to Increase Leads and Sales
11) Mixed Media: Dior x Shawn Stussy
An easy way to convey a sense of artistry is by using mixed media. Mixed media is the use of different materials. Collages are the most famous example, but clothing brands can combine art and photography for stunning fashion ads.
Dior promoted its 2020 pre-fall men's clothing by taking a note from surfboard manufacturer Shawn Stussy. In this ad, we see various men rocking Dior outfits. They're standing in a setting of black-and-white psychedelic-themed prints and letters.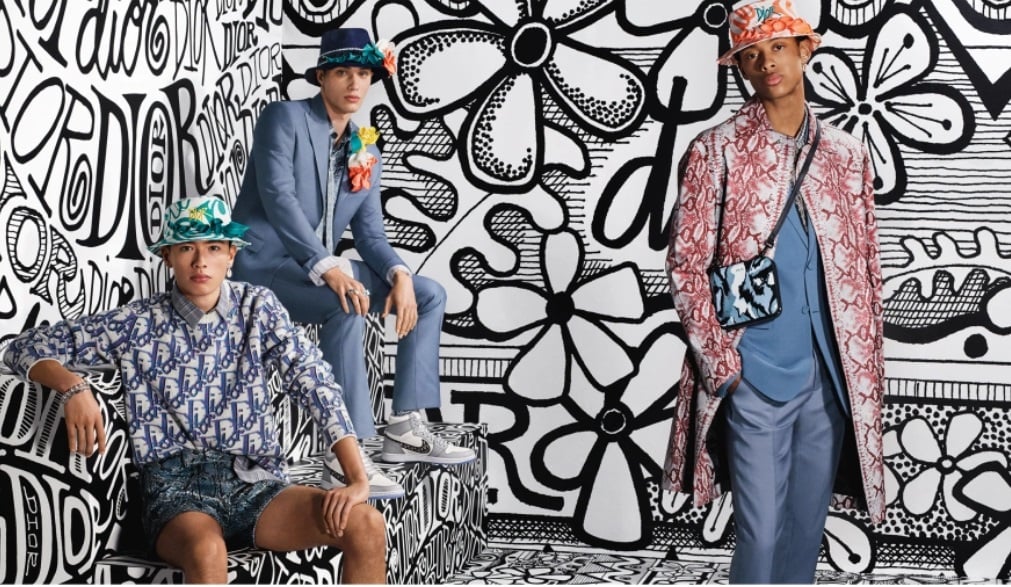 The ad captures Dior's modern and eye-catching aesthetic while highlighting Stussy's comeback to the fashion world.
From High-Tech to Hollywood: Creative Fashion Ads That Nailed It
There are many examples of creative fashion ads. High-end designers make Hollywood-esque ads to sell their clothing, while Gen Z-fueled companies take a social media approach. Other companies collaborated with celebrities and used their ambassador's unique looks to fuel their fashion ads and promote new collections.
If you want to create an innovative advertising strategy for your clothing store, consider your personal branding and your customers. These companies delivered ads that fit with their style and consumer base, resulting in ads that increased brand awareness and sales.
If you're ready to level up your business with creative ads, Single Grain's paid ads experts can help.👇