Have you ever stopped to think about your site's architecture, URL structure and loading speed? Often overlooked, these crucial aspects belong to the field of "technical SEO," and they work as the foundation upon which the rest of your SEO strategy lies.
Uncovering and fixing any of these technical issues requires a mix of experience, strategic vision, and marketing and website development skills — something that only those who are highly skilled in the technical SEO realm can handle.
Working with a technical SEO agency can transform an underperforming website (one that may have even followed every Google guideline to a T) into an organic search engine powerhouse.
In this article, we'll explore the work a technical SEO agency does, the benefits they carry, their costs, and the criteria the best agencies have. Finally, we'll share a shortlist of the top five agencies in 2023 to hire.
---
---
Top 5 Technical SEO Agencies
Top Clients

: Amazon, Airbnb, Random House

Pricing

: Projects start at $5,000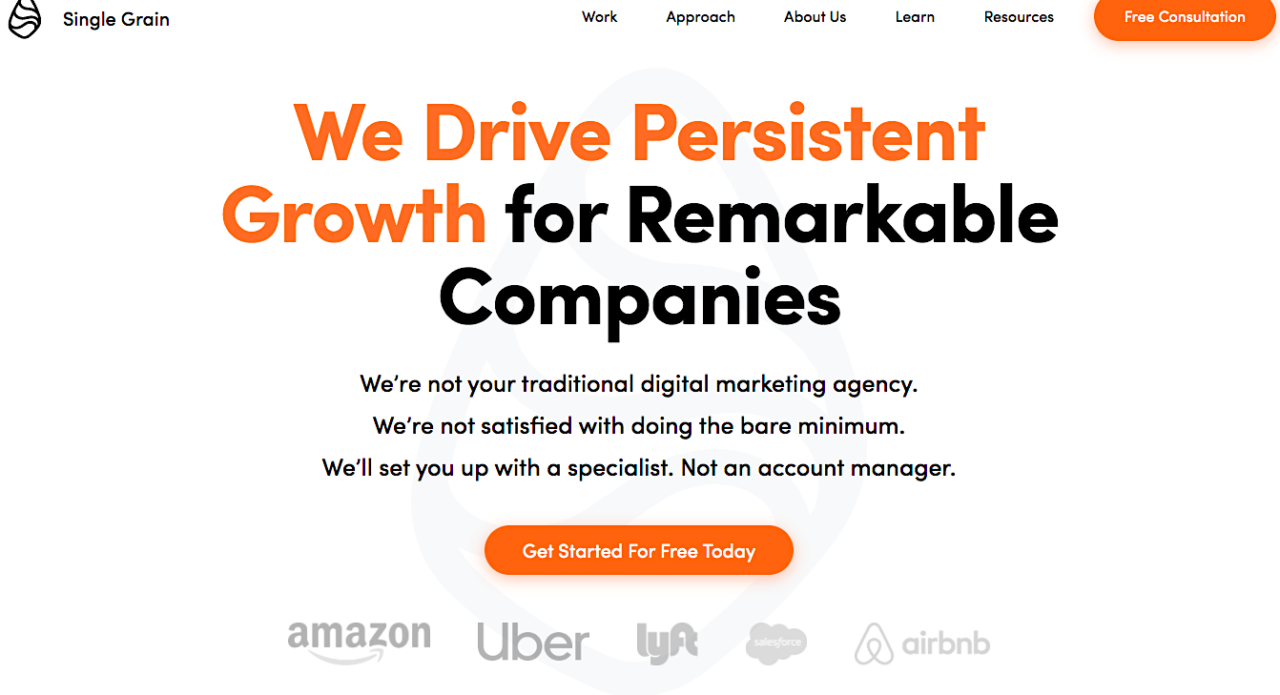 Single Grain is a full-service digital marketing agency with a focus on high-ROI SEO campaigns. For the past 12 years, our team of SEO experts has worked with SMBs and Fortune 500 companies in over a dozen different industries all over the world.
We excel in the technical SEO field, executing in-depth analyses that uncover every major issue your site may face. Once we have defined a comprehensive action plan, we work with your company to restructure your website architecture, fix all of your broken or un-optimized URLs, and boost your website speed (or anything else that's required).
After the technical groundwork is done, we can optimize all your pages for your desired keywords (which we can also define through our extensive keyword research) and start building high-quality inbound links to ensure that your site conquers the SERPs. We can also set up your analytics, create a thorough content strategy, run your paid ad campaigns, and much more.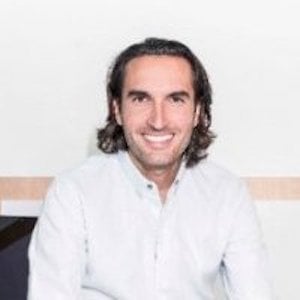 Yaniv Masjedi
CMO, Nextiva
Their expertise has helped Nextiva grow its brand and overall business
Check out this 10-minute video from Single Grain founder Eric Siu on SEO Strategies to Scale Your Website and Hire an SEO Team:
2) Delante
Top Clients

: Azimo, Culligan Water, Nokia

Pricing

: Projects start at $1,000
Delante is an SEO agency that specializes in developing cutting-edge strategies for small- to medium-sized businesses. For the past seven years, the agency has developed tailored SEO strategies for companies in over thirty industries, including some difficult ones like casinos and CBD.
Their customer-centric approach has allowed them to become one of the top European SEO agencies. Their results have earned them recognition from organizations like FT and Deloitte, and awards such as the European Search Awards, Global Search Awards, and Global Agency Awards.
3) Search Engine People
Top Clients

: Intuit, RE/MAX, Subaru

Pricing

: Projects start at $1,000
Search Engine People is one of the top Canadian SEO agencies with over two thousand clients on its roster. With over sixty marketers on its payroll, the agency is capable of developing strategies to protect your website from the 500+ algorithmic updates and changes Google makes every year.
Search Engine People is Google's first and oldest Google Premier Partner in Canada. They also are certified partners with companies like Microsoft, Facebook, Instagram, LinkedIn and Pinterest.
Dive Deeper: How to Prepare Your Site for the Google Page Experience Update
4) Radd Interactive
Top Clients

: Medterra, Rakuten, The Honey Pot

Pricing

: Projects start at $1,000
Radd Interactive is a marketing agency with a strong focus on technical SEO and paid media.
They use their proprietary technology (called RaddBOT) to replicate and analyze how the search engines react to any updates made to your website. The RaddBOT Nucleus is a particularly interesting feature that allows them to visualize and understand a site's architecture and find opportunities to improve your SEO performance.
This on-page and technical SEO agency uses a comprehensive strategy that is data driven, user inspired, and research oriented. They dive deep into the analysis of your site's performance and how it ranks compared to your competitors in order to defend your position in the SERPs.
Dive Deeper: SEO Strategies Based on Your Business' Unique Competitive Advantages
5) RevenueZen
Top Clients

: Bloomfire, MainStreet, ProdPerfect

Pricing

: Projects start at $5,000
RevenueZen is an agency that has led marketing, SEO, content and sales development teams for more than 200 clients, most of whom are venture-backed B2B SaaS and professional service brands.
Their team of sales and marketing experts execute innovative SEO strategies to drive brand awareness and organic traffic. To help your company fix its organic search rankings, RevenueZen offers a B2B SEO audit that takes over 75 technical factors into account to uncover every issue and recommend specific solutions to bridge the gaps.
Dive Deeper: 15 Tips and Tricks to Write Better B2B SaaS Website Copy
What Does a Technical SEO Agency Do?
A technical SEO agency is responsible for  auditing a website's infrastructure (URL structure, loading speed, site navigation, etc.) to find and fix any performance issues so that Google and other search engines can easily index the site.
Technical SEO covers a vast and often misunderstood area separate from the traditional SEO work of on-site optimization and link building, which includes tasks like:
Using XML sitemaps, tags and robots.txt files to ensure proper crawlability (the capacity of Google's bots to crawl a website) and indexability (the capacity that said bots have to index a page and include it in Google's SERPs) 

Analyzing the site structure to improve its crawlability, internal linking, and usability

Optimizing the URL structure for a keyword

Fixing any involuntary error (404) pages and redirects

Using the canonical tag to avoid duplicate content

Improving page loading speed

Creating structured data

Maximizing the value of internal links for building an optimal link profile
Dive Deeper:
* 15 Common On-Site Technical SEO Issues and How to Tackle Them
* How to Implement Internal Linking for SEO (Step-by-Step)
* Beginner's Guide to Properly Using Rel Tags To Improve Your Site's Rankings

Benefits of Hiring a Technical SEO Agency 🤔
Now that you have a clear idea about what technical SEO entails, here are a few reason for hiring an agency.
Get the Foundation Right
Optimizing your tags and building links are great, but if Google can't find and index your pages, your effort to rank will be for nothing. Your website must be properly structured so that Google can understand its content and rank it in its index. This is why we say technical SEO is the "foundation" of SEO.
Ideally, you want to think of the bullet points mentioned in the previous section before you build or revamp your website so that your web development team creates it with SEO in mind right from the start. However, if redesigning your website is out of the picture, you should at least fix the most glaring issues that cause the underwhelming results you're getting from your site.
If this all sounds stressful and complex, don't worry, because a technical SEO agency can take care of all this for you.
Balance SEO with UX
In the last few years, Google has added new user interaction signals to its ranking algorithm, such as time on site and bounce rate. Google has even received a patent for a "site quality score" that uses time on site (or "click length").
Although Google has never publicly acknowledged this fact, they likely use user signals to some extent, which is why you should design a user-friendly site. A website with a strong UX not only will improve your SEO strategy, but has several other benefits, such as:
Higher customer satisfaction and loyalty

Increased conversions

Higher revenue and profits
A technical SEO agency can assist your business with improving your web design so that your design team (or agency) can revamp your site taking both Google and humans in mind.
Dive Deeper:
* 7 Mistakes in UI and UX That Are Costing You Engagement
* How to Use UX Testing to Improve Your Customer Lifetime Value (CLV)
* 10 Most Important Google Ranking Factors (& How to Optimize for Them!)

Boost Your Marketing Performance
Another benefit of having a well-designed, fast-loading website is that it can increase your performance across the board. According to a survey by Unbounce: 
Nearly 70% of consumers say that page speed affects their desire to buy from an online retailer.
As per Portent's analysis: "When pages load in 1 second, the average conversion rate is almost 40%. At a 2-second load time, the conversion rate already drops to 34%. At 3 seconds, the conversion rate begins to level off at 29% and reaches its lowest at a 6-second load time."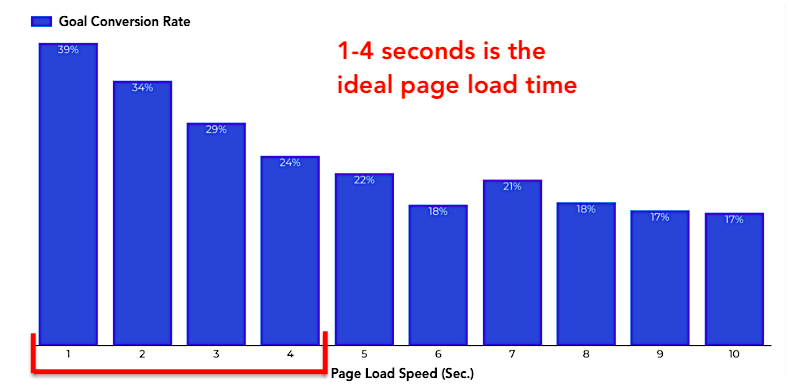 Any change in your website that makes your visitors' experience more pleasurable and seamless will make it easier for your marketing messaging to work. Once again, this fact works like the basis of everything else that comes afterward (your marketing strategy, that is).
Dive Deeper: CWV Update: Why Google Keeps Changing How It Measures Your Site's UX (and What to Do About It)
What to Look for in a Technical SEO Agency 👀
Technical Skills
First and foremost, you want to work with an agency that has technical people on its payroll. Although not everything within technical SEO requires coding skills, implementing the suggested changes from a technical SEO audit usually does. 
One such case is creating a new robots.txt that excludes some pages from being crawled or indexed, a task that requires an understanding of HTTP and regular expressions.
If the agency says that it takes care of the execution of technical SEO, make sure they have web developers on staff. Remember that SEO specialists aren't always technically gifted. 
Proven Expertise
You don't want to leave your website in the hands of an agency that hasn't worked on similar projects. Years in business doesn't matter as much as the breadth, relevance, and quality of the case studies they provide.
When evaluating a technical SEO firm, make sure they talk about past customers they've worked with, the tasks they were responsible for, and their results. If they don't offer any case studies on their website, ask for them.
Holistic Approach to SEO and Digital Marketing
An agency specializing in technical SEO while disregarding the rest of your SEO strategy isn't the right fit for your business. The same applies if the agency doesn't take your overall digital marketing strategy into consideration.
Technical SEO has its time and place. It's the foundation, as we saw previously, not the entire house. Once your technical SEO issues are fixed, make sure the agency helps you with the other parts of your plan, whether that's your on-site optimization, link building or content creation.
Dive Deeper:
* 14 Effective SEO Techniques to Drive Organic Traffic in 2023
* SEO Strategy for Startups: How to Win in 2023
* The Only 5 Off-Page SEO Techniques that Really Matter Today

How Much Do Technical SEO Agencies Charge?
Technical SEO agencies price their services depending on several factors:
Complexity

: This is the crux of the matter, as technical SEO can affect your development, design and marketing teams. Communication, coordination and execution are paramount, but they are also resource-intensive.

Deliverables

: The issues that the technical audit the agency performs will show you what needs to be done. Each task will become its own deliverable. The more deliverables there are, the costlier the services will be.
In the next section, you will see that the top five technical SEO agencies charge anywhere from $1,000 to $5,000 (or even more) per project, depending on the factors mentioned above.
The way these agencies charge may be based on any of the following pricing mechanisms:
Flat fee

: If the project is small and highly targeted to fulfill one objective (say, fix your slow page performance), they may charge you a specific amount (say, $2,000). The benefit of this method is that there won't be any surprises once it's time to foot the bill.

Hourly based fees

: Once a project becomes more complex and time-consuming, an agency may charge you a fixed hourly fee that expands according to the work done. The benefit of this method is that it guarantees the fulfillment of your project's goals. However, the final price is likely higher than in a flat-fee project and harder to estimate.
Ready to Hire the Right Technical SEO Agency for Your Business?
If your business has followed every Google guideline and your website is still not performing as well as it should be, you may need to contact a technical SEO agency like the ones mentioned in this article.
Here's a summary of this article:
Talk to the five agencies we mentioned in this article to discuss your problems and potential solutions.

Check case studies and testimonials that prove their expertise — agencies that have experience working in your industry are a big plus.

Ask potential agencies about their technical expertise and who's in charge of executing the technical SEO plan.

See how they integrate the technical SEO work with the rest of your SEO strategy.

When analyzing the prices they quote you, consider the costs that your website currently incurs and the missed profits from its underperformance.
Schedule your FREE consultation with Single Grain's SEO experts to discuss your needs.👇