If you're ready to take your SEO efforts to a whole new level, you probably need to hire a link-building agency.
But how do you discern the best link-building agencies from those mediocre outfits whose results are less than impressive?
Not only will this post provide our curated list of the top link-building agencies, but we'll also tell you such an agency can do for you, what to look for when choosing one, and the benefits of working with one.
---
---
Top 7 Link Building Agencies in 2023
Specializes In: High-quality, high-volume link-building
Top 3 Clients:
Pricing: $$$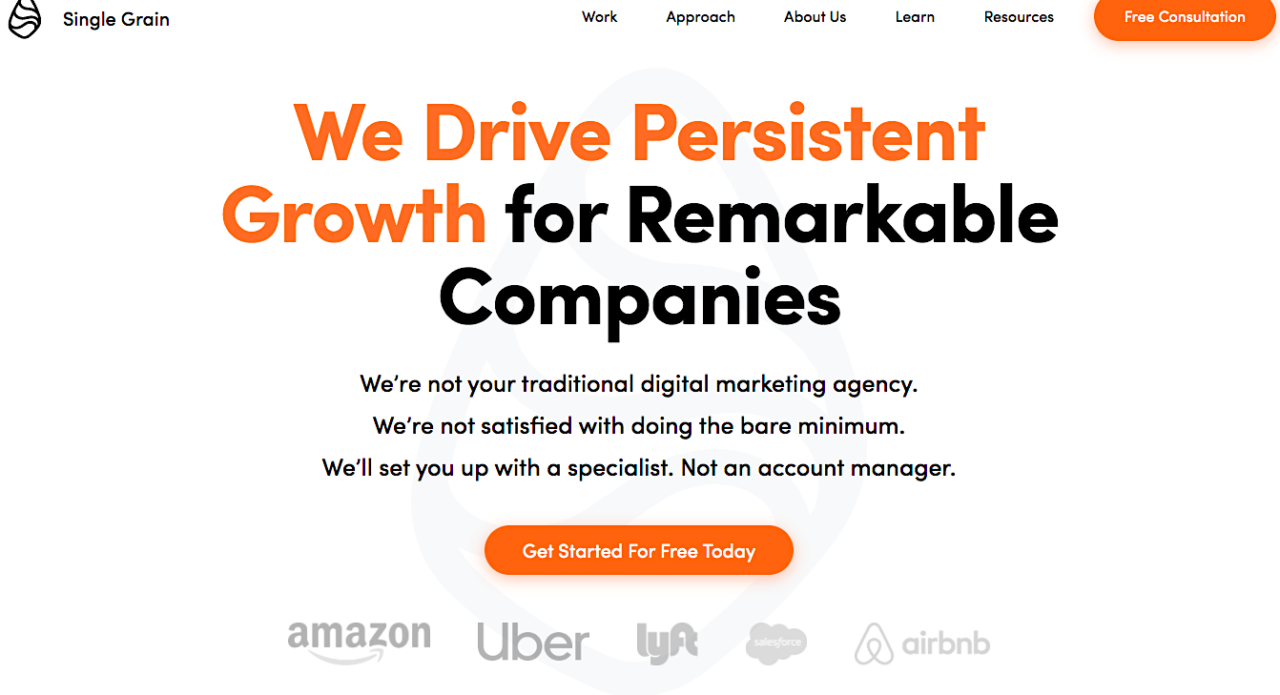 Single Grain is a full-service digital marketing agency that specialize in the two things that are fundamentally vital to successful link-building: Effective content creation and influencer marketing.
The company's content marketing experts focus on creating posts, guides, graphics and other high-value digital assets that don't just help generate organic traffic, but also prove to be irresistible to major players in your niche. This ensures that you get the right people linking to your content in a way that produces real results, namely higher visibility, an increase in traffic, and long-term business growth.
Combined with solid relationships with a network of influential figures across multiple industries, Single Grain has a proven track record of success with their link building tactics when working with some of the world's leading brands, including Amazon, Lyft, Uber and Airbnb.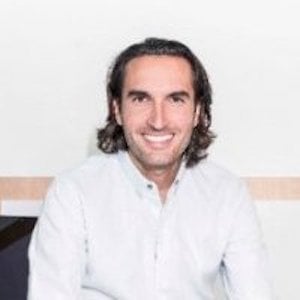 Yaniv Masjedi
CMO, Nextiva
Their expertise has helped Nextiva grow its brand and overall business
Check out Single Grain founder Eric Siu's short video on his favorite link-building secret to get quality backlinks:
Specializes In: White Hat Link Building
Top Clients:
Coefficient.io
Keka HR
Invgate
Pricing: $$$

Samurai Marketers specializes in landing backlinks from real, authoritative companies—including well-known tech sites like Zapier, GetResponse, and Mailshake. 
Notably, Samurai uses their own proprietary software to build a "Links Landscape" report before starting campaigns. 
This report shows clients how many links they'll need to build to beat the competition and rank at the top of the SERP. The founder, Shaurya, emphasizes the agency's white hat SEO approach to steer clear of risky or questionable link building tactics.
Specializes In: High-quality link-building at scale
Top Clients: [No information available]
Pricing: $$$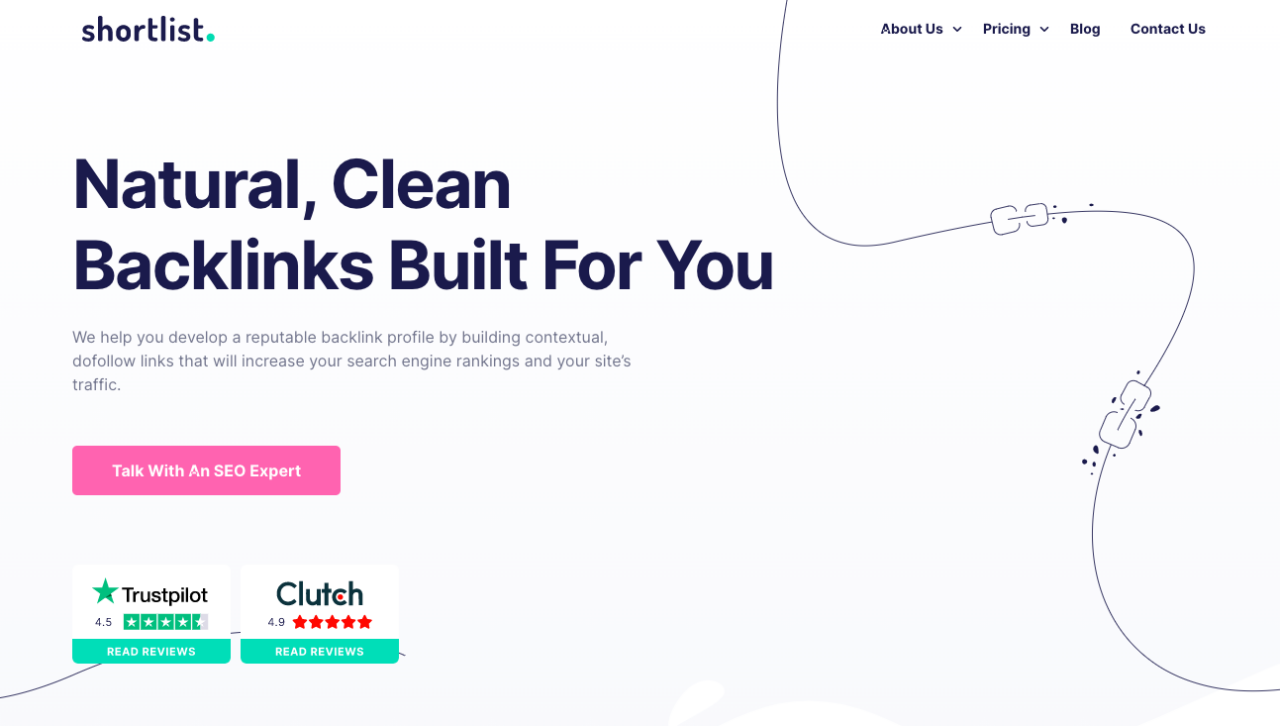 Shortlist is a high-performing digital marketing agency that follows the "quality over quantity" rule and avoids spammy outreach campaigns and low-authority websites. Instead, Shortlist takes pride in its personalized blogger outreach methodology and its database of thousands of partners with high domain authority available for do-follow backlinks.
Shortlist serves brands and agencies alike, the latter through white-label link-building SEO services. Founded by longtime SEO strategist Dave Schneider, this agency has a solid track record of providing results to businesses of all sizes and niches.
Dive Deeper: 5 Types of Guest-Post Content that Support Your Link-Building Efforts
Specializes In: High-quality, custom link building
Top Clients: Aura, LeadQuizzes, Advanced Medical Certification
Pricing: $$$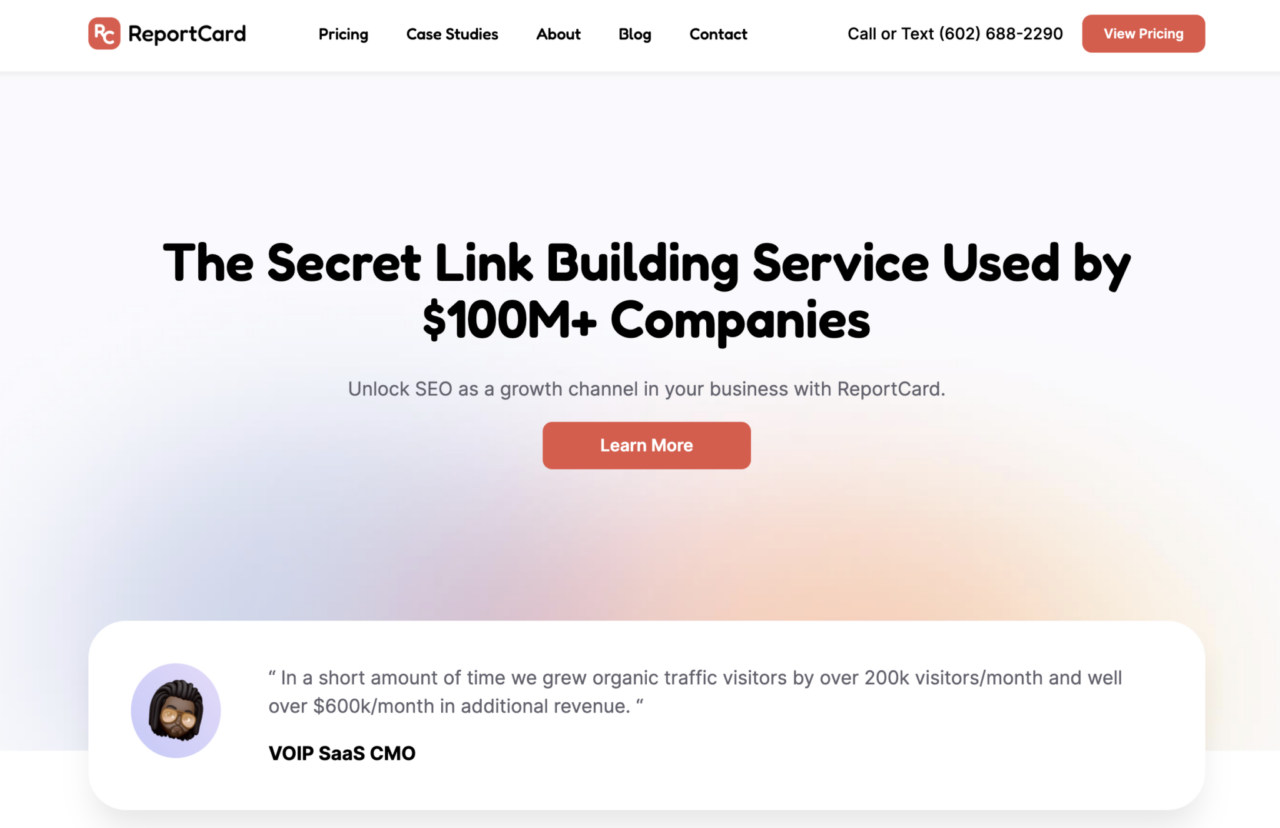 ReportCard is an SEO agency exclusively focused on link building services. They work with both national and local businesses and with over a decade of experience in the industry, ReportCard has established a remarkable track record of building over 10,000 high-quality backlinks for clients across different niches. One of the primary reasons why ReportCard is widely considered as one of the top link building agencies is their ability to help clients generate significant revenue from SEO. Their clients have been able to generate an additional $27.6M+ in annual revenue from SEO. The secret to their success is their focus on high-quality and relevant guest blogs and link insertions.
By leveraging these strategies, ReportCard has consistently outranked major competitors like WordPress, HubSpot, Survey Monkey, and more for their clients' most important keywords.
5) uSERP
Specializes In: Digital PR and SEO link building
Top 3 Clients:
Monday.com
Freshworks
HotJar
Pricing: $$$$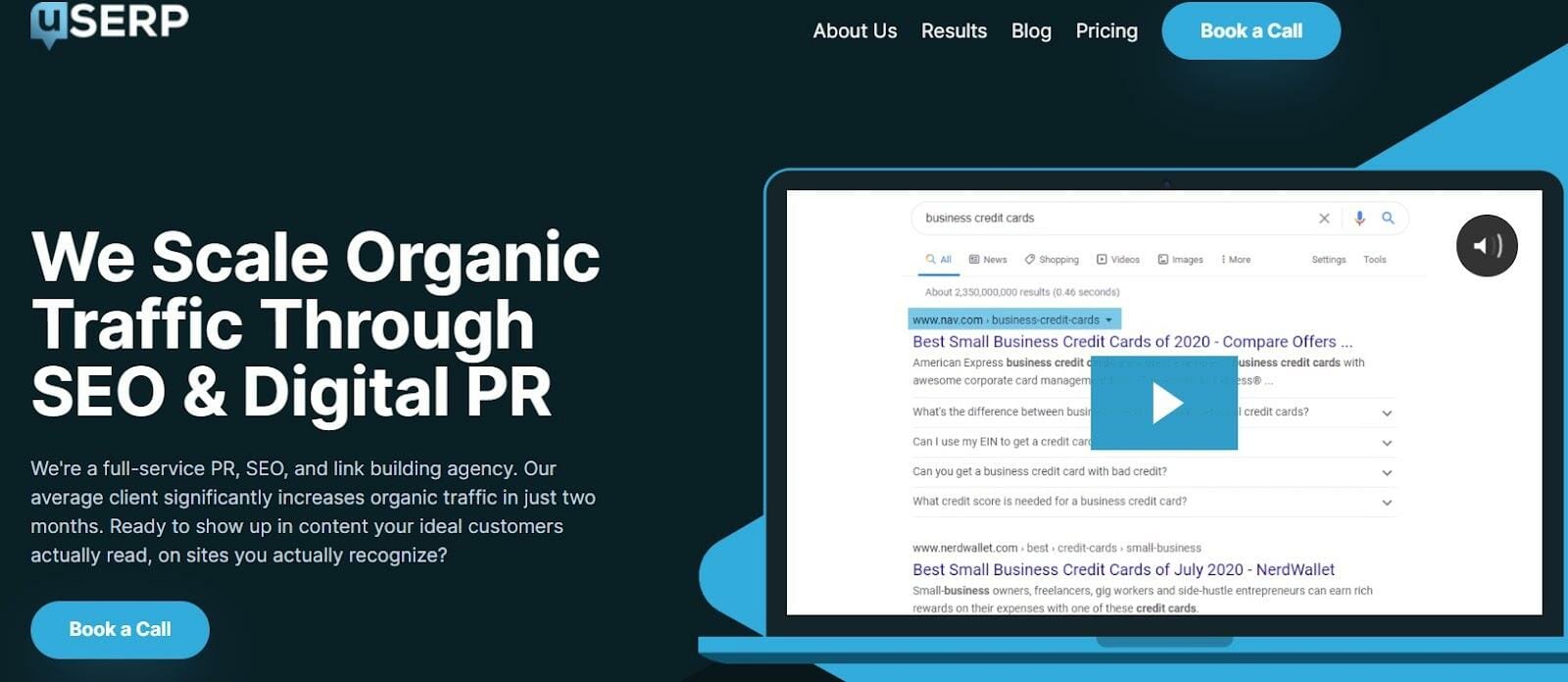 uSerp is one of the few link-building agencies out there that proves that they're just as well equipped at helping small businesses and start-ups as they are at working with globally recognized enterprises.
The company has a well-established track record of earning coveted mentions and backlinks on well-known websites. This means that you don't just have to take their word for it when they tell you that they've gotten you featured on a high-authority website. You can tell that based on the site's reputation and popularity alone.
Applying this approach to their SEO and digital PR work has helped earn uSerp a reputation as one of the biggest link building companies.
Dive Deeper: The Ultimate Guide to Link Building with Content for SEO
6) Higher Visibility
Specializes In: PR and content creation
Top 3 Clients:
Calibre Collision
Allure Bridals
Fitness 19
Pricing: $$$
If you read our recent guide to the six best SEO agencies to work with this year, you may recognize Higher Visibility as a multi-award winning agency who has developed an enviable reputation as one of the best in the business.
Though they mainly focus on on-page optimization, the agency is equally adept at improving your off-page SEO efforts too: They focus on building your brand's reputation as an authoritative source by getting you mentioned on blog posts (or allowing guest blogging), news articles and resource lists.
Along with all that, the company also specializes in creating high-value content, such as articles and infographics, that drive organic traffic and serve as prized linkable assets that websites with high domain authority can link to.
Dive Deeper: How to Get Premium Backlinks When No One Knows Who You Are
Specializes In: Link building that focuses on relevance for SaaS and fintechs
Top 3 Clients:
Pricing: $$$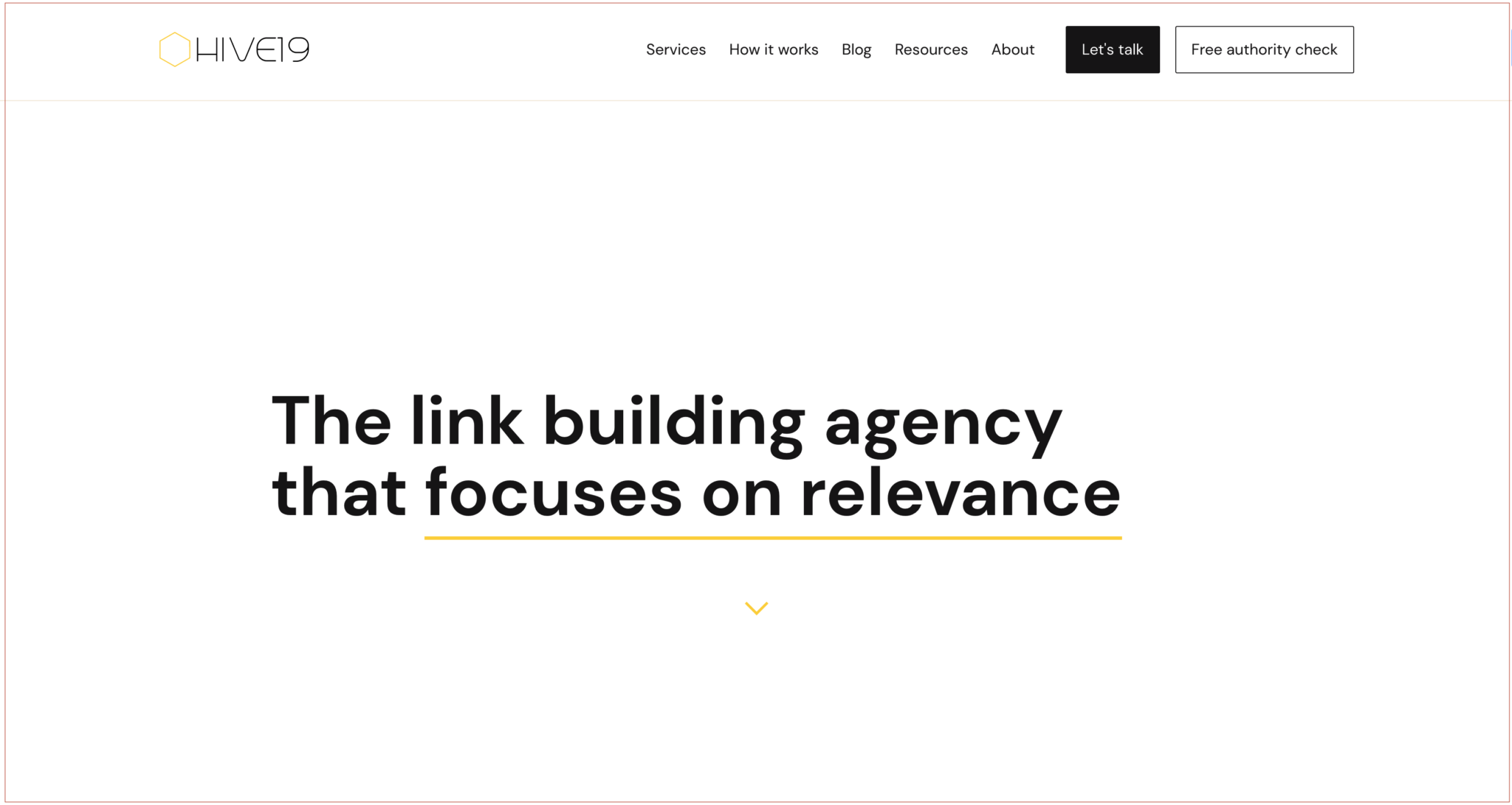 Hive19 is the link-building agency that focuses on relevance. Specializing in helping SaaS and fintech brands acquire leads through organic search, their keyword-led strategies drive organic rankings through earned coverage from powerful, topically relevant websites within specific sectors.
They have been recognized as a trusted partner to some of the fastest-growing startups, offering a seamless integration with marketing KPIs that compliments targeted SEO strategies and deliver coverage for long-term, sustainable online growth.
With a focus on relevance and authority, their clients benefit from a laser focused approach to link building. They employ a bespoke keyword-led research strategy designed to identify the most topically relevant websites that are approved in their bespoke HiveRank™ system.
What Is a Link Building Agency?
A link building agency is exactly what it sounds like: It's a company that specializes in generating links from reputable, authoritative websites back to your company website, social media presence or other digital assets.
So far, so straightforward, but that only raises a further question: Why would anybody need to generate these links in the first place?
The answer is pretty simple:
Backlinks (literally: links back to your website) are a fundamentally important element of effective search engine optimization.
When determining how to rank your website in organic search results, search engines like Google look at the number of websites that link to yours. As a general rule, the more high-quality sites that link to digital content, the more Google views your site as a trusted source of information on that subject.
And the more Google views your content as a trusted source, the higher up the search results it's likely to rank for your specific keyword.
The key term here is "high-quality." You could have a million and one backlinks from websites with poor content, low numbers of visitors, or an otherwise less-than-reputable reputation, and they still wouldn't be nearly as effective at boosting your search rankings as a single, solitary link from a high-profile site with a reputation as an authoritative voice in your industry.
This is the main reason why link-building agencies exist.
They specialize in identifying the best authoritative websites to get those all-important links from those sites to generate a high quality link.
The Benefits of Hiring a Link Building Agency
Now that we're clear about exactly what a link-building agency does, you may wonder why it's worth hiring one when you could technically reach out to other websites and try to build backlinks yourself.
There's nothing to stop you from taking a DIY approach to link building, and there are even countless articles like our own ultimate guide to link building with content for SEO that will help you do that.
Still, as the old saying goes, just because you can, doesn't mean you should. So here are a few reasons why you'd benefit from hiring a link building service versus going it alone.
A Clear Understanding of the Best Sites to Reach Out To
As we'll discuss later in this guide, any good link-building agency worth their salt should take the time to get to know you and your industry.
If they've done their homework, they'll also understand which sites within that industry or niche market are worth establishing relationships with for link-building purposes.
After all, just because a website has a strong reputation as an authoritative source doesn't always mean it's the right fit for your business. Google also considers contextual relevance when determining the quality of your backlinks.
Sites like TechCrunch, for example, may be one of the biggest and most trusted tech sites on the web, but if you're trying to generate links for your new boutique fashion label, a link from TechCrunch isn't going to do you much good unless you've got a tech-specific angle to promote.
Link building agencies understand this. As such, they can save you the time and hassle of reaching out to inappropriate and unsuitable sources, focusing only on those websites, blogs and influencers that will do some good for your brand.
Dive Deeper: 3 Steps to Create a More Effective Reputation Management Strategy
Established Connections
Link-building agencies aren't just good at identifying the best places to get backlinks from; they may already have well-established relationships with those places that can make generating a high quality link that much easier.
Think about it: Much as when you hire a top influencer agency, it's much easier to establish a working relationship with a leading publisher when your company's link building efforts are in the capable hands of someone who is already trusted by that publisher.
A Cost-Effective Approach to Growing Your Brand Online
The main reasons why any company hires a link building service are:
to increase their online visibility
develop a reputation as an authoritative voice in their industry
and drive organic traffic to their website
Still, as we've already discussed, these are all things you could technically do yourself. At least, you could if you had an infinite amount of time and ample marketing experience.
The truth is that if you're running your own business, you certainly don't have a lot of time, and you may not have appropriate marketing experience, either.
That's not a criticism, it's simply the case that your time and energy may be better spent on growing your business in other ways rather than spending hours on a link-building campaign that may produce only half the results that you'd get from hiring an expert agency.
Since all that time you'd spend taking the DIY approach is time you're not generating revenue, outsourcing any kind of digital marketing work like this only proves to be more cost-effective in the long run.
Dive Deeper:
* How – and Why – to Build a Backlink Portfolio
* How to Build High-Quality Backlinks to Your Content
* How to Squeeze the Most Value Out of Nofollow Backlinks from High-Authority Sites

What to Look for When Hiring a Link Building Service
Okay, so you're convinced that hiring a link building agency is the right move for your business, but what separates the best agencies from the sub-par ones, and how do you know which agencies are worth hiring and which should be avoided?
Here are four things to look for when choosing which company to work with, along with the red flags to look out for that may tell you an agency should be avoided.
A Clear Plan of Action
When you start talking to a link building specialist, one of the first things they should tell you is exactly what they can do for you.
Yes, they're going to create backlinks for you, but how?
Are they going to create digital assets like infographics, guides and blog posts and encourage authoritative websites to link to them?
Will they be focussing on positive digital PR to get your name out to reputable news sources?
Will they be focusing on content syndication, influencer outreach, getting your links in directories, or some other strategy entirely?
Whatever the case may be, it's worth knowing exactly what your agency will be doing for you so that you know precisely what you're paying for.
Think about it: You wouldn't take your car to a garage and agree to pay to have it fixed without being told what the mechanic will do to fix it, so why would you agree to pay a link building company that won't tell you what they're going to do to "fix" the problem of your brand's backlinks?
🚩 If a company doesn't give you a clear, actionable plan, if they make vague statements or otherwise try to cloak the whole process in a cloud of techno-babble mystery, that could be a sign that:
They don't really know what they're doing
They're trying to make the process sound more complicated than it really is to justify charging you more
Legitimate, White-Hat Strategies
There is, of course, one other reason why a company may not want to be so clear about how they're going to generate backlinks for you: They rely on "black hat" tactics like creating shady link farms or spamming the comments of third-party websites with links to  your content.
Not only do these kinds of link building tactics run the risk of damaging your reputation, but they can also result in Google penalizing your company and knocking it further down the search results listings (or taking you out of the results altogether) rather than rewarding you with a higher ranking.
🚩 Likewise, avoid any company that promises to be able to buy backlinks. One of the most important unwritten rules of link building is that buying links for the purpose of improving page rankings can result in disastrous consequences.
If a company uses these kinds of link building tactics, it's best to avoid them and stick with a company that uses legitimate "white hat" tactics such as the aforementioned content creation, PR, and outreach.
An Understanding of Your Niche and Your Goals
Whether it's link building, Pay Per Click (PPC) advertising, or just about any other form of growing your online visibility, everything an agency does for you should be tailored to suit the unique nature of your niche market and the unique goals you need to achieve.
As such, it's important that any agency you work with really understands not only what your business does but what audience you serve and the specifics of your industry that makes it different from any other.
This is especially true if your link-building expert is planning to build content for you, since the kind of content they'll need to create must be knowledgeable, accurate and valuable – three things that are impossible to achieve without taking the time to know what you're all about.
A Proven Track Record
Any company can say they'll get you quality backlinks, but how many can actually prove it?
While you're researching various link-building agencies, be sure to ask for case studies, proven results, and verifiable client testimonials that prove they have both the ability and experience to do what they say they're going to do.
Dive Deeper:
* Build Backlinks – and Website Traffic – with Blogger Outreach
* 5 Ways Cold Emailing Can Help Generate Backlinks
* Analysis of 1 Million Backlinks: Airbnb

Ready to Hire a Link Building Agency?
If you already have some high-value, linkable assets created but you're struggling to get any reputable websites to link to them, working with the outreach team at FatJoe may prove to be a smart move.
If you're an existing SEO agency looking to offer high-quality, white-label link-building services for your clients, get in touch with The Upper Ranks, as that's exactly what they do best.
However, if you want the peace of mind that comes from knowing your brand's online visibility is in the capable hands of a successful digital marketing agency with a proven track record of producing exceptional results for some of the world's biggest brands, look no further than Single Grain.
Our combination of growth-focused content creation, influencer outreach, and all-round effective SEO makes us the go-to link-building agency for both emerging startups and internationally recognized brands alike.
Schedule your FREE consultation with Single Grain's link-building experts to discuss your needs.👇