SEO remains the bread and butter for content marketers to achieve the desired level of traffic and leads coming their way from published content. In fact:
90.86% of global traffic comes from Google Search, Google Images and Google Maps. 
60% of marketers say that inbound (SEO, blog content, etc.) is their highest quality source of leads.
To maintain authority in your business niche and to retain those content rankings, you must stay abreast of the latest updates in the world of SEO. In this article, we'll go through twelve vital factors that impact the search ROI from publishing web content in 2023.
Ready? Let's get started!
---
---
12 Key SEO Trends That Content Marketers Need to Know
If you're a content marketer who wants your business or your clients' business to stay at the top of the SERPs while offering content that's of value to your readers, you'll need to know these twelve key SEO trends.
1) Core Web Vitals
Google's Core Web Vitals is all set to become a search ranking factor starting mid-June of 2023. The update measures a web page's user experience in terms of its responsiveness, load speed and visual stability, and dives deeper into a site's load speed by considering factors such as:
Load speed of a page's main content
Time taken by a page to become interactive
Unexpected layout shift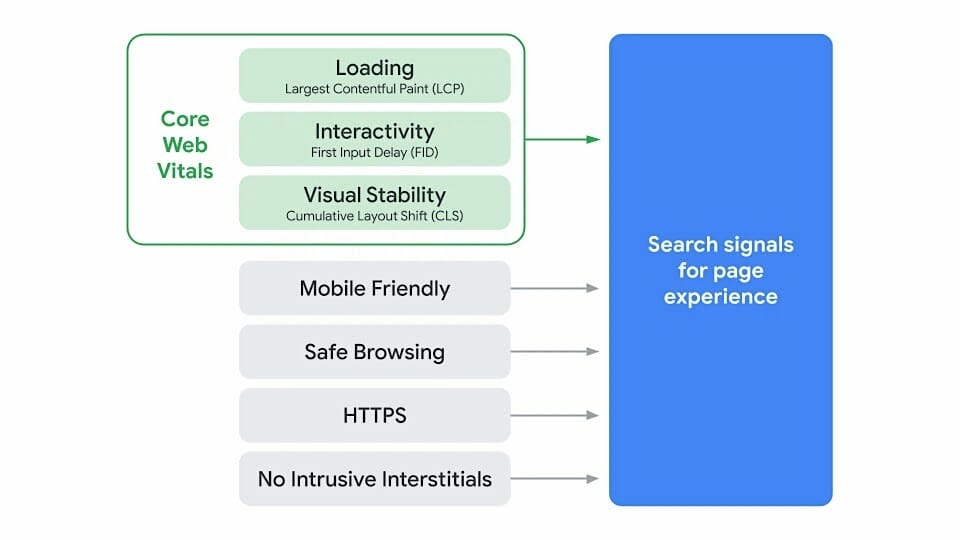 This update comes as an extension of Google's endeavor to optimize and enhance the experience of online searchers:
"These signals measure how users perceive the experience of interacting with a web page and contribute to our ongoing work to ensure people get the most helpful and enjoyable experiences from the web." 
Here's how to make sure your website is prepped for Google's upcoming page experience algorithm update:
To check how your website fares for Google's Core Web Vitals, head over to the PageSpeed Insights tool, enter the relevant URL and hit "Analyze". Moments later, you will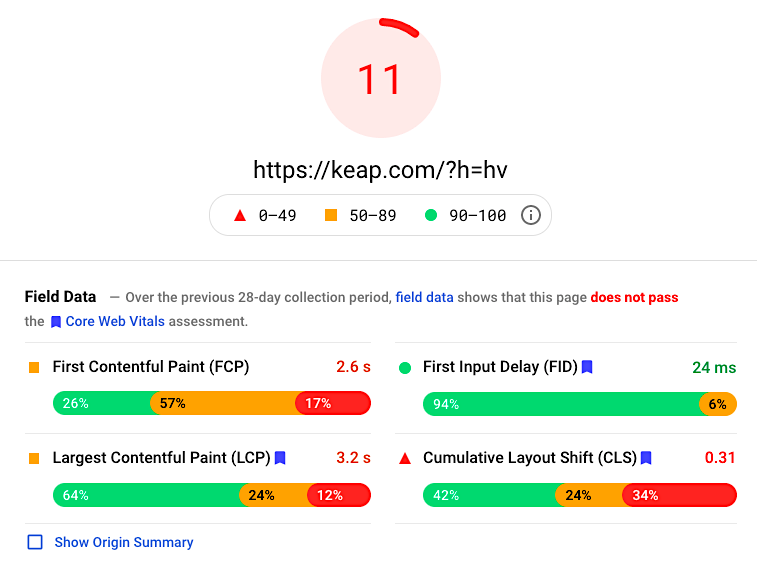 It's a simple process to understand if your site passes the Core Web Vitals Assessment. Plus, you can check out this guide on how to get an in-depth report of the Core Web Vitals status of your site. 
Dive Deeper: How to Prepare Your Site for the New Google Page Experience Update
2) Passage Indexing
This Google algorithm update is another tool that lets people find the most relevant answers to their online search queries within different passages on a given web page. If you've ever clicked on a link in the SERPs and been taken directly to the spot on the web page to find your answer highlighted in yellow, you know what I'm talking about: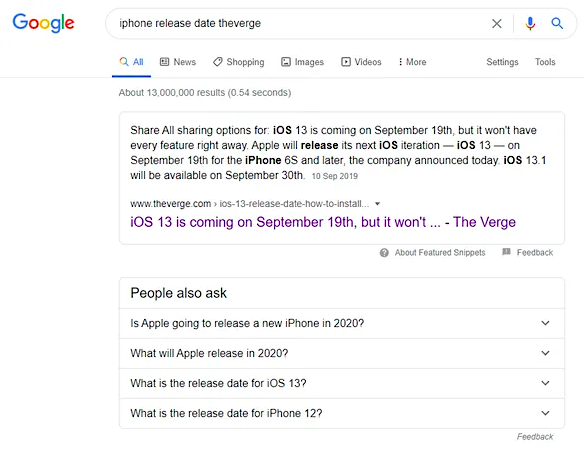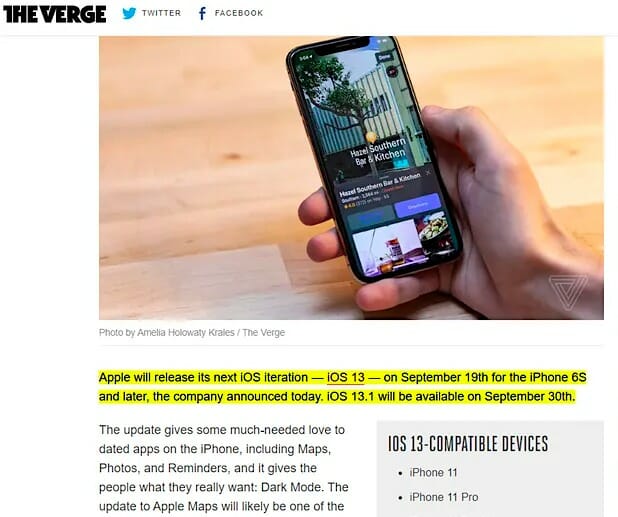 According to Google:
"Very specific searches can be the hardest to get right, since sometimes the single sentence that answers your question might be buried deep in a web page. We've recently made a breakthrough in ranking and are now able to not just index web pages, but individual passages from the pages.
By better understanding the relevancy of specific passages, not just the overall page, we can find that needle-in-a-haystack information you're looking for."
For instance, if you've published a piece on how marketing automation works with seven or eight sub-sections, Google will rank individual sections based on how they match specific search queries: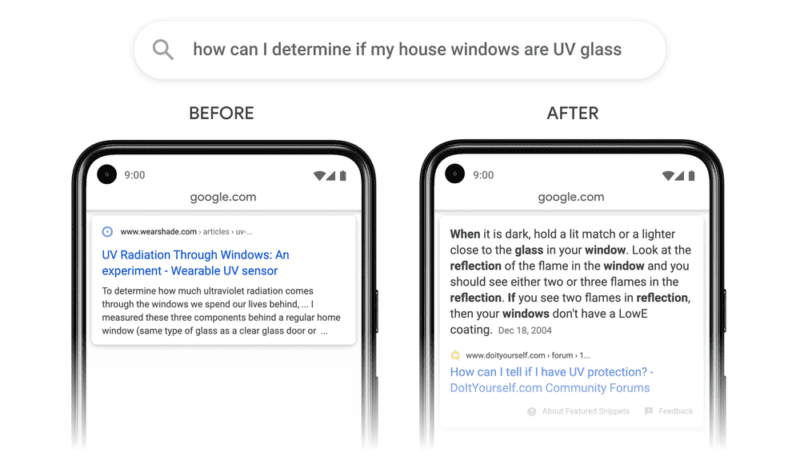 Not sure how to make the most of this Google update? Here are some tips:
Make sure to update your blog content with the latest resources and statistics.
Optimize blog content subheadings with relevant keywords and topics.
Use long-tail keywords to answer common audience questions.
Make sure not to over-optimize content for keywords. At the same time, try to meet user search intent as much as possible.
Dive Deeper:
* What Is the Google BERT Search Algorithm Update?
* What Is Marketing Automation: Definition, Benefits & Uses

3) E.A.T.
The acronym E.A.T. stands for expertise, authoritativeness and trustworthiness. Google had sown the seeds of this update back in 2015 when it released its Search Quality Rater Guidelines, but it became popular after the Medic Update of 2018.
Besides serving as a ready reckoner for Google's human search evaluators, the guide helps SEO professionals and businesses to understand what Google considers to be a high-quality content piece. Let's explore some of its key elements.
A) E.A.T. (Expertise, Authoritativeness, Trustworthiness), or Page Quality
Google is looking to push up content that comes from authoritative publishers. Let me break down this acronym for you:
Expertise is about having deep knowledge of your niche. Google is looking to rank content published by subject matter experts who are well-qualified on the topics they write about.
Authoritativeness refers to the online reputation enjoyed by a website or an individual publishing a content piece. 
Trustworthiness includes factors such as content accuracy and the reliability of the sources for the piece.
B) YMYL (Your Money or Your Life)
Let's now take a look at the meaning of YMYL sites and how this update impacts websites.
Here's how Google defines YMYL sites:
" …some types of pages could potentially impact the future happiness, health, financial stability or safety of users. We call those 'Your Money or Your Life"'pages or YMYL… They include financial transaction or information pages, medical and legal information pages, as well as news articles and public and/or official information pages that are important for having an informed citizenry."
If your site comes under the YMYL category, then demonstrating E.A.T. becomes vital.
In short, Google demands that you be more transparent and authentic with branded content when publishing information related to people's well-being, health and money.
All Websites Must Have a Beneficial Purpose
Google's Search Quality Rater Guidelines also focuses on a concept called "beneficial purpose". Thus, all sites and web pages must be helpful to users: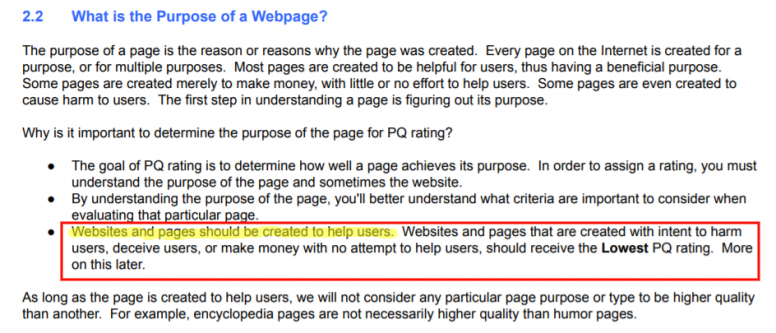 In other words, your goal as a content publisher should not be just to make money, but to help your audience by sharing helpful information.
There's no doubt that E.A.T. is a critical factor that governs the SEO outcomes of a website.
Here are some quick tips to help improve your website's E.A.T.:
Hire content writers who have experience and expertise in your niche. Your goal should be to produce thought leadership content that adds value for your target audience.
Build a solid online reputation by getting customers to add positive reviews and testimonials. 
Earn backlinks and press mentions on high-quality niche blogs and publications.
Display contact and customer support information on your site.
Try and get a Wikipedia page for your business.
Publish detailed credentials of all blog authors on your site: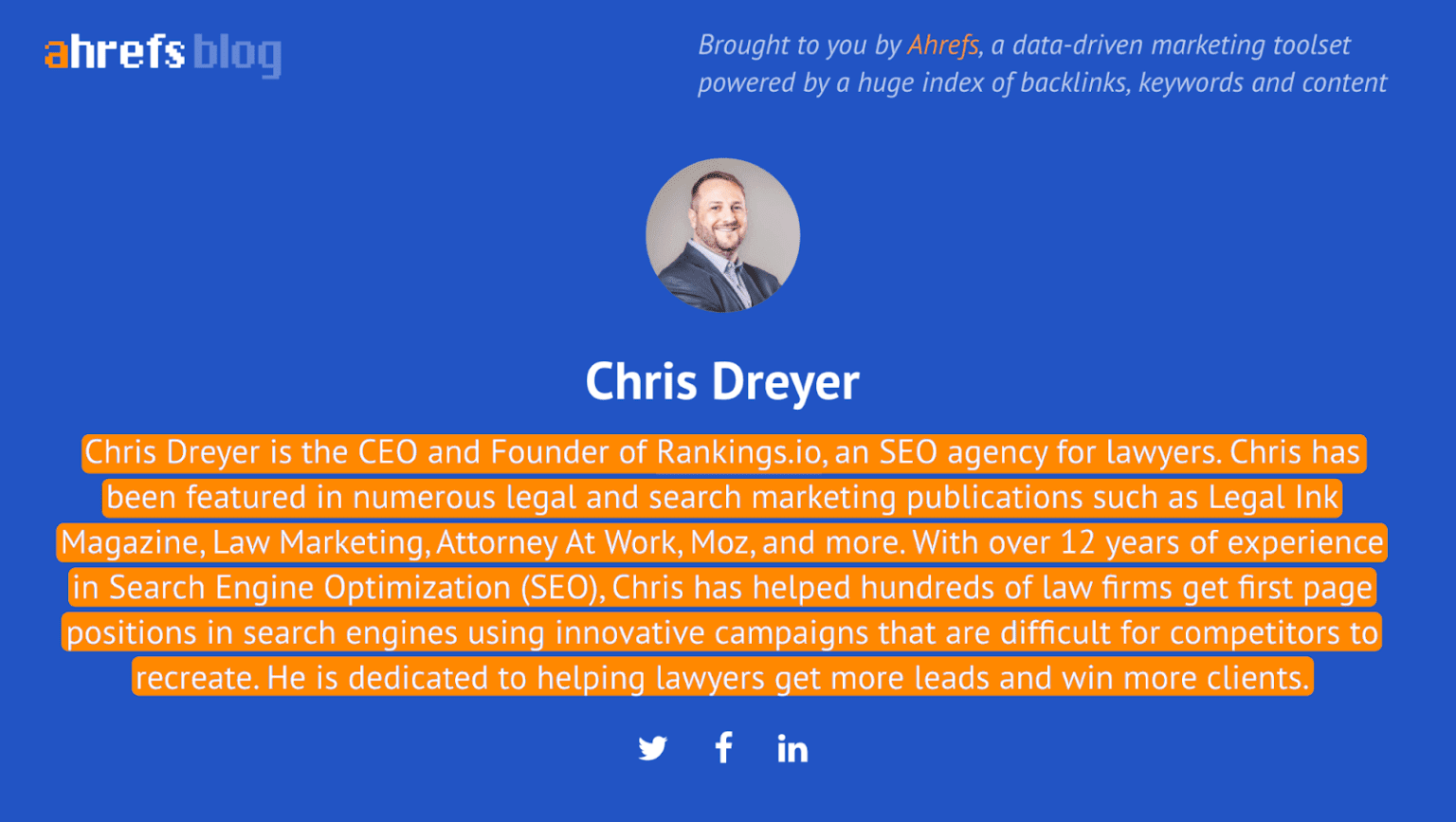 Dive Deeper: Google's Search Quality Rater's Guidelines: Here's How to Ensure Your Site Gets a High Quality Rating! [infographic]
4) Google Web Stories
Google Web Stories is an AMP-powered visual format for short, slideshow-type, full-screen content:
The story content format is already popular on platforms like Instagram and Facebook, and now Twitter and LinkedIn. Google's goal is to offer content publishers another avenue to showcase quality editorial content, and the good part is that Google Web Stories are indexable on search engines.
Where do Google Stories appear? You can find Google Web Stories on Google Discover on your Android or iOS smartphone. With the rapid growth of stories across web platforms, you must use this engaging content format to reach a wider audience and get valuable search traffic.
Here's how to use Google Stories to get better search visibility:
Optimize the titles and metadata to get better visibility.
Integrate story content to a landing page on your website specifically meant for stories.  
Embed links in such content and drive valuable traffic back to your site.
5) Mobile SEO
With the launch of mobile-first indexing in 2019, mobile SEO has become as crucial as ever. 
Mobile internet usage has been growing consistently:
Nearly 73% of people will access the internet solely via mobile devices by 2025.
As of April 2021, there were 5.27 billion unique mobile users, making up 67.1% of the global population: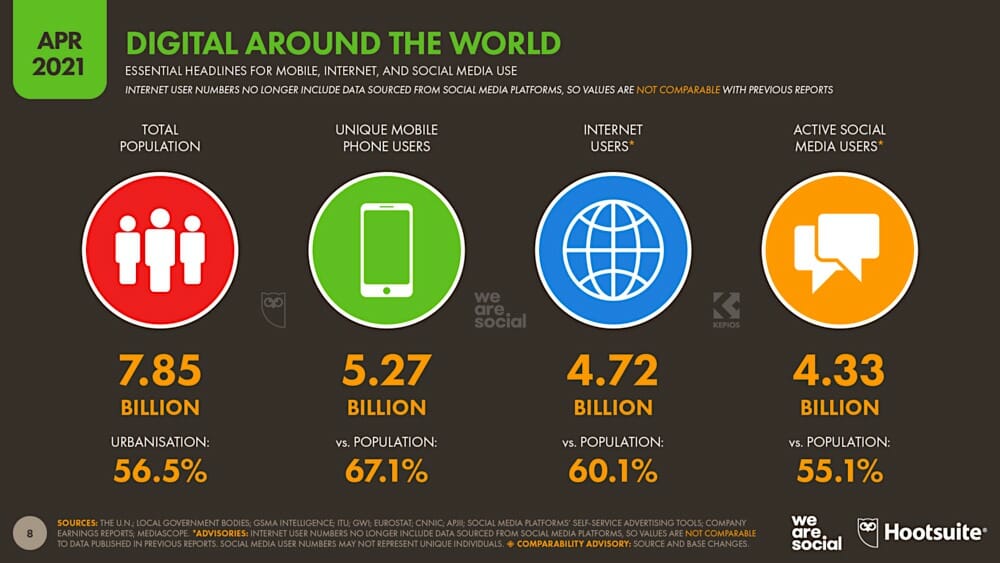 According to this update, Google predominantly considers the mobile version of a content piece or a web page for ranking and indexing. Hence, it's essential to ensure that your website and its content offers optimum user experience across mobile devices and platforms. 
Here are a few tips on how to optimize your website for mobile devices: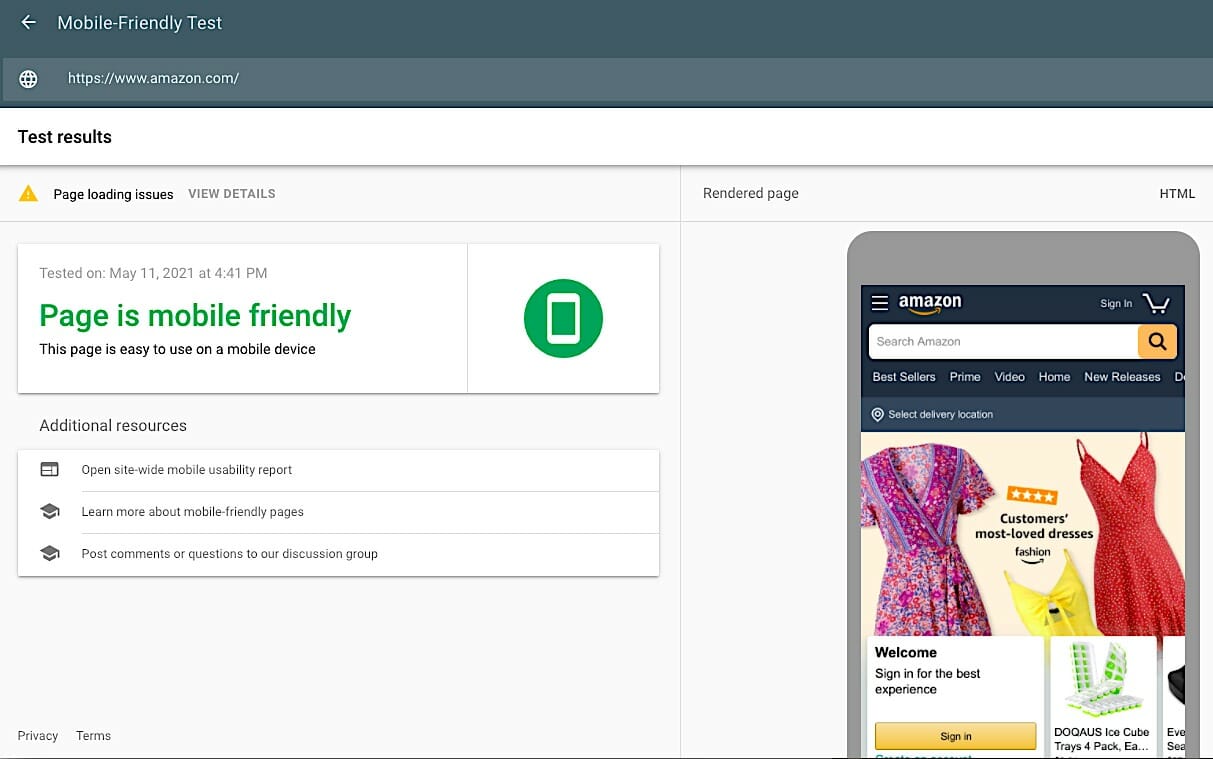 Next, you should check your Google Search Console account for your site's mobile usability report.
Finally, ensure that the meta robots tags on your desktop site and its mobile version are the same.
Dive Deeper: Mobile-First Indexing: What You Need to Improve Your Site's Ranking
6) Long-Form Content
When it comes to the efficacy of content length, a study conducted by SEMrush shows that: 
"7,000+ word articles drive almost 4 times more traffic and 43% more shares than articles of average length (900-1,200 words). Meanwhile, short posts (300-900 words) gain 21% less traffic and 75% less backlinks than articles of average length (900-1,200 words)."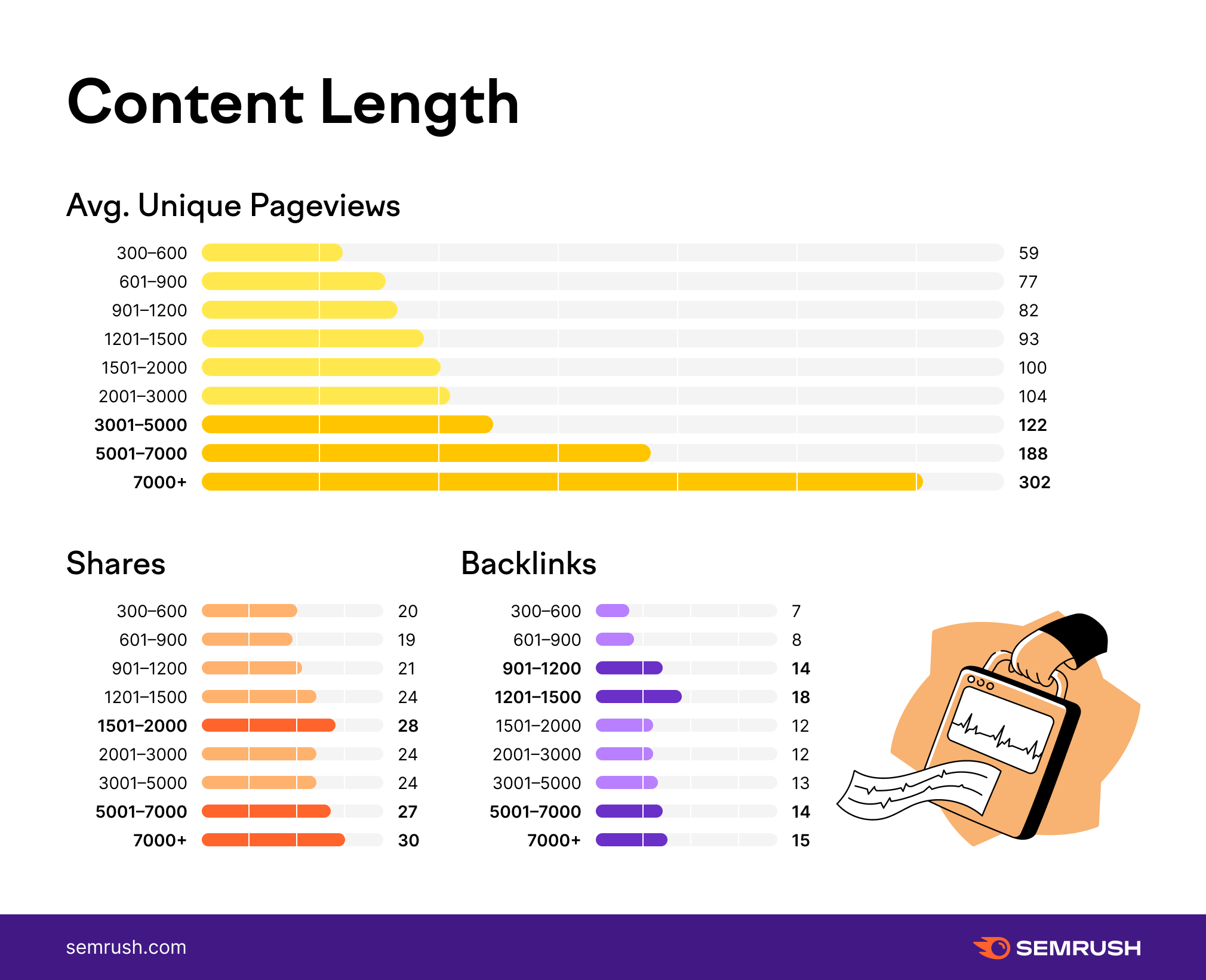 Creating excellent long-form content is about putting yourself in your audience's shoes. Be honest about offering real value, and you'll always stay ahead of the competition.
Here are some quick tips on how to publish such content in 2023:
An excellent start is always to offer as much value as possible.
Try to format your content in a way that it's easy to consume and understand. For instance, use appropriate headers to divide your content piece into relevant sub-sections.
Use bulleted text and visuals to break down the content further and make it engaging and reader-friendly.
To make a content piece more insightful, link to helpful (and expert!) resource pages. Make long-form content data-driven by citing the latest studies and statistics.
Learn how to employ SEO content writing to ensure that your content is search-friendly and audience-centric.
Dive Deeper:
* 5 Tools to Create SEO-Friendly Content Step-by-Step
* How to Create Quality Blog Posts that Convert Customers
* Do You Really Need to Write 1,890-Word Blog Posts to Rank on Page 1?

7) Brand SERP Optimization
Brand SERP refers to how your business appears to searchers when someone types your company name in the Google search bar. Your business' search results listing is the first impression that users get of your brand. It's what determines the CTR and conversion rate of your website. And that's exactly why Brand SERP optimization is such a critical part of your SEO strategy. 
With different media elements appearing in Google's SERPs, position zero (i.e. featured snippet) has become a critical SEO success factor, and thoroughly optimizing your website and its content for search listings is how to do this. 
Here are some tips to optimize your brand in the highly competitive SERPs:
Use a Schema Markup 
To showcase your brand as an entity with a definite purpose, add Schema Markup to your landing pages and content pieces. A Schema Markup is a type of structured data (i.e. code added within your HTML) that provides a detailed description of a web page: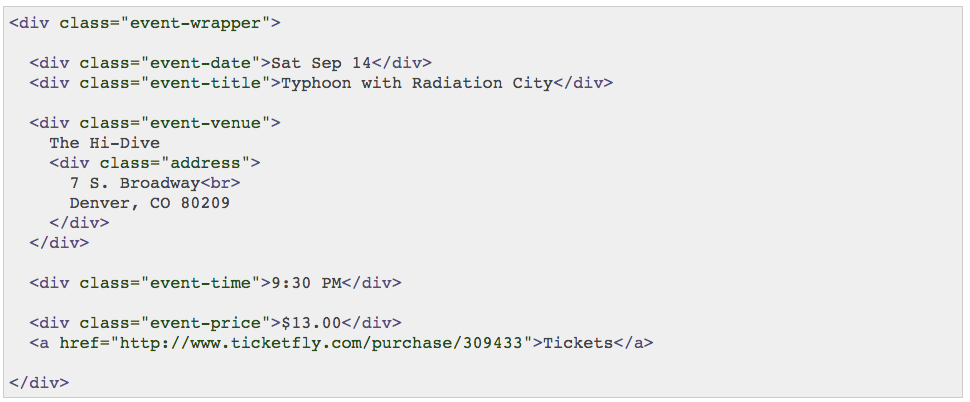 Such descriptions then appear in the site's search listing as a rich snippet — like this example (not the exact result):

Create an optimized Google My Business profile by filling in all your business details such as opening hours, phone number, amenities, photos, reviews and a direct map link. Here is how it looks in the SERPs:

Site Navigation
Google sitelinks are additional website pages or sections (as opposed to just the main site URL) that are sometimes displayed in the SERPs. These are helpful to those searchers who are looking to navigate to specific information on a site. 
You have no control over whether Google displays sitelinks for your website, but to achieve the desired visibility in the SERPs, make it a point to simplify your site's navigational structure: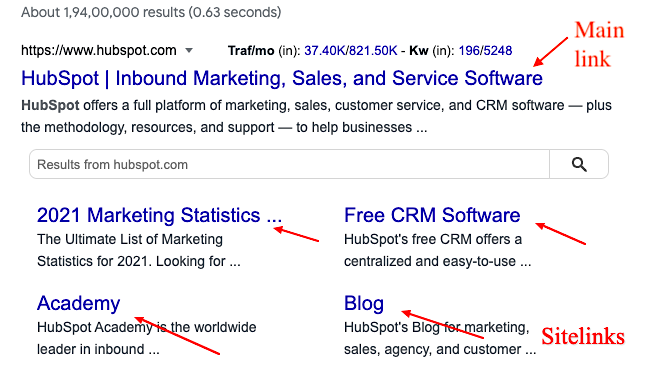 Aim for Google's Featured Snippets
In an effort to provide a quick answer to a searcher's query, Google offers a resource in the form of a paragraph, numbered list, table or bulleted text. Such a search result is known as a featured snippet or sometimes referred to as position zero. 
Again, while you can't control this (Google determines whether a web page makes it as a featured snippet), you can still do your part to be a contender as a particular featured snippet. Take a look at this example: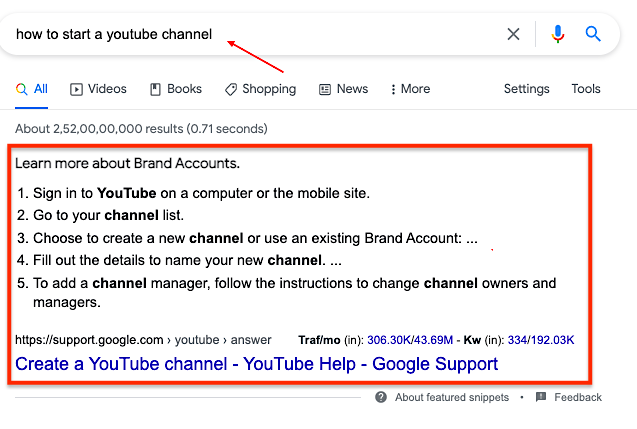 Studies show that about 12.3% of search queries result in featured snippets:
If your page makes it in the SERPs as a featured snippet, it helps improve your site CTR and traffic. 
As mentioned, it's up to the Google bots who wins a place as the featured snippet, but here's how you can help:
Format your content to answer questions in the form of numbered and bulleted text. 

Make use of headings and subheadings to structure your content more effectively. 

Use keyword-rich and relevant alt tags and titles on all the images on your site. 

Use content formats like definitions, lists and tables to offer quick solutions to audience queries.
8) Fact-Checking
Again, Google is doing everything possible to take searcher experience to the next level. It's making constant efforts in fighting disinformation and ensuring that online users find relevant answers to their search queries. Naturally, Google will prioritize content that it considers factually accurate. Plus, as a content marketer, you have a responsibility to make sure that what you're putting out there is factually correct.
Here are some steps to ensure that the content you're publishing is fact based:
Use Google's two fact check markup tools (Fact Check Explorer and Fact Check Markup Tool) to help journalists and researchers verify facts on your website.         
You can also use the Google Journalist Studio to analyze and verify a large amount of data in no time at all.
Use the following accuracy checklist to review each content piece thoroughly:

9) Video Content
Video content is huge right now and growing continuously:
It is predicted that by 2022, 82% of the global internet traffic will come from video streaming and downloads.
In a survey, 96% of respondents said they had watched an explainer video on products and services.
54% of people want to see more video content from brands: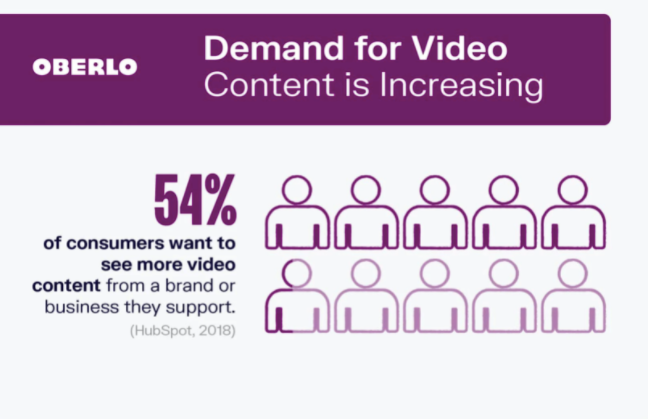 Hence, it's necessary to incorporate informative and entertaining video content in your SEO strategy. In 2023, you can't deny the importance of high-quality video content for attracting organic site visitors. This content format improves average time on site, which is great for maintaining higher search rankings.
Here are some tips to utilize videos for better website SEO:
Create a search-optimized YouTube channel for your business. Optimize it with a relevant and search-friendly title and description.
Use YouTube's auto-suggest feature to look for popular niche keywords on the platform; it's a good way to start creating videos that answer audience queries in your niche.
For better search visibility, embed video content on your website and transcribe each video (like this example).
Dive Deeper: 9 SEO Areas to Focus On to Boost Your Video's Visibility
10) Voice Search Optimization
More and more internet users are benefiting from the convenience offered by voice search:
Voice-enabled smart speakers to reach 55% of U.S. households by 2022.
39.4% of all internet users in the U.S. and a third of its total population (which is about 111.8 million people) use voice search: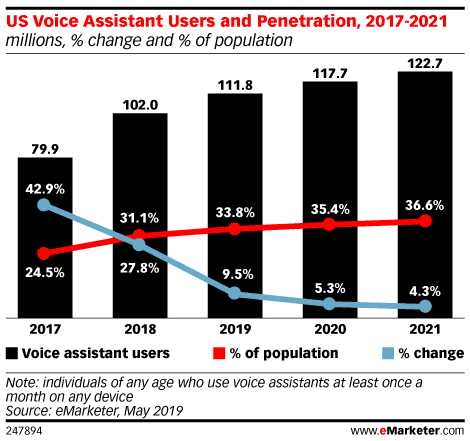 Content marketers and SEO professionals must align their mindset to offer a growing number of voice searchers the relevant website and content experience.
Here's how to optimize your site for voice search and get it to rank for voice queries:
Voice search queries are longer in length and conversational in tone. For instance, a text search might simply be "atkins diet" or "backlinks for website," whereas a voice query would be "how do you follow the atkins diet?" or how do I get backlinks for my website?" Hence, you must optimize your site's content for such questions: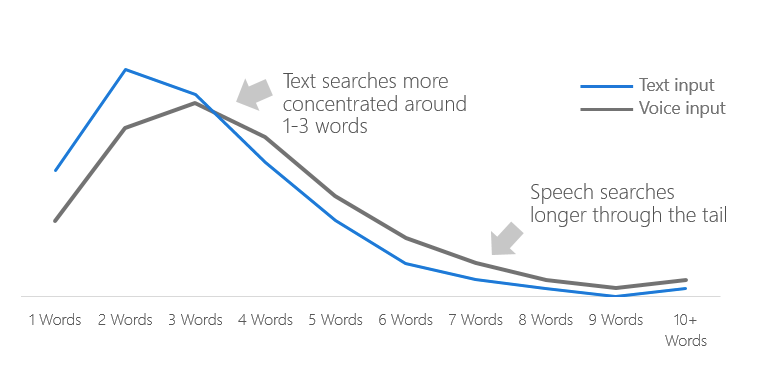 It's critical to understand the context of a voice search query, so a content marketer's goal should be to offer direct answers to searchers' questions.

You need to apply the concept of

user intent

to voice queries and create content that best meets a voice searcher's requirements. "User intent simply means the purpose behind an online search query. If you know what users mean when they type a search term, you can provide the most relevant answers."
According to Google, FAQs are 2.68% of voice search results and most voice searchers use words like "What," "Who," "When," "Where," "Why" and "How." So a good strategy is to create FAQ content that answers such voice queries in your niche:
Dive Deeper:
* Beginner's Guide to Voice Search SEO
* VSEO: How Voice Search and Conversational AI Are Changing SEO

11) Audio SEO 
With the growth of podcast content and podcast listeners worldwide, audio SEO is the new kid on the block. What is audio SEO? It's the strategic process of getting audio content higher in search rankings.
37% of people in the U.S. listened to a podcast in the last month – up from 32% two years ago. 
Audio SEO is soon going to become a new industry and will pave the way for audio search engines, tools and platforms.  As founder and head of product for Google Podcasts Zach Reneau-Wedeen says:
"Right now Google is really good at giving you text and video related to your search query. With all the amazing work podcasters are publishing each day, there's no good reason why audio isn't a first-class citizen in the same way."
Google's Podcasts app will automatically transcribe podcast episodes, which means that they will show up in the SERPs (even if you don't know the episode title) where you can play them right from the search page: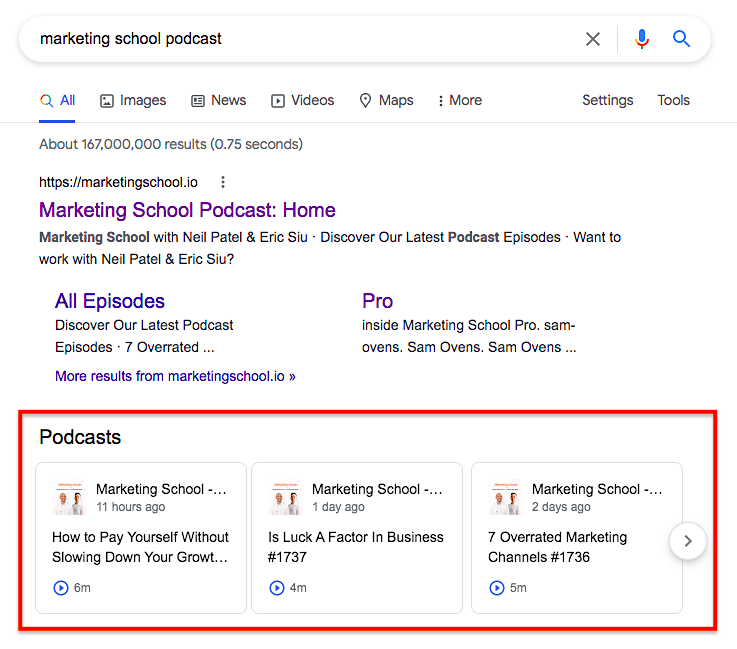 As an engaging content format, audio content has enormous potential. That's why you should look at ways to publish such content and optimize it with the help of the latest audio SEO strategies.
Here are some valuable tips to implement audio SEO for your website:
Ensure high production quality for your podcast content.
Ideate podcast topics around popular search terms in your industry.
Publish podcast episodes to hosting platforms like Spotify, Google Podcasts, and Apple iTunes. Optimize the titles and descriptions of each of the episodes.
Create an SEO-friendly landing page for your branded podcast show. Also, develop optimized web pages for individual episodes.
Lastly, use social sharing plugins to make it easy for listeners to share content or snippets of audio content: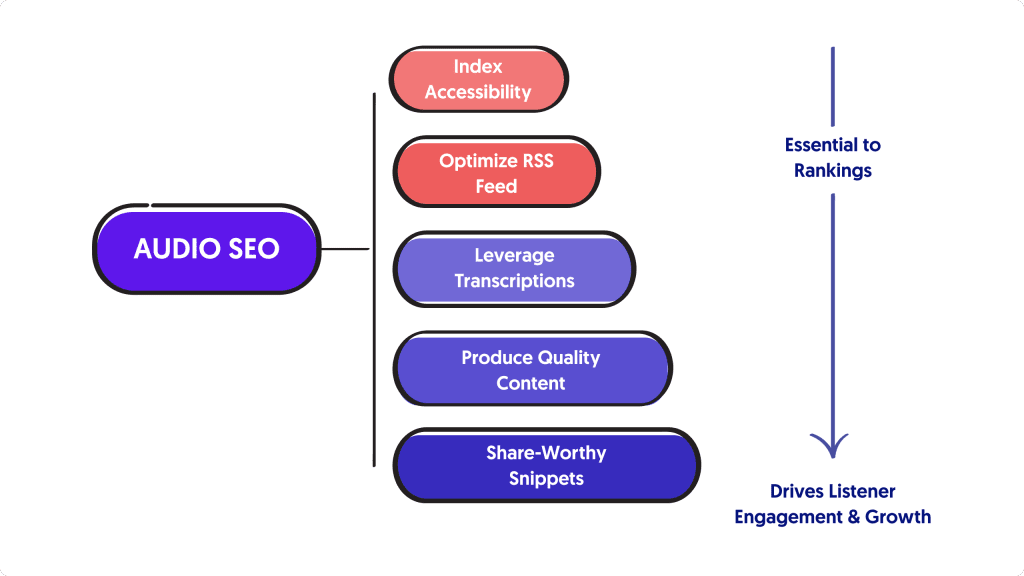 Dive Deeper: Audio SEO: The Complete Guide to Ranking Your Podcast Successfully
12) Internal and External Links
Believe it or not, link-building remains an evergreen SEO strategy in 2023 and beyond. High-quality backlinks and press mentions remain a vital ranking factor. Also, studies show a high correlation between backlinks and website traffic: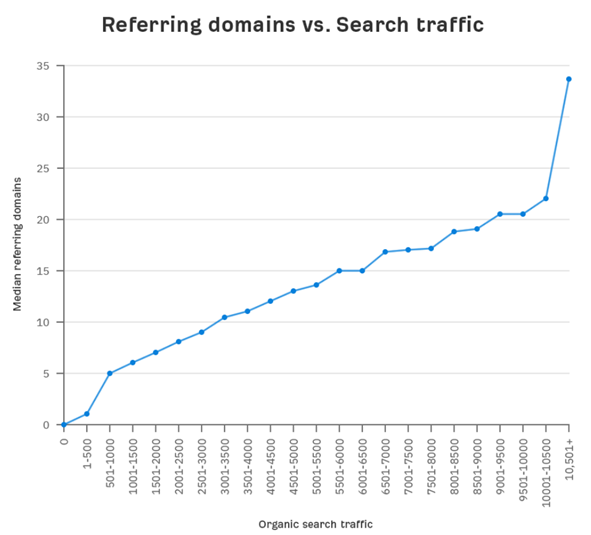 Let's look at some tips for building quality external links for your website:
Work on creating valuable content assets such as guides, infographics, courses, and videos.
Create a blogger outreach program to connect with relevant niche bloggers.
Pitch and write guest articles for popular and high-traffic blogs.
Sign up to platforms like HARO (which stands for Help A Reporter Out) and SourceBottle to reply to journalists' queries on the relevant topics.
At the same time, you should not ignore internal linking as a way to improve website rankings. According to a study by Data Box, 42% of SEO specialists spend equal time on external and internal backlinks, and 24% focus their energies on internal linking: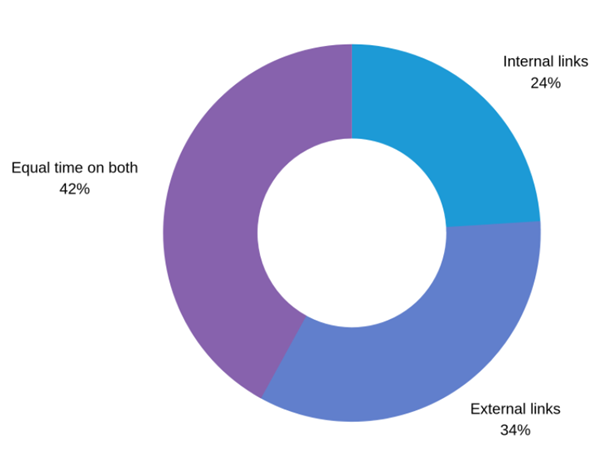 Remember, a strategic internal linking structure focuses on improving user experience. Link complementary content pieces so that users can find the relevant information easily. Use relevant keywords in your anchor texts — this strategy helps showcase the relevance of your pages and improves search rankings.
Most successful SEO professionals work on maintaining a healthy external and internal link profile for their website. Backlinks remain a proven way to achieve higher Domain Authority and search rankings for a business website.
Dive Deeper:
* 5 Types of Guest-Post Content that Support Your Link-Building Efforts
* The Ultimate Guide to Link Building with Content for SEO
* The Skyscraper Technique: How to Build High-Quality Backlinks to Your Content

Bonus SEO Tips
Check out this video: The 27 Most Important Lessons We've Learned About SEO
Final Thoughts
Content marketers must realize that the scope of SEO is growing wider each day, and getting higher search rankings is no piece of cake. To grab a decent share of the SERP real estate, content marketers must take an integrated approach to implementing SEO on their website. Besides focusing on quality and authentic content, you must also look at making the most of emerging trends such as audio SEO, video SEO, and voice search optimization.
I hope you enjoyed reading this trend piece — I wish you all the best with your SEO efforts.