We all want our website to rank number one on Google.
The higher a website ranks in Google search results, the more traffic the site gets and thus generates more revenue.
Unfortunately, you can't control how Google ranks a website. But don't worry! There are a lot of things you can implement or improve to your website so that Google is more likely to show your web pages at the top of search results.
To achieve this, you need to master the SEO game and cater to each of Google's ranking factors to understand what works and what doesn't. There are over 200 Google ranking factors that were designed to help webmasters to optimize their websites, but the good news is you don't need to follow all 200+ ranking factors. Some are more powerful than others.
So, if you want to optimize your website most effectively, implement the following 10 factors that have the maximum impact on search rankings.
---
---
10 Most Important Google Ranking Factors and How to Optimize Them
Before we jump into the top 10 Google ranking factors, let's first understand the three primary types of SEO. I've broken down all the SEO tips in this article into these three categories to help you to organize and execute them accordingly:
Technical SEO refers to improving the technical aspects of a website, including site speed, security, crawlability, etc.
On-Page SEO refers to optimizing your content, which includes keyword research, content creation, etc.
Off-Page SEO (or Off-Site SEO) includes those activities that are performed outside of your website, such as link building, to boost your rankings.
In order to boost your search engine rankings, you need to perform all the SEO techniques accordingly. Let's start with optimizing technical SEO.
Dive Deeper:
* Google's 200 Ranking Factors [Infographic]
* How to Fix 15 Common On-Site Technical SEO Issues
* 10 Effective SEO Techniques to Drive Organic Traffic in 2023
* The Only 5 Off-Page SEO Techniques that Really Matter Today

Technical SEO Ranking Factors
As mentioned above, technical SEO refers to the technical aspect of SEO. This helps search engines to access, crawl and index your website.
Here are the most important technical SEO tactics you should implement or fix today.
1) Website Speed
In today's world, customers on the Internet are very impatient. They want answers to what they are searching for quickly. And if they don't get it from your site, they will bounce and seek their answers on another website.
If your website fails to load in under three seconds, you will lose both traffic and leads. Case in point: For just a one-second delay, Amazon could lose $1.6 billion in sales each year. And you won't just lose a few sales; slow-loading websites also provide a bad user experience, which Google doesn't like.
In 2018, Google announced an update in which they use page speed as a mobile ranking factor.
So why not optimize your site for speed when it's so easy to do?
First, go to Google PageSpeed Insights. Enter your website's URL in the blank field and hit "Analyze":

It will score your site's speed (for both mobile and desktop) based on several metrics: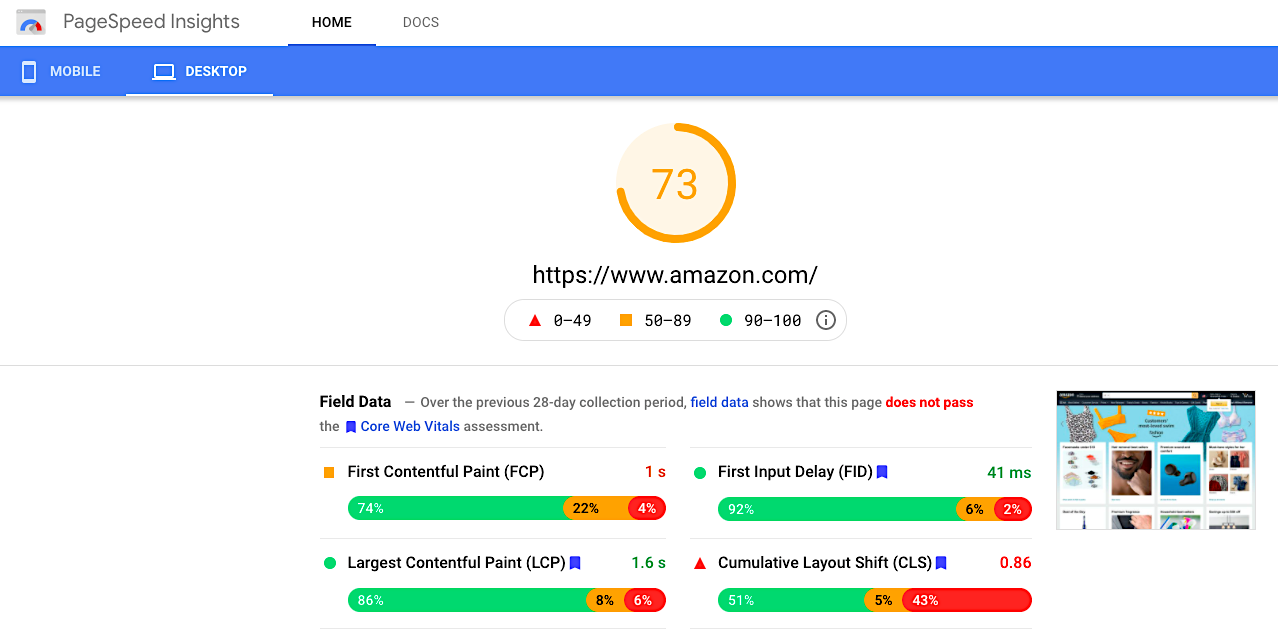 Once done, it will mention what things you need to modify to speed up your website: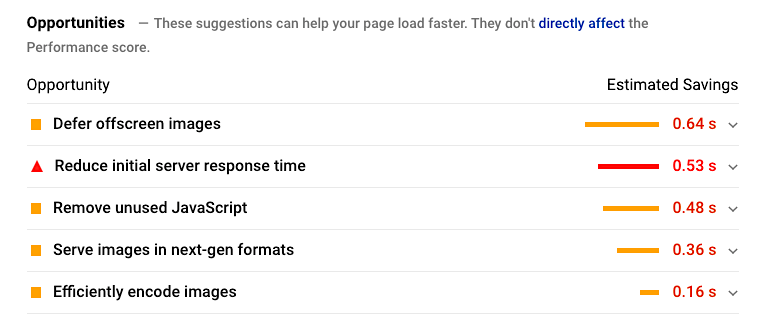 Here are quick tips for speeding up your website:
Optimize your images
Minify HTML, CSS, and JavaScript
Use a caching plugin
Use a CDN
Optimize your database
Choose a high-quality web hosting platform
Add lazy loading to your images
2) Website Security
Google wants to make sure that every website they show in the search results is secure.
Back in August 2014, Google announced HTTPS as a ranking signal. This means sites with HTTPS encryption will now get a ranking boost in search results.
When sensitive data such as passwords, credit card numbers, etc., are delivered from a non-secure (HTTP) site to a web server, all the information can be readable by hackers. But by enabling HTTPS, you encrypt all the sensitive information so that it can't be readable or even decrypted: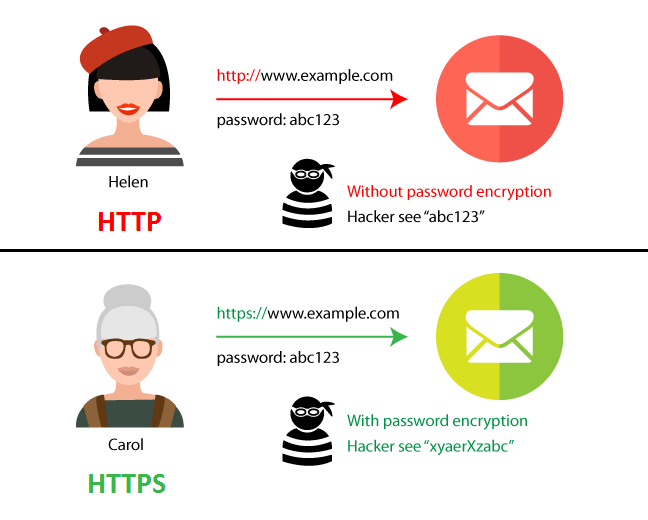 Do you think your website is secure? Keep in mind that "a Google survey shows that Americans know less than they believe about website security: 55% of Americans over the age of 16 give themselves an A or B in online safety and security, but 70% of them wrongly identified what a safe website looks like."
In 2017, Google announced the any website that is not using HTTPS encryption will be flagged as "not secure" on all major web browsers. So make sure your website has an active SSL certificate and opens with only HTTPS.
Learn More: How Poor Website Security Negatively Impacts SEO Rankings
3) Mobile-Friendliness
In February 2015, Google announced mobile-friendliness as a ranking factor. That means Google now includes the mobile version of web pages for indexing and ranking. So if your website is only optimized for desktop but not for smartphones, your search engine rankings could be impacted.
To check whether your website's content is optimized for mobile, use Google's Mobile-Friendly Test. Just enter your website URL to see how your site scores. You'll get a list of page loading issues suggestions on to improve them.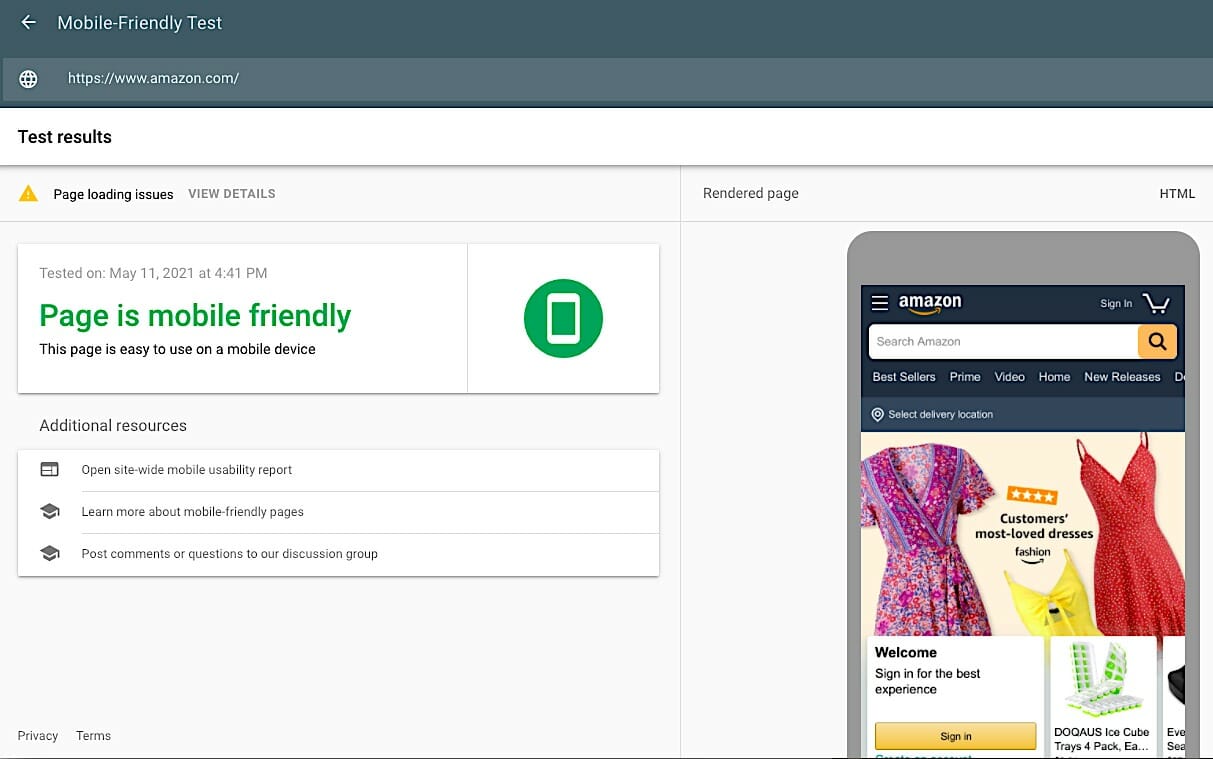 Dive Deeper:
* Mobile-First Indexing: What You Need to Improve Your Site's Ranking
* How to Prepare Your Site for the New Google Page Experience Update

4) Site Crawlability
You work hard on optimizing your website so that your valuable content shows up in the search results. However, if search engines fail to discover your content or don't know that your website exists, most likely your site contains crawlability issues.
That's why site crawlability is an essential part of SEO.
Google uses web crawlers (a.k.a. spiders or bots), which regularly browse, or "crawl," the web in order to discover content on the Internet. When a bot finds a website, it scans, reviews and stores the data to understand what the page is about and, thus, how it should rank.
To make this process easier for the crawlers, submit your site to Google Search Console. Once done, you can view which pages have been crawled by Google and which pages contain errors. You also need to set up your robots.txt file to tell search engines which pages to crawl and which pages to ignore.
Dive Deeper: 10 Google Search Console Hacks to Boost SEO
5) Image Alt Text
Alt text is a type of HTML attribute that is primarily used as an alternative text to describe images. This is an underrated SEO practice that most SEO beginners aren't familiar with.
The alt attribute doesn't only describe images; it also serves several other purposes:
When an image doesn't load properly, the alt text appears in that place, like this: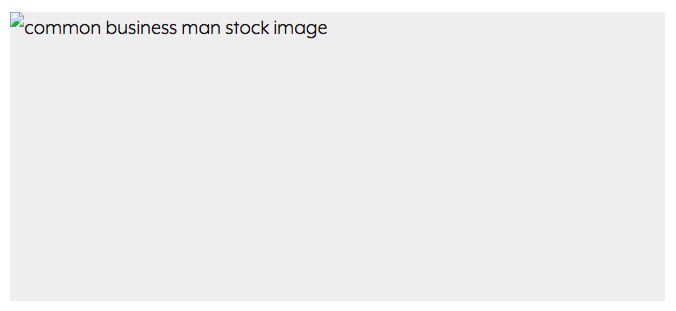 It helps Google understand what your image is about
Innovative solution for non-visual readers
It brings additional traffic to your site
Adding alt text in images is very helpful if you want to rank your images because if your images rank on Google Images, you get additional traffic to your site.
Here's how it works. If you search for "small garden ideas" on Google, you get tons of results, including images: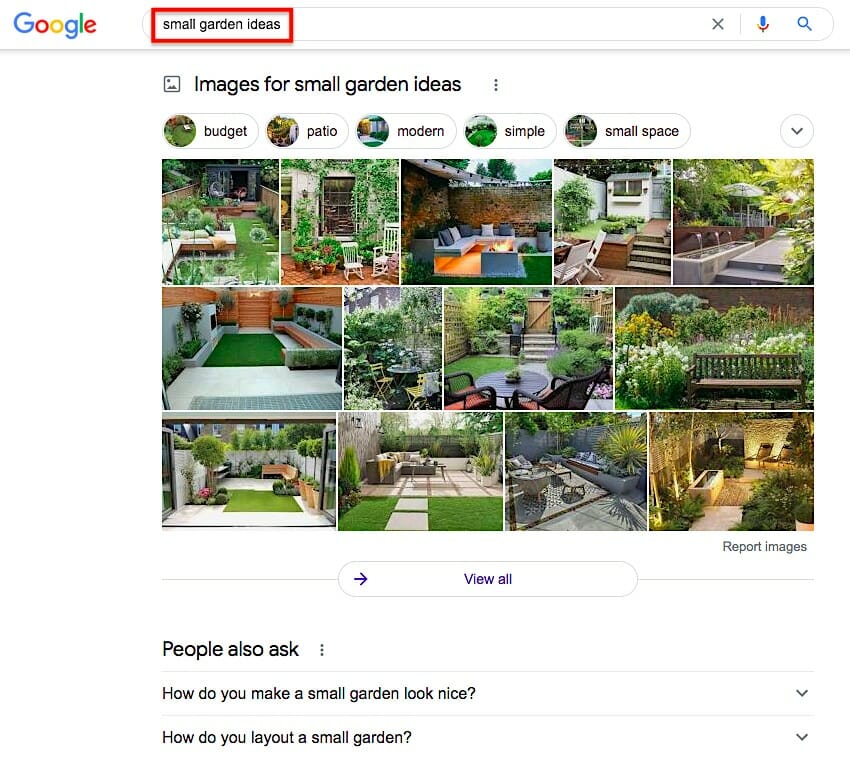 Now, if you click on any of the images, you will be redirected to the website (that contains the image). Topics like travel, design, art, craft, etc. work great in this case.
Just as you optimize your content with proper keywords, you should optimize your images as well.
On-Page SEO Ranking Factors
On-page SEO refers to the practice of optimizing your web page content for search engines and users. Here is how to improve your on-page SEO.
6) The Right Keywords
Before you start creating content, make sure you're clear on your keywords. If you choose the wrong keywords (i.e., those that nobody searches for on Google), you won't get any traffic no matter how great your content is.
But how do you know what keywords people are searching for on Google or which ones you should avoid? The easiest way to perform keyword research is by using a keyword research tool.
There are plenty of keyword research tools available — some are free, and some are paid. However, for this tutorial, I am using SEMrush, which is an all-in-one keyword research tool that allows you to perform keyword research with ease.
Let's say you started a sports blog and want keyword ideas for your articles. To generate appropriate ideas, enter a relevant keyword to sports, for example, "baseball bat". This keyword has a 183,000+ global monthly search volume: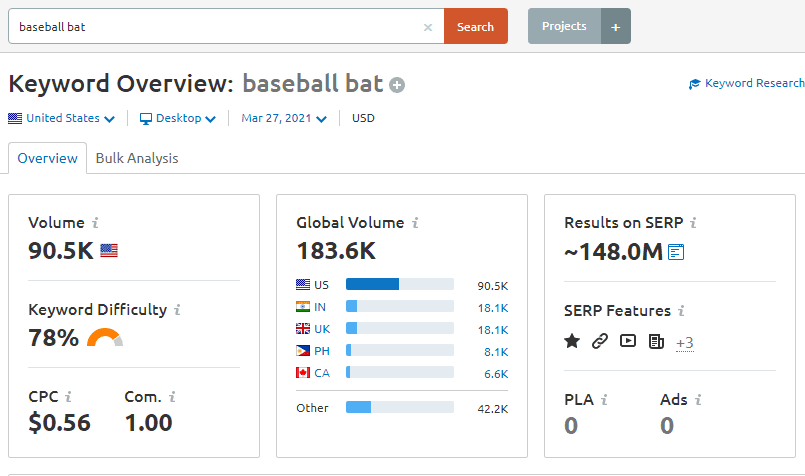 So, if your web page ranks on Google's SERPs, you will get a decent amount of traffic to your site.
Dive Deeper: How to Rank on Page 1 of Google for Thousands of Keywords
7) High-Quality Content
After researching keywords, now you have to write high-quality content.
We all know that Google frequently updates its algorithm. That's because Google wants to provide the best experiences for its users by displaying only fresh, quality content that is well-researched, in-depth, and optimized. High-quality content also helps boost your SEO rankings, traffic and conversations.
So rather than quantity, focus on producing quality content. It takes lots of effort, research and time to write high-quality content, but it will be worth it in the end. Target a primary keyword, add 3-4 other relevant long-tail keywords and cover them in one article.
This topic can't be fully articulated in just one section, so take a look at these three articles: 
Creating High-Quality Content:
* 30 Ways to Come Up with Great Ideas for Your Blog Posts
* How to Create Quality Blog Posts that Convert Customers
* The Skyscraper Technique: How to Build High-Quality Backlinks to Your Content

8) URL Structure
You should optimize your URL structure the same way you optimize your post title and heading elements. The URL may seem less important, but properly optimizing your URL address can help to improve your SEO.
Moreover, a good URL structure helps Google crawl your site better, increase CTR (click-through rate) and improve user experience.
Here's what I mean by optimized and unoptimized URL structures: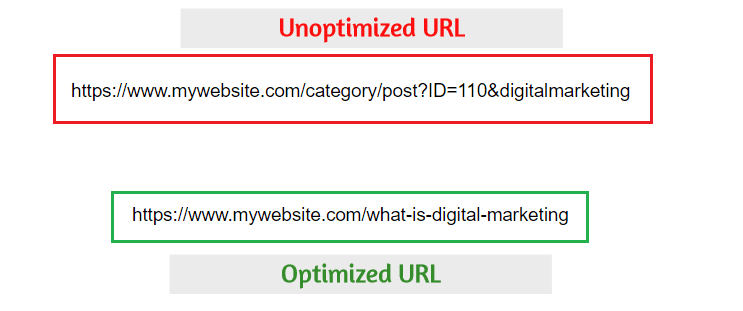 As you can see from the above image, the first URL (in red) is unoptimized, which makes it pretty difficult to understand. And if visitors don't understand what your page is about, they will probably ignore it. Besides, the URL structure makes it look like spam. But the second URL (in green) is clean and, of course, it clearly says the page is about digital marketing.
Here are some tips to optimize your URL structure:
Keep your URL length as short as possible: The ideal URL length should be between 35-72 characters. Shorter URLs are easier to read by search engines as well as humans.

Make your URL readable: Before hitting the publish button, make sure the URL is clean and readable. Don't add any complex characters in your URL. This often makes people confused. In the image above of the unoptimized URL, you can see that the default URL has been left in. Don't do that.
Add your keyword in the URL: Adding keywords in your URL doesn't only boost SEO, it also improves click-through rate (CTR). But make sure the URL looks natural.
9) Internal Linking
Link building is one of the most important parts of SEO. It helps to boost your organic rankings and traffic.
For successful link building, both external and internal links are significant. However, it's common to see that most beginners focus only on building external links, assuming that more incoming links mean more increases in rankings. While this is true, you still shouldn't ignore internal link building.
An internal link is a hyperlink from one page to another page on the same domain.  
Internal links help Google to discover more content on your website and spread link juice.
Dive Deeper: The Ultimate Guide to Link Building with Content for SEO
Off-Page SEO Ranking Factors
Off-page SEO refers to the optimization techniques that help improve your rankings in the SERPs.
10) Social Media Signals
"Social media signals" just means the shares or likes that a website gets, as well as the brand's presence on social media platforms. 
Developing a social media presence for your business or blog is a crucial off-page SEO strategy. It is essential to have an active presence on social media platforms because that will help you gain more popularity and allow you to grow your network. Having a social presence also helps websites or blogs get more backlinks, which makes the content more authoritative in Google's eyes. As a result, you get a ranking boost over time. 
You don't need to be active on all social media platforms. Instead, choose the most popular and engaging ones like Facebook, Twitter, LinkedIn and Instagram, that make sense for your particular brand.
Dive Deeper: How to Use Social Media to Substantially Improve Your SEO
11) Influencer Outreach 
It takes a lot of effort and time to write high-quality content. Once done, it's time to let the world know about the masterpiece you have created. But what's your plan? How are you going to promote it? Do you have enough followers or subscribers who will re-share your content?
While content promotion seems a bit hard, there are ways you can leverage the process. That's where influencer marketing comes in. You can reach out to the influencers in your industry and ask them to share your content with their followers or even a backlink if possible.
To get started, go to BuzzSumo and enter a keyword to see the top-performing content on the internet: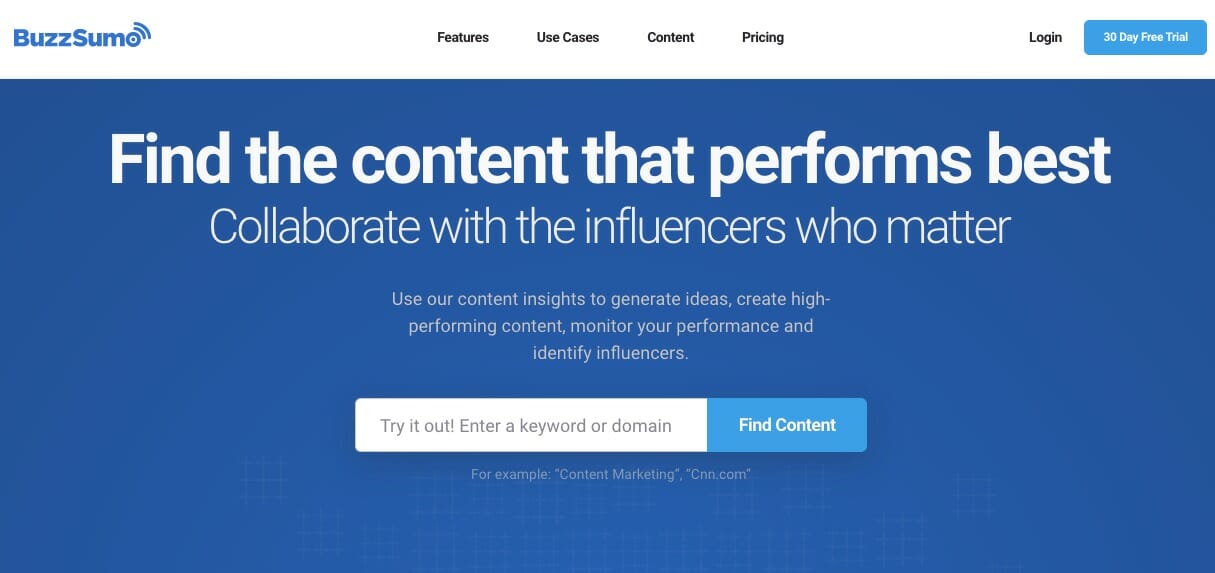 It will show who published the article, the website, the total number of shares on Facebook, Twitter, Pinterest and Reddit: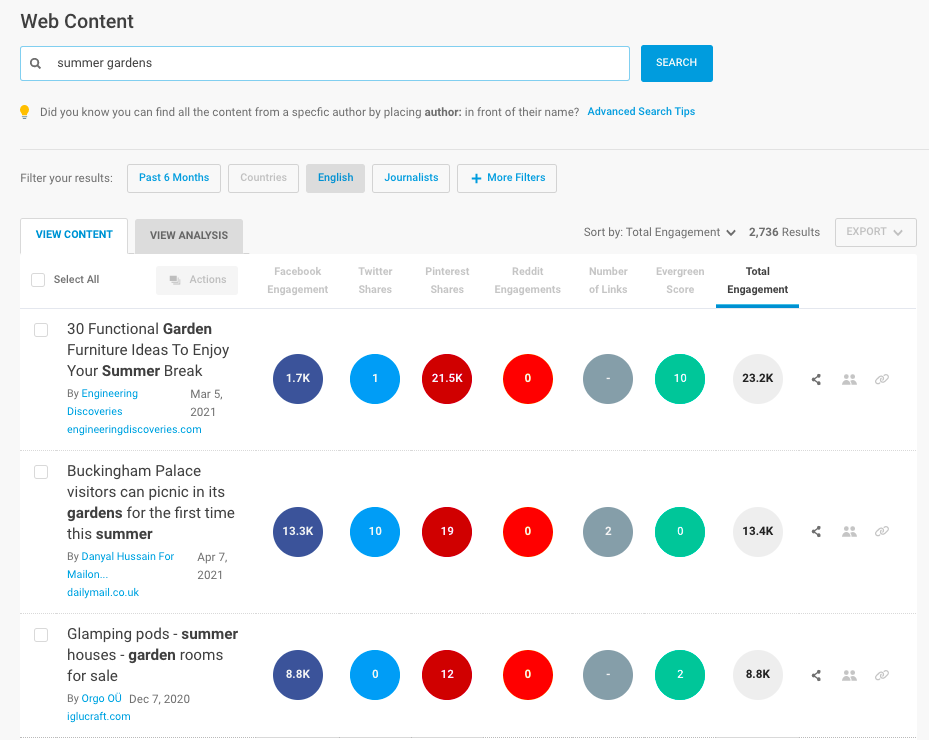 You can find millions of influencers, including their social media handles, on BuzzSumo. There are also plenty of other influencer-specific tools to find a perfect match for your influencer campaign, like:
Learn everything you need to know about influencer marketing in this complete guide, including example emails to send an influencer you want to work with:
Dive Deeper: The Ultimate Guide to Growing Your Business with Influencer Marketing
12) Backlinks
Backlinks, also known as inbound links, are links from one website to another. In simple words, if a website links to your website, you get a backlink.
Search engines like Google count backlinks as votes for a specific page. That means the more backlinks pointing to your pages, the more likely they will rank in a relevant search query.
But you need to be careful when building backlinks because not all backlinks have the same value. Some can be harmful to your site. If you want your site to rank well, you should focus on building quality links rather than quality.
But how can you build quality links? Here are the three easiest ways:
Publish linkable content: There are certain types of content that naturally attract links. For example,  infographics, data/research, webinars, expert interviews, white papers, etc. Creating these types of linkable content isn't that easy. It's going to take some extra effort and research to produce high-quality content. And once published, don't forget to share the article on social media to let the world know about your epic creation!
Guest posting: Another excellent way to build high-quality backlinks is guest posting, which means writing content for another website. Earning backlinks through guest posting is a straightforward process but requires some extra effort. First, you need to find relevant and high-quality websites and pitch guest post ideas to the editor. If your pitch gets accepted, you need to write a unique piece of content. In the article or the author bio, you may be allowed to add a link to your own website.
Broken link building: Broken link building is one of my favorite link-building strategies. The best thing about this process is that you don't need to write any content. All you have to do is find a page that contains a broken link and reach out to the editor. Send an email that explains how you found it and, if you have well-written content about the topic, ask the editor to replace the broken link with your link.
Conclusion
It seems like Google updates its ranking algorithm every year. There are over 200 Google ranking factors that were designed to help webmasters optimize their websites, but there are 10 that I consider the most important ones that you should optimize for.
In this article, we explained each of these 10 Google ranking factors and showed how you can optimize them. Now all you have to do is implement them to grow your search organic traffic!
To read more SEO-related content, keep visiting SingleGrain's blog!