10 Google Search Console Hacks to Boost SEO
Google Search Console, the "rebranded" version of Webmaster Tools, is an underrated tool when it comes to increasing your organic traffic. You can use it to find out extremely valuable insights about your website's performance — like how people are finding your site, security concerns, crawl errors that are quietly killing your SEO, and more.

Google Search Console has quite a few sections that provide you with insights about different areas of your site, such as your search appearance, search traffic, indexing, and crawling. Those who know how to use this information can boost their click-through rate and rank higher for their specific keywords.  

In this article, I'll talk about some of the valuable information you can extract from Google Search Console — and how to use it to boost your SEO.
Heard of SEO Split Testing? It's the quickest way to grow your organic traffic.
1) Leverage Rich Cards to Your Advantage
The "Search Appearance" section helps you see exactly what your site would look like as it appears on the search results page. Within that section, you have a subsection called "Rich Cards."
Rich cards provide users with an easier experience when it comes to viewing content on the search results page. Instead of scrolling through a list of results, you can swipe along a series of visually appealing "cards" to browse through the results. According to Google, rich cards improve the standard SERPs through a more structured and visual presentation of the elements described in your markup.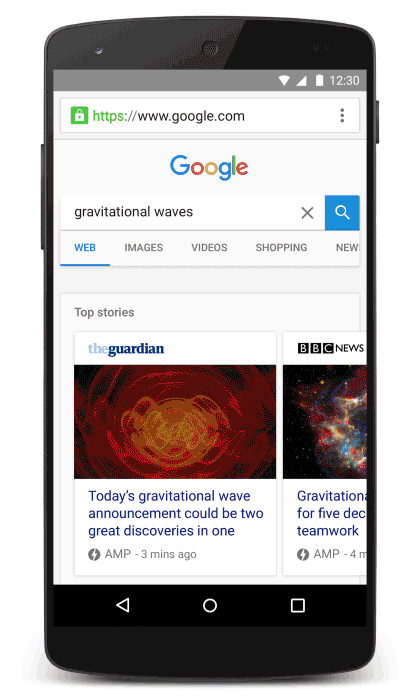 Source: Google
Not only does visually appealing content do better in terms of generating clicks, but analysts at Google claim that schema markup will be very important when it comes to SEO rankings going forward.
According to Content Marketing Institute, schema markup is code that tells the search engine what type of content is being processed. For example, it might tell the search engine that it's looking at a video, recipe, movie showtimes, a list of news articles, etc. These markups are used to display rich cards, as well as other kinds of rich results like this one:

Source: Content Marketing Institute
Despite the fact that schema markup for rich cards and rich results are heavily weighted by Google for SEO rankings, only 20% of businesses are actually using them.
Rich results stand out significantly from regular text-based search results. In some cases, it also allows people to get their desired answer from the search results page without having to click on any links. For example, when I type "san francisco weather" into Google, I immediately see a rich card from weather.com which gets me the answer I wanted with one less click.
Most marketers worry about optimizing their content to rank on page one for their specific keywords, but ranking high won't have the same impact when you're competing with rich results.
By figuring out which types of content in your specific niche display rich results, creating that type of content and building rich snippets into the relevant pages on your site, you can give yourself a massive edge over the majority of businesses that aren't focusing on this.
Here's an example of what a rich snippet looks like: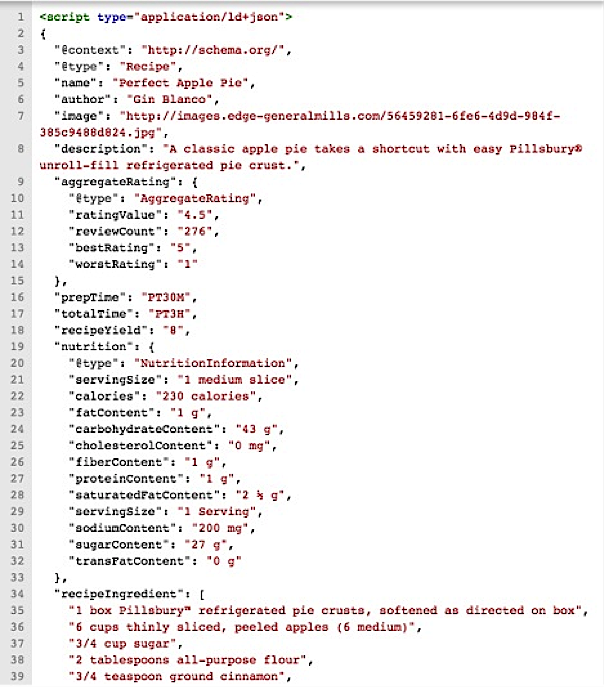 Once you've implemented rich cards, you can use Google Search Console to see how you can improve the presentation of your cards in search. By going to "Search Appearance -> Rich Cards," you can get Google's report on how your cards are performing.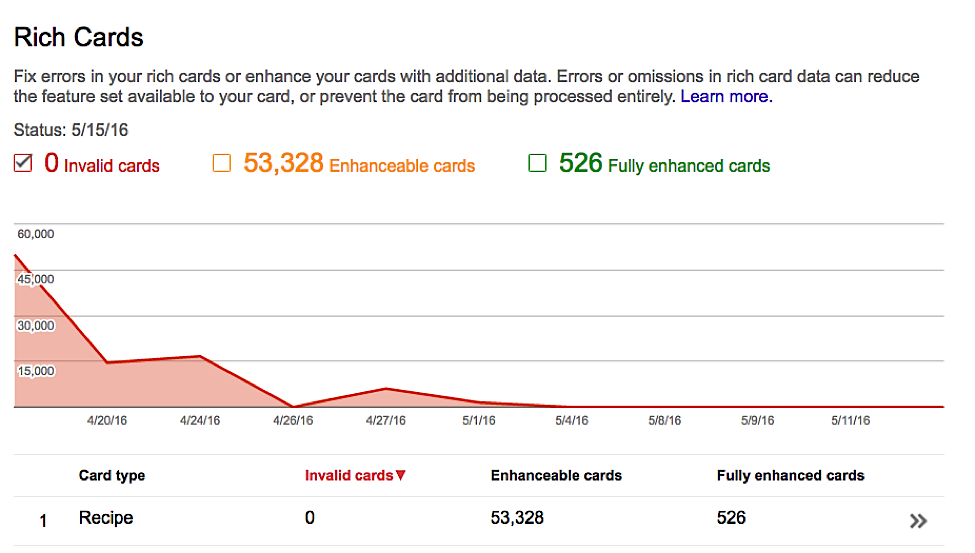 Source: Hot Hardware
2) Improve Your HTML
Some websites have HTML problems that hurt them in SEO rankings. For example, they might have problems with their meta descriptions (the short description below the main links on a search results page), long/short title tags, or content that just can't be indexed by Google.
By going to "Search Appearance -> HTML Improvements" on Google Search Console, you can find the specific problems with HTML that Google found on your site.

Source: Yoast
For example, make sure that your title tag is between 50-60 characters, keep meta tags to about 155 characters and avoid duplicates, and make sure that robots.txt isn't blocking search engines from indexing your site.
3) Disavow Links
If businesses can't rank high on Google, some of them resort to "negative SEO" tactics — meaning that they try to sabotage rankings of their competitors through a variety of tactics.
They might try to hack your website, send you backlinks through spammy sites so that Google discredits your site, duplicate your content and share it on the web, or use other tactics that push you lower in the rankings. Not all links are seen positively by Google. In fact, backlinks from spammy sites can negatively impact your SEO.
Read More: How To Rank Using Black Hat SEO Tactics in a White Hat Way
You can find some chilling images of posts on black hat forums where people brag about executing these negative SEO attacks: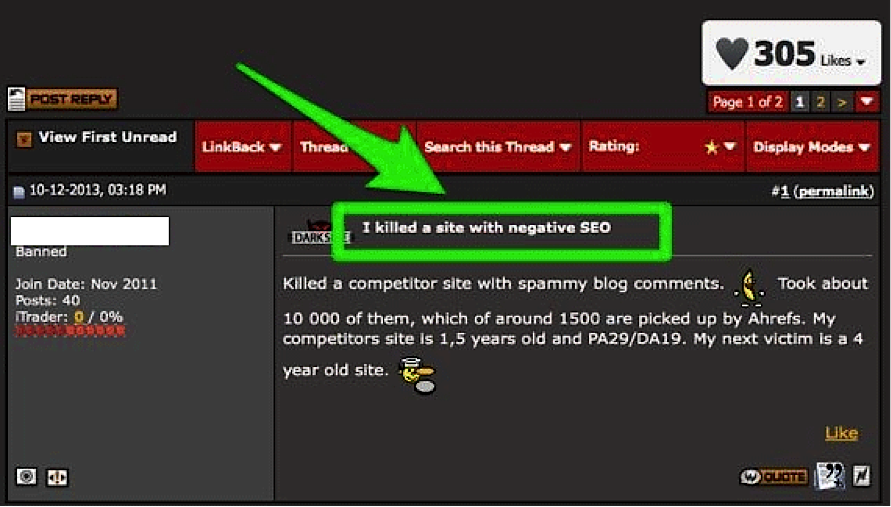 Source: KISSMetrics
As your site starts to consistently rank high for relevant keywords in your niche, you'll be at greater risk for these types of attacks. In fact, this SEO agency got hit with a negative SEO attack and their rankings took a pretty significant hit:

Source: Cognitive SEO
In response to these types of attacks, Google added a "Disavow" tool in the Search Console. If there ever comes a time when your site is being attacked or has been attacked by thousands and thousands of low-quality links, you can use the tool to disavow those links — basically asking Google not to take them into account when assessing your site.
You can use other tools like Link Detox or Kerboo to analyze the link risk for all the backlinks you're receiving to your site, and disavow any links that are suspect. This way, you can protect yourself against malicious attackers and preserve your site as a long-term asset.
4) Optimize for Mobile Usability
According to Moz, search engines look at such elements as site design, site structure, and page speed to make sure that mobile users have a positive experience on your site — and they factor that into their rankings.
By going on the "Mobile Usability" tab under "Search Traffic," you can see a report of the problems that might be affecting your site in this regard:

Some of the problems that Google will show you are:

Flash usage.

 Many mobile browsers don't support flash content, so if your site uses flash, it may be penalized in SEO.

Viewport not configured.

 Your site's visitors come from a variety of places. Some have Macs, some have PCs, others are on mobile devices, and they're all using different browsers. This means that they have different screen sizes. By specifying a viewport using the meta viewport tag, your site will be able to tell the user's device

how to adjust the page dimensions

.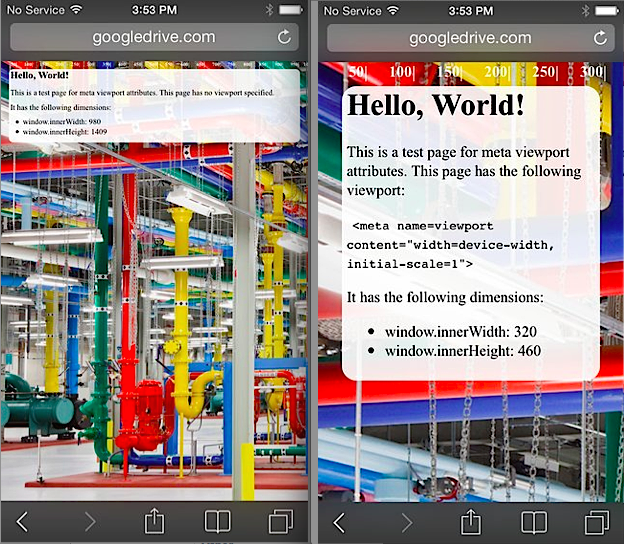 Left: A page without meta viewport. Right: A page with meta viewport.
Small font size.

 Users

should not have to pinch

 the screen to zoom in and read the content on your site. If you get this error, make sure to

set your font sizes to scale properly

within your specified viewport.
Touch elements too close.

 This error shows whether certain elements on your page are too close to each other. For instance, if you have buttons on your page that are right next to one another, it may negatively affect the user's experience as they're browsing your site. To counter this, make sure to

size and space your buttons appropriately.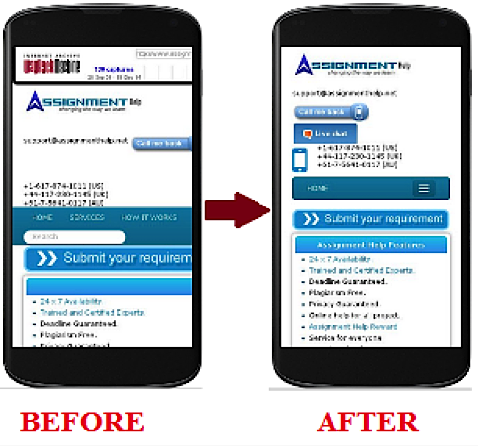 Source: Likes and Follow
Spending time to correct your mobile SEO errors can have huge benefits. In fact, one company grew their smartphone traffic by 84% just by reducing the number of their mobile optimization errors in Google Search Console.
Read More: Mobile-First Indexing: What You Need to Improve Your Site's Ranking
5) Pay Attention to Your Index Status
Under "Index Status" below "Google Index" on the search console, you can find URLs on your site that are indexed by Google, URLs that are blocked by Google or by robots.txt, and any removed URLs.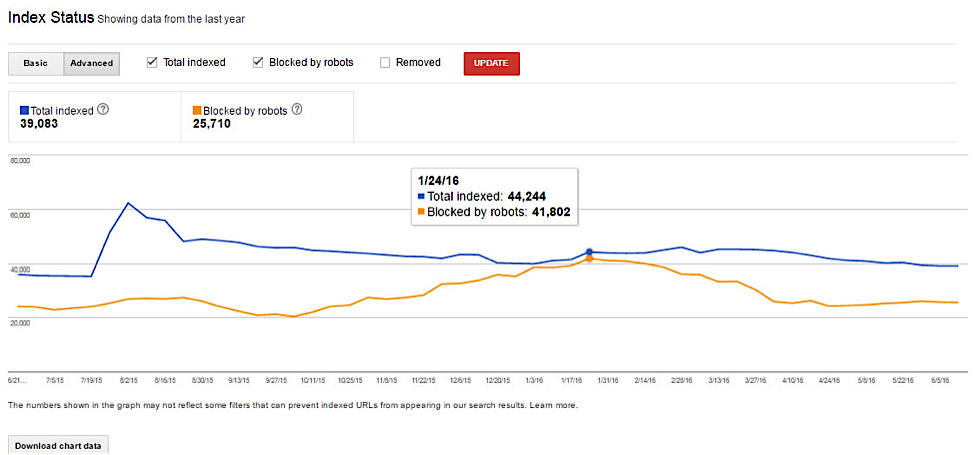 By uncovering which pages on your site are not being indexed, you can quickly correct the problem — which usually involves robots.txt — and start ranking for more keywords.
In the Index Status Report, you'll find URLs on your site that are blocked by robots.txt, total indexed URLs on your site, and URLs that have been removed.
There are a few "best practices" that Google encourages when using the index status report:
Look for an upward trend in the graph.

If you see a steady increase in the index report graph, then that's a sign that Google is able to crawl your pages, and that your site is being indexed on search.
Take a note of any sudden drops in the graph

. Sudden drops indicate that your server may be down, or that Google is having trouble accessing your site's content from time to time.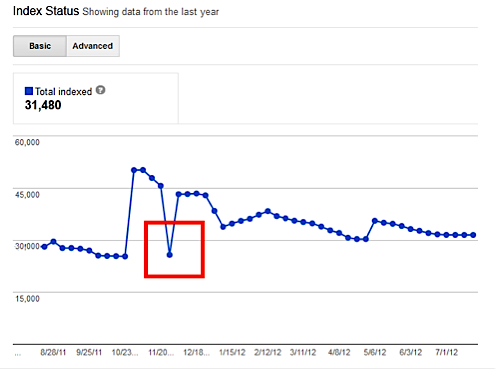 Source: Search Engine Land
Take note of high index volume on your site

. Abnormally high volume could mean that your site is having problems with duplicate content, too many automatically generated pages, or that it has been hacked.
6) Uncover Security Issues
Security issues can heavily impact your traffic from search. Google has all kinds of alerts to keep unsafe sites from harming users' devices. For instance, visitors might see an error like the one below if your site has an SSL certificate error.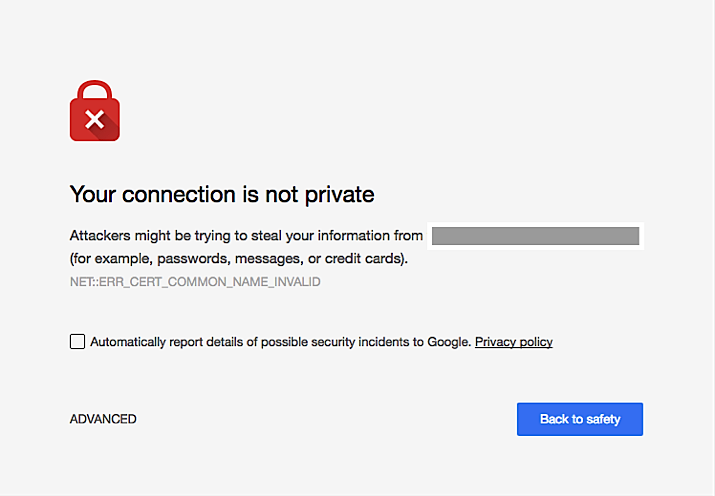 Warnings may also be displayed inline within search results, which can also impact click-through rates.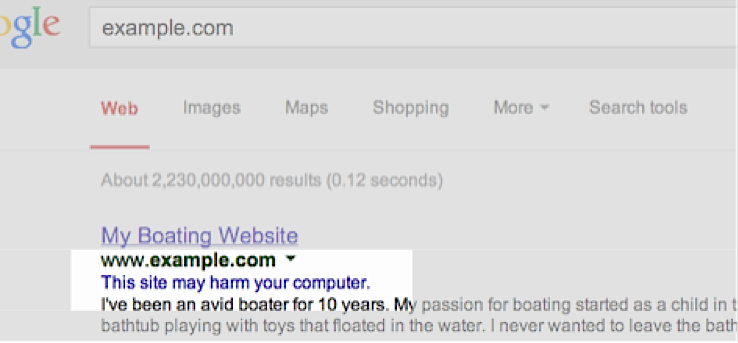 Red flags go up in the minds of users when they come across a site with a security error. For example, a site with a security error may be impersonating a server that is different from the one that it's actually using. Users may be concerned that their passwords, credit card numbers, and other personal information will be at risk — and they won't click through.
Even Google optimizes their security warnings with the explicit goal of reducing click-through rates: adherence to security warnings nearly doubled after they redesigned their warning signs.
And this doesn't just harm click-through rates — it damages your long-term brand by losing the trust of potential leads. By clicking on the "security issues" link in Google Search Console, you can review any security problems that might be impacting your SEO rankings. Security is one of the biggest factors that impact your ranking, so it's well worth focusing on.
Learn More: How Poor Website Security Negatively Impacts SEO Rankings
7) Fix Your Crawl Errors
Under the "Crawl Errors" section, you'll get a report of all the errors that Google comes across when it crawls your site. You'll uncover things like 404 errors, URLs that are pointing to non-existent pages, URLs that link to irrelevant pages, and more.
404 errors don't directly impact SEO negatively, but they do make for a bad on-site user experience. And Google is placing more weight on how real people respond to sites for SEO rankings, which isn't good for sites that have a lot of error pages. The same thing applies to broken links.
You can use a tool called "Fetch As Google" as well (within the search console) that lets you test the way Google crawls your site.

You can enter the URL that you want Google to fetch, click the "Fetch" button, and see whether the tool encounters errors or security problems. You can get this sort of data for desktop as well as smartphones.
Based off of that information, you'll know exactly which pages were successfully crawled, partially crawled, redirected, not found, blocked, or had some security error.
Fixing 404 errors and broken links can also boost your SEO.
8) Fine Tune Your Content Keywords
The "Content Keywords" section shows the keywords you have in your content and how significant they are in the search results. Once you know each keyword, you can check out other pages that rank well for that specific keyword, and create more high-quality content around that particular topic — by following the Skyscraper technique, for example.
If unexpected keywords are coming up on your site, then it's possible that you've been a victim of negative SEO, and might have to disavow some links. If some expected keywords are missing, then it's likely that there were some crawl errors when going through your site.  
By narrowing in on the type of keywords that Google is picking up on your site, you can see if you're ranking for the keywords that you expect to rank for — and ultimately boost your SEO traffic.
Learn More: How To Do A Content Cleanup (And Grow Your Organic Traffic)
9) Make Sure that Your Sitemaps Are Indexed
The "Sitemaps" section of Google Search Console shows you the number of URLs that have been indexed by search. It also allows you to submit sitemaps.
Your sitemap file is one of the most important parts of building an SEO strategy to bring in more traffic. This section of Google Search Console allows you to ensure that your sitemap is set up properly and that your URLs are all indexed.
Learn More: 10 Effective SEO Techniques to Drive Organic Traffic in 2023
10) Speed Up Your Mobile Pages
Mobile web loading speed so important for SEO that a 1-second delay in load time can decrease conversions by 7%. They also found that 40% of people abandon a web page that takes more than 3 seconds to load.
Google Search Console has a section called "Accelerated Mobile Pages" which helps with creating mobile pages that load quickly using HTML and JavaScript.  
There are lots of useful data points in this section, but one of the most useful is probably the search analytics report. This report shows how often your site appears in Google search results. You can also see where your traffic is coming from, what keywords are used to search for your site on mobile phones, which pages have the highest and lowest click through rate, and much more.  
Google Search Console is an invaluable tool when it comes to figuring out how to improve your SEO rankings. It lets you uncover data on potential ways your ranking might be penalized and ways you can improve it in the future.
What's one way that you have used Google Search Console to boost your rankings?