When it comes to enterprise SEO pricing, there are many factors that go into choosing the best, including the competitive landscape, site performance, and your own budget.
That can make finding the right enterprise SEO pricing for your needs a little overwhelming.
In this post, we'll give you a strong understanding of pricing models for SEO and market prices, to help you make the right decision.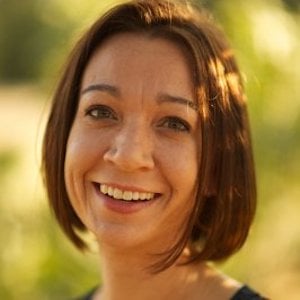 Kim Cooper
Director of Marketing, Amazon Alexa
Single Grain enables us to increase our impact without increasing our headcount
What Is Enterprise SEO?
Enterprise SEO is a digital marketing strategy for large websites with thousands or millions of pages to help boost organic rankings and drive more traffic.
Search engine optimization for enterprises has the same fundamentals — on-page, off-page and technical improvements — as traditional SEO. But the scale at which you execute SEO strategies differs due to the huge number of pages and resource requirements.
Enterprise SEO is significant because:
It helps you get in front of your audience.
It helps you stay ahead of your competitors.
It helps you increase and maintain your brand visibility.
It helps you attract potential customers and generate revenue organically.
It drives a higher ROI than many other marketing strategies.
It helps you scale your growing business more efficiently.
Learn More: What Is Enterprise SEO? (Definition, Examples & Tools!)
How Much Does Enterprise SEO Cost Compare to Traditional SEO?
Even though enterprise and traditional SEO have different pricing, the goal remains the same: boost brand awareness and drive more conversions by ranking higher in search engine result pages.  Both focus on the same SEO tactics, but in the enterprise, this scale of work increases tremendously due to the high volume of web pages.
Here are three major reasons why enterprise SEO costs more than traditional SEO:
More resource requirement: SEO for enterprises means optimizing larger websites with thousands of pages. This requires more software, writers and other resources to carry out each task effectively.
More competitive landscape: The race to keep up with competitors is huge. If your enterprise targets highly competitive keywords, you may need to invest more resources to outrank your competitors. Thus, a strong SEO presence is more important to drive consistent organic traffic and results.
More targeted keyword strategy: Enterprises often go after a specific audience with keywords; thus, the content they create is also targeted. Due to a more targeted approach, they need a more specialized SEO provider who charges more than traditional SEO.
Based on these differences, average SEO pricing for enterprises starts from as low as $800 per month and can go up to $50,000 per month. We asked many SEO consultants, agency owners and SEO professionals about the pricing ranges, and here is what they said:
$5,000-50,000/month – Samuel Park, Founder, TechMaestro.co
$2,000-20,000 /month – Sinoun Chea, CEO, and Founder @ShiftWeb
$800-1,500/month – Luciano Viterale, Growth Consultant
$5,000-10,000/month – Rotem Kanon, Local SEO Expert
$25,000-40,000/month – Kyle Fretwell, SEO agency owner
Learn More: Enterprise Local SEO: How It Works and Why It's Important/sg_alert]
What Determines Enterprise SEO Pricing?
The costs for enterprise SEO aren't fixed. Various factors impact the pricing of SEO services for enterprises. Here are the most important ones.
1) Type of SEO Services Needed
Choosing the right enterprise SEO agency or professional depends on what kind of services you need, which may include:
Site architecture optimization. A clear and easy-to-navigate website structure is helpful for both Google and your target audience. SEO experts can help you create XML and HTML sitemap, URL structure, and organize your website's content in the best possible way.
On-page optimizations. You can get help optimizing your pages with various on-page tactics, like fixing the title and meta description of all pages. This service will help you create high-quality content by making it more appealing to the reader and Google.
Technical SEO. Many enterprise SEO agencies offer technical optimization as a separate service. This includes fixing coding errors, fixing bugs and improving page speed. These factors play an important role in driving more website traffic by maintaining a user-friendly site.
Link building. Link building is an important aspect of building domain authority. You can select this service if you cannot collect quality backlinks on your own or don't know how to get started.
Keyword research. You can also work with SEO agencies to develop an effective keyword strategy for content creation. By working with them, you can discover valuable and relevant keywords for audiences in different funnel stages.
Local SEO. If your enterprise targets a global audience or wants to target a specific region, you can get local SEO services. The SEO agency or consultant will help you with local keyword research and ensure that your website is optimized to get visibility in local searches.
Internal and external link audits. You can get these audits as a separate service or hire an agency to help you with it as part of a normal site audit. These link audits will help you identify the pages getting the most link juice and how to leverage them to improve your internal linking structure. You will also get insights into outbound domains, their authority, relevance, etc., and see if you want to keep those links or add a no-follow tag.
2) Content Creation and Optimization Volume
It will be more expensive if you need to create or optimize a lot of pages. A high volume of content means the SEO provider needs to invest more time researching, strategizing and optimizing those pages to improve search visibility and rankings.
In addition, if your content repository needs to be refreshed, it can also increase enterprise SEO costs. The agency or consultant would need to analyze existing pages, find room for improvement, and invest resources to improve the performance of such pages.
3) More Complex Competitor Analysis
If you work in a competitive industry, you'll require a more comprehensive and detailed analysis of your competitors. That means an in-depth dissection of competitors' online presence, keyword strategy, content quality, and backlink profile. All these tasks significantly contribute to the cost of an enterprise SEO provider.
For instance, FinTech and healthcare are some of the most competitive industries, requiring expertise, authority and detailed analysis. So SEO costs will be higher in these industries compared to less competitive industries like non-profit.
4) Performance of the Website
The better your website's performance, the easier it is for an SEO agency to improve your search presence. But if your website has technical issues or needs to be better optimized for SEO, it can require more time and resources from an agency to enhance the performance.
If you are starting a brand new enterprise website, the cost to set up the site architecture, create new pages and develop the technical aspects will be much higher.
5) Customized Reporting and Consultation
The more customizations you require regarding your SEO audits and reports, the more pricing you'll need to pay. Customizations require more work from the SEO service provider, and this additional work needs to be compensated for. As such, customized reports and one-to-one consultations often result in additional charges.
[sg_alert type="warning"]
Learn More:
*
8 Essential SEO Reports to Create for Your Client
*
How to Do an Enterprise SEO Audit
*
How to Rank Your Brand-New Website When You Don't Know SEO
The Different Types of Enterprise SEO Pricing Models
There is a wide range of pricing models among SEO service providers. Some might offer their services as a package, while others might work at an hourly rate. To help you decide, here is a list of different SEO pricing models for enterprises:
Hourly Rate Model
Under this pricing model, you'll be charged based on the number of hours an SEO agency offers. This pricing model is more common among SEO specialists or freelancers than agencies or online marketing service providers.
This pricing model is best for you if you require occasional SEO services. Since the provider charges you by the hour, ask them for a breakdown of what exactly you are paying for. Typical SEO prices can range between $100-1,000 per hour based on the provider's experience and their track record of work.
Project-Basis Model
This price model consists of a project and a fixed number of tasks an SEO agency offers. A project-based pricing model is best if you have a defined scope of work and timeline and want an expert to help you. Some SEO projects you can get help with are building a comprehensive SEO strategy or running a site audit and resolving technical errors.
The pricing structure varies as some experts might charge a flat fee while others charge per hour. This model is best when you want a specific outcome and have a limited budget.
Monthly Retainer Model
The monthly retainer SEO pricing model is used by agencies where you pay a monthly fee for ongoing SEO projects. You can create different SEO packages including specific tasks to be done in a certain month. The agency will help you with multiple services, including keyword research, link-building, technical optimizations, local SEO, on-page optimization, etc.
Many agencies also offer monthly projects that outline the tasks they'll carry out within a given month and the results they'll measure. The pricing for this model can begin at $5,000 per month and go up to $50,000 per month.
Hybrid Model
A hybrid pricing model can be a good choice if you want a combination of hourly, project and monthly basis. This model gives you more flexibility over the pricing and content creation tasks you wish to work on from an SEO perspective.
Performance-Based Pricing Model
Under this pricing model, you pay SEO professionals for the outcomes they help you achieve in a specified time. For example, the number of leads generated in a month, certain percentage of increased organic traffic, or improved ranking in search engines.
This model is beneficial as you pay only for the results you get, which incentivizes the experts to succeed. You can pay SEO firms a part of the agreed-upon percentage of revenue generated or an upfront fee. A performance-based model is best if you have well-defined goals and software to track the progress.
Learn More:
* Enterprise SEO: How to Skyrocket Your B2B SEO Rankings
* The Competitive Pricing Strategy Guide (Covers B2B and B2C Businesses)
* Enterprise SEO Software: How to Choose the Best SEO Platform for Large Sites

Enterprise SEO Plan Pricing Examples
Check out these different pricing models offered by enterprise SEO agencies:
Single Grain is a renowned full-service digital marketing agency offering various services, including enterprise SEO, PPC campaigns and CRO. Some of their notable features are:
12+ years of experience in SEO consultation and strategy implementation with clients such as Uber and Amazon.
They build website authority, fix technical SEO, track your competitors and solidify your brand's online presence.
Enterprise services cost is based on the scope of work.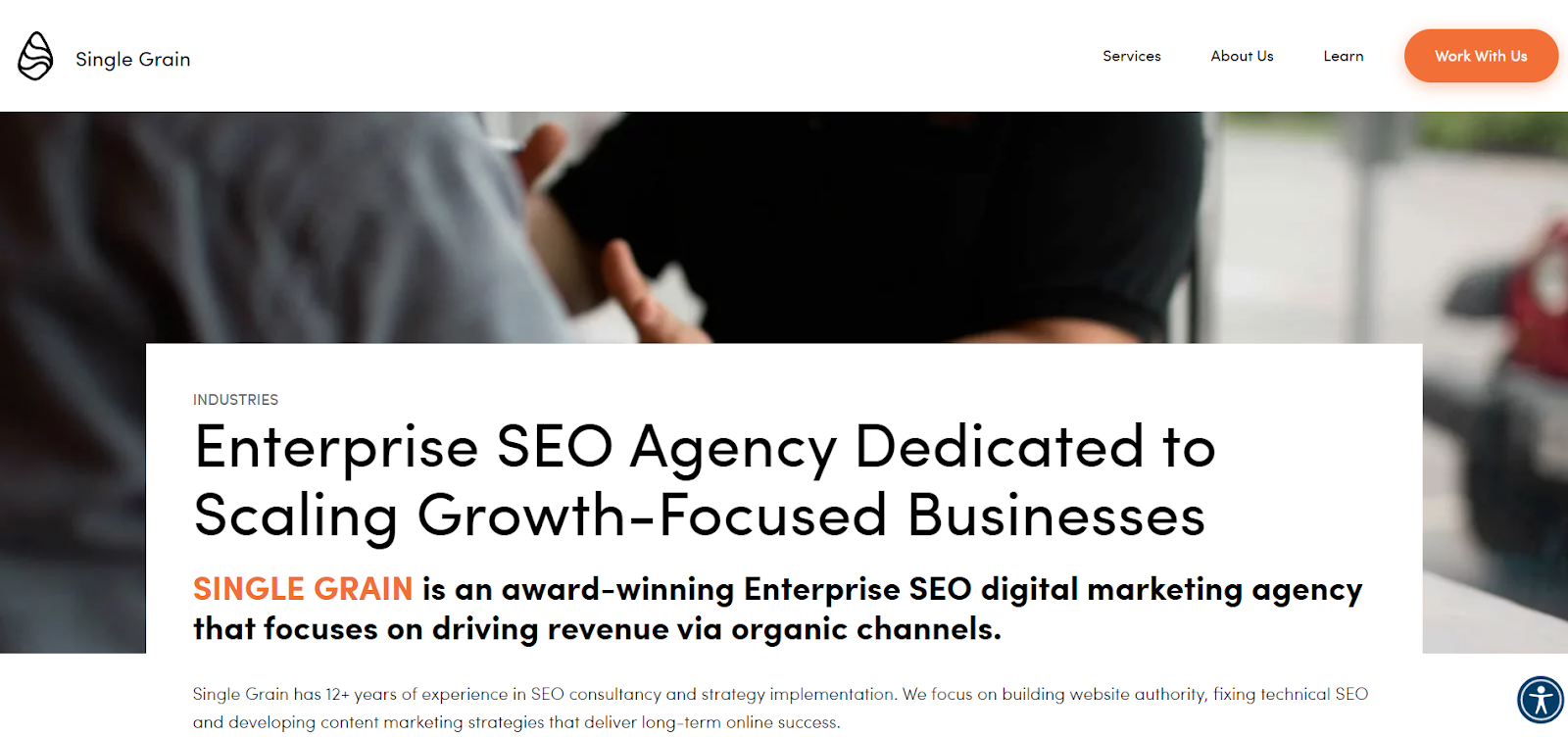 WebFX is a digital marketing agency that offers enterprise SEO on a project basis:
They offer three different SEO packages ranging between $11,500-21,500 per month.
They're a certified Google Partner with a good reputation.
25 years of experience and 200+ SEO specialists to help you optimize your website.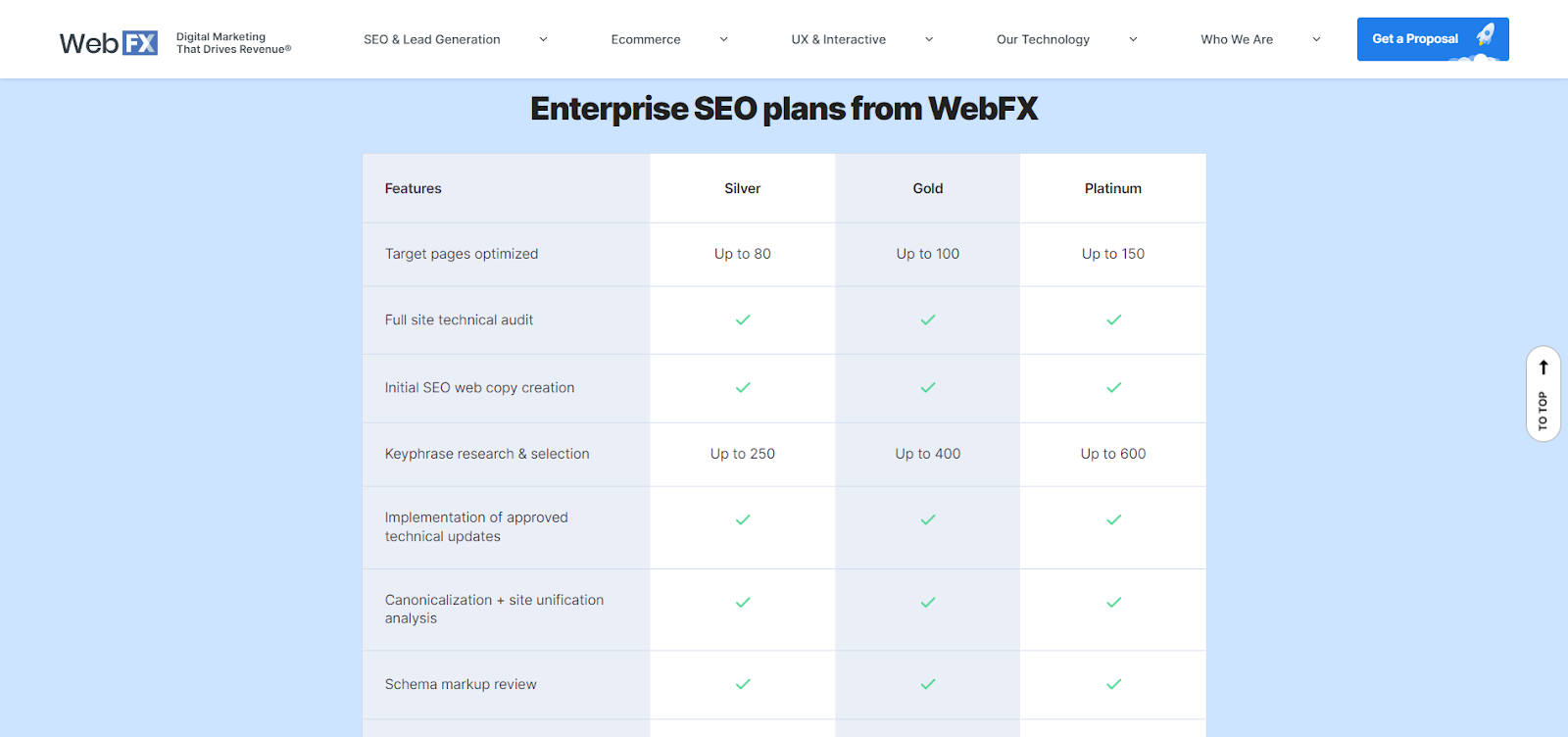 Bliss Drive SEO is a digital marketing company established in 2007, offering many services, including enterprise SEO:
Full-service digital marketing agency offering enterprise SEO, CRO and web design.
They have a dedicated team that offers enterprise SEO solutions.
You can get the pricing quote by contacting their sales team.

Infidigit is one of the top SEO service providers for enterprises:
They offer three tier pricing models each with different SEO packages.
They have a pre-defined approach they use, which is customizable based on a particular enterprise site and requirements.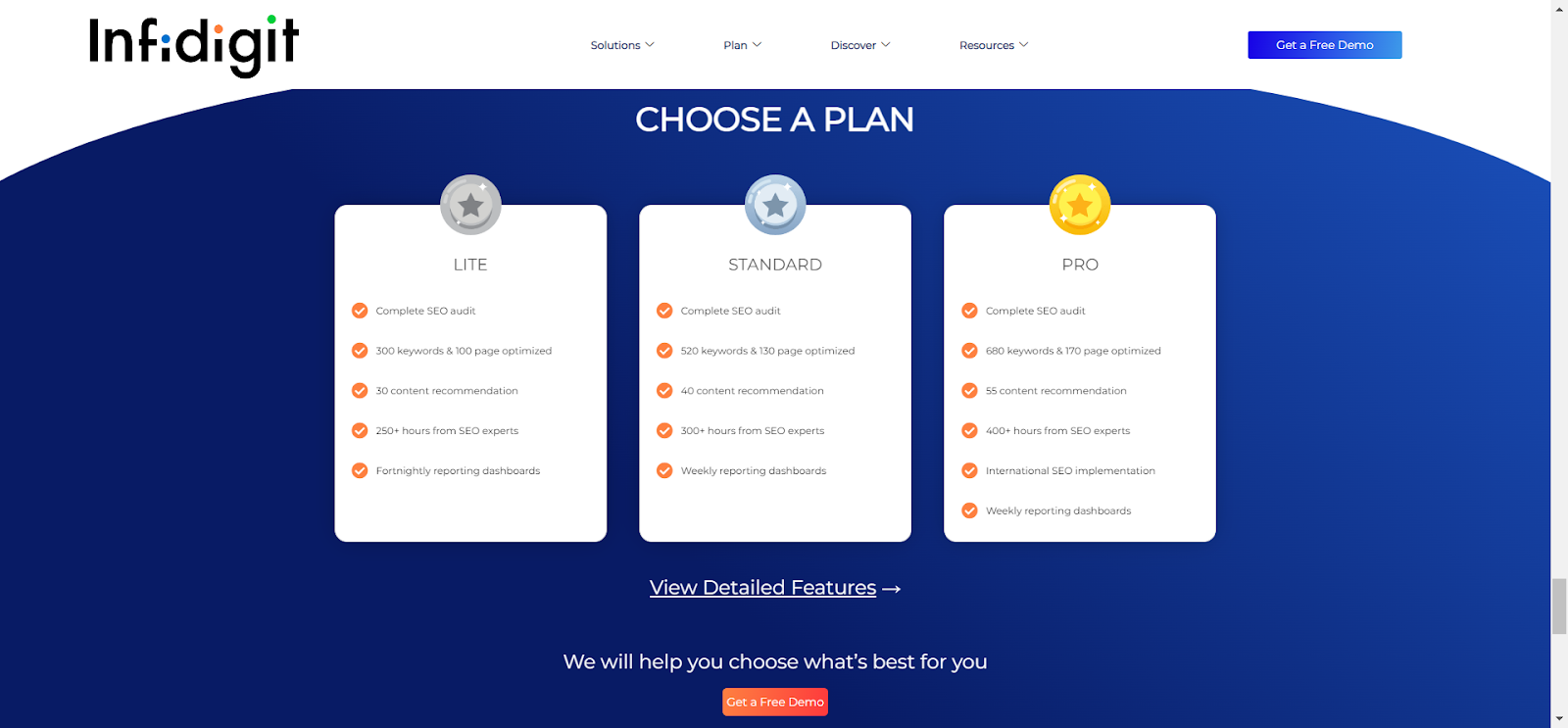 The Cost of Enterprise SEO in 2023
On average, enterprise SEO costs between $5,000-100,000 monthly in 2023. The variance in SEO cost for enterprises arises due to many factors, including:
Competition level
Your SEO budget
SEO services you want
Industry you operate in
Goals you want to achieve
SEO firm experience level
For example, an agency with a stellar track record and notable client base will charge you more. But other agencies might charge you less if they haven't worked with big-name clients don't have longevity in the industry.
Also, note the cost of enterprise SEO is higher than traditional SEO, as it involves a far more complex SEO strategy and thus demands a bigger team and/or SEO company.
You may also like: Demystifying PPC Pricing Packages: Optimizing Ad Campaigns
Last Word on Enterprise SEO Pricing
With a robust team working on thousands of pages to drive business results, paying the right price for enterprise SEO becomes even more crucial. As enterprises are well-established businesses, the SEO strategy is much clearer, targeted, and outcome driven.
Be sure that you completely understand what each agency that you are considering offers and for how much. Doing thorough research will help you make an informed decision that aligns with your marketing budget and search engine optimization goals.
If you're ready to grow your enterprise, Single Grain's enterprise SEO experts can help.👇