How to Do an Enterprise SEO Audit
As your enterprise-level website grows into thousands of web pages, it's easy to lose track of which pages are fully optimized and which are, quite frankly, letting the site down.
This is where conducting regular enterprise SEO audits proves invaluable for your SEO strategy.
An audit will make sure that every single page on your enterprise site has all the essential SEO elements to ensure maximum success.
For smaller sites with less than 100 pages, this is a fairly easy task, but doing an SEO audit for enterprise websites is a complex, unwieldy project that even experienced SEO pros can find unmanageable.
In this guide, we will walk you through how to do an enterprise SEO audit.
What Is an Enterprise SEO Audit?
An enterprise SEO audit is a full-scale assessment and evaluation of a large website. These sites typically have a thousand or more pages and possibly more complex functionality than a standard website.
On small and medium websites, SEO audits involve testing whether your website is fully optimized in three key areas:
Technical SEO (site performance)
On–page SEO (content)
Off-page SEO (backlinks)
They also allow you to take a close look at how well your SEO performance is aligned with your organization's goals and objectives.
An enterprise SEO audit focuses on the same three key areas, though on a much larger scale, usually with multiple subdomains, sections and pages. It will involve more time, more people and may include enterprise-level SEO software, analytics and other tools that can handle large amounts of data and provide insights into complex issues.
Dive Deeper:
* The Quick Guide to Enterprise SaaS SEO
* 6 Powerful Enterprise Search Engine Marketing Strategies

How to Do an Enterprise SEO Audit
In this section, we will explore the three key areas of an enterprise SEO audit – technical SEO, on-page SEO and off-page SEO – to help you evaluate each of these areas and identify opportunities for improvement.
By following the steps in this section, you can gain a comprehensive understanding of your website's SEO health and take actionable steps to improve your online visibility and drive more organic traffic to your site.
1) Start by Running a Crawl
A website crawl, also known as web crawling or spidering, refers to the process of automatically exploring and indexing the pages of a website using a bot or crawler program. The program starts by accessing the home page of the website and then follows the links on that page to explore other pages on the site.

Running a site crawl is an invaluable first step for gathering vital data: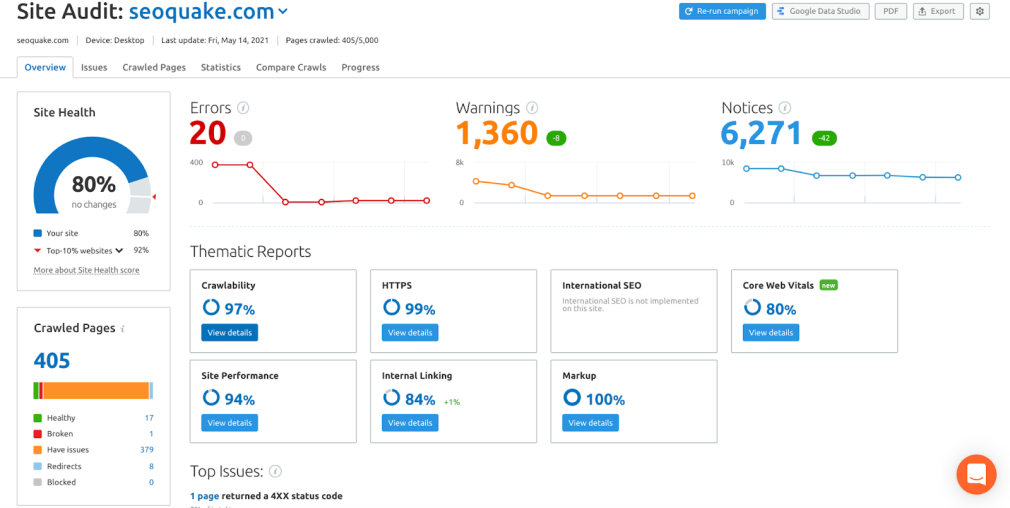 This data will provide helpful insights into your site's current SEO performance and can be used to set improvement goals.
A good site auditing tool like Ahrefs, Screaming Frog and Semrush (pictured above), paired with tools such as Google Analytics and Search Console, will tell you everything you need to know to carry out the following three stages of your audit.
To help you choose an SEO auditing tool, we put together this guide:
10 SEO Audit Tools to Maximize Performance (Free & Paid)
2) Technical SEO Audit
Given the complexity and potential cost of it all, identifying and implementing any technical SEO upgrades to your site will likely take the most time, especially on a large website. So it makes sense to start with this step.
After all, what's the point in finding the perfect keyword and crafting content that people can't resist clicking through to if their experience on your site is slow or difficult?
Technical issues include site speed analysis, mobile friendliness, site architecture, URL structure, internal linking, duplicate content, XML sitemap, and the Robots.txt file.
Let's dive into each technical SEO audit step.
Site Speed Analysis
Page load speeds play a significant factor in determining your search engine results pages (SERPs) positions. You'll need to use a tool like Google PageSpeed Insights to pinpoint any performance problems and their solutions: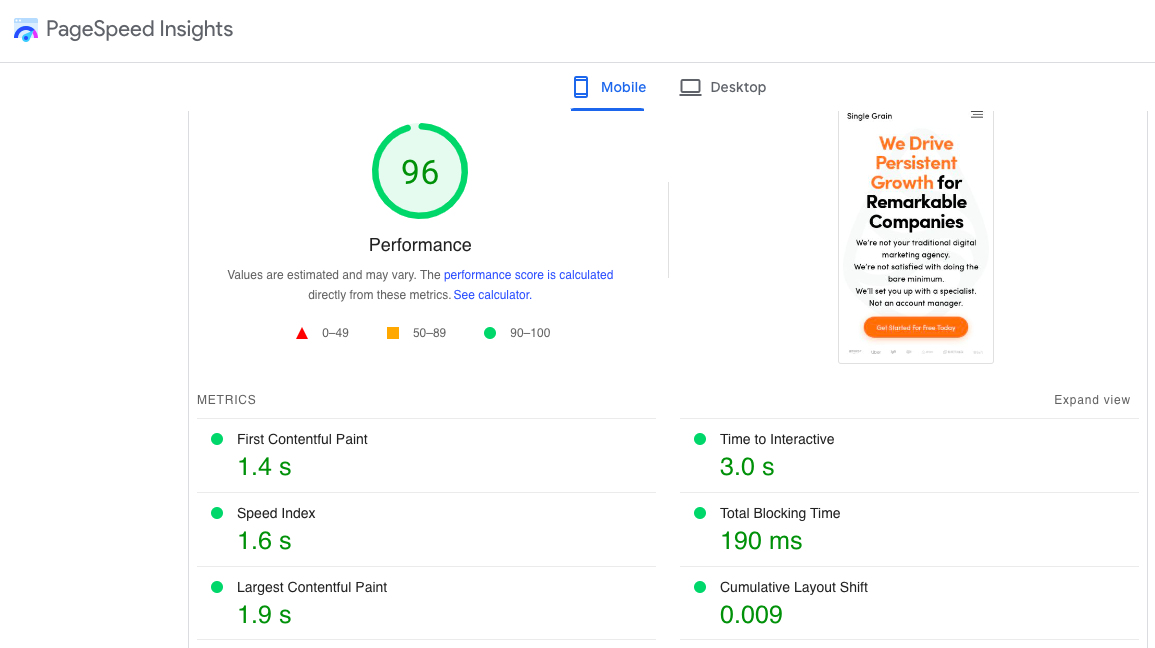 Mobile-Friendliness Analysis
With an increasing majority of users accessing the web via mobile devices, it's vital that your site be fully responsive across all screen sizes.
Tools like Google Search Console and Google Mobile-Friendly Test can help you identify anything getting in the way of total mobile friendliness: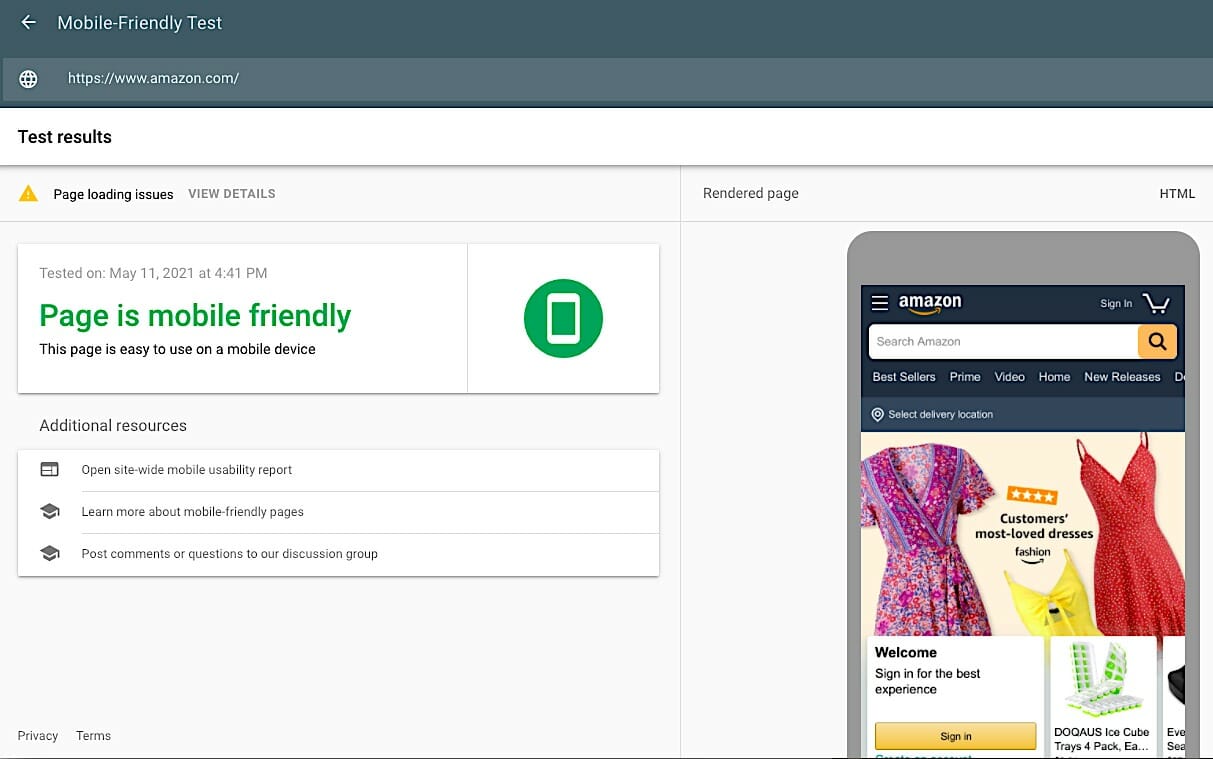 Site Architecture Analysis
Does your site structure and navigation make logical sense to users?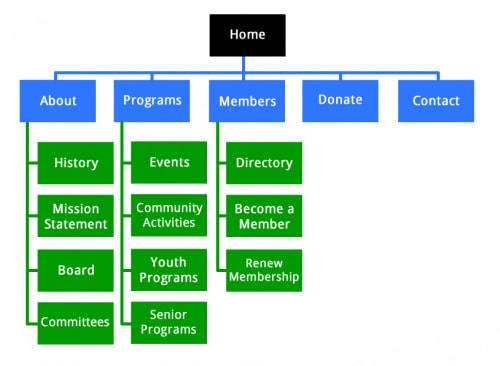 Or are you making it hard for anyone to navigate your site and easily find what they're looking for?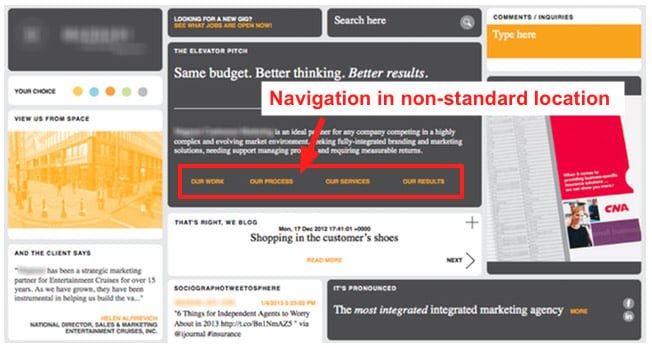 Quality user experiences are essential for SEO, so it's important to check that content is well organized and easy to find from any place on your website.
Dive Deeper: How to Fix 15 Common On-Site Technical SEO Issues
URL Structure Analysis
Never underestimate the value of an optimized URL structure when it comes to appeasing visitors and search engines alike.
URLs should be consistently structured across your website, with relevant, descriptive keywords that help users and search bots understand what the page is about. Check that URLs are short and easy to read and that each URL is unique to avoid further issues with duplicate content:
Good URL structure: https://www.example.com/blog/how-to-create-a-healthy-lifestyle/
Bad URL structure: https://www.example.com/article?id=123456/
Internal Linking Analysis
Evaluating the internal linking structure of your website can identify key areas to improve how you use the links that connect different pages to each other within one site.
Look at whether the most important pages on your website are linked to all relevant and appropriate places on your website. You're also looking for opportunities to link from your high-traffic pages to other pages to boost their visibility.
Be sure the anchor text for your links is accurate and properly optimized, which means using relevant keywords. For example, in this sentence "Does your site structure and navigation make sense to users?" link to the anchor text "site structure" or "navigation" and not "make sense."
Dive Deeper: How to Implement Internal Linking for SEO (Step-by-Step)
Duplicate Content Analysis
As you may recall from our guide to the common marketing tricks that can ruin your SEO, duplicate content can harm your search engine optimization efforts.  When you have two different URLs with similar content (and the same focus keyword), the sites will just compete with each other in organic search rankings.
As such, it's crucial to ensure that any duplicates in your inventory are either removed altogether or, at the very least, significantly modified.
Dive Deeper: Beginner's Guide to Properly Using Rel Tags to Improve Your Site's Rankings
XML Sitemap and Robots.txt File Analysis
Sitemaps are an invaluable tool for helping search engine crawlers understand your website's hierarchy and structure, which are particularly indispensable for sites with hundreds upon hundreds of pages.
Just type your domain name plus /sitemap_index.xml (for example: singlegrain.com/sitemap_index_xml) into any browser to find out how many sitemaps your site has: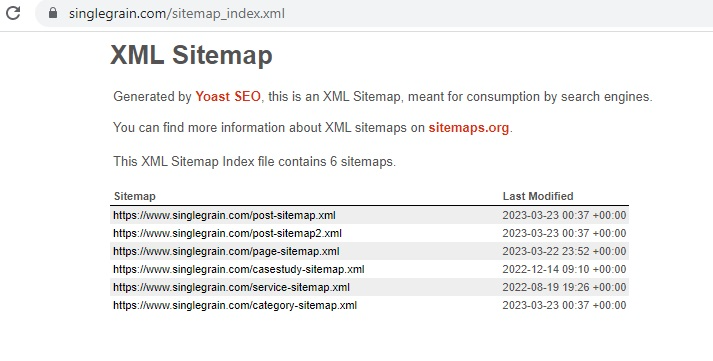 It may even be the case that you installed an XML sitemap long ago, but as your website grew and evolved, it's missing some crucial pages.
Meanwhile, your Robots.txt file includes instructions to search crawlers about which pages it can and can't access. If yours tells those crawlers to ignore certain pages that you want to rank for, it must be updated. This Google article shows you how.
3) On-Page SEO Audit
On-page SEO refers to the optimization of individual pages on a website to improve their search engine visibility and user experience. An on-page SEO audit is a critical step in improving your website's SEO performance because it evaluates the content, structure, and design of each page to identify issues and opportunities for improvement.
In this section, we'll go through the key elements that you should analyze during the on-page SEO audit process for enterprise websites, including the title tag and meta-description, keyword usage, heading tags, external linking, and image optimization.
Content Analysis
Are all your posts up to date with accurate information that best meet the needs of your audience? Remember, even some evergreen content can be updated with new research, ideas or statistics that have emerged since the article was first published.
Equally as importantly, is your content well-written and engaging? If it isn't, people probably aren't going to read more than the first few paragraphs, which will cause a high bounce rate that Google's indexing algorithms take as a sign that your content isn't that valuable. Quality content is more important than quantity.
A good audit will help you answer these questions about the content pieces on your site:
Which ones are performing best?
What topics does your audience most connect with?
Which posts have overstayed their welcome?
You'll also want to revisit your website hierarchy. Are your pages well organized by category or subject? Is all content accessible to the visually impaired, especially those that provide the most value to your visitors?
Dive Deeper: The Step-by-Step Guide to Conducting a Content Audit
Title Tag and Meta-Description Analysis
Are your title and meta tags in place and optimized for your focus keyword? This one should be a quick and easy win for you, especially if you're a WordPress user. Just download a plugin  like All in One SEO or Yoast SEO to manage tags for each piece of content: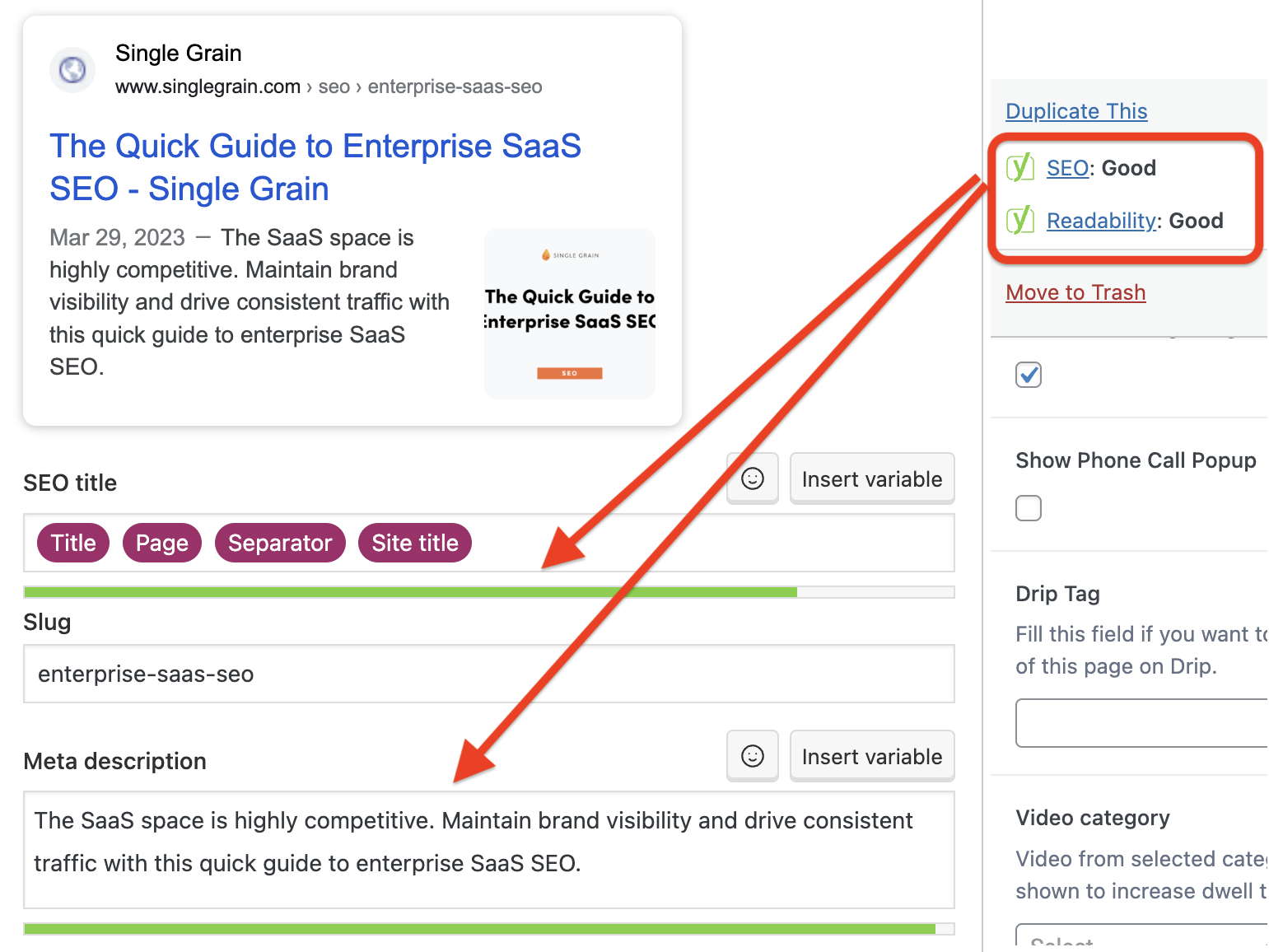 Dive Deeper: How to Write a Strong SEO Title Tag (with Formulas & Templates!)
Keyword Analysis
Is the content on your site – blog posts, landing pages, home page, etc. – adequately optimized for its target keyword?
After you've confirmed that your keyword is in your title tag, meta description and alt tag, you also need to ensure that it's included in your content in a way that benefits your SEO efforts. If that keyword is packed too frequently into your article  in a way that doesn't read naturally, that could be seen as keyword stuffing, a black hat practice that does your SEO more harm than good.
Dive Deeper: SEO Keyword Research Made Easy in 2023
Header Tag Analysis
Header tags are used to structure a blog post that not only makes the content easier for people to read, but also helps search engines understand the main topics. This will ultimately help increase the number of keyword variations you rank for.
All pages should begin with an H1 header tag, with key subtopics broken down by other subsequent tags (H2, H3, H4, H5):
Image Analysis
In one sense, images can be both a technical and content issue. Not only do you need to check that they are lightweight and optimized to ensure they don't drag your page load speeds down, but you also need to consider whether they are well-placed for maximum usability (especially on mobile devices) and that they contain alt text.
Alt tags are short lines of text that describe an image, as seen in the settings on this Wix site:

The main idea behind these tags is so that people using screen readers can understand what the image is. For you, this boosts your site's accessibility, something that is likely to be rewarded by search engines.
Dive Deeper: Overlooked SEO: Optimizing Images and Video for Search
External Linking Analysis
Links play a critical role in helping search engines understand relationships between your websites and other websites, as well as between your content, all of which make a difference to your search rankings.
We've already looked at how to evaluate internal links from a technical SEO perspective. From a content perspective, you're considering whether your internal links are relevant, helpful and optimized for the target page's keyword.
In terms of external links you place within your content, you're not only checking whether the link's source still exists but that it also provides value to your audience. Make sure that external links are set to open in a new tab or window, as the last thing you want to do is drive people away from your website.
Dive Deeper: 8 Ways to Use External Links to Improve Your SEO
4) Off-Page SEO Audit
An off-page audit examines how content on third-party websites affects your SEO efforts.
We recommend leaving your off-page audit 'til last. When it comes to taking advantage of any opportunities for improvement you identify, you'll have a greater shot at success if every page on your website is already optimized for both content and technical performance.
Backlink Analysis
Backlinks play a crucial role in boosting your ranking as the right link from the right website improves how Google values the credibility and value of your content.
To evaluate your existing backlink profile and identify opportunities to develop it further, use a backlink analysis like Semrush: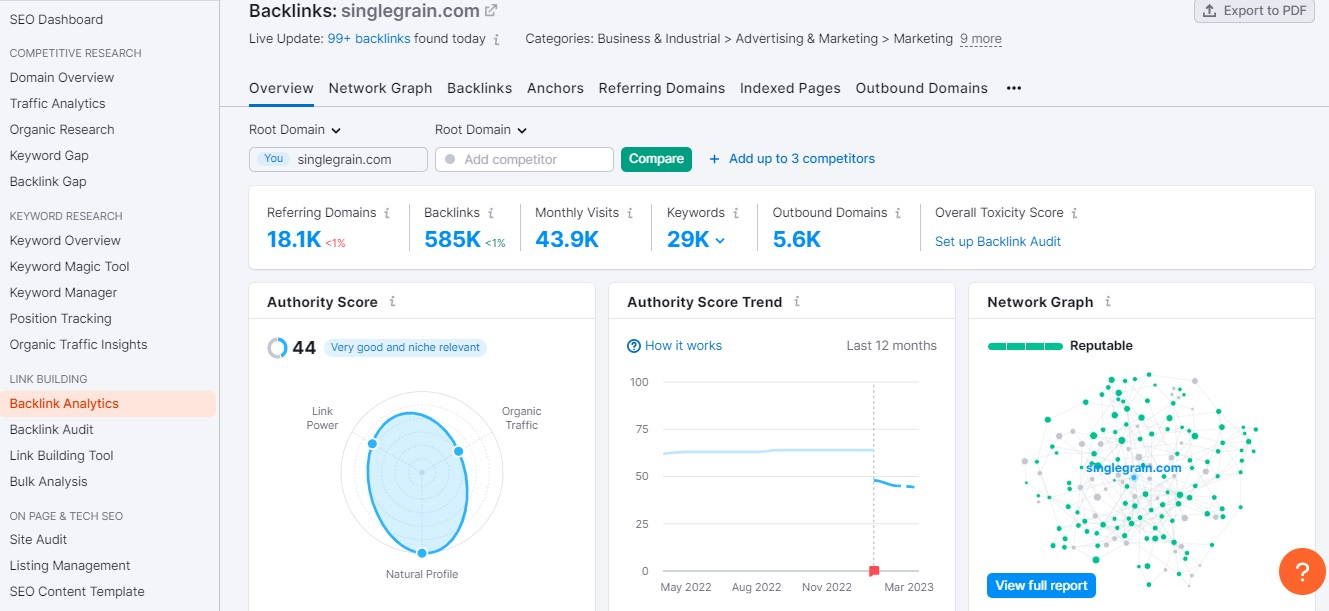 And then ask the following three questions
What's the Source of This Backlink? A link to your site from a high-authority or high-quality site can work wonders for your website, whereas a low-authority or low-quality website can have the opposite effect.That's why it pays to start your audit by examining the quality and authority of your backlink's sources and implementing steps such as using Google's Disavow tool to tell Google not to take low-quality links into account when determining site rankings.
Is This Link Relevant and Natural? Another factor affecting backlink quality is the anchor text use. As with your own keyword placements, anchor text should be naturally placed within the text. If it's over-optimized (i.e., the keyword is stuffed into the text with little regard for how it reads), that's a spammy tactic that will hinder your success.
Which Pages Have a Small Backlink Profile? As you go through your backlink profile, some of your content may have very few – if any – incoming links. As your audit progresses, it's important to take note of these pages and plan to use tried-and-trusted methods to get more backlinks for that content.
Dive Deeper: How – and Why – to Build a Backlink Portfolio
Directory Listing Analysis
Directory listings are the low-hanging fruit of link building. Confirming that you have an up-to-date and optimized profile on Google My Business and other directory sites relevant to your niche will all make a difference.
Sure, those sites won't provide the same kind of boost as you'd get from a link included in an article on an industry-leading site with high authority. However, they're worth spending time on as they will still benefit your SEO efforts.
Related Content: Enterprise Local SEO: How It Works and Why It's Important
Brand Reputation Analysis
A positive brand reputation can improve your website's visibility and credibility in search engines, while a negative reputation can harm rankings and click-through rates.
Using online monitoring tools like Google Alerts and the social listening tools included in platforms like Sprout Social help you stay informed on what people say about your brand.
Social media metrics like engagement rate, follower growth and sentiment will also give you a good idea of how your enterprise is perceived online.
Reviews on Google My Business, Yelp, and other directory platforms will also keep you in the loop.
Gaining a good understanding of your brand's online reputation doesn't just help you identify any problems you need to address. It can also reveal new opportunities to grow your enterprise on platforms where people are talking about you despite your lack of an active presence.
Dive Deeper: 3 Steps to Create a More Effective Reputation Management Strategy
Conducting an Enterprise SEO Audit: Two Final Best Practices
When it comes to digital marketing for your enterprise site, we've covered a lot of ground in this guide, including our recommendations for the best order in which to conduct your audit, the SEO tools to use and the key questions you should be asking.
Still, there are two more things worth mentioning before you start:
Remember that the goal of an audit isn't just to gain insights into where you're currently at. It's to help you plan to make improvements. As such, while going through each piece of content, each backlink and each technical SEO element, be sure to write down recommendations on actions that need to be taken.
IAn enterprise SEO audit should be something you carry out regularly. As the web and the needs of its users continue to evolve, and as your website continues to grow, it's entirely possible that what was working well for you today may not tomorrow, so repeat this process frequently to ensure the ongoing success of your site.
Prefer to leave the hard work of your enterprise SEO strategy to someone else or need the experience of a seasoned specialist to help you capitalize on the opportunities you identified in your audit?
Schedule your FREE consultation with Single Grain's enterprise SEO experts to discuss your needs.👇