As a small- and medium-sized (SMB) business owner, you are always looking for ways to reach your ideal customers.
There are several strategies that you can apply to market your business, but it is always recommended that you follow industry leaders to understand the marketing strategies that have worked for them, rather than reinvent the wheel.
And if there is one industry leader that can teach you many strategies about effective marketing and business expansion, it is undoubtedly Amazon.
As the world's largest e-commerce marketplace and largest Internet company in terms of revenue, Amazon's business success is a lesson for all companies, not just e-commerce or online companies. Their annual revenue for 2018 was $232 billion, which was a 30.93% increase from 2017.
Have a look at the below chart from Statista that displays Amazon's impressive long-term growth from 1997 through 2018: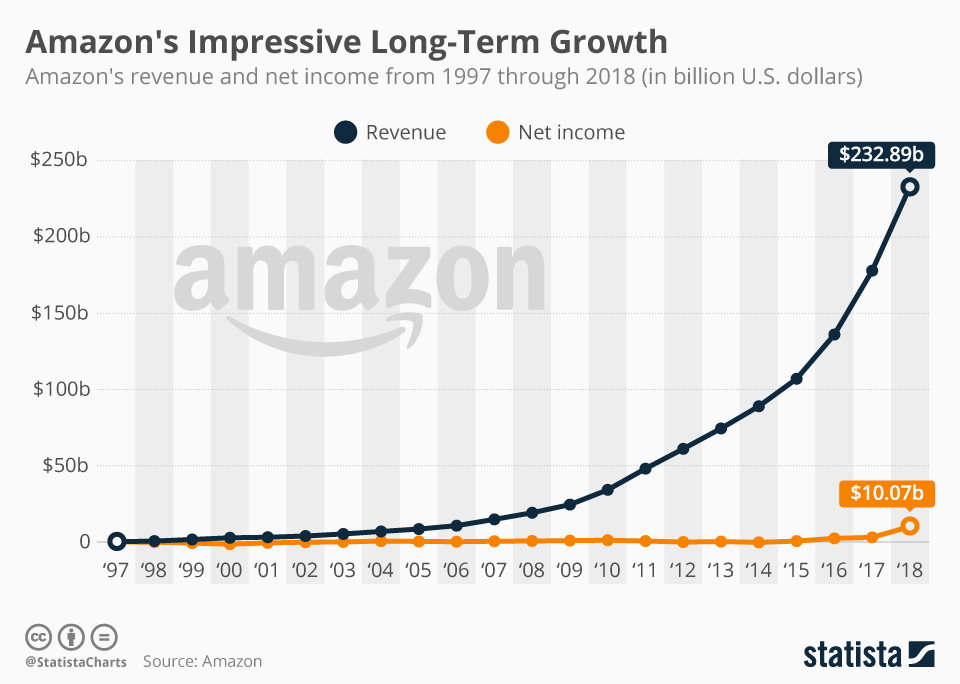 The company's revenue really took off around 2004 and it continues to improve with every passing year. So what was so special about Amazon's marketing strategy that made the company such a huge a success?
Let's take a look at what SMB owners or entrepreneurs can learn about the tactics employed by the Internet giant in order to improve their own marketing strategy.
Ready? Let's start!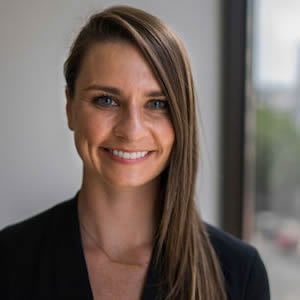 Jacqueline Foster
Demand Generation Marketing, Lever.co
We can count on them to bring new ideas to the table consistently
1) Amazon Follows an Extremely Refined Email Strategy
Amazon is one of the first companies in this world that adopted a highly personalized approach to email marketing.
They send 9 different kinds of emails to every customer based on their purchase history, location, age, on-site browsing, etc. Right from the on-boarding of a new customer to upselling and review solicitation, Amazon has got you covered.
Why is Amazon's email marketing one of the best in the world? The answer lies in tracking data.
Amazon tracks a lot of data related to their customers, like:
which products a customer browses
which products a customer orders frequently
which promotional emails a customer clicks on the most
which products a customer keeps in their cart without purchasing, and so on
In addition, Amazon keeps their email template consistent and regularly sends out cart abandonment reminders, product recommendations or membership upgrades for Prime: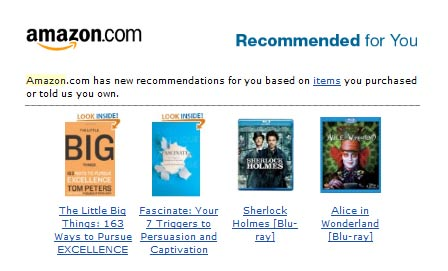 Amazon is not afraid to send a lot of emails. They send about one daily email to customers just to remind them about any deals they had been browsing:

By keeping the customer updated regarding their past purchase behavior and by sending the latest offers related to their interests, Amazon is able to drive a lot of traffic to its website that eventually helps in maximizing conversions.
Dive Deeper:
2) Amazon Is a Master at Innovative Product Delivery
There are three big reasons behind the success of Amazon:
They put the customer first
They come out with new products
They remain patient
As per the Prophet Brand Relevance Index of 2018, Amazon was the second-most-loved company in the U.S.: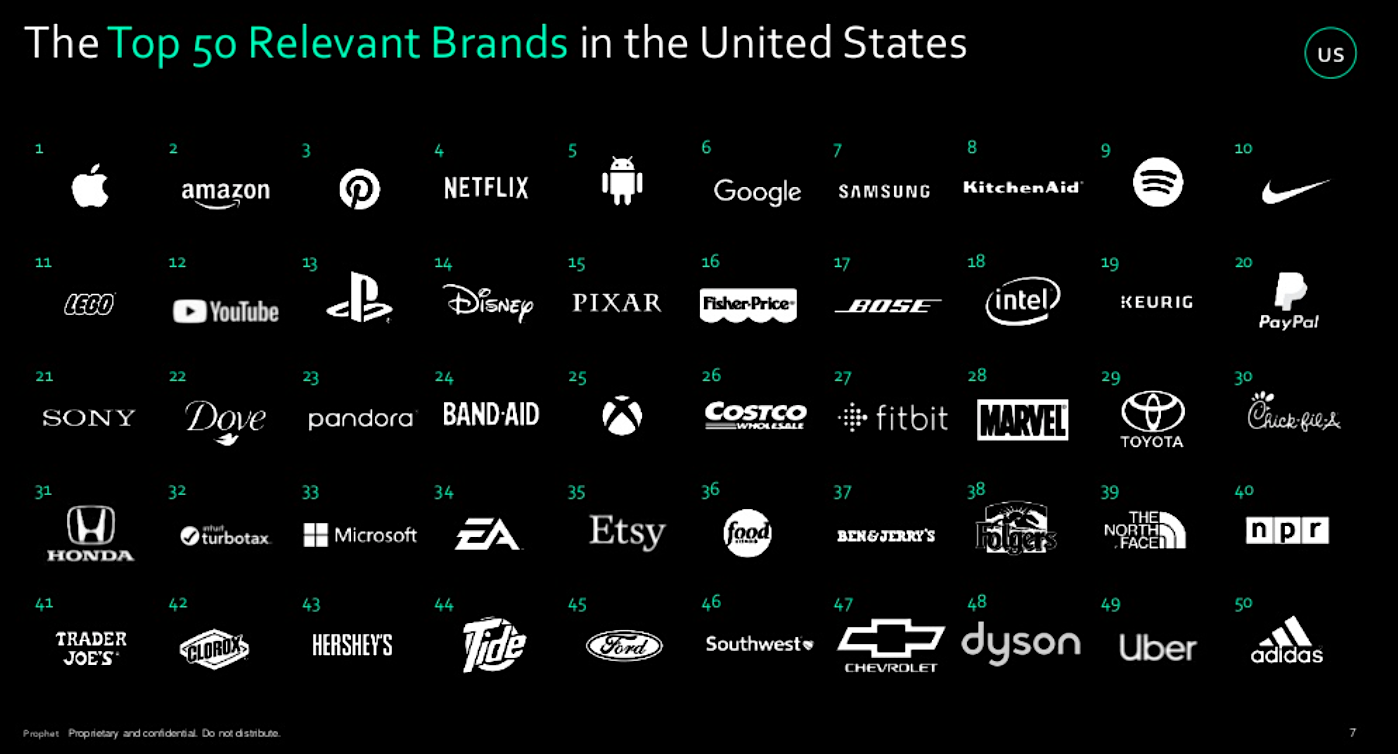 Why does Amazon beat Google, Disney, Uber, etc.? They have always delivered on their promise of being the earth's most customer-centric company. If you've ever had an issue with a product and needed to return or replace it, or speak to a customer service rep, you've experienced this firsthand. Their customer service is outstanding.
And they are constantly upgrading their product delivery method to align with the world around them. With the help of Alexa, you can shop millions of products from Amazon. Yesterday's science fiction of ordering a bottle of cooking oil using voice commands while you are in the kitchen cutting vegetables has become a reality.
At your (voice) command, Alexa will get the cooking oil delivered to you on a Sunday, within the hour and will even deposit it inside your house. How is this possible? With Amazon's customer-first and inventive approach.
This is a great lesson for SMBs: Always think about the customer and don't be afraid to innovate.
Dive Deeper: 
3) Amazon's Customers Help Out with Marketing
The best marketing strategy in this world is word-of-mouth marketing. It is better than any other advertising strategy, including TV ads which have been around for almost a century.
How does Amazon generate word-of-mouth referrals from their customers? As mentioned in #2, the answer lies in exceptional customer service.
Fifteen years ago, Jeff Bezos, founder of Amazon, said:
"We don't do any television advertising, and we take all of the money that we would put into television advertising, and instead put it into things like free SuperSaver shipping [free shipping on most orders over $25], lower product prices, category expansion, and invention of new features. Absolutely. The thing that we did early on is that we made it very easy for people to find very obscure products. That was something people remarked on. If you're not doing something that people will remark on, then it's going to be hard to generate word of mouth. The only way to do this consistently over time is through invention."
And it's still true today, as any marketer will tell you.
Hence, the key to generating referrals from your existing customers is to invest in exceptional customer service that makes buying easier and hassle free.
There is no point in bringing in more customers by spending huge amounts of money in advertising if the customer doesn't stay for long. Instead, first invest in customer service and then increase the customer retention rate in order to improve your bottom line.
Dive Deeper: Word-of-Mouth Marketing — What Is It and How Do You Do It?
4) Amazon Understands Every Detail of Its Business
As an SMB owner or entrepreneur, you need to understand every aspect of your business if you want to excel in it. Take your time and write down the answers to the following questions:
What do you sell?
Why do you sell this?
What is your USP?
What are your long-term and short-term goals?
What kind of people do you need to run your business?
Who are your competitors?
How did your competitors reach the position they are now?
Do you understand your customer journey?
What are the obstacles that your customers face during the purchase journey?
Do you have a customer feedback mechanism in place?
What are your most popular products?
Why are they popular?
Why do customers abandon their cart?
How long does the customer takes to purchase?
What is the average cart value?
What is the retention rate?
What is customer lifetime value?
How much was your profit for the last year?
How much is your profit assumption for the next 3 years?
What are the steps you need to take to make your customers happier than before?
Where do you want to see your business 5 years from now?
What is your strategy for innovation? etc.
As you can see, there are so many questions that you need to answer if you really want to dominate your niche market. Amazon has always taken a step ahead in order to understand its business model and this is one of the biggest reasons for its success.
Learn the secrets to success from entrepreneurs who have grown multi-million or -billion dollar companies on our Growth Everywhere podcast! 
5) Amazon Has an Excellent Review System in Place
Ratings and reviews play a very important role in the purchase decision of customers. Can you imagine browsing an e-commerce site today without a review system in place? You'd probably leave the website!
This is because Amazon has helped e-retailers widely adopt the practice of adding reviews to their website.
Amazon was the first company to allow customers to post reviews of products way back in 1995 when I was just a kid – and in 2010, Amazon was the largest single source of Internet consumer reviews. At that time, many thought that asking customers to review products would give the people a public platform to say negative things about the product or the company.
Critics termed this practice a recipe for "retail suicide". But Bezos' response was that Amazon was "taking a different approach…we want to make every book available — the good, the bad and the ugly…to let truth loose."
By the way, here's what Amazon looked like in 1995 (who'd've thought they'd ever become a business that would reach a market cap of $1 trillion??):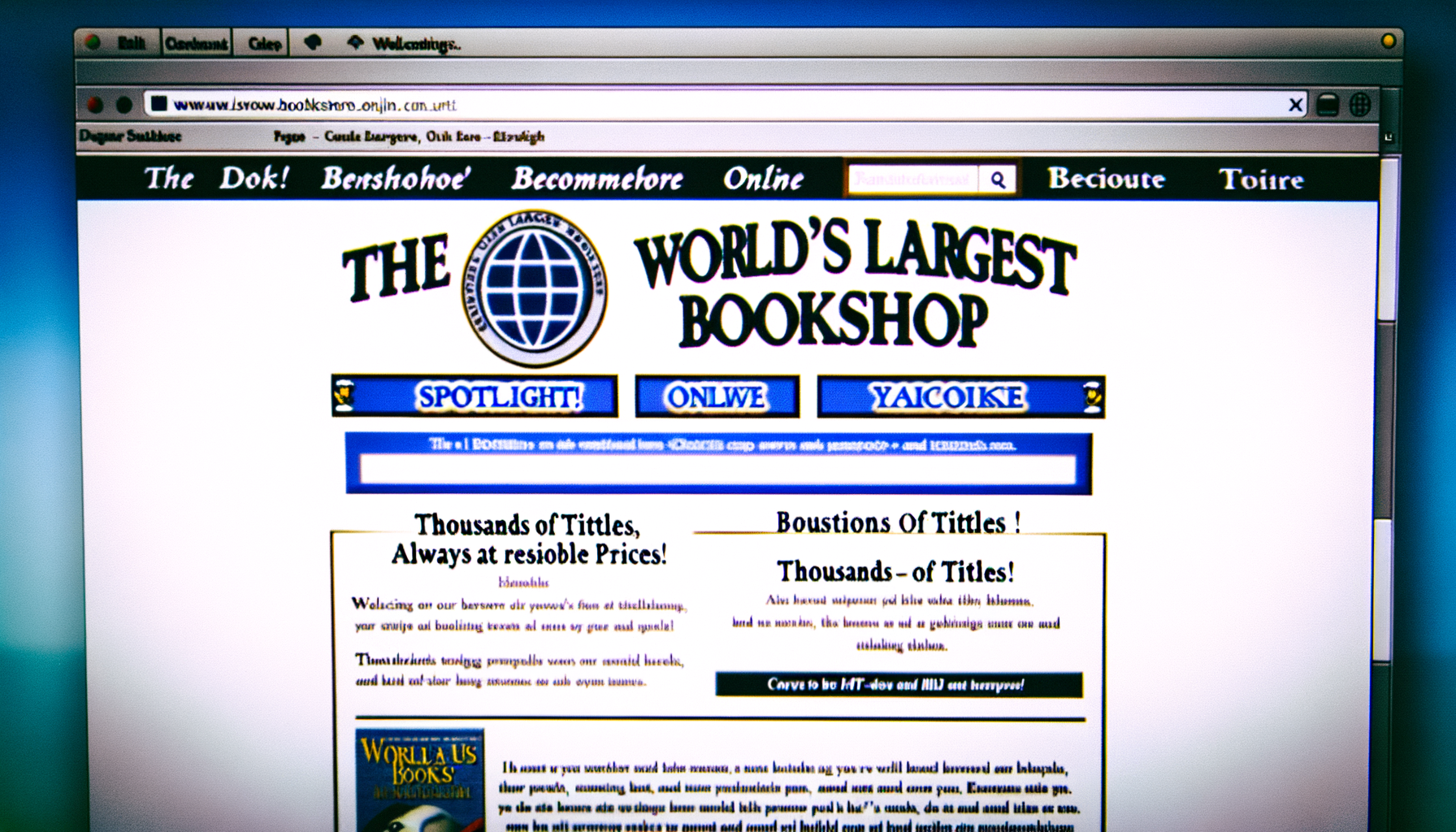 After 24 years, it is impossible to think of a retail website that does not have a review system in place. This is the power of "future thinking" by Amazon. When leaders lead, others just follow.
Why is the Amazon review system so helpful and what unique features does it have that makes it better than its competitors? Here are a few reasons:
Amazon sends individual review emails for every single product that is purchased. Most other e-commerce companies send a single email asking the customer to post a review, but Amazon sends different review emails for different products: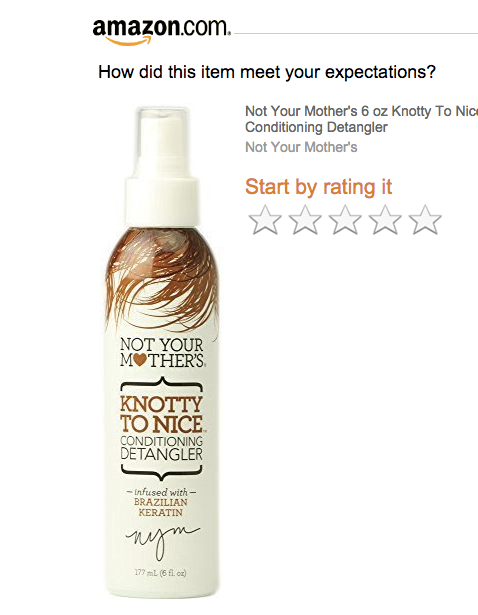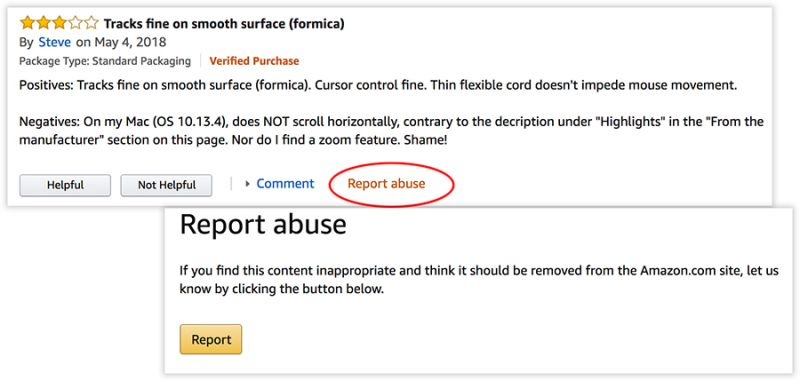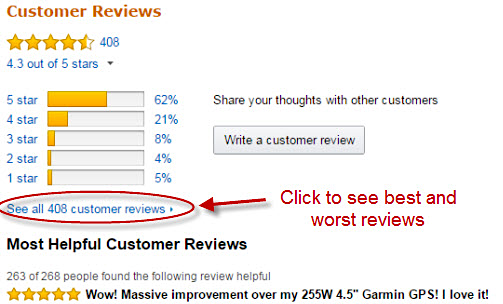 Amazon always ask the question "Was this review helpful?" This is a regular user feedback mechanism that allows Amazon to keep quality and popular products in stock and discard the ones that don't sell well. Amazon has been able to increase revenue by $2,700,000,000 every year just by asking this simple question.
In the words of Amazon:
"We've worked over the years to make our millions of customer reviews as useful as possible – we've added features like Amazon Verified Purchase, helpful votes, and review comments in the pursuit of a system that's open and flexible and yet structured and helpful for anyone who wants to learn more from other customers about anything we sell."
Dive Deeper:
6) Amazon's Loyalty Program Is One of the Best
One of the inventive ways that Amazon has been growing tremendously is by leveraging the power of Amazon Prime, which is one of the best customer loyalty programs in the market today.
In his annual shareholders letter of 2018, Jeff Bezos wrote:
"13 years post-launch, we have exceeded 100 million paid Prime members globally. In 2017 Amazon shipped more than five billion items with Prime worldwide, and more new members joined Prime than in any previous year – both worldwide and in the U.S. Members in the U.S. now receive unlimited free two-day shipping on over 100 million different items.
We expanded Prime to Mexico, Singapore, the Netherlands, and Luxembourg, and introduced Business Prime Shipping in the U.S. and Germany. We keep making Prime shipping faster as well, with Prime Free Same-Day and Prime Free One-Day delivery now in more than 8,000 cities and towns. Prime Now is available in more than 50 cities worldwide across nine countries. Prime Day 2017 was our biggest global shopping event ever (until surpassed by Cyber Monday), with more new Prime members joining Prime than any other day in our history."
A business' need for loyalty has been changing. Nowadays, businesses have to rely on a customer's experience to remain loyal to a brand. Sending discount offers alone won't do any good.
Amazon Prime has been a game changer because it provides so many benefits to the customers, such as:
Same day shipping
Unlimited photo storage
Ad-free video streaming
Ad-free music streaming
Flat fee grocery delivery
Special deals on Prime Day

When there are so many benefits to becoming a loyal customer, then you definitely want to become one.
7) Amazon Acquires Smaller E-commerce Startups
One of the vital aspects of the Amazon marketing strategy is its acquisition of smaller companies, which helps them provide high value to their customers.
Almost every one of us has played the classic game "Snake" as a child in which a snake feeds on apples to grow bigger and bigger: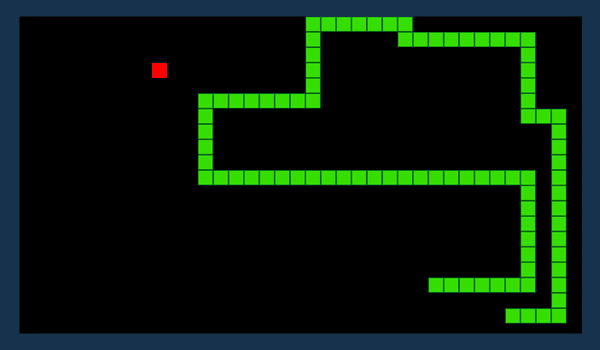 The same holds true with business. If you want to expand your business, the best way is to acquire small businesses, depending on your niche, target location and budget. The more you acquire, the more you are able to expand your business.
Here are the top companies that were acquired by Amazon in order to expand its market and reach:
These are just some examples of company acquisitions by Amazon. There are several other companies that Amazon acquired or is in the process of acquiring as of now. The idea behind company acquisition is simple: you get new customers, you get employees to continue looking after them, you enable the product of the smaller business to expand its reach, and you don't need to start all this from scratch.
8) With Amazon, It's all About the Long-Term
Amazon does not invest for the short-term; instead it always invests for the long-term. In fact, in 1997, Jeff Bezos issued a manifesto called "It's all about the long-term." As Inc.com noted, "Amazon's famous founder didn't just predict the future. He helped shape it."
In his manifesto – which he has published and sent to all shareholders every year for the last 20 years – Bezos explained his plans for business expansion, keeping only their long-term success in mind: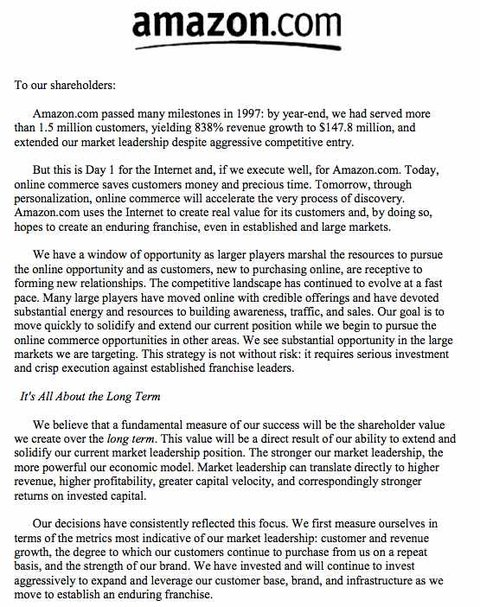 As an SMB owner, it's important to see the bigger picture, to continue innovating and investing, and to never stop learning and thinking about the future. For instance, when the light bulb was invented in 1879, the candlemaking industry was about to go belly-up. Rather than try to hold back progress, they eventually turned to decorative candles, which continue to increase in popularity even today.
The vision for the long-term is what keeps Amazon profitable with every passing year.
9) Amazon Applies 3 Rules When Conducting Meetings
If you are a business owner, you need a team to excel, and if you have a team, there are meetings and meetings and meetings.
Almost every one of us has faced boring and unproductive meetings at the workplace, so how can you make your business meetings more productive? Follow Amazon's three rules when conducting meetings:
Two-Pizza Teams – Keep your teams small enough that they can be fed with just two pizzas. More members only add to the chaos, making it difficult to reach conclusions.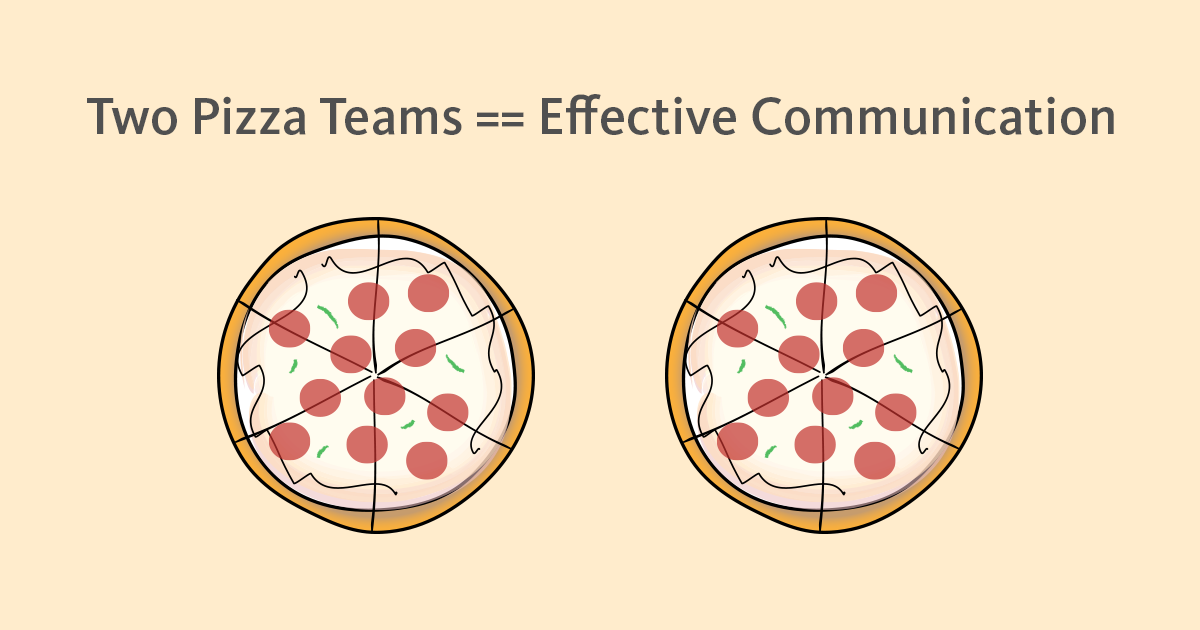 No PowerPoints – Bezos promoted the use of memos instead of PowerPoints presentations. In one of the letters to shareholders, Bezos wrote, "The great memos are written and rewritten, shared with colleagues who are asked to improve the work, set aside for a couple of days, and then edited again with a fresh mind. They simply can't be done in a day or two."
Start with Silence – Bezos says, "We read those memos, silently, during the meeting. It's like a study hall. Everybody sits around the table, and we read silently, for usually about half an hour, however long it takes us to read the document. And then we discuss it."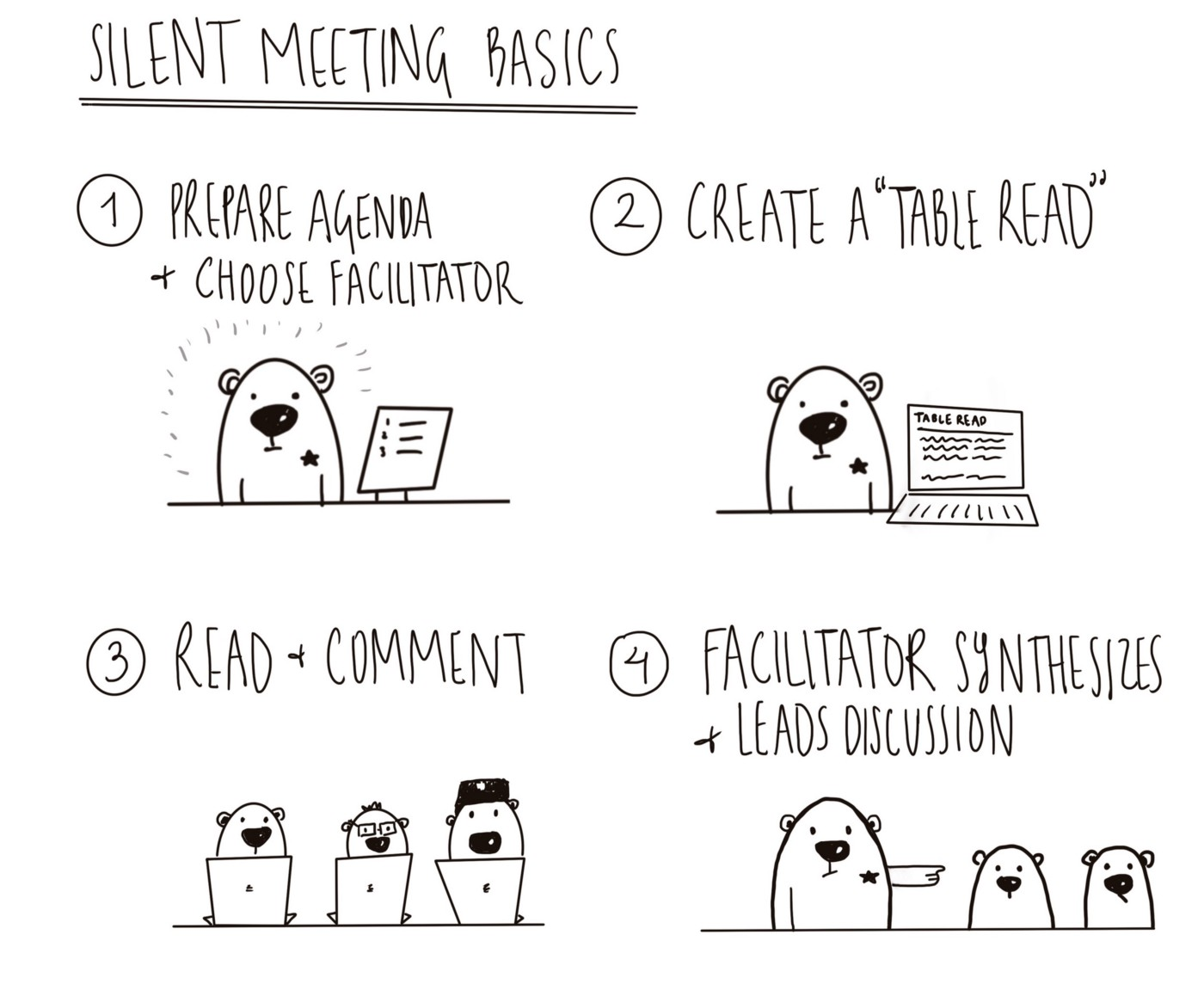 Get your meetings right and stop wasting time by following the 3 rules as suggested by Amazon's successful founder.
If the people on your marketing team can convey their message in a better manner, discuss it in a comfortable environment, and are then able to make fruitful decisions, then you will definitely be able to drive maximum conversions from your marketing campaigns.
10) Amazon Uses Social Media to Promote Products and Help Customers
Amazon is not afraid to promote products across its various social platforms.
With around 2,92,74,382 likes and 2,84,50,645  followers on their Facebook page, Amazon has reached this massive figure by using social media as a platform to help its customers. Amazon always responds to user comments in a timely fashion and polite manner.
Have a look at the below screenshots where Amazon employees reply to customers by name (and give their own name). It adds a human touch to each of a brand's posts, which is definitely appreciated by customers: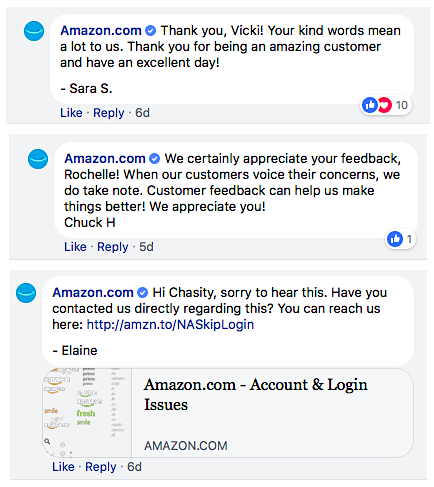 Amazon uses the Facebook platform to educate customers about its new product offerings and also to respond to negative feedback in a prompt manner.
When someone asks a question, Amazon representatives answer it quickly, and whenever a customer is frustrated, the retail giant not only responds, but always tries to help the customer.
Amazon uses Twitter to promote its blog and also to get more customers to its other product offerings like Prime and Amazon Music. They have over 3.1 million followers on Twitter. In many cases, their Facebook posts are also shared on Twitter in order to gain more exposure.
The Pinterest page of Amazon is an extension of its main store. Amazon is extremely careful regarding what it promotes on the image-based platform. Only unique, image-friendly products are selected to be promoted on their Pinterest page as well as their "Handmade at Amazon" (for artisan crafts) page: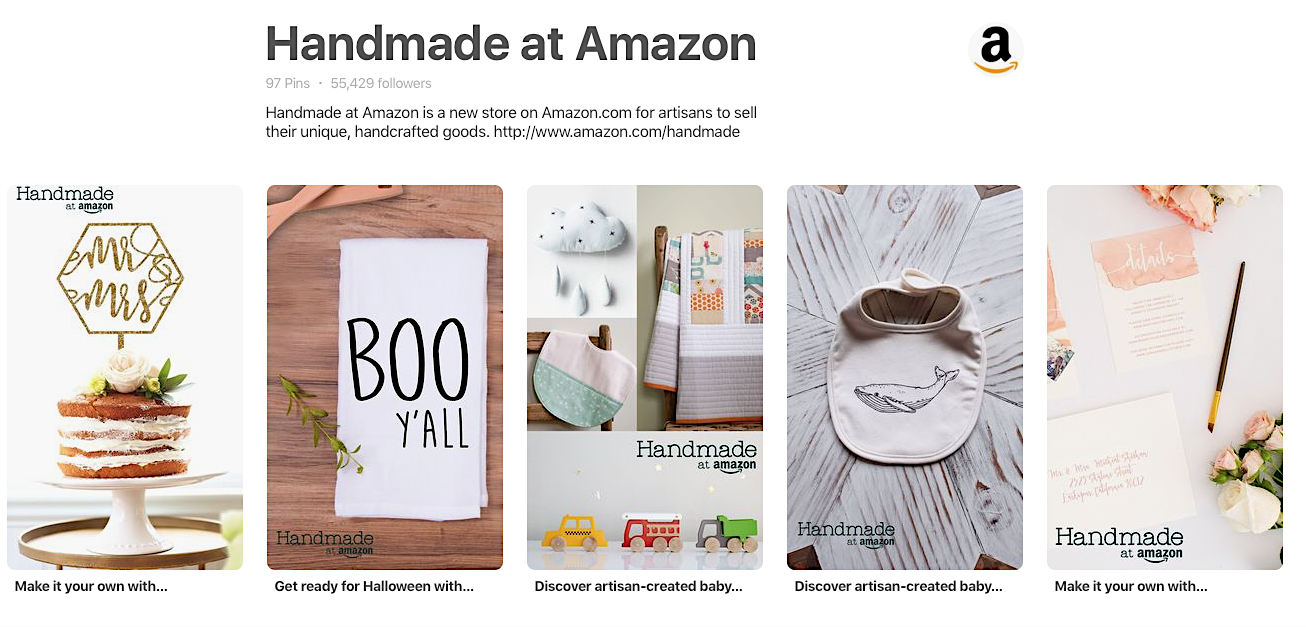 Amazon also uses Snapchat in the best manner. Messages disappear rather fast on platforms like Snapchat, hence time-based offers are shared to gain more publicity and persuade users to take action. Amazon shares deal codes on Snapchat which can be redeemed during checkout.
It has also partnered with Snapchat to create a visual search tool. Users only need to take a photo of the object with Snapchat's camera and Snapchat will show a card that displays the product name, price, reviews and Prime availability. In short, users can directly order a product from Amazon simply my clicking the Snapchat camera. Amazing, isn't it?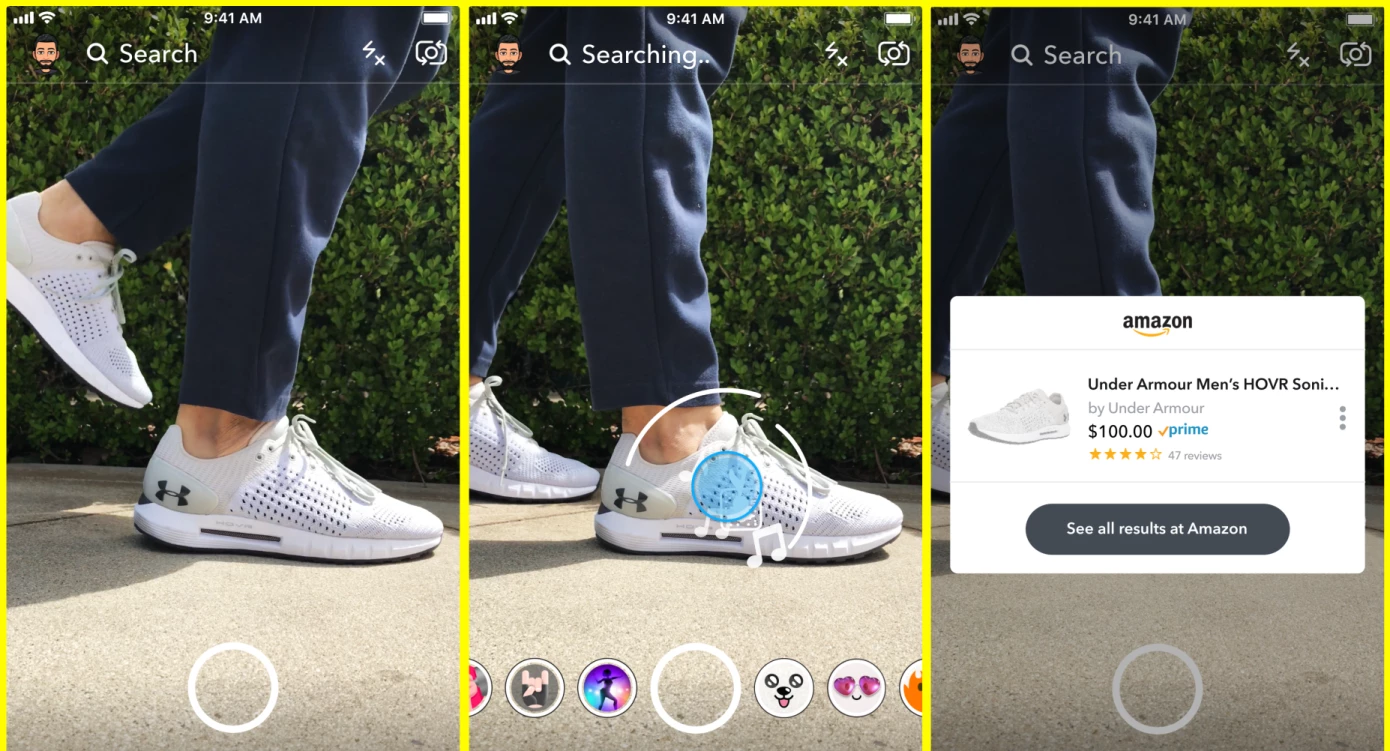 With an impressive social strategy, Amazon is constantly looking for ways to drive more exposure, gain more followers, enhance engagement and generate direct sales from social media.
Dive Deeper: 
11) Amazon Has One of the World's Best Influencer Programs
Amazon always think ahead of their competitors and one of the best examples to prove this point is the Amazon Influencer Program: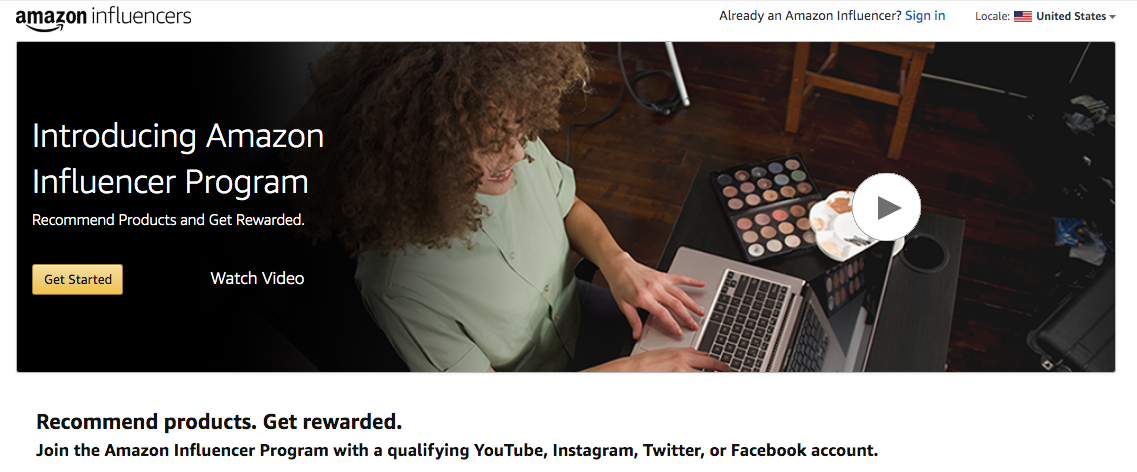 People who have a qualifying YouTube, Instagram, Twitter or Facebook account are invited to create their own storefront on Amazon with a custom URL to house all their recommended products.
Influencers can use the custom URL to guide shoppers to buy products from Amazon and in return they will receive a commission from the e-commerce giant.
In the words of Amazon:
"The Amazon Influencer Program allows you to get your own page on Amazon with an exclusive vanity URL to showcase the products you recommend to your followers. Promote your URL, make it easier for your followers to shop your recommendations and earn money on qualifying purchases while doing it!"
The way that Amazon handles their influencers is simply remarkable. As a small- to medium-business owner, you need to learn how to use affiliate marketing in the best possible manner in order to grow your business.
Learn More:
Final Thoughts
Now that you have a good understanding of Amazon's marketing strategy, you can replicate it to win more customers for your own business!
Just as Amazon used Prime to reach new customers, you need to think about new ways to expand your business. Keep the customer happy, never stop inventing, think ahead into the future, make the best use of technology and always have patience. Happy marketing!