Nod if you are a confessed chatbot fanatic (for lack of a better term).
Mobile Marketer research suggests that around 40% of Millennials interact with chatbots daily, so naturally more and more businesses are using lead bots as one of their prime marketing channels in their overall marketing plan.
A lead bot is simply a chatbot specifically set up for lead generation, such as collecting contact info from prospects and automatically qualifying leads. They take dynamic lead forms, which tailor questions based on IP addresses and cookies, one step further by interacting with the site visitor in a conversational way.
According to a recent report, the United States (36%), India (11%) and Germany (4%) have been ranked as the top three countries that are "obsessed" with chatbots. And rightly so.
Juniper Research claims that businesses and consumers can save up to 2.5 billion hours through the use of chatbots by 2023, and predicts cost savings of $8 billion from the use of chatbot conversions by 2022: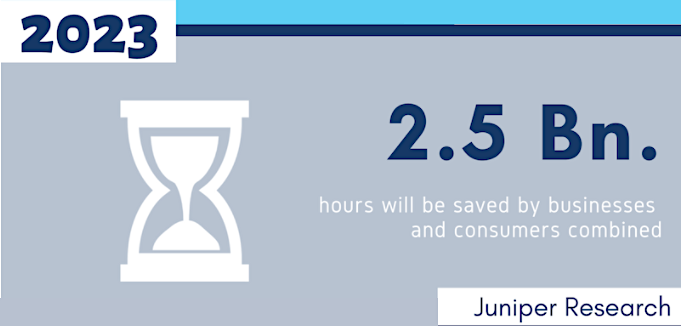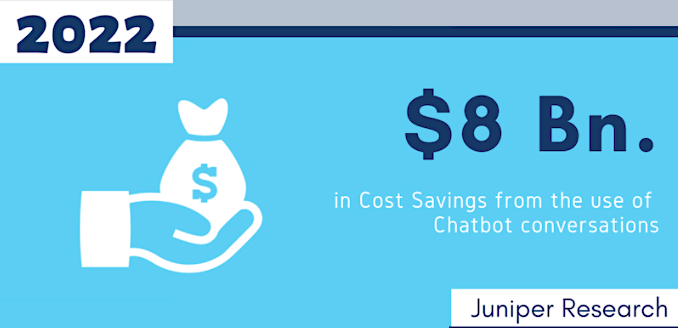 And Gartner predicts that by 2021, around 50% of enterprises will spend more on chatbots than on mobile app development.
In short, chatbots have arrived and they're not going anywhere!
In this blog, we will look at how chatbots — or lead bots (not to be confused with LeadBot, Drift's specific lead bot) — are primarily used for leveraging the wide-ranging benefits of lead generation.
Before we jump into the "how" aspect, let's get an overview of how lead bots can serve as every visitor's real-time, on-demand guide. In the larger scheme of things, using a lead bot can help:
Guide visitors through the conversion funnel, thus bridging the gap in the path to purchase.
Eliminate any friction along the way and drive greater customer value.
Generate meaningful leads and establish a loyal customer base.
Address customer queries in real-time and proactively provide relevant information to users.
Connect prospects with human agents as quickly as possible so that every customer feels valued and heard by the brand.
Now that we have a better understanding of why lead bots are an essential aspect of your lead-generation journey, let's jump into it!
6 Ways to Make Lead Bots a Staple of Your Lead Generation Efforts
1) Lead Bots: Where Users Are More than Welcome
Much like a first date, first impressions matter. In the world of lead generation, we call it the Welcome Message.
A welcome message from the lead bot marks the beginning of your relationship with a new user and effectively serves as the first contact point in the onboarding program. In terms of the benefits, it helps boost subscriber engagement and maximizes your lead-gen efforts in an effortless and effective manner.
As you can imagine, making an impressive statement at the starting point of the lead generation campaign can make or break your sales and marketing game. The idea is to build trust in users, make them actually feel welcome, and ensure that they continue to engage with your brand.
The way to do that is to speak to your customers and prospects in a way that resonates with them while being true to your brand voice. If your tone is casual, be casual. If you're a serious, traditional company, communicate in that way.
Here are some great examples to get you inspired: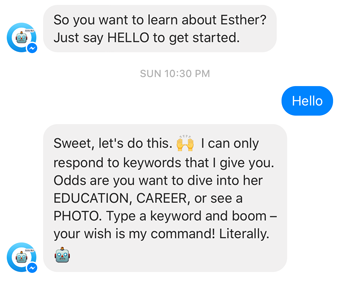 In order to promote their TV show, Genius, which is based on the genius himself, National Geographic's bot conversed with users the way Einstein would: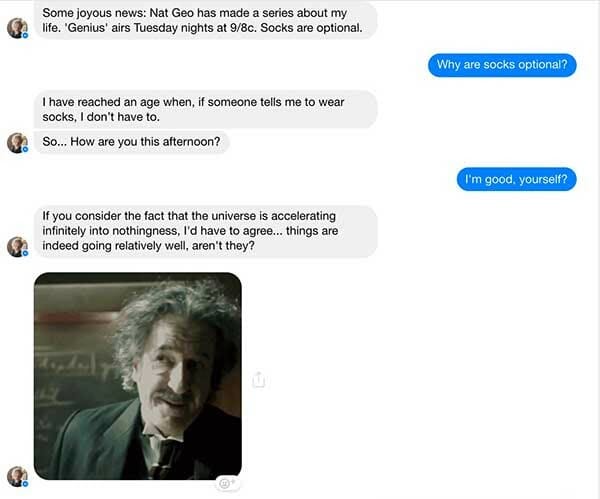 The Cheapflights bot offers relevant and actionable solutions to the user's queries: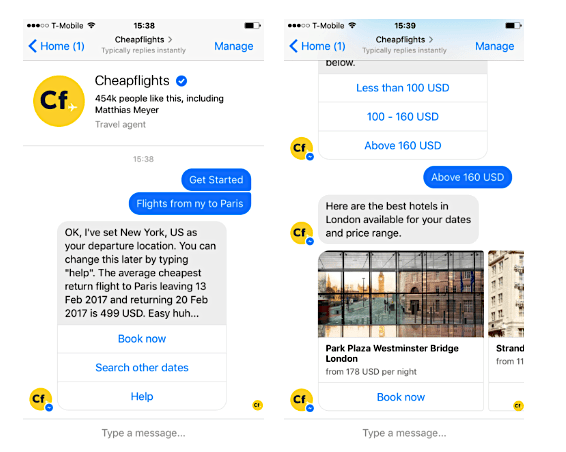 In a nutshell, having a lead bot send out a welcome message when users land on your website is important for establishing long-term relationships with the customers. You can use messages, questions, buttons or GIFs to make the message more interesting.
Also, it makes sense to use this feature to test offers, answer queries, provide discounts, ask a pre-qualifying question or include a feedback loop.
Key Takeaway: A welcome message sets the tone and personality of your brand. To that end, follow this golden rule when creating a message that works:
Welcome/Greet with humor and/or emojis.
Onboard with helpful videos, instructions and tips.
Engage with offers, discounts and/or relevant information for the user.
Dive Deeper:
* Why Chatbots Are a Must-Have for Businesses (and How to Build One!)
* 13 Messages Your Chatbot Should Be Saying to Prospects
* 4 Ways Bad Bots Negatively Impact Your Business (and What to Do)
* Facebook Messenger Chatbots: The Step-by-Step Guide to Getting Massive Results

2) Chat Widgets & Lead Bots: A Match Made in Marketing Heaven
Imagine if there was a way to monitor website visitors and initiate proactive chats. Wouldn't that be wonderful? Luckily, there is.
You guessed it right. We're talking about integrating the live chat widget with a lead bot. This not only streamlines communication, but aids in lead generation as well. In addition, extensive research by HubSpot indicates why immediate and real-time responses —  a specialty of live chat services — is the need of the hour: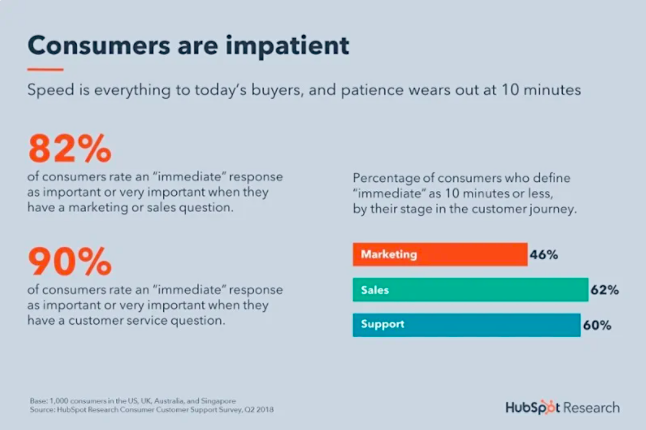 It's important to understand that there are different types of chat widgets that serve different purposes for feedback, sales, marketing, customer service, etc. These chat widgets include (but are not limited to):
General chat widget – The floating bubble option (which often uses the Facebook Messenger icon because it's familiar to most people):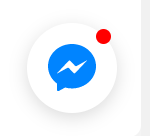 Onboarding chat widget – The new message badge. Once the user clicks on the button, they'll be able to see the brand's logo and name. Next, they are greeted with a welcome message that invites them to engage with the brand in different ways: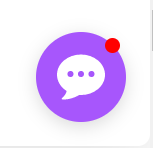 Support chat widget – A specific "need help?" widget that often displays a photo of a support rep and the expected response time for a user's query: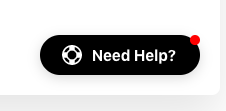 Feedback chat widget – The floating bubble with custom icon and text that, when clicked on, asks visitors for feedback: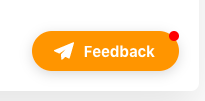 Embedded live chat widget – Indigo's live chat button "Ask Dottie" offers a host of services and aims to address different kinds of customer queries at one go: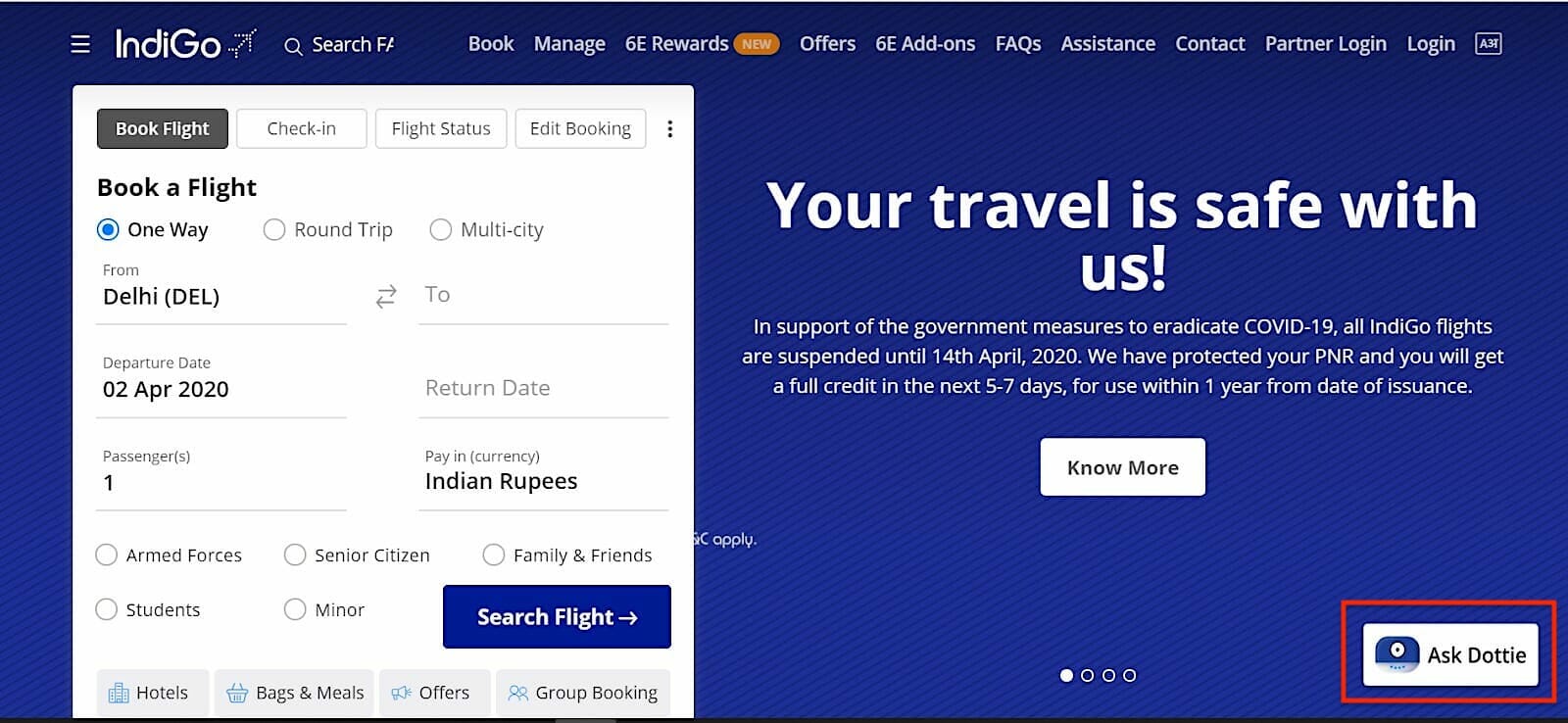 When clicked on, the chat widget opens up to display the most typical topics that people are asking about: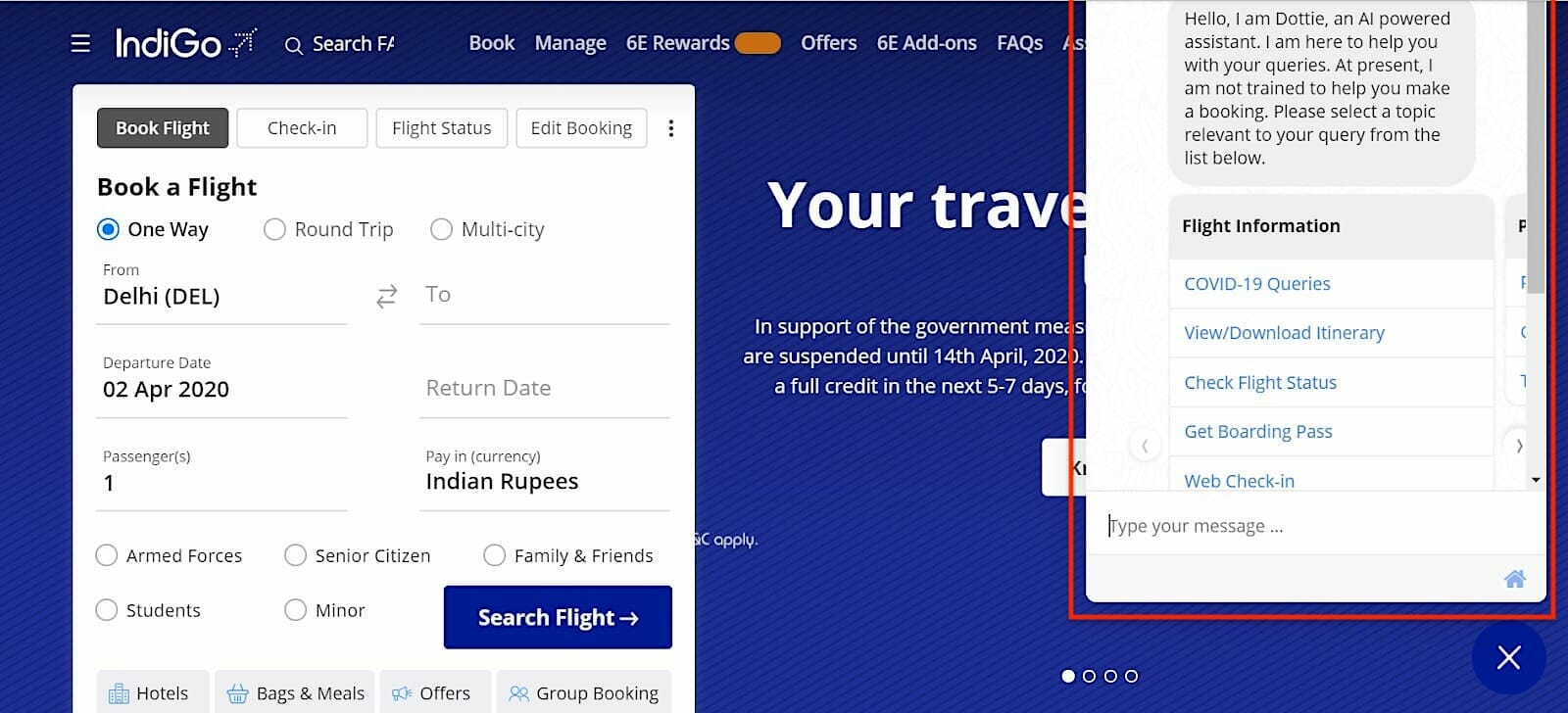 As Dave Orecchio, owner of Bristol Strategy, puts it:
"Chatbots are awake 24/7. For website visitors who do their research after hours, for night owls, chatbots are much more accessible than the average salesperson. And they are always happy no matter what time the clock might read."
Key Takeaway: A live chat widget is a godsend for when your sales/support team is offline. All the user has to do is provide basic details such as name, phone number, email address and query. The chatbot collects this information so that the agent can contact the customer and address the concern as soon as possible. With the live chat widget, no customer questions go unanswered.
3) Plan Ahead with a Pre-Chat Survey
This is Maids in Black's simple and straightforward pre-chat survey. But why does this website greet users with a simplified form? The answer is simpler than you think.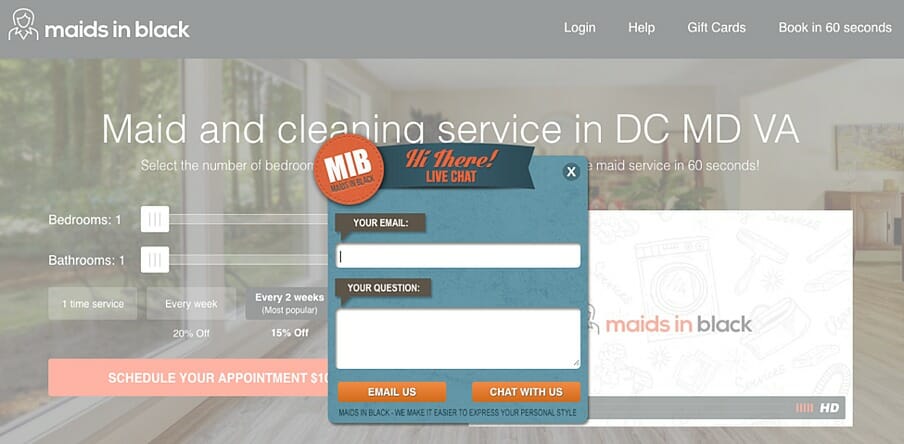 Not using a pre-chat survey within your live chat efforts is like a ship navigating without a compass — seems pointless, right?
A pre-chat survey allows the visitor to input some basic information (name, email, phone number) so that you can immediately provide relevant content for the querent.
In other words, the pre-chat survey information that's collected becomes essential for the next steps in your marketing and sales campaign.
Here's how this feature works: After you enable the pre-chat survey option on your web page, your visitors will be required to fill in some basic details before they can interact with the lead bot. This then helps you to quickly route the chat session to an agent who can best handle the visitor: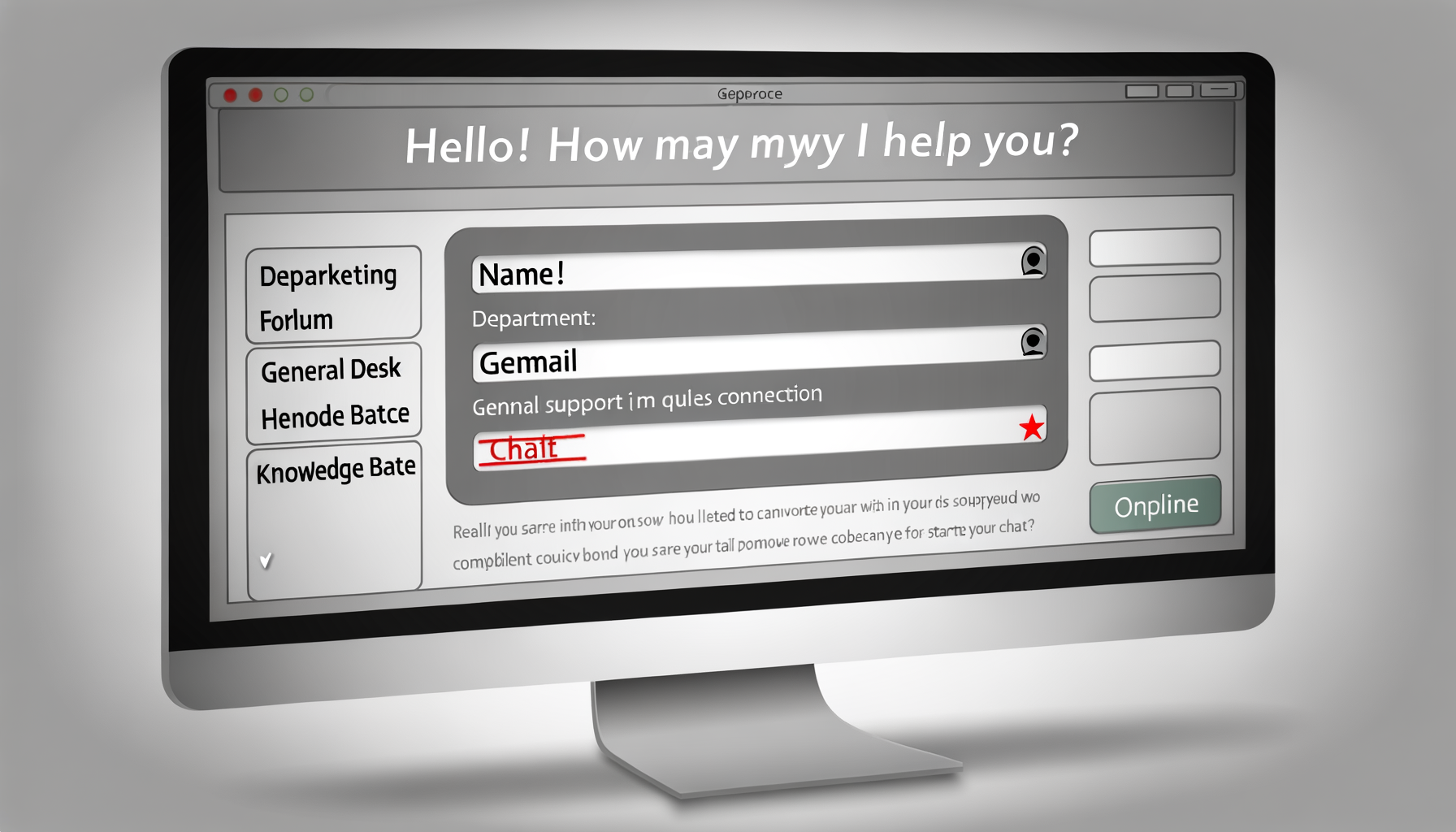 The best part? Even if users discontinue the conversation, you can always use their contact info for further marketing campaigns and more effective targeting.
Key Takeaway: The pre-chat survey is a pendulum that can swing both ways. Ask too many questions, and the customer may get agitated and close the website. So it's important to stick to the basic, essential questions – just enough so that the customer agent knows how to take the conversation forward.  
4) Multilingual Lead Bots Lead the Way
Considering that 74% of people are more likely to buy something from a business that offers sales support in their native language, plus the fact that 72% of app users are not native English speakers, you're losing out on a lot of potential sales by not using multilingual lead bots: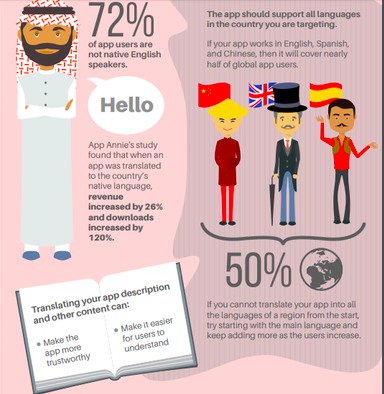 This one's a no-brainer. In today's digital world where you can easily purchase a product from halfway across the world, you can't really operate under the assumption that visitors of only one region are going to interact with your brand.
This is where a multilingual lead bots come in handy. Here are just some of the benefits:
Implementing a multilingual lead bot (not just using a translation service) allows for smoother interactions in many languages, thereby broadening your target audience.
It leads to a dramatic increase in incoming leads, thereby improving engagement and conversions.
It gives you a competitive edge, as not all websites offer multilingual bots, so visitors from different countries and languages can interact with your site, thereby increasing the possibility of their becoming customers.
It's a cost-effect feature, since you don't need to hire several people who speak different languages.
Offers a more personalized customer experience.
Handy tip: Remember to factor in the intricate cultural nuances such as slang, symbols and colors, which often have varied meanings and representations across different cultures.
Here's an example of a brand that's using this feature to its maximum potential and reaping great benefits:
Dr. Lal Path Labs offers a multilingual chatbot with language variants in Hindi and English: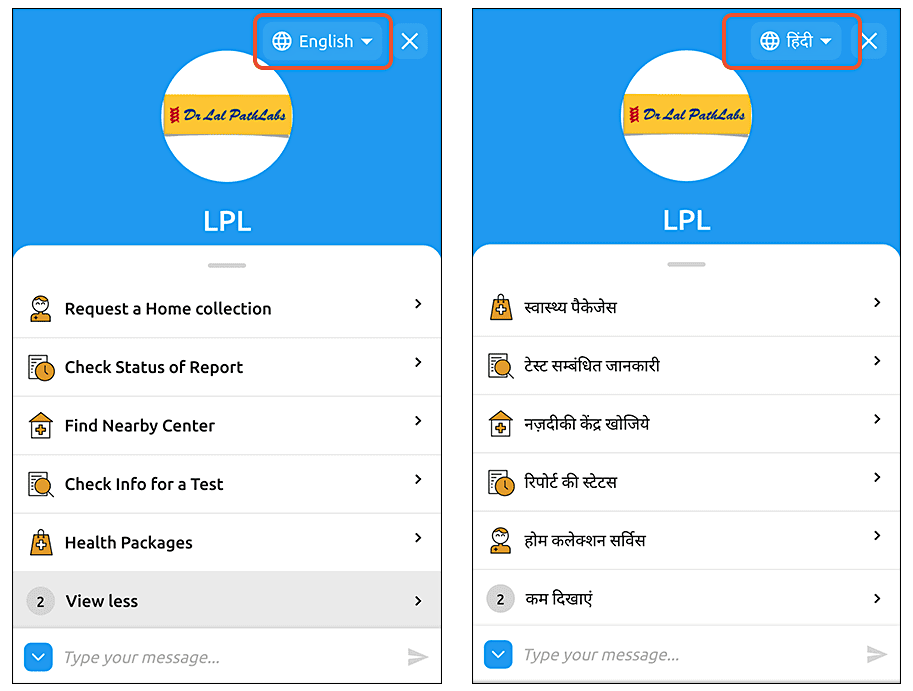 Key Takeaway: If you wish to instill greater loyalty and trust among customers in addition to increasing user satisfaction, you need to speak your customer's language – quite literally in this case.
Dive Deeper:
* How to Use Multicultural Marketing in Your Digital Advertising
* How AI Helps Add Personalization to Your Email Campaigns
* The Complete Guide to Getting Started With Website Personalization

5) Initiate Personalized Conversations with "Triggered Messages"
Not every customer who visits your website is going to go all the way and act in the desired manner. This is why timing and personalization are key to re-capturing and re-engaging your visitors. This can easily be done by way of triggered messages.
Here's how this tool works: Say a customer is trying to leave your website and you wish to re-engage them. Now, depending upon certain predefined conditions (Went to the contact page? Spent time on the website? Didn't find what they were looking for?), you can send automated triggered messages to reel the visitor back in, convert them into a lead, and reduce the website's bounce rate.
There are different ways to send triggered messages. Here are some examples of brands who make effective use of triggered messaging:
1) Pop-up Windows
Factoring in the ideal display time and the right delay are essential for the pop-up window triggered message. In some cases, when the user's cursor moves off-screen (a signal that they might be leaving), a triggered pop-up message is sent: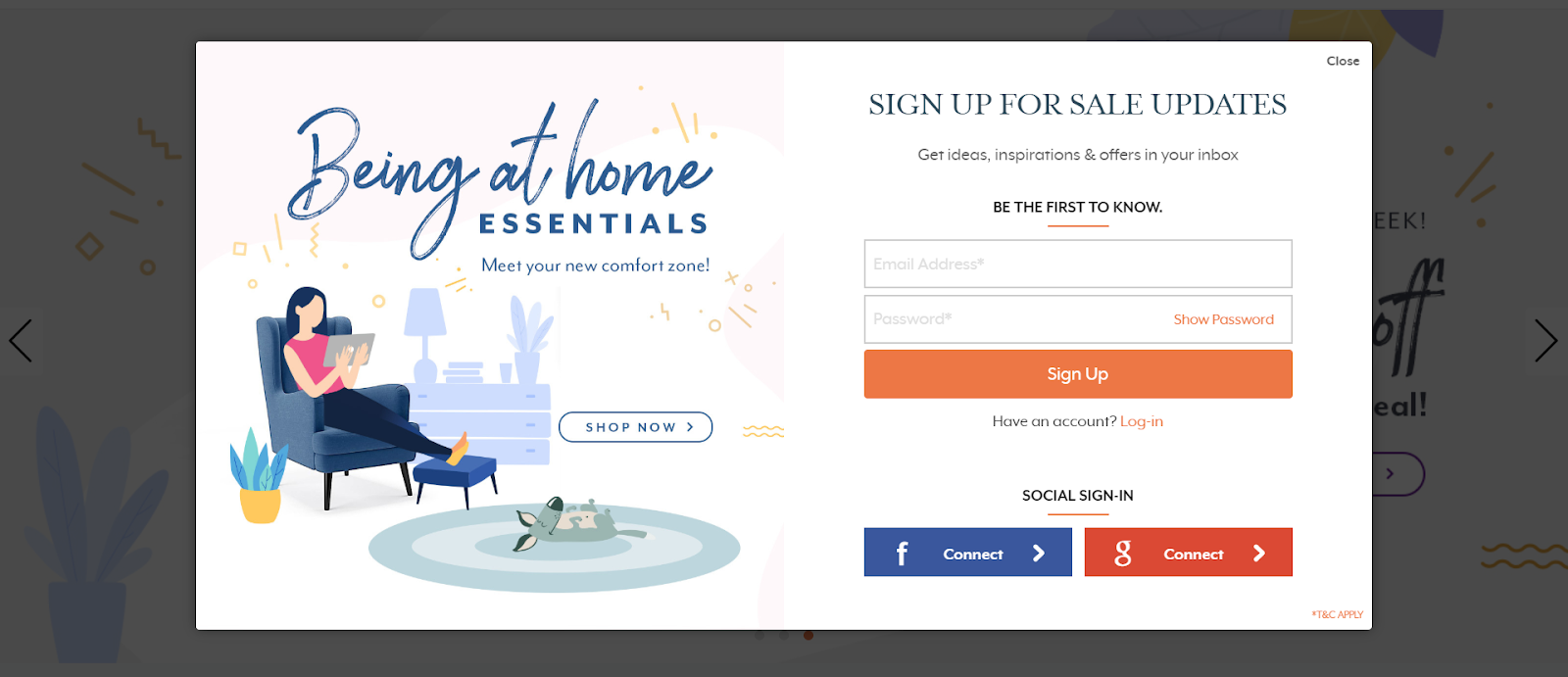 2) Chat Messages
Like the other options, you need to give the user some time to browse through your website. The idea is to reach out to customers who may not want to initiate a conversation or target users who you think are finding it difficult to navigate your website.
Additionally, note that there are different kinds of triggers: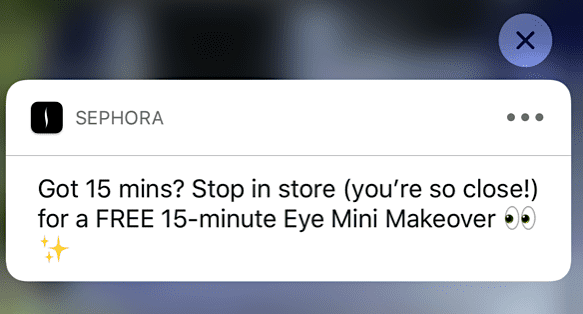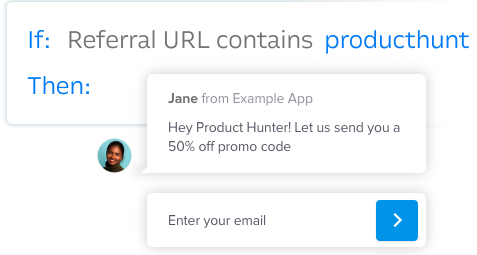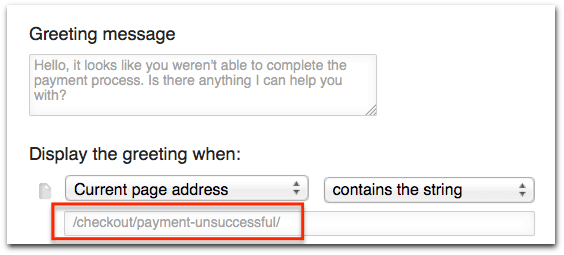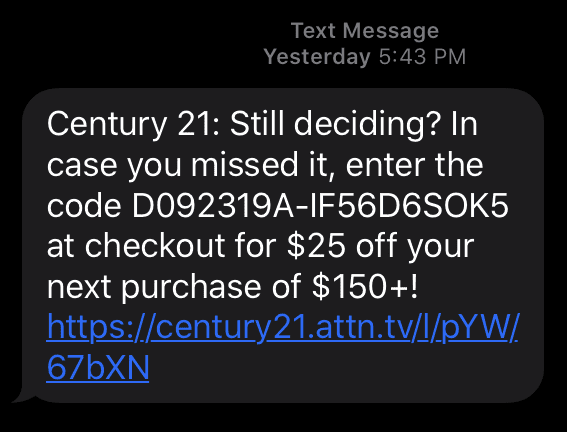 3) Email
This tactic helps if the user has already left the website. Here's an example of an e-commerce triggered message for a user who left something in their cart: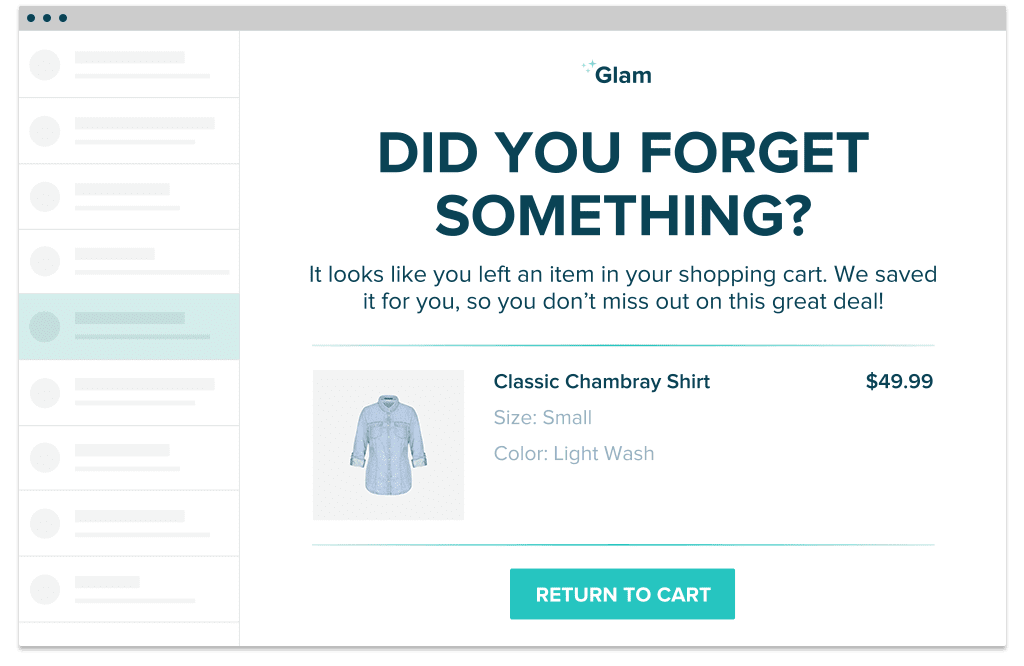 Key Takeaway: Triggered messages act as reminders for the brand, the website, the offerings, and so on. For best results, make it personal.
Dive Deeper:
* Email Marketing vs. Chatbot Marketing: The Ultimate Showdown
* How to Build a Facebook Chatbot Marketing Funnel
* How E-commerce Companies Can Drive Sales with Facebook Messenger Chatbots

6) Set Up a Blog Page that Attracts More than just Readers
The blog section on your website should be more than an avenue to create great content. Believe it or not, you can get lots of leads from your blog page.
In fact, data suggest that companies that publish 16+ posts per month generate nearly 3.5X more traffic and 4.5X more leads than those that only publish between 0-4: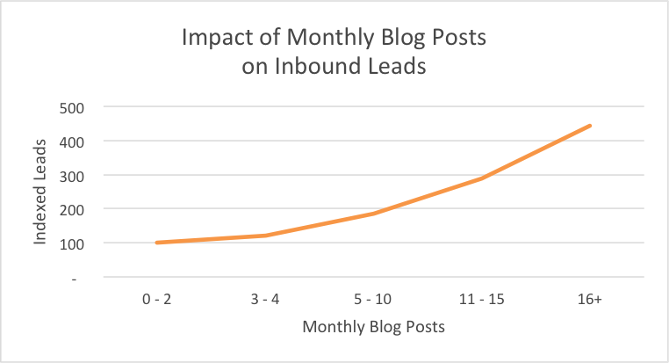 Here's how brands are achieving this remarkable feat:
Setting up a lead bot on the blog page.
Integrating a compelling Call-To-Action (sign up, download, subscribe, install, contact, etc.) in every single post. Ensure that your CTA button is visually appealing and easily identifiable.
Making sure that the lead bot asks the user if they're interested in a particular topic and then recommending relevant blogs: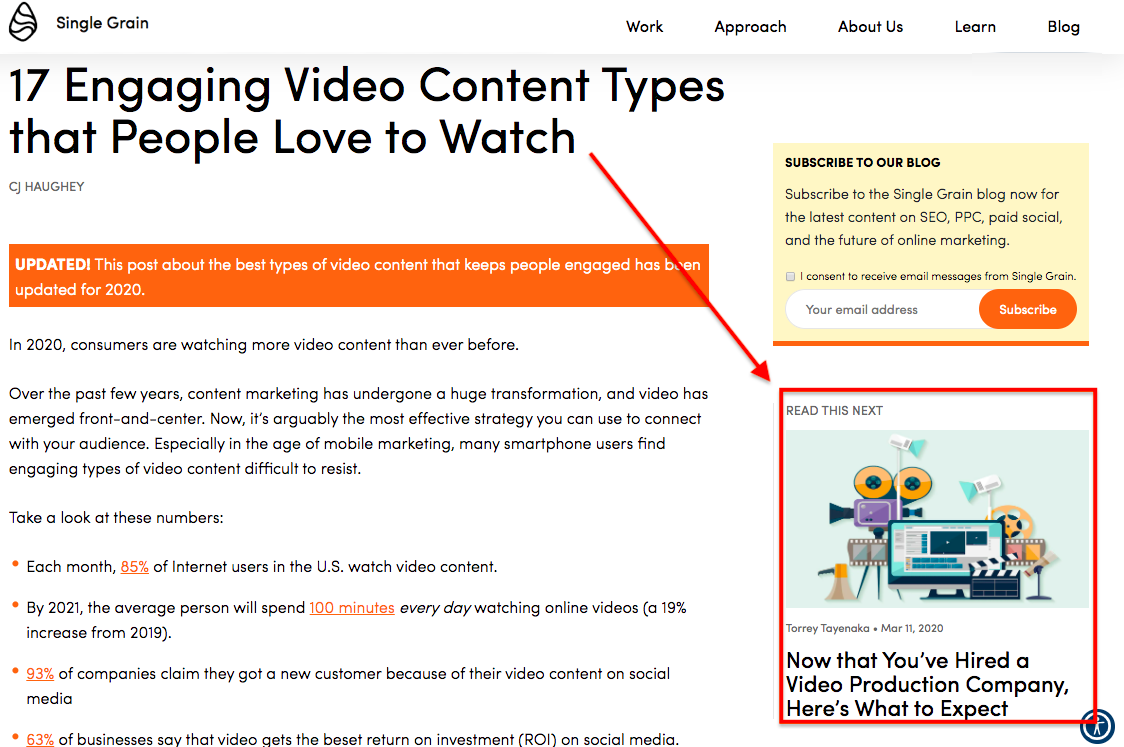 Offering the reader the option to input their email address so that they can receive articles directly in their mailbox. In addition to sending blog posts, you can use email marketing to convert them into prospective customers.
Interacting with visitors and offering products/services with exclusive limited discounts, which increases the chances of getting a new lead.
Wrapping Up
Considering that 96% of businesses believe that chatbots are here to stay, we hope this blog post has answered the question: "To lead bot or not to lead bot."
Integrating live chat features with your existing bot can be beneficial for engaging your prospects by guiding visitors through the funnel, generating meaningful leads, addressing customer queries in real-time 24/7 and proactively providing relevant information to users. It will also save you time and money.
Now that you have a better understanding of why lead bots are an essential aspect of your lead-generation journey this year, it's time to get started!