According to research, a whopping 61% of marketers cite lead generation as one of the most challenging parts of their job: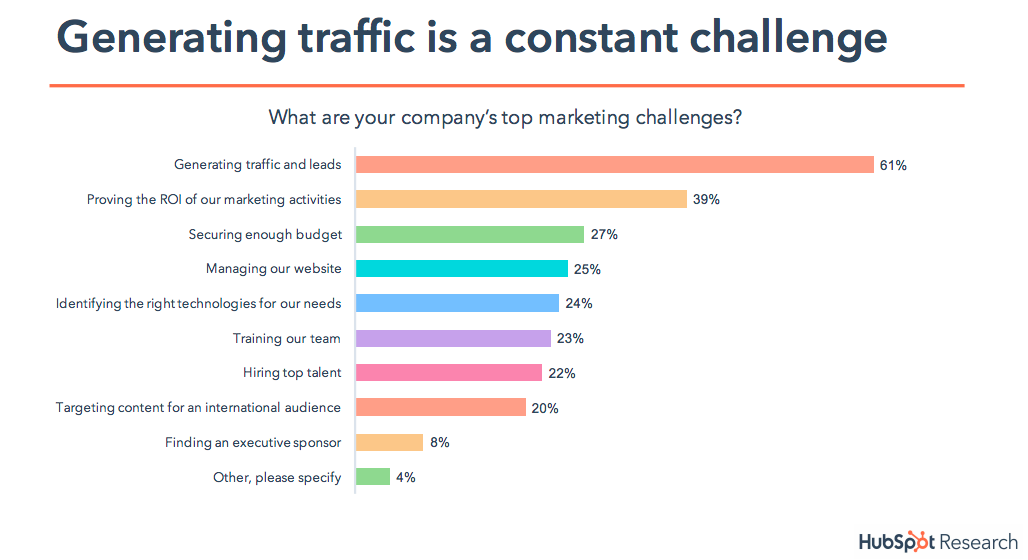 Yet without new leads coming in regularly, it's impossible to grow your business. That's why you must master lead generation — and one critical part of lead generation is the lead magnet.
This post won't go into detail on how to create the perfect lead magnet (you can find that post here). We will, however, share some lead magnet tips that will make your customers fall in love with your lead magnet and brand.
Let's get to it then, shall we?
Related Content:
* How to Write Lead Nurturing Content: 7 Proven Tactics
* SaaS Lead Generation: How We Improved Axure's Lead Quality Overnight
* How to Create a High-Value Lead Magnet to Quickly Grow Your Email List

What Is a Lead Magnet (and How Does It Work)?
For the sake of ensuring that we are on the same page, let's start with the basics — in particular, the definition of a lead magnet.
A lead magnet is a valuable (and often free) resource you create and offer your target audience in exchange for their contact details.
Examples of lead magnet formats include:
Cheat sheets and checklists
Reports, case studies and white papers
Demos or free trials
Email courses
Quizzes or contests
Tools
The purpose of collecting these contact details is to start a relationship with your prospects that will eventually result in their becoming a loyal customer.
So, how does a lead magnet work?
To generate leads with your lead magnet, you'll need a sign-up form, landing page tool, and an email service provider (ESP). The form/landing page is where people will input their details, while the ESP serves as a database and email automation tool.
7 Lead Magnet Tips to Help You Wow Your Customers
To ensure that the time, energy and resources you pour into creating your lead magnet is not wasted, follow these lead magnet tips to help you impress your customers into handing over their contact details — and getting you better conversions.
1) Understand Your Audience
One of the first things you must do before creating your lead magnet is to conduct audience research.
Skipping this step will result in your creating a lead magnet for yourself, not for your customers.
Many lead magnets fail to convert because they focus on you, and not on the customer.
How do you correct this? By understanding your audience. How do you understand your target audience? By creating a buyer persona: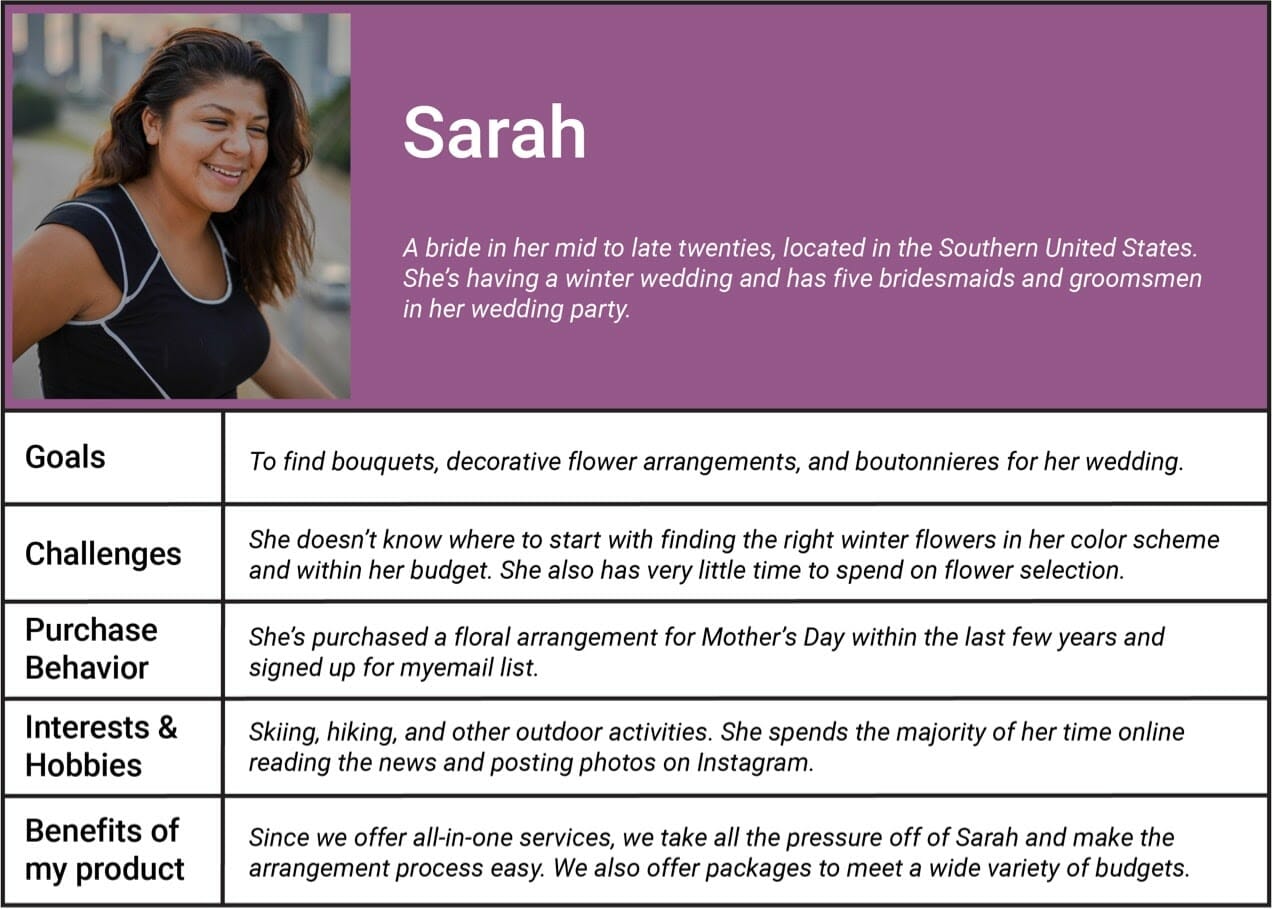 Audience research plays a huge role in creating your lead magnet, as it helps you:
Know who your target customers are. Use audience research to get a better understanding of your prospects. This is essential to developing your buyer personas and crafting personalized messaging.
Identify problems you can solve. In-depth audience research will help you identify areas with which you can help your audience. This, in turn, will help you create a lead magnet that meets a need that your target demographic has.
Identify platforms your target audience favors. Knowing the platforms that your target audience patronizes is critical to helping you promote your lead magnet effectively.
High-converting lead magnets have one thing in common: they all focus on the target audience. And that's where your lead magnet creation and marketing must focus. Once your target audience sees that your focus is on improving their lives, they quickly eat up your lead magnet. If they love it, you'll soon be sending them a check-out page link or digital sales proposal tool.
From experience, PandaDoc creates easy-to-use sales proposal software that makes sending contracts a breeze.
Related Content:
* How to Research Your Audience Before Producing an Explainer Video
* How to Implement User Intent to Build an Audience for Your Content
* Geotargeting: How to Find the Right Customers for Your Brand

2) Study Your Competitors
Another lead magnet tip you must prioritize as you create and distribute your lead magnet is competitor research. What does competitor research have to do with your lead magnet? Everything. By studying your competitors, you can gain better insight into:
Lead Magnet Formats That Work
Check out the lead magnet formats that are generating leads for competitors. With so many formats you can use to attract and convert your target audience, it will be costly and time-consuming to try them all. Instead, focus on the formats that are proven to work.
Examples of lead magnet formats that work include:
Email courses

. People love learning something that makes them better at what they do. That's why courses are an effective lead magnet.

Cheatsheets

. Cheatsheets make life easier, making them high-conversion lead magnets.

Reports

. Industry reports help businesses understand trends in their industry, making them excellent lead magnets — especially for B2B brands.

Quizzes

. The interactive nature of quizzes makes them an irresistible lead magnet format that drives conversions.

Tools. Tools are designed to make mundane or tedious functions easier. Because of this, they are an attractive lead magnet format — like this example of an auto loan calculator: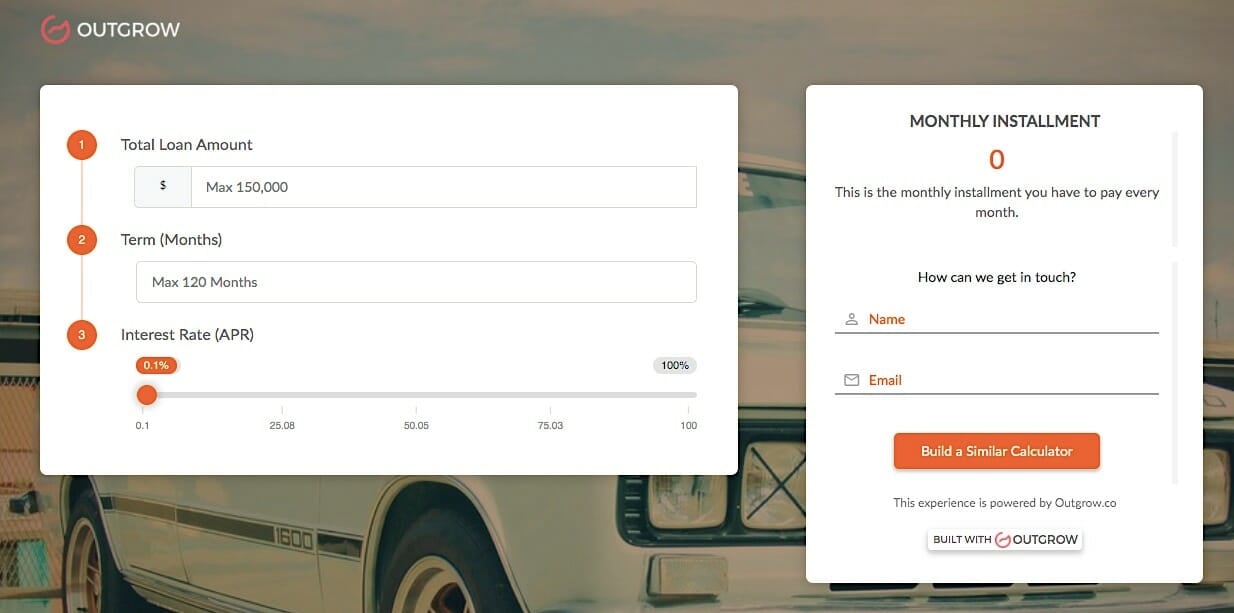 In the same vein, studying your competitors can also help you identify lead magnet formats that your competitors are not using but could work for you.
Effective Marketing and Distribution Strategies
Not every marketing strategy and distribution strategy will work in your niche and for your target audience. Studying your competition will give you lead magnet ideas that you can integrate into yours. Your competitors are a goldmine of information that are just waiting to be tapped.
For example, your competitors most likely target the same demographic audience as you, so if most people sign up for their lead magnet on Facebook, your chances of succeeding on Facebook are also high. However, you must be careful, as some strategies that work for your competitors may not work for you, especially if they are at a different stage of the business lifecycle. If, for instance, you're still at the start-up phase, the lead magnet marketing strategies of a competitor at the growth phase may not work for you.  
The best way to get this information is to sign up for their lead magnet.
Learn More: How to Conduct Smart Competitor Research for Better Customer Acquisition
3) Align Your Lead Magnets with Your Sales Funnel
For your lead generation strategy to be more effective, you must align your lead magnets with your sales funnel. This sort of goes without saying, but a lot of people over-complicate this. It's easy; just find a list of sales funnel tools and decide which one makes the most sense for you. This means you must map out the steps that people take from not knowing about your brand to becoming paying customers.
Once you've done that, create a lead magnet for each stage. The reason for this is that not everyone joins your funnel at the top. Some will come on board in the middle, and others at the bottom.
That's why you must create relevant lead magnets to capture leads at every stage of the funnel: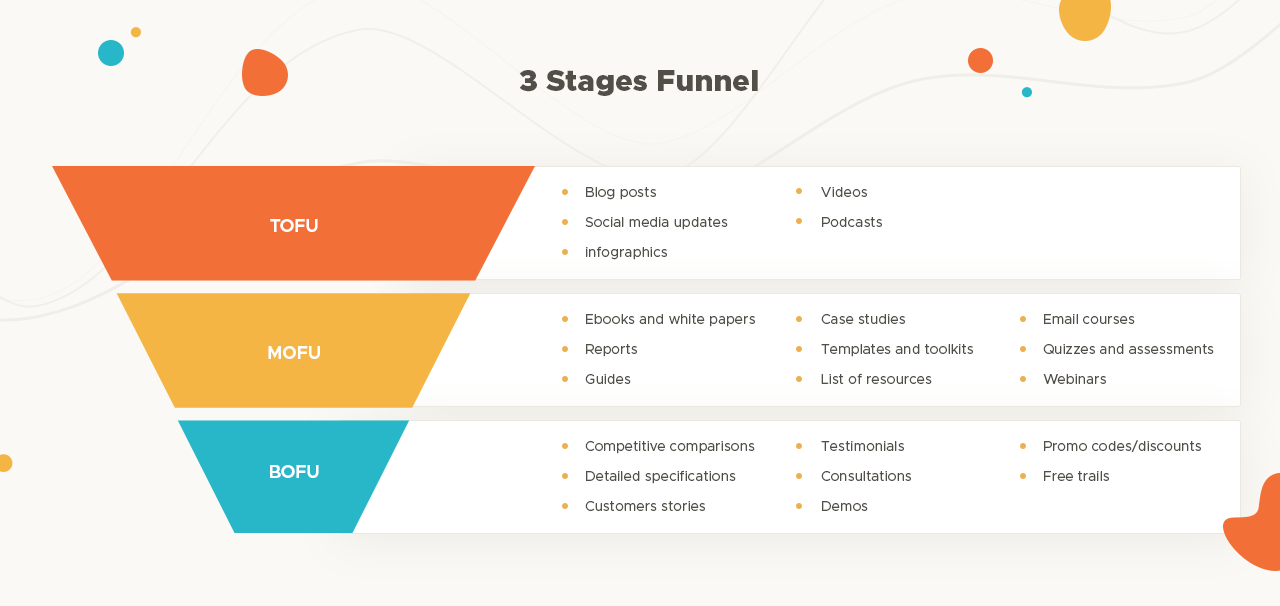 For example, you can create an infographic for the top of your funnel, host a webinar (here's a list of webinar tools) for the middle of the funnel, and offer free trials/demos for the bottom of the funnel.
Failure to create a lead magnet for each stage of your sales funnel means that you lose out on precious opportunities to capture leads. So make sure each stage of your funnel has a lead magnet that addresses your prospect's concerns for that particular stage. Your customers will definitely appreciate this.
Here is a simple example from my friend who runs IncomeInsider.org. He has this call to action (CTA) button all around his website:

After someone clicks that button, they are taken to this lead generation page: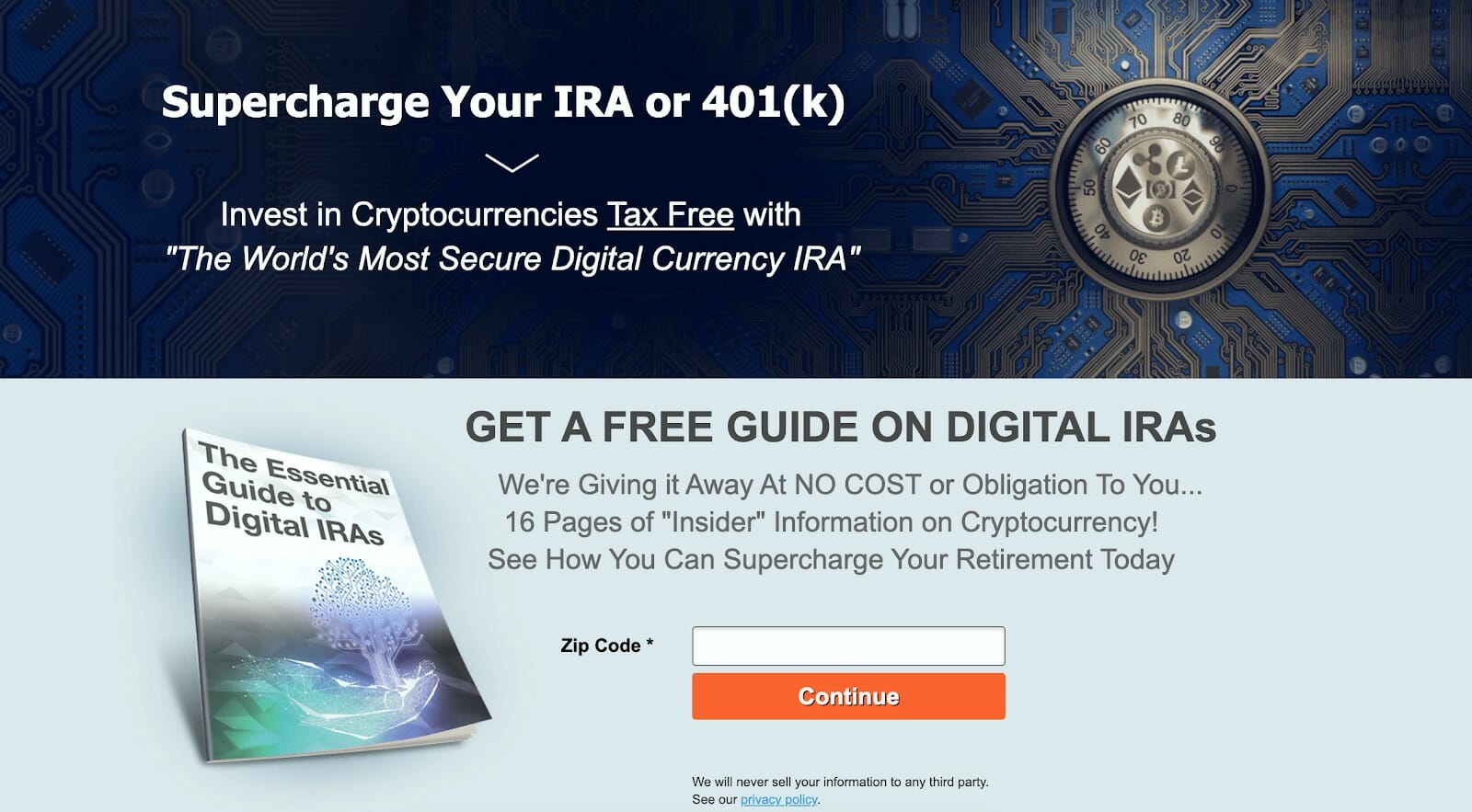 This is a simple, but effective strategy for generating leads from lead magnets.
4) Create Lead Magnets That Are Evergreen
A big problem with many lead magnets is that they quickly become irrelevant. With the way technology changes so quickly, and the business landscape with it, you must ensure that your lead magnets are always relevant.
One way to do that is to create evergreen lead magnets.
According to Sleeknote, evergreen lead magnets are resources that have three main features:
They Are Easy to Update. Information and technology are constantly changing, so it's easy for lead magnets to become outdated quickly. As a result, you'll always need to be creating new lead magnets and other support structures like landing pages. That's why creating a lead magnet that's easy to update is essential.
Examples include email courses, tool kits and cheat sheets.
They Encourage Repeated Use. You've probably done this before: signed up for a lead magnet, used it once, and then forgot about it like a bad movie. But your lead magnet shouldn't be like that. It must be so memorable and helpful that it will encourage repeated use. And the more your leads interact with your lead magnet, the more your brand becomes top of mind. 
Examples include swipe files and calculators.
They Offer Immediate Value. For your customers to love your lead magnet, it must give them immediate value. If they have to work to dig out the value you've packed into it, you increase the chances that they'll discard it. However, offering immediate value will make them love you because you've made their lives much easier. With people becoming more reserved with their email addresses, you must offer them something that won't lose value. And that value must be immediately evident.
Examples include white papers, reports and tools.
The biggest advantage of an evergreen lead magnet is that your leads will use it as a go-to resource if you create it well. This will help establish you as an authority in your niche — a factor that is essential in helping you turn your leads into customers.
5) Optimize Your Lead Magnet Funnel
A lead magnet funnel simply means the steps that people take from discovering your lead magnet to the point where you deliver it to them.
And optimizing this process is crucial if you're to:
Generate quality leads
Retain those leads
Convert your leads into customers
So what does it mean to optimize your lead magnet funnel? It means making the entire process easy. Complicating the sign-up process or the accessing of your lead magnet only results in your conversions tanking.
Here are a few tips to optimize your lead magnet funnel:
Ensure that your offer matches your audience's needs.
Make your value proposition clear. People should know why your lead magnet is different and what benefit they'll get from it.
Make the process easy. From filling out the form to downloading (or accessing) the lead magnet to using it, each step of the process must be straightforward and easy.
An optimized lead magnet funnel will ensure that your leads will have a positive user experience (UX). And as they say, it's the first impression that matters. If you can provide your audience with a pleasant experience, they'll trust you to take care of their needs when they become customers. This will not only result in your lead magnet converting well, but also in higher lead and customer retention rates. Here's a sample lead magnet funnel from Funnelytics: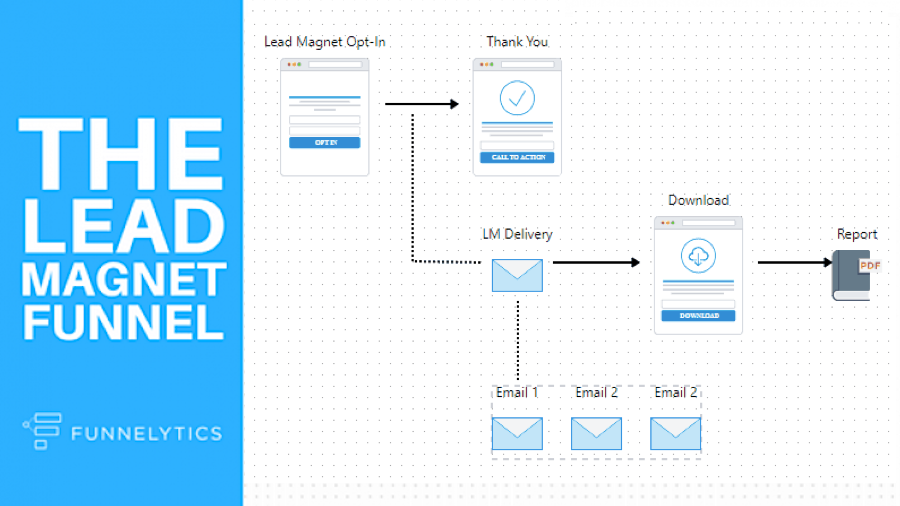 Learn More: 7 Mistakes in UI and UX That Are Costing You Engagement
6) Track Your Lead Magnet's Performance
One of the biggest mistakes you can make with your lead magnet is to try and "wing it." In today's data-driven world, that just doesn't cut it. You must track the performance of your lead magnet.
Tracking and measuring how your lead magnet performs is the only way to tell if it's working. It's also the only way to see where you need to improve on it. So how do you track your lead magnet's performance?
It all starts by determining your key performance indicators (KPIs). Your KPIs will determine the metrics you'll use to measure the performance of your lead magnet. While your KPIs will are mostly determined by your goals and business model, a few metrics you can track include:
Bounce rates
Click-through rates
Conversion rates
Time on page
Lead generation rate per channel
Cost per lead
For a more detailed look at these and more metrics you need to track, check out this article. However, the bottom line is that keeping track of what happens under the hood of your campaign is essential in helping you optimize and improve it. As a result, your lead magnet will be loved by more of your target audience, resulting in an improvement in your conversion rates.
Learn More: The Only 4 Marketing/Content Marketing KPIs That Really Matter
7) Know How to Promote Your Lead Magnet
The primary purpose of a lead magnet is to attract leads. For your lead magnet to do that, you must expose it to your target audience. That's why you must know how to promote your lead magnet to the right people and on the right platforms.
Here are a few ways to do that.
Drive Organic Traffic Through SEO
One of the best ways to promote a digital product, including a lead magnet, is to drive organic traffic to it. Organic traffic refers to website traffic that you don't pay for and comes from implementing search engine optimization (SEO) best practices.
The first step to driving organic traffic to your lead magnet is to conduct keyword research. Research the keywords that your target audience uses to search for the solution you're offering through your lead magnet. You can then create different optimized pages that you'll use to promote your lead magnet. Examples of such pages include:
Blog posts
Home page
Resource page
Driving targeted traffic to these pages ensures that the right people see your lead magnet, thereby increasing the quality and quantity of leads you generate.
Related Content:
* 10 Effective SEO Techniques to Drive Organic Traffic in 2023


Leverage Social Media
Another excellent lead magnet distribution strategy is to leverage social media marketing. Research shows that the number of social media users globally is about 4 billion. That makes social media one of the best lead magnet distribution platforms available.
A few ways to promote your lead magnet on social media include:
featuring it in your bio or "About" page
uploading it as your cover photo
pinning it to the top of your feed
linking to it in your relevant YouTube video description
creating posts that feature your lead magnet (make sure your posts are personalized enough only to attract your target audience)
running ads that highlight it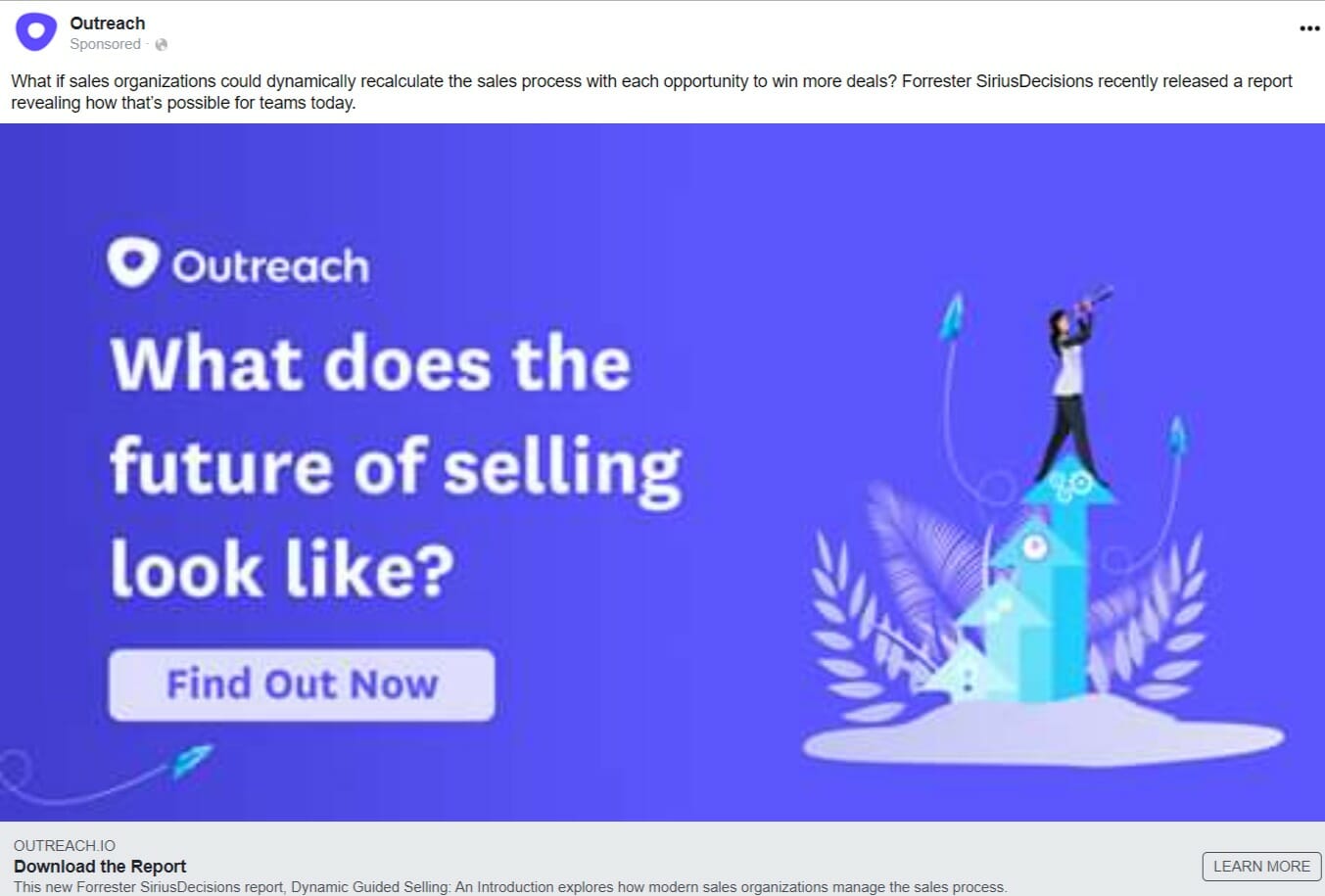 The most significant advantages of social media are that most platforms allow you to:
Hyper-target a particular audience
Boost your posts, so they appear to more people
Interact with your audience, thereby increasing the chances of them converting
You can also use social media for retargeting people who visited your website but didn't sign up for your lead magnet. Research shows that retargeting can increase engagement by as much as 400%, thereby increasing your conversion rates: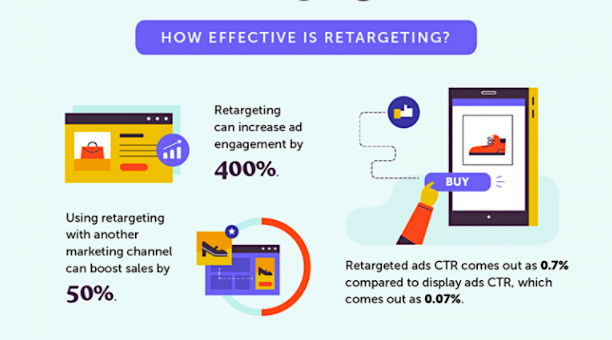 Promote It with Paid Ads
Use paid tactics to promote a free resource? Yes!
Sometimes you have to pay to play if you really want your lead magnet to generate quality leads for you. And paid ads (Google Ads, Facebook Ads, etc.) are a very effective way of pushing your lead magnet in front the right audience.
One reason paid ads work very well is that, like social media, they allow you to target your campaign to specific demographic and psychographic profiles. A few tips to help your ads deliver a good return on ad investment (ROAS) include:
Match the language in your ads to the copy on your landing page.
Use the right keywords (which you'll know from your keyword research) in your ad copy.
Understand the platform you're advertising on and adhere to best practices.
Investing in paid ads to promote your lead magnet is something you must consider if you want to drive traffic to it. It will broaden your exposure quickly.
Wrapping Up
Creating a lead magnet (no matter how superb) is not a guarantee that it will attract the leads you want. There's a lot you must do and put in place to ensure that it succeeds. These tactics range from design to content to distribution. Armed with these seven lead magnet tips, you can now create, distribute and market your lead magnet successfully.