Did you miss the previous post in this local SEO series? No worries, you can catch up right here: Getting Started With Local SEO
With the right local SEO tools, you can spend more time serving your customers and less time dealing with marketing issues.
But software products can get pretty expensive. When you have to deal with the overhead that comes with a physical location, like employee salaries, office supplies and equipment, and building maintenance, you'd have to think long and hard before adding another $200/month solution to the bill.
Fortunately, there are plenty of free tools you can use to monitor and optimize your local SEO rankings. We've compiled a list of the 10 best free local SEO tools.
1) GetListed (now part of Moz Local)
One of the most important factors to get your local business ranked high in search is being listed on multiple sites.
Google sends bots to crawl through a variety of data aggregators and directories (such as Yellow Pages) to see where all your business information is listed and if it's consistent or not. If it's listed in a wide variety of places and stays consistent across every listing, then Google will prioritize your site in search.
GetListed crawls directories on sites like FourSquare, Google My Business, and Bing to see all the places where your business is listed, and helps you uncover opportunities to get your business listed on sites that you may not have considered.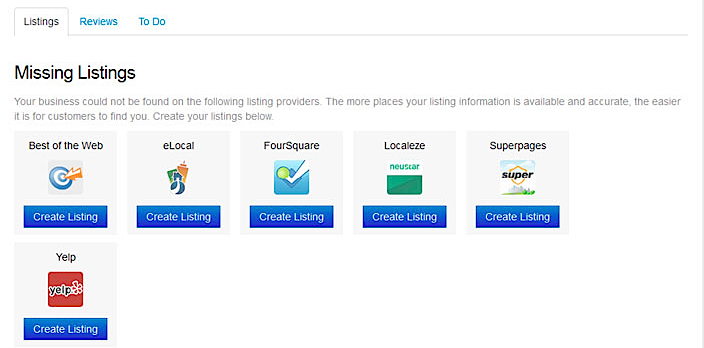 Source: Moz
Another feature of GetListed is the ability to spot inconsistencies in your business data across the web. For example, you might have changed your phone number for your business, but forgot to change it on every site where your business listing is found.
This is a huge red flag in search. In fact, having inconsistent NAP data (Name, Address, and Phone Number) can severely penalize your rankings in search.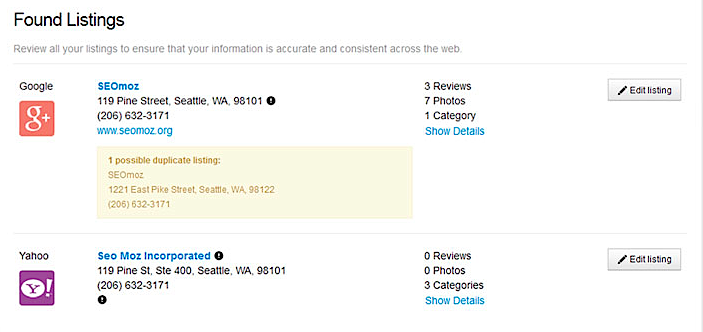 Source: Moz
In addition, GetListed also aggregates your reviews from all different types of platforms. This way, you can see how many times your business has been reviewed by customers, whether you have lots of positive or negative reviews listed, and how to increase your number of positive reviews.
To help you even more, GetListed generates a "to do" list for you based on all your website search data.
Review handout generator is a free tool from Whitespark that helps you generate more reviews from your customers. The tool allows you to enter your business data and create a PDF handout that you can give to customers at the time of service in order to encourage them to leave you a review.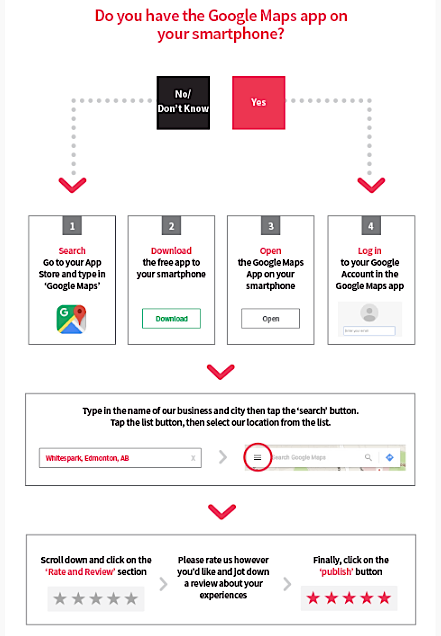 Positive reviews are the lifeblood of any local business, since most customers turn to Google right before making a purchase.
The handout makes it easy for customers to figure out how to leave a review for your business. This way, over time, you'll develop a large database of reviews that can serve as a strong persuasion trigger for your customers.
This free schema creator tool from Raven helps you correct your Schema markup.
Schema markup is a piece of code that you include on your website to help search engines like Google show more descriptive, helpful information to visitors when they search for you by keyword or key phrase.
For example, here's an example of what schema markup would look like when included on a local business's event schedule page:

Source: Google Support
The schema markup communicates with the search engine to display a schedule of upcoming hotel events in a clear way right on the search results page, which improves user experience. Because it helps users, Google prioritizes sites that have schema markup included.
There are a variety of tools you can use to check for plagiarism on the Internet, like Copyscape. It's as easy as copy/pasting in a block of text or a webpage URL to see if the copy in any of your blog posts matches any other published articles, posts or web copy throughout the web.
This can be helpful to check whether anyone has stolen your unique content without giving you credit or to check whether any of your guest bloggers are using duplicate content on your blog. You don't want Google to deem anything on your site as a "duplicate" or you will get penalized in search.
One thing to note, however, is that content syndication is not necessarily always a bad thing. If someone takes one of your articles and posts it on their site, you can get a bump in SEO if they link back to your site within that post. By using the plagiarism checker, you can see who is reposting your content, and how many backlinks you're receiving.  
Reposting content on sites like Medium could also potentially result in a boost in leads, depending on who your audience is.
Most businesses stay obsessively focused on finding the latest marketing tools and completely overlook the U.S. Census website. If you're running a local business, data from the U.S. census could be extremely valuable to you.
For example, if you're targeting customers within a certain radius from your main location, it would be helpful to know some overall demographics about the geographical location. You could uncover data about average disposable income, average members in a household, and any other relevant information about the people living in that area.
You could also collect data on companies in that location, like average employment size, the number of companies in the area, how many people they employ, and so on.
This can help you focus even more closely on your target market and make your local marketing campaigns more effective. You might get insight that allows you to tweak the copy on your Google AdWords campaign or change up the targeting on your Facebook ads.
GeoRanker is a free citation discovery tool that helps you uncover opportunities to generate more citations for your business.
Citations are an important factor in local SEO rankings and the more places your business is "cited," the more credible you appear to Google. GeoRanker helps uncover new directories within your niche and your geographical location that you can list your business information on, so that Google's bots can crawl through it and take it into account when determining your site's ranking.
You can see a heat map of Google's page one rankings for specific keywords: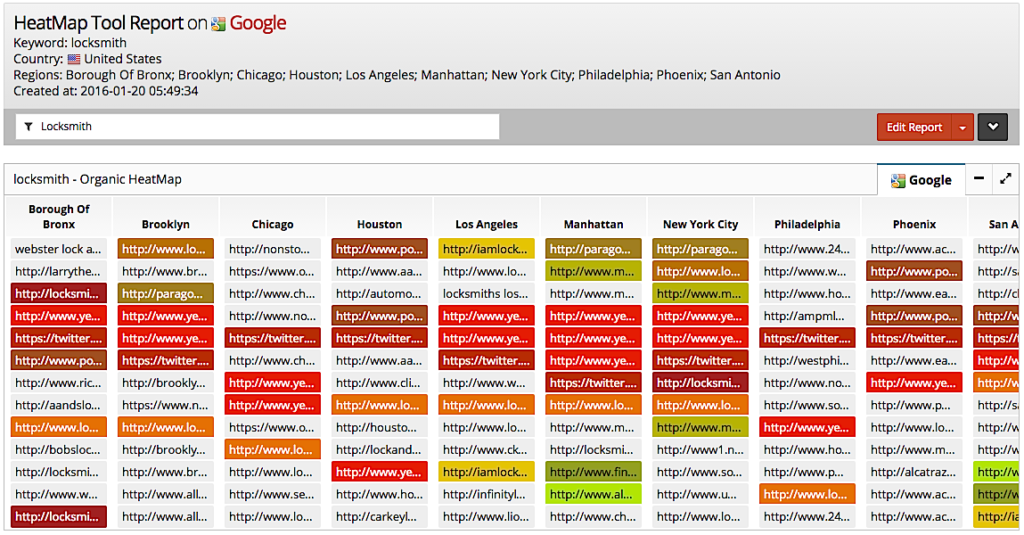 Google is all about giving its users a high-quality experience, and everything that helps improve that user experience is incentivized when it comes to search engine rankings.
Your website loading speed is one of these factors that greatly impacts website UX. In fact, loading time is a major contributing factor to page abandonment. Even a 4-second page load time can increase your abandonment rates by 25%.
This is even more so on mobile phones, where users have less patience. On mobile devices, 73% of users say they encountered a website that was too slow to load, and most of them will never return to that site again.
Making sure that your page load time as fast as possible is crucial to both your SEO rankings and your bottom line. Luckily, Google's PageSpeed Insights tool tracks your page load time and gives you feedback.
All you have to do is paste in your URL and Google analyzes your site, gives you an overall "grade" on your loading speed, and offers specific suggestions on what you should fix.
Here's an example of what a report might look like: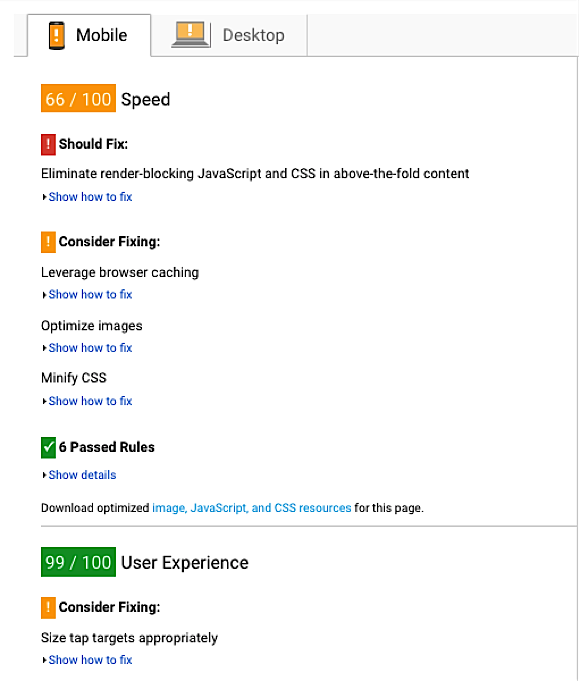 In this case, Google says to fix render-blocking JavaScript and CSS in content that's above the fold, and gives other suggestions on what could be better. It will also provide you with resources on how to fix it as well.
Another free tool that Google provides is a mobile-friendly analyzer. You just have to enter your website URL and Google's bots will crawl through it and tell you whether it's optimized properly for mobile or not.
Here are some things that Google looks for when analyzing how mobile-friendly a site is:
Load time

. Mobile users have really low levels of patience when it comes to waiting for pages to load, so it's important to have a fast page speed for mobile devices.
Button size. Because mobile screen sizes are smaller, it's important to take this into consideration when designing your site. For example, you shouldn't place buttons too close together or users will have a hard time clicking/tapping on them.
Popups. Popups are harder to "X" out of on mobile because of the smaller screen sizes, which makes for very poor user experience.

Google will start penalizing sites

with popups starting in 2017.
BrightLocal provides "high-quality, low-cost local directory listings" and displays the info on a dashboard so you can view all your local search performance data in one place.

The free 30-day trial comes with the following features:
Organic, maps, and mobile search rankings

Tools to track citations and NAP data

A comprehensive local SEO audit, and data on how you stack up against your competitors

Integration with Google Analytics

Integration with Facebook and Twitter
It also allows you to submit citations to over 1,400+ directories and helps you rapidly clean up inconsistencies that might be hurting your SEO rankings.
BrightLocal also helps with other SEO areas, like on-page and off-page SEO, social media audits, and Google My Business audits. There are many things to keep in mind as a local business owner, and BrightLocal is a comprehensive tool that makes it easy to stay on top of everything without getting overwhelmed by all the tactical details.
If you're a business owner with multiple physical locations, you can use BrightLocal to collect data for all your locations to identify which ones are performing the best, and identify gaps in citation coverage for each location.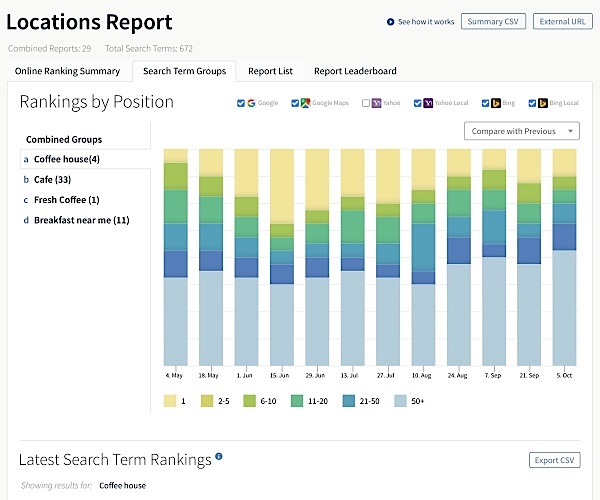 Yoast is a free SEO plugin that you can use on yourWordPress site. It provides business owners with real-time content analysis and helps you optimize your WordPress site easily.
The free plugin has the following features:
Post titles and meta descriptions:

Yoast lets you create your own meta descriptions for every post you write, and gives you a real-time evaluation on the quality as well. Once you enter your "focus keyword," the Yoast plugin analyzes your headline and your description to see whether you're following SEO best practices.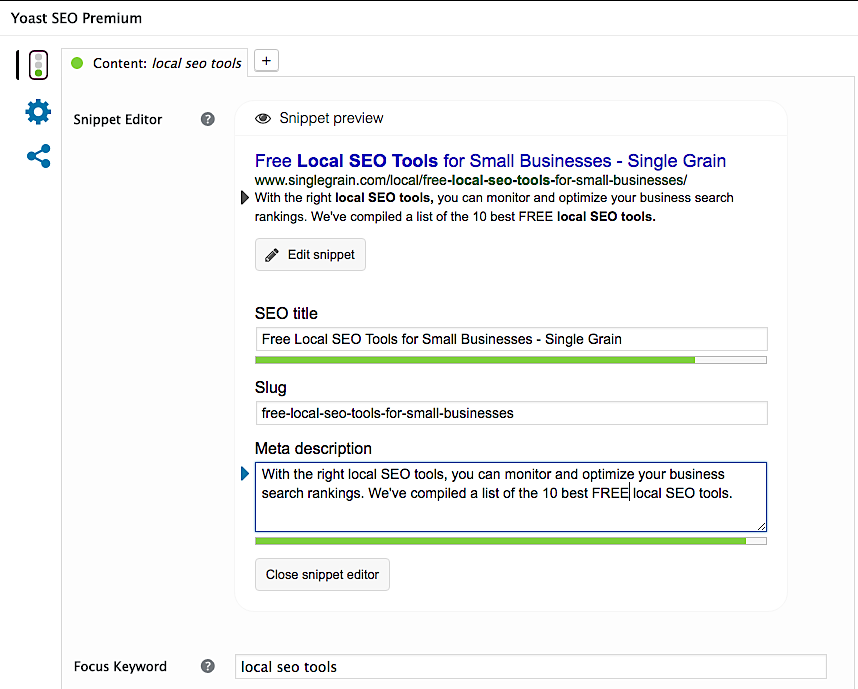 Setting Canonical Tags:

Whenever someone else syndicates your content, or reposts your blog post on their website, you run the risk of getting your site penalized in SEO if Google thinks that your site has duplicate content.





However, this can easily be solved by setting a rel="canonical" tag in the header of your post, to tell Google that your post is the original. This way, your site won't be penalized if someone else reposts your content — you'll be able to reap the rewards of an additional backlink without worrying about your site falling in the rankings.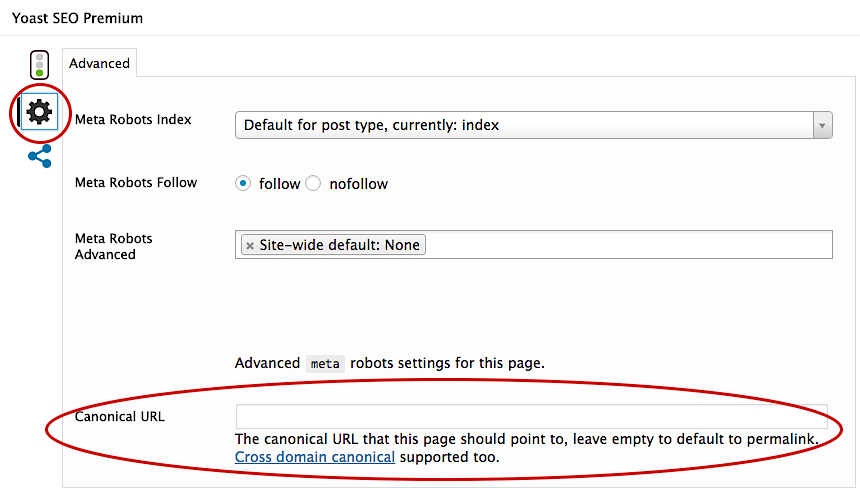 Use this canonical tag formula (filling in the underlined portion with your own URL): <link rel="canonical" href="https://YourSite.com/marketing/" /> 
XML sitemaps:

XML sitemaps are critical in modern-day SEO. One of the main things Google looks at when it crawls your site is your site structure, and the XML sitemap is a big part of that.





According to Yoast

, although there are other XML sitemap generators on the web, none of them "talk" to your SEO plugin. This means that if you have a "noindex" page, it might still show up in your sitemap. But the Yoast plugin allows you to keep noindex pages out of your sitemap, which Google considers to be a positive sign.
Conclusion
Most people who start a local business aren't focused on marketing, they're focused on delivering value to their clients or customers.
If you're a restaurant owner, you want to make sure you deliver the best food you can.
If you're a physician, you want to help heal more people.
If you run a landscaping business, you want to help your customers maintain beautiful lawns and gardens.
No one wants to spend too much time worrying about marketing (unless you're a marketer, of course!). This is where having the right marketing tools can help. By using helpful local SEO tools that don't break the bank, you can focus on doing what you love with the confidence that one part of your marketing is easily and efficiently taken care of.
Click here to read the next post in this local SEO series: How to Do a Comprehensive Local SEO Audit
Which marketing tools do you use for your business? Tell us in the comments below!