9 Ways to Deliver the Best Digital Experience to Your Customers
Every marketing strategy focuses on capturing and driving the customer's attention, but very few talk about experience. Bad customer experience is the biggest threat to any business: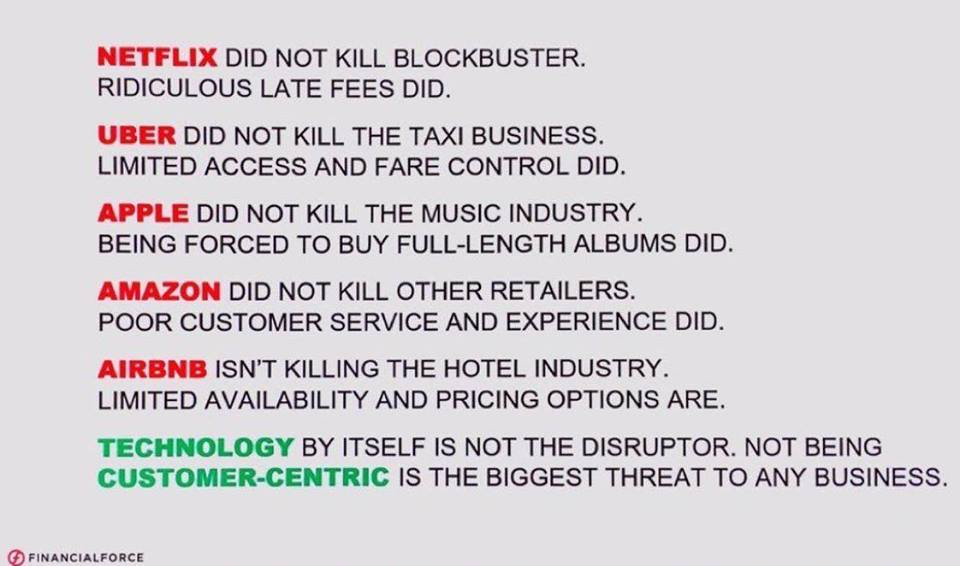 The top brands across the world always strive hard to provide the best digital experience for their customers. The secret of a powerful marketing strategy lies in attracting the attention of the customer through experience.
Here are the top 9 ways through which you can offer a truly memorable brand experience to your customers and prospects.
1) Understand the Customer Journey
Every customer follows a distinct path to purchase by interacting with your business at different stages of the purchase cycle. This is known as the customer journey. The entire customer journey can be represented on a map as provided below: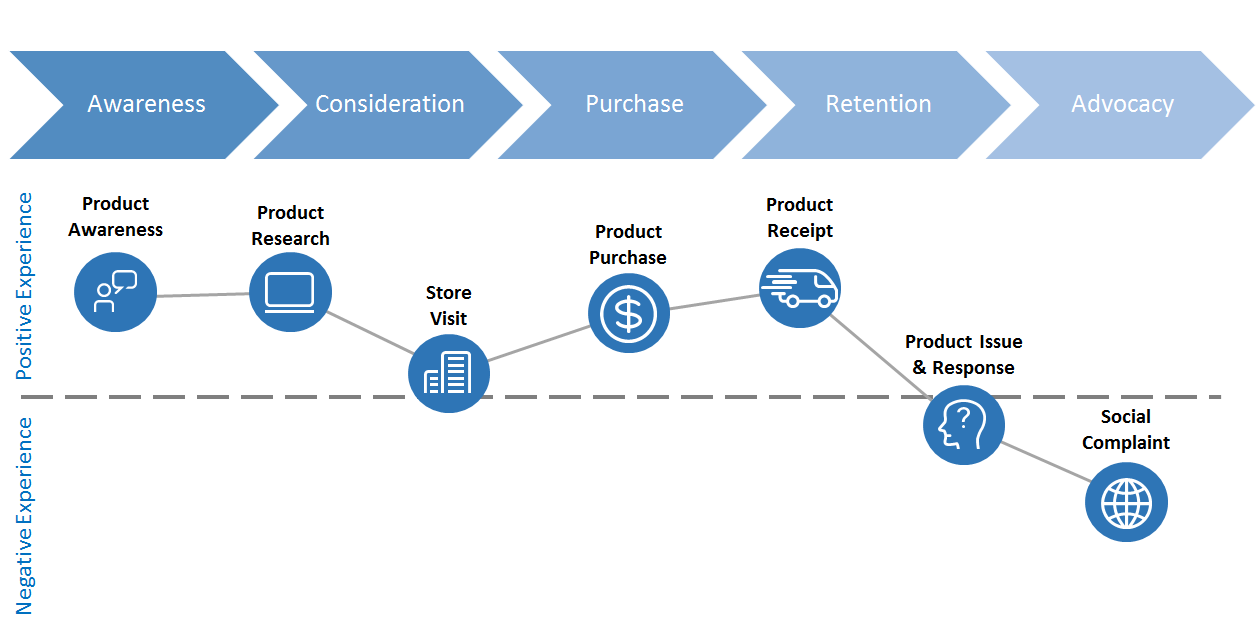 The customer journey is the sum of the entire experience that you provide to the user starting from when they first become aware of your brand right through the period during which they remain your customers.
It is important to get answers to the following questions in order to serve your customers well:
Who are your customers? (Segment them on the basis of sex, location, job title, purchasing power, etc.)
What do they love doing?
Do they need your product?
Why would they want to purchase a product from you?
How will they find your business?
Where are your customers spending most of their time?
What encourages the customers to buy?
What discourages the customers from buying?
How do they research a product before they buy it?
What role do reviews play in converting your customers?
What role does an influencer plays in converting your customers?
How do they purchase a product? (Do they prefer cash, credit card, e-payment, coupons?)
When do they purchase a product? (On a holiday, on weekends, at festivals, etc.)
Which devices do they use to buy a product?
What causes them to abandon their current product?
What obstacles do your customers face at every stage of the buying cycle?
What motivates them to remain loyal to the brand?
Once you are able to get answers to the above questions, you will be on the right track with the next step of your strategy. Understanding your customers is the first step in delivering the best experience to them.
Learn More: 
2) Create Your Brand Personality
How do you recognize a brand? The answer is…with the help of personality!
Mountain Dew has an adventurous personality: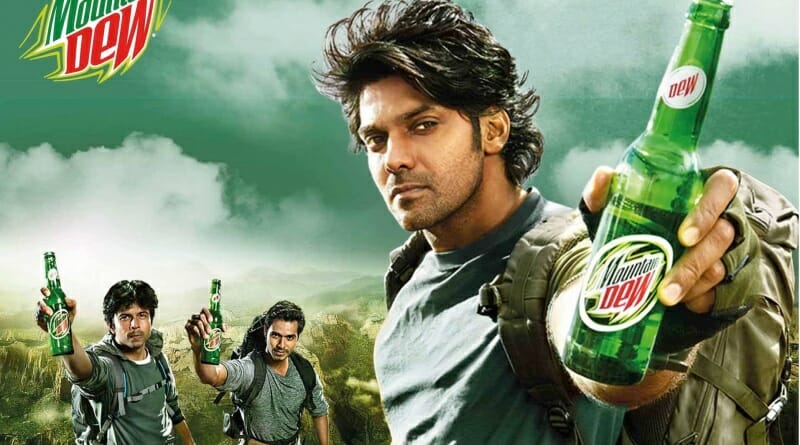 Cadbury has a sweet and pleasurable personality: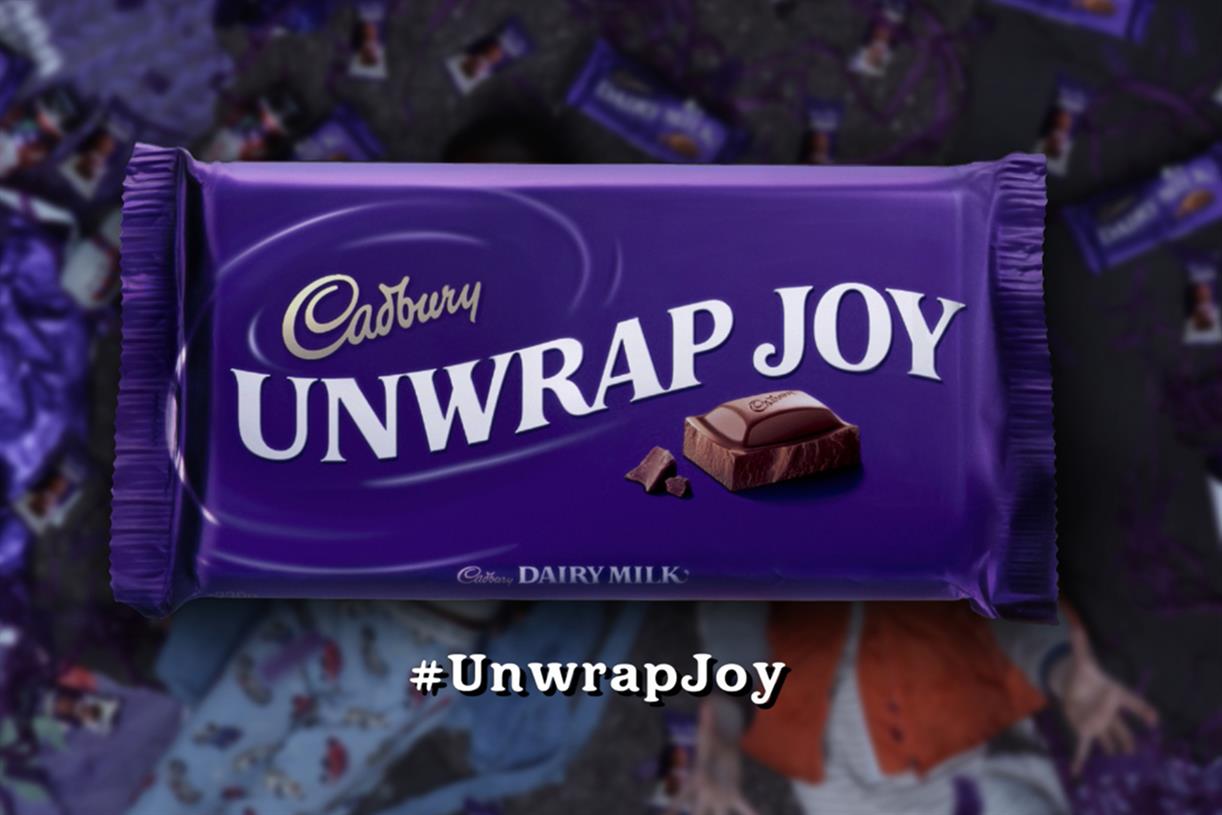 Mercedes has a royal personality, Airbnb has a homey personality, and so on. In short – the personality of a brand reflects the product that they are selling. If you think of all the easily recognizable companies, then you know that establishing a clear brand identity is necessary to help distinguish your business from others.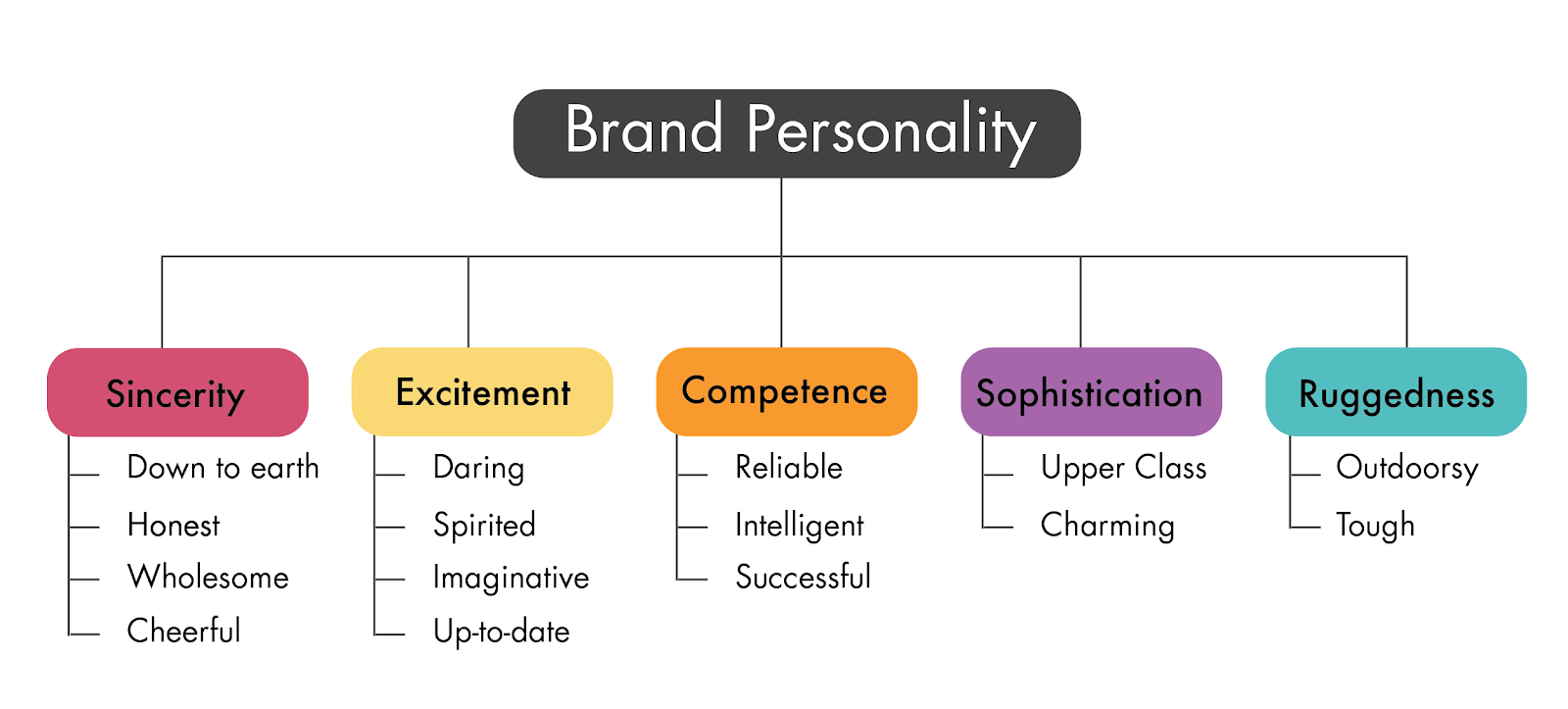 In order to create your brand personality, you need to do the following:
Choose your values and highlight your priorities.
Identify your USP (unique selling proposition).
Choose the tone of your voice. Is your brand serious or funny?
Be consistent with your message across all digital channels.
Ensure that your messages reflect your values.
Gather feedback at every stage to optimize your brand actions.
Dive Deeper: Top 10 User & Customer Feedback Tools to Improve Conversion
3) Create a Good UX by Simplifying Usability and Navigation
UX, or user experience, is the interaction that your business has with the people at every stage of the customer lifecycle. A good UX means that you are making it easy and pleasant to learn about and do business with your brand.
Follow these four steps to create a pleasant experience for the user:

Step 1: Take Action
Identify the actions that the users will take when they visit your website or app. For example, they might land on the homepage, click on the parent category, then on the sub-category, then add to their cart and finally purchase.
Check whether they are able to perform each of these tasks with ease no matter which device they are using. Navigation and payment options play an important role here, so be sure to use the best options for accepting card payments online. As Big Commerce says, "If you cannot properly take payments online, you have no business."
Design your search with as-you-type suggestions. For example, Waterstones does an amazing job in simplifying the search bar on its website. The search bar is loaded with auto-suggest options that help the user find an exact product of their choice with minimal effort: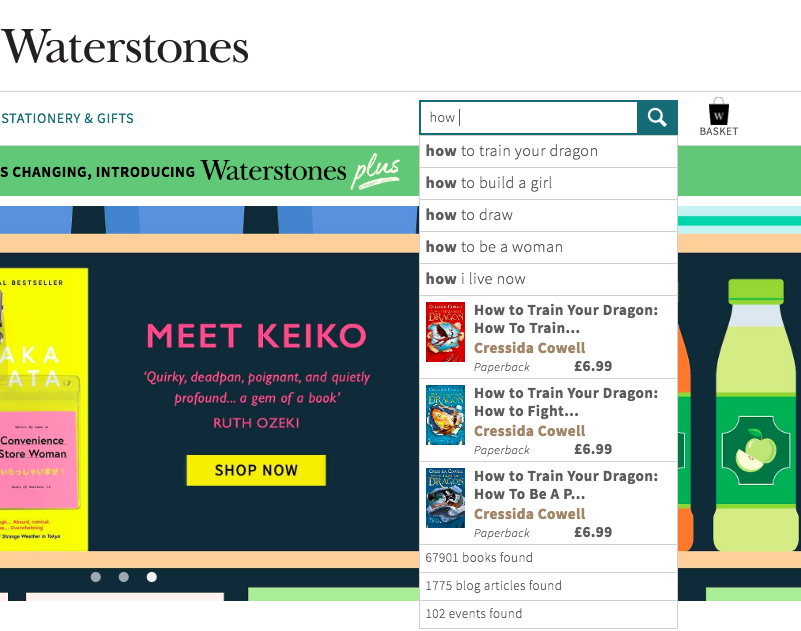 Step 2: Get Emotional
What emotion or feeling do you want your audience to have when they add your products to their cart? Take another look at your answers in the "understand your customers" phase above (#1 in this article)? If you've taken the time to go through that list of questions, then you already have the answer to "What motivates your customers?"
Keep that answer in mind when you design (or redesign) your website and watch your conversions improve. Notice how Spotify uses the word "everyone" in its headline. When it's for everyone, it's for you! Meaning, people will emotionally be inclined to buy it.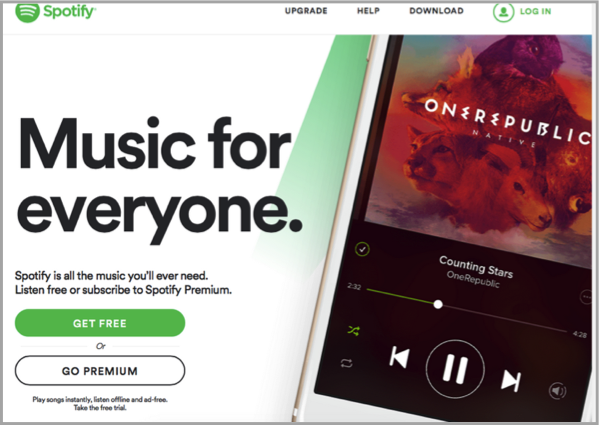 Step 3: Start Sketching
Prepare some simple sketches of your webpage in a notepad and see how can you motivate people to take the actions that you want them to. Think of everything from the colors that are most pleasing to the offers site visitors can't ignore to the trust they are looking for.
Here are some quick tips from Boostability:
Simple pages 

–

gone are the days of cramming as much text and images on a page as possible, like this old MySpace site: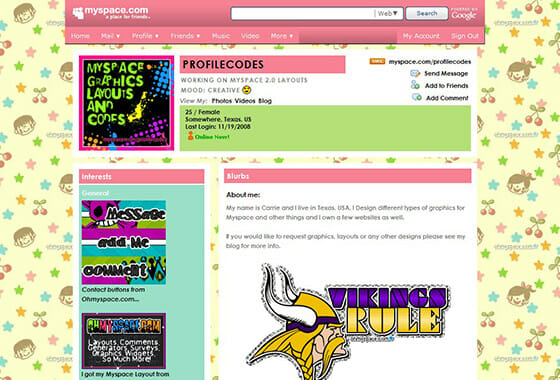 Readable fonts

–

limit your fonts to one or two (any more and it looks like a ransom note) and make sure the font matches your brand's personality (so no Comic Sans for a law firm!).
Consistent color palette

 – the colors on your site should be the same ones your brand uses everywhere, and unless your company is an actual rainbow, this

 is an example of what not to do!
Verification (or trust) badges  – use these or risk losing up to 61% of potential customers who won't buy from a site without a trust badge.
Visible NAP

 – for businesses with an offline store, 

make sure that your name, address, and phone number (NAP) can easily be found on each page
Step 4: Test Early
You can never be too sure regarding your UX unless you test it and keep on testing it. It is a never-ending process in which you regularly learn about what is working and what needs to be simplified or updated. Once you are done with a blueprint of your site, upload it and start testing, obtaining feedback from people, and then, based on the data, continue optimizing your site.
Learn More: 
4) Speed Up Your Website
The ideal loading time of your site should be between 1-2 seconds. With an increase in page load time, your bounce rate also increases, meaning that site speed is one of the most crucial factors to improve the digital experience of your customers: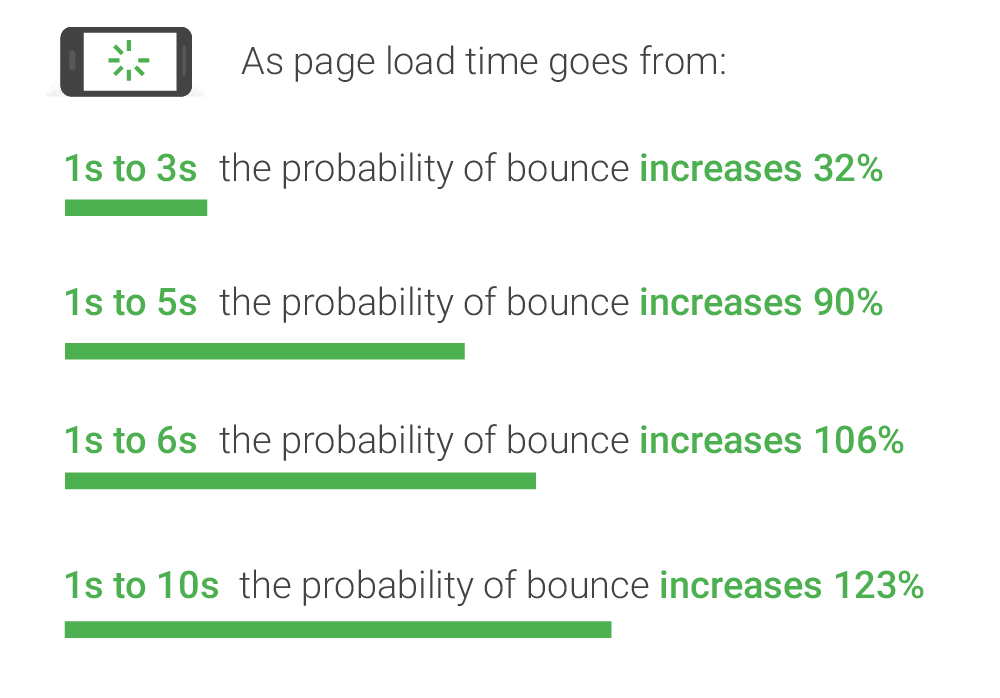 Here are some of the best ways to improve the page speed:
Use tools like WebPage Test and Google Page Speed Insights to check the existing speed of your site and also find suggestions to optimize it.
Reduce the number of redirects on your site because too many redirects can have a direct impact on the server and the browser may take a longer time to process the request.
Changing your existing web hosting plan can work wonders on your page speed. After comparing the best dedicated hosting plans, choose one that makes the most sense for your business and enable Gzip compression on your server.
Use a CDN because it can reduce the load on your server, improve bandwidth and increase the response time.
Minimize the time to first byte (TTFB) and keep it under 200ms.
Enable browser caching and reduce the number of images on your site. Additionally, compress your images using tools like Tiny JPG.
5) Optimize Your Site for Smart Devices with Question Keyword Optimization
Amazon Alexa and Google Home have already found a place in your home. In the coming years, the sales of smart devices are expected to rise sharply, which means that you need to optimize your site for smart devices.
Beyond just phones and virtual personal assistants, smart devices include:
speakers
cars
thermostats
lighting
locks
refrigerators
watches
One of the top features of smart devices is voice commands, which many people are already using, and most of those commands have a local intent. Meaning, they are used to find information related to local services.
Google is already using the Hummingbird algorithm powered by the semantic search technology (essentially, "search with a meaning") to understand the intent of the user query and return a direct answer to that question.
The best way to make your site smart device-friendly is to optimize for question keywords:
Direct Answer Questions (DAQ) – Questions that start with 'What', 'Which', 'Where', 'Who', 'When', 'Why'. Example: "What is the name of our galaxy?"
Short Answer Questions (SAQ) – These questions usually start with 'why' or 'can'. Example: "Why is the ocean blue?"
Long Answer Questions (LAQ) – A question that requires a longer or step-by-step answer. Example: "How to cook pasta?"
Here is a detailed guide to optimize your site for question keywords so that your site is able to rank under featured snippets. Text from sites that are ranked under the featured snippets are returned by the smart devices as answers to users' questions.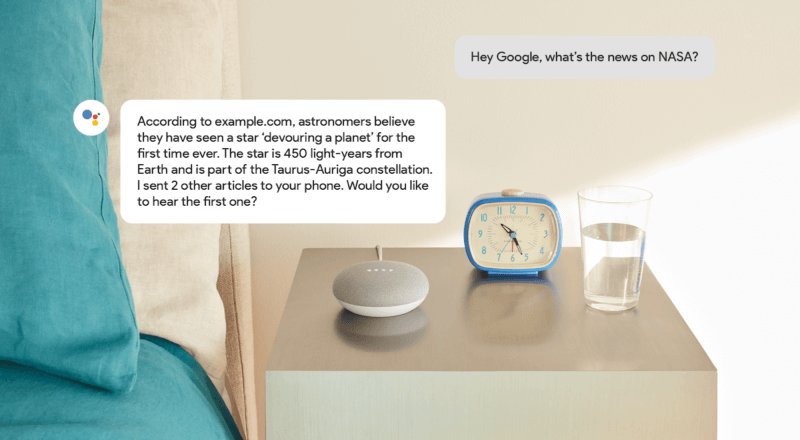 6) Optimize for Micro Moments
Micro-moments represent the customer journey and their intent. The customer intent falls into one of the these four categories:
I want to know
I want to go
I want to do
I want to buy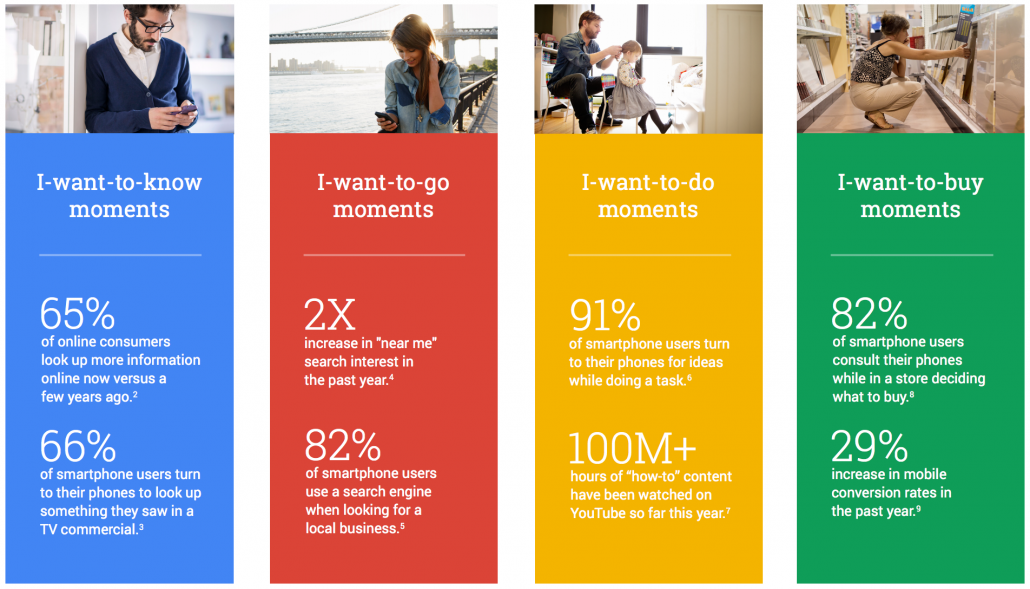 You need to understand what your customers need from you at different moments. For example, when someone wants to know more information about a particular product or service, then they might enter a query like "Things to do in California." Or when they want to buy a new phone, they might enter a query like "Best Apple iPhone X" or "Where to buy Apple iPhone X".
Some brands make the mistake of optimizing only for "I want to buy" moments. When this happens, then people aren't able to find the business for these other micro moments. This results in decreased brand visibility and people hesitate to buy from brands they are less aware of. Hence, it is important to optimize your brand for all four micro-moments as suggested above.
You need to create separate web pages that cater to the specific needs of the customers for every micro-moment. This will ensure that your brand remains visible to the customer during every micro-moment.
7) Offer an Omni-Channel Experience
Omni-channel customer experience optimization is similar to micro-moment optimization in the sense that micro-moments are used to optimize for customer intent while the omni-channel customer experience is used to increase the visibility of the brand on multiple channels which are all connected to each other.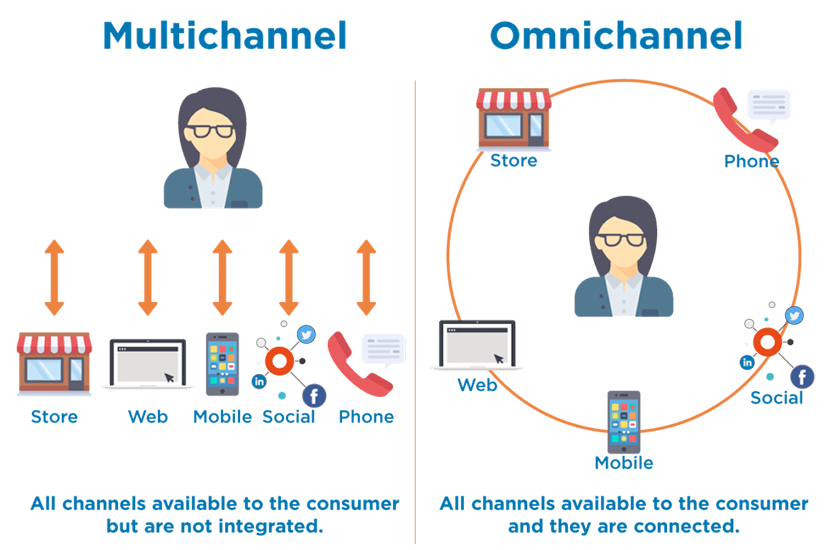 The following channels are used to offer a seamless brand message during all micro-moments:
Organic search via SEO
Email
Paid search via PPC
SMS
Social media
Smart devices
Dive Deeper: Why You Should Use Multiple Channels to Maximize Your Customer Acquisition
8) Focus on Mobile
Desktop has already lost much of its importance as mobile users have been growing at a tremendous rate. In case you had any lingering doubt as to the power and importance of mobile phones, here's what consumers would give up instead of their smartphones:

Interestingly, images and videos are two of the most widely consumed formats on mobile: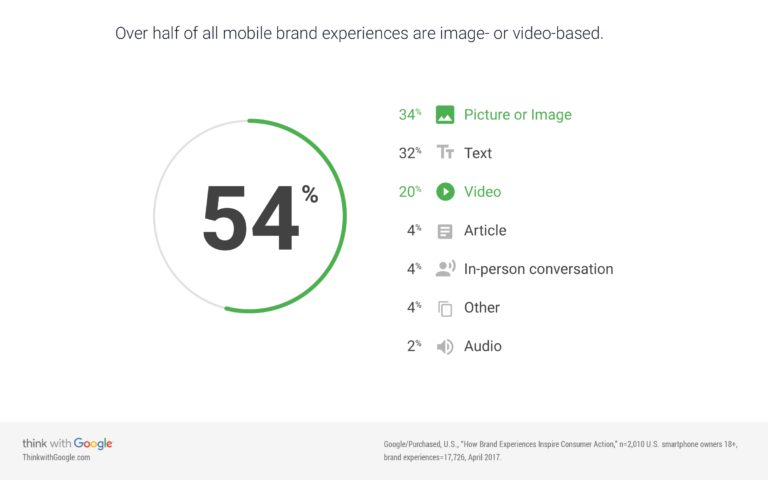 In addition, 89% of people are more likely to recommend a brand after having a positive brand experience on mobile. This means that it is crucial to satisfy the needs of your customers by using images and videos have increased sharply. If you can do it right then you can easily improve the digital experience of your customers.
Here are some ways through which you can optimize the mobile experience:
Have a responsive site because the URL and the HTML stays the same.
Take the Mobile Friendly Test and implement the suggestions provided by Google.
Avoid common mistakes when designing for mobile, like blocked CSS, faulty redirects, mobile-only 404s, small fonts, etc.
Enable users to access the most important content in just a few taps on large buttons.
Optimize the experience for both touchscreen and non-touchscreen users.
Ensure that your navigation is clear by using descriptive labels.
Use images and videos to support your text because people prefer watching videos to learn more about a process or a product.
9) Offer the Best Level of Personalization
There is a 20% increase in sales generated via personalized web experiences and email campaigns: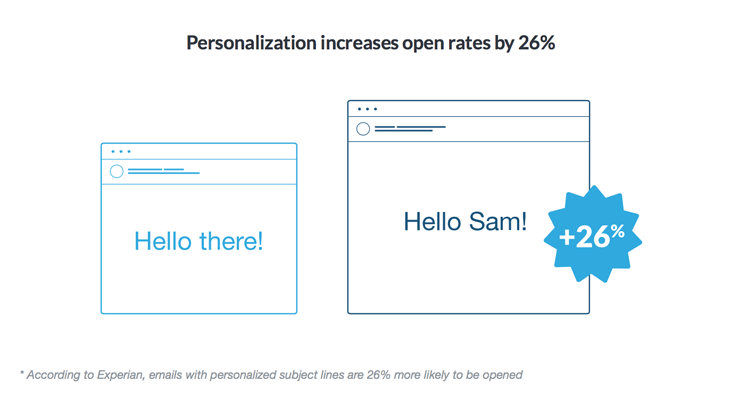 Not only that, but segmented campaigns drive 760% increase in revenue: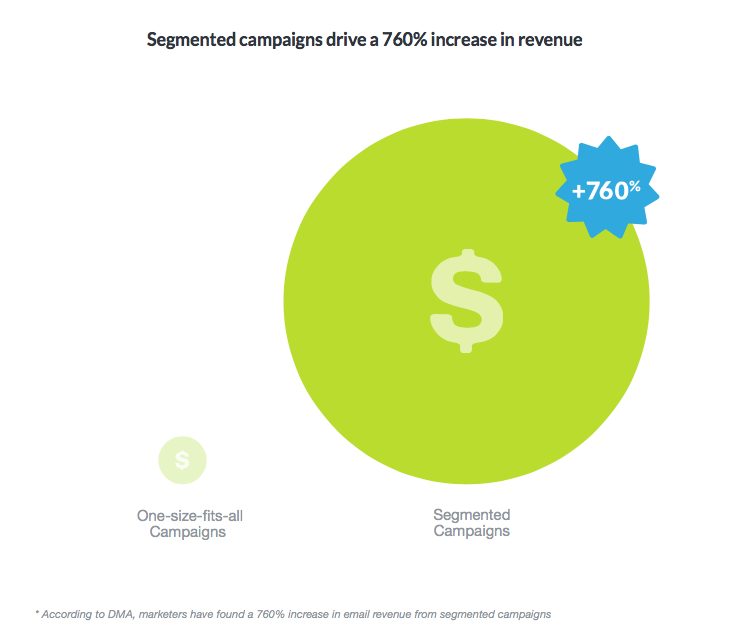 These stats represent huge numbers. Hence, it is important that you offer truly personalized and unique experiences to your customers in order to improve the overall digital experience.
Here are some ways to improve personalization:
Offer products, services and experiences based on customer feedback. This will ensure that you never go wrong.
Focus on building relationships and deliver value.
Present a personalized homepage to every customer based on their past behavior and current needs.
Use a personalization engine to recognize customer intent and create a unique profile for each customer.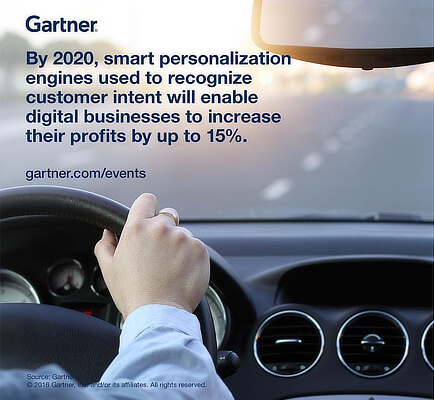 Adjust the navigation depending on the interests of each user.
Leverage behavioral data to offer content that is related to the specific interests of your audience.
Learn More:
Final Thoughts
The best digital experience in the world happens when you know the needs of your target audience even better than they do. Putting yourself in the shoes of your customer is the best way to identify their needs. Competition is getting tougher so optimizing the digital experience of your customers is the best way to improve retention and gain new customers. Follow the above strategies to improve the customer experience at every touch point.