Are you trying to run Facebook ads, but no matter how much time you spend tweaking your campaigns, they just don't seem to be bringing the results you've been promising to your boss?
There are over 1.56 billion daily active users worldwide on Facebook, so you're dead on the money by choosing this social network as your ad platform of choice: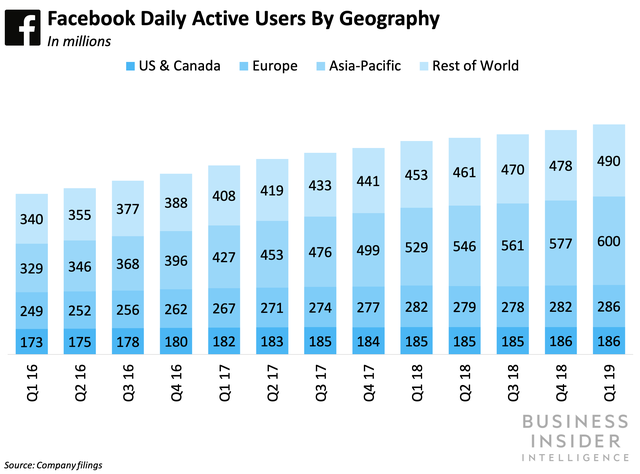 And, by the way, you're in good company: 6 million businesses are using Facebook ads to reach their target audiences. So why aren't your ads performing as well as you'd expect?
Facebook has been actively improving its video delivery and branding by paying celebrities and other social influencers to create their own Live videos. The social media giant has been actively focusing on video by rewarding Pages that publish videos with higher spots in their followers' organic feed.
This means that by using video on Facebook, you can improve your reach. At the same time, you will face plenty of competition for the attention of Facebook users — all while being "praised" by their algorithm for using this ad format.
Fancy getting in on the action? Here's how you can produce Facebook mobile video ads like a pro.
Why Focus on Mobile Devices on Facebook?
Before we dive in with the tutorial, let's be clear on why mobile video ads are better than standard video ads on Facebook.
Sure, you might not need billions of people to view your video advertisements. But creating relevant videos and using ad targeting can ensure that the right people view it — and, more importantly, take action on your message. It doesn't have to cost you an arm and a leg either; your small business only needs a mobile phone, commonly available apps, a Facebook account, and some creativity to get started.
These days, most people use social sites like Facebook on their cell phones and other Internet-enabled mobile devices. Now think about that with these video stats:
45% of people watch more than an hour of Facebook or YouTube videos every week
Over half of video content is viewed on mobile
One-third of online activity is spent watching video
It's also worth noting that 84% of Facebook's total advertising income comes from mobile advertising. All this is to say: there is a huge pool of people you're able to tap into with video ads.
Dive Deeper:
How to Create a Facebook Mobile Video Ad
To start reaping the rewards of videos for mobile Facebook users, you'll need to create your Business Manager account. (If you haven't done this already, here's a quick set-up guide.)
Now click the Create Ad button and you'll see the choices from which to pick your new campaign objective. Because we're creating video ads, we'll need to click "Video Views":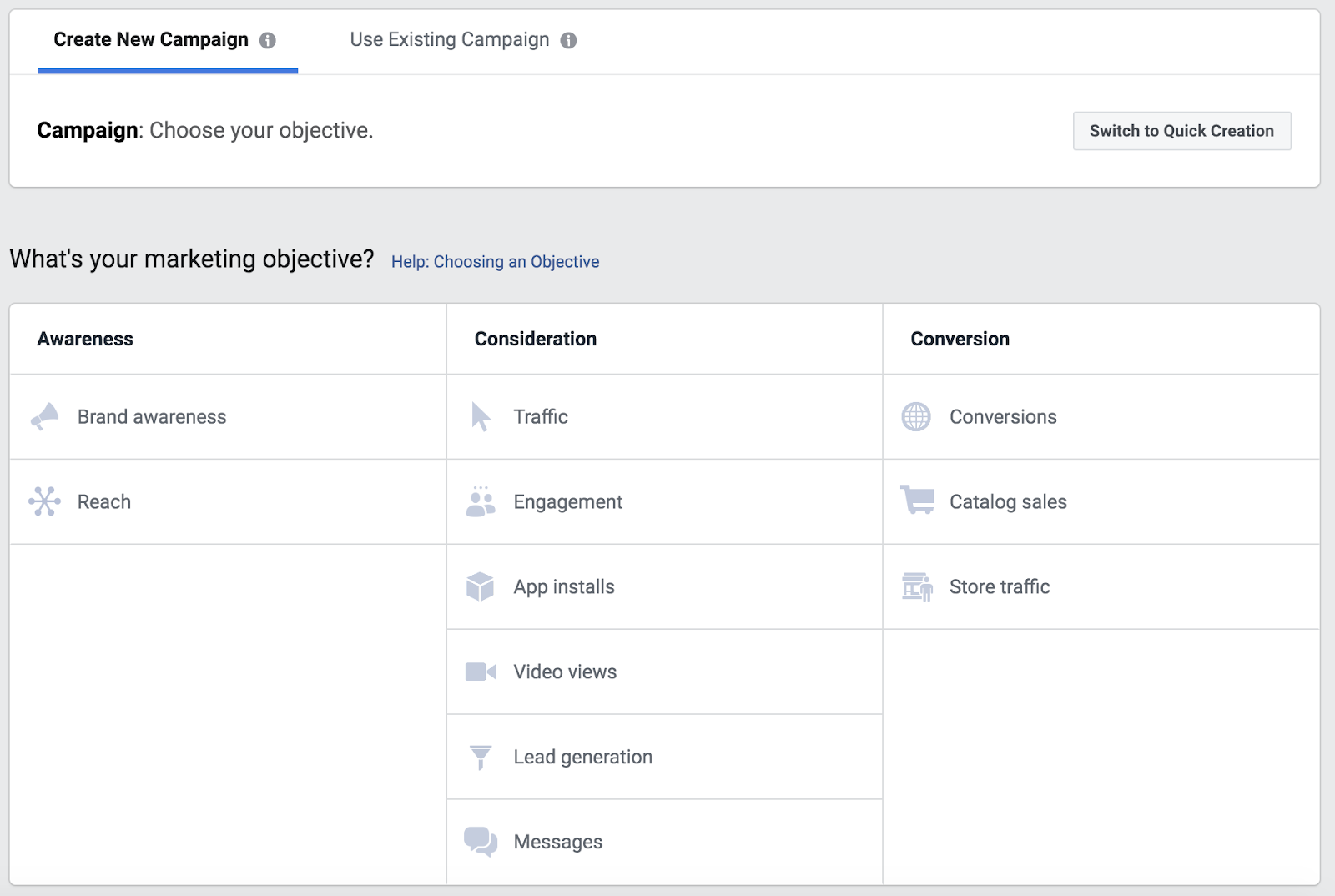 Don't be tempted to skip this objective and select something like Conversions. Facebook uses an ad campaigns' objective to show the ad to people who've completed the goal before. For example: Those in your Video Views objective audience will be more likely to watch videos on Facebook.
Learn More: Why It's Crucial to Choose the Right Objective for Your Facebook Video Ad
Once you've named your campaign, click on "Continue."
From here, you can select a new ad set or multiple ad sets, and enter the targeted audience (including age, gender, location and other demographics). You can use a previously saved audience here, or save this audience for future use: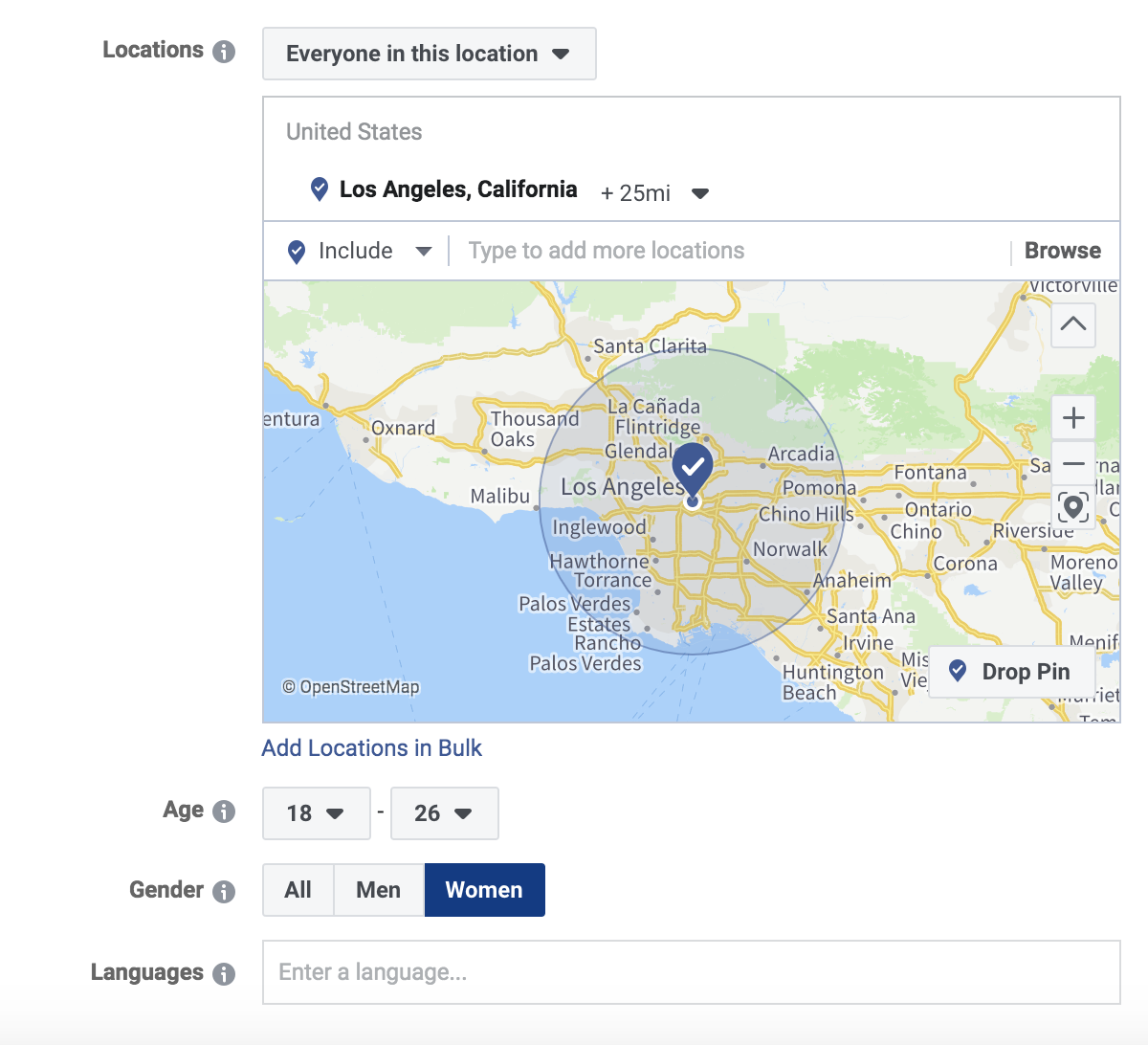 Once your targeting is perfected, you can select one of two placements:
Automatic placements: Facebook will show the ad or ads in places they're likely to perform best, such as Facebook, Instagram, and Audience Network. We'd recommend this option.
Custom placements: You choose which places to promote your ad or ads. Keep in mind that this may lead to a reduced audience reach.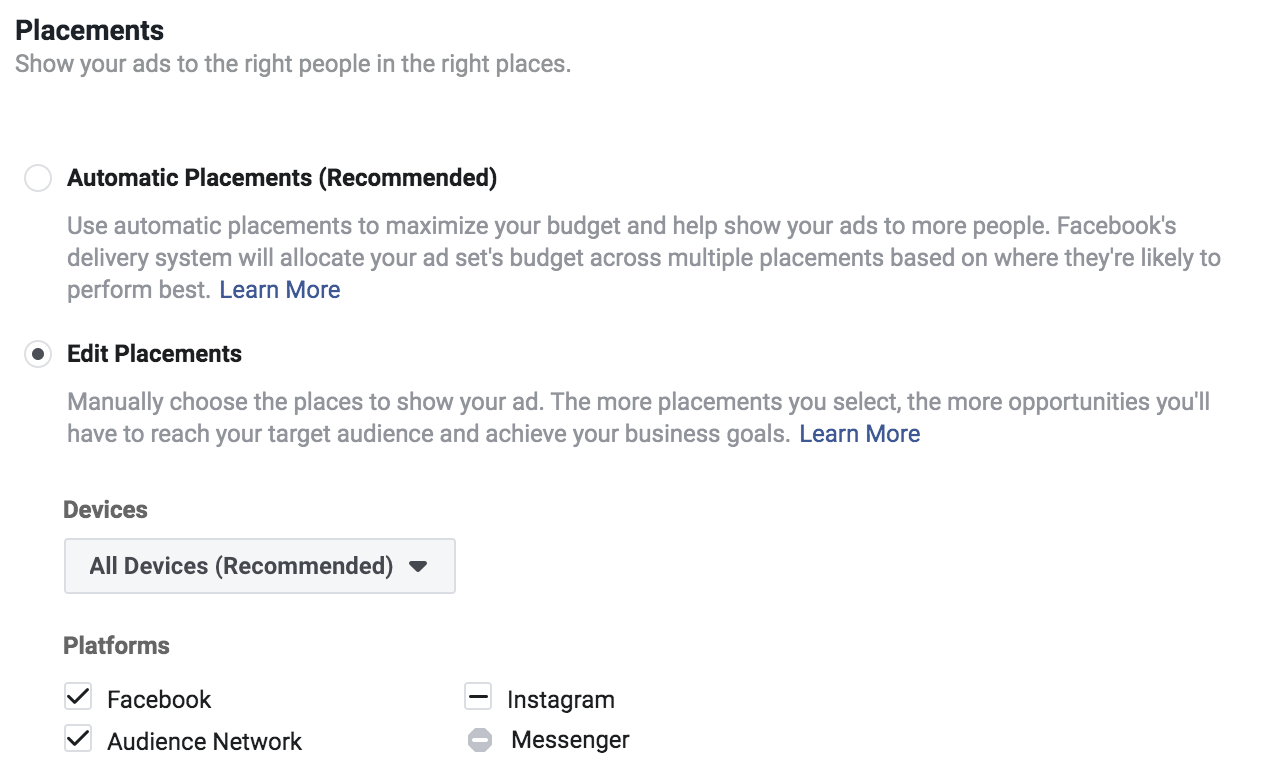 From there, you can set your budget as daily or lifetime. You'll also schedule it, which you can set for "continuously" (until you end it) or for a specific period of time.
Once you've completed your ad set, hit "Continue" to move on to the formatting section of your ad.
Now you'll create a new ad and name it (or use an existing post). Simply connect your ad through the Facebook and Instagram Pages of your choosing.
Next, choose the format of your video ad:
Carousel: An ad with two or more scrollable videos
Single Video: An ad with a single video
Slideshow: A looping video ad with up to 10 images
Instant Experience for Mobile: This makes your ad automatically take up the entire screen of the user's mobile device, should your ad pop up.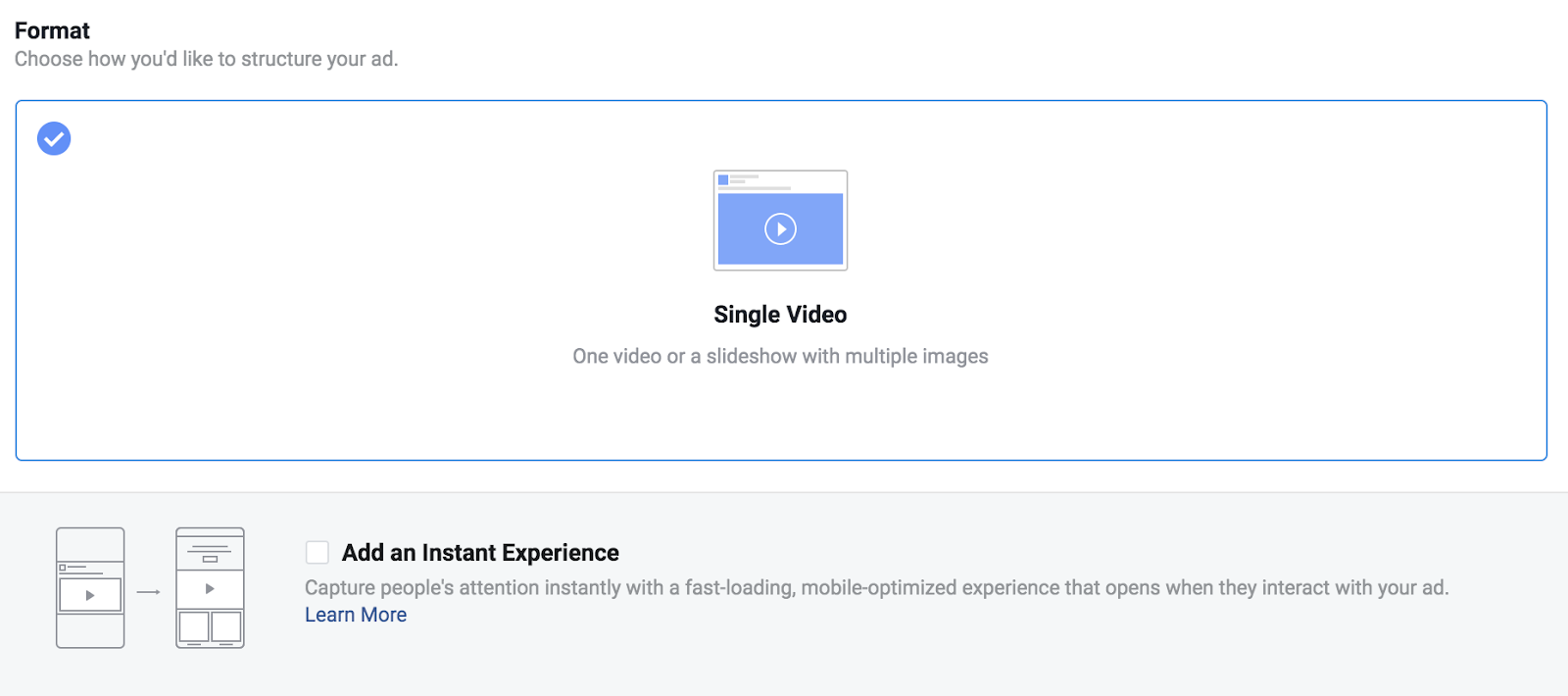 From there, upload the video or videos of your choosing and add the text for your ad.
If you already have your video hosted elsewhere, you might be tempted to simply link to the video in your post and advertisement. For instance, you've probably seen hundreds of videos on Facebook that have been shared from YouTube or similar video platforms. Some may even reside on the owner's business website.
We recommend uploading your video directly to Facebook before you create your advertisement during the ad creation stage: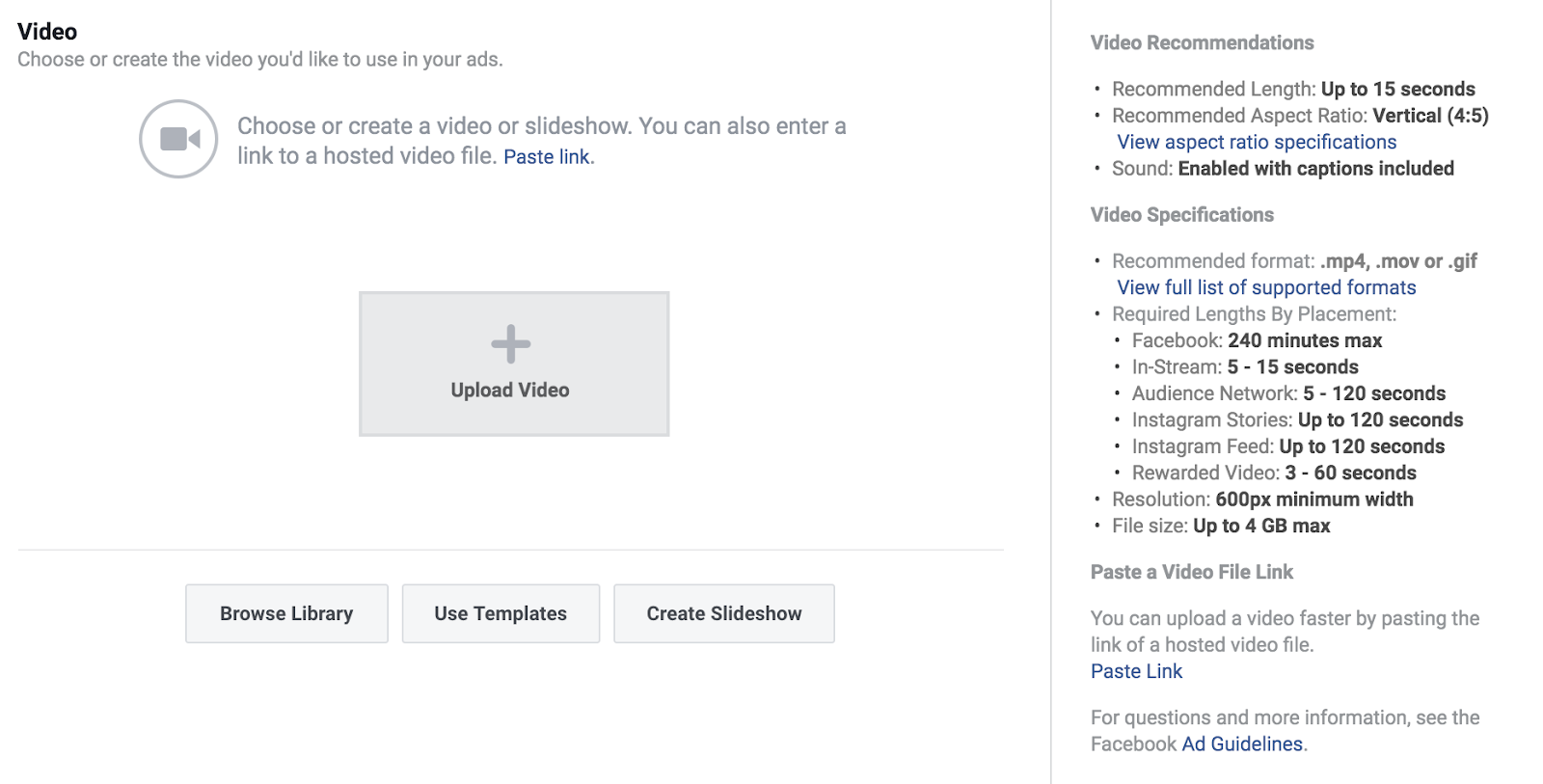 Why? Simple. Because Facebook favors videos that are uploaded directly to their platform. In fact, one study found that native videos receive 10x more engagement when uploaded to Facebook directly, rather than linking to YouTube: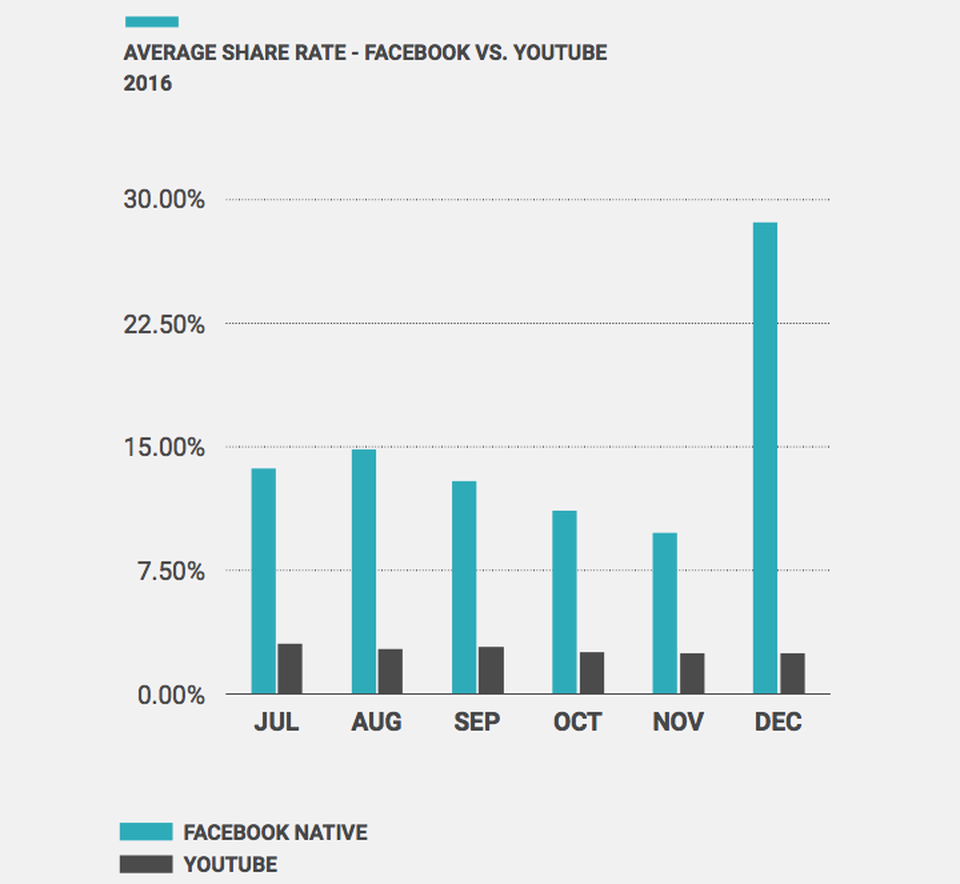 This may be because of a couple of reasons:
Facebook's algorithm favors native videos. Obviously, this social networking giant is savvy enough to avoid offering exposure to competitors' sites, so they prefer content that has been uploaded to their own site.
In some cases, viewers must click on a link before they can watch. Requiring this extra step will almost always perform worse than just having the video automatically start playing in a feed. As with most kinds of marketing, requiring an extra click will reduce your reach considerably.
Plus, you're already going to pay for Facebook advertising. You might as well get the most value from the service by letting the company provide your bandwidth and storage!
Learn More: How to Get the Cheapest Facebook Ads Without Sacrificing Quality
Once you've completed the steps so far, you can see the ad preview. In the top left corner, hit Desktop News Feed and click on Mobile News Feed to see what your ad will look like on Facebook mobile. You can also scroll down and click on Instagram Feed to see how it will look on Instagram (a mobile app):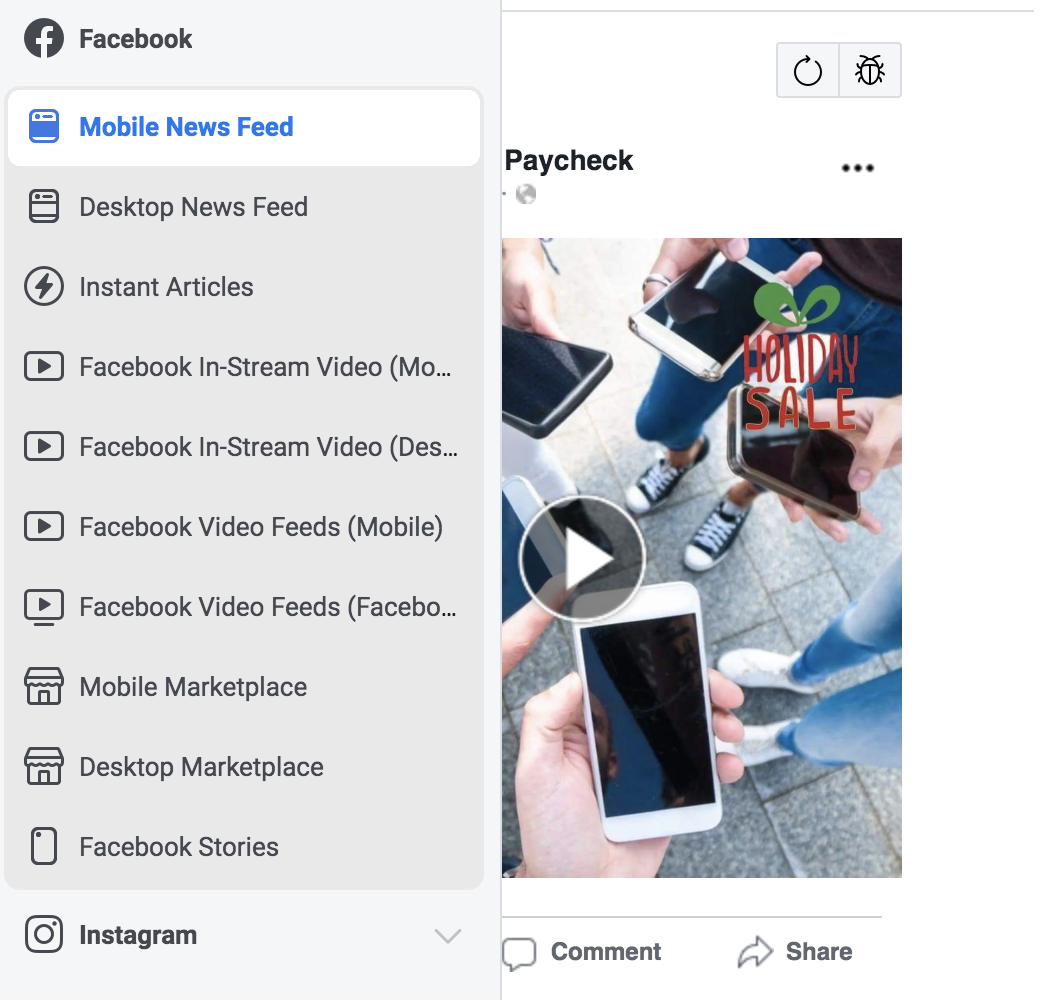 If you're not pleased with how your ad looks, you can go back and format your ad however you'd like. Once you're happy with it, be sure to click on Review to see if there are any errors you need to fix (it will alert you if there are).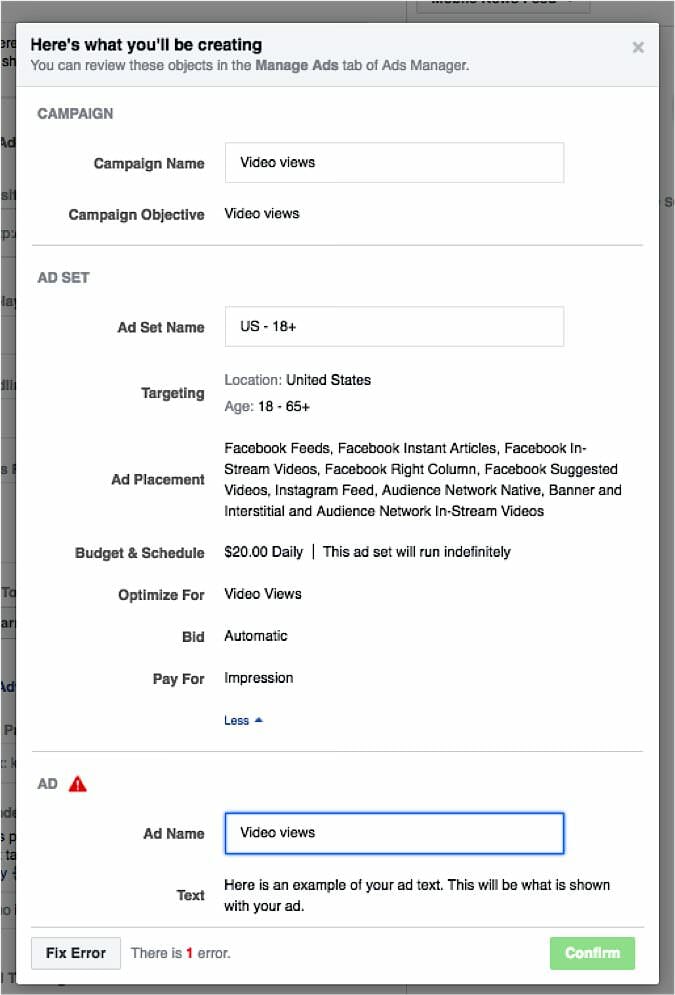 Once you've fixed any errors, or if there aren't any, click on Confirm and you're good to go!
Dive Deeper:
6 Tips for Creating Mobile Video Ads with High ROAS
Now that you know how to create the ad, it's time to dig deeper into what makes a mobile video ad look professional — and encourages Facebook users to engage with it.
Here are six tips you can use when creating your Facebook mobile video ads for better Return On Advertising Spend (ROAS):
1) Format Your Videos to Display as Square or Vertical
Think about the videos you watch on your phone. Do you tilt your phone to watch the video in full screen or stick to horizontal videos that fill your screen length-ways?
If your answer is the latter, you're not the only one. But this insight could significantly improve your Facebook mobile video ads. Why? Because research has shown that less than 30% of mobile users will turn their phones sideways to watch an ad — and users who do turn their phones sideways only watch about 14% of the video anyway.
Vertical or square videos will naturally take up more space in a viewer's feed, so they're more likely to appear professional and, thus, get noticed.
Take this example from one of Facebook's help pages:
The image above shows you how square or vertical videos will display in comparison with the way that horizontal videos display. After testing extensively, Facebook found that 70% of the time "vertical video ads drove an incremental increase in brand lift, including a three- to nine-point increase in ad recall."
Obviously, you want to get as much exposure for your business as possible, so you should start with the video format that's most likely to perform the best — square or vertical videos.
2) Add Captions to Your Videos
Have you noticed that most videos start to play without any sound when you scroll through your Facebook feed?
When people use their phones at work or in a public place, they don't want to draw attention to themselves by having sound blaring (well, most people, that is…). Facebook understood this and automatically defaults videos to be played without sound unless a user clicks it.
In fact, 85% of Facebook videos are watched without sound, yet 76% of video ads need sound to be understood.
That overlap makes a perfect opportunity for your mobile video ads to stand out. Sure, some users may be so entranced by the visual aspect of your video that they will turn the sound on. But on the other hand, you could lose a lot of viewers if your video's message can only be understood with the volume up. And keep in mind that many of your video's viewers might be deaf, hard-of-hearing or speak a different language.
The best solution is to simply add captions to explain the essential points of your video advertisement using tools like Google Drive or Rev: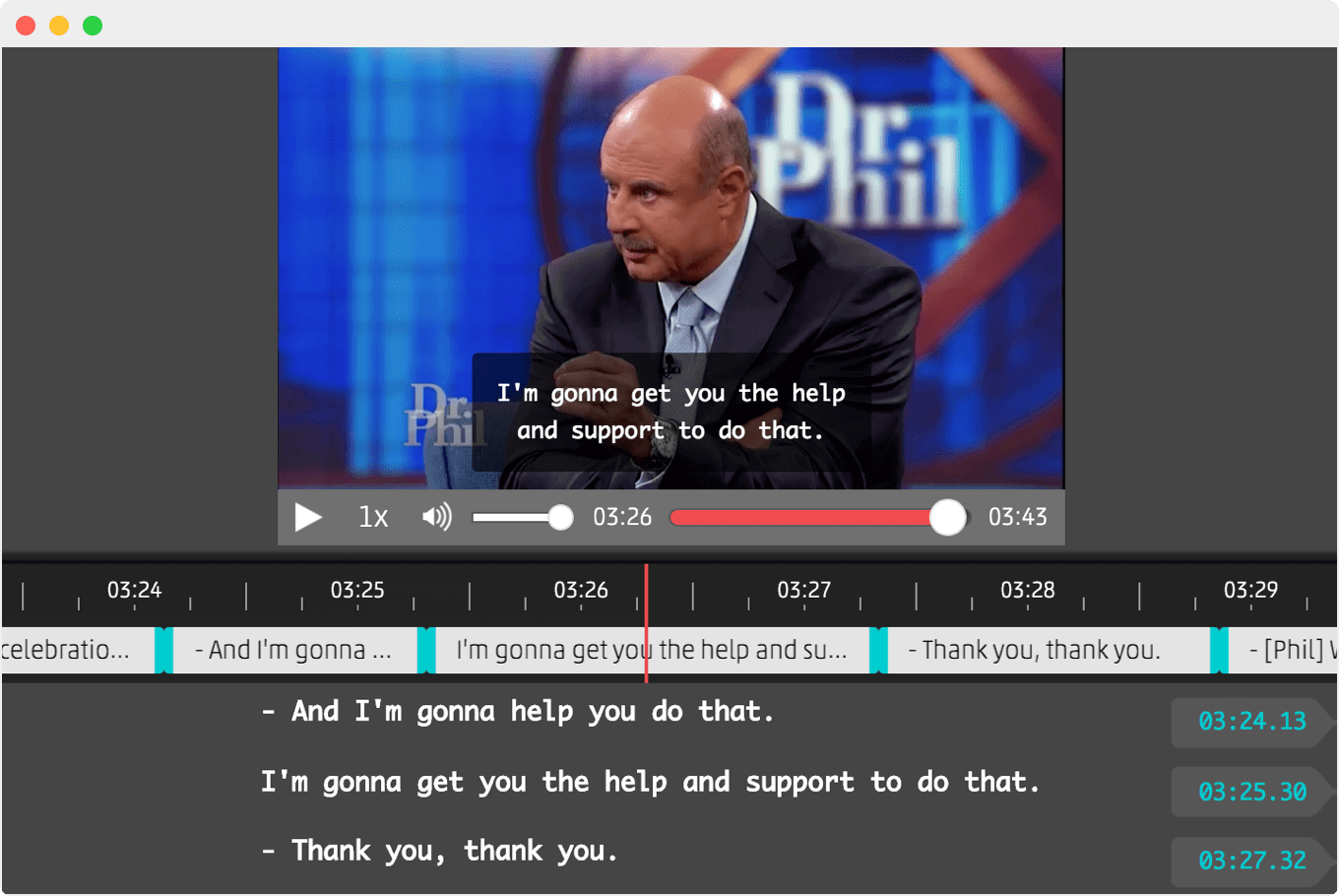 This often-overlooked step in your ad creation process could make all the difference.
3) Capture Your Audience's Attention Quickly with Short Videos
Ever heard the phrase "it's a marathon, not a sprint"? The same concept applies to your video ads on Facebook: engagement levels decline as the length of a video increases.
Keep in mind that your Facebook video ads are interrupting your viewer's search for updates about their friends and family. People aren't using Facebook to intentionally watch videos; they'd head to YouTube for that.
Data has shown that the optimal length of a Facebook ad — one that gets the most engagement — is 3-4 minutes long: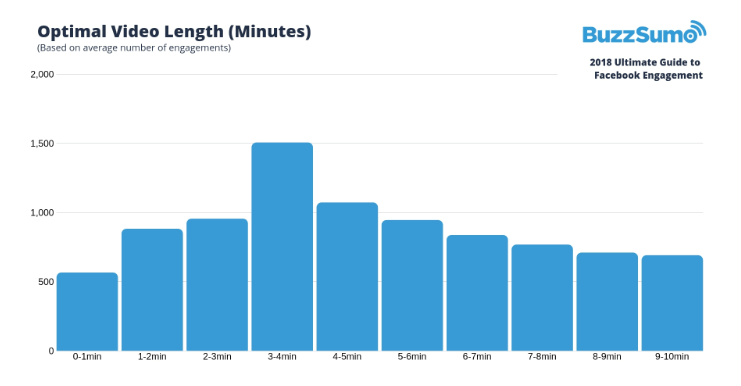 And Facebook itself suggests creating videos that are even shorter — no longer than 15 seconds —  for maximum impact. Either way, you should get to the point quickly, deliver a clear message and direct your viewers to platforms where they can learn more.
But what if you can't provide the right marketing message in just a few seconds?
Think about testing videos of different lengths to see which works best. You might be surprised with the results that you'll get when you compare short, punchy videos to longer ones. Facebook's A/B testing feature can handle this for you. No matter how long your video ad is, deliver a compelling reason for viewers to keep watching.
Then, once they reach the end of your video, make sure you craft a call-to-action that explicitly tells your audience what they should do next. For instance, you may want them to visit your website, call you on the mobile phone they already have in their hand, or simply like the Facebook Page associated with it.
Regardless of what you're asking your audience to do, keep your video short enough for them to see your CTA.
Dive Deeper:
4) Create Video Ads that Focus on Value, Not a Hard Pitch
The best marketing doesn't feel like marketing.
Just take a look at some of the most successful marketing campaigns of last year, including Burger King explaining net neutrality with the Whopper and Google's AI software ("Duplex") making a real-time phone call. They worked so well because viewers didn't feel like they were being sold to by a pushy brand.
In fact, marketers have learned that their audience tends to be fairly blind to advertisements that are trying to overtly sell you something. So if you want to keep people from scrolling past your ad, you need to create content that connects with your target audience by offering them entertainment or interesting information — not a hardcore sales pitch.
Remember: No matter how well you target your video ad, most of your audience did not log on to Facebook to buy your product or service. You've got to be creative to draw their interest.
Click To Tweet
Let's put that into practice and say your aim is to attract more customers to your kitchen store through Facebook mobile ads. Instead of just advertising that you have blenders for sale, you might experiment with things that people can make with your blender — such as a demonstration of how to make healthy smoothies or jazzy margaritas. Or an iPhone X. 😉
When you focus on giving something of value (entertainment, education, inspiration) to the customer without a hard pitch, they're more likely to view the whole video, boosting your watch time and ROAS.
Learn More: 8 Benefits of Video Ads: Why You Need Them in Your Advertising Strategy
5) Experiment with Audience Targeting
You should already have documented buyer personas that describe your ideal audience before investing cash into Facebook advertising. These personalities list the common traits your ideal customers have, such as their age, gender, location, job title and interests.
When you create your Facebook advertisement, you'll be able to select such targeting options to reach people who also fit that criteria. For instance, if you run a bookstore in Chicago, you may want to reach people who live in your community. Simply use the audience targeting field to select people with an interest in books and who live within five miles of your store.
You can also come up with creative ways to target your audience aside from locations. A good example is the advertisement displayed here from Walt Disney World: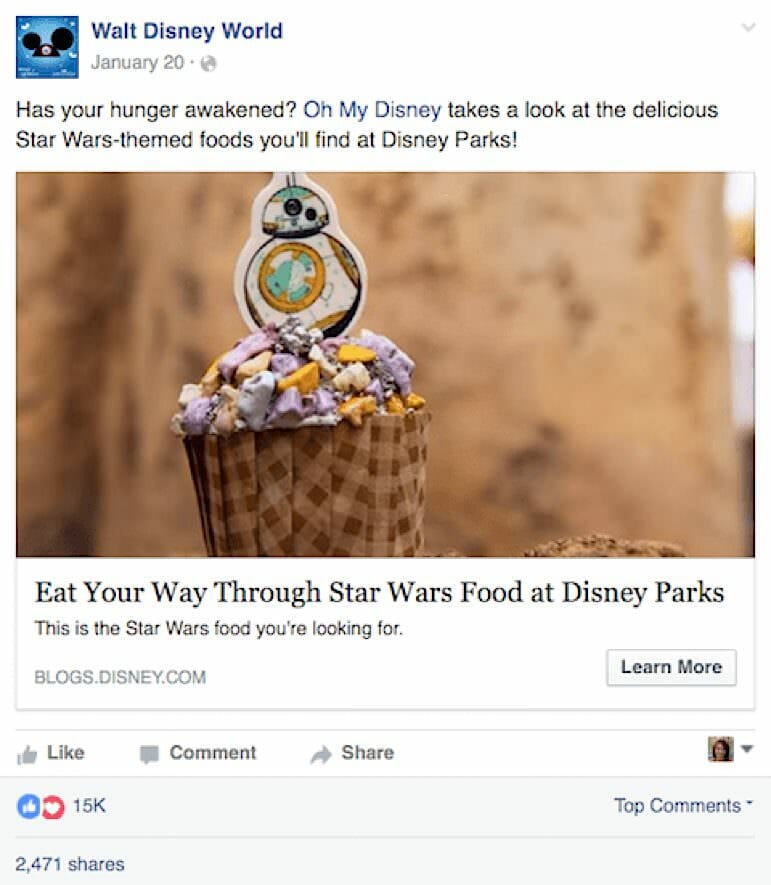 The advertisement doesn't just directly target Star Wars attractions at Walt Disney World, though it certainly might appeal to that audience. It also engages anybody with an interest in food or in the movie Star Wars.
By using this creative tactic, the company expands their reach but still appeals to people with an interest in their marketing message. This kind of indirect targeting may be even more useful for a small business owner who needs to build brand awareness more than a global corporation like Disney.
Still, if it works for them, it might work even better for you!
Dive Deeper: 
6) Run A/B Tests to Find Your Company's "Best Practices"
Very few marketers ever expect to create a Facebook video ad that performs really well on the first try. It's why billions of dollars are spent on Facebook's advertising platform every year. Although it can get fantastic results, we can always do better.
In fact, you will probably do better in the long run if you expect to test different mobile video ad strategies before you find the one (or ones) that work best for you. Facebook's built-in A/B testing (or split testing) feature can do this. Use it as your chance to experiment with:
Videos of different lengths
Wording in the ad text and captions
Targeting a variety of audiences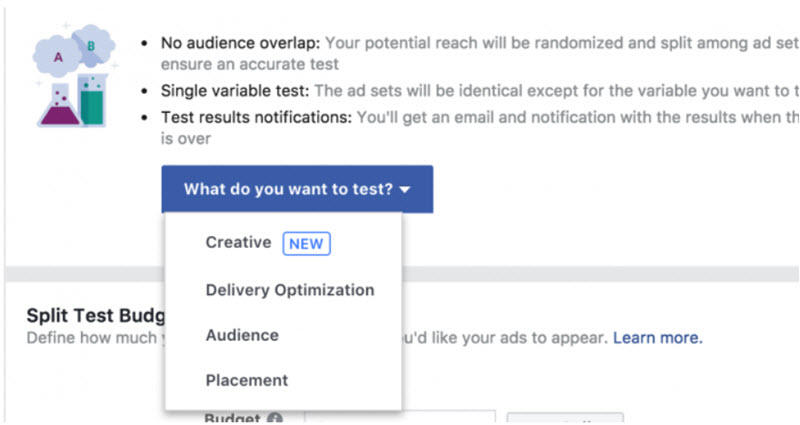 Simply keep track of how well each advertisement engages viewers and attracts customers to your business, which you can do through Facebook Audience Insights.
As you monitor performance, you'll soon build a list of "best practices" proven to work well for your brand, product or industry and be able to fine-tune your ad until you hit the sweet spot — at which point you can consider yourself a pro!
Dive Deeper:
Are You Ready to Create Your Mobile Video Ad?
By this point, you should be ready to start taking advantage of mobile video ads, especially if you're already using the Facebook platform.
Remember to upload your videos directly to Facebook throughout the ad creation stage, capture your audience's attention within a few seconds, and run split-tests to determine which combination gets you the best results.
You'll soon start to see an uplift on your ROAS!
Check out this 4-minute video The 5 Best Facebook Ads Strategies to Crush Marketing – and find many more marketing videos on our Leveling Up YouTube channel: