Nowadays, social media is a must for small businesses. Through social media, small businesses now have more power than ever to market themselves to potentially millions of people on the Internet, and the ability to fine tune their online marketing efforts to bring in more customers.
The social media giant Facebook has a whole array of tools for small businesses to market their products and services like never before.
One of these tools includes Facebook Audience Insights, which lets entrepreneurs know more about their audience's habits, as well as where they are from and what kind of lifestyle they lead.
Facebook Audience Insights is a powerful tool, but you have to make sense of it first. Those who look at all the data and options it provides may be overwhelmed at first, but it is not as incomprehensible as it may first seem.
You just have to know what you are looking at in order to make sense of the data.

To access Facebook Audience Insights, log in to your Facebook account and click on "Ads" in the lower left corner. This will bring you to the Ads Manager page, and if you click on the menu, you will see "Audience Insights" under "Plan" in the drop-down menu.  If you are accessing it as a Business Manager, you need to go to "Tools" instead.
Choose Your Audience
When you click on Audience Insights, it will walk you through the process. The first step is choosing an audience. If this is your first time using the tool, it will make life very easy for you. You can also choose to skip the wizard and enter your preferences manually.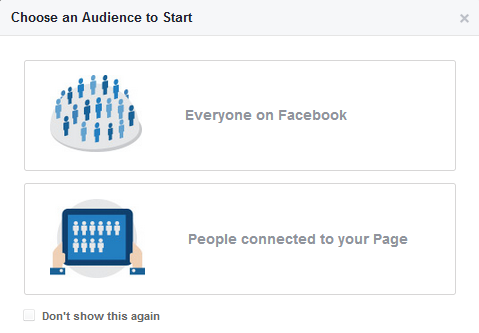 It is definitely a good idea to know who your audience is so you can determine what they need from your business with a directed focus in your marketing efforts. As a small business, you need to have a more specific audience, according to your niche, so that you can more easily convert site visitors into actual customers.
Now you might think that more is better when it comes to spreading the word. That may be true if you have oodles of money to throw for your ad campaign or you don't especially care about ROI. However, if neither of those things is true for you, customizing your target market is more practical.
The target market paradox says: narrow your focus to increase your sales, especially for SMBs.
Click To Tweet
Put more simply, when you have a more targeted audience, you reduce your risks and increase your chances of conversion because you are more efficiently reaching the people who will actually buy your products or services.
There are different processes you can undertake to better understand who your target audience is. It is recommended that you have a minimum audience size of 10,000 people, but any number slightly under it shouldn't be too bad as long as you know you can get a fairly reliable answer. However, if you want to do something like A/B testing, then you may need a larger sample size.
It all depends on a particular demographic to determine who is most likely to be interested in purchasing your products. The targeting options provided in the side bar include:
Location – You can specify a particular location for your analysis, which could be anything from a country to a zip code; you can also choose to exclude a location.
Demographics – This is typically age and gender, but the tool also allows you to specify relationship status, occupation and education. 
Interests – You can choose to narrow the audience set based on the Facebook pages liked, hobbies and interests.
Behaviors – This option lets you collect information on people based on their activities on Facebook as well as off it, including buying behavior, travel preferences and device usage.
Advanced – You can narrow your audience to existing customers based on information you have already collected, as well as "Lookalike" audiences, which are people who share similar characteristics with your existing customers.
You may want to pay special attention to two of these targeting options, namely interest-based and behavior targeting:
Interest-Based Targeting lets you focus on a particular subject related to your product to draw people in. It could be a specific aspect of your niche or a particular brand or product that has unique characteristics that resonate with your audience. You can then hone in on whatever brand or model of a certain type of product they are interested in.
On the other hand, Behavior Targeting is more about targeting people based on purchase history, intent based on their actions, and so on. This allows you to learn more about the particular psychology of your target audience so you can better cater to their needs and seek them out in their preferred channels.
For instance, you can target people who have made payments using a certain platform in the last month or so, as they would be more likely to buy from a shop you've establish on that platform.
Whichever method you use to better understand what kind of audience your business attracts, you must choose what to focus on. To do that, you need to take a closer and more educated look at the data.
Explore the Data to Segment Your Audience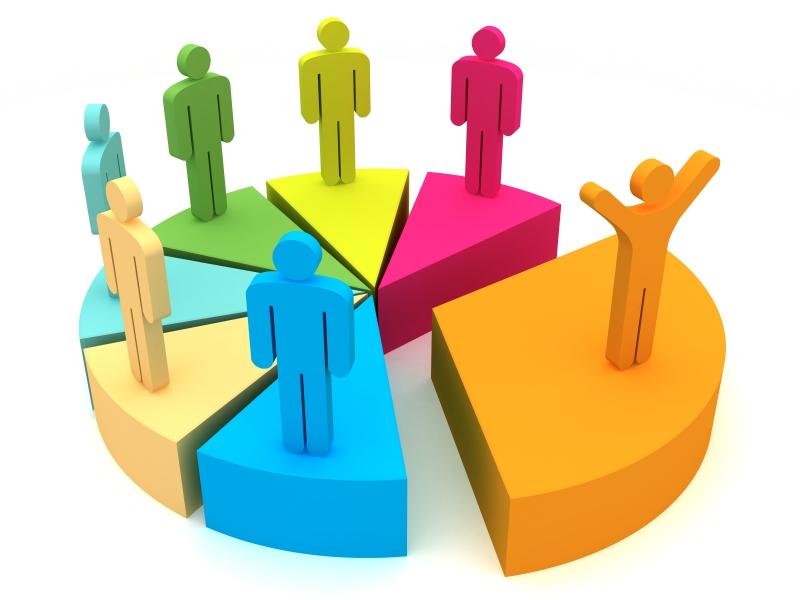 Once you have an audience engaging with your brand for about a week, Facebook Audience Insights should give you enough data to let you segment your audience. The data are given in the following categories:
Demographics
Under this tab, you will see collated information such as the user's age, gender, education, job title and relationship status. If your audience is in the U.S., you will also see their lifestyle.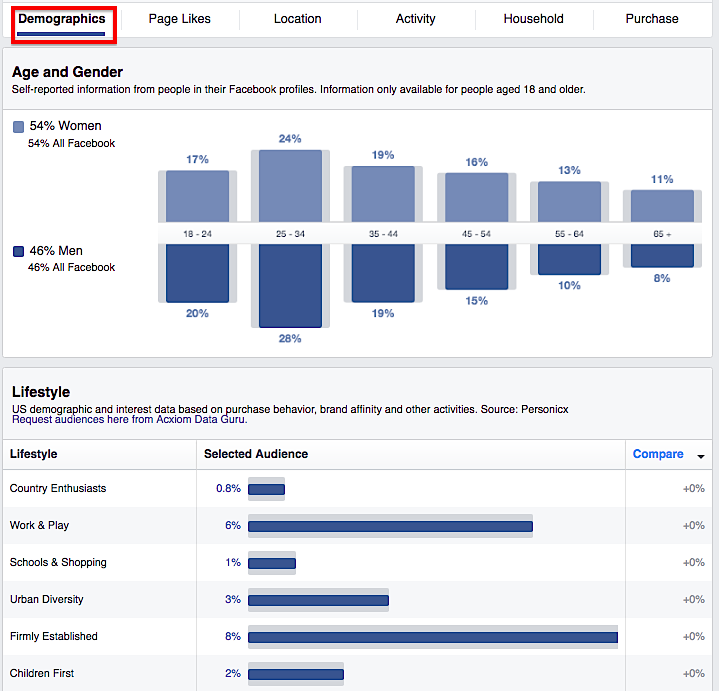 Page Likes
You will see two sections in this tab: Top Categories and Page Likes. The second section lists particular pages in Facebook that your audience is most likely to "Like" more than the average user.  This tab is particularly useful in helping you create a picture of your audience in terms of their preferences and interests.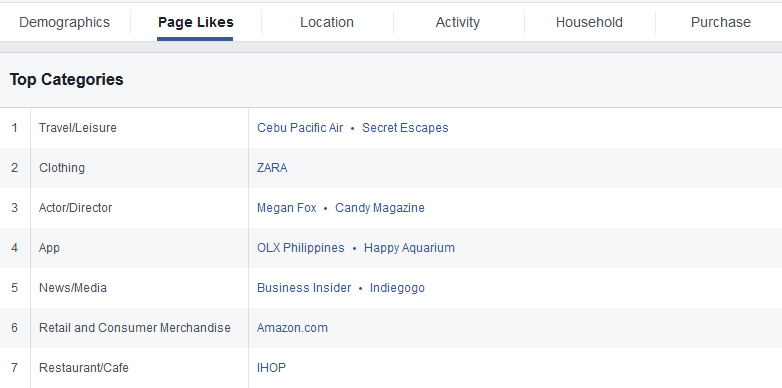 Location
This gives you an idea of the location of most of your visitors and the languages they speak. This can help you tailor your products and services, as well as your promotions, to cater to their needs. However, if you happen to have a local or region-specific business and most of your audience comes from another country, this will tell you that you are not reaching the right people.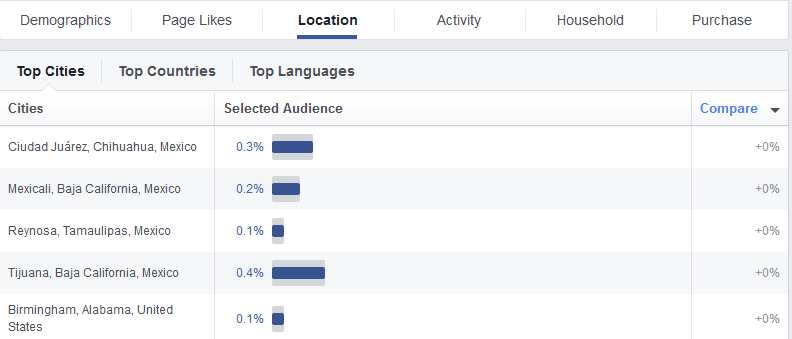 Activity
The data on this tab include the activities that your audience has been engaged in over the last 30 days and the device that they used. This will help you find out if your target audience is active enough on Facebook to make it worth paying for ads.
Household
Here you will find some additional details about your audience based on estimates and survey responses, including household income, household size, home market value and spending methods. Knowing these things can further your understanding of your audience's specific lifestyle.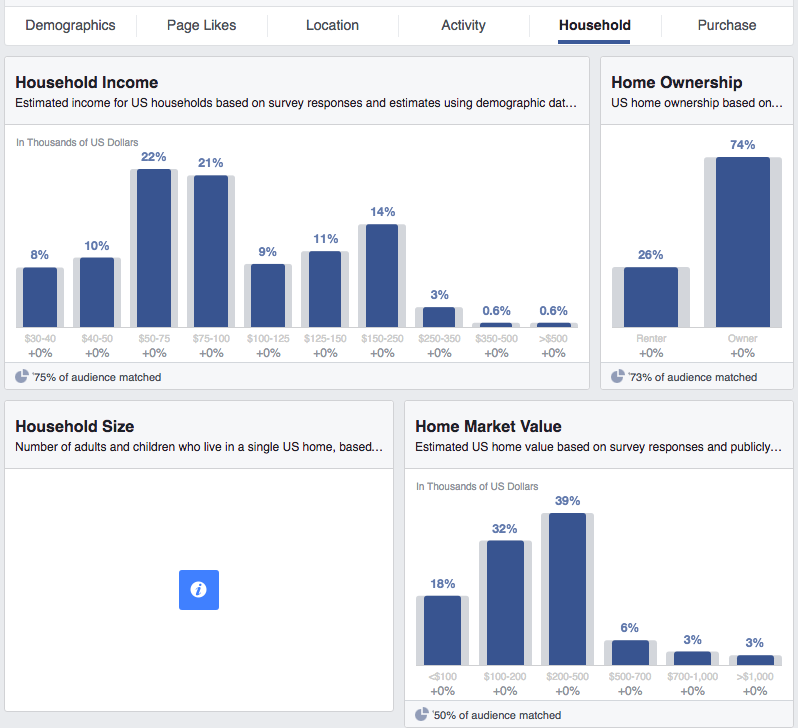 Purchase
This tab gives you some key information on the buying habits of your audience based on actual purchases they have made offsite. This information is gathered by third-parties affiliated with Facebook. The data categories include Retail Spending, Online Purchases, Purchase Behavior and (strangely enough) In Market For A Vehicle.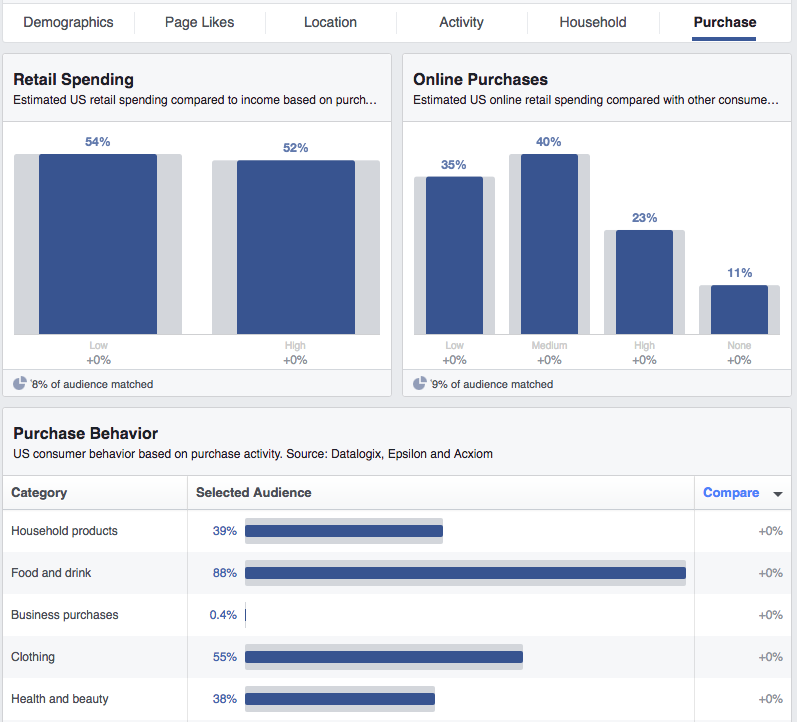 You will get information such as their age, what they like, where they live, what they do online, what devices they browse the Internet with, what their social standings are, and what they tend to buy. This gives businesses all the information they need to determine the specific audience on which to focus most of their marketing efforts.
Knowing what kind of people tend to look at your brand or similar brands lets you hone in on how to attract them. Concentrate your marketing funds on a specific location like your home country, a specific age bracket like 25-34 years old, a specific income bracket, and so on.
Facebook lets you target those parameters easily, so you can change the location of your ads from the default that is the United States to somewhere else. You can be even more specific, if you wish, by entering the region or city you want to market to.
Learn More: How to Get the Cheapest Facebook Ads Without Sacrificing Quality
Perhaps you have more than one type of audience that looks at your page. With the data collected and presented by Facebook Audience Insights, you should be able to understand your audience better and segment them as necessary.
You can also decide on how you should go about marketing your business to them, either by splitting your attention and marketing to each of them, or coming up with ways to market to more than one at a time, depending on how things go with your business.
You can even learn what kind of products your audience is more likely to buy through seeing what type of homes they reside in and their purchasing habits. If they are more budget-oriented, you can stock up on entry-level and budget-conscious products. If they are more moneyed, then you can offer more premium products. You may also find demand in a different type of product, which you may want to add to your offerings as well.
There are so many things you can learn just by looking at the data that it may surprise you. There are times when businesses are taken aback by an unexpected customer base, like children's toys being bought by mostly adults, and female products being bought by men for various reasons.
The market can be unpredictable like that, and being able to access this data sheds light on what is really going on and offers clues and answers to questions.
Save Your Targeted Audience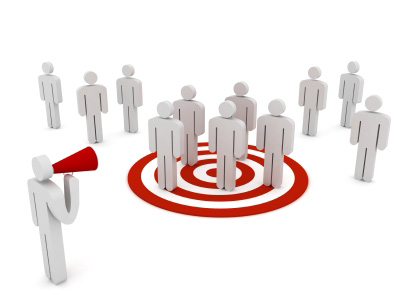 (Source)
Once you have taken in all the data you need and used it to segment your audience for your business, you can then save everything by clicking on the "Save" button at the top of the page and giving it a name.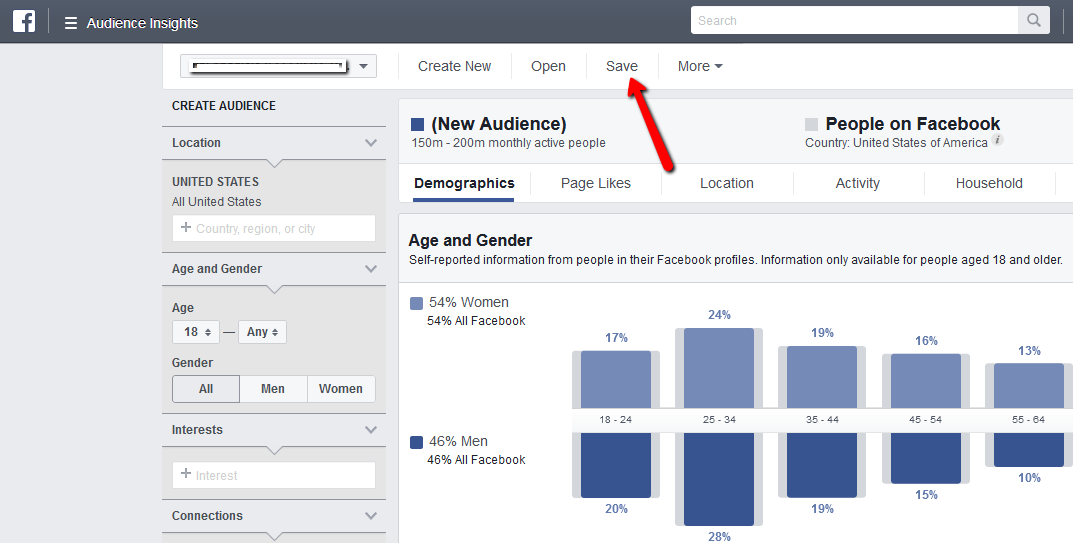 You don't have to save your selections if you don't want to. However, saving your audience lets you access it later in the Power Editor (helpful if you know you will advertise to the same audience in the future), which you can find in the Ads Manager menu under +Create & Manage.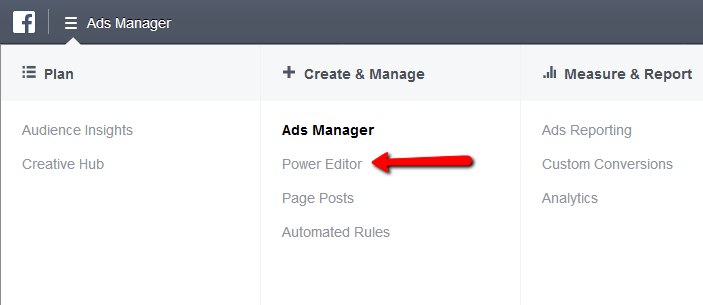 You may also click on "Open" to access an audience that was previously saved. If you are doing some A/B testing or any other sort of trial-and-error process, this can be a handy feature as you can change between two or more audiences.
Engage with Your Audience and Gather Feedback
Once you have saved your audience, you're not quite done. What you have just done optimizes your Facebook marketing, so it is now time to engage with the audience and see what has happened since you've done some fine tuning.
This is a constant process of taking feedback and determining whether what you have accomplished is making things better or if something still needs to be changed.
Engaging with your audience encourages them to connect more with you and your content. Seeing that you care about what they think is a good way to make them feel more at home with your page and brand, which allows them to be more honest with their feedback.
Through delivering consistently good content and engaging regularly with the audience, their feedback becomes more valuable in return.
Related Content: Facebook Lead Ads Can Now Track Offline Conversions
Measure the Conversion Rate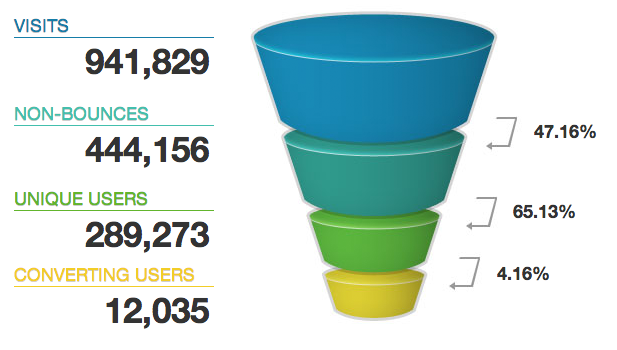 (Source)
You have to check if your ad campaign is working before you proceed any further (and spend more money). To do that, you need to look at your metrics, and you can do this by using Insights on your Facebook Page.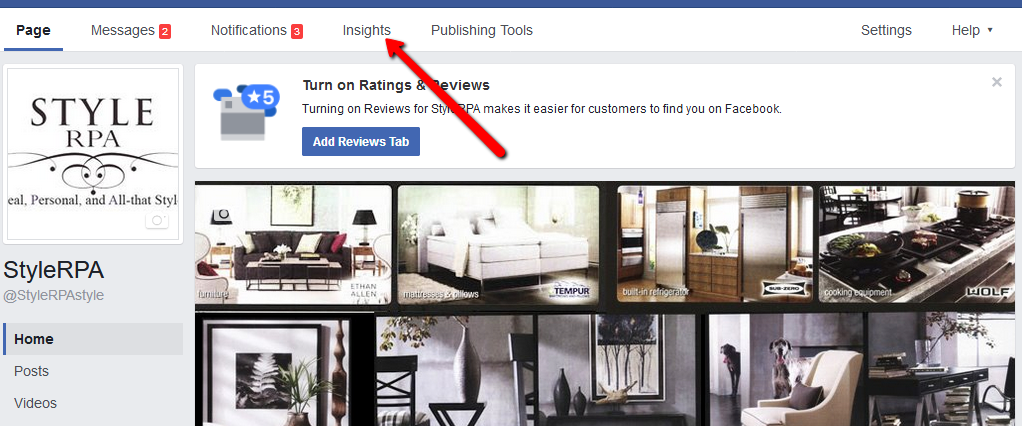 Note that this is NOT the same as the Facebook Audience Insights tool. This Insights page provides quite a few valuable metrics, such as Actions on Page, Page Views, Page Likes, and Reach, all of which translate into engagement.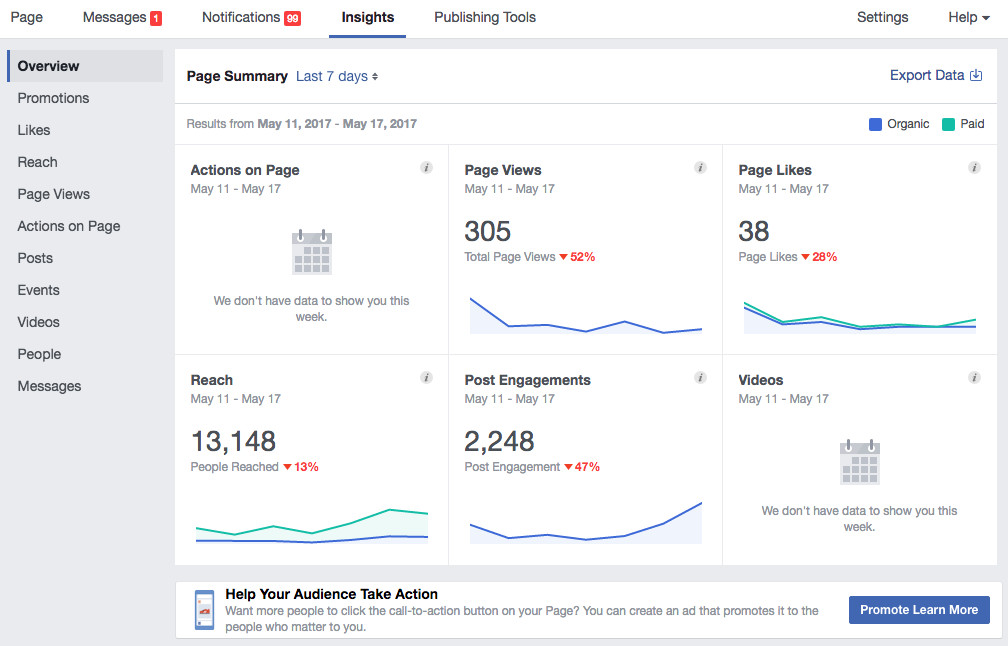 One of the main things you are looking for in engagement is the audience's conversion from casual observer to a willing participant in your brand. You get to know how many people click on your ads, how many of them end up buying your products, how many share your page or posts on their walls, how many people get referred to you from those shared posts, and so on.
Related Content: Facebook Lead Ads: How to Increase Mobile Conversions
You can then compare between audiences, whether one audience does indeed have a greater conversion rate than the other, and if certain changes led to more or less conversions. You can use the Facebook Audience Overlap to make this side-by-side comparison.
With Facebook Insights, you can also see the day and time that most people see and click on your posts and ads so you know when the best time to post your content is, in order to get the best conversion rate possible.
Conclusion
Fine-tuning your marketing with Facebook Audience Insights to get the best results from your marketing efforts is something many small business owners see as too much work and unnecessary. However, if you're serious about getting more leads and growing your business, it is essential to dig into the little details, especially when Facebook basically hands you the tools that makes doing this easy.
Do you have your own experiences marketing your small business on Facebook that you'd like to share? Please let us know in the comments below!