Facebook is undoubtedly the largest social media platform and it seems that there is no end to its popularity. Like many other social media channels, it has become an integral part of every aspect of our lives, both personal and professional, and has had a tremendous impact on a variety of businesses.
According to an eMarketer study, 95.8% of social media marketers consider Facebook as an essential tool in reaching media marketing success: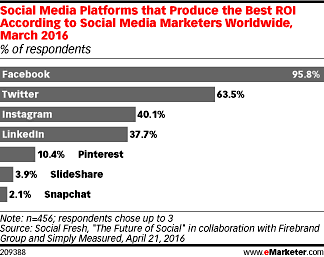 Marketing guru Neil Patel emphasizes the importance of this platform by pointing out that not only do billions of people see ads on Facebook, but they spend more than an hour on them each day.
With such immense popularity, it would be ridiculous not to consider Facebook as an option when trying to boost your brand's awareness and create a strong and profitable customer base. However, gaining a competitive advantage in today's ever-increasing market is, to say the least, a challenging endeavor.
While there is no magic formula that will help you rank high quickly, there are some excellent established techniques that will make your road to success a lot easier.
If you are about to dive into the world of Facebook marketing, take a look at these fundamental steps that will help you run your first ad campaign.
Related Content: How to Set Up a High-Converting Facebook Retargeting Campaign
The Campaign Structure
The first (and vital) step you need to take is to gain insight into how a Facebook campaign works. Simply put, you need to carefully structure your campaign and understand how to organize your ads.
Before you start advertising on Facebook, you should be aware of the basics of this particular advertising process, which consists of three main components:
Properly setting up your campaign can help you not only measure the results and allocate budgets to achieve goals, but also test different audiences and find out which ads work better.
Campaign
Set Up Your Facebook Advertising Account
In order to create your own Facebook page, you need Business Manager, a tool that allows you to see who has access to your Pages and Ad Accounts and share your account with agencies so that they can help you manage your ad campaigns.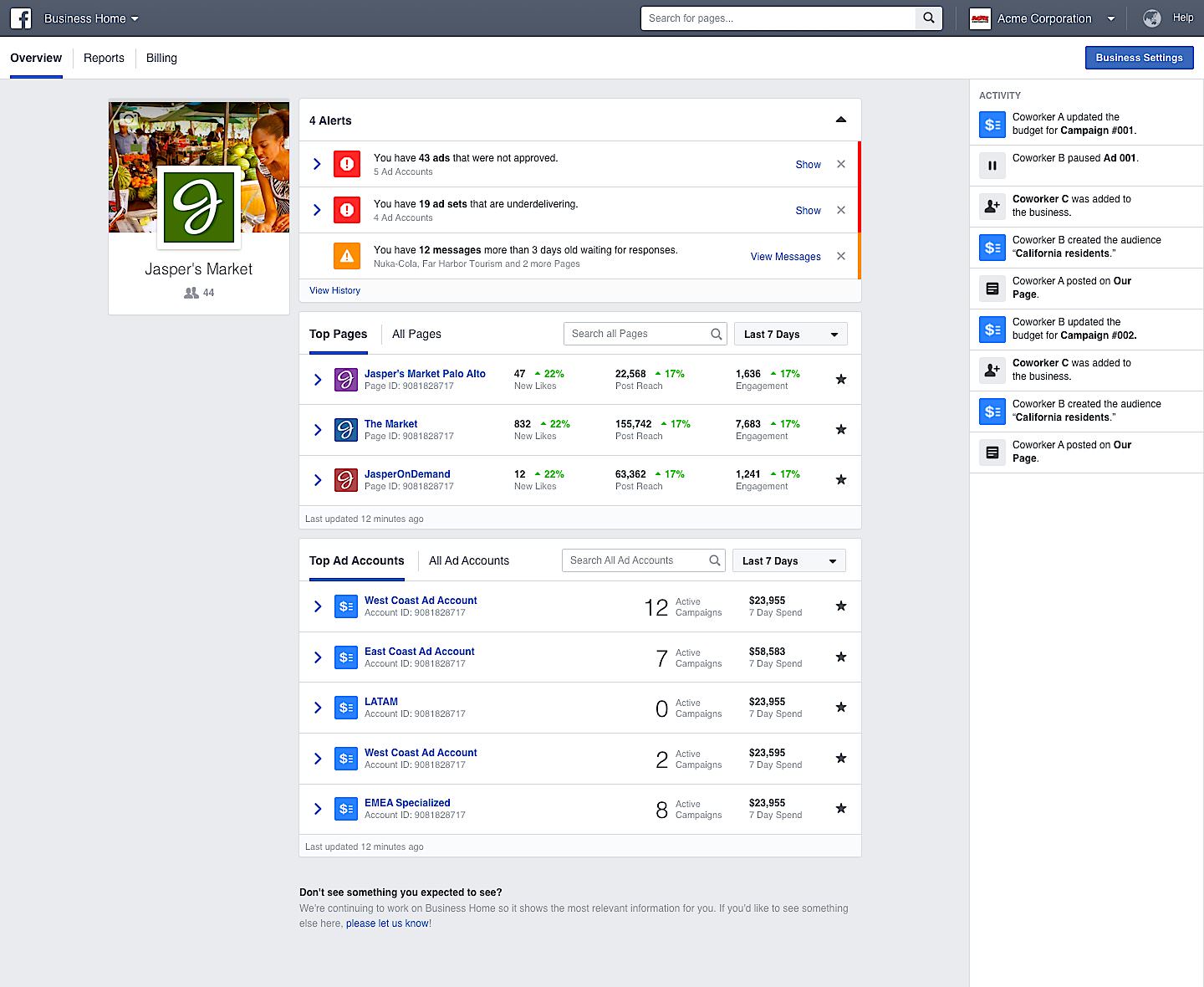 Make sure you set up your ad account info by entering your company's name, address, billing, and other relevant information.
Be careful when entering this information as you won't be able to change it afterwards. Also, when it comes to billing information, add multiple payment options and let Facebook do the billing work. In this way, your advertising will continue seamlessly in the event that your primary card becomes blocked for some reason.

Keep in mind that there are some limitations to managing your Facebook account. For example, while an ad account can have a maximum of 25 users per account, a user can manage up to 25 ad accounts.
Choose Your Objective
It goes without saying that your campaigns must focus on building awareness and attract new potential customers. When defining your objectives you need to ask yourself what exactly you want to accomplish. Do you want to boost your brand's visibility or create a strong customer base?
Whatever your ultimate goals are, you need to be aware of some universal objectives that your Facebook ad campaign should strive for. They include:
Problem Solving – Focus on solving your customers' problems and give them some valuable and actionable tips they can benefit from.
Humanization – Whatever product or service you are selling, make sure you humanize your brand and bring it closer to your customers.
Great Content – The better the content, the greater the chances that it will be shared across multiple social media channels thus promoting your brand
Call-to-Action – If you want your users to dig deeper into what you are offering, you need to offer specific calls-to-action.
Measurable Results – The best way to see if your marketing efforts are paying off is to carefully measure the results and then refocus your energy into improving the areas that seem to yield most success.
Keep in mind that your campaign objectives can have a huge impact on the entire campaign.
Learn More: How To Create CTAs that Actually Cause Action
Setting Up Your First Facebook Ad Campaign
Facebook gives you the ability to use Ads Manager, an excellent, perfectly designed tool for Facebook marketing beginners. With Ads Manager, not only can you target your potential audience more easily, but you can simultaneously keep track of more campaigns.
Ads Manager allows you to:
Set up new campaigns
Create new ads for each campaign
Create different audiences to target
Optimize and improve these campaigns

Ad Set
1) Choose and Target Your Audience
Once you decide on your objectives, it's time to choose your target audience. To do this, you need to use the Facebook Audience Insights tool.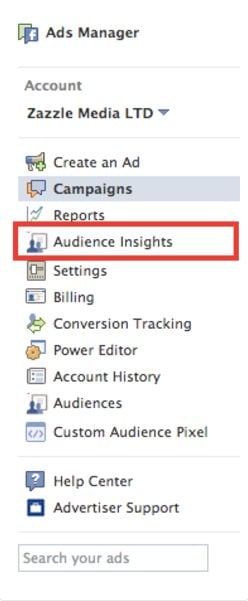 Audience Insights helps you search through three primary audience types:
Everyone on Facebook – This allows you to reach a very broad audience on Facebook (within the U.S.) and is the right option for you if you want to gather data on the wide interests of your audience.
People Connected to Your Page – This audience includes people who have already engaged with your content. They are most likely your most valuable audience as they let you retarget both past visitors and people who have either shared or read your content. Also, it allows you to understand your existing audience better.
A Custom Audience – These are the people who are similar to your existing customer database. Ensure that you first create your Custom Audience and inform Facebook about what type of audience you want to reach. To achieve that, you need to upload a list of e-mail addresses and Facebook will automatically match them with user accounts. This will help you discover invaluable information about people's behavior and their demographics as well.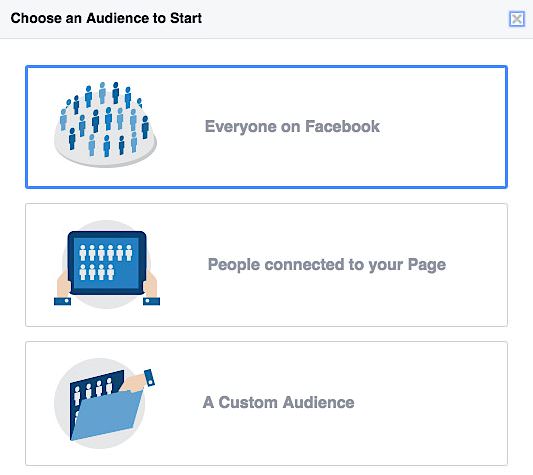 2) Set Your Budget and Schedule
After you've created your audience, the next step is to come up with a reasonable budget. Facebook offers you the possibility of choosing between setting a Daily Budget or a Lifetime Budget.
Daily Budget – If you want to run your ad continuously throughout the whole day, this is the right option for you. Facebook will attempt to deliver your ads on a regular schedule and spend your budget over the course of each day. For example, you can set one ad to a daily budget of $50 and Facebook will use up this amount with ads throughout the day, stopping when it reaches $50.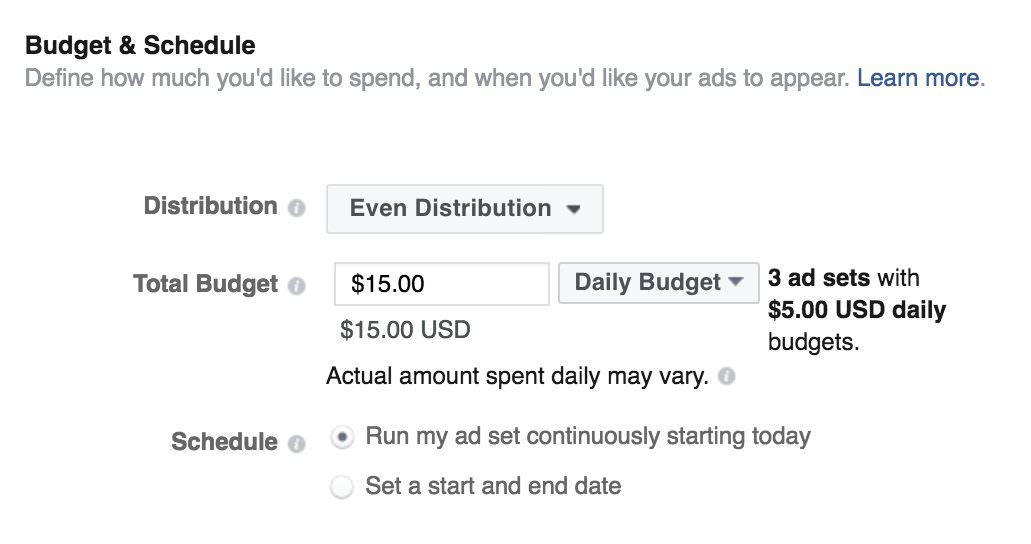 Lifetime Budget – If you wish to set a budget for a specific period of time, opt for Lifetime Budget – an option which encompasses the ad's entire scheduled run time. In other words, if you choose $70 for a period of seven days, Facebook will try to spread it out evenly over the week without spending more than your budget allows.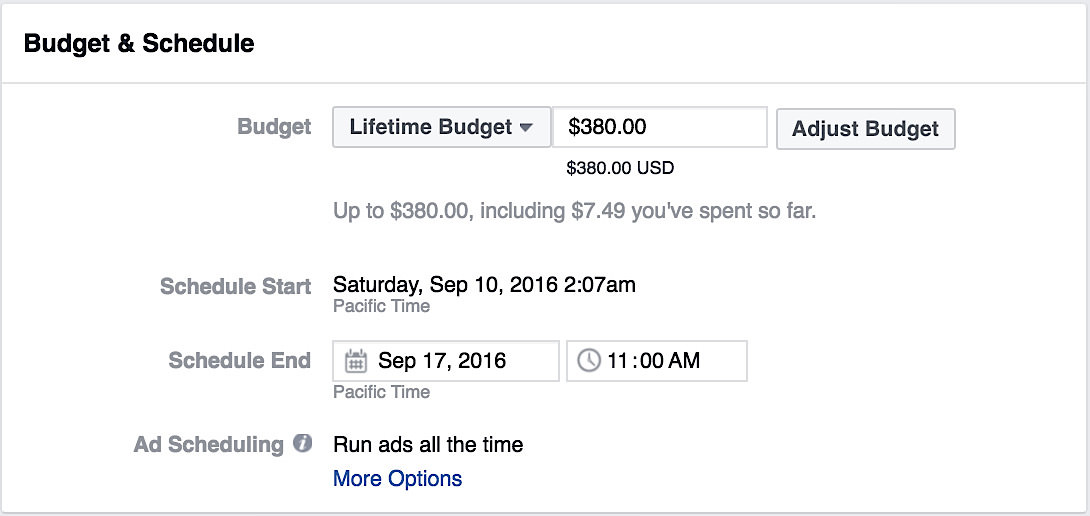 Facebook sets an absolute minimum daily budget for ads at $1.
When it comes to scheduling, decide whether you want your campaign to run immediately and continually or you want to adjust the first and last day of your campaign. Essentially, if you know that your ad will spend thousands of dollars on traffic that doesn't seem to have a major impact, then the daily budget is the perfect solution for your ad.
On the other hand, if your ad does not have broad targets, you should go for Lifetime Budget to ensure the flexibility that your campaign requires. Also, you can choose to run your ad at specific times and on specific days.
Ad
Finally, you are ready to create your first Facebook ad. A Facebook ad consists of two essential parts:
Create the Image
Although video, carousel, and other ad types will make a big difference to your ad, it's better to focus on simplicity and not get bogged down in getting too fancy. Keep it simple and focus on a single ad image at first.
Also, to find out what will inspire and engage your audience, you need to test its performance by using split testing so that you understand which images fall flat and which ones trigger a response and make your audience engage.
Consider using complementary and contrasting colors to catch your user's eye and obtain your goal, but always keep your audience in mind when creating your images. How do you do that? Use surveys or polls or simply examine the posts of your competitors and other people in your field.
You can use design tools like Canva or Design Pickle to create your ad images, like this one from Growth Everywhere: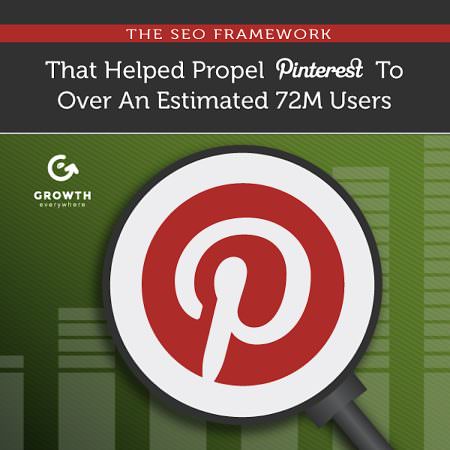 Related Content: How E-commerce Companies Can Boost Sales with Facebook Ads
Write the Copy
The headline of your ad is the first thing that your audience will see, so it's imperative that it be attention-grabbing. Since you have a limited number of characters, make sure that you come up with an eye-catching title and a succinct description. Your ad's content must evoke emotions, convince people that you have what they need, and encourage them click on your ad.
Another thing you need to consider is a CTA button. Believe it or not, people won't automatically do what you think they should, so a call-to-action tells the consumers what you want them to do ("click here to get this").
There is a large selection of CTAs you can choose from, such as Book Now, Sign Up, Download, Contact Us, and others.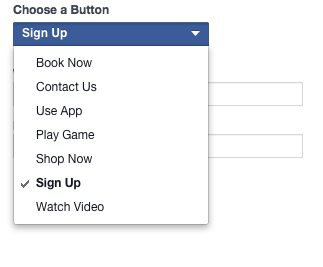 Measure Results
All your marketing efforts will be futile if you don't find the most effective technique to measure them. Ads Manager allows you to get an in-depth analysis of your campaigns and it delivers useful reports which include metrics and answers to such questions as:
How many people have seen your ad?
How much money have you spent?
How did people react to your ad?

Here you can find reports for your campaigns, ad sets, and ads, which will show you:
Cost-per-click
Cost-per-conversion
Impressions
Unique Link Clicks

With this data you will be able to make more meaningful and informed decisions to achieve better results.
Learn More: How to Get Started with Facebook Ads [podcast]
Conversion
Whether your efforts are worthwhile depends heavily on your conversion rate. After all, the number of people who decide to convert is a true reflection of your Facebook marketing success.
By creating a Facebook Pixel and adding it to the pages of your website, you will be able to see the exact conversation rate. Pixel will continue to monitor the user's behavior and their actions after clicking on your ad. This will allow you to see which device they used when they decided to convert.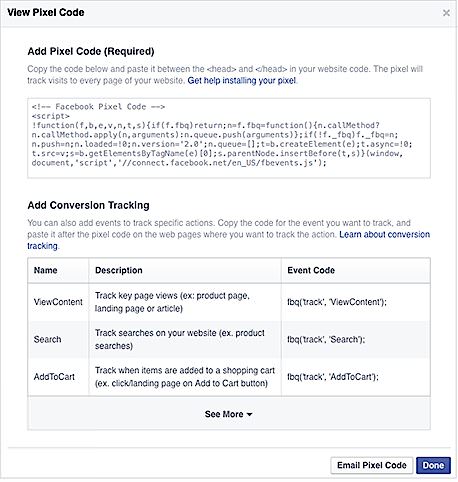 Conclusion
If you are an absolute beginner and just learning the ropes of running a successful Facebook ads campaign, it's easy to become overwhelmed by all the techniques available.
Naturally, becoming a marketing specialist who knows exactly what work and what is completely ineffective doesn't happen overnight. Like most things in life, running a marketing campaign is a never-ending learning process that every ambitious marketer has to go through to eventually triumph and achieve remarkable results.
But the first stage to becoming an expert is to take that first step. So try running an initial Facebook marketing campaign, learn and grow from it, and as you get better you can watch your business soar!