Could a Pinterest marketing agency be just what your brand needs?
Pinterest might not be the biggest social media platform on the web today, but it still has significant value. There are 431 million monthly Pinterest users worldwide, and many of them are actively looking for new products to buy.
Unfortunately, many brands simply don't understand the advantage of Pinterest, or don't know how to use it properly. Read on to find a curated list of top Pinterest advertising agency picks that can help you grow your brand.
---
---
Top 5 Pinterest Marketing Agencies
The good news is there are plenty of social media marketing and digital advertising companies offering Pinterest promotional services. Unfortunately, this also means making the right choice can be confusing. Here are some of our top picks to get you started.
Specializes In: Social media marketing, inbound marketing
Top Clients: Amazon, Lyft, Airbnb
Pricing: Custom based on your requirements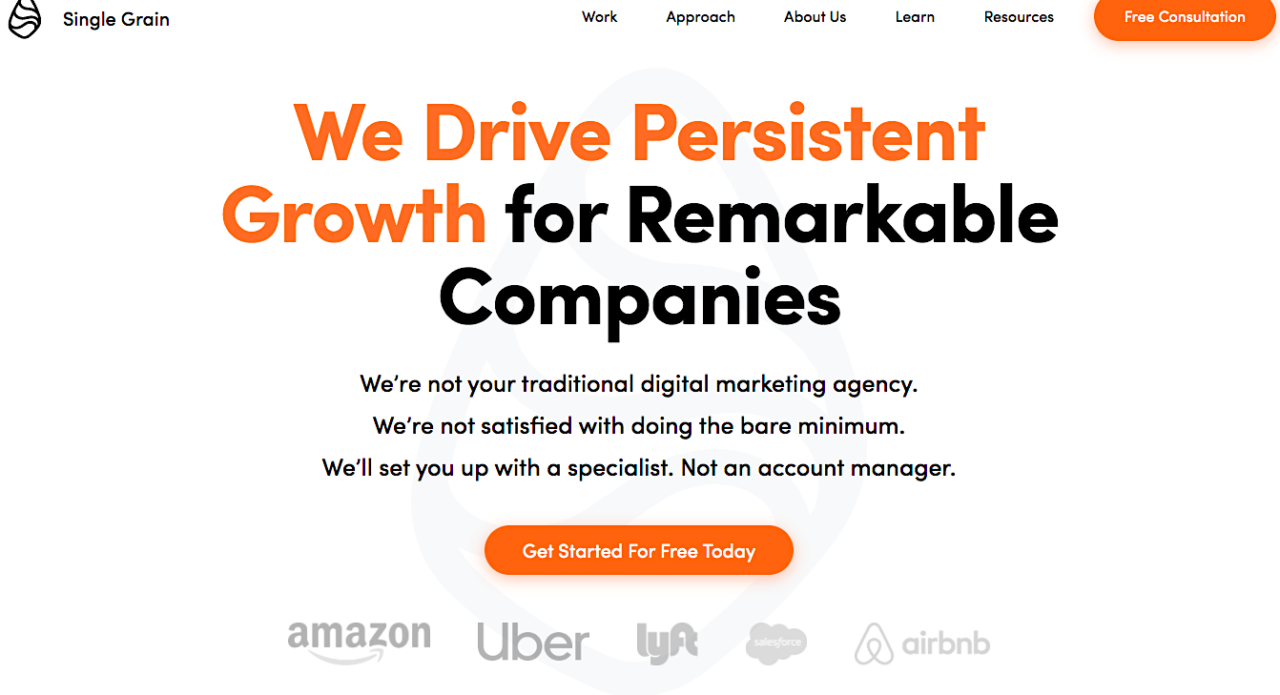 One of the most comprehensive digital marketing companies on the market today, Single Grain takes the meaning of "full service" to the next level. This innovative digital marketing agency can help with everything from training your team in marketing skills to managing your campaigns on your behalf. What's more, every client gets a specialist dedicated to their campaign.
With Single Grain, you get a fully personalized approach to marketing, built to suit your needs and goals. They can help you make an impact on Pinterest, then show you how to grow your presence across other leading social media channels.
This agency can also help with supplementary marketing strategies for your social media efforts. For instance, they have plenty of experts in content creation to help you with designing blogs and infographics to share online. As an added bonus, you can always rest assured that the company will keep you up to date with reports, analytics and insights.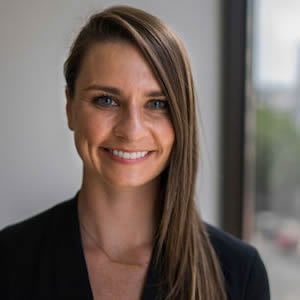 Jacqueline Foster
Demand Generation Marketing, Lever.co
We can count on them to bring new ideas to the table consistently
Check out Single Grain Paid Media Director Sabina Pannu's short video on how to get started with Pinterest advertising:
2) Voy Media
Specializes In: Social media marketing, growth marketing
Top Clients: Mint, Google, Intuit
Pricing: Custom based on your requirements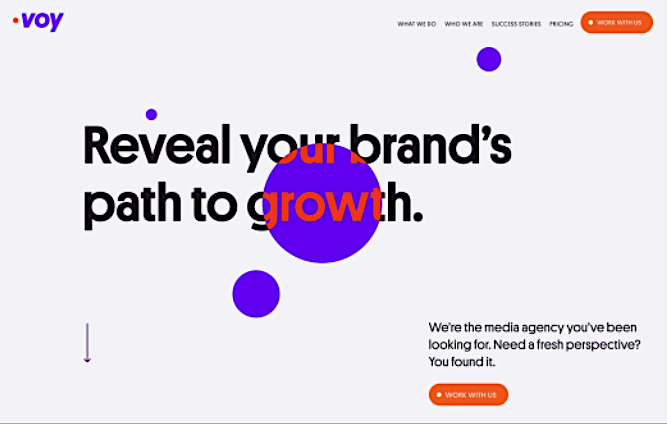 Best known for its impact in the Facebook marketing arena, Voy Media can also offer assistance with a wide range of other social media advertising strategies. The company is a performance-based agency focusing on full-service promotion across every digital channel. This means you can work with them on everything from Pinterest to Instagram to blogging.
Voy Media specializes in growth marketing, which means they're excellent for companies looking to take their impact online to the next level. What's more, the agency is fully committed to giving every company a bespoke experience. You can rest assured they'll work with you to determine what kind of marketing strategy you need before jumping in.
They know how to enhance ROI and take advantage of every asset your business has to ensure that you make the right impact online. The brand's incredible creativity and fantastic approach to customer service makes them a top pick.
Dive Deeper: How This E-commerce Store Doubled Its Revenue Using Our Facebook Ads Advice
3) Taktical Digital
Specializes In: Social media marketing, creative storytelling
Top Clients: Ellen, Barkbox, Ellen
Pricing: Custom based on your requirements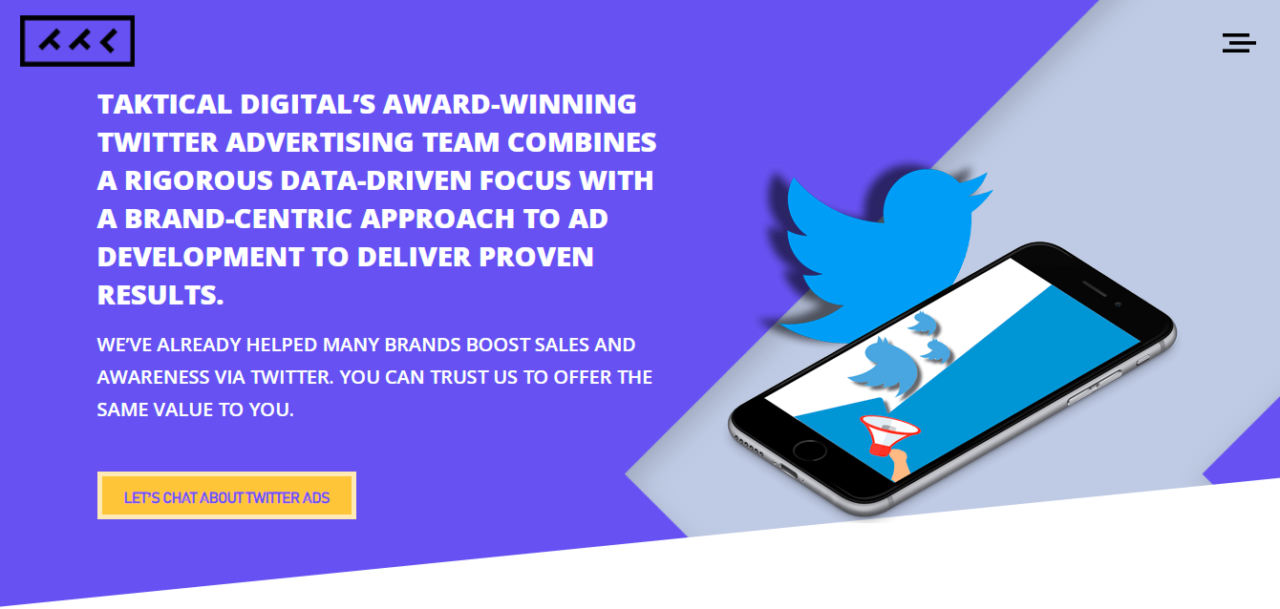 Taktical Digital are storytelling experts with a focus on cross-channel promotion. Rather than focusing exclusively on Pinterest, or any other marketing channel, the company helps you build the best possible presence for your brand across every platform that makes sense. Crucially, this also means working with your company to get a deeper understanding of your audience first.
The New York-based agency constantly stays on top of the latest trends in the marketing landscape, ensuring that you never fall behind the competition in terms of cutting-edge campaigns. They can help with the creation of organic content for your Pinterest campaigns, and also offer fantastic support for any company taking advantage of media buying strategies.
If you're looking for an omnichannel approach to marketing which includes a strong focus on Pinterest, you can rest assured that Taktical will build the ideal marketing strategy around your goals. What's more, they're completely results-driven, with plenty of reports.
Dive Deeper: Omnichannel Marketing: Using the Content Sprout Method to Overcome Info Overload
4) The Good Marketer
Specializes In: Social media marketing, content marketing
Top Clients: Mental Health at Work, Tower Transit, TeachKloud
Pricing: Custom based on your requirements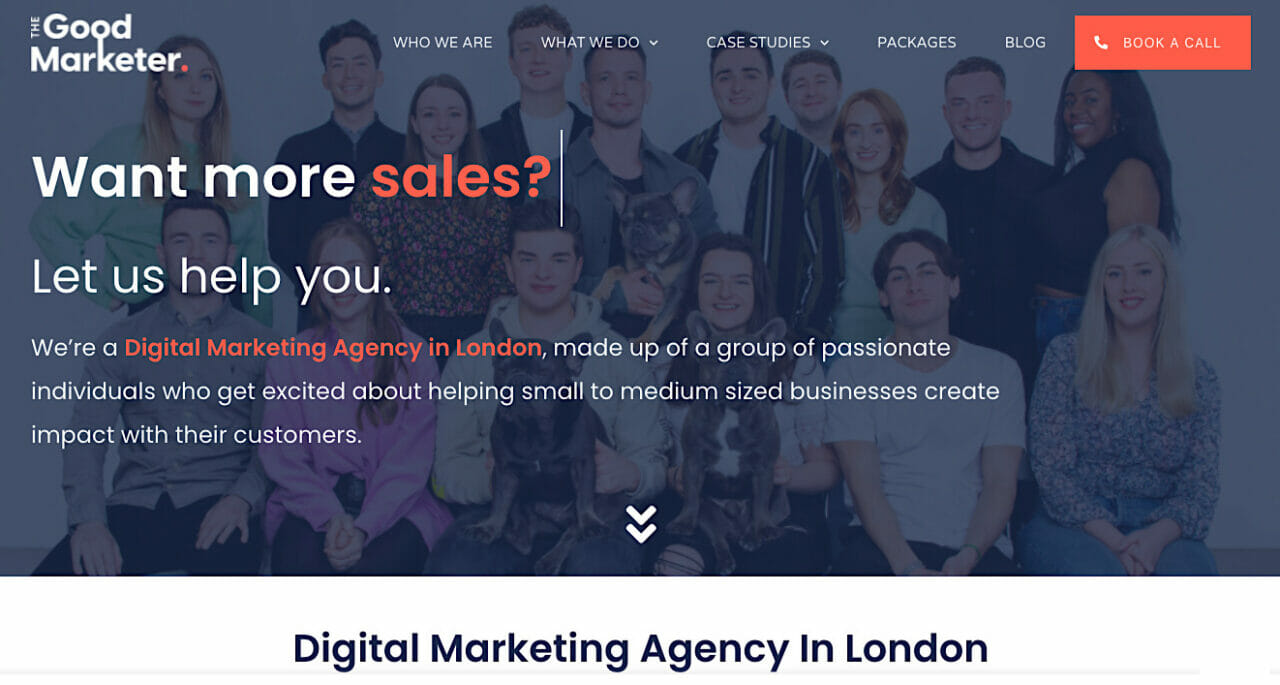 Based in England but offering social media marketing services to companies all over the world, The Good Marketer is one of the few companies offering fully dedicated and specialist Pinterest marketing services. You can access cross-channel social media marketing solutions from this company or focus all your attention entirely on Pinterest.
The company consists of an experienced team of marketing professionals, all with their own distinctive skills in specific platforms, including Pinterest. When you sign up for one of their affordable service packages, you'll get access to a fully customized experience. The company is completely client-focused and has a strong focus on reporting and analytics too.
If you're looking specifically for a company to help with your Pinterest marketing efforts, The Good Marketer could be exactly what you're looking for.
5) Ignite Social Media
Specializes In: Social media marketing, growth marketing
Top Clients: Lowes, Lenovo, Verizon
Pricing: Custom based on your requirements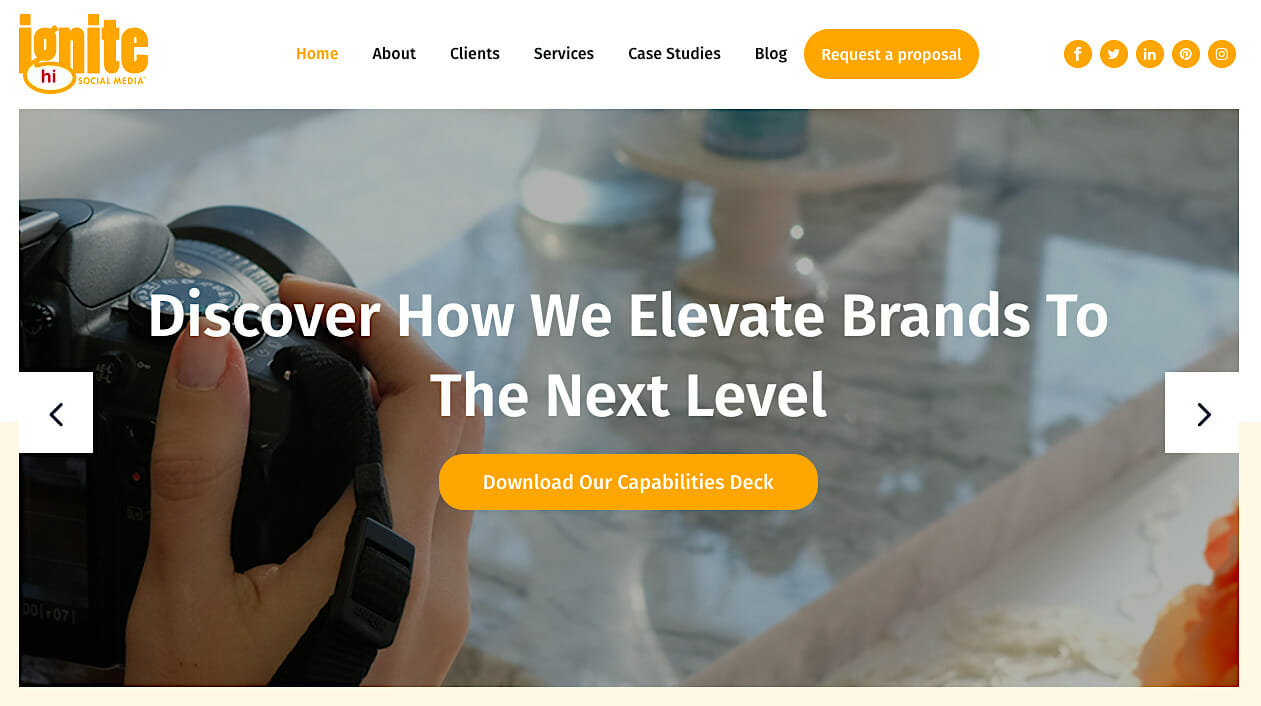 One of the older social media marketing companies on our list, but still among the best, Ignite Social Media has countless great services to offer. The company, founded in 2007, has worked with endless high-quality brands over the years to help them build their presence across multiple social media platforms, including Pinterest.
Ignite stands out thanks to its focus on extensive strategic planning for every company. This agency can create a full roadmap for each business based on their individual needs, their target audience, and the kind of image they want to build online. They can even help with things like content creation and community engagement.
Ignite specializes mostly in cross-channel social media marketing, so it's likely to be a better option for you if you're hoping to reach your customers on a range of channels.
Dive Deeper: Why You Should Use Multiple Channels to Maximize Your Customer Acquisition
What Is a Pinterest Marketing Agency?
A Pinterest marketing agency is a specialist social media marketing company focused specifically on helping you get the most out of Pinterest. These companies generally work with brands that appeal to the kind of customers usually found on Pinterest, such as millennials, decision makers, female shoppers, and aesthetic enthusiasts.
Key reasons to use Pinterest:
Often used as a source of inspiration for shoppers in search of countless interior design, fashion and similar products, Pinterest can be an excellent place to generate attention for your brand. Used correctly, this environment can lead to more website traffic, better customer relationships, and increased sales.
As experts in all things Pinterest, these marketing agencies help you to stay on top of common trends as they emerge on this social platform, such as "Idea Pins" and video content. They'll also be able to support you in the creation of powerful visual content for your boards.
Pinterest agencies can sometimes offer support for Pinterest advertising as part of a comprehensive social media marketing strategy. This may involve creating cross-platform campaigns for your business which spread across Snapchat, Instagram, Pinterest, and Facebook.
While every Pinterest marketing agency is different, most will help with:
Conducting market research: Your Pinterest marketing agency will be able to help you understand your target audience and research your competitors for insights into what kind of content you should be sharing. An in-depth evaluation of your target market will make it easier to create a powerful content schedule.
Creating pin and board strategies: Top Pinterest marketing agencies know everything there is to know about using different kinds of boards and pins to engage with your audience. They'll help you to leverage all kinds of different content, from "Idea" pins to videos and infographics, in order to strengthen your position with your target audience.
Building organic and paid campaigns: Most social media marketing agencies will help you to create both content for your organic Pinterest campaigns and full ad strategies for any paid campaigns. They'll show you what your options are for boosting awareness and increasing conversions, and help you track advertising and search results.
Research keywords: Keywords can play an important part of making sure you stand out to the right audience on Pinterest. Your agency will help you understand how people are searching for specific pieces of information on their boards. They also help you to track the performance of specific keywords.
Managing profiles: Some Pinterest agencies will be able to manage all aspects of your Pinterest profile for you. This will include scheduling and promoting content, responding to comments from customers, and engaging with other people on the platform to build valuable partnerships.
Before working with a Pinterest marketing agency, make sure you take the time to find out exactly what kind of services they offer, and how much support they're willing to give with things like content creation and scheduling.
The Benefits of Hiring a Pinterest Marketing Agency
Pinterest has a lot of potential benefits for modern brands:
Pinterest ads are up to 2.3X cheaper per conversion than other social media ads.
45% of people in the U.S. with a household income over $100,000 per year use Pinterest on a regular basis.
Unfortunately, many companies don't know how to use Pinterest effectively. The platform is very different from other social media channels and can be difficult to navigate on your own. Working with a Pinterest marketing agency gives you a level of expertise you can use to get the most out of every campaign.
Benefits of working with a Pinterest marketing agency include:
Stay on top of the latest trends: Pinterest, like most social media platforms, is constantly rolling out new features to support its users, and new trends are emerging all the time. Lately, we've seen a rise in things like live video and Idea pins on Pinterest, for instance. Your advertising agency will help you take full advantage of Pinterest trends when they emerge so you can stay "top of mind" for your target audience.
Expert guidance: As mentioned above, Pinterest agencies have excellent insight into how the platform works and what they need to do to take full advantage of it. Most of these agencies will be able to provide extremely valuable guidance on what kind of pins and boards you should be using, how you should be engaging with your customers, and what kind of content you need to produce.
Better social media ROI: Pinterest ad agencies can help you better understand your target audience and create campaigns that help you to reach the right people. They'll be able to refine your ad campaigns to ensure that you stand out from the competition, while still making the right impression on potential prospects. The result should be a better return on investment from your campaigns.
Time savings: With a dedicated Pinterest promotional agency focusing on your social media strategy for you, you'll have more time to concentrate on other parts of growing your business. This can be extremely valuable for business leaders trying to grow at speed. You can even have your agency focus on Pinterest while you work on another aspect of social media marketing.
Support with content creation: To have an excellent Pinterest strategy, you need to constantly produce significant amounts of high-quality content. Not every company will have the required graphic artists and specialists on board to create a consistent level of content. With a Pinterest agency, you can get more help producing the kind of campaigns that make a real impact.
Dive Deeper: Is Pinterest Still a Good Platform to Advertise On in 2023?
How to Choose a Pinterest Marketing Agency
For most companies, the biggest decision to make when choosing a Pinterest marketing agency will be whether you want to work with a full-service brand or a specialist. A full-service social media marketing firm can help with multiple channels at once, while a specialist focuses specifically on Pinterest.
Once you know which direction you're going to go with your social media advertising, here are some important factors to look for when selecting an agency.
Visual Marketing and Graphic Design Skills
Pinterest is a highly visual platform, although there are occasionally opportunities to share written content here, too. If you want to stand out on Pinterest, you're going to need a marketing agency with an excellent mastery of visual presentation and graphic design: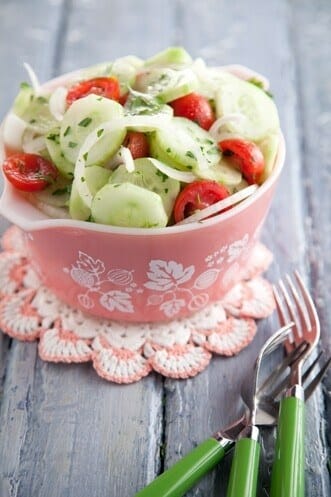 Ideally, your agency will have the skills required to help you create everything from unique images for your campaigns to stunning infographics and videos. It's worth making sure your agency has all the skills you need before you sign a contract.
Ongoing Training and Awareness of Trends
Pinterest, like most social media platforms, is constantly growing and evolving. As such, if your agency is going to stay ahead of the curve, they need to be committed to constantly upgrading their training and learning new skills. Look for an agency who can show you a full commitment to staying ahead of the trends in the Pinterest landscape.
Aside from staying on top of trends, your agency should also have a good knowledge of the basics required for success on Pinterest, such as an understanding of SEO, and pin types.
Dive Deeper: 7 Social Media Marketing Trends You Can't Ignore in 2023
Focus on Research, Data and Goals
If you're investing in a Pinterest marketing agency, you want to see clear evidence that their work is getting results. A good agency should be able to sit down with you, discuss specific goals, and set KPIs for tracking your progress over time.
Look for an agency dedicated to performing extensive research into your target audience, the latest trending pin options, and other metrics. It's also worth trying to find a Pinterest marketing agency with a strong commitment to transparency with your campaign. They should be able to provide constant insights into your progress with regular reports and dashboards.
Excellent Communication and Experience
Good communication is important when working with any advertising company. You're investing money in a business that is promising you excellent results. It's difficult to know whether you're getting what you're promised without regular communication.
Make sure you're able to contact the team you work with about any questions you might have. If possible, look for an agency that shows its expertise constantly by sharing information with you about why they're using certain campaigns and how they're going to leverage specific strategies.
An agency with significant experience and good communication skills will make it easier for you to understand your own Pinterest marketing efforts.
Dive Deeper:
* Overlooked SEO: Optimizing Images and Video for Search
* 7 Tips to Improve Your Social Media Videos in 2023
* Best Lead Generation Tactics for Content, Email & Social Media Marketing

Ready to Hire the Right Pinterest Marketing Agency?
Pinterest could be one of the most valuable tools in your social media marketing arsenal, if you know how to use it to your advantage. With the support of a Pinterest marketing agency, you can easily take your campaigns to the next level and strengthen your connection with your target audience.
Remember, take your time to find an agency that truly understands Pinterest and can provide you with a customized level of support based on your needs and your target audience.
Schedule your FREE consultation with Single Grain's Pinterest marketing experts to discuss your needs.  👇