If you are looking to diversify your e-commerce marketing budget with YouTube, we've got great news for you.
First, after spending $11,000 advertising on YouTube, we can attest that it's a great idea to develop a following and generate traffic for any type of business, including an e-commerce store.
Second, YouTube offers several different advertising types you can use to fulfill every goal on your marketing plan. Whether you want to grow your YouTube channel, get more people to your store or increase your sales, YouTube Ads is a great option.
Do you want to know what those ad types are and how to use them? Here's how to pick the right YouTube ad types for your e-commerce business.
Why Should You Use YouTube Ads?
In short, for e-commerce businesses that use video marketing, advertising on YouTube is a great idea. Just look at the following stats: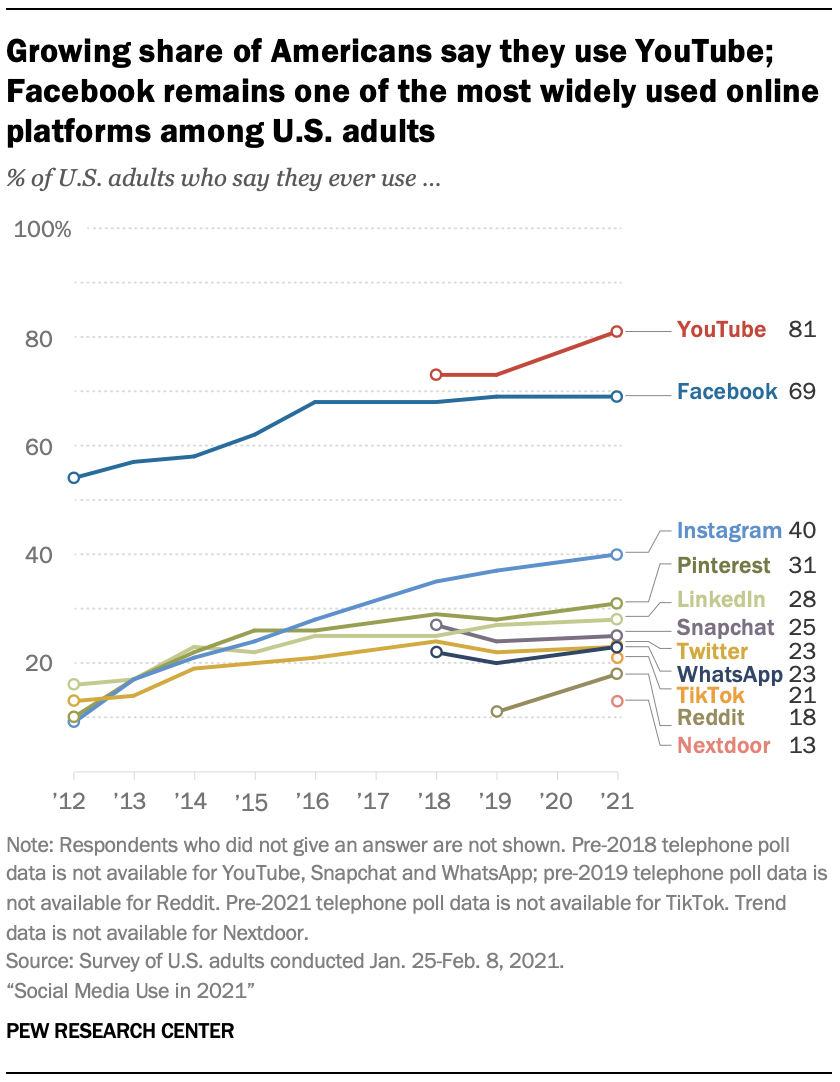 YouTube's average conversion rate is 14%, 40% more than on Facebook, and many times over compared with every other social media platform: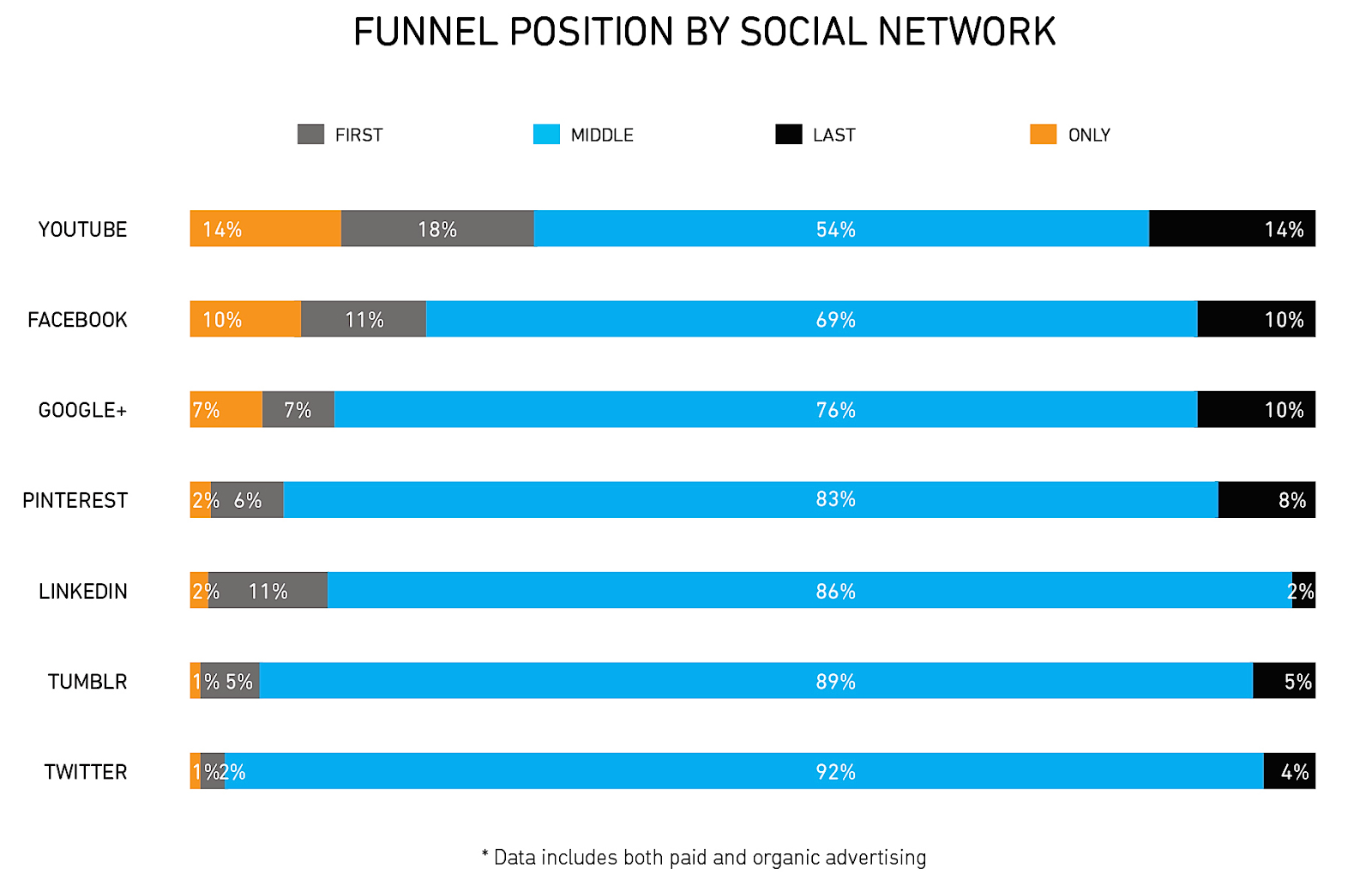 As for YouTube ad costs, we need to look at pre- and post-COVID-19 data. According to AdStage, during the pandemic the average CPC dropped to $0.49 (in 2019, the average CPC stayed between $2 and $3):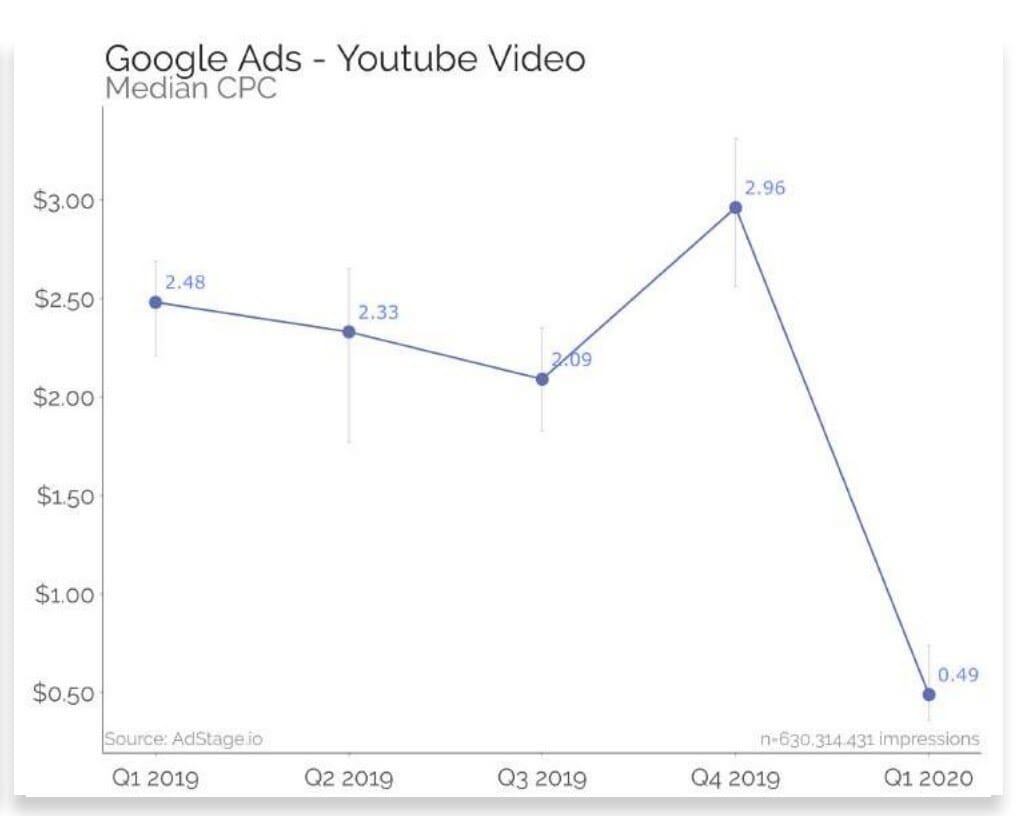 Likewise, the average CPM dropped to $3.53, while the pre-COVID-19 data shows they stayed between $7.50 and $9.60: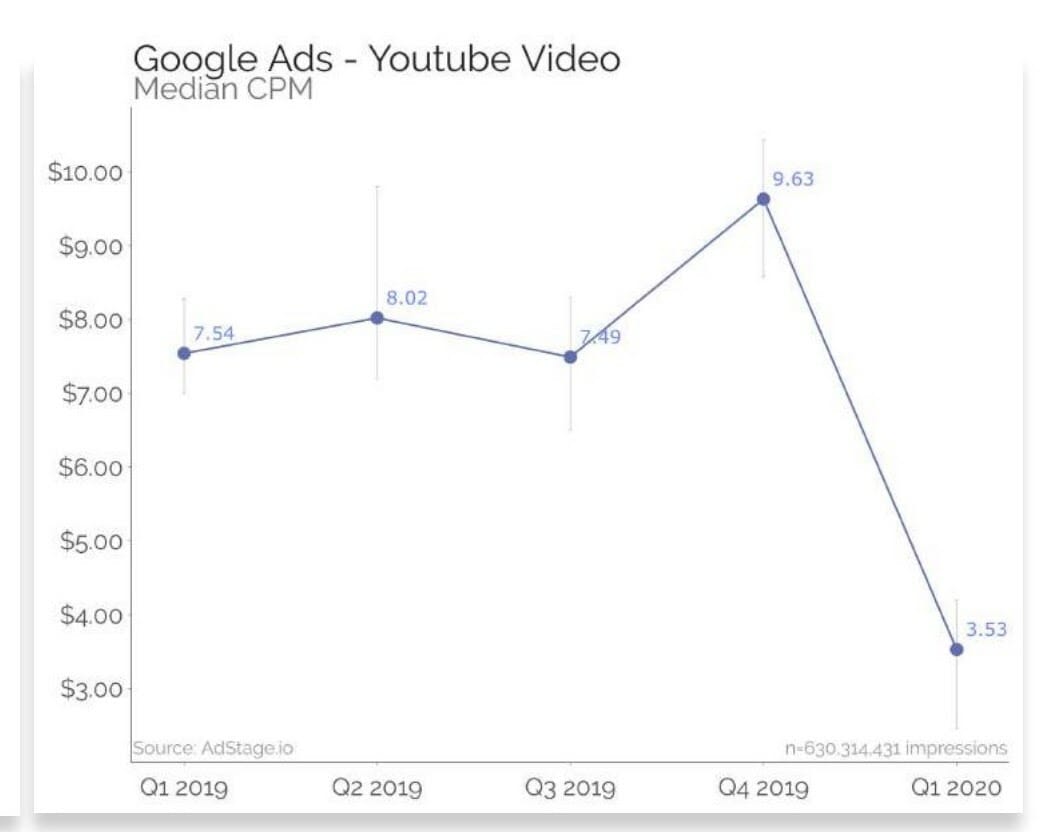 This data is focused on the U.S. and averages all the different industries, devices, age groups and genders. Since you probably sell to one specific target audience and outside the U.S. as well, these costs will likely be lower for you, especially if you know how to run a YouTube ads campaign.
YouTube offers highly detailed targeting options that allow you to laser focus your ads to your target audience, including:
Demographic groups: Target by age, gender, parental status or household income.
Detailed demographics: Target based on broad, shared traits, such as college students, homeowners or new parents.
Affinity: Target people whom Google considers most likely to watch and click on your ads.
Life events: Target users based on life events, such as moving, getting married or having a child.
In-market: Target those who are currently searching for products or services that you offer.
Customer Match: Leverage first-party online and offline data to reach customers who have shown interest in your company in the past.
Similar audiences: Create an audience similar to your Customer Match segments and who are most likely to take action.
Topics: Target specific topics on YouTube and the Google Display Network.
Keywords: Some video ad formats allow you to target keywords related to a YouTube video, YouTube channel or type of website.
Placements: Target channels, videos, apps, websites or placements within third-party websites.
Dive Deeper: 
* A Step-by-Step Checklist For a Successful YouTube Ad Campaign 
* The Ultimate Guide to YouTube Advertising in 2021
* A YouTube Video Marketing Guide to Increase Prospects in Your Funnel 

What Are the Different Types of YouTube Ads?
Now that we know how lucrative YouTube ads can be, let's take a look at the eight types of YouTube ads.
1) Skippable In-Stream Video Ads
Skippable in-stream ads appear before, during and after a video is played (hence the name "in-stream"). Even though they last up to three minutes, viewers can click an in-stream button and skip the ad after five seconds. These ads show up on every device: desktop web browsers, mobile devices, TV, and game consoles.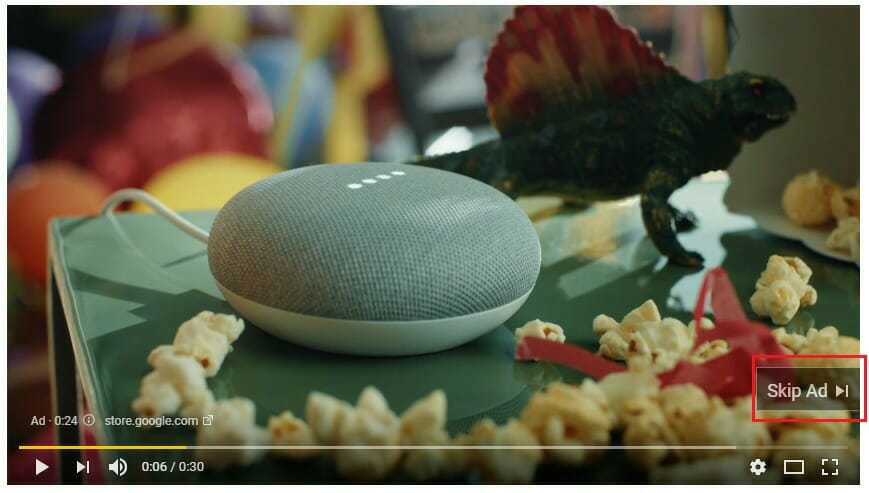 Google recommends using skippable ads in:
the top of the funnel (awareness)
the middle of the funnel (consideration)
However, you can also use them to generate sales with a video action campaign.
When targeting cold audiences at the top of the funnel, Google recommends targeting based on demographic or affinity-based data or through the use of custom audiences. In such a campaign, you will bid based on a Target cost-per-thousand impressions (tCPM) basis. That means Google will get you as many impressions as possible, based on your target bid.
In a consideration campaign, you bid based on a cost-per-view (CPV) model. That means you will pay only when a viewer watches 30 seconds of your video (or the full duration of the video if it's shorter than 30 seconds) or interacts with your video, whichever comes first. Google doesn't consider a user clicking on the "Skip Ad" button as an interaction; it counts actions like clicking on a call-to-action overlay, card or companion banner.
For the middle-of-the-funnel campaigns, Google recommends using custom audiences as well as in-market and life events, which are more targeted than the ones used in a top-of-the-funnel campaign: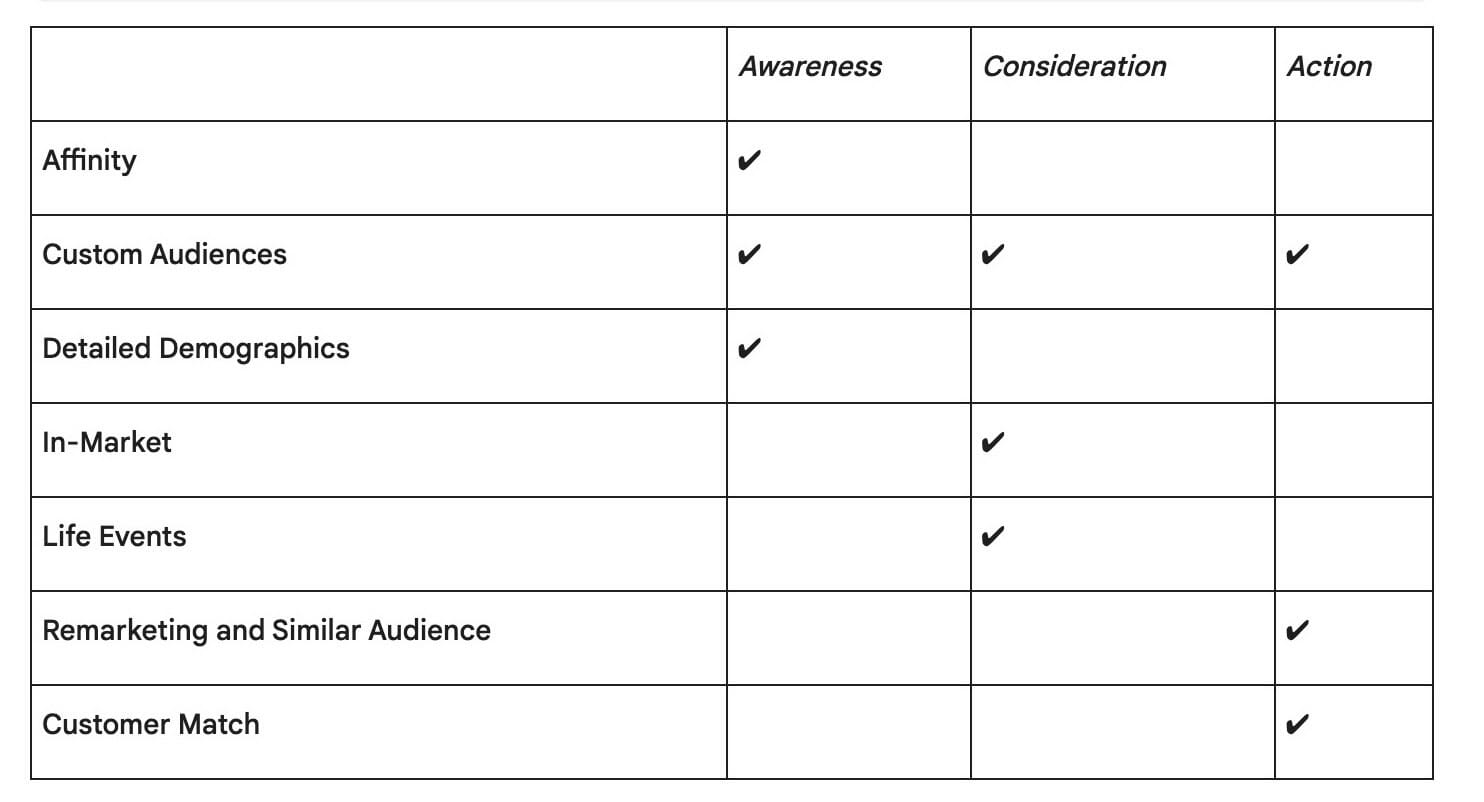 Unlike non-skippable ads, which you will see in the next subsection, skippable ads are cheaper and less intrusive.
Try skippable ads if you haven't used any YouTube ads before and you want to test the waters before scaling your budget.
Dive Deeper: 
* How to Make a Video That People Will Watch Til the End 
* The Types of Videos to Use at Each Stage of the Marketing Funnel
* How to Create a Powerful Marketing Funnel Step-by-Step 

2) Non-Skippable In-Stream Video Ads
Non-skippable video ads appear before, during or after a video and can last up to 20 seconds in length. You can only target desktop and mobile users.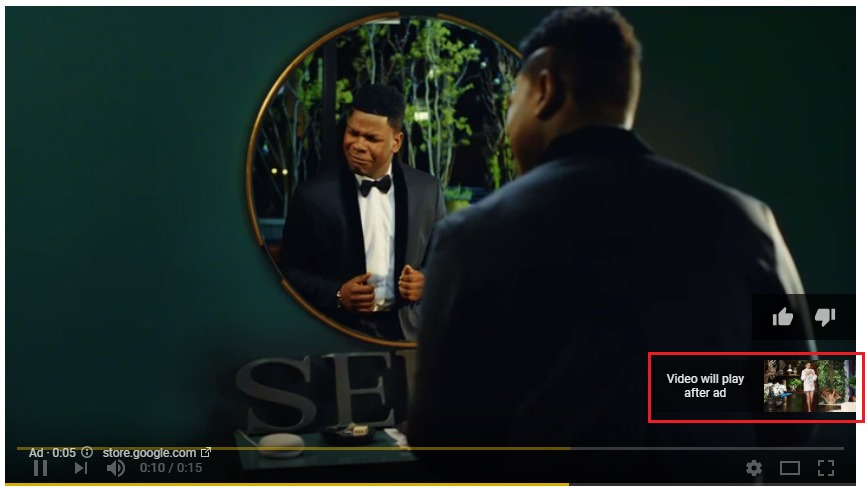 Non-skippable in-stream video ads are ideal at the top of the funnel.
Since viewers are forced to watch the full 20 seconds (four times as much as the minimum time in a skippable video ad), you have more time to talk about your brand or products.
You optimize your bids based on your tCPM, and you use the same audience as explained for the skippable video ads.
3) Bumper Ads
Bumper video ads are non-skippable ads that show up before, during or after a video and last up to six seconds. They are available for desktop and mobile users.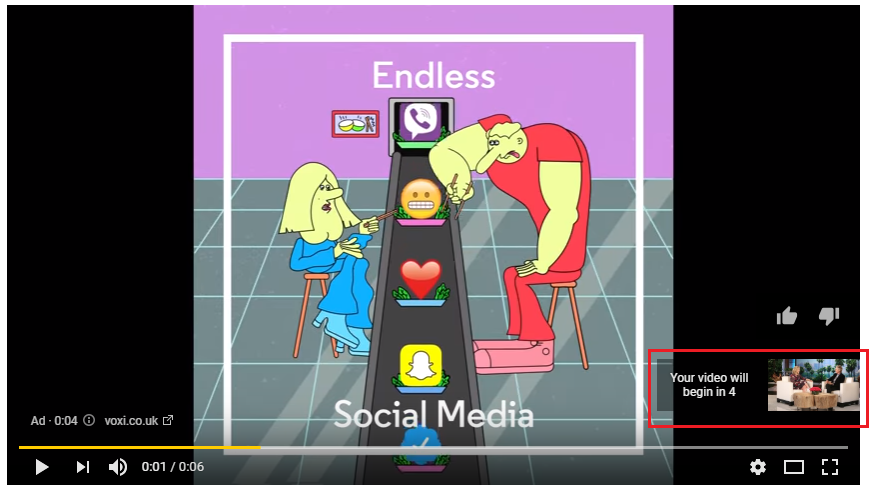 Bumper ads take the best of the previous two ad types, as they are short and can't be skipped. The ads feature a countdown timer that shows viewers how long the ad will last. Since they are short, viewers have no time to turn their attention to something else.
Advertisers who use bumper ads must create a video that has a strong impact on its viewers. To understand this idea, here's how Google puts it: broken link
"While bumper ads are short on time, they're long on impact. We tested over 300 bumper campaigns this year and found that 9 out of 10 drove a significant lift in ad recall."
Use bumper ads when you want to reach as many people as possible with a short, memorable message.
Since bumper ads use tCPM bidding, they are ideal for top-of-the-funnel campaigns aimed at brand awareness and reach.
Dive Deeper: Why YouTube Advertising Is Low-Hanging Fruit for Marketers 🍒
4) Discovery Ads
YouTube discovery ads appear on the search results page alongside related videos or on the mobile homepage. The ads consist of a thumbnail image from your video with three lines of surrounding text. Although the exact size and appearance of the ad depending on where it appears, the ad plays on the YouTube watch page or channel home page: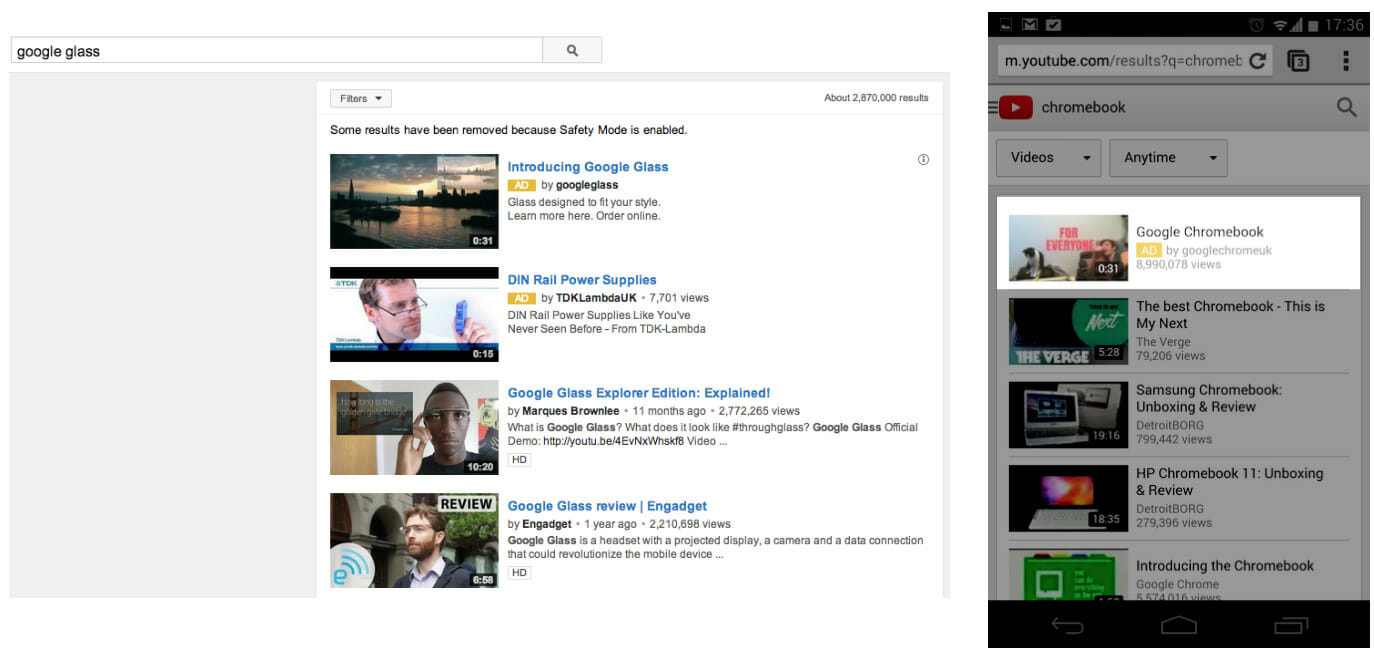 In a sense, discovery ads are similar to the Google search ads, as they appear in between search results and feature an "Ads" tag that distinguishes them from organic results.
Google charges advertisers based on a CPV-based model, making discovery ads ideal for the middle of the funnel: think tutorials, product reviews, comparisons, and the like.
5) Masthead Ads
YouTube Masthead ads appear at the top of the home page and automatically play a muted video for up to 30 seconds.

A Masthead ad appears in a widescreen (16:9 aspect ratio) format and shows an information panel to the right, which you can use to show up to two related videos from your channel. To hear the audio, viewers must unmute it by clicking the sound icon. After the autoplay finishes, the masthead defaults to the video thumbnail. When people click on the video or thumbnail, they are taken to the YouTube video watch page.
Masthead ads can only be accessed on a reservation basis through a Google sales representative. Google charges on a CPM basis, which you negotiate based on your budget and campaign impression goals.
Companies use Masthead ads to drive awareness for a new product or service in a short period.
For most e-commerce marketers, Masthead ads will be out of their reach due to their high costs.
6) Outstream Ads
Outstream ads show muted videos on Google video partner sites and are only available for mobile devices:
Outstream ads are ideal for expanding the reach of an ad to mobile users at a relatively low cost. Google charges on a viewable CPM (called "vCPM"), which means you'll only be charged when someone sees your video play for at least two seconds.
According to Google: "Outstream video ads delivered strong results for our global brand campaign: 30% incremental reach with a 40% lower cost per completed video view and 85% lower CPM."
If you have found positive results from mobile advertising and you want to extend your audience size, outstream ads are a good option to consider.
Dive Deeper:
* 22 Alternative Ad Networks for Best PPC Conversions in 2021
* How to Scale Your E-commerce Traffic Acquisition with Native Advertising

7) Display Ads
Display ads appear to the right of your videos and above the video suggestions list. They are only available for desktop and laptop users and come in different sizes and formats, such as images and animations: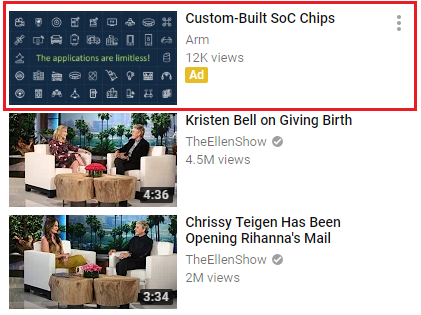 Although sound is supported, display ads don't allow autoplay sound to keep them from interfering with the watch page. Sound is available only when a viewer clicks on the thumbnail.
Display ads are ideal for e-commerce marketers without a budget for video or experience with traditional text-based and/or display ads.
8) Overlay Ads
Overlay ads show semi-transparent banners that appear on the lower 20% portion of a video. These ads can be either text- or video-based and show up after the video starts playing. They are only available for desktop and laptop users.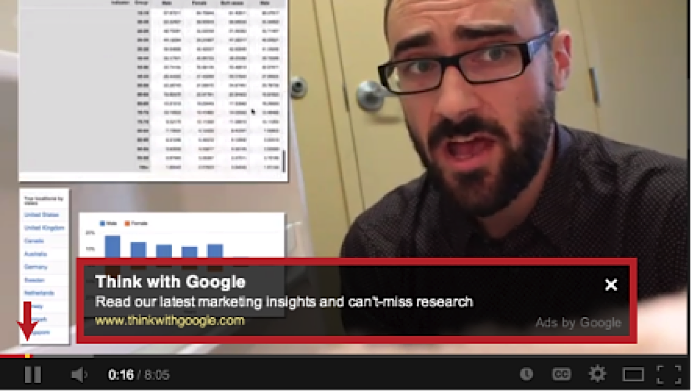 Overlay ads are not as intrusive as most of the other ads as they don't interrupt the watching experience. In fact, users can close the ad at any time by clicking a button in the top-right corner of the banner. What's more, they don't require the creation of a video ad.
For budget-conscious marketers, overlay ads are an interesting option to try, especially when paired with a proven landing page.
🎧  Listen To: Master of YouTube Tim Schmoyer Spills His Secrets to Growing a Channel to 60M Views in Just 9 Months 🎧
How to Select the Right YouTube Ad Types for Your E-commerce Store
With so many YouTube ad types available, you will surely have a hard time deciding on the best one for your e-commerce business. To help you out, here are the two aspects you should consider:
Consider Your Goal
You want your ads to help you hit your goals, whether that's getting more followers, visitors or conversions. Google allows for several types of goals in their campaign creation. Three that interest us in promoting an e-commerce store are:
Sales: Generate sales for your products. Google optimizes your campaign based on your Target CPA bid, a Smart Bidding strategy that sets bids for you to get as many conversions as possible.
✅ This goal is useful when using custom audiences and similar audiences.
Product and brand consideration: Promote relevant products to get viewers to learn about those products and then shop on your website. Google optimizes based on your Maximum CPV, a bidding strategy focused on getting as many viewers as possible.
✅ This goal is ideal when you want to promote a new product or a product with high-profit margins.
Brand awareness and reach: Get the most bang for your budget by reaching more users (e.g., bumper ads, skippable in-stream ads, etc.) or by reaching users with a full message (using non-skippable in-stream ads). Google optimizes based on your Target CPM, which gets you as many impressions as possible.
✅ This goal is ideal for targeting cold audiences with broad messages that lead to landing pages (non-product pages) or proven product pages.
Consider Your Budget
When considering your ad type, you need to think about the budget you are willing to invest. To start, you need to spend money on creating the video. Then you have your bidding costs, which vary greatly.
For low budgets, non-video ads like overlay and display are better as they don't require creating any video.
On the other extreme, masthead ads are the most expensive but have the highest reach of all.
Your marketing budget and your experience also determine your budget. If you have little experience with YouTube advertising or paid advertising in general, you should start with a low budget option to learn the ropes first. Otherwise, consider outsourcing your campaign creation and management to an agency.
🎉 More blog posts on ads: 🎉
* Beginner's Guide to Virtual Reality Ads
* Hulu Advertising 101: A Guide to Running Streaming TV Ads
* Spotify Ads 101: How to Run Successful Audio and Video Ads

Last Word on YouTube Ad Types
The eight YouTube ad types shown here adapt to every goal you may have. Whether you want to get more followers, increase your traffic or get more sales, you have countless opportunities to grow your e-commerce business.
If your business already uses video but hasn't tried YouTube ads already, you need to start. Pick one of their ad types that best fit your goals, budget and capacity, and start running a campaign. You can start with as little as $10 a day to test and water and see the results for yourself. You are surely not going to regret it.
Hopefully you learned how to choose the right YouTube Ad type for your business! But if you just want an expert marketing agency to do it for you, click here.
---
YouTube Ads FAQs
What are the most effective types of YouTube ads?
In a recent survey among global marketing professionals, 29% indicated that skippable in-stream ads were the most effective type of YouTube ad. Display ads came second with 10%, and non-skippable ads came third with 7%.
In any case, an ad's effectiveness will depend on your campaign goals. As you saw previously, each YouTube ad type has different uses. When picking an ad type for your e-commerce business, make sure you analyze your goals before you decide on an ad type.
What ads should I use on YouTube?
It depends on your goals, budget and complexity. Roughly speaking, here are some ad suggestions for different goals:
For budget-conscious marketers, display and overlay ads are most likely the cheapest, as they don't require any video and work like a traditional display ad.
For product consideration, use discovery and bumper ads within a shopping campaign.
For the highest reach, use bumper and non-skippable ads. If budget isn't a problem, also use outstream and masthead ads.
For traffic, use non-skippable in-stream ads.
For sales, use discovery and skippable in-stream ads within a video action campaign.
How much does a YouTube ad cost?
Here's a rundown of the average YouTube ad costs:
The average YouTube ad CPV is $0.026.
The average YouTube ad CPM is $3.53.
The average YouTube ad CPC is $0.49.