As an e-commerce store owner, you are tasked with deciding where to devote your marketing dollars.
What if you already invest in an SEO strategy, but aren't generating the traffic and sales you need for your e-commerce site? The technical side of your website may be to blame. If you suspect this is the problem, you may need to conduct an e-commerce SEO audit.
In this post, you'll learn why an SEO audit is important, what's included in an SEO audit, and whether you should do this DIY or hire a professional.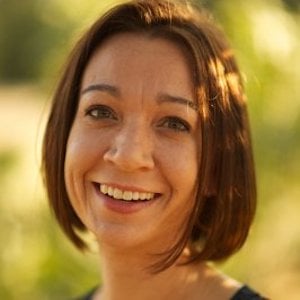 Kim Cooper
Director of Marketing, Amazon Alexa
Single Grain enables us to increase our impact without increasing our headcount
Why Is an E-commerce Site SEO Audit Important?
To understand why an e-commerce website audit is important, you must first understand how Google and other search engines rank websites.
Google has intricate bots that crawl websites. These bots pull data determining how a website ranks in the search results. While this popular search engine doesn't give away all its secrets, we know that they have a specific algorithm to determine how often they crawl websites, what factors they use to rank them, and how many pages they fetch from one website.
SEO professionals understand how to apply this information to optimize your website for better search performance, which is where an SEO audit comes in. The audit will cover any issues preventing Google from ranking your website or making it more difficult for bots to crawl: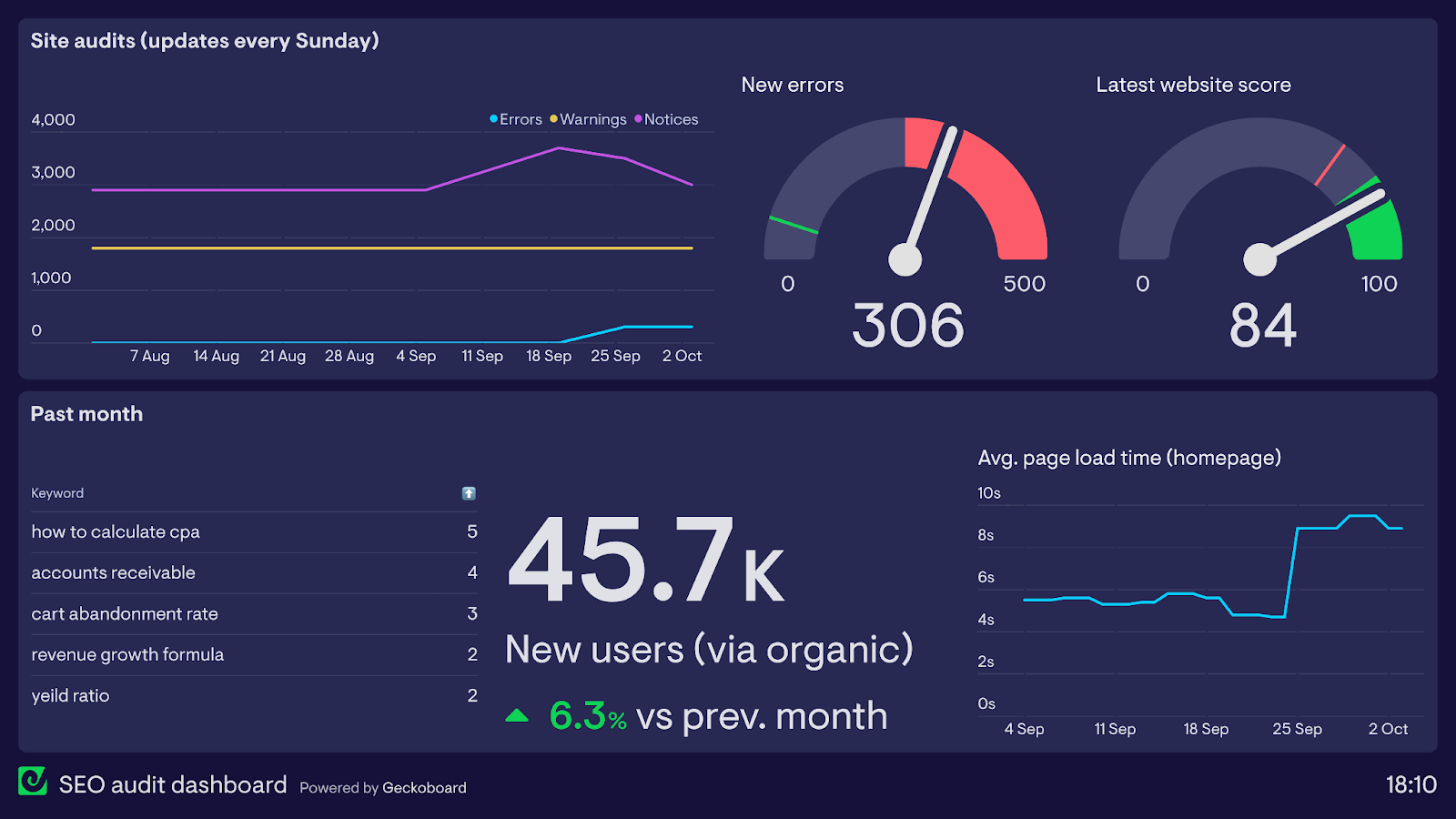 Once you finish conducting an SEO audit, the program will uncover the issues it found. From here, you can fix the problems, experience better search engine rankings, earn more traffic, and increase revenue.
44% of shopping experiences start with search results.
Since 89.3 billion people visit Google every month, store owners should put a search engine optimization (SEO) strategy at the forefront of their marketing efforts.
This includes not only investing in search engine marketing and advertising, but also ensuring that your website is optimized to leverage these efforts and increase conversions.
Dive Deeper: What Is the Difference Between SEM and SEO?
What Is Included in an E-commerce Website SEO Audit?
Comprehensive e-commerce SEO audits cover different categories, such as:
Keyword usage
On-page SEO elements
Backlinks
If you go through an SEO agency for the audit, they provide an e-commerce SEO audit checklist and perform a walk-through of the findings. Some companies offer an audit checklist online that you can download to conduct a DIY audit. However, these checklists are simplified versions of the complete audit process.
All e-commerce SEO audit services differ, but most will cover the following:
XML Sitemaps
Think of the XML sitemap as a road. Google will follow this sitemap as their guide, directing their bots to your different internal links and subdirectories. The first step of your SEO audit is knowing if your XML sitemap is compatible with Google bots: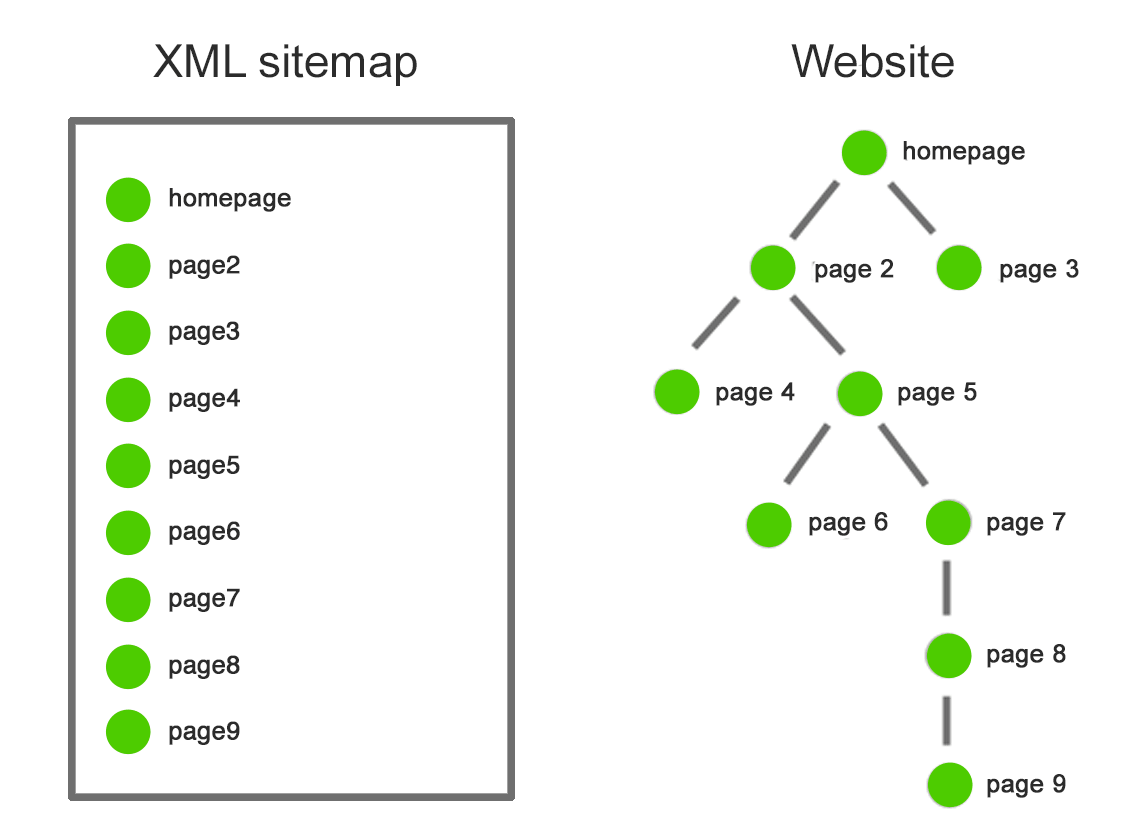 How do you know if your sitemap is compatible with Google bots? A comprehensive SEO audit will show if you have any "noindex" meta titles and tags, if the canonical versions of your URL are clean, and if your sitemap is automatically updated with new or deleted pages.
Dive Deeper: Beginner's Guide to Properly Using Rel Tags to Improve Your Site's Rankings
Response Codes
If you visit a website and see a number instead of a web page, this number is a response code. The server sends out these codes as a response to how they loaded the page: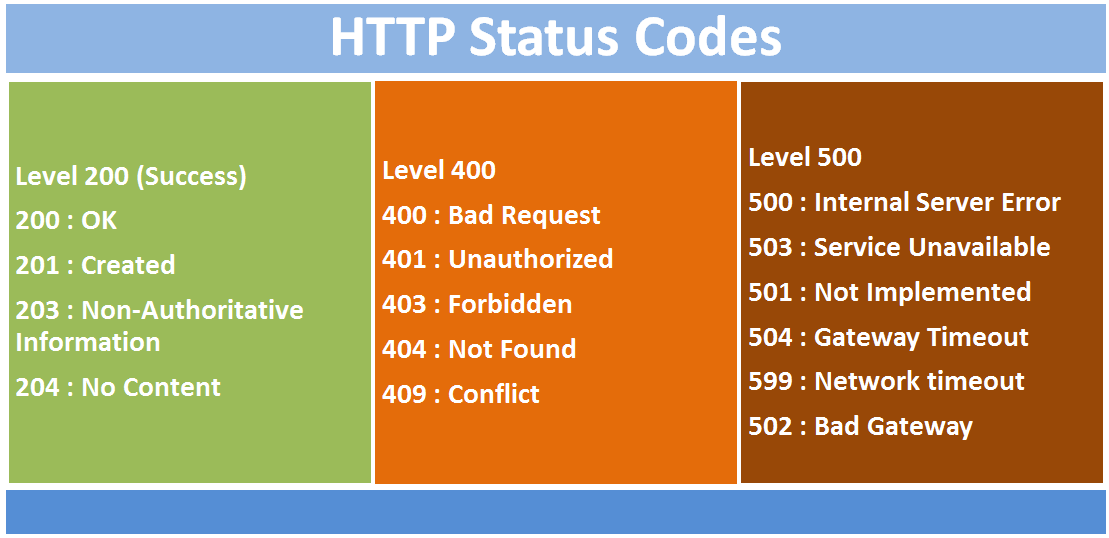 The most famous response code is 404, meaning the page doesn't exist or the server can't reach it. This is the main code you'll want to address to prevent negative SEO results.
404 isn't the only response code. Response codes vary from 100 to 500, each meaning different things. For example, a 200 response code means the server delivered the page successfully. A 301 code redirects users to other internal links after a 404 response.
During an audit, you will see the response codes of your web pages. Your SEO agency will tell you what they mean and how to solve any problems that need to be addressed.
Navigation
Website navigation is one of the most critical parts of an e-commerce website. You likely organized your products into category pages, even creating a parent category page that links to individual products.
To rank your website better, Google bots will crawl these pages to ensure that they can locate and navigate them easily.
The audit will disclose if there are any issues with your website navigation, including problems with mobile friendliness and lack of internal linking. It will also scan your content to uncover any of the on-page issues.
Dive Deeper: E-commerce SEO for Product Pages: 15-Point Checklist to Boost Traffic and Sales
Crawl Depth
Crawl depth is another website navigation aspect that will come up during an audit. This metric ensures that a user can access a page with one click. Links to other pages will often be hidden, decreasing your click-through rates (CTR). An SEO audit can find these hidden links so you can edit them onto the main part of your website and/or menu bar.
Broken Links
Broken links are any web pages that don't work. You could have broken links for various reasons, such as the web page no longer exists, you moved the page, the page can't be accessed or it's an invalid URL.
This can harm your SEO results in different ways, like negatively impacting a user's website time and bounce rate. When Google bots crawl your website, they may see broken links as a sign your website is outdated and old, so your rankings may decrease.
Your SEO audit will reveal any broken links and your next steps, which usually involve redirecting the user to a working web page.
Dive Deeper: The Easy Guide to Broken Link Building for SEO
Duplicate Content
A common problem that e-commerce companies make is duplicating content, which is when you use the same information on multiple web pages. E-commerce companies do this when they sell similar products and use the same product descriptions on all items.
However, this will cause Google to flag your website. This can hurt your rankings since Google wants your web pages to offer unique, helpful and valuable content. An SEO audit will reveal any cases of duplicate content so they can be addressed.
As an example, take a look at the following URLs:
http://example.com/article-on-veggies/
https://example.com/article-on-veggies/
https://www.example.com/article-on-veggies/
http://example.com/article-on-veggies/comments/
http://example.com/article-on-veggies/1/
As you can see, all the above pages have the same content, but different URLs.
By adding a canonical tag to these pages, you can easily inform search engines that all these pages are variations of a single, original page.
Continuing with our example, all the above pages (except whichever is the main page) should have the following canonical tag:
<link rel="canonical" href="https://example.com/article-on-veggies/" />
This tag tells Google that all the other pages are copies of the main page.
To prevent this problem, create unique content across all web pages, even if a couple of your products are similar.
Title Tags and Meta Descriptions
Meta tags are content that appears on the SERPs, such as the meta descriptions and title tags. They are one of the most popular impressions on your website and can dictate whether a user will click your website link: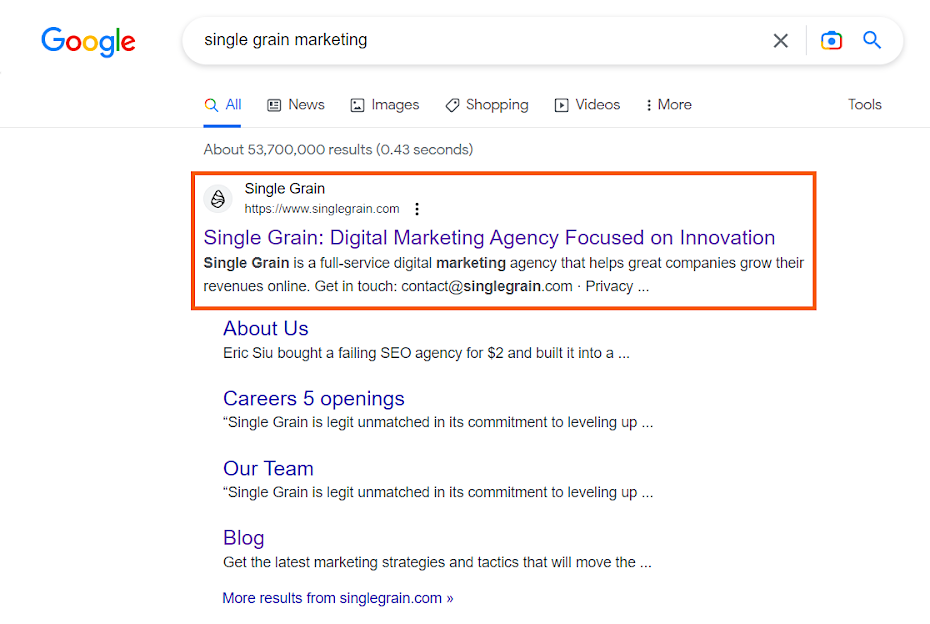 An SEO audit will reveal many details about your meta tags. This includes whether you stay within character limits or use relevant keywords. If your SEO tools or an agency find issues with your meta tags, you should revise them to fit Google's requirements and conduct the right keyword research to optimize them.
Dive Deeper: How to Write a Strong SEO Title Tag (with Formulas & Templates!)
Site Speed
While Google has removed "Page Experience," including website speed, from its stated search ranking systems, this doesn't mean that your website speed no longer impacts your search performance. Site speed continues to have a direct impact on the user experience of your website visitors.
Your customers are impatient and want to start shopping when your website loads. If your website's loading speed is too long, your customers may support a competitor. Longer website load speeds also cause other problems for e-commerce store owners, such as cart abandonment, higher bounce rates and fewer conversions.
The average page loads in 3.21 seconds, so your website should load within that time frame. If it doesn't, your SEO company will recommend changes to your website, such as compressing your images and fixing broken links.
Keep in mind the direct correlation between fast page load speed and conversion rate of that page:
Poor-Performing Content
An SEO audit will identify pages that don't have many impressions, sessions or page views. While this can be linked to multiple things, poor-performing content is one of the big reasons why some websites don't receive as much traffic.
Poor-performing content includes no or thin content, content that fails to deliver value to the reader/viewer, and any content that isn't detailed. These pages may also not have a clear CTA, unclear messaging, and the content you have may be incorrect or irrelevant. Google's algorithms won't be able to find any keywords or data to rank them on search engines.
The SEO audit will find a lack of written content for most of these pages. But since an online store is visual-heavy, you must also consider images and videos. If your SEO company finds poor-performing content, revitalize these pages with new product descriptions, keyword research, internal and external links, and images or video optimized for SEO.
What Isn't Included in an E-commerce SEO Audit?
A technical SEO audit covers everything you need to rank in search engines. However, it doesn't include everything needed in an e-commerce SEO strategy.
An e-commerce SEO audit won't include the following:
Recommended target keywords
Competitor research
Best practices (such as addressing digital accessibility)
Different auditing services, such as a separate keyword audit, competitor analysis and a Web Content Accessibility Guidelines (WCAG) audit, are what will target these areas: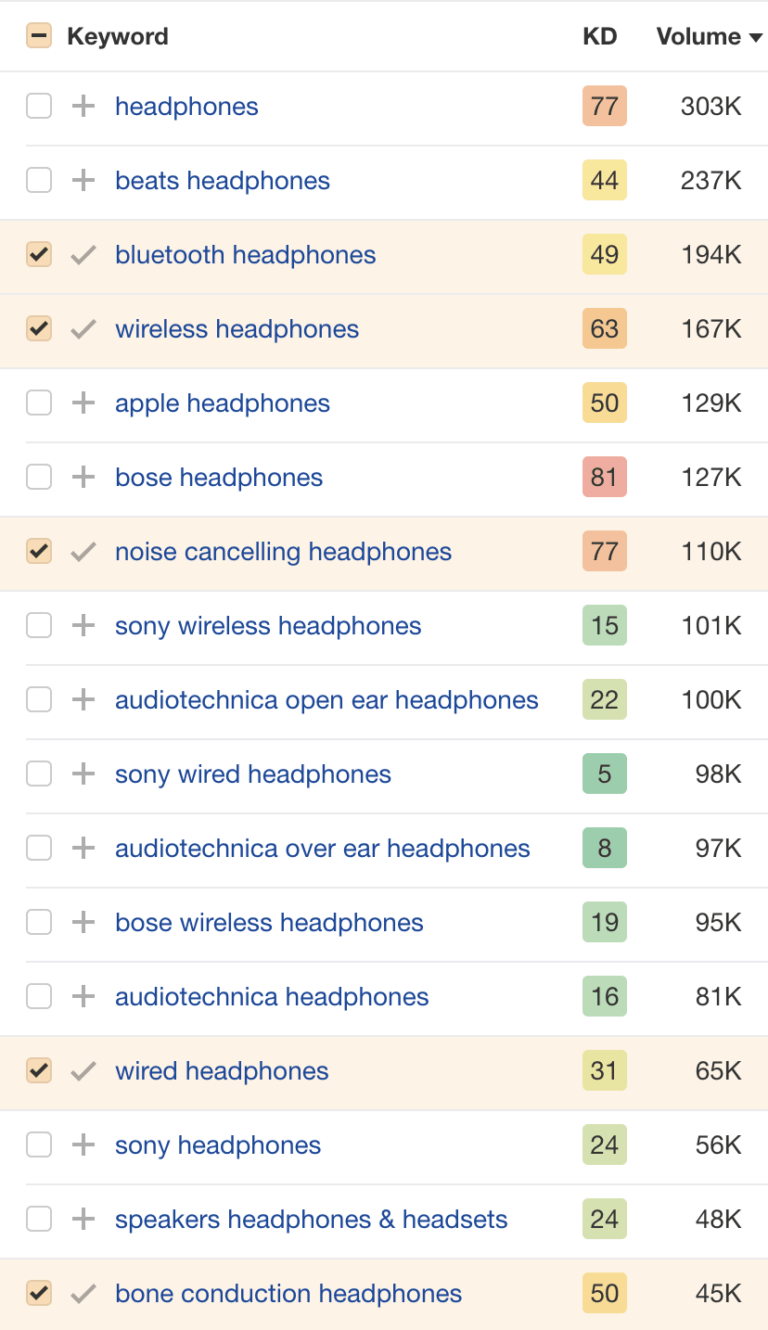 Dive Deeper: How to Do an Enterprise SEO Audit
Should You Hire E-commerce SEO Experts for an Audit?
When should you conduct a DIY SEO audit? Many tools on the market will provide this information without needing a professional. These tools are a better option for smaller stores, specifically ones that don't have as many categories and product pages.
A DIY audit is also an excellent option if you have enough technical SEO knowledge and can identify and fix problems yourself.
However, some sellers may be better off hiring a professional for their technical SEO audit. Even though there are SEO audit tools that sellers can use, the information they provide is complex, and it may be challenging to know what to do without any SEO or web development experience.
Plus, hiring a professional to conduct your SEO audit will be less overwhelming if you own a large e-commerce store filled with several categories, multiple pages and a large inventory.
Dive Deeper: How to Set Up Your E-commerce Product Page for Maximum Conversions
What Is the E-commerce SEO Audit Cost?
The cost of an SEO audit can also help you decide whether to hire a professional or use a DIY tool.
Most tools on the market are affordable, and you may even find a free e-commerce SEO audit platform. If you plan to conduct regular SEO audits, some of these tools offer a subscription service, so you can use them whenever you feel it's necessary. This makes DIY audit tools the best option for smaller e-commerce sites on a budget or wanting more control.
Audit tools generally come in three main types: content audit tools, technical audit tools, backlink audit tools. Some popular audit tools are:
Content audit tools:
Google Analytics
ContentKing
Technical audit tools:
Ahrefs Site Audit
Screaming Frog
Backlink audit tools:
Ahrefs Site Explorer
Nightwatch
Hiring a professional is the better option if you have a robust e-commerce store or don't have the time to conduct your own SEO audit. However, professional SEO auditing services can be expensive:
On the small end of the scale, an audit can cost $500 if you own a small e-commerce store.
But large stores with multiple product pages could pay as much as $30,000.
Most marketing agencies offer packages to help even the largest e-commerce store save money. These packages include other tactics, such as on-page content marketing, so your website always performs well in Google.
Dive Deeper: 10 SEO Audit Tools to Maximize Performance (Free & Paid)
How Often Should You Conduct an Audit for E-commerce Sites?
This depends on your store. Most websites should conduct an SEO audit once a year to better understand a website's SEO performance, specifically on metrics like organic traffic. You'll know how your pages are performing in search engines and whether your current marketing efforts are working.
At the same time, e-commerce stores have different needs than other websites. These companies run into busy seasons where they will see a sudden increase in organic search traffic, and it's best to know beforehand if a website can be expected to perform well on search engine results pages during that time.
In this case, conducting regular SEO audits will allow you to stay ahead of search engine bots, ensuring that you rank high on a search engine results page.
Conducting an SEO audit every six months should suffice if your store has one busy season, such as during the holidays. But if you own a busy store and attract lots of traffic throughout the year, you may need to conduct an SEO audit as much as four times a year.
Most SEO companies will include packages that regularly track your SEO results, specifically testing your backlinks, content, and technical aspects. This benefits e-commerce stores since the SEO company will monitor your website for any new issues and tweak your content for better search volume.
Dive Deeper: Best E-commerce Consulting Agency: Our Top 5 Picks for 2023
Last Word on E-commerce SEO Audits
An e-commerce SEO audit is necessary for all sellers as it will uncover any technical or content issues that prevent you from ranking in search engines and gaining organic traffic. But knowing if you should conduct an audit DIY or hire a professional can be difficult.
If you decide to hire a professional, a marketing agency will do more than audit e-commerce sites. They can handle all your SEO needs to rank in search engine results.
Most marketing companies offer powerful strategies, including content marketing, paid advertising, conversion rate optimization, and social media marketing, so your e-commerce business gains more visibility across all digital platforms.
Hopefully you learned what goes into an e-commerce SEO audit, but if you just want someone to do the work for you, Single Grain's e-commerce experts can help!👇