Think about the last time you landed on a page that said: "404: Page not found."
It's frustrating, right? You click the link expecting to consume a length piece of content. You're excited to dig into it only to find out that the page has since been removed.
It's a common problem that can happen for several reasons without site owners even realizing it, such as you've:
Changed from HTTP to HTTPS
Switched your URL structure
Deleted a page by accident
These changes could mean that the backlinks you've previously built could be broken — sending people to a 404 error page on your website. It's not all bad news, though. You can use your competitors' broken links to your advantage when it comes to SEO.
And it's pretty easy to do.
What Is Broken Link Building?
Broken link building does what it says on the tin: finds broken links on other, high-authority websites in your niche, and uses them to build links back to your own website — usually in the form of a replacement.
For example: Let's say the Single Grain blog linked to an article about meta titles. But when readers clicked that article, it sends them to a 404 error page. A broken link builder would create a blog post on their website around the same topic, then shoot an email to our editors to:
Inform them that their link is broken
Nudge the editor towards swapping the broken link for theirs
Broken link building differs from traditional link building in that you're creating content for demand — rather than hitting "publish" on a piece of content you think you can get links from.
And it works. Website owners don't want their blogs to be littered with 404 error pages because they're bad for user experience and essentially stop visitors in their tracks. Broken links are bad for SEO and result in reduced chances of a website ranking organically because Google wants their users to land on high-quality pages.
No website owner wants to lose organic traffic — which is why broken link building works so well — so they're more receptive to pitches that ask for a backlink if they're replacing broken ones.
Learn More:
Link Prospecting: How to Find Broken or Outdated Backlinks
If you want to build links by replacing broken ones on other websites, the first step is to create a list of publications you'd love to get a link from.
To do this, you could:
Survey your audience and find out which websites they read regularly
Search Google for popular blogs in your industry (e.g. "top marketing blogs")
Use tools like BuzzSumo or Social Animal to find websites that are writing about your topic:

For each blog post you find, analyze its SEO power using Ahrefs or Moz. Does it have a strong Domain Authority (or Rating)? Lots of referring domains? Rank for several keywords?
Let's take say you sell travel backpacks on your website. You might pick Open Stories' travel blog as a way to build links. But Ahrefs shows that their blog has a DR of 6 (on a scale of 1-100, with 100 being the best) and ranks for zero keywords. That's probably not the strongest website, SEO-wise.
Rough Guides, on the other hand, has a DR of 79, over 15,000 referring domains, and ranks for over 442,000 keywords:

It'd be much more valuable to get a link from this website than Open Stories — purely because it's already established some SEO power. Building a link from there would give your site a similar reputation.
Make a list of relevant websites you find that meet this criteria. Then install the Broken Link Checker Chrome extension and do a site search for a blog post you'd love to get a link from. Continuing with the Rough Guides website as an example, I might search for "backpacks" on that site: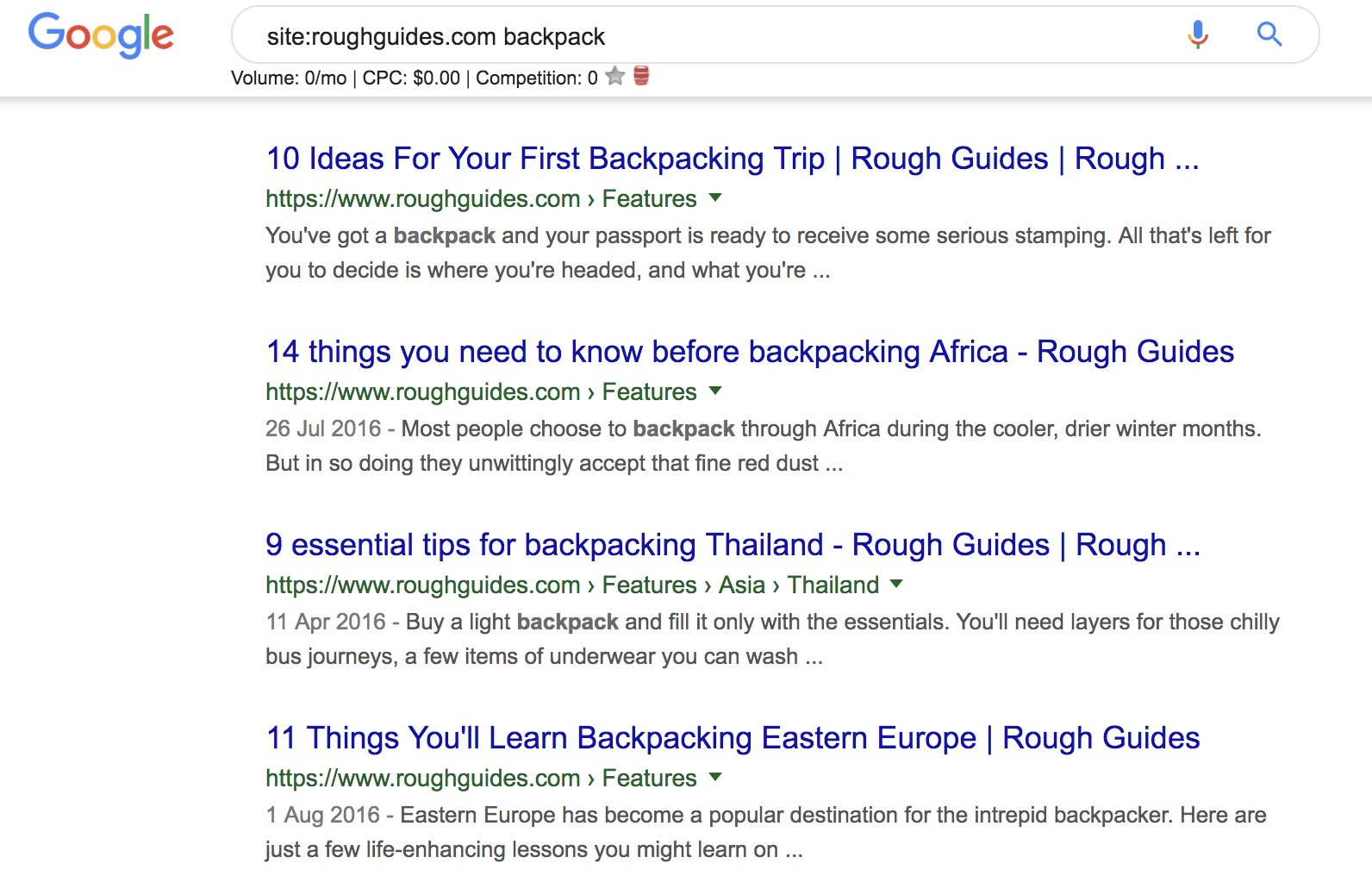 Comb through recent blog posts they've published on their website. The tool will highlight any broken links on that page: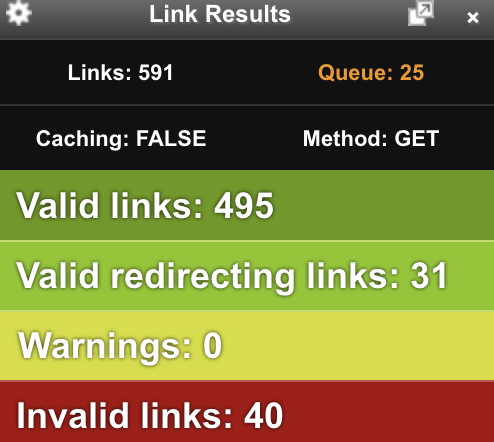 Alternatively, you could run the entire domain through Free Broken Link Checker to find a complete list of broken links on their website:

All that's left to do is create a blog post with which the site owner could use to replace their broken one. Follow the skyscraper technique and make sure the topic you're covering is the best one. It's an easy way to convince a site owner to link to your blog post from their site.
You could also plug the broken URL into the Wayback Machine and find what the original page discussed. Use the original content as your structure, and expand on certain topics to add depth.
Learn More:
Bonus: Scale Your Link Prospecting
If you want to scale this process to make it more lucrative and easier, you could hire a freelancer through Fiverr or Upwork to do this link prospecting for you. Simply ask them to find blog posts in your niche that contain broken links using a spreadsheet with these columns:
Website
Blog post with the broken link
Broken URL
Link you want to replace it with

(Grab a copy of this template by clicking here.)
How to Create a Broken Link Outreach Strategy
You've found a list of websites you could build backlinks from and created a bunch of top-quality blog posts to replace their broken links with. Now we're moving onto the trickiest part: making the ask.
When Backlinko studied over 12 million outreach emails, they found that just 8.5% of emails receive a response. Combine that with the fact link building outreach has garnered a reputation for being spammy and you'll see why crafting the perfect email is important.
So what makes a "good" outreach email? Typically:
It has a long subject line: The same Backlinko study found that outreach emails with long subject lines have a 24.6% higher average response rate.
It's truthful and to-the-point: Don't waffle on about how much you love their content and that you've been reading their blog for years

–

unless you have. Website owners can see right through it and don't have tons of time to invest in reading your outreach email.
It's personal: Instead of pitching someone out of the blue, build a rapport with them first by liking their tweets or commenting on their LinkedIn posts. Bring up that connection in your email.
If you're panicking at the thought of composing an email, don't! Here's a free broken link building outreach email you can customize to make the ask:
Subject line: There's a broken link on this page
"Hey, [NAME],
I love what you're publishing on [WEBSITE]. I fell down the rabbit hole after reading the post you shared on [PLATFORM] last [WEEK/MONTH], and landed on your blog post on [TOPIC]. I wanted to learn what [BROKEN URL WEBSITE NAME] had to say about [BROKEN LINK TOPIC], but the link was broken and I was redirected to a 404 error page.
The broken link is on this blog post with the anchor text "[ANCHOR TEXT]": [URL OF POST CONTAINING BROKEN LINK].
My team recently worked on a similar post, which covers [2-3 TAKEAWAYS FROM YOUR POST]. Here's a link: [URL].
I think it'd be a great replacement for the broken link. But either way, keep up the good work! I'm excited to see what you publish next.
Thanks, [YOUR NAME]"
Notice that I'm pitching a link to my content that's already published. Don't fall into the trap of thinking you can whip up something good in a few days when you get a response; have the content ready for them to review.
You want to:
Show them that your content is an equal (if not better) replacement in terms of quality
Make it as easy as possible for them to replace their broken links with yours
Learn More:
When Is the Best Time to Send My Email?
The timing of your email is just as important as the content you're sending. Get it wrong and you could slip to the bottom of a webmaster's inbox and never receive a reply. But get it right and you'll land your broken link outreach email right in front of them when they've got time to take action on it.
CoSchedule compiled the results of multiple studies and found that you're more likely to get a reply if you hit "send" on at 10 am on a Tuesday morning: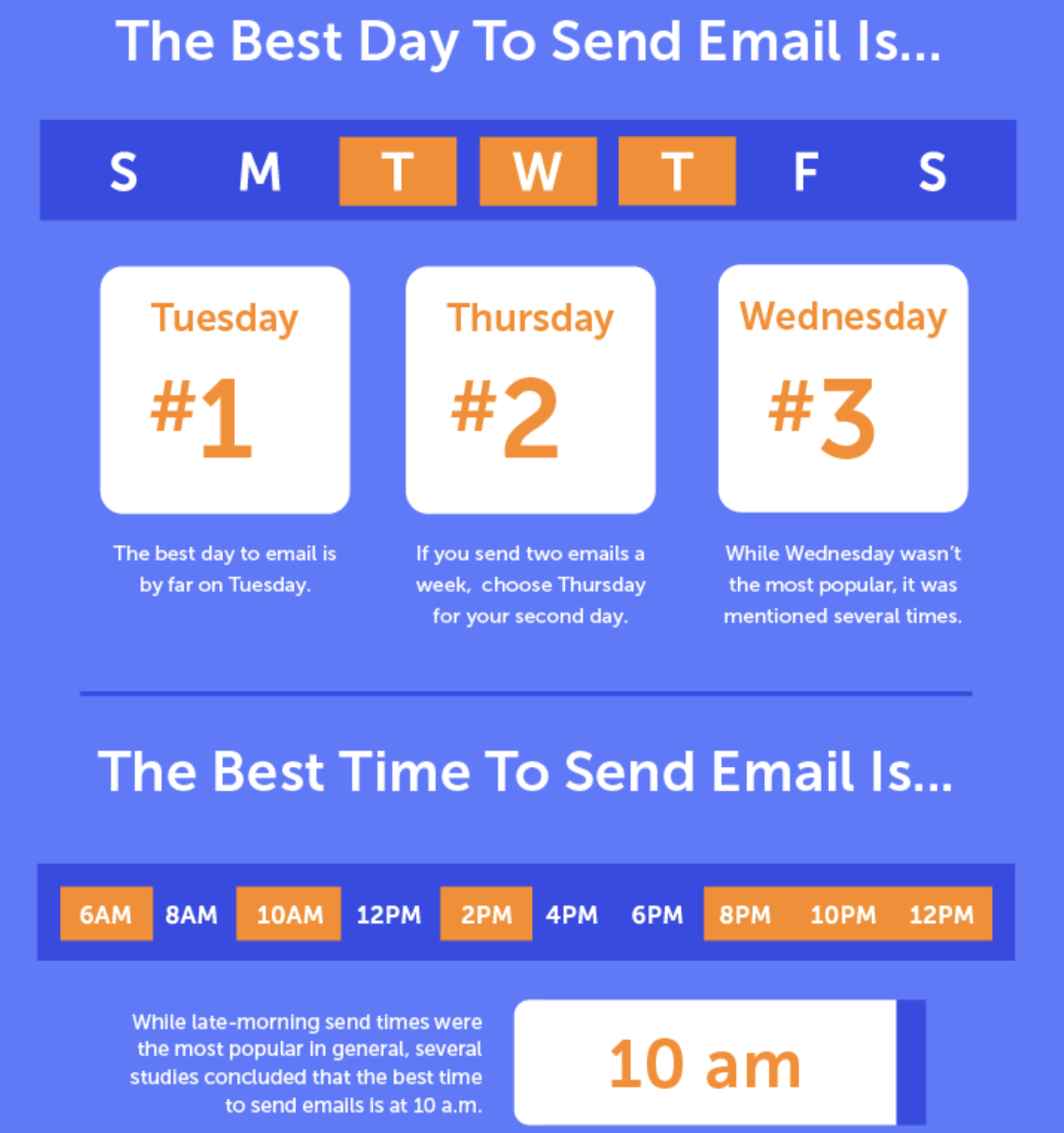 Of course, it's important to play around with these timings. While 10 am on a Tuesday is seen as "best practice", you might stand out by emailing them at other peak times — like 2 pm on a Thursday. You don't know what works for your business — or the webmasters you're emailing — until you try it yourself.
Should I Follow Up with My Outreach Email?
That's a common question that leaves link builders scratching their heads.
But it's important that you stay up to date with your broken link building outreach, especially when it comes to following up with your initial email.  A report by Woodpecker found that people who send one email get an average reply rate of 16%, compared to 27% who follow up at least once.
However, just like any link building outreach email, there's a fine balance between following up and being downright annoying. I recommend following up using this schedule:
Email #1: Initial ask
Email #2: Follow up 3 days later
Email #3: Follow up 7 days later
Here's a quick template you can use:
"Hey, [NAME],
I checked again this morning and the link is still broken, so I wanted to make sure that this didn't slip through your inbox.
Let me know if you need anything else,
[YOUR NAME]
If you haven't got a response by email #3, cut your losses and move on. It hasn't got lost in their inbox — they're just not interested.
Learn More:
How to Keep Track of Your Outreach
By this point, you'll have emails flying all over the place. It's easy to get caught up in the details and forget that you need to follow up with someone or track which broken links you've successfully converted.
The same template I shared earlier can help with this. It's got columns for:
Outreach date
Follow-up dates
Whether the site owner has replied
Any additional notes you need to remember (e.g. this person is out of office until 05/15)

Treat this spreadsheet as your bible. Keep it updated whenever somebody gets back to you and don't send an email without consulting it first. It's the best way to keep your broken link building outreach organized.
Final Thoughts
Are you ready to add broken link building into your to-do list for 2019?
I don't blame you. You're about to form relationships with other webmasters, create a library of new content, and build backlinks that help your site skyrocket in the SERPS!