Best Ecommerce Consulting Agency: Our Top 5 Picks for 2023
The demand for e-commerce has been increasing all across the globe lately: In 2021, global e-commerce sales accounted for $4.9 trillion in spending and in the U.S. alone grew by 50% compared to 2019, reaching a value of $870 billion.
There are definitely plenty of opportunities for entrepreneurs hoping to take advantage of the e-commerce market, but there's a lot of competition, too. To outshine other brands in your industry and set yourself up for consistent growth requires exceptional planning, knowledge and skills.
That's where an ecommerce consulting agency demonstrates its exceptional value.
In this post, we'll walk you through identifying and choosing the right agency for your business and provide a curated list of the top 5 picks.
---
---
Top 5 Ecommerce Consulting Agencies
Now that you have a good idea of what an ecommerce consulting agency can do, and what to look for when you're hiring one of them, you can begin to sort through your options. To help get you on the right track, we've put together a list of some of the top consulting firms available for ecommerce brands in the world today.
Specializes In

: Ecommerce marketing, SEO, conversion rate optimization

Top Clients

: Salesforce, Amazon, Uber

Pricing

: Custom based on your requirements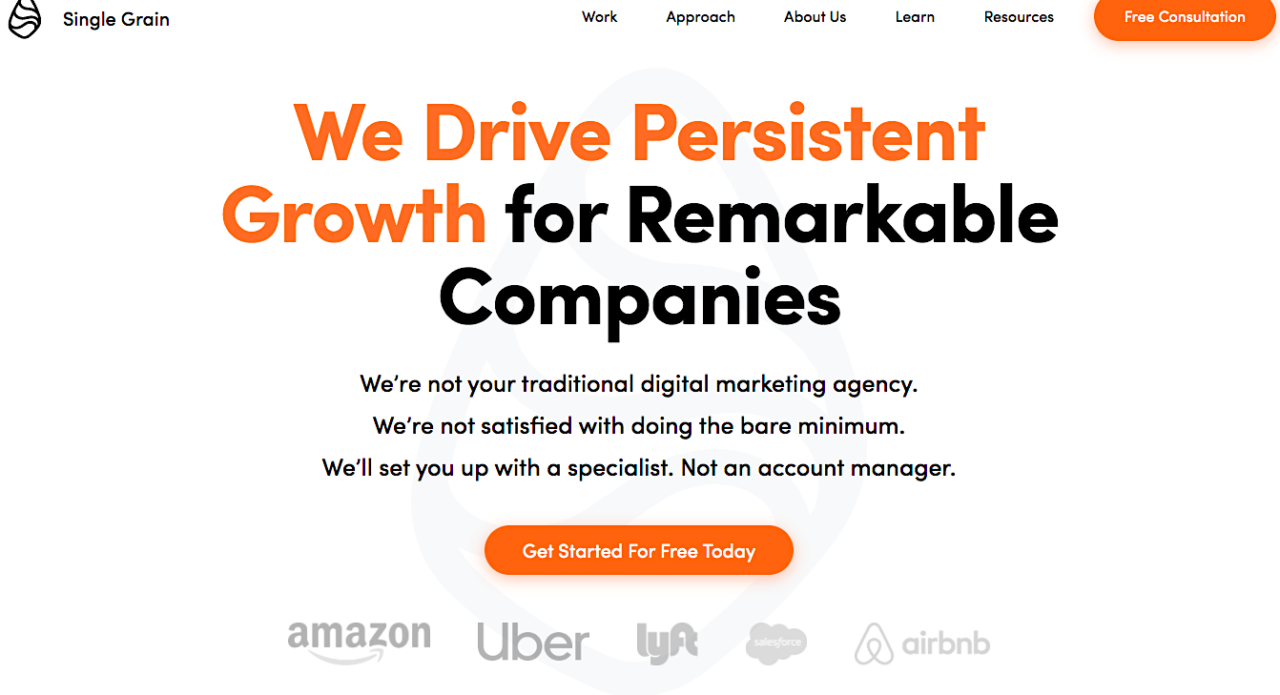 One of the top ecommerce marketing companies in the world, and a leader in all-things business growth, Single Grain offers a full-service solution to today's growing companies. With Single Grain, you don't just get a fantastic ecommerce consulting agency to help shape your strategy for growth, you also get a partner capable of assisting you with business promotion.
Single Grain has helped countless leading companies boost their sales online and has a host of case studies and testimonials to prove their value. Most notably, they've worked with leading ecommerce brand Amazon to help them boost their promotional strategies.
With Single Grain, you'll get a bespoke strategy for ecommerce company development built just for you and based on your target audience. They're masters at conversion rate optimization, SEO and paid media, so you can rest assured that they'll help your brand level up and scale to new heights.
Check out this super short video from Single Grain founder Eric Siu (with co-host Neil Patel) on e-commerce marekting trends:
2) Northern
Specializes In

: Digital transformation, consulting

Top Clients

: Milwaukee, Cineplex, Tentree

Pricing

: Custom based on your requirements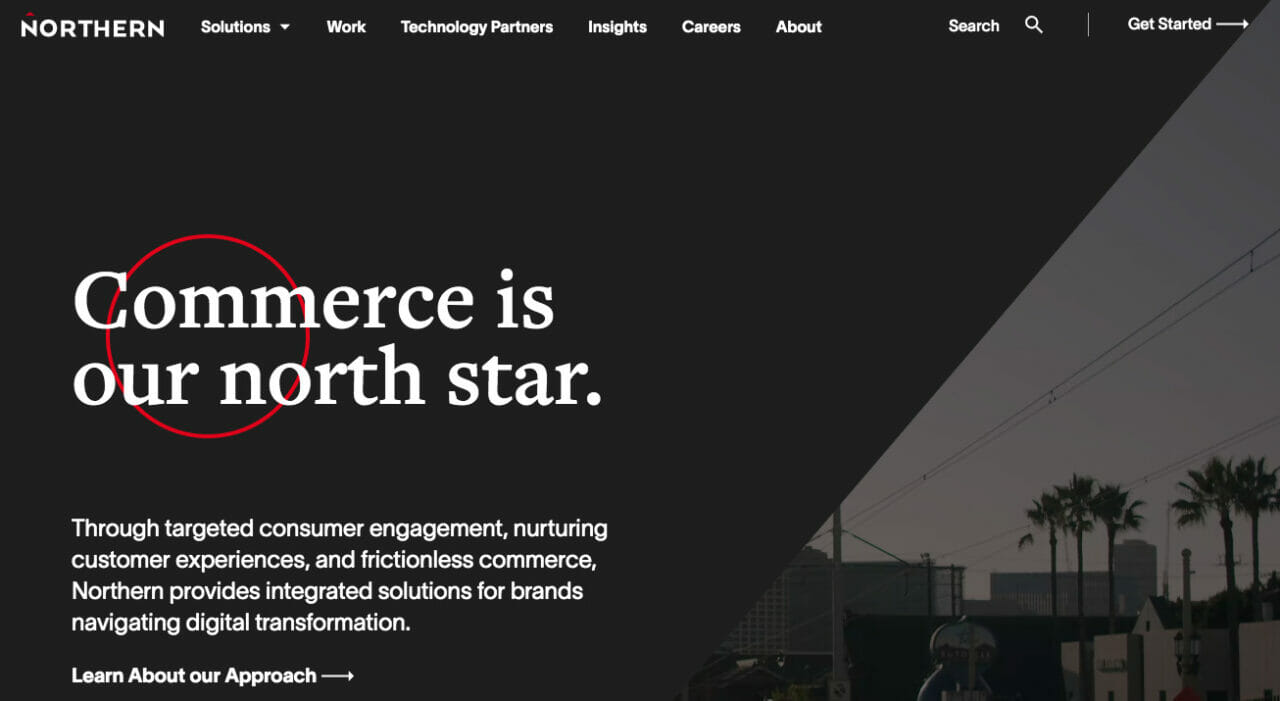 Northern is an expert business consultant with a focus on commerce and the digital world. The company specializes in guidance for companies that want to improve customer experiences and improve customer lifetime value through meaningful brand experiences.
Northern's expertise includes an in-depth knowledge of all the leading ecommerce platforms, like Shopify, and the use of crucial tools like Salesforce for tracking customer relationships. With their help, you can build an entire strategy for digital transformation from scratch, or discover new ways to reach your audience through different channels.
Northern takes a highly personalized approach to consulting with its clients, so you can rest assured you'll get service that is custom-made for your needs. They also have plenty of great case studies to read through if you want to learn more about what they can do for you.
Dive Deeper: 8 Best Shopify Apps for Growing E-commerce Merchants
3) Hawke Media
Specializes In

: Branding, consulting, digital marketing

Top Clients

: K-Swiss, Localish, The Plug

Pricing

: Custom based on your requirements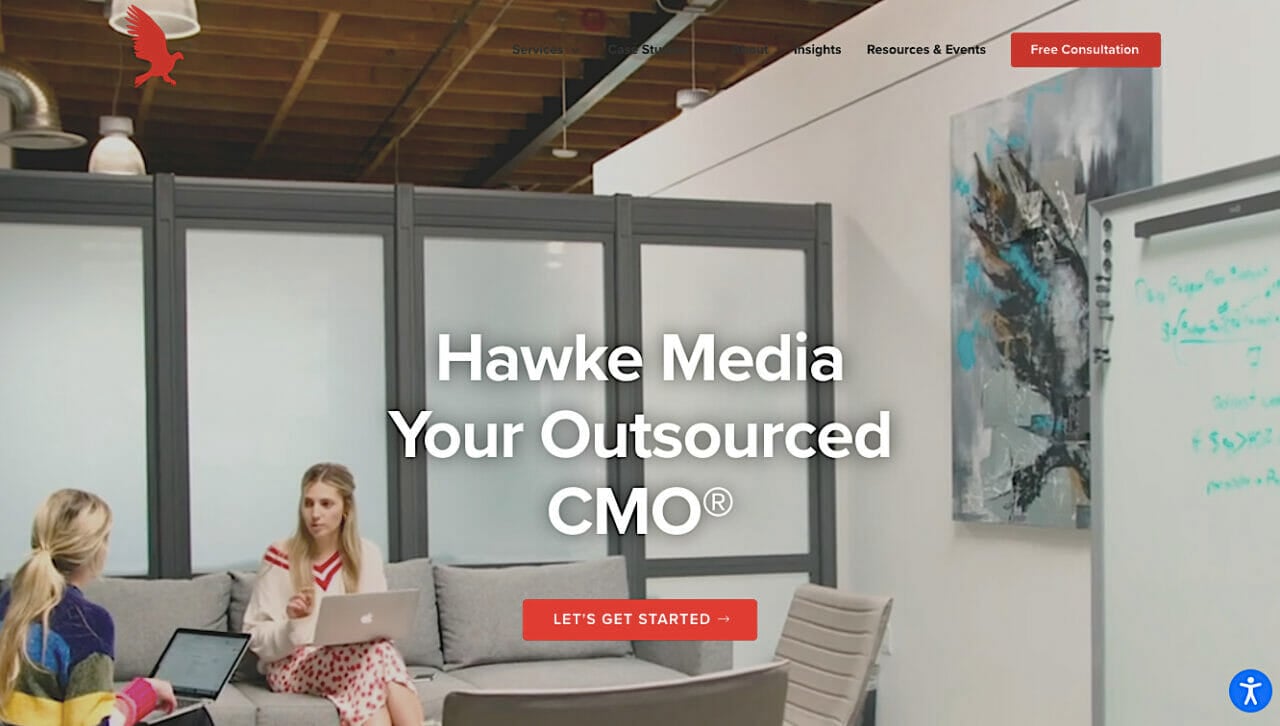 Providing a full-service approach to ecommerce growth, Hawke Media has helped over 3,000 companies grow and evolve over the years. The company specializes in delivering data- and performance-driven strategies for success to businesses of all sizes and industries.
Hawke offers expertise in everything from digital transformation to online marketing strategies. The company can help you understand your target audience and what it takes to improve their relationship with your brand, as well as give you new modes of increasing your return on investment.
With a wide range of bonus services to choose form, including web design, strategy development, content creation, and assistance with Amazon selling, Hawke media is a great choice for any growing ecommerce company.
Dive Deeper: How to Use Google Keyword Planner for Content Creation
4) WPromote
Specializes In

: Paid media, digital intelligence, strategy

Top Clients

: Huda Beauty, Instacart, Adobe

Pricing

: Custom based on your requirements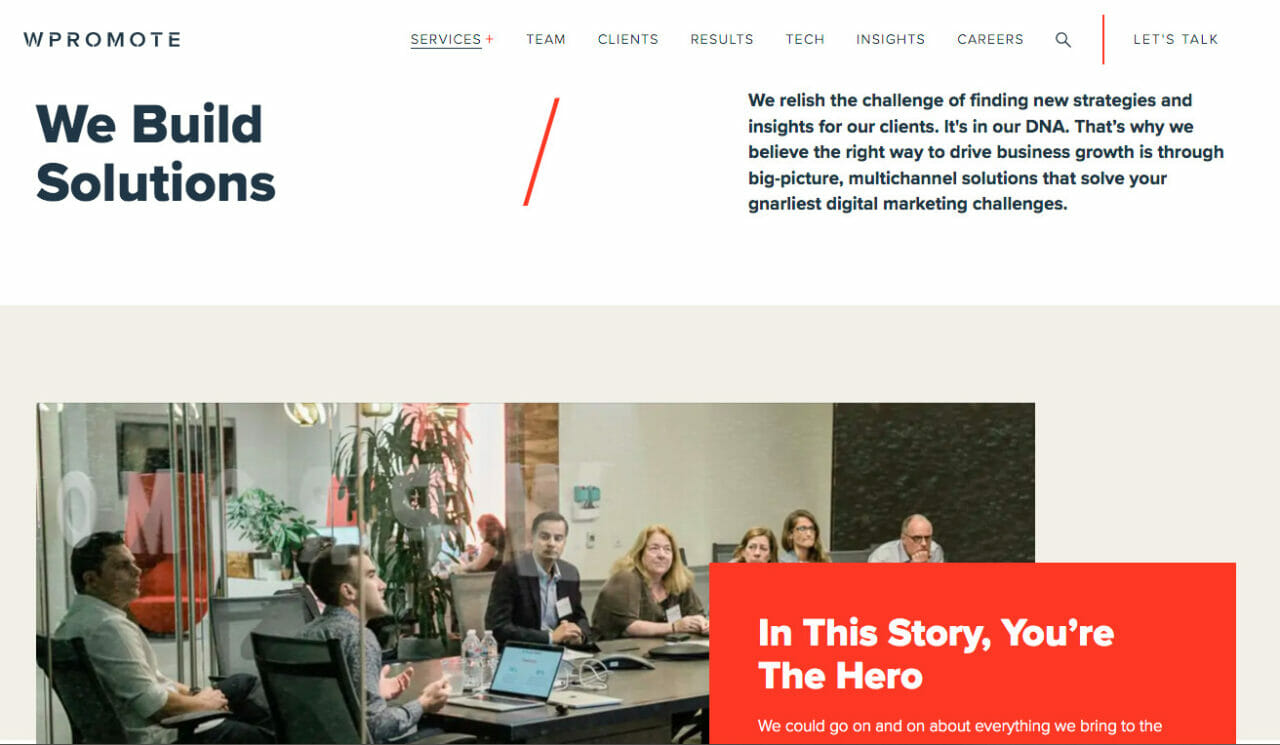 WPromote is one of the highest-rated digital marketing companies on the web today, with a huge roster of services to offer growing companies, including conversion rate optimization, consulting, strategy, and planning.
The WPromote team works closely with every client to create a state-of-the-art advertising plan from scratch, complete with in-depth analytics into your target audience and predictive customer modeling. The team is excellent at reporting and data visualization, and they can help you discover new opportunities for growth across affiliate channels and Amazon.
WPromote can also help out with your marketing strategies, helping you to explore new opportunities in the form of SEO, content marketing, influencer marketing, email marketing, and video. There's something for every ecommerce brand.
Dive Deeper: 7 Hacks to Boost Your Conversion Rate
5) Sumo Heavy
Specializes In

: Agile planning, consulting, digital transformation

Top Clients

: Roku, TYR, Overtone

Pricing

: Custom based on your requirements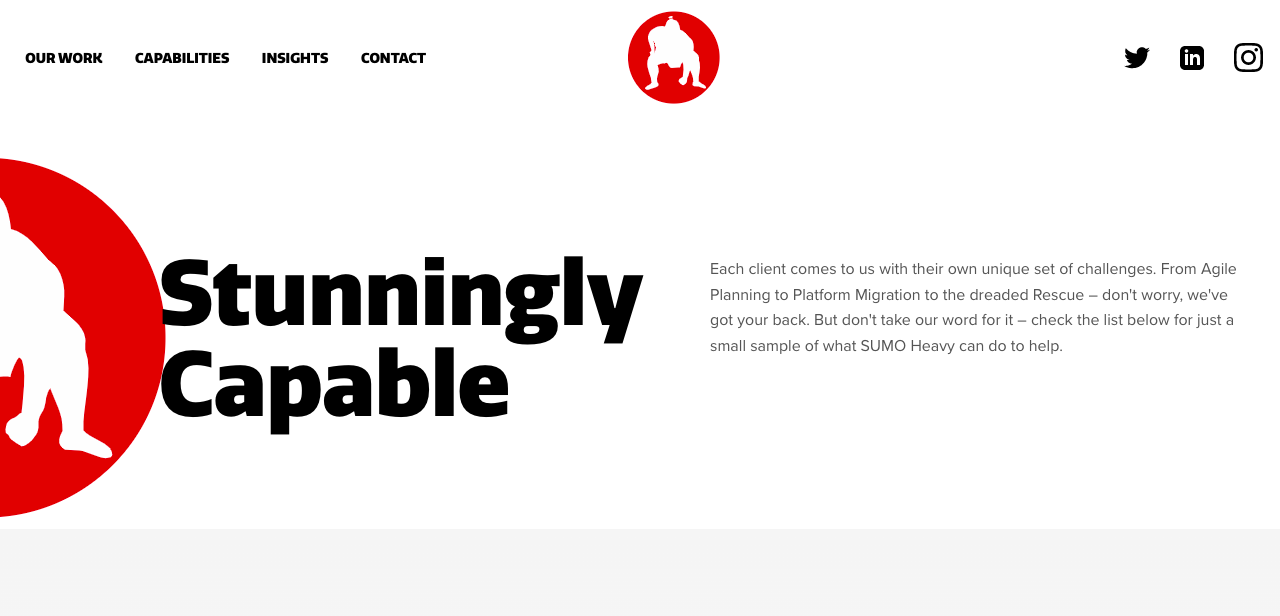 If you want a company capable of offering a data-first approach to e-commerce growth, then Sumo Heavy could be the perfect agency for you. The company can help brands with everything from optimizing their e-commerce sites for user experience to planning financial cash flow.
Sumo Heavy is unique compared to a lot of other consultants on the market today because they don't specialize in marketing and advertising. Instead, this company helps e-commerce companies better understand their marketplace, explore their potential audiences, and develop better approaches to process management.
If you want help with product management, growth or simply migrating to a different digital environment, Sumo Heavy has you covered.
Dive Deeper: 10 Tools to Monitor Your Competitors' Growth and Hack Their Strategies
What Is an Ecommerce Consulting Agency?
Consulting agencies are experts capable of offering guidance and insight to businesses in search of new growth opportunities. An ecommerce consulting agency is a marketing firm with extensive experience in and knowledge of the online retail space.
Capable of turbo-charging your ecommerce earnings, consulting agencies can help you with everything from assessing your target market to conducting in-depth competitor analyses. They'll also provide guidance on how you can attract and engage your audience through the right marketing campaigns.
Partnering with you on your business growth, consultants can help you to understand why previous advertising campaigns haven't worked and help you explore new sales channels.
While the exact services of your ecommerce consulting agency will depend on who you choose to work with, some common options include:
Market Research:

Ecommerce consulting agencies are experts in conducting in-depth market research. They can learn everything there is to know about your market, your profit potential, and what kind of complementary markets you may be able to branch into in the future. They'll also give you insights into your competition, help you develop strategies for differentiation, and assist in homing in on your USP.

Conversion Rate Optimization: One of the best things an e-commerce consulting agency can do for your business is teach you how to optimize your conversion rate. They can audit everything from your check-out process to the design of your e-commerce website, and offer advice on how you can improve your customer lifetime value.
Promotion and Marketing:

Ecommerce agencies know what it takes to attract customers from your industry and generate brand loyalty. They can help you to explore a host of different marketing strategies, from PPC and paid ads to

social media marketing

, email advertising, and content production. Some agencies will even help you design your own advertising schedule and campaigns.

Channel and Customer Analysis: Consulting agencies can conduct research into your target audience and help you build comprehensive customer personas. From there, these professionals can also give you advice on the best possible channels you can use for selling online. This could even mean supplementing your store sales with sales on marketplaces like Amazon or through social media channels.
Store and Website Building: Some ecommerce consulting firms will be able to assess your store design and give you advice on how you can improve it to make it more appealing to your target audience. They may also be able to assist you with building new stores or online shopping applications.
The Benefits of Hiring an Ecommerce Consulting Agency
All over the world, interest in ecommerce opportunities is growing at an incredible rate. For years now, the ecommerce market has offered benefits like convenience and simplicity for customers, but more recently it became one of the most reliable shopping spaces during the pandemic.
After being forced to spend more time online during the last couple of years, consumers from all environments are growing more accustomed to ecommerce stores. Even the B2B market is seeing a rise in ecommerce interest. However, without the right skills and guidance, it's easy for any ecommerce business to simply blend in with the crowd.
With an e-commerce consulting agency, you can access benefits like:
Better Differentiation
As the number of e-commerce companies worldwide continues to grow, standing out from the crowd is growing increasingly difficult. Consulting companies with years of experience helping e-commerce brands grow can work with you to differentiate yourself from your competition.
The right consultants will help you understand the interests and pain points of your target audience and build your unique selling proposition around what you learn. This should help you to avoid the common (and dangerous) strategy of trying to compete on price alone.
Conversion Rate Growth
The best consulting companies know how to deliver measurable financial results for their clients. They'll audit your existing e-commerce strategy and look for ways to improve your earning potential. For instance, they might suggest selling across multiple e-commerce channels, rather than just relying on your own website.
By helping with things like search engine optimization and precise targeting methods for your paid ads, your e-commerce consulting company can also ensure that you reach the right audience more often, which boosts your chances of advertising ROI.
Marketing Support
Speaking of advertising, a good ecommerce consulting company should also be able to give you insights into what kind of promotional methods you can use to attract your specific target audience. They'll analyze your marketplace and competitors, as well as your budget, and help you to choose the ecommerce marketing channels that make the most sense for you.
Because the top ecommerce consulting services use reporting and analytics to demonstrate their results, you can also expect to get regular in-depth insights into which of your campaigns are driving the best results so you can improve your ROI in future.
Growth Planning
All ecommerce brands want to achieve sustainable growth, but not all of them know how to cultivate this success. Your ecommerce consulting agency can ensure that you have all the right systems in place to allow for rapid growth, including inventory tracking tools, supply chain management plans and more.
Some consulting agencies can even do extra research for you to help you determine which markets you should be growing into or which customers you need to focus on.
Dive Deeper:
* 15 Fast and Easy Ways to Improve Your Site's Conversion Rate
* SEO for E-commerce Sites (Beginner & Intermediate)
* Why You Should Use Multiple Channels to Maximize Your Customer Acquisition

How to Choose an E-commerce Consulting Agency
Just like influencer agencies, marketing agencies and graphic designers, ecommerce consulting agencies come in a range of shapes and sizes, offering disparate selections of services and benefits. The right ecommerce consulting agency for you will depend on exactly what you're trying to accomplish with your brand right now.
While there's no one-size-fits-all solution, there are a few factors worth paying attention to when you're looking for the ultimate consulting agency.
Industry Knowledge
All good ecommerce consulting agencies will have an in-depth knowledge of the ecommerce landscape and what it takes to appeal to today's online customers. However, not all of these agencies will necessarily know everything there is to know about your industry.
When choosing an ecommerce consulting agency, ask if the company has worked with other organizations selling products like yours in the past. A knowledge of your target market and what your products offer can speed up the time to value of working with a consultant.
Transparency
A good ecommerce agency should be able to provide clear proof of why they deserve your trust and investment. You're turning to this company for guidance in building your brand and achieving higher profits, so you need to know they can deliver results.
Look for an agency that can provide you with regular insights into how their work or support is paying off. A company with access to in-depth reporting and analytics tools can be extremely useful when it comes to determining the ROI of your investment.
Service Coverage
The services offered by an e-commerce consultancy can vary drastically from one end of the spectrum to the other. On the one hand, you can find agencies who answer basic questions about e-commerce development opportunities for you, audit your website, and help you to track down new market opportunities.
On the other hand, you could work with a full-service agency capable of offering support with everything from competitor analysis to conversion rate optimization to paid ads. Decide how much support you're going to need to grow your ecommerce business to the next level when choosing your consulting agency.
Great Communication
A consulting agency is only effective if you can understand the guidance and support they're giving. Your ideal ecommerce marketing agency should be able to break down the steps required to grow your company into easy-to-follow chunks so you can create a real plan with your team.
When you're choosing a consultant, as well as a standard marketing agency, it's always a good idea to arrange for an initial conversation with the company you want to work with. During this conversation, you can ask questions like "which ecommerce platforms are you familiar with?" and "what kind of marketing strategies have worked for brands like mine before?"
🚩 Red Flags to Watch Out For 🚩
If you do your research and look for an ecommerce consulting agency with a background in your industry and plenty of positive reviews from other companies, you should be safe. There are many fantastic agencies out there to choose from that are capable of delivering genuine growth.
However, it's important to watch out for a few common red flags, such as:
Guarantees:

We'd all like a guarantee that our ecommerce brand is going to earn a certain amount of extra money by a certain time. However, a real consulting agency won't be able to promise anything in good faith. Instead, they can simply give you an idea of what you can accomplish in a general timeframe by implementing the right strategies.

One size fits all service:

Ecommerce growth is not a one-size-fits-all concept. If your consulting agency gives the same advice and guidance to every business, this is a clear sign they're not taking your unique brand and customers into account.

Excess jargon:

Some new consultants attempt to build their credibility by using a lot of complicated jargon in the initial introduction. Don't let this fancy language distract you. Look for a company you can understand.
Dive Deeper:
* How to Lower Ecommerce PPC Advertising Costs with Email Marketing
* How This Ecommerce Store Doubled Its Revenue Using Our Facebook Ads Advice
* Ecommerce Advertising Strategy: How We Doubled PPC Sales for ThinSlim Foods (with a 3X+ ROAS)

Hiring the Right Ecommerce Consulting Agency
A great ecommerce consulting agency can give your business the direction and guidance it needs to grow at an accelerated pace. If you're looking for opportunities to explore new markets, introduce new products to your store, or simply increase brand awareness, an ecommerce consulting agency can help. 
Schedule your FREE consultation with Single Grain's Ecommerce Marketing experts to discuss your needs.👇