7 Pro Tips for Retailers to Capitalize on Amazon's Prime Day
Just announced: This year's Amazon Prime Day is July 15 & 16.
Since its 2015 debut, Amazon's Prime Day has become one of the biggest sales events on the e-commerce calendar. Prime Day 2018 was the biggest yet, surpassing Cyber Monday and Black Friday, with estimated global sales hitting $4.38 billion. To put it in context, that's 1.8% of Amazon's total sales for 2018. In just 36 hours.
And Prime Day 2019 is expected to be even bigger.
During Prime Day, Amazon slashes prices on thousands of its products, exclusively for Prime subscribers. Each year, the timing of the event is shrouded in mystery and the date is only revealed a couple of weeks out.
Try heading to the page where they announced the event last year and you're greeted with this: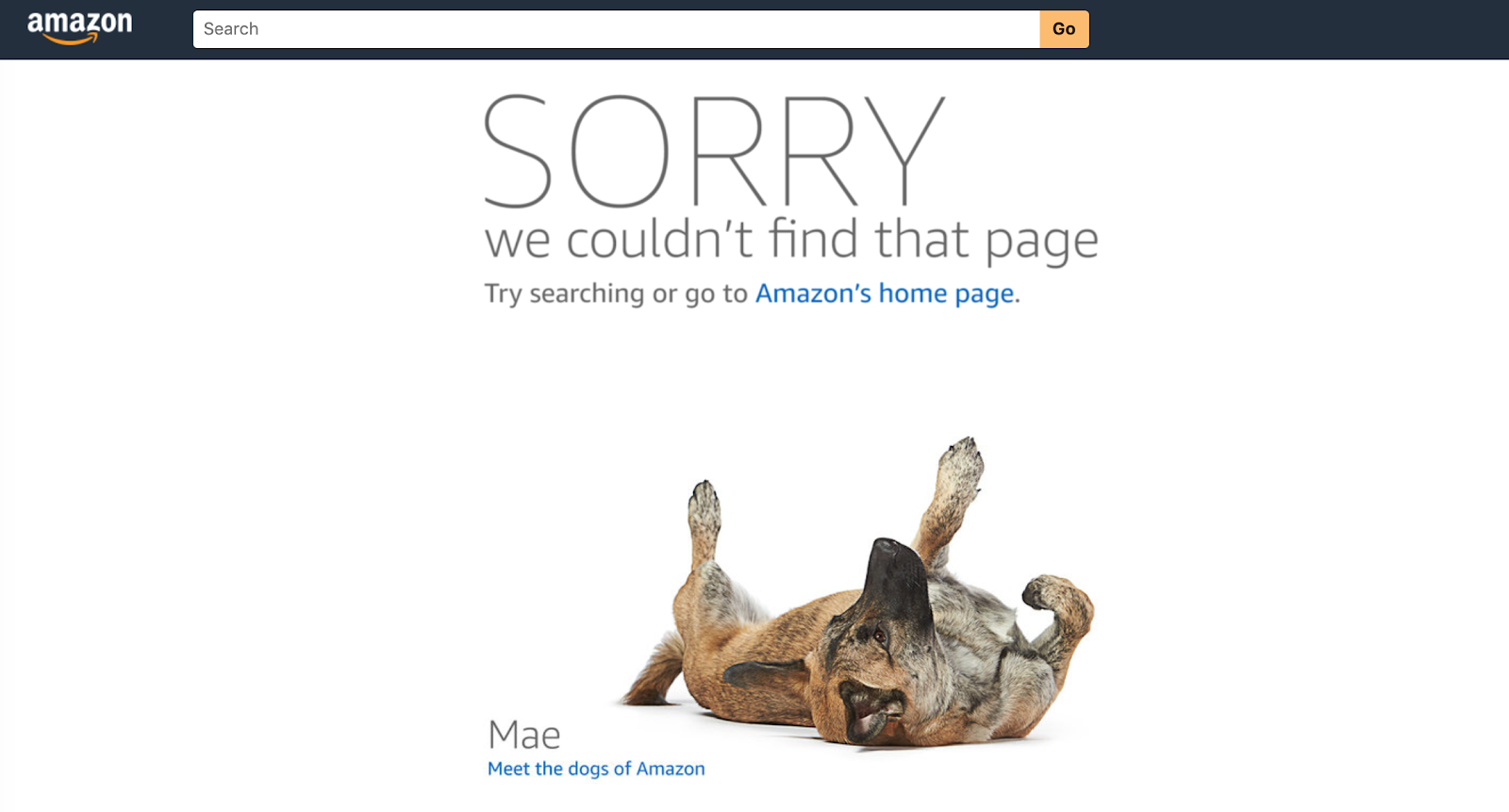 Typically Prime Day has taken place on the second or third week in July, but don't be surprised if Bezos has a trick up his sleeve. Amazon has played around with the duration and timing of the sale before, so there's no guarantee when it will arrive or how long it will last.
But just because you don't know exactly when it's coming, doesn't mean you can't prepare. To take advantage of the open wallets of wide-eyed consumers this year, you're going to need a strategy.
Your Prime Day Strategy
It's not just Amazon making the big bucks on Prime Day anymore; other retailers are getting in on the act – and so should you!
The last couple of years, Walmart and eBay offered free shipping during the sale, and they weren't the only ones to see increased web traffic on Prime Day: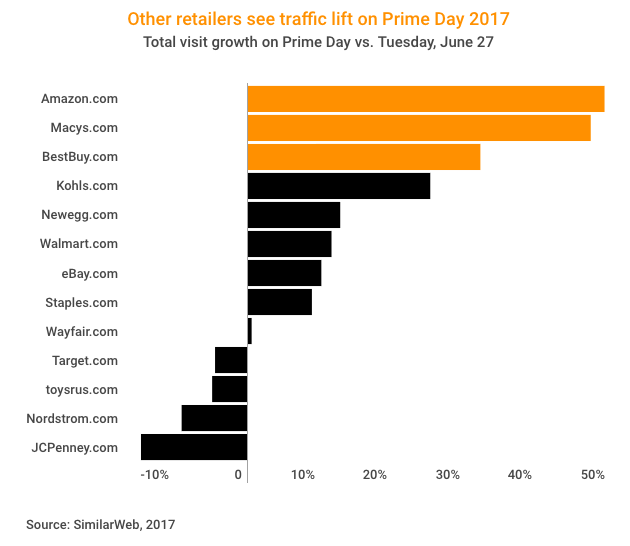 Walmart even ran TV ads highlighting the fact that you don't need a subscription to claim their massive discounts.
If you sell directly through Amazon, the uplift in traffic of deal-hungry shoppers will, of course, have an effect on sales. But whether you sell on Amazon or not, there are huge gains to be made in and around Prime Day. During Prime Day 2017, sales for brands off Amazon jumped 30%. Crucially, retailers who anticipated Prime Day did even better – 30% higher – over the course of the week, than those who didn't prepare.
Of course, with this anticipation and huge opportunity comes massive competition, so how do you stand out in this feeding frenzy?
Read on for our top tips to get prepared ahead of time for Prime Day 2019. From targeted Amazon ads to riding the post-sale hangover, these are the best ways to make the most of this giant opportunity.
Learn More: 
7 Pro Tips for Retailers to Capitalize on Prime Day 2019
1) Optimize Your Seller Central Account Ahead of Time
Given the last-minute release of the dates each year, Prime Day can become a cyber stampede. Anything you can do to get prepared will save you precious time once the sale is announced.
First things first, set up a strong Seller Central account now. Amazon's platform for selling and advertising has a reputation for not being the most intuitive or user-friendly, but you're stuck with it, so get in early to work out any quirks, foibles or inefficiencies.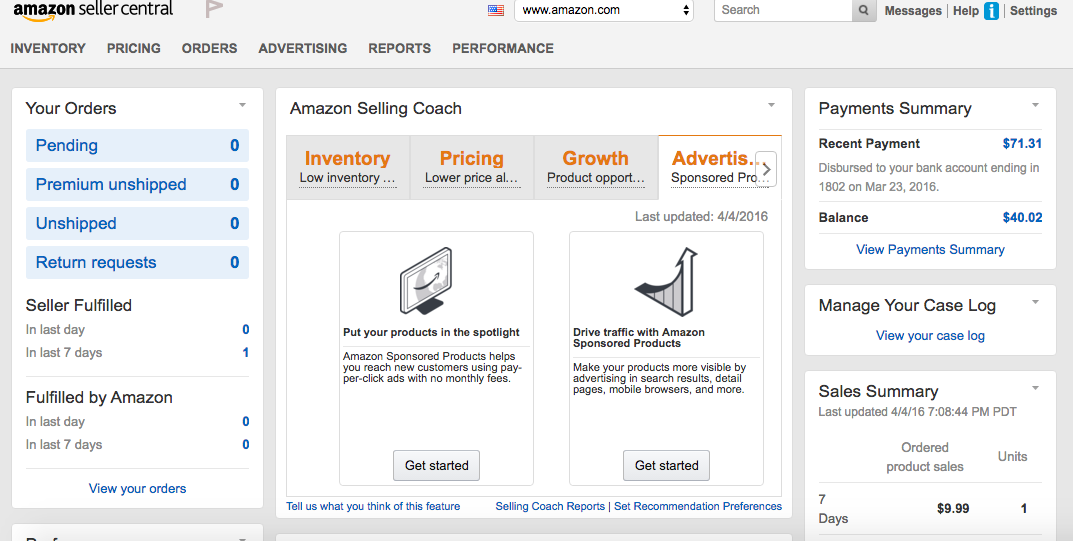 If you're selling more than 40 items per month, you'll need a Pro account. At $39.99 per month, the cost can quickly be recouped during the melee of Prime Day.
Here are the main things to get set up:
Set up two-step verification to keep your account secure – the last thing you need during your sale is to be hacked!
Give your boss and/or team access if you're a larger organization.
Get familiar with Amazon Analytics as you're going to need to quickly analyze your performance and adapt your strategy as your sale progresses.
Optimize your product information fields for maximum impact.
Now that you're all set up with Seller Central, it's time to think about marketing your Prime Day-rivaling sale.
2) Drive Traffic with Product Display Ads on Amazon
Product Display Ads are usually found on the right-hand panel of Amazon product pages. They sit right below the Buy Now button, often offering a cheaper price for the same product. Amazon PPC ads are, therefore, a very powerful tool in driving high-value traffic to your product pages.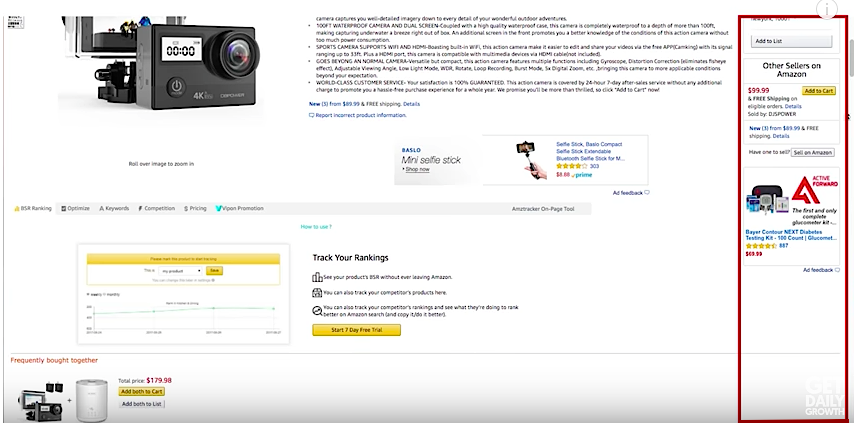 The content of your ad – product details, images etc. – is auto-generated so all you have to do is come up with a snappy title to sell the benefits of your product.
You can target these ads by interest or product:
Interest targeting works best in very niche markets, so it should be highly targeted. These ads are good for building brand awareness before the event, even if they don't convert as many sales just yet.
Product targeting allows you to place ads on specific products, which is ideal during Prime Day to steal business away from products you know are going to be popular.
Dive Deeper: 9 Rules for Creating Ads that Convert
3) Add Negative Keywords to Your Google Campaigns
What you don't want to do during Prime Day is pay for expensive clicks that don't result in sales.
If you're not looking to compete directly with Amazon with your search ads, it's a good idea to add temporary negative keywords to your Google campaigns. That way, your ad won't show up for people searching for Prime Day discounts, and you won't pay for their useless clicks. But you'll still get your regular customers who may not be aware of the frenzy.
Here are some ideas for your negative keywords:
Prime Day
Prime Day deals
Prime Day deal for [your product]
Prime discounts
Prime Day sale
Amazon Prime Day
Prime Day 2019
Learn More: 
4) Target Ready-to-Buy Customers with High-Priority Google Shopping Ads
Google Shopping Ads tend to appear above the fold and generate a high click-through-rate. They go beyond a simple Google Ads text ad, displaying your product image, specs, price and business name: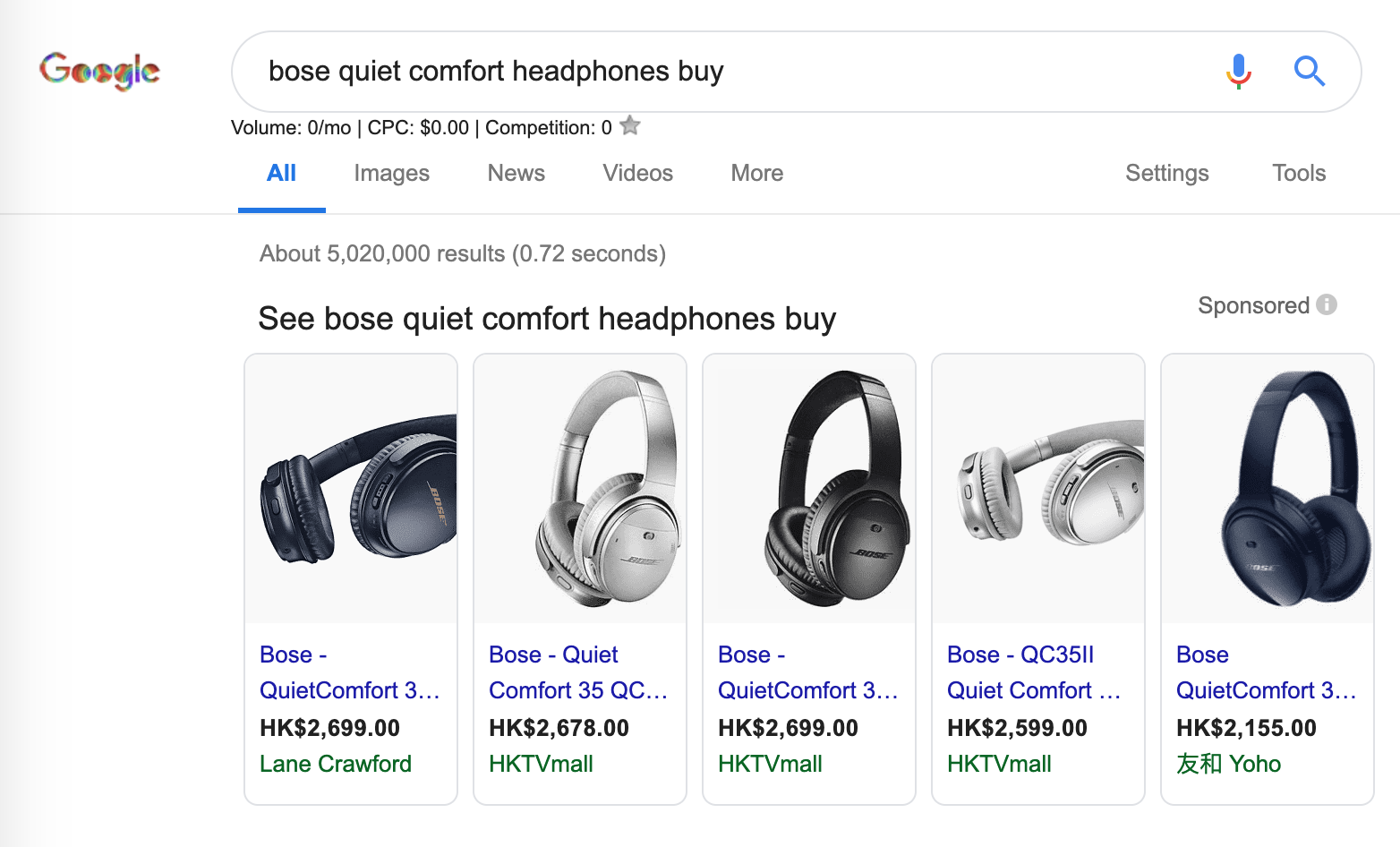 Campaigns can be set to low, medium or high priority. Generally speaking, high-priority campaigns get more clicks but are more expensive. Consider putting your sale items on a temporary high-priority campaign to capitalize on Prime Day traffic. You want to target users right at the bottom end of the buyer journey – i.e. those who are already primed and ready to purchase.
Ready-to-buy shoppers will be searching using specific terms like "Bose QuietComfort noise-canceling headphones" rather than discovery queries like "Best noise canceling headphones". You can use negative keywords to filter out shoppers who are just browsing.
Despite being more expensive, a well-targeted high-priority campaign during Prime Day could produce excellent conversion rates with these ready-to-buy shoppers. Overall, it's a risky strategy, but there's a huge potential payoff.
For an in-depth look at Google Shopping Ads, check out our guide The Ultimate Guide to Restructuring Your Google Shopping Campaign
5) Utilize Facebook Offer Ads
Facebook Offer Ads are designed to grab attention and engage users with a compelling offer: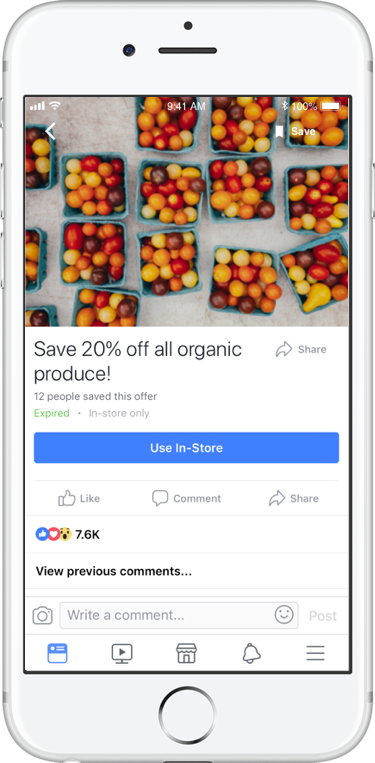 They are an excellent way to promote your Prime Day sale with an eye-catching image or video. If your offer is compelling enough, the comments section underneath will flood with shares and recommendations, and the message can quickly spread.
People who sign up for the offer are sent automatic reminders to use their discount code or coupon before the offer expires. This creates multiple touch points with a sense of urgency, dramatically increasing the likelihood that they will convert.
Learn More:
6) Capitalize on the Prime Day Hangover
Imagine that you've been standing in line for a half-price ice cream cone for hours and they sell out just before you get to the front of the line. After all that build up and anticipation, if someone came along at that very moment and offered you an ice cream cone, you'd take it at any price, right?
This is exactly what you can do with Amazon's shopping holiday. Consider extending your sale just a little bit longer than Prime Day to catch those who missed out on the deals. There's powerful psychology behind the FOMO effect – the "fear of missing out" – and this is your opportunity to take advantage of the phenomenon.
Once Amazon announces the date and duration of Prime Day, set your offers to expire the day after it ends. You may just see a post-Prime Day boost in sales.
Learn More: 
7) If in Doubt, Go Back to the Basics
Implement these tips early enough and you will position yourself above most of your competitors in the struggle for Prime Day dominance.
If these high-level hints have got you feeling a little overwhelmed though, it's always useful to go back to the basics and get a refresher on selling and advertising on Amazon. Check out our guide and video, which provide a handy overview of how to get the most out of the Amazon advertising self-serve platform.
Click here to access our free Amazon Advertising guide!
If you enjoyed this video on Amazon advertising, we've got more advertising videos for you! Check out our Entrepreneur Advertising Strategies: A Guide to Running Successful Ad Campaigns playlist on YouTube.
Start Prepping Now
So there are 7 tips to get you prepped for this year's Prime Day – but I'm going to take this final section to reiterate the best piece of advice I have for this.
Start. Preparing. Now.
We don't know when exactly Prime Day is going to fall. However, there's always a healthy number of "leaks" and speculation that can give you an idea:
"We're expecting Prime Day to run from either July 8-9, or the following week on 15-16…. However, with Amazon refusing to confirm the leak…and the source retracting the official date, we may have to wait a little longer to be sure."
If you start preparing when the announcement is made, you're putting yourself under undue stress. The more you can do now, the better off you'll be when the announcement is made.