How to Collect and Use Emails Without Breaking Amazon's Terms of Service
Email marketing can help Amazon sellers take their business to the next level.
Emails are a direct line to the customer, but selling on Amazon alone does not allow sellers to develop customer relationships in the same way that email enables. Yet collecting emails and employing the basics of email marketing can allow Amazon sellers to get more sales on this enormous retail platform. It also gives them the option to drive sales off of Amazon and build a more robust brand that is less vulnerable to penalization threats from Amazon.
In this piece, I'll discuss how Amazon sellers can build and use email lists to grow their business – all without violating Amazon's Terms of Service. But before we get into tactics of collecting and using emails, let's go over 5 benefits that Amazon sellers can gain by using email marketing.
Why Should Amazon Sellers Use Email Marketing?
Selling exclusively on Amazon has some serious disadvantages, but Amazon sellers can collect emails to diversify their approach and mitigate these perils. To build an off-Amazon sales channel makes the business more robust, and collecting emails enables that.
However, many Amazon sellers are concerned about getting kicked off the giant retail platform, so I'm going to explain how to get the best of both worlds: build email lists in order to sell on and off Amazon.
1) Drive Additional Traffic to Your Amazon Listings from Your Email List
Have an email list? Great. Make more sales on Amazon. This is the most obvious benefit.
On Amazon, if customers search for your (non-branded) keywords, you have to compete with all the other listings that show up in their Search Engine Results Pages (SERPs).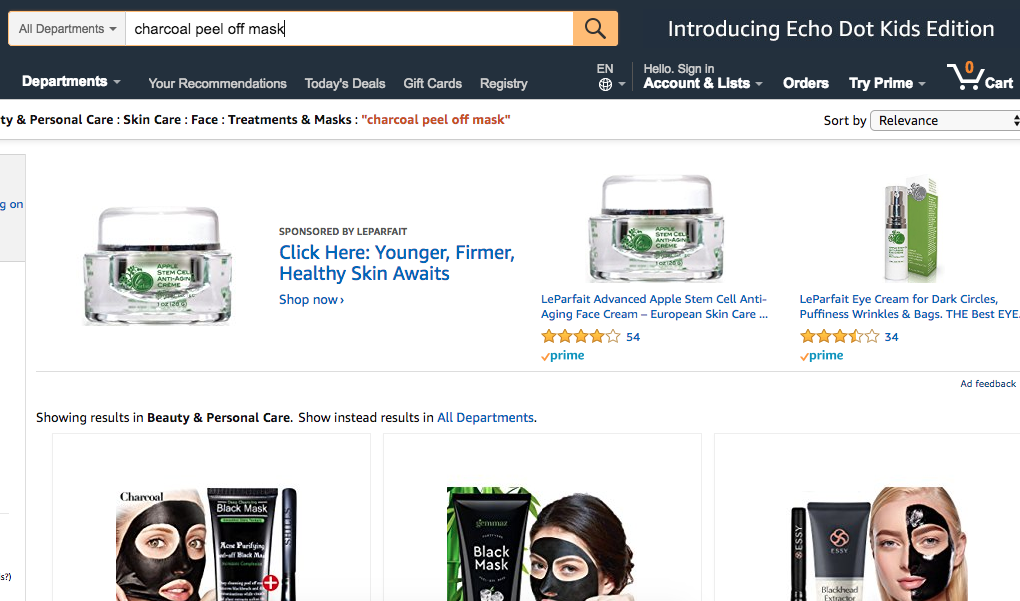 And even when a customer clicks on to your product page from the SERPs, competitors are stealing your customer attention. Sales are being poached through Display Ads and Sponsored Product Ads on your own listings, as you can see below: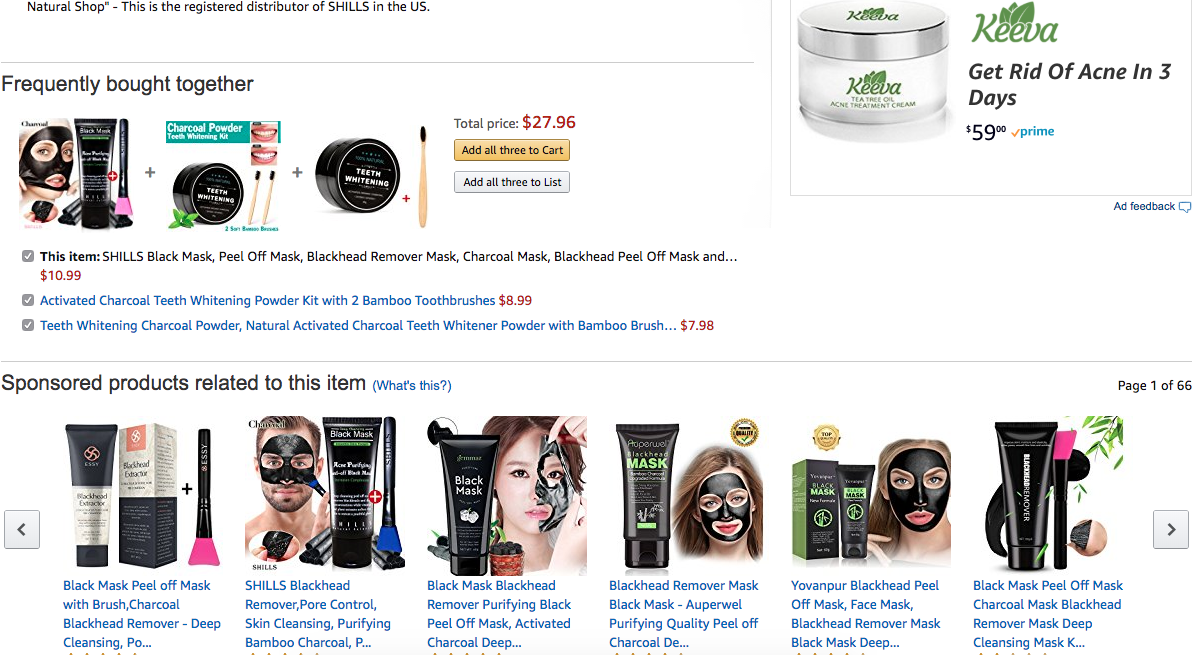 But by driving traffic to your Amazon product listings via email, you lessen the competition.
Amazon rewards sellers for driving their own traffic. Your rankings will spike from the increase in traffic and sales and then Amazon will send you more customers through organic searches.
Click To Tweet
2) Use Your Email List to Sell Off of Amazon
One of the amazing benefits of selling on Amazon is having access to a huge base of customers primed to buy. (Get it? Amazon's membership program is wisely called Prime.) People searching on Amazon already have a high intent to buy, compared to people searching on Google or scrolling through Facebook.
However, this does not come without costs. To sell on Amazon, you must pay referral fees (between 6% and 20% depending on your category) and closing fees. And if you take part in the Fulfillment by Amazon (FBA) program, you pay fulfillment fees ($2.41 to $4.71 for standard-sized items) and storage fees. That's a lot of fees.
And while almost every e-commerce business would benefit from selling some products on Amazon, if you could generate sales off of Amazon as well, you could forgo Amazon's fees and keep a higher margin.
The median Return on Investment (ROI) of email marketing is 122%, according to a June 2016 survey from Direct Marketing Association and Demand Metric.
If you have your own e-commerce website, you can make additional sales and keep more money from each sale. Emails allow you to drive sales to your website so you can take advantage of all that Amazon has to offer, while mitigating its downsides.
Further Reading:
3) Nurture Customer Relationships
Emails allow you to build a brand in a way that Amazon alone does not allow. With emails you can interact with your customers in a more meaningful way.
While 26% of small- and medium-sized businesses surveyed by DMA used email to drive sales, only 22% used email to increase engagement and a measly 7% used email marketing to drive brand awareness: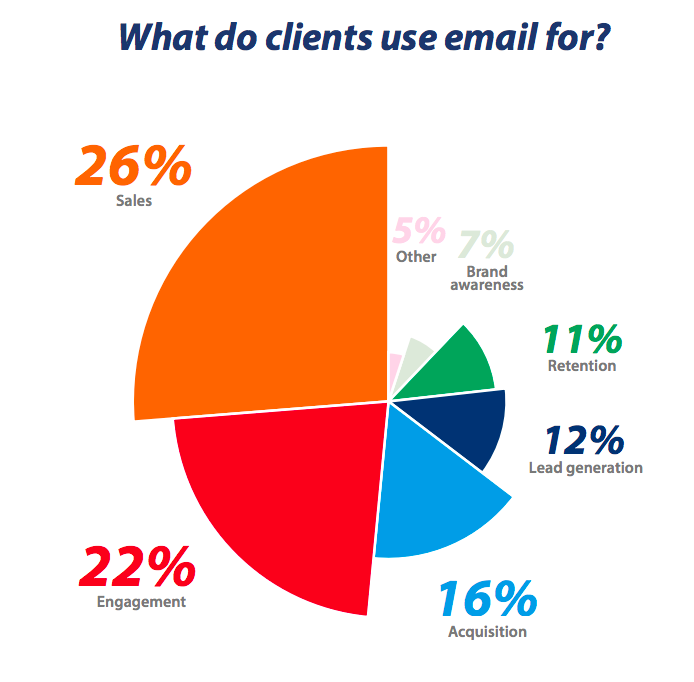 As Amazon becomes more and more competitive, building a brand is even more important in order to stand out in the minds of customers. Email allows you to take more control over the customer experience than selling on Amazon alone.
Every contact, from the welcome email to promotional emails to shipping confirmation, is a chance to make an impact on the customer.
4) Get Repeat Business
Because email marketing gives you the ability to stay in touch with customers, it's one of the best ways to encourage repeat purchases.
And repeat purchases are really great. Why? Every time someone buys from you, the chances they buy again increases. According to RJ Metrics, while only 32% of first purchases result in a second purchase, 53% of customers who buy twice will buy a third time, and so on.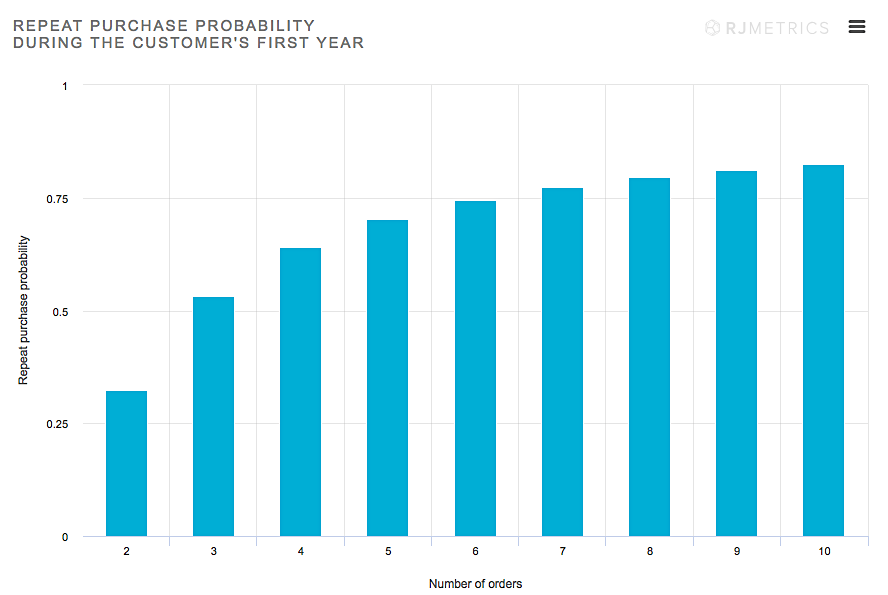 Getting loyal, repeat customers is one of the best ways to turbo charge your business's growth.
5) Keep Selling via Email if You Get Kicked Off of Amazon
When a customer buys on Amazon, the online retail giant is pretty adamant that it is their customer, not yours. They don't give you access to customer email addresses because they don't want you redirecting their customers to other sites.
However, if you collect emails in a compliant manner (we will discuss how to do that below), then if you get suspended from the Amazon marketplace, no problem – you can keep selling off of Amazon with the emails.
6) Sell Your Business at a Higher Profit with an Email List
If you want to eventually sell your business through an online business brokerage like EmpireFlippers, having an email list will make your business more valuable.
An email list contributes to a company's "moat." It makes it more robust to competition, which is why it increases the valuation multiple for FBA businesses.
How to Collect Emails Without Breaking ToS
Email lists can help Amazon sellers build a stronger business by making sales on and off Amazon, and building deeper customer relationships and brand recognition. Sounds good, right? But doesn't collecting emails go against Amazon's Terms of Service?
Let's see exactly what Amazon has to say on the subject. Here are the Prohibited Seller Activities and Actions related to email marketing taken directly from Amazon's site:
Attempts to divert transactions or buyers:
Any attempt to circumvent the established Amazon sales process or to divert Amazon users to another website or sales process is prohibited. Specifically, any advertisements, marketing messages (special offers) or "calls to action" that lead, prompt, or encourage Amazon users to leave the Amazon website are prohibited. This may include the use of email or the inclusion of hyperlinks, URLs, or web addresses within any seller-generated confirmation email messages or any product/listing description fields.
Inappropriate email communications:
Unsolicited emails to Amazon customers (other than as necessary for order fulfillment and related customer service) and emails related to marketing communications of any kind are prohibited.
Direct email addresses:
Buyers and sellers may communicate with one another via the Buyer-Seller Messaging Service.
So it's pretty clear that you cannot use emails to redirect customers from Amazon to another website. And it's also clear that you cannot send marketing messages of any kind to Amazon customers. Amazon has its own messaging service to contact buyers.
So they key to building email lists without breaking Amazon's Terms of Services, then, is collecting emails before a potential customer reaches Amazon. Why is this ok? Because if you collect an email off of Amazon, then it's not Amazon's customer.
There are two criteria for building email lists without getting into trouble with Amazon:
Collect the email off of Amazon
Collect the email before a sale is made on Amazon
By following these rules, you aren't redirecting customers away from Amazon. If a sale is later made on Amazon, then you are directing customer to Amazon.
And you aren't messaging Amazon's customer. You collected the email all on your own, so it's not Amazon's customer, it's yours.
Methods for Collecting Emails
Five years ago, it was much easier to sell exclusively on Amazon, but today, the Amazon marketplace is very, very crowded.
So the general strategy that I am recommending is an integrated approach. Take advantage of all that Amazon has to offer while also building your brand off Amazon – which will then help you generate more sales on Amazon.
And if you use the right tools, you can take advantage of Amazon's popularity and built-in trust factor to collect emails.
1) Email Opt-in Forms on Your Website
Including forms for people to enter their email on your e-commerce website is probably the simplest way to collect emails.
With a tool like Sumo, when visitors come to your website, an email capture form pops up, prompting them to put in their email. Enticing potential customers to join your list with a newsletter on new product releases is one way to collect emails.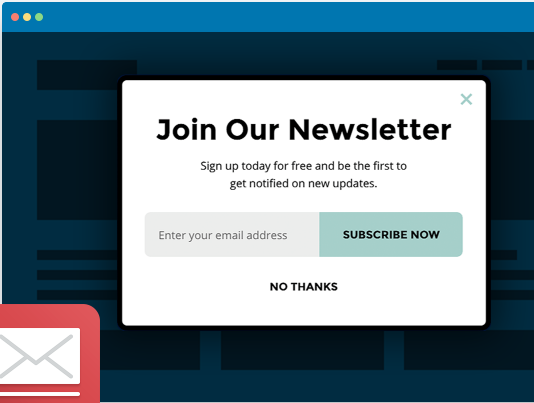 2) Content Giveaway with a General Purpose Landing Page
Another way to collect emails is by giving away a valuable piece of free content.
What types of content work?
A recipe e-book if you sell cooking appliances.
A PDF workout guide if you sell exercise equipment.
A 5-day mini-course (sent through an email autoresponder).
Basically, you want to give away something that your target customer will find a lot of value in and will help them use your product more effectively.
The goal of the content is to lead them toward eventually becoming your customer.
You can give away this content through an automated email when someone enters their email address through an opt-in your site. Or you can use a landing page tool like Leadpages. Then you can drive traffic to the landing page through Facebook Ads, influencer partnerships, or other sources.
3) Discount Promotions with Amazon Landing Page Tool
While the two methods above are very effective among people who sell info products and even e-commerce businesses, this third method is especially effective for Amazon sellers, as it utilizes a tool like LandingCube, specifically built for Amazon sellers.
A landing page is generated from an Amazon listing, and on the page, single-use promotion codes are offered in exchange for email addresses.
Amazon sellers can use a tool like this to build a sales funnel for their Amazon business.

Just as with method two, you get in front of potential customers on social media, paid ads, blogs – basically you go to where your target customers spend time on the web – invite them to click on the link, and they arrive at the landing page. There, they see a page similar to the Amazon listing where they are offered a discount code for your Amazon product. If they are interested in the offer, they enter their email address. Then they go to Amazon to buy the product at a discount.
And you have their email to further develop a relationship with them, promote your brand, and get repeat sales.
Further Reading:
How to Use Email Lists
So you have an email list. Now what?
Here are 10 types of emails that Amazon sellers can use to build a brand, develop customer relationships, drive sales and grow their business.
1) Welcome Email
The welcome email is crucial. This is the message sent out right after someone opts in to your list.
Use the welcome email to set the tone for your brand as well as let customers know what they can expect to receive from your communications. The welcome email is a great opportunity to tell your brand story, so that your readers (soon-to-be customers) 'buy in' from the get-go.
According to Easy-SMTP, welcome emails generate 320% more revenue per email than other promotional emails: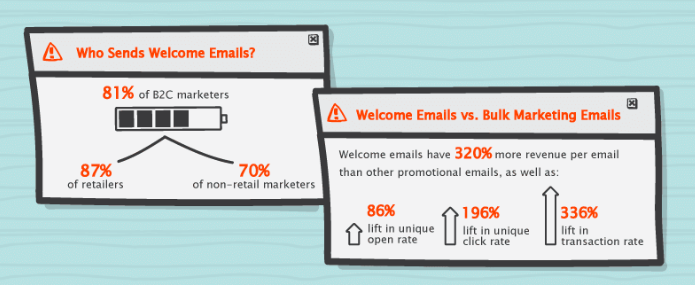 It's helpful to include a powerful call-to-action to 'shop now' in the welcome email. Now that you have the buyer's attention, it's important to capitalize on that immediately. You only have one chance to make a good impression. So make it count!
Read this guide to learn more about best practices for e-commerce welcome emails.
2) Curation Email
Curate means to collect and store information. A curation email for an e-commerce brand shows the top products sold per category in the last month or recommends a list of products that a subscriber might like, with nice images next to each so readers can easily click on them.
The e-commerce clothing brand Huckberry does a great job with email marketing. And although they don't sell on Amazon, brands that do sell can learn a ton from their marketing efforts. Here's an example of a curation email from Huckberry: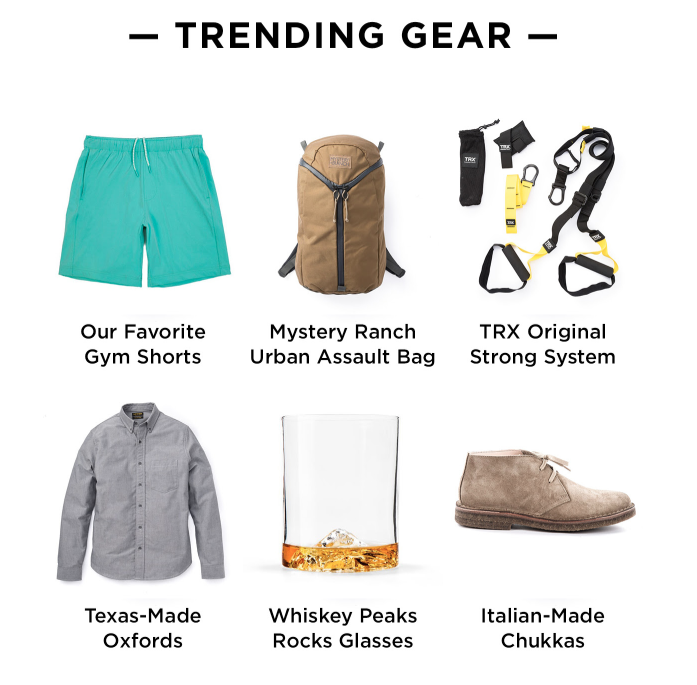 There's a beautiful display of the top-trending products across different categories.
Another type of curation email would be recommending a list of products that a subscriber might like, based on previous actions they've taken. Amazon's recommendations is one of the tricks that helps them rake in over $178 billion in 2017. You can use this approach, but featuring just your own products.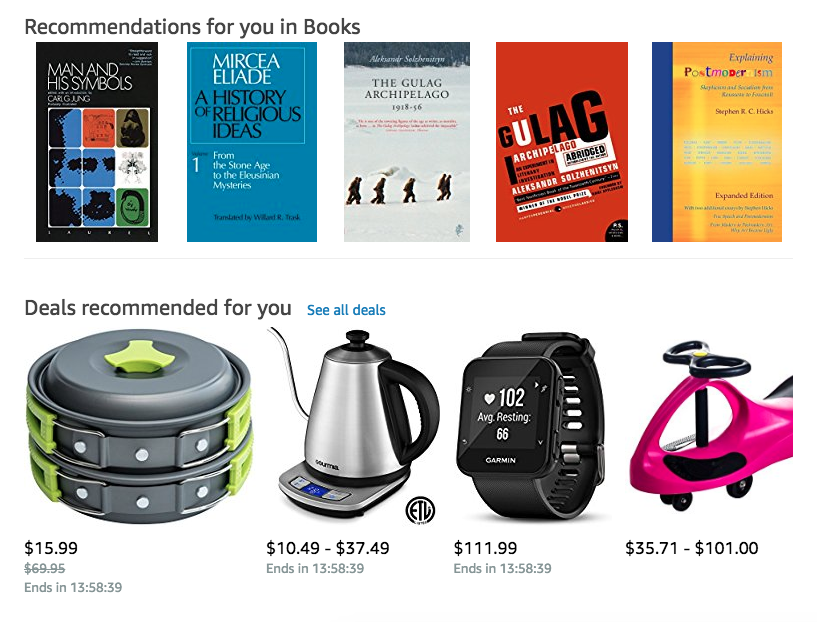 3) Referral Email
You can get your current customers to refer you more customers. But don't just send one email to ask your customers to refer their friends; a solid referral campaign involves several emails, such as:
An invite email to explain the offer and get customers excited about the campaign by explaining the benefits.
A reminder email to once again explain the benefits. People risk their social reputations by sharing products to their networks. Give them a reason to share.
Follow up with a thank you email when customers start sharing with their friends. This will hopefully encourage them to share even more.
Finally, reward emails and scoreboard emails let your customers know what they have won from sharing and lets them know of the progress made by their referrals. Sharing this info motivates them to win even more.
For a more in-depth look into referral e-mail campaigns, check out Extole's resource.
4) Discount Email
This one is pretty simple and much loved by customers. You can include discounts in the initial welcome email series to encourage sales right away. Or you can send discounts to your most loyal fans.
You can use discounts and promotions on Amazon to get an initial kick in sales velocity to launch a new product. And you can also use them to get a quick boost in keyword rankings.
Amazon gives you the tools to create single-use promotion codes (so no one takes advantage of your generosity and buys up all your inventory). Here is a step-by-step guide to creating single-use Amazon promos: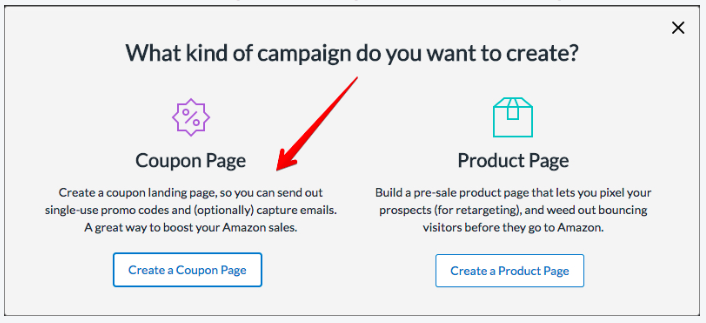 Just be careful. Don't give discounts too often or customers will only purchase when a discount is available.
5) Order Confirmation
An order confirmation email is essentially a digital receipt. But like all email communications, it's an opportunity to shape the customer experience, which you can nurture by:
Imprinting your brand identity into the order confirmation (humor is always a good move!).
Making sure you manage customer expectations by letting them know when they can expect to receive the product.
Reminding customers of the benefits of their purchase.
Including tips on how to best use the product, mistakes to avoid, or any other type of valuable content.
Happy customers means less returns, better reviews, more repeat purchases, and more referrals.
6) Upsell/Cross-Sell
Would you like to supersize your meal? Do you want fries with that?
McDonald's is the king of upsells and cross-sells.
Customers who have already bought from you are more likely to give you additional money than those who have not bought from you yet. According to a report by Monetate, existing customers spend almost double that of new customers: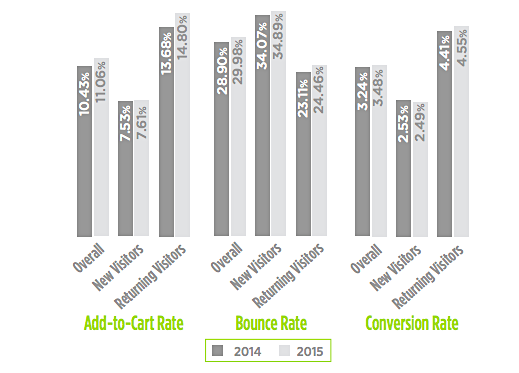 Use this as an opportunity to recommend complimentary (cross-sell) and higher-ticket (upsell) items. Once again, Amazon does this on their site, so you can use email marketing to do it for your own products.
7) Cart Abandonment
This is not so much an issue if you are exclusively selling on Amazon, but if you are selling on your own e-commerce site, this is a no-brainer.
If a customer adds an item to their cart, 69.23% of the time it doesn't result in purchase. While over half (54%) of customers abandon their cart because of unforeseen costs such as expensive shipping, 16% was due to bad site navigation and 21% due to a long process.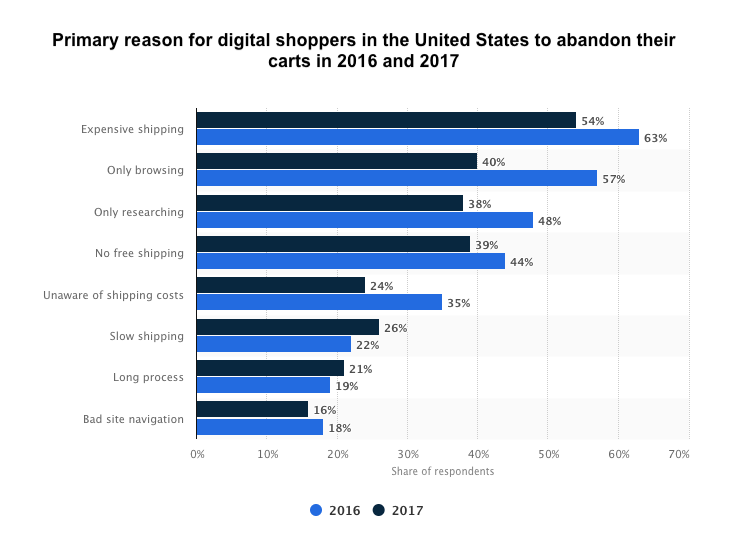 These are all obstacles that could potentially be overcome through follow-up emails. Offering a time-sensitive discount, or even simply free shipping, can lead to more conversions. You won't recover all sales, but it's one of the easiest way to increase sales with emails.
Shopify has a blog post that details 13 amazing abandoned cart emails (and what you can learn from them).
8) Re-engagement Email
The purpose of a re-engagement email is to encourage customers to take a very specific action. If someone hasn't interacted with your brand in a while, entice them to re-engage with something valuable.
Examples include:
Like our Facebook Page
Respond to this Email
Save Now on All Shoes
Shop Now and Get Free Shipping
Get them to say "Yes"  – and if they don't respond, it might be a good idea to clear them from your list.
9) Survey Email
The more you know about your customers, the better. Sending surveys is a great way to gather insights to make more informed decisions about marketing, product development, etc. Doing a survey could help you discover:
What type of content do your subscribers want to receive?
What categories of products are they most interested in?
Why did they abandon their cart?
When creating a survey email, it's important to be respectful of your customers. Managing their expectations is critical, so let them know what the survey will be about and how long it will take. Offering an incentive is often a good idea as well, but be careful. Giving away a freebie may bias the data towards those who only want the free item. Offering a discount is probably a better approach than a free gift.
Here's a great example of a survey email from Anthropologie: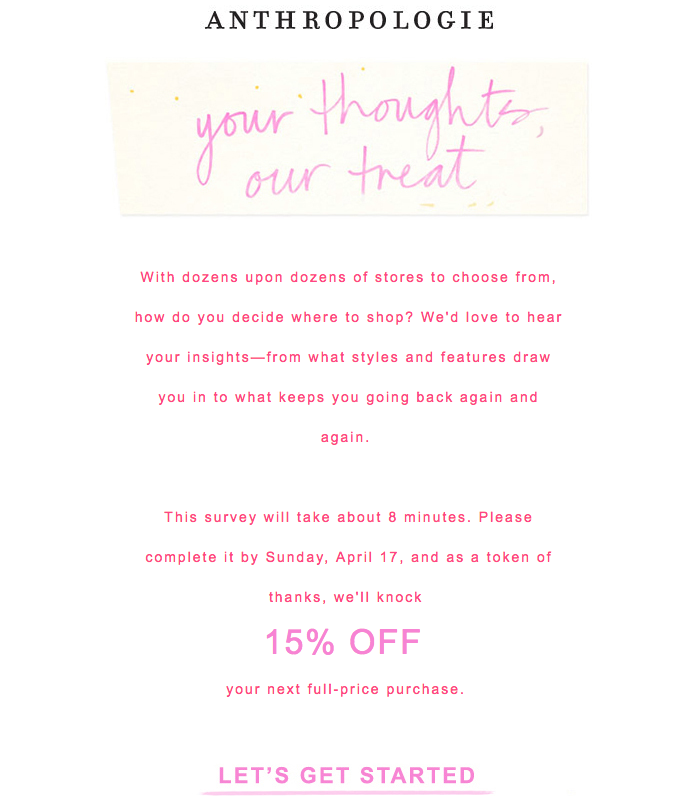 They do all the things listed above (manage expectations, offer incentive), and also include a deadline and great aesthetic.
Further Reading:
10) Thank You Email
Last, but certainly not least, send your customers some love. Thank you emails are a great way to show your customers you care. After all, you would not have a business without your customers.
According to Remarkety, thank you emails have higher open and click-through rates compared to other emails, and convert at 10%, on average: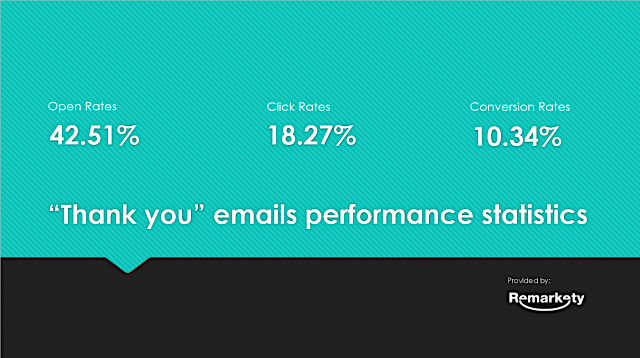 Remarkety recommends the following points to increase conversions in thank you emails:
Keep the subject line short.
Include coupons (with multi-tiered loyalty programs, i.e. the more you buy, the better the rewards).
Provide personalized recommendations (see #2 "Curation Emails").
Ask for feedback (see #9 "Survey Emails").
Some Considerations for Email Marketing
Have a goal for each email. Whether it's click-throughs, responses or sales, make sure each message you send has a clear objective. And keep track of whether or not you are hitting your objectives.
Optimize for mobile. More and more people are checking their emails on their phones, so make sure that your email is optimized for mobile. You don't want to put in all the work to make a great looking email with excellent copy, and then the customer can't even read it.
Make it human. No one likes to be sold to. But we love stories. And we love humor. Infuse your brand's personality into every email.
Keep it relevant. Be respectful of your subscribers' attention and only send stuff to them that they will care about. Using tags and sorting features made available by most email marketing tools are a great way to keep content relevant. If someone surveyed says they are interested in women's products, don't send them emails about prostate health.
In Summary
Email marketing is a great way to build relationships with customers, keep them engaged and make more sales. Amazon sellers can grow their business and brand by collecting emails. If you collect emails off of Amazon, before a customer reaches Amazon, you can use them for marketing purposes without breaking Amazon's Terms of Service.
Need help with Amazon advertising? Our Amazon specialists create robust, done-for-you ad campaigns specifically designed to sell more products, faster. Click here for more info!