The Ultimate Guide to Programmatic Advertising for Brands in 2023
Unless you are new to advertising, the odds are high that you've heard the expression "reaching the right audience at the right time" a million times.
Still, if you aren't familiar with programmatic advertising, this term may sound a bit daunting to you. If so, here's what you should know.
In 2020, ad impressions sold programmatically reached $129.1 billion U.S., and by 2021, programmatic will account for 68% of digital media advertising spend.
Programmatic buying has become the number one choice for many brands that strive to keep in touch with their customers across all channels and environments.
If you want to know why this happened, buckle up – here's what this article is going to cover:
What programmatic advertising is
How it's different from other types of advertising
How programmatic targeting works
Why it is beneficial for brands
How many advertisers invest in programmatic today (i.e. market size)
The future of programmatic advertising and how it will reshape advertising realms for brands
What Is Programmatic Advertising?
Programmatic is a technology that utilizes ML and AI algorithms to automate the processes of digital media (i.e. ads) buying and selling. The process of buying advertising inventory is automated, thanks to programmatic platforms equipped with online "bidding mechanisms."
RTB (Real-Time Bidding) is typically the "engine" of programmatic platforms; this protocol makes it possible to organize a real-time auction between sellers and buyers of media.
In these auctions, advertisers compete with each other for the right to serve an ad impression to a particular user on a particular website or app. Each one automatically offers its own bid price for the impression; the system makes bidding decisions by taking into account the budget and targeting settings that advertisers input previously: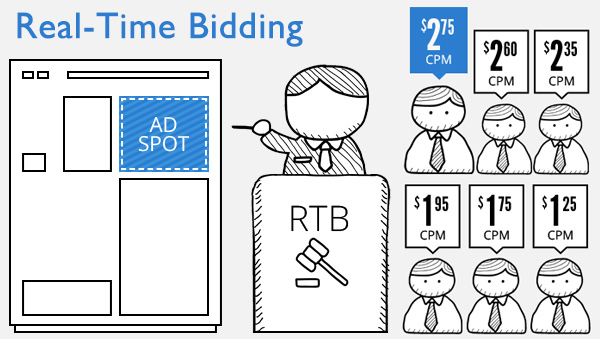 If you compare programmatic advertising with manual ad placement, you will notice that the former definitely wins – not only in terms of removing all those pain points with placement arrangement, but it also drives a targeted experience. Previously, brands had to schedule placements on blogs or sites thematically related to their products, and it didn't really guarantee that ads were seen by the people to whom the product or service was relevant.
Here's How Programmatic Targeting Came into Play
Just imagine a situation where an advertiser finds a very popular resource for ad placement packed with sports news. Wow, they think, I can place my ad for sportswear right here. Sounds like a good idea, but the website's audience is international and the advertiser only offers local delivery.
Another example is when the product is designed for a particular age range – let's say for kids, in this case – so the ad can be relevant only for those viewers who have children. Sure, some share of impressions will reach the right audience, but the rest will translate into lost money for the advertiser unless correct targeting is applied.
The fundamental difference between programmatic advertising and manual ad placing is that programmatic technology buys audiences instead of advertising spaces.
Ad impressions are served on different websites or apps connected to programmatic. What matters most during the inventory selection process is user characteristics and whether or not they match the targeting criteria that the advertiser sets for the campaign on the programmatic platform: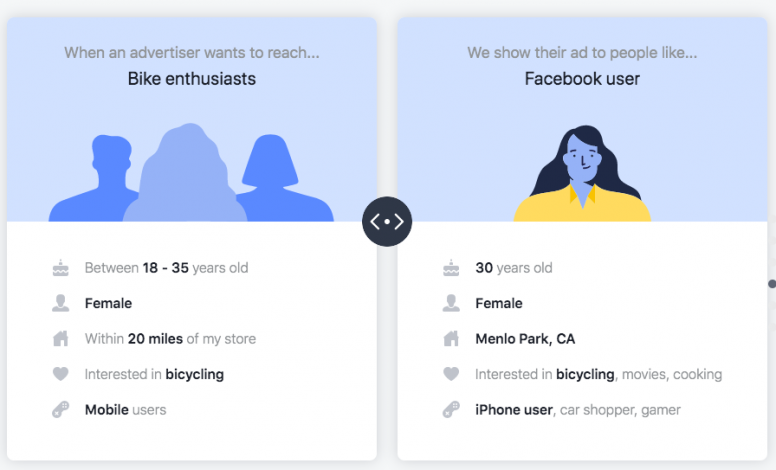 Ad serving in programmatic is a complicated process; in order to better understand it, let's review how it works, step by step.
How Programmatic Ecosystem Drives Targeted Experience
Or, in simple words, how does it work? The complicated and multilayered process of programmatic buying boils down to several steps. Before we talk about them, it is important to review the ecosystem to find out what kind of advertising platforms they involve and how they are related.
The main components of the programmatic ecosystem are:
DSP (Demand-Side Platform) is a programmatic platform that helps advertisers buy targeted impressions from publishers in real time. This piece of ad tech software is connected to numerous advertising exchanges and SSPs. Thanks to these connections, a media buyer can make inventory purchases all around the world in a single interface. Before airing a campaign on DSP, advertisers configure its target(s): budget, frequency of impressions and other details.
SSP (Supply-Side Platform) is a media-selling platform designed to help publishers manage their advertising inventory (and advertising on their sites altogether

 –

position of the ad, allowed sizes, formats, resolutions, price, etc). SSP simplifies media-selling for publishers as it connects to the myriad of DSPs, increasing the likelihood of selling ad spaces.
Ad Exchange is a technological platform that can be used by both demand and supply partners (including publishers, advertisers, agencies, DSPs and SSPs) for direct media trading. Also, ad exchanges are connected to DSPs and SSPs in order to maintain the auctioning process:

Thanks to the capacities of programmatic advertising, and Real-Time Bidding in particular, many brands gain access to a large number of websites and apps. At the same time, thanks to targeting, the ad serving on them is individualized for every new user.
In a nutshell, the magic happens like this:
Step 1: The user visits the site or application, which automatically collects the data contained in their cookies.
Step 2: The received data is sent to the SSP. The minimum price is formed there (the publisher defines the minimum amount that they are ready to pay per impression). The SSP sends the request to DSPs about the available ad slot, along with the user data.
Step 3: The DSP matches the data in request with the campaign settings to define whether or not the impression could be valuable for the advertiser. If they match, the DSP responds to a bid request, joins the auction and sends the bid to an ad exchange (where the auction takes place).
In the example below, you can see how the system defines the winner (based on a second-price auction):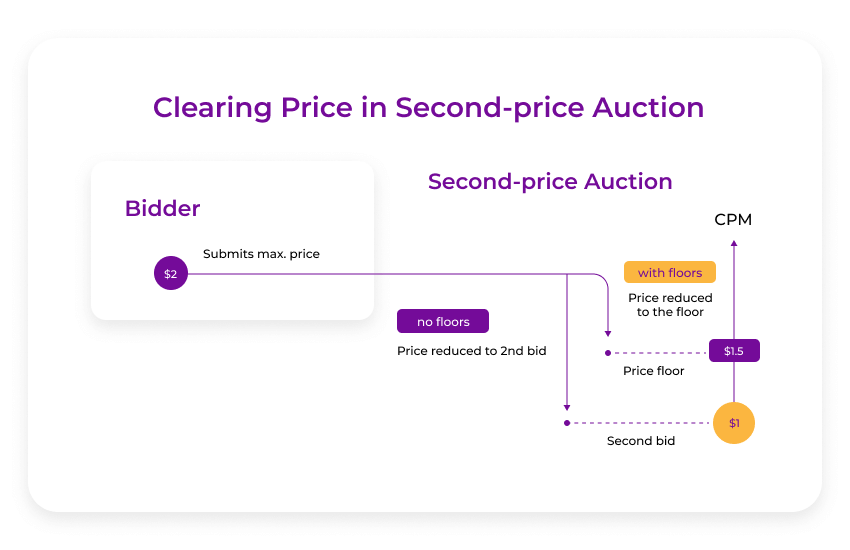 Step 4: The ad exchange processes the bids received from the DSP. As in any auction, the highest bid wins and the owner of this bid automatically serves their ad to their target audience.
Related Content:
* Geotargeting: How to Find the Right Customers for Your Brand
* How Apple's iOS 14 Release May Affect Your Ads (& What to Do About It)
* Google Privacy Sandbox: What Does It Mean for the Future of Targeted Ads?

What Are the Benefits of Programmatic for Brands?
Endless scheduling, manual negotiations, pricing discussions, selecting the media according to the thematics…all these became obsolete the very moment programmatic came onto the scene. In other words, campaign automation is one of the main things that drive more and more brands to embrace programmatic advertising.
Along with these additional benefits, the super-precise targeting mechanism described above is another big opportunity that brands simply can't leave on the table:
Reaching a larger audience. There are 4.66 billion active Internet users in the world in 2023

 –

almost 60% of the global population. With precise targeting, RTB connection and programmatic experience, brands can find an approach to every potential customer.
Cost-efficiency. Although the prices are differentiated from campaign to campaign, and depend on many factors (like CPM cost, geo, traffic type, ad format and size), in general, programmatic ads save the advertiser money. The advertiser doesn't show ads to people outside its target audiences and thus avoids unreasonable advertising spending.
Flexible management and timely analysis. Programmatic helps advertisers to run analyses of their campaigns in real time. This way, brands can evaluate the effectiveness of their advertising campaigns and make timely adjustments when necessary.
Different ad formats for different goals. Programmatic allows brands to combine different ad formats and ad creatives and manage them in one interface. The abundance of ad formats helps brands be creative and cut through the noise when they need to achieve particular results. For instance, while traditional formats like banner ensure the best reach, the interactive ones, like rewarded (see the picture below) or playable, foster brand loyalty and engagement.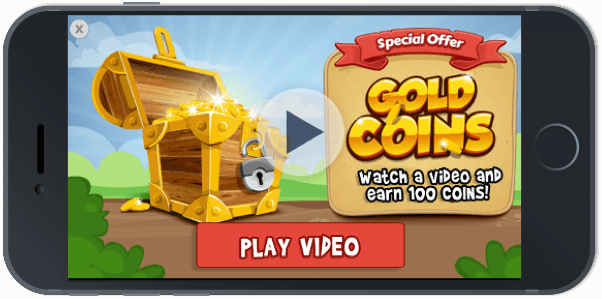 Retargeting and omnichannel delivery. Typically, before a customer makes the purchase, they contact the brand up to 7-13 six times through different channels. One ad impression is unlikely to convert into a purchase right away, and that's why bands use retargeting capabilities of programmatic platforms. This way, they can use one medium, for example desktop for running campaigns, and then retarget the same users via different channels on social media, through podcasts, on mobile or CTV:

Learn More:
* How B2B Firms Can Acquire Leads with Programmatic Ads
* Retargeting 101: Why It's Essential for Any Marketing Funnel
* Omnichannel Marketing: Using the Content Sprout Method to Overcome Info Overload

How Big Is the Programmatic Market Today?
As we mentioned at the beginning, programmatic spending is measured in billions nowadays, and the United States generates most of this spending (followed by China and the UK, as they actively explore programmatic capacities, according to Statista):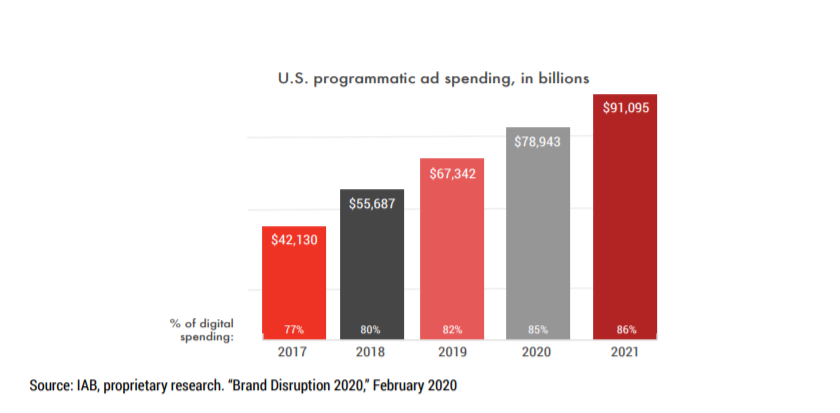 When it comes to devices, 83% of transactions happen on mobile. Over-the-top (OTT) media services are also increasingly growing in popularity, and by the end of 2023, one third of all TV ad revenue will belong to programmatic. In relation to this – and the fact that people spent more time in front of their screens during the COVID-19 lockdown – more brands are investing in video ad formats on CTV (which will double to 16% by the end of 2023).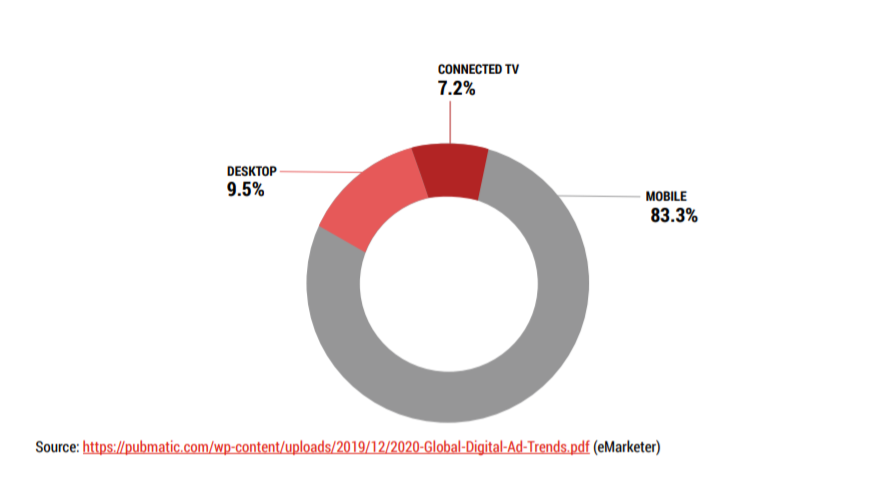 Wait, Didn't the Lockdown Kill Advertising?
Not at all. Sure, as COVID-19 took over the world in 2020, many brands were forced to shrink their advertising budgets. Brands involved in tourism, outdoor sports activities and restaurant sectors were affected the most. Still, not all businesses stopped investing their budgets in advertising, and many redistributed their budgets towards mediums where traffic surged like never before – mobile and Connected TV in particular.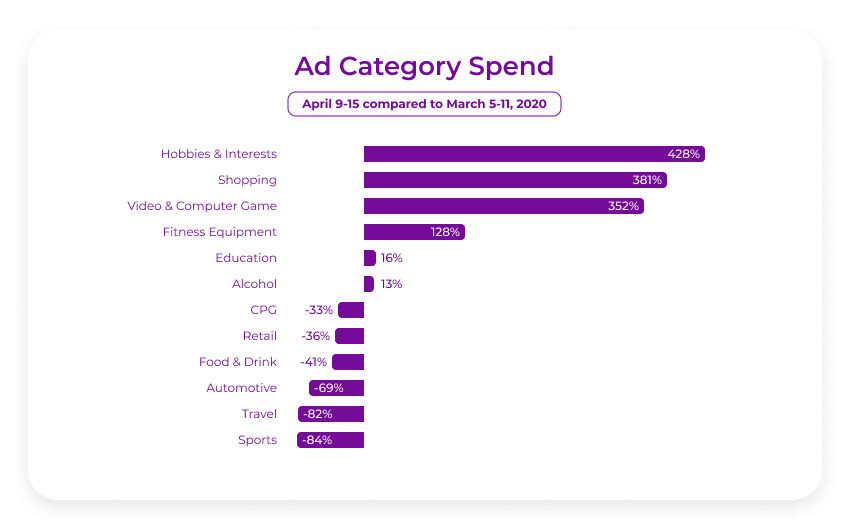 Before the end of 2023, experts predict ad sales to rebound to at least +8% in the U.S., gradually returning to normal and reaching pre-pandemic levels worldwide.
Related Content: How to Create Digital Products to Grow Your Small Business During a Pandemic (and Beyond!)
 What Is Happening Now?
Two-thirds of the world's population use mobile phones every day. At the same time, according to the digital 2021 global overview report by Hootsuite, Android users now spend more than four hours a day on their phones. It turns out that in the twelve months of 2020, Android users spent more than 3.5 trillion hours on their phones.
In general, the average user now spends almost seven hours a day on the Internet, using all kinds of devices: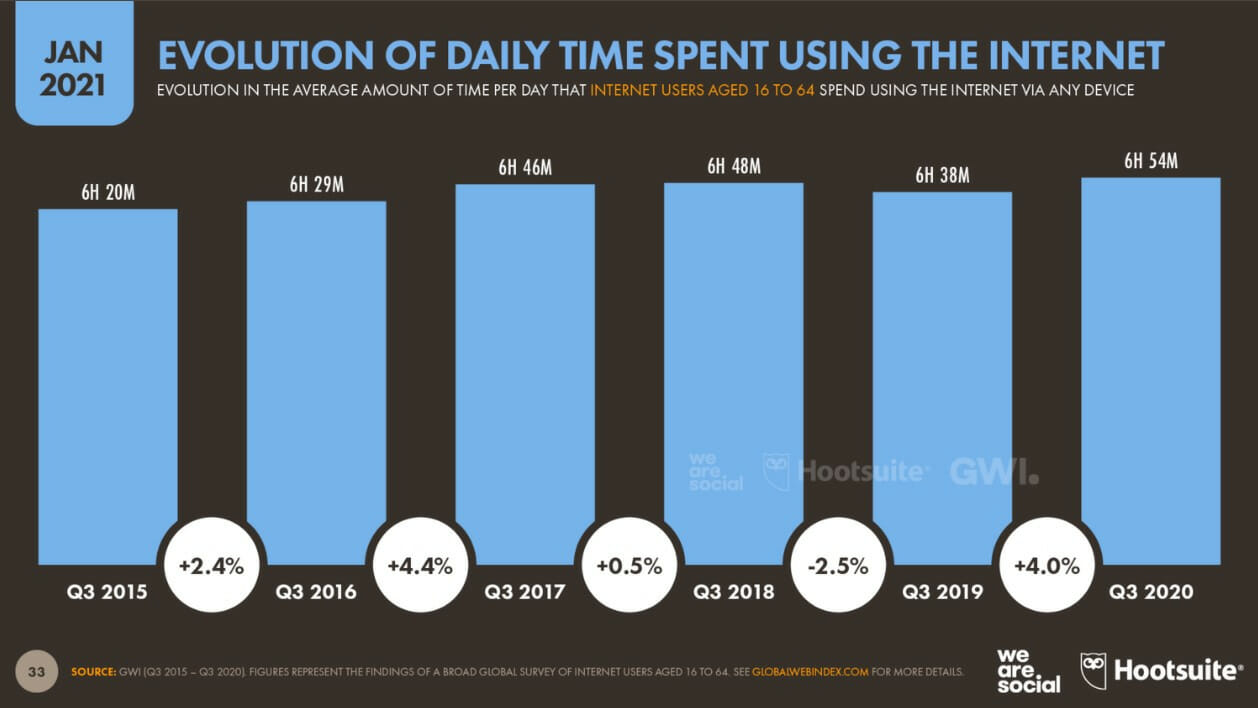 That's more than forty-eight hours a week and two full days out of the week. Assuming the average person sleeps 7-8 hours a day, that means we now spend approximately 42% of our waking hours on the Internet. We are online for about as long as we spend sleeping.
Mobile phones now account for 52.8% of the time people spend online, but the data in the report suggests that other devices will still play an important role in our lives when it comes to media consumption:
According to the report, 9 out of 10 Internet users use their smartphones for Internet browsing, but two-thirds also say they use a laptop or desktop computer.
Food and personal care products became the fastest-growing e-commerce category in 2020:
Lockdown and social distancing measures also caused a significant increase in online grocery shopping: global revenues in this category in 2020 exceeded USD $400 billion, 40% higher than we saw in 2019.
Why Programmatic Is the Future of Targeted Advertising
Obviously, in recent months, people have developed new online media consumption and shopping habits. Therefore, they represent an unprecedented opportunity for brands and retailers to rethink their current position and shift towards an omnichannel targeted advertising experience.
Machine learning algorithms collect and process colossal arrays of data that reflect even the slightest changes in user behavior. Data is the key to understanding how consumer preferences have changed and which products users might be interested in tomorrow. While some advertisers are scaling back their ad investments in anticipation of better times, others can effectively compete for high-quality inventory and relevant audiences.
Programmatic allows brands to experiment with non-standard, data-driven and highly interactive formats (e.g. rewarded, playable and shoppable), adapting them to a specific user: 
Many programmatic platforms already allow personalizing the elements of ads in real-time after analyzing information about visitors, their interests and behavior. Such an approach, coupled with precise targeting, allows brands to create individualized (and highly relevant) experiences, which translate into better message recall, higher engagement and, as a result, greater advertising outcomes.
Last Word on Programmatic Advertising
Programmatic advertising came to the scene to help brands target the right audiences at the right time and on the right medium. By adjusting their advertising experiences in such a way, brands avoid overspending while being able to capture the attention of people that have the highest potential to become customers.
In a programmatic ecosystem, brands can build the entire funnel of communication with their target audiences at every touchpoint, starting with building brand awareness and ending with fostering brand loyalty. The further development of AI and ML will reduce the share of non-targeted impressions, making programmatic one of the most effective online advertising tools available for brands.