Reviewing successful or innovative programmatic advertising case studies can inspire your own ad campaign.
Programmatic ads have proven to be a game-changer in the marketing world by using automated technology and data-driven strategies.
To help spark new ideas, we'll go over seven inspirational case studies that showcase the immense potential and remarkable results that programmatic advertising can deliver.
From global brands to local businesses, you'll learn about the power of programmatic advertising in driving engagement, increasing conversions and, ultimately, achieving business goals.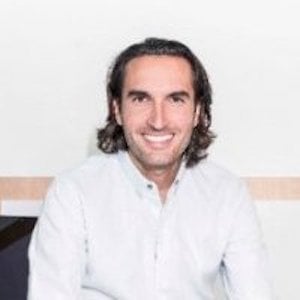 Yaniv Masjedi
CMO, Nextiva
Their expertise has helped Nextiva grow its brand and overall business
What Is Programmatic Advertising (with Examples)?
Programmatic advertising is an automated approach to buying and selling digital ad space in real time. It involves using software and algorithms to make data-driven decisions about ad placements, targeting, and bidding: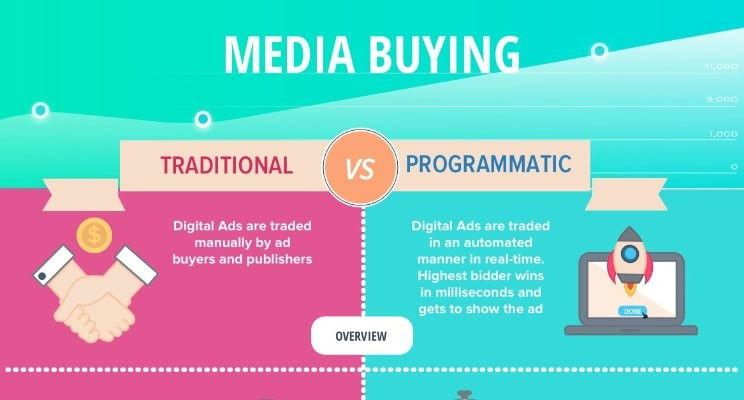 Here's a basic overview of how programmatic advertising works:
An advertiser creates a campaign and specifies their targeting criteria, such as the demographics of the audience they want to reach, the websites they want their ads to appear on, and the budget they are willing to spend.
The advertiser's ad is placed in a programmatic ad exchange, which is a marketplace where publishers sell their ad space.
When a user visits a website that is part of the ad exchange, the ad exchange will auction off the ad space to the highest bidder.
The advertiser who wins the auction will have their ad displayed on the website.
Some popular examples of programmatic ad formats are Google Ads, Facebook Ads, Native Ads, Connected TV Ads, and Mobile In App Ads: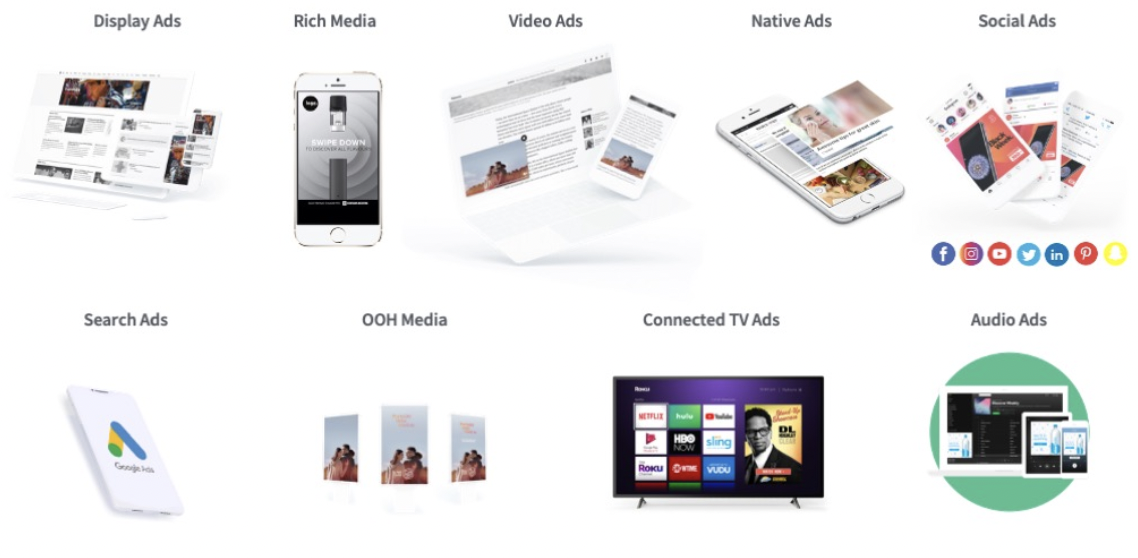 You'll recognize these companies and their use of programmatic advertising:
Amazon

 uses programmatic advertising to deliver personalized ads to their users based on their browsing and purchasing history.

Google uses programmatic advertising to sell ad space on its search engine results pages (SERPs) and other websites.
Facebook uses programmatic advertising to sell ad space on its social media platform.
Dive Deeper: The Ultimate Guide to Programmatic Advertising for Brands in 2023
Best Programmatic Advertising Case Studies That Drove Exceptional Results + ROAS
These programmatic marketing success stories showcase the transformative impact of programmatic advertising in driving revenue growth, enhancing brand visibility and engaging the right audience.
Case Study 1: Hestan Culinary Sees Over 300% Increase in BOFU ROAS After Switching to Programmatic Advertising
Advertiser: Hestan Culinary
Advertising Agency That Drove Success: Single Grain
Challenge:
Hestan Culinary experienced a continuous decline in performance during Spring 2022, posing a significant challenge.
As a brand renowned for premium cookware, its customers followed a thoughtful and deliberate purchasing journey.
Maintaining an exceptional Return on Ad Spend (ROAS) was a key priority for Hestan Culinary.
The company aimed to develop a strategic solution to overcome the performance decline and address the challenge effectively.
Marketing Approach:
Single Grain recognized the need to revitalize advertising efforts and explored programmatic ads using StackAdapt's platform.
We implemented a full-funnel approach, targeting a qualified prospecting audience and utilizing various tactics to guide target customers toward conversion.
A combination of native and catalog feed ad units was used, and both delivered impressive results. However, the catalog feed outperformed in terms of conversions, proving to be the more effective option.
Our team of programmatic ad experts leveraged StackAdapt's dynamic retargeting units, resulting in an immediate and significant performance improvement.
Key Results:
Retargeting ROAS experienced a remarkable 381% increase, soaring from 1.91 to an exceptional 9.20 within the first month.
Overall conversions witnessed a significant surge of 281%.
The exceptional growth did sustain for over 45 days since the launch of the programmatic advertising campaign.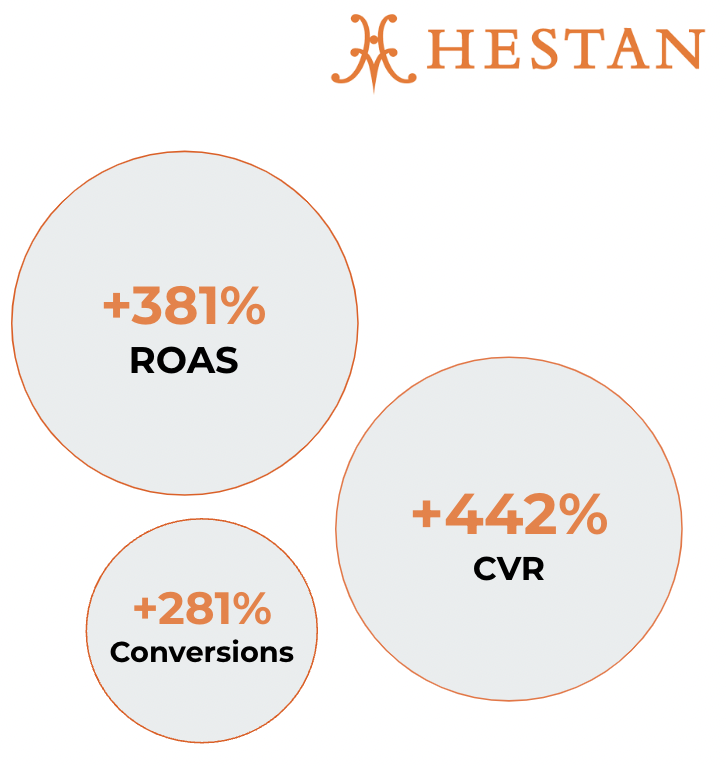 Case Study 2: California-based Healthcare Staffing Agency Witnessed a 131% Increase in Applications With Programmatic Ads
Advertiser:  California-based healthcare staffing agency
Advertising Agency That Drove Success: Haley Marketing
Challenge:
Clinical healthcare staffing poses challenges for handling both clinical and non-clinical positions.
Allocating a job advertising budget for both roles required careful management and time investment.
The recruitment strategies for registered nurses and janitorial positions differ significantly.
Their job board sales representative advised the staffing agency to increase spending by 60% to enhance job visibility before collaborating with Haley Marketing.
Marketing Approach:
Haley Marketing recommended a more innovative approach to the company instead of increasing spending.
Proposed a programmatic advertising recruitment strategy with three main elements: strategic budget allocation based on job priority, broad distribution of jobs across multiple sources, and automated tracking and reporting of sources.
Developed an automated system to manage clinical and non-clinical job postings efficiently.
Enabled recruiters to assign priority status to each job through their applicant tracking system, streamlining the overall process.
Key Results:
Generated a remarkable 131% increase in monthly job applications. Successfully reduced their job board spending by over 6% per month.
Expanded their job board portfolio by adding four additional platforms.
Prior to partnering with Haley Marketing, the client averaged 379 applications per month on Indeed, costing $3,000.
With Haley Marketing's management, the client now averages 876 monthly applications across multiple job boards (Indeed, Zip, Appcast Xcelerate job board network, Monster, Nexxt) at a reduced cost of $2,807.
Case Study 3: Clearfly Increased Contact-Us Form Fills and Brochure Downloads With an Outstanding Average CPA of $6.70
Advertiser: Clearfly SIP Trunking Solutions
Advertising Agency That Drove Success: Kinetic Marketing and Creative
Challenge:
Clearfly, a brand specializing in SIP trunking solutions and voice services, partnered with Kinetic Marketing & Creative.
Collaborated to develop an omnichannel digital marketing strategy.
Partnered to create targeted, segmented audiences to deliver tailored messages.
Marketing Approach:
Developed highly targeted digital ads with dedicated landing pages for each audience tier.
Launched paid advertising campaigns on LinkedIn and programmatic advertising channels.
Maintained monthly organic social media presence on LinkedIn and Facebook.
Implemented targeted email automation tailored to engaged and unengaged partners, accompanied by quarterly newsletters and a welcome email series.
Revamped the website to provide a user-friendly experience, allowing users to engage at their own pace and opt into a fully branded email marketing campaign aligned with their service needs.
Key Results:
Programmatic advertising campaigns led to increased contact-us form fills and brochure downloads, resulting in an average cost per acquisition (CPA) of $6.70.
The paid LinkedIn campaign served as an awareness tactic, generating 136,811 impressions and 146 visits to the contact page.
Coordinated messaging across organic social content on Facebook and LinkedIn fostered community engagement, with an average rate of 14.49% and a combined 15,000 organic impressions.
The concise messaging and consistent brand presence effectively reached Clearfly's customers at various stages of the sales funnel.
Targeted email automation series improved awareness of Clearfly's Unified Billing services and re-engaged unengaged partners, yielding a 28% open rate and 4.9% click rate (exceeding industry benchmarks).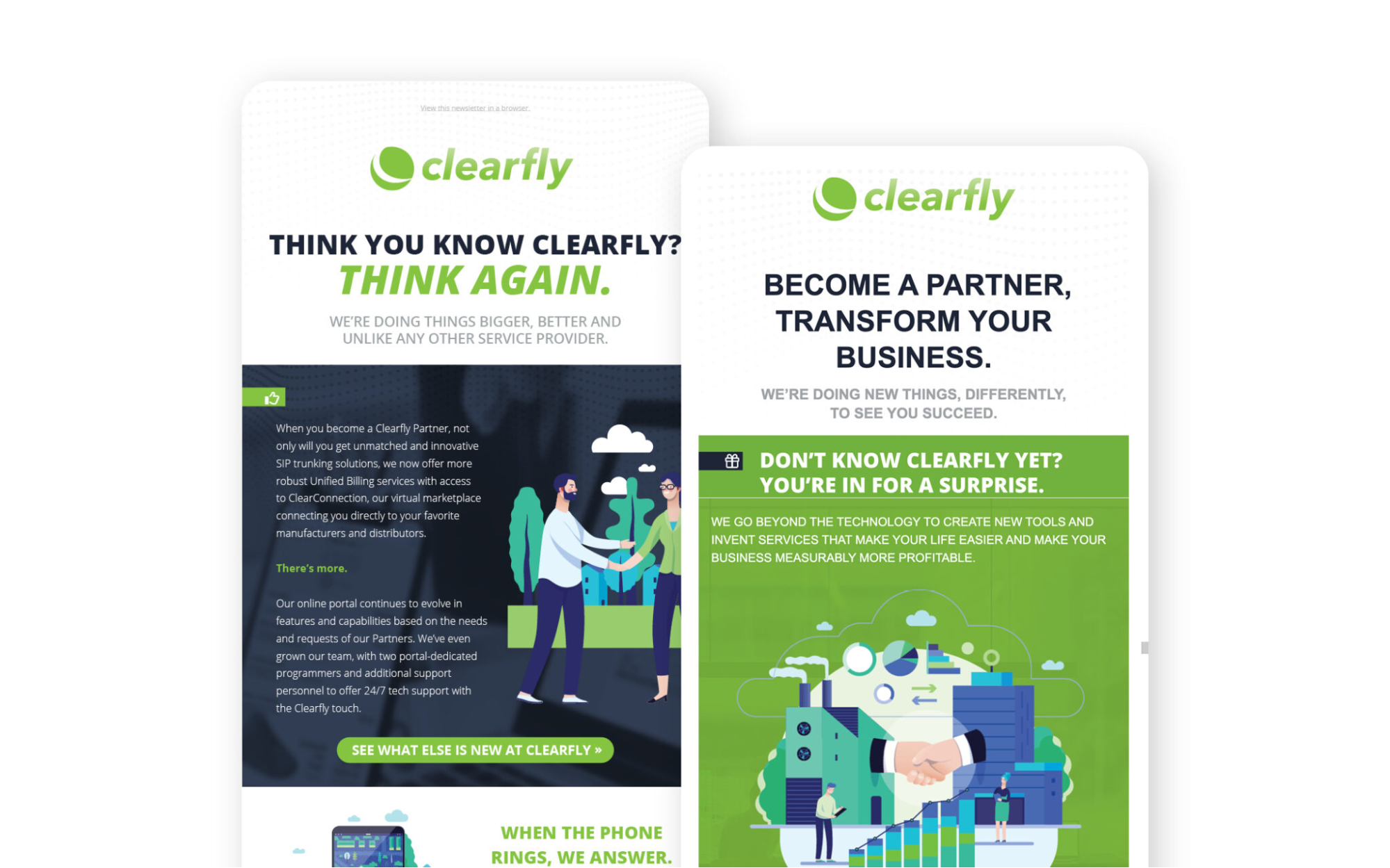 Case Study 4: Gerard Achieved 1,00,000 Impressions from Programmatic Distribution
Advertiser: Gerard, Hungarian roof manufacturers
Advertising Agency That Drove Success: Advant Technology
Challenge:
Gerard, a roofing manufacturer, targets a broad range of homeowners as their audience.
The timing of potential purchases limits the audience to a niche group, as not everyone will be currently seeking a new roof.
The brand wanted to raise awareness among new users actively looking for a new roof.
Marketing Approach:
Advant used programmatic targeting strategies to reach untapped audiences through a programmatic display campaign.
To increase awareness among users actively seeking a new roof, they implemented a combination of display banners, native ads, and video-led campaigns.
They also created a list of publishers to target individuals aged 30-64 currently constructing or renovating their homes.
Key Results:
Case Study 5: Local Now Experienced an Impressive 282% YoY Revenue Increase by Leveraging Server-Side Programmatic Advertising
Advertiser: Local Now American OTT service
Advertising Agency That Drove Success: PubMatic
Challenge:
Local Now sought a select group of partners to enhance their expansion across CTV and streaming platforms.
The chosen partners were expected to provide unique demand, bolster online sales, and improve the fill rate.
Local Now aimed to have multiple technology options, including premium PMP and PG toolsets, for efficient execution of their direct-sourced business.
In the competitive ad-supported streaming industry, they prioritized partners who could help them differentiate themselves from other providers.
Marketing Approach:
Local Now partnered with PubMatic for a comprehensive audit and optimization review of their content portfolio.
PubMatic offered enterprise-level support, guiding Local Now on signal passing, inventory curation, and ad server integration.
Advanced programmatic advertising tools and services were crucial in facilitating demand growth.
Key Results:
Local Now witnessed a rapid increase in revenue and a significant rise in ad requests.
They experienced a +282% YoY revenue.

Case Study 6: Kellogg's Increased Their Ad Visibility by 25% with Programmatic Ads
Advertiser: Kellogg Company
Advertising Agency That Drove Success: Cyber Publicity
Challenge:
Kellogg Company has a strong presence in the American frozen foods sector. However, they were not able to deliver personalized messaging to their target audiences.
Moreover, they managed a diverse portfolio of over a dozen brands. Hence, Kellogg's sought a solution to upscale its advertising efforts.
Marketing Approach:
Cyber Publicity helped Kellogg Company utilize programmatic buying through DoubleClick Digital Marketing, leveraging display and video campaigns.
The programmatic advertising approach helped them to deliver personalized messages to their target audience.
The ads team at Cyber Publicity also helped Kellogg Company leverage its in-depth consumer knowledge for effective ad targeting.
Key Results:
The visibility of their ads increased from 56% to more than 70%.
Programmatic buying was an effective tool to attract and retain their customers' favor.
Case Study 7: Telemedicine Company Achieved a 300% Return on Ad Spend with Automated Media Buying
Advertiser: A telemedicine company headquartered in Dallas Fort Worth, Texas
Advertising Agency That Drove Success: Genius Monkey
Challenge:
Timing is crucial in the telemedicine industry, especially during cold and flu season when patient visits typically increase.
The company primarily marketed through social media but had limited experience with display and audio advertising.
Their previous attempts at display advertising were inconsistent. Breaking into audio advertising was challenging due to high minimums and a lack of support from platforms like Spotify.
The company aimed to explore OTT (Over-the-Top) advertising to increase brand exposure and generate more impressions.
Increasing the average number of patient consults per day was a specific goal for the company.
They closely monitored the number of "completed patient visits" daily.
The company sought to improve its overall digital presence to enhance its marketing efforts and explore audio and OTT advertising opportunities.
Marketing Approach:
The telemedicine company chose Genius Monkey for its data-driven approach and customized client dashboard.
Genius Monkey helped the company break into the audio and OTT advertising space with a budget that other vendors deemed insufficient.
The company expanded its marketing approach by adding display ads.
Key Results:
Achieved a remarkable 300% return on ad spend, reflecting the effectiveness of the programmatic display campaigns.
Witnessed a substantial 150% increase in completed patient consultations, indicating the successful impact on their business.
Notably, 50% of the patient consults were new patients, demonstrating the ability of programmatic ads to attract fresh clientele.
Implemented improved tracking capabilities through pixel and product ID tracking, enabling more precise campaign performance monitoring.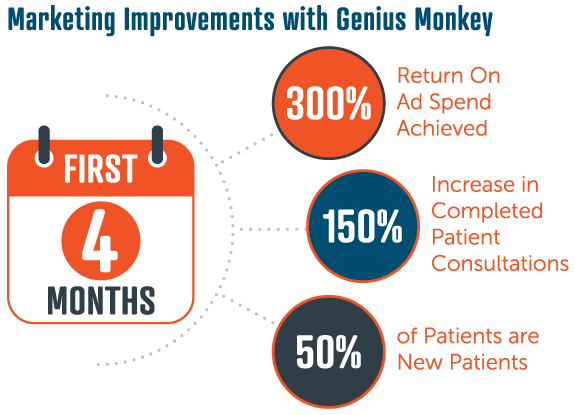 Leveraging Programmatic Advertising for Business Success
A programmatic advertising case study helps to demonstrate the effectiveness and potential of using programmatic technology in driving targeted online advertisements, optimizing ad spend, and achieving specific business goals.
The seven inspirational programmatic advertising case studies presented in this article demonstrate the transformative impact of this advertising approach across a diverse range of industries and business sizes.
If you're ready to level up your ad campaigns, Single Grain's

programmatic ads experts

 can help!👇
Programmatic Advertising FAQs
If you were unable to find the answer you've been looking for, do not hesitate to get in touch and ask us directly.