This Week in Growth: 5 Marketing Bullets 2/12/2016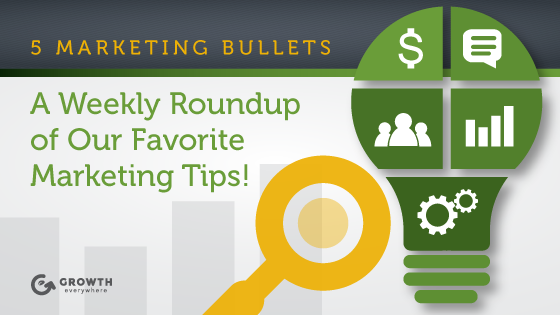 This post originally appeared on Growth Everywhere, a marketing and business growth blog.
Let us scour the Internet for you! Every week, we'll provide you with a summary of the latest notable marketing news.
Here are my top five favorite marketing pieces from this week:
Why Lazy People Make the Best Content Marketers – With an article that starts with "There's a lot we can learn from lazy people," you know this is a must-read! Major points include "lazy people embrace systems that make their lives easier," "lazy people don't reinvent the wheel each time they perform a task," and "lazy people love shortcuts," so there's actually a lot to learn here. Or, if you're lazy, you can just read this blurb.
29 Super Useful PPC Tools You Need to Try this Year – This is one of those great lists that is jam-packed with useful pay-per-click tools for marketers, made even more useful by handy categorization, like PPC Management (AdWords Editor, AdEspresso), Keyword Research (SEMrush, Spyfu), Call Tracking and Analytics (Unbounce, Twilio), PPC Automation (AdWords Scripts), and a whole lot more.
Growing from 0-12k Organic Visitors by Mapping Content to the Sales Funnel – One of the biggest complaints I hear is that a company's blog is getting good traffic but not converting to actual sales. This epic post walks you through the steps for how to strategically create content in order to bring in leads to your sales funnel—which is what ThinkApps did to grow their organic traffic from 0-12k visitors in 6 months. Well worth the read. 
We Analyzed 4 Million Data Points to See What Makes it to the Front Page of Reddit. Here's What We Learned – Another epic post (with an epic title!), this one from Data Stories. They scraped the most popular 100 posts every 2 minutes for 22 days and as a result are able to provide valuable insights on the Reddit algorithms.
The Ultimate Guide to No-Pain Copywriting (or, Every Copywriting Formula Ever) – This is definitely the week of the epic post! This gazillion-word article ensures that you'll never have to write another post from scratch. Author Joanna Wiebe provides literally every single copywriting formula there is with over 200 examples of advertising headlines, tweets, long-form sales pages, body copy, CTAs, e-mail subject lines, etc. This one is pure gold!
In case you missed it:
 Latest blogs from Single Grain:
Latest blogs from Growth Everywhere: