Fashion SEO: A Quick Guide for Online Retailers
Shopping for clothes online is extremely convenient, but for the e-commerce brand, this means there are more competitors than ever.
So how can brands get an edge over the competition? Leveraging fashion SEO.
With Google Shopping, you can rank in customer searches by using the right keywords. Even major e-commerce platforms, such as Amazon and Etsy, are powered by search engines, and using SEO strategies on these platforms will help you experience even more sales.
In this post, we'll show you how to implement fashion SEO guide to out-rank your competitors.
The Importance of SEO for Fashion E-commerce Businesses
More people are shopping online; in 2022, e-commerce sales exceeded 5.7 trillion USD.
And fashion trends change every year. While 2022 fashion emphasized Barbie pink, Y2K, and the goth look, the 2023 style trends include sheer, sequins and cobalt blue, as shown in the Fashion Nova Spring Collection: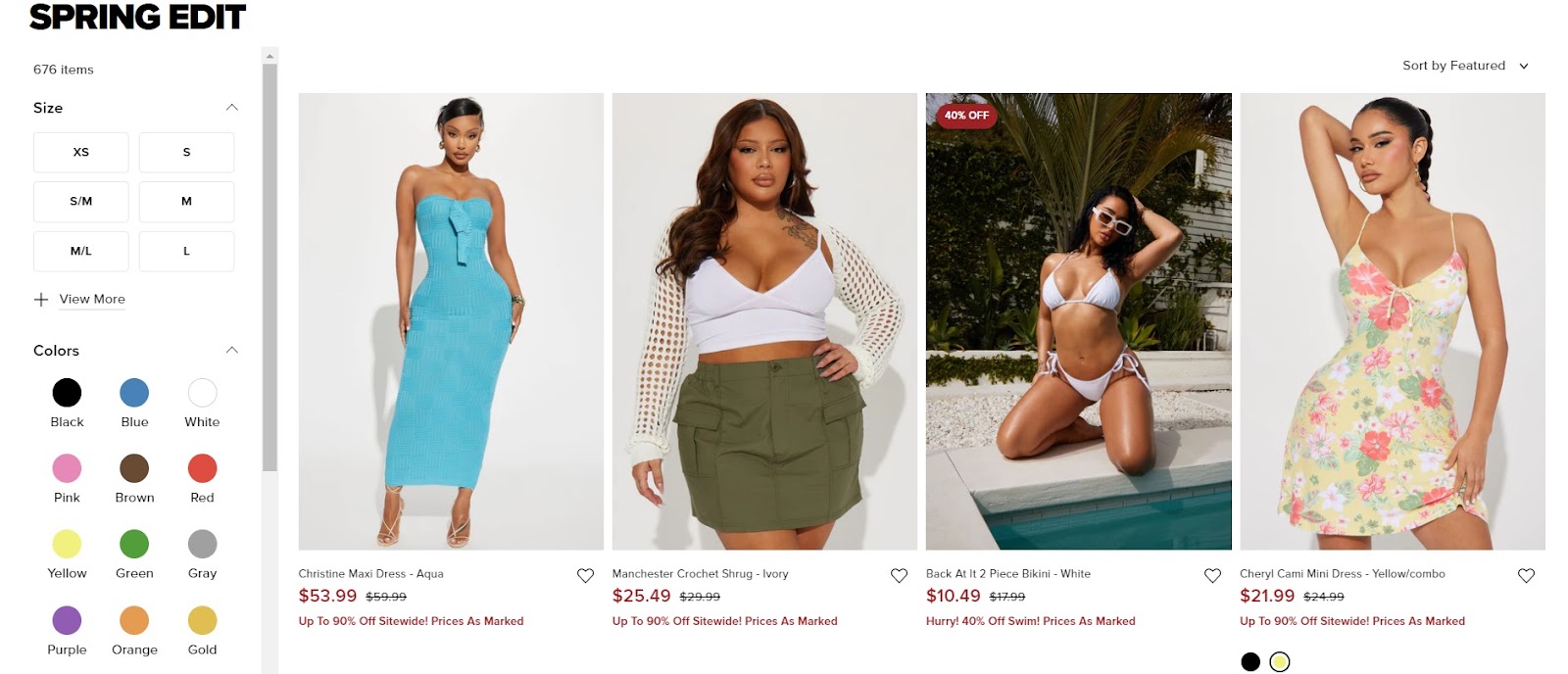 Your customers want to keep up with the latest fashion trends, so they will research specific keywords. This can include any trends we mentioned just above or general terms such as "trending colors" or "pants in style now." You can also target keywords for each season, as Fashion Nova did with their spring style category page.
This is where fashion SEO makes all the difference. You can use on-page SEO tactics to rank for these keywords, enhancing your visibility on Google, Amazon, Etsy, eBay and any other platform you like to shop on.
Learn More: E-commerce SEO for Product Pages: 15-Point Checklist to Boost Traffic and Sales
Understanding SEO for an Online Clothing Store
Search engine optimization is when you take measures to increase your website's visibility on search engine results. For most businesses, this means ranking higher on Google. Worldwide, Google has a 93.37% market share, dominating other search engines such as Bing and Yahoo:
But SEO isn't a one-size-fits-all approach. Every niche has different SEO needs to rank certain keywords and target its audience.
Fashion SEO takes this strategy further, focusing on tactics that captivate style enthusiasts. Online retailers will not only want to draw customers to their website, but use different tactics to keep them on the site and continue shopping.
Does fashion SEO differ from other types of SEO? Yes and no. Many tactics work for all businesses, regardless of industry. For example, content is king. Your customers want to consume enticing media, whether a blog post or promotional video. That's why Google ranks websites that create people-first content above all else.
At the same time, online fashion retailers need to focus on certain tactics that may not work for other industries, including:
Using industry data tags
Ranking for fashion-specific keywords
Link-building tactics
High-quality and helpful product descriptions
Informative web copy
User-friendly web design
Product reviews
Other e-commerce features, such as one-click checkout
If your store is enticing enough, customers will click through different pages to shop for more products. Google will take note of your website traffic and click-through rate increases, which improves your search engine visibility even more.
In these next sections, we will discuss SEO strategies to help your fashion brand rank. These include keyword research, on-page optimizations, technical SEO, content marketing, link building, and local SEO (if it applies to your business).
Learn More:
* 17 Effective SEO Techniques to Drive Organic Traffic in 2023
* 9 Quick SEO Tactics That Only Take 10 Minutes to Implement
* How to Rank Your Brand-New Website When You Don't Know SEO

Keyword Research for Fashion SEO
Keyword research is the foundation of any successful SEO strategy, and this goes for the SEO efforts you use for all search engines. To get the best chance of ranking in Google, Amazon and other e-commerce platforms, fashion companies must first conduct keyword research.
The first step is to find a high-quality keyword research tool. There are various options on the market, with free and paid options available. Some popular options include:
To begin keyword research, enter a word or phrase in the tool's search bar. This can be a shorter keyword for a product, such as "little black dress," or a question for content, such as "what should I wear under a sheer blouse?"
From here, the tool will supply data about the keyword. The most important metrics you'll want to track include:
Monthly search volume (MSV)
Keyword difficulty (KD)
Cost-per-click (CPC)
Advanced keyword research tools may also provide additional metrics, such as:
Keyword ranking
Traffic value
Search visibility
Referring domains
Organic traffic conversions
While covering the advanced metrics will improve your campaign, the three core metrics are the most vital.
Monthly search volume is an estimate of search queries this keyword receives. While it's best to choose keywords with a 1,000+ monthly search volume, niche keywords may only have a monthly search volume of 100. In this case, use the keyword that best fits the intent of the content or copy instead of the one that receives the highest traffic.
Keyword difficulty expresses how often competitors use this keyword. Every keyword tool is different, but most tools separate keyword difficulty by easy, medium and difficult (often expressed by a number). Keep in mind that some tools may consider 30 to be difficult, while others will consider 80 to be difficult.
CPC is a metric used by pay-per-click (PPC) users to bid on keywords. However, this metric is still useful for organic content. If a keyword has a high PPC, it's a valuable keyword, and advertisers are willing to pay extra for it.
Out of all the keyword types, long-tail keywords will be the most useful. Long-tail keywords are descriptive terms that customers search for to find the exact product they want; even though they tend to have lower search volumes, they convert website visitors better than short-tail keywords: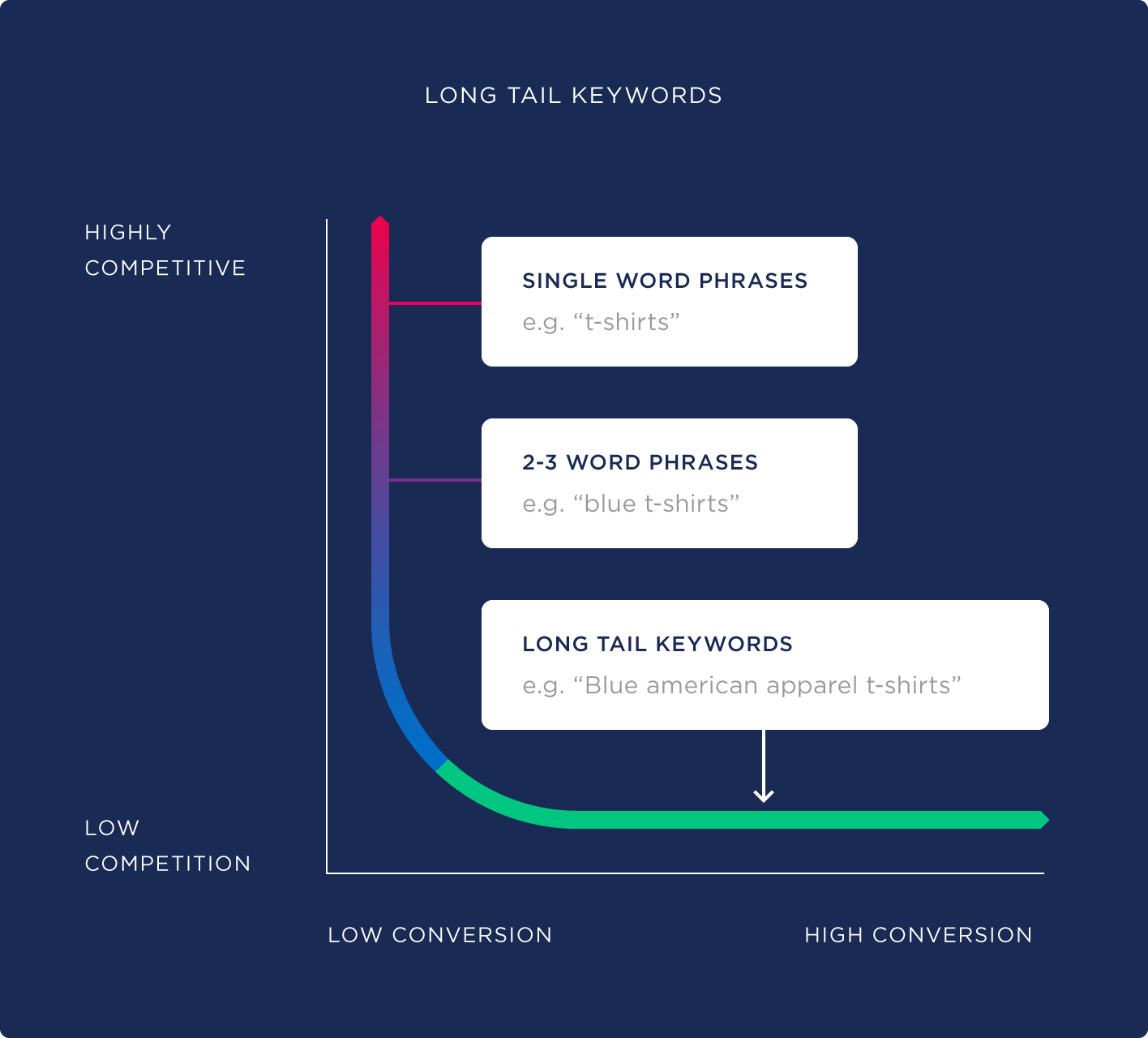 In other words, your customers aren't going on Google or Amazon and simply searching for "shirt." They will include different terms in their search to find the exact item they want, such as "blue fitted button down shirt". Long-tail keywords are longer than three words and usually don't exceed five.
Examples of descriptions to add to a short-tail keyword include:
Color
Gender
Design
Fabric
Type of clothing
Cut/style
Length
Size
It's also useful to add details that make the product unique, such as "handmade."
Take a look at this product listing by Old Navy. They use specific wording in the title, which includes "rib-knit" and "sleeveless." The product page also includes color and sizing.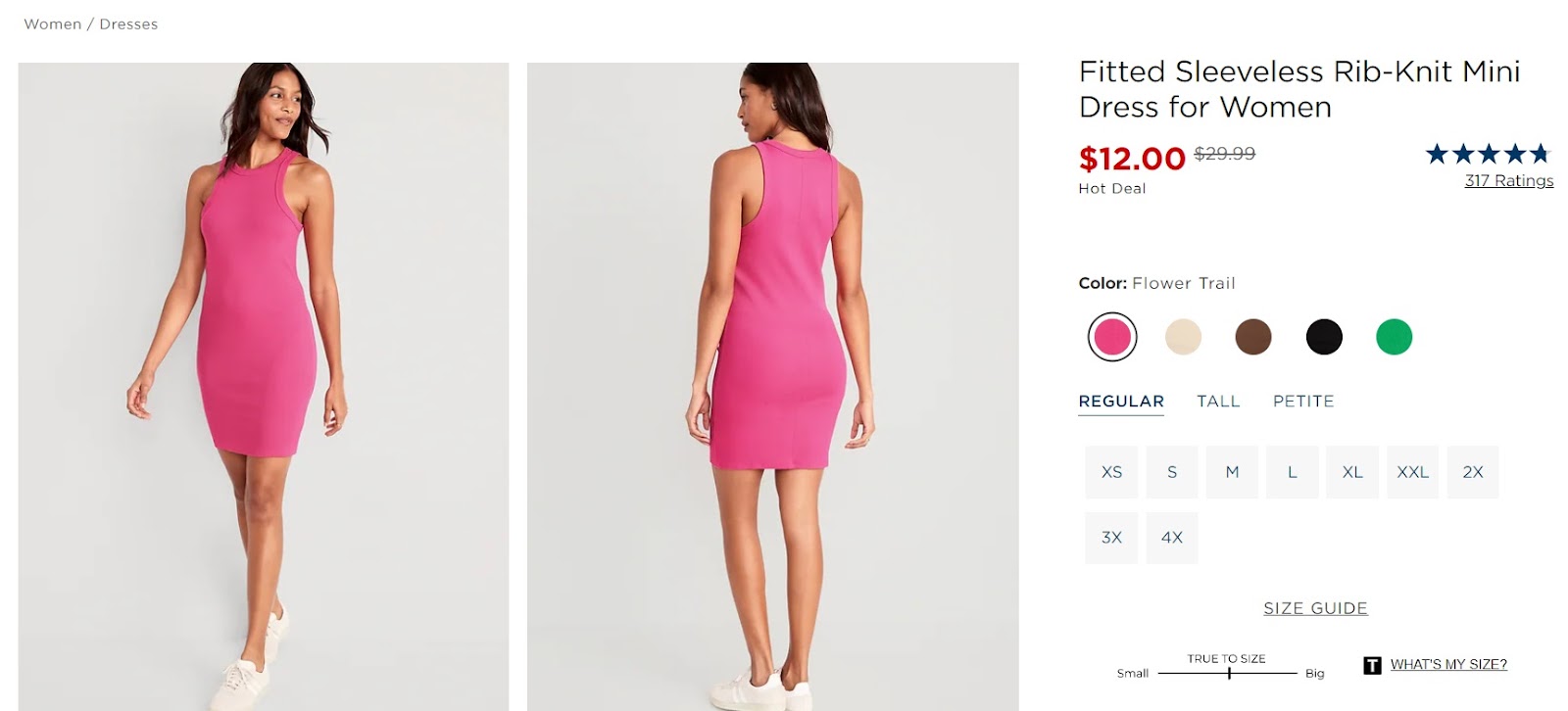 There are a number of ways to find long-tail keyword ideas, such as:
Recommendations from your keyword tool
Competitor research
Forums (such as Reddit and Quora)
Social media
People Also Ask section on Google
Google's autocomplete feature
Related searches on Google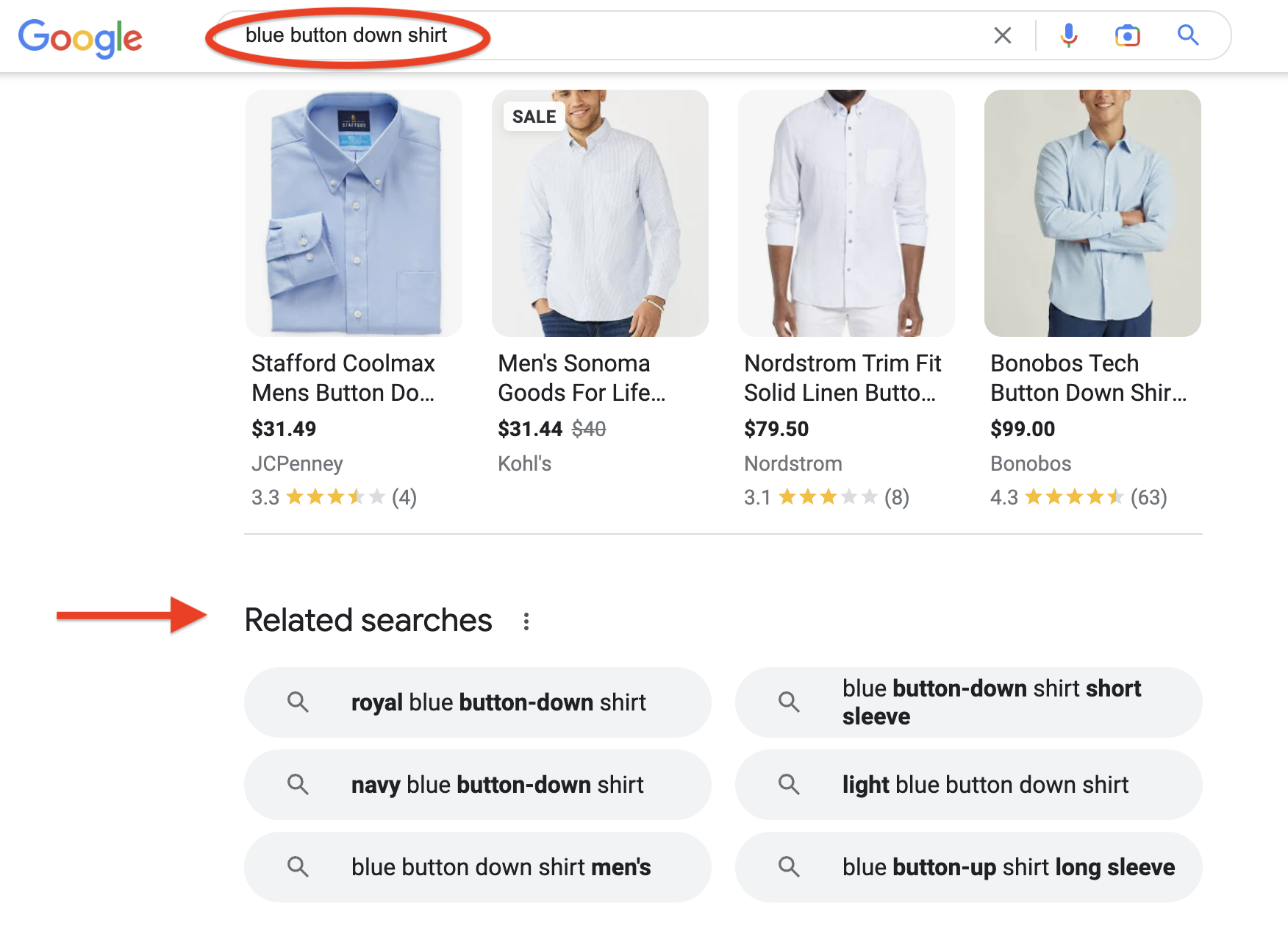 You'll experience the best results when you optimize your content for specific long-tail keywords such as "built-in bra tank top" or "navy blue evening dress."
Learn More: SEO Keyword Research Made Easy in 2023
On-Page Optimization for Fashion Websites
Ranking in search engine results consists of more than just using the right keywords. There are various tactics you can use on your website that will help you dominate the competition in SERPs. These strategies are under the "on-page SEO" umbrella.
Fashion brands must take on-page optimizations a step further than other industries. For example, while individual product pages will rank on search engines, Google bots can also crawl category pages to better understand your business, products and consumers.
Creating category pages is also necessary to improve your website's organization. This way, your customers can filter through your products.
Fashion brands should also treat category pages as their own separate pages. Create unique content for all these pages, optimize them for different keywords, and use all technical SEO best practices to ensure that Google bots can crawl these them.
For example, Shein's home page (first image) and plus-sized category page (second image) offer different content, images and even their own discount codes: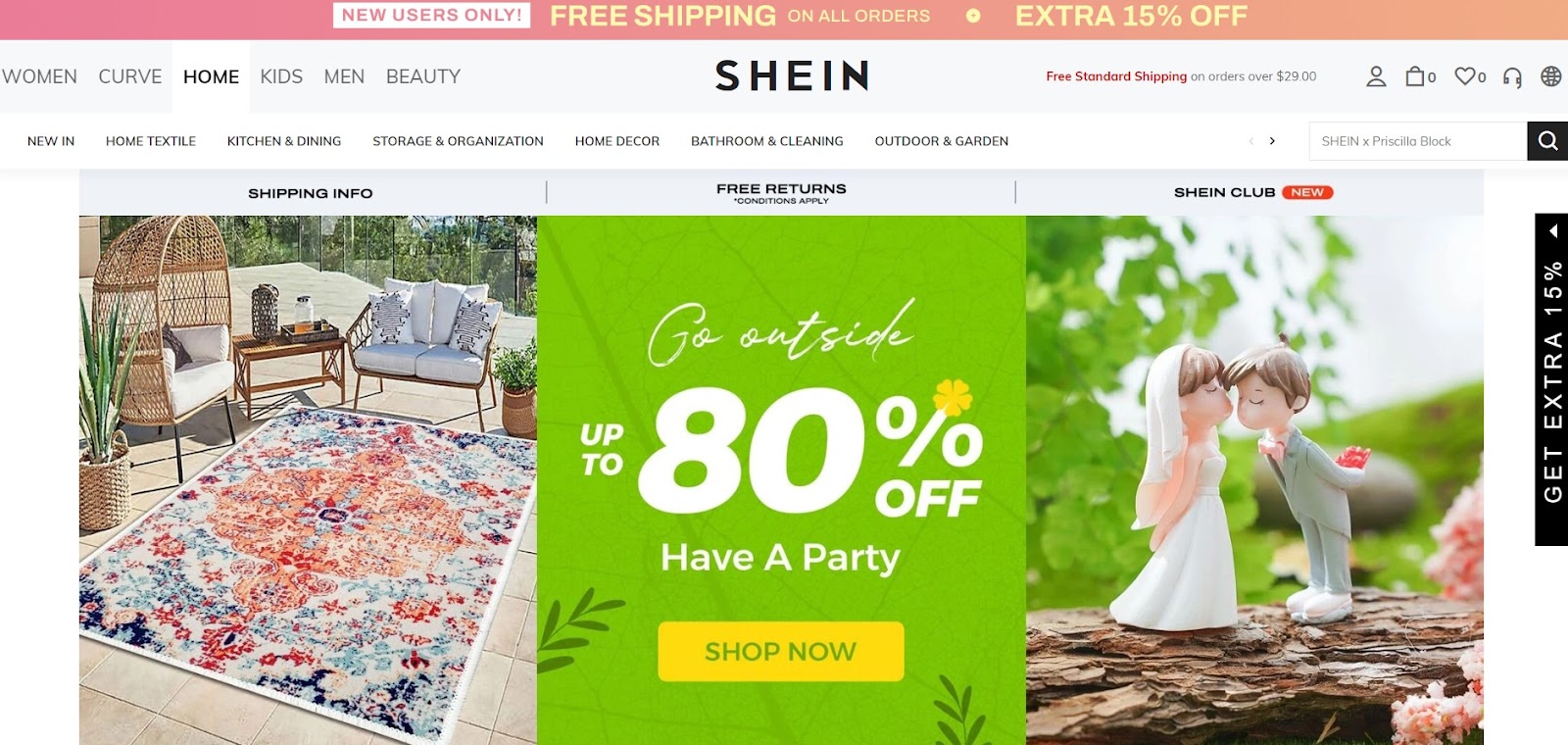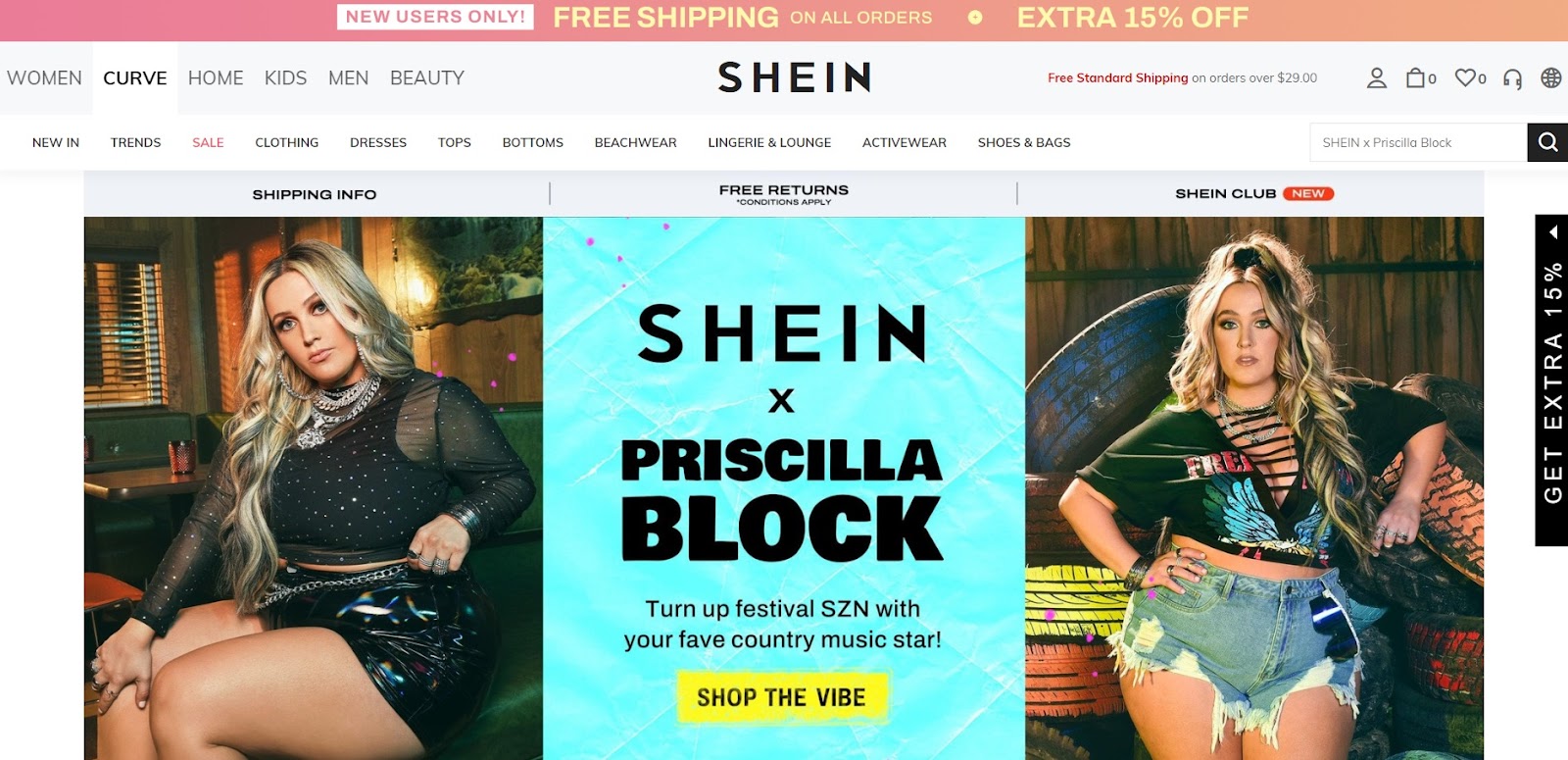 Brands should also use on-page tactics on individual product pages for different reasons. Your content should be keyword-rich and informative, written to help your customers find the products they need. Use SEO titles and meta descriptions to help your pages stand out on Google search engine results: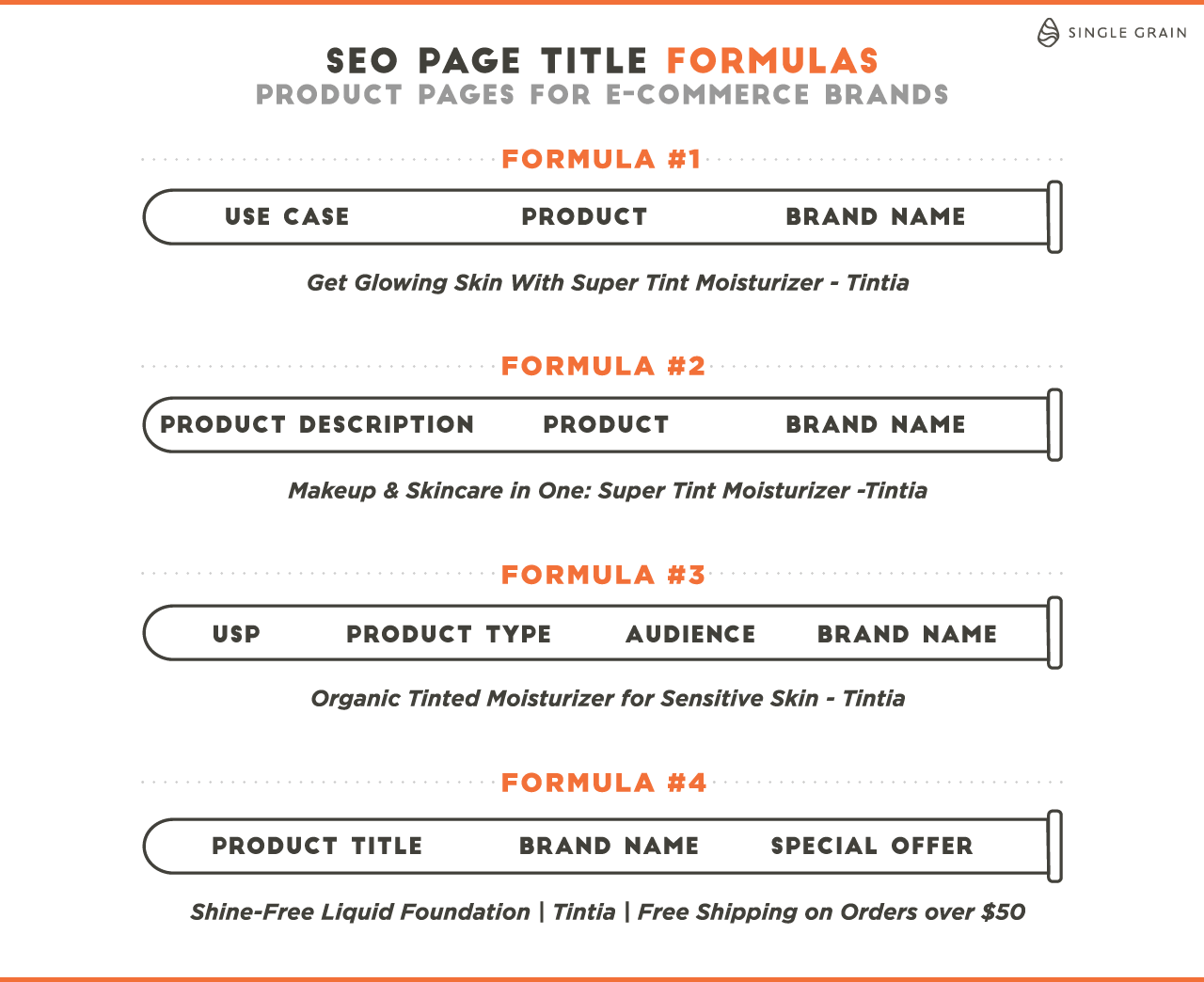 Visual media, such as images and videos, will make your product pages more compelling. Plus, visuals can boost your SEO results since your visitors will stay on your website longer.
Another on-page tactic that fashion e-commerce brands should use is a product review section. The reviews section is a great way to show Google bots that consumers are visiting your website and buying products, which will build authority. Include a section for customers to leave reviews, but ensure that only verified buyers are leaving reviews.
Technical SEO for Fashion Brands
Fashion brands shouldn't forget the technical side of on-page SEO. Technical SEO consists of all the tactics that help Google bots crawl your website and help you rank. Many of these tactics also improve the user-friendliness of your website.
Some common technical SEO problems for fashion e-commerce businesses include:
Slow loading times
Lack of mobile-friendliness
Broken links
Poor navigation
How can you find all these problems? If you're a fashion business owner, conduct an SEO audit on a regular basis. To do so, you'll need to access a third-party tool to conduct the audit, such as Ahrefs, Semrush, and Surfer SEO. While all tools are different, they will crawl your website and will display any technical SEO problems you need to address.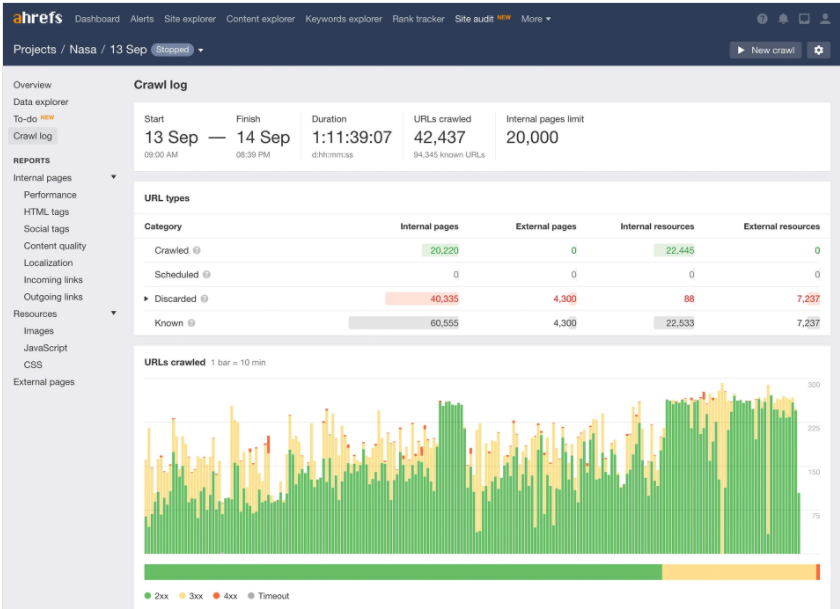 There are other best practices to note, too. Let's look at the checkout process as an example. To avoid abandoned carts, make it as easy as possible for customers to add products to their shopping cart. Make sure that the checkout process is responsive, too, since 76% of consumers buy products with their smartphones:
Ways to make the checkout more user-friendly and responsive include:
implementing one-click checkout
putting checkout on the same page
offering multiple payment options
having a guest checkout or social sign-in option
In addition, install the right security software on your website. The e-commerce industry is most vulnerable to cyber attacks, so implementing HTTPS across your website is integral. HTTPS encrypts website data and also authenticates that data, which will prevent company and consumer attacks. Plus, you can increase your website's ranking by using the right HTTPS protocol: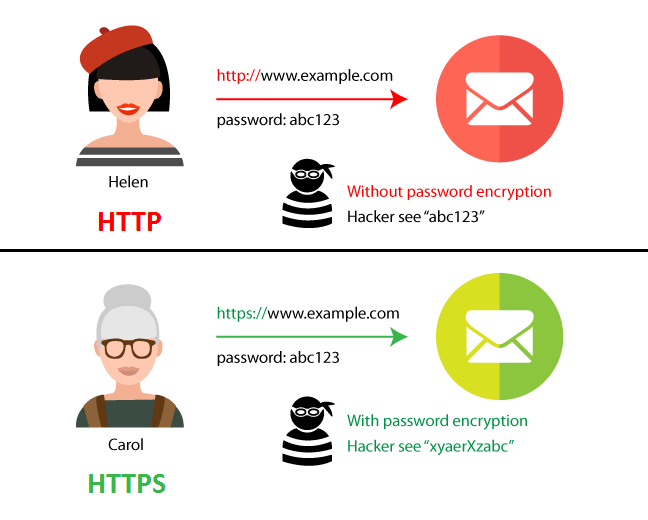 Learn More:
* Make Your Product Sing: The Importance of UX Writing
* How to Fix 15 Common On-Site Technical SEO Issues

Content Marketing for Fashion SEO
Content marketing is the main pillar in any fashion SEO strategy. But fashion content marketing is more in-depth than you may think. First, fashion businesses need to optimize their website for the right type of content. Examples include:
Blogging
Video marketing
Images and GIFs
Social media posts and stories
Brand mission
Product descriptions
FAQ section
Product comparisons
How-to posts
Roundup posts
Outfit ideas
Fashion trends
Accessories inspiration
Interviews
Product updates
Lifestyle content
Behind-the-scenes
No matter what type of content you create, your content should be of the highest quality. Some extra content creation tips to remember include:
Stick to your branding
Know your audience
Use high-quality images and video (particularly important for fashion images)
Optimize your media with alt tags
Use internal and external linking in your content
Include a firm call-to-action (CTA)
Have an FAQ section where it fits
Repurpose content for each platform
Fashion brands can also look to competitors for content ideas. For example, Kohl's has a high-quality blog with ideas and how-to posts:

What about SEO for fashion bloggers? Since fashion bloggers aren't selling anything, they must rely on excellent content to generate a following and harness relationships with fashion businesses.
All fashion bloggers should not only have a high-quality blog and a website, but should also stay active on social media. They should also use technical SEO, ensure that their website loads quickly, add HTTPS protocols, optimize blogs with long-tail keywords, and conduct hashtag research for social media posts with a tool such as Hashtagify: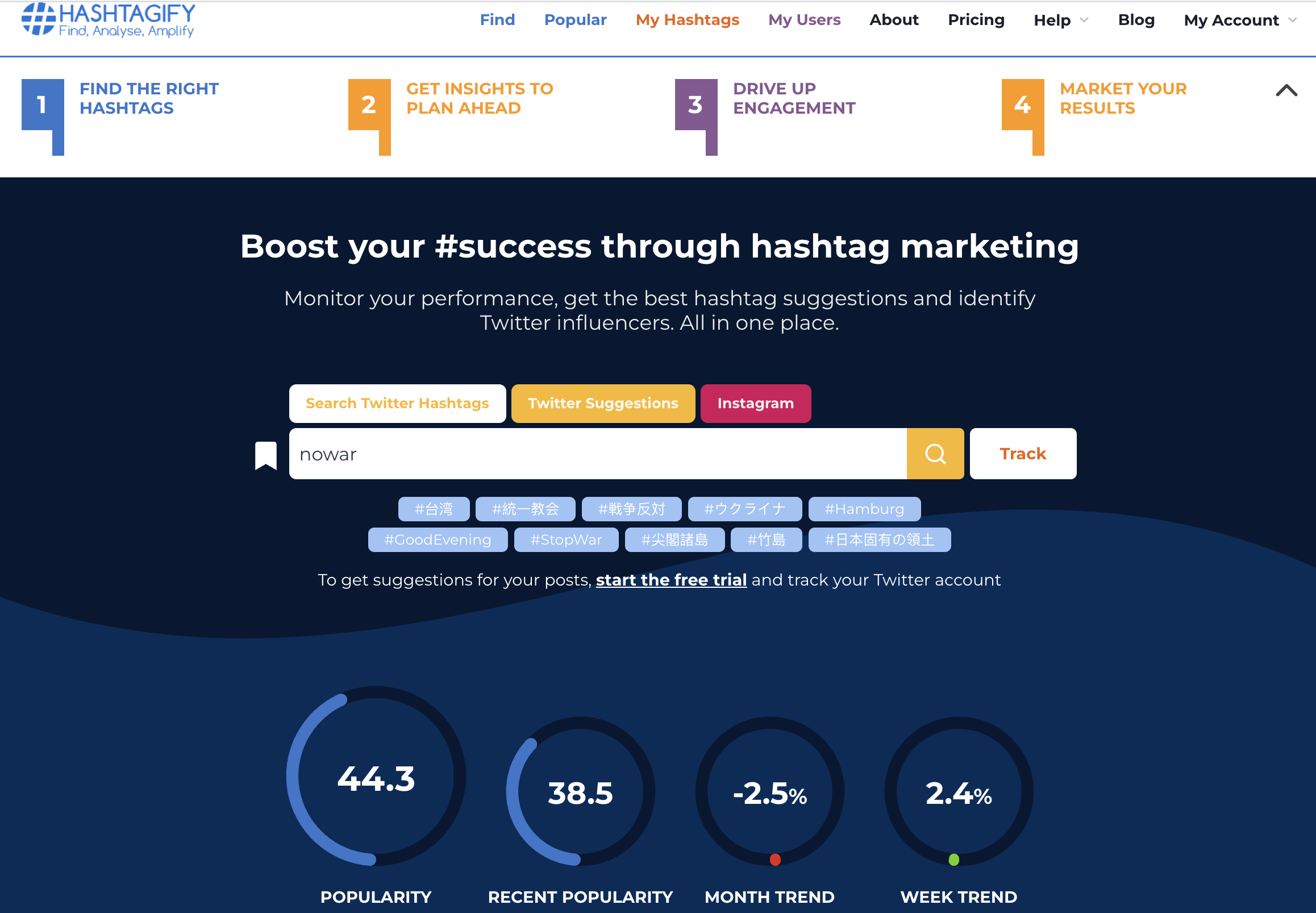 Learn More:
* How to Use ChatGPT for Powerful Content Creation (+ Examples!)
* How to Create a High-Performance Content Marketing Strategy in 2023

Link Building for Fashion Brands
Link building is a tactic where your website links appear on other websites. This strategy offers a couple of benefits. First, it's an easy way to gain authority in Google's eyes. A high domain authority (DA) makes it more likely that a website will rank high in the Google SERPs.
Link building can also drive more traffic to your website. If a lead is on a website and sees your link, they may click on it to learn more about your brand. This is an easy way to gain website traffic.
There are different types of link building, and some strategies are more effective for fashion brand SEO, such as:
Influencer partnerships
Giveaways
Brand mentions
Reviews/interviews
Outreach
Since most of these strategies involve partnerships, it's best to reach out to fashion bloggers and influencers. Most are available via email and social media and willing to work with fashion brands.
Learn More: Influencer Marketing Strategy: The Ultimate Guide to Growing Your Business with Brand Partnerships
Final Words on Fashion SEO
Considering how many fashion enthusiasts buy clothes online, creating a powerful fashion SEO strategy is critical for e-commerce clothing companies.
To rank in Google search engine results, fashion companies must optimize their content for long-tail keywords, create the right type of content for website visitors, apply various on-page strategies, apply technical SEO to make it easier for Google to crawl the website, and engage in link building.
Hopefully you learned how to implement SEO for your fashion business! But if you just want an expert e-commerce marketing agency to do the work for you, click below to request your free consultation. 👇