Are Facebook jewelry ads effective?
Considering that 5-10% of global jewelry market sales occur online, targeting an audience on your Facebook page is, indeed, an effective way to increase e-commerce profits.
In this post, we'll look at why Facebook jewelry ads are important, how your jewelry store can create high-quality ads, and examine 8 examples of jewelry ads that converted.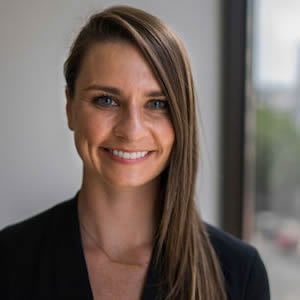 Jacqueline Foster
Demand Generation Marketing, Lever.co
We can count on them to bring new ideas to the table consistently
Why Facebook Jewelry Ads Are Effective
Facebook has 2.96 billion monthly active users, making it the biggest social media platform: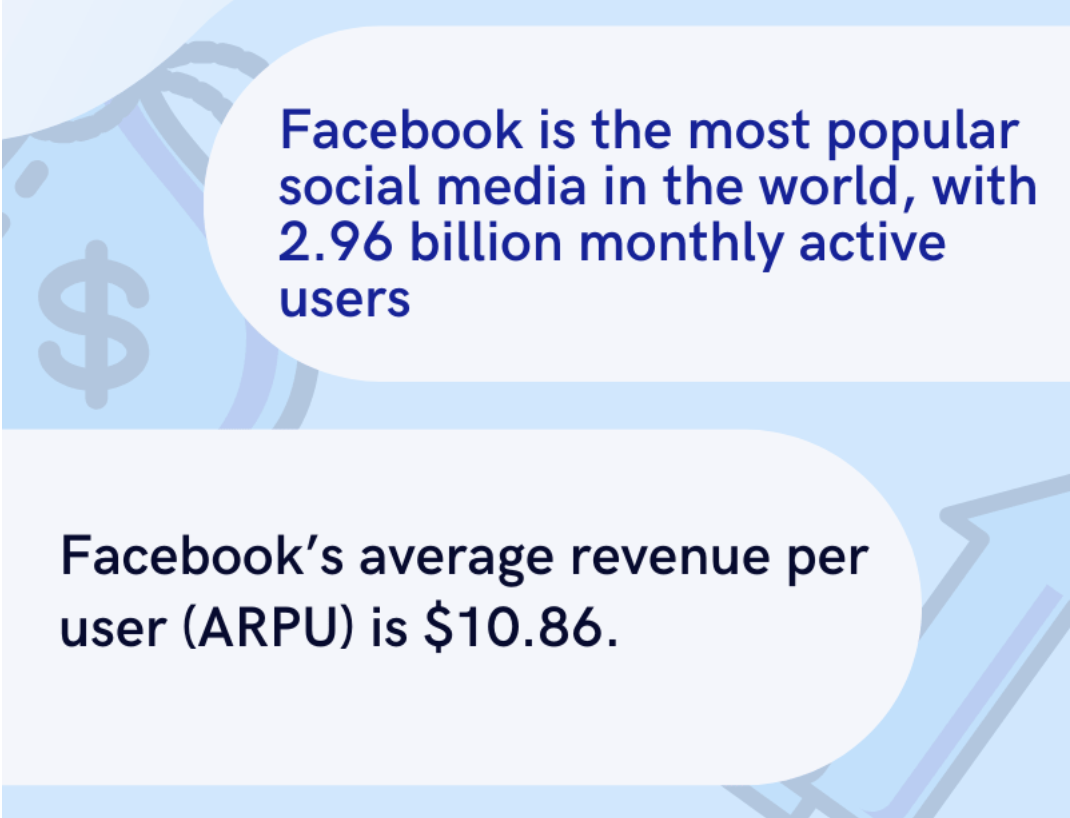 And since 34.1% of Facebook users over the age of 13 see ads, the social media giant is an effective place to advertise your products and services.
Facebook ads are also extremely diverse. You can use Facebook ads to promote your products, inform customers of upcoming sales, and increase brand awareness.
Here are a few other reasons why Facebook advertising may result in more sales.
Drives More Website Traffic
If you're advertising a specific link, such as a product or landing page, including the URL will increase website traffic. But there are other tactics you can use to generate more clicks from your Facebook audience. For example, you can include a compelling CTA for leads to click your URL.
Most advertisers also have more luck when creating retargeting ads. To do this, add Facebook Pixel to your website. Facebook Pixel is a tracking code targeting the same users who visited your website on social media. From here, you can create custom audiences on Facebook ads and select your website pixel.
To promote a specific URL, select the "send people to your website" goal (under the traffic campaign objective) when choosing an objective. You'll then put the specific URL you want users to visit.
Different Advertising Options
Facebook offers various ad format options and effective tools to create them. Some of the ads you can create include:
Video
Image
Carousel
Polls
Collection
Slideshow
Leads
Instant Experience
Messenger
Dynamic
Augmented Reality
Stories
It can be difficult to choose which Facebook ad works for you. Most businesses choose image ads, but don't forget about video! Facebook's video view-through rate is between 0.90% and 1.33%, making this an effective advertising format. Other ad types, such as Stories ads, are better for mobile visitors.
Related Content: 10 Best Facebook Advertising Strategies to Drive More Revenue
Track Performance Metrics
One of the best qualities of Facebook advertising is the powerful ad campaign monitoring tools. With these tools, you always know if you're converting leads.
There are many metrics you can track, some of the most significant being:
Relevance score
Ad impressions
Audience demographics
Geographical location
Views and percentage watched (for video ads)
Cost per result
Result rate
Engagement
Cost per thousand impressions
Cost per click
Ad frequency
Amount spent
These metrics will appear when your ad goes live. To track these metrics, go to the Facebook Analytics dashboard. You can also track your demographics using Facebook Audience Insights.
Tips When Creating Jewelry Ads on Your Facebook Page
Before creating ads for your jewelry business, you should know the best practices to make your campaign more successful. These best practices ensure that you target your customers and use the best strategies to convert leads.
Use Hidden Interests
Facebook's hidden interests aren't auto-generated. When you enter your ad PKW, Facebook will offer a list of recommended keywords that relate to the main one you're optimizing.
Most advertisers use the recommended keywords. However, you could be missing a big opportunity to convert your target audience. Facebook recommends broad keywords that attract a large audience size. This is a good tactic if you're trying to increase brand awareness, but you may have a better chance of converting leads if you target hidden interests.
There are a couple of ways to track hidden interests. You can pay to use Facebook's hidden interests tools, or you can manually conduct your own keyword research and enter those queries into the Detailed Targeting form.
Some advertisers will also enter the first few words of a potential keyword and let Facebook auto-populate keywords. For example, you can enter a query like "earrings a" or "golf c" and see which keywords Facebook recommends.
Consider Ad Placements
Facebook offers different ad types and various placement options. The right ad placement will target specific audience segments, and some placements offer better results than others.
There are different factors to consider when choosing ad placements. For example, if you have more success increasing brand awareness on mobile, you'll want to use native advertising (such as a boosted post) so the ad appears in the feeds of your target audience.
Stories are also an effective way to target mobile audiences.
However, if you want to advertise your products, it's best to use clickable ad formats. Advertising on Facebook Marketplace and the right column are excellent examples.
Set a Budget
Setting a budget is one of the most important parts of your campaign. You can set an unlimited budget or only spend a certain dollar amount.
To set your budget, go to Ads Manager. When you create your ad, you'll come across a Budget section: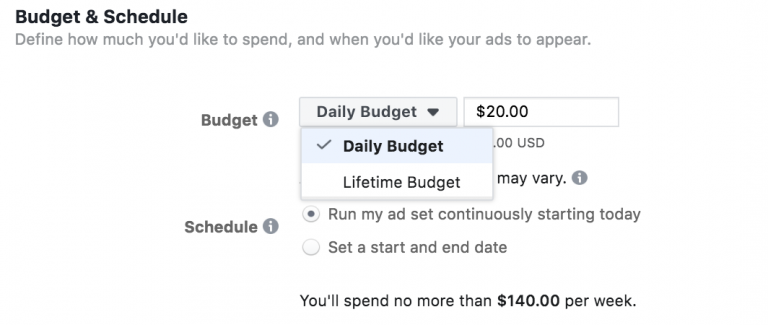 From here, enter how much you want to spend per day or week. You can also create a schedule for your ad to better control your spending and achieve the best results.
Pay Attention to Engagements
When tracking a Facebook ad, many advertisers rely on the ad metrics we mentioned earlier. However, it's a good idea to see the engagements your ads receive. This is especially true for native ads, especially boosted posts, since they look and act like organic posts.
As with organic posts, the higher the engagement on your ads, the more reach your ad will receive. Plus, more ad engagements tell Facebook your content is relevant, and they will continue pushing your ad as a result.
For example, the comments section may reveal misunderstandings in your ad copy or visuals. The comments may also reveal any objections that can affect your conversion rates.
A/B Test Your Ads
A/B testing is an experiment where you compare the results of two different ads. There are different ways that advertisers can test their ads, such as by using different images, placements or CTAs.
Running A/B tests improves your ad performance by measuring the results of both ads and discovering what drives your audience to respond. Facebook will show both ads at different intervals, but never both to the same audience member. If you're concerned about spending, Facebook will allocate equal budgets to both ads.
To do A/B testing on Facebook, go to Ads Manager and select your campaign. Click "A/B Test" on the toolbar and "Get Started." Choose the variables you want to test and any criteria. You'll then create the alternate ad.
Advertisers should wait at least four or five days to start measuring the results of the A/B test. This ensures that Facebook gathers enough data from the campaign so you can make the most accurate conclusions.
8 Effective Examples of Facebook Jewelry Ads
Before creating your jewelry ads on Facebook, it's important to conduct competitor research to see which campaigns worked for other brands. Here are some examples of successful jewelry business ad campaigns.
Emily Amey Jewelry
This ad by Emily Amey Jewelry promotes their engagement rings and offers a 10% off code. In the jewelry advertising copy, they explain that all their engagement rings are handcrafted, so these rings are truly special.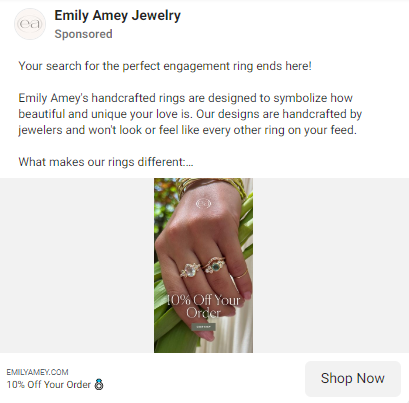 Looking at the image, you can see that the engagement rings are unconventional compared to traditional rings. That's because Emily Amey creates jewelry inspired by nature, and she attracts buyers who have the same aesthetics. The bride buys her own engagement ring 14% of the time, so targeting women in engagement ring ads converts leads well.
Plus, all buyers must do is click the "Shop Now" button to see Emily Amey's unique jewelry collection and use the 10% off code.
Harry Winston
Advertising jewelry for the holidays is always an effective strategy. Since more people are shopping online, advertising impressions will increase. At the same time, your competitors are also using Facebook and other online advertising platforms to advertise, it can also be difficult to make your ads stand out.
That's why Harry Winston's holiday ads are effective. Unlike other companies, Winston doesn't promote holiday-themed jewelry or even promote their pieces as gifts. Instead, they post a slideshow of product images, highlighting the quality of their jewelry and watches.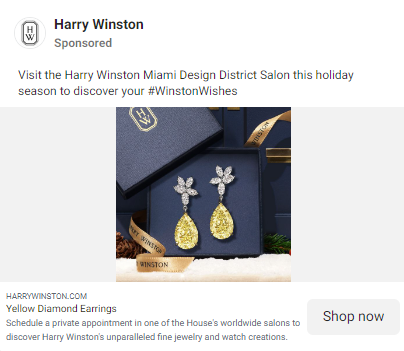 They finish the ad with a CTA to visit one of Winston's stores. This conveys that Winston is the premier jeweler for a consumer's most special moments, which is enough of a message to convert leads.
Related Content: 6 Holiday PPC Strategies You Need to Use to Convert More Customers
Barons Jewelers
Barons Jewelers is a great example of how to use carousel ads.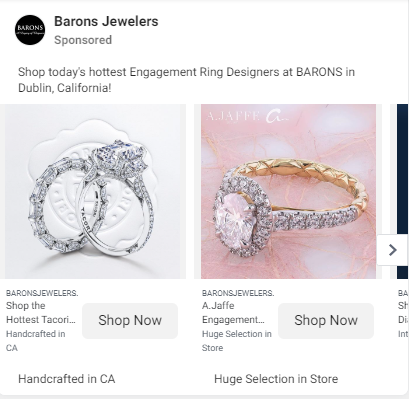 They offer ad copy with key phrases, such as how their engagement rings were handcrafted by designers in California. As a carousel ad, they show multiple engagement rings with a separate link to shop for each.
Barkev
Barkev uses a similar strategy as the one Barons uses, but takes their campaign further with a unique CTA.
Like the Barons ad, Barkev uses carousel images of their engagement rings. Users can clearly see their eye-catching designs and the quality of the diamonds they use.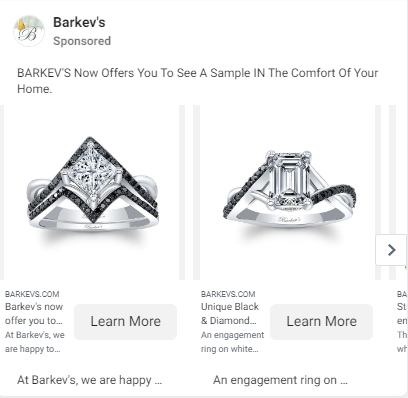 But where Barkev stands out is how they promote home visits, where jewelers will deliver samples to the buyer's own home. The CDC reports that 12.1% of U.S. adults have a disability that affects their mobility, so jewelry home visits are a massive selling point for these consumers.
Blue Nile
Blue Nile is arguably one of the most prestigious jewelers today. Since they have luxurious and high-priced pieces, they have quite a long customer journey. They use this to their advantage by retargeting their audience and finding unique ways to engage with them.
Take this ad as an example. In the ad, Blue Nile is promoting a free signature diamond worth $5,000. To enter the contest, all the consumer has to do is enter their email address.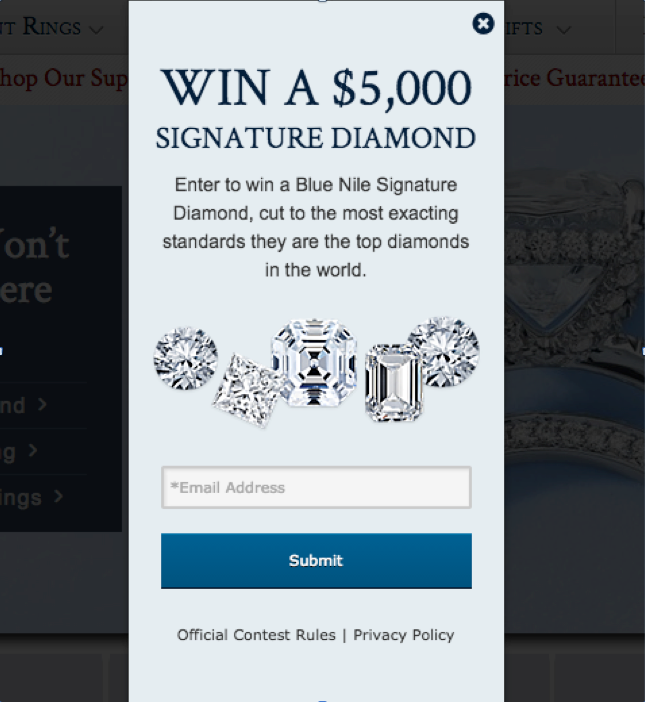 While this ad doesn't promote a product or try to increase sales, it does offer a simple CTA for the viewer and a convenient way to collect email addresses. Collecting email addresses also nurtures leads down the sales funnel faster, and you can retarget these leads with email marketing (if they consent to receive emails from you).
Syna
In this ad, Syna shares multiple products in a video. The products in this reel have a theme – natural gemstones. This video is simple and lets the product shine so viewers can see the brilliant colors and metals of each piece.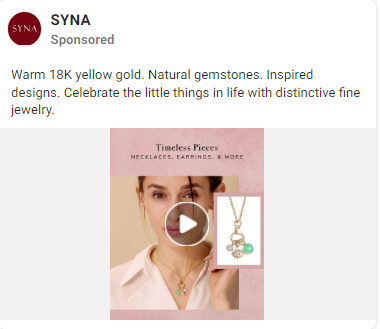 The call to action is also very subtle. Instead of offering a "Shop Now" URL, the "Celebrate life with fine jewelry" CTA isn't demanding and focuses on product quality instead of sales.
David Yurman
David Yurman is one of the best sources of ad creative inspiration. His ads show his most innovative men's jewelry pieces against a striking background.
In this ad, the rings are black on yellow gold, which draws attention. The lighting also highlights the rings without being overbearing, emphasizing the rings while also giving the ad a more mysterious look.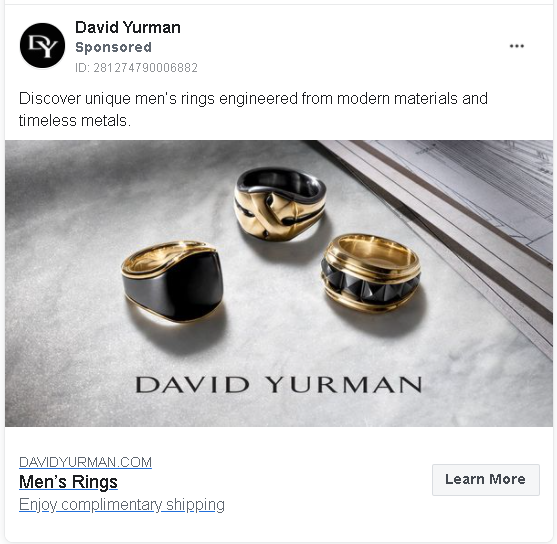 Because these rings are so breathtaking, David Yurman really sells the products with the ad. This is why he uses minimalistic ad copy, focusing more on the unique materials and metals used to craft these rings.
Mejuri
On the opposite end of the scale, Mejuri increases sales using simplistic creatives and ad copy. This image shows a social media-esque picture of a woman's hands with yellow manicured nails wearing gold rings.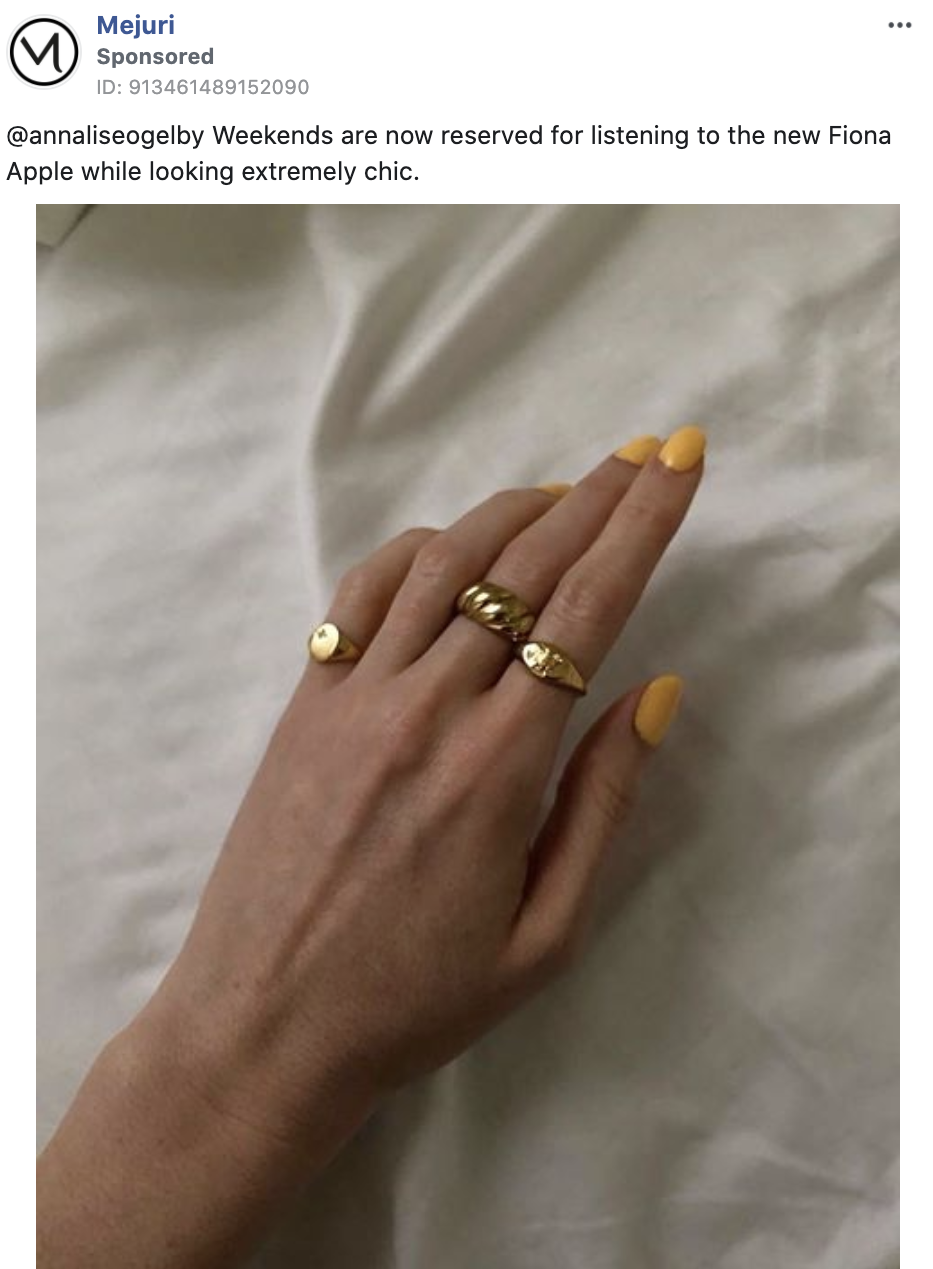 The photo blends into their target audience's social media feed, making this the perfect image for native advertising.
The ad copy doesn't even promote the product. It offers a dose of weekend inspiration – spending days listening to Fiona Apple or your favorite band while looking chic with your nails done and wearing your favorite jewelry.
Even though the advertising message isn't centered around the product, the viewer's eyes naturally turn toward the assortment of rings that the model is wearing. The secret is keeping the image simple yet aesthetic and focusing on an advertising message related to your audience.
Related Content: The Benefits of Investing in Luxury Ads
Final Thoughts on Facebook Jewelry Ads
Facebook jewelry ads are a powerful tool to increase brand awareness and sales. Because Facebook is still the dominating social media platform, jewelry brands should still put their ad dollars toward this channel. Plus, Facebook offers advanced advertising tools that can help you nurture leads.
There are many best practices that jewelry brands should follow when creating a Facebook ad campaign. Focus on ad placements, targeting hidden interests, tracking engagements, and always A/B test two different ad formats. Using competitors as inspiration will also help you create ads that convert.
If you're ready to level up your ROAS, Single Grain's Facebook Ads experts can help!👇