Adobe is a multibillion-dollar corporation — in 2018, their annual revenue hit a record $9.03 billion (24% YoY) and their market cap is $134.5 billion — that has grown significantly by having the best products. Still, you can't discount smart marketing when evaluating their success.
For those of you who are too young to remember, here's a brief history of Adobe's business model. Adobe is a computer software company that creates multimedia and creativity software products. They used to sell software out of the box and it was pricey — Photoshop, for example, would set you back a few hundred dollars.
In 2013, Adobe switched to a SaaS model, offering cloud-based solutions for a monthly fee. This enabled users who couldn't afford to shell out the money upfront for products to use them at a lower price point for however long they needed them. And it worked — in just 2.5 years, Adobe had four million new subscribers: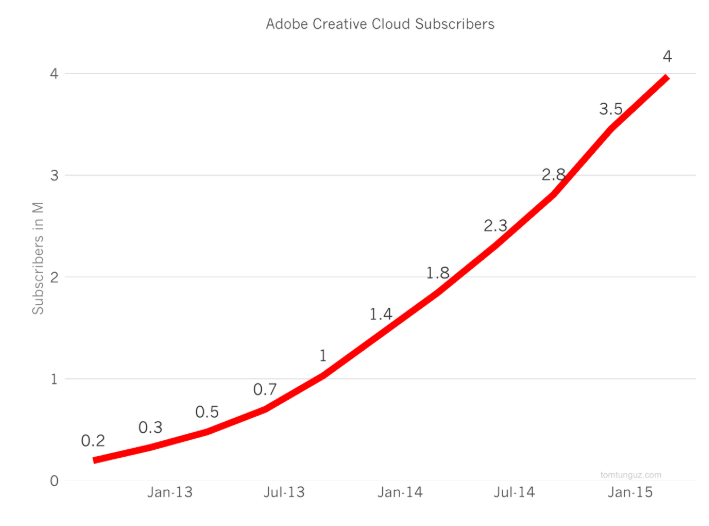 So how did they achieve that growth? By combining their proven knowledge of great design and UX with some smart acquisitions that helped them transform their users from simple consumers to active participants in a thriving community of creatives and business leaders.
Related Content: B2B SaaS Lead Generation: How We Improved Axure's Lead Quality Overnight
An Analysis of Adobe's General Marketing Tactics
Design, user experience (UX) and acquisitions are probably not the first things you think of when discussing marketing channels. However, Adobe uses them to build strong branding and community, which has helped them grow over time.
Beautiful Design
Adobe's design is clean, minimalistic and gorgeous. For a company whose flagship product is design software, they do a great job of carrying an cohesive, aesthetically pleasing look and feel throughout all their assets. Just take a look at their homepage: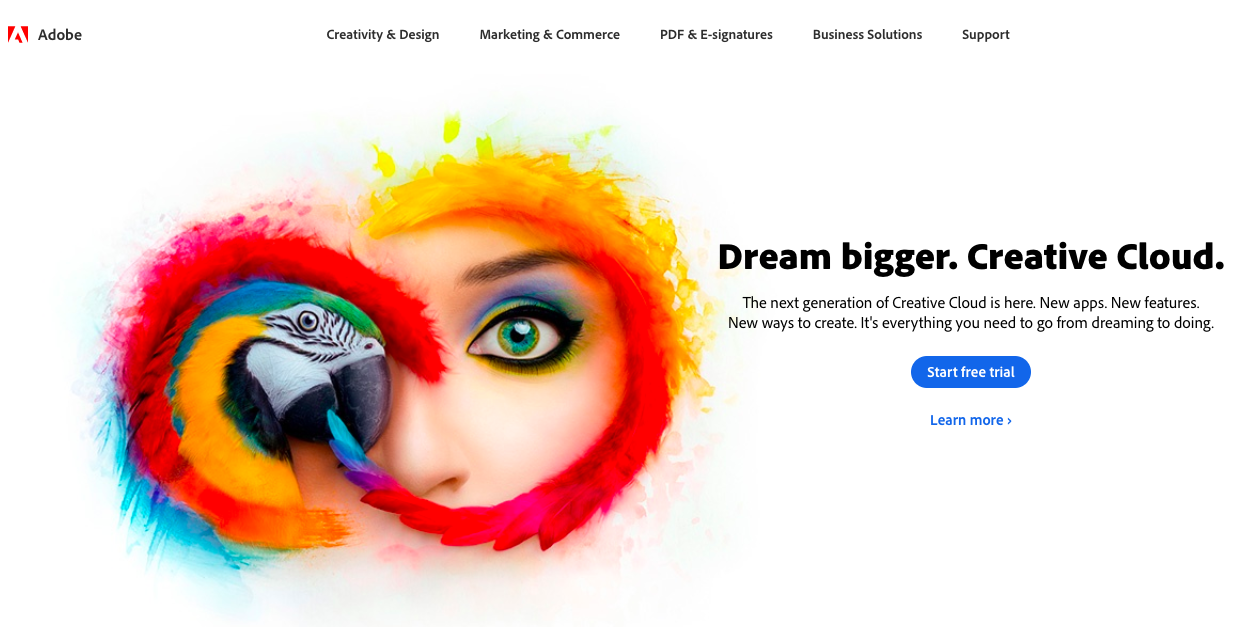 The design is uncluttered and attractive, and clearly communicates what the brand is all about: stunning imagery.
Good User Experience
UX is very important from a marketing perspective. An effective marketing funnel relies on a good customer experience from end-to-end, and Adobe nails it.
The below image is from their Creative Cloud main product page. The first thing you see is a clear, concise message about their product and a CTA to start a free trial. The benefits and pricing are all listed further down the page, but the trial offer is front and center. If I come to that page and I already know what Creative Cloud is, I'm going to click on that offer right away.

If I don't know what Creative Cloud is and why I need it in my life, scrolling down the page tells me everything I need to know, like what's included in the plan:

How much it costs: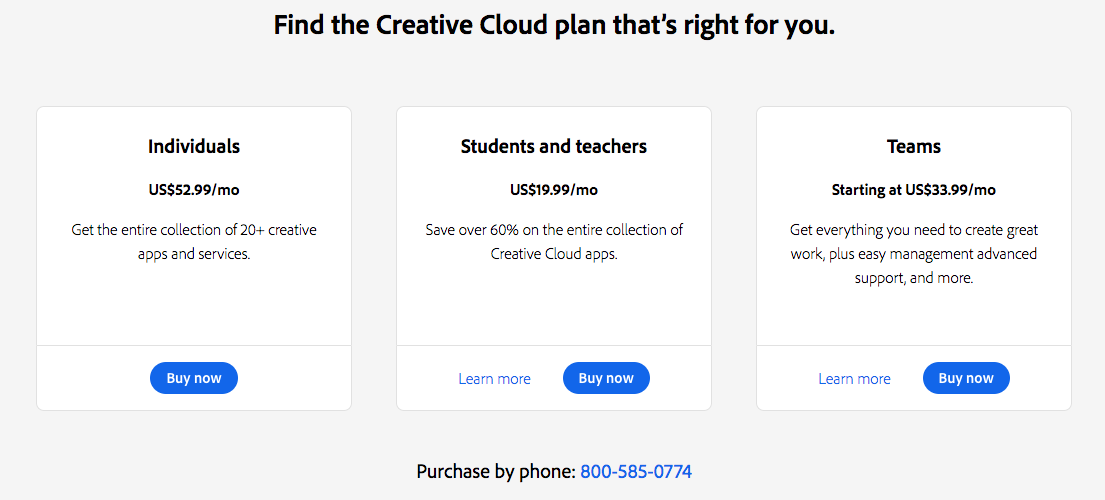 And the top six FAQs.
In other words, I don't have to hunt around for this next-step info or even click on a separate features page to learn what I need in order to make a purchase decision.
When I was in elementary school, I saw Adobe Photoshop and thought: I have to have this! And I think it was a couple hundred dollars back then. I didn't need it at the time, but I just really wanted to buy it because it looked so great and they always had really nice ads in the computer magazines I was reading. Their marketing has always been effective.
Smart Product Acquisitions
We talk a lot about product-led growth around here, and it's a strategy that Adobe has gone all-in on. Basically, product-led growth is building or acquiring a product and using it as a marketing tool for your business.
You may remember that in 2005 Adobe acquired Macromedia, adding a bunch of tools like Dreamweaver and Flash to its portfolio. With the acquisition, the company was able to absorb its biggest competitor. Acquisitions aren't a new strategy for Adobe, but the types of products they buy has evolved over time.
Adobe currently owns several different websites and products, but three I want to focus on are CMO.com, Behance and Adobe Sign:
CMO.com is a website targeted to — you guessed it — CMOs. Originally developed by Omniture, Adobe bought it to reach Chief Marketing Officers with thought leadership, insights and, of course, Adobe products.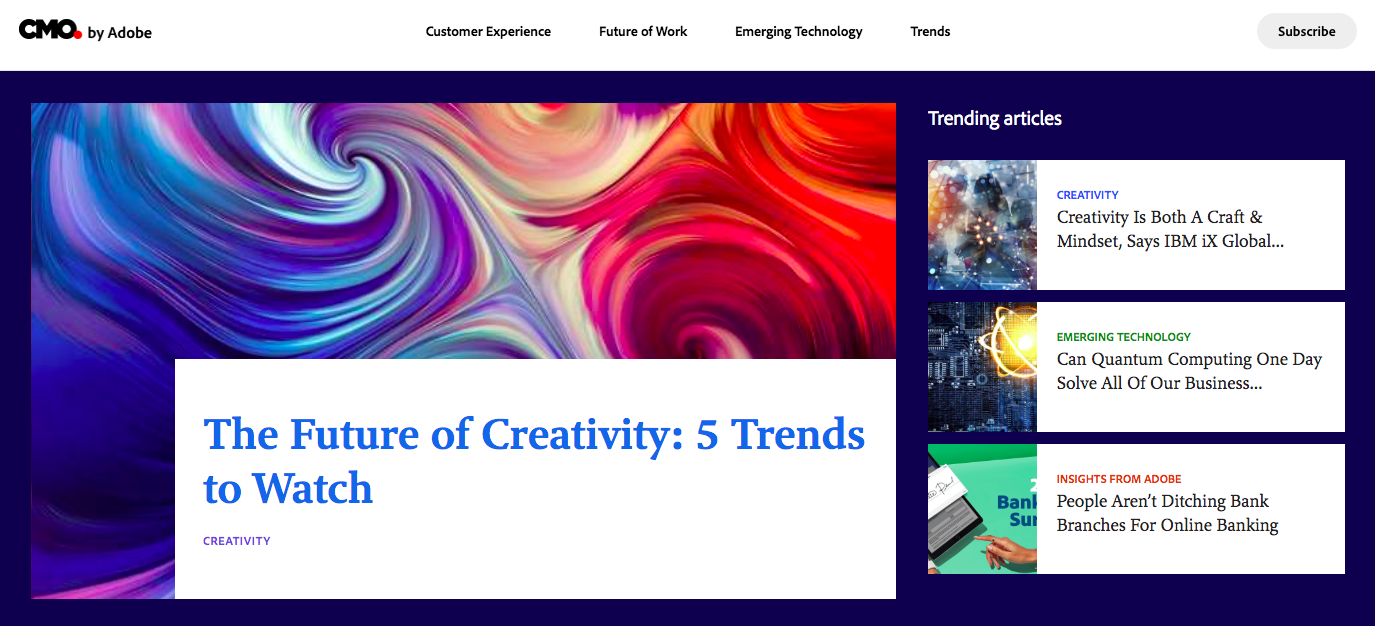 Behance is a portfolio site for creatives. Adobe acquired it to add a community element to Creative Cloud, making it a massive hub for creatives and giving them Adobe tools and services to enhance and share their work.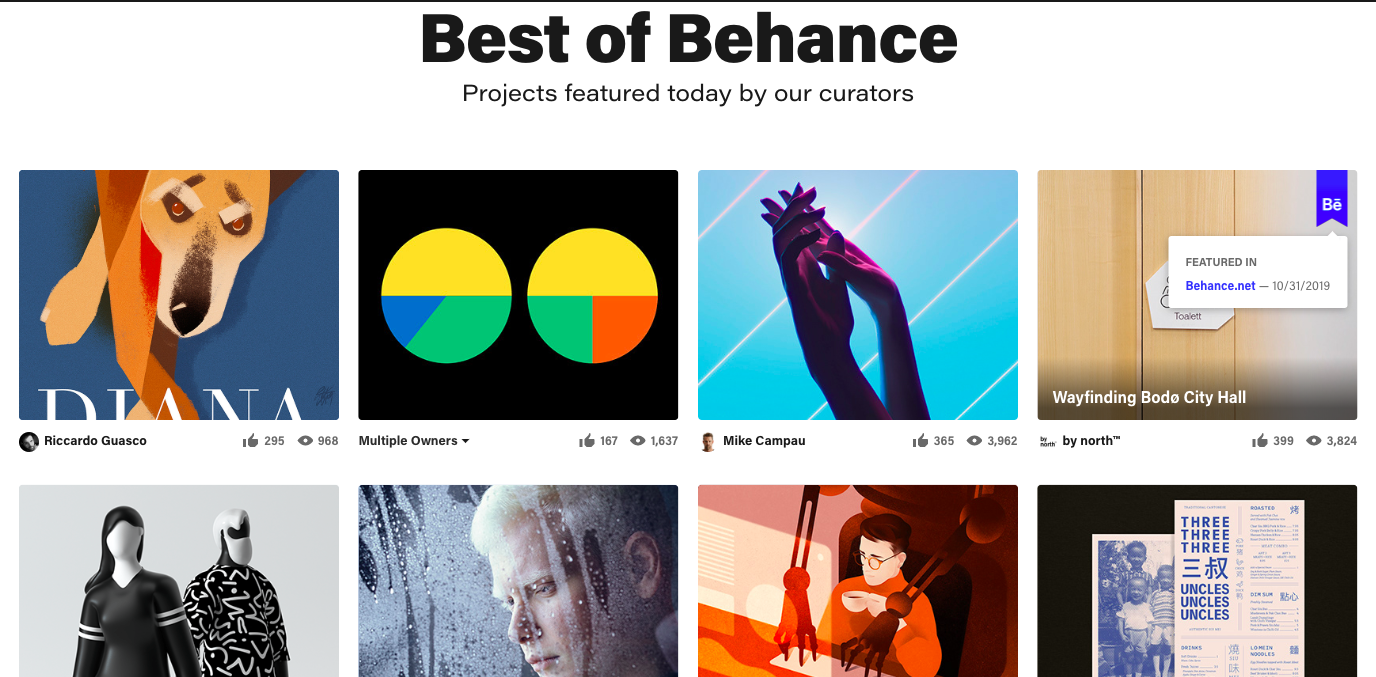 Adobe Sign (formerly EchoSign) is one of the leaders of web-based electronic signatures. By integrating it into the company's document services, Adobe was able to solve one of the pain points of PDFs at the time — the fact that you couldn't sign them electronically. This was a win for consumers as well as the company, which was then able to offer integrations with other platforms like Dropbox and Salesforce.

Related Marketing Case Studies:
Adobe's SEO Game by the Numbers
If you take a look at Adobe.com on Ahrefs, a few things jump out:
Their Ahrefs rank is 13, which means that they own the 13th largest website in the world.
They have 2 million referring domains, meaning 2 million unique backlinks.
They rank for almost 10 million organic keywords.
Their traffic value is $48 million (so if you were buying this traffic on Google, you'd be paying $48 million a month to have the level of traffic that they currently have).
From an organic health perspective, what I also like to look at is how their traffic is trending over time. Take a look at the organic traffic graph below — it's basically flat: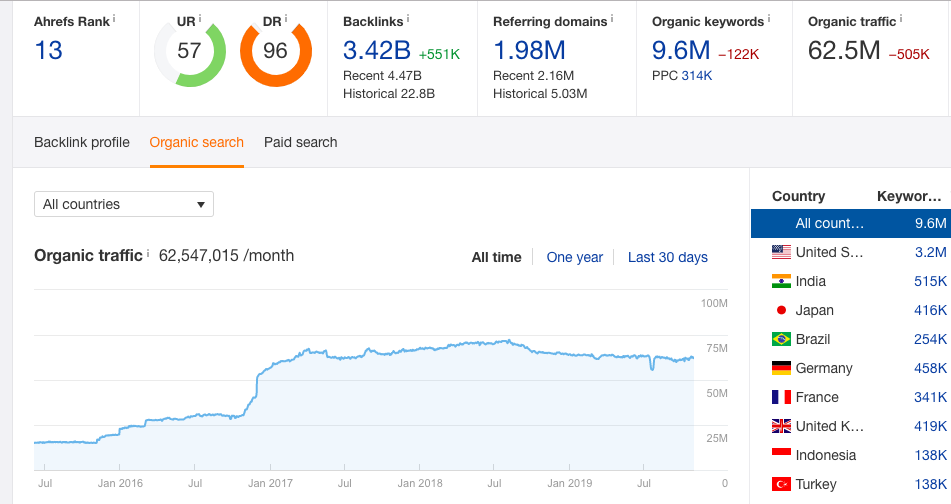 And if you look at the number of organic keywords they rank for, that's pretty flat, too: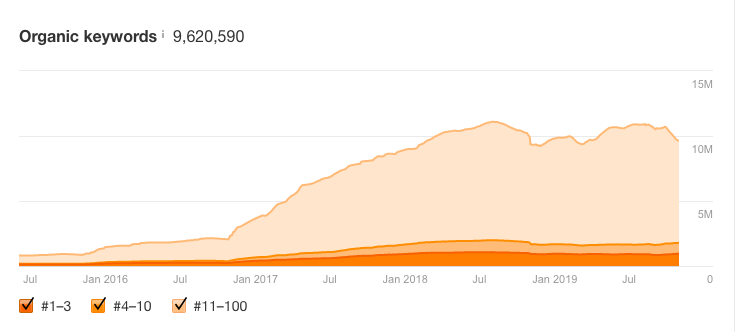 When you're a website that's as big as Adobe, you're not really expecting your traffic to go much further out, you're not going to grow much more. Plus, Google had a lot of algorithm changes this year, which made everyone take a hit traffic-wise. Adobe's traffic value has gone down a little bit over time, but if I were them I wouldn't be too worried just because they're so huge.
Now, let's take a look at their top pages to see what they're doing from an SEO perspective. As you can see below, a lot of the things they rank for are brand-related: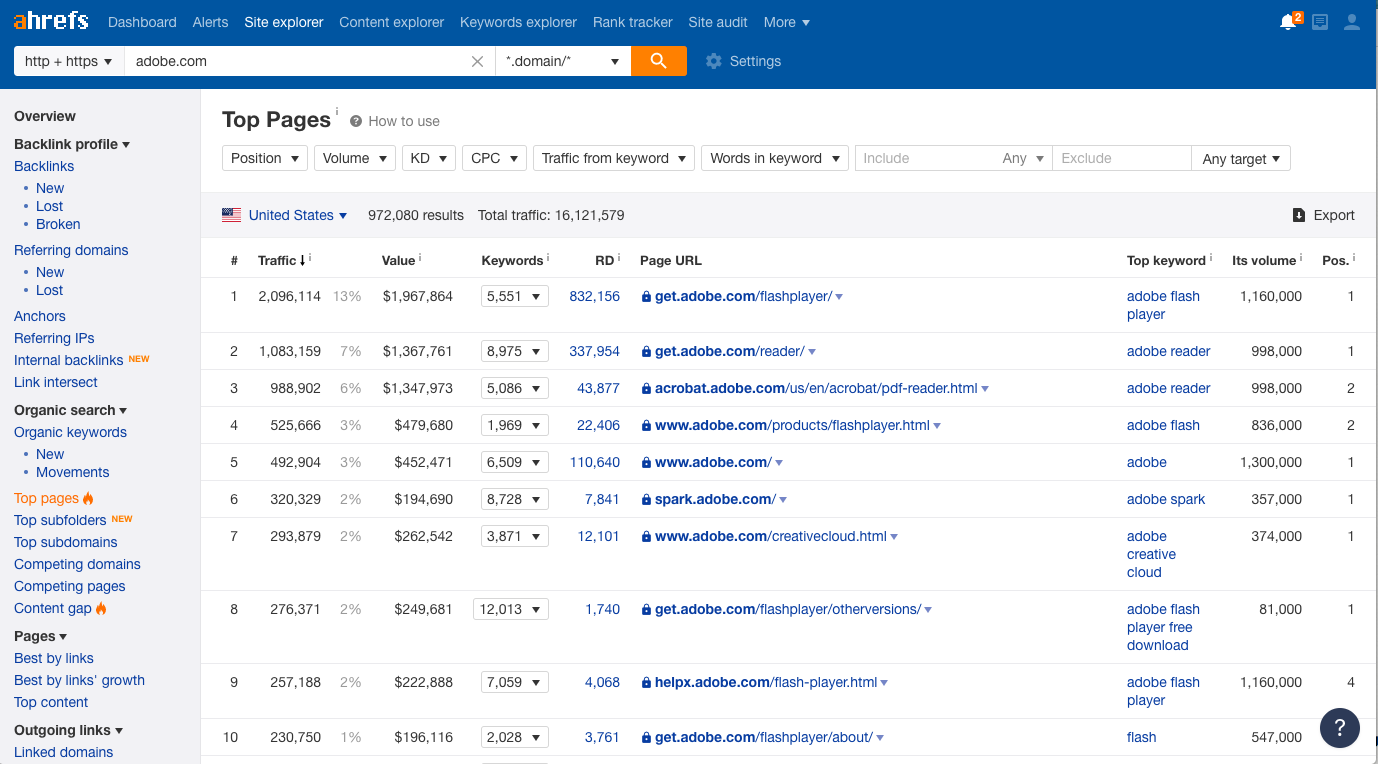 That's another important thing when it comes to SEO — if you can build more brand queries, you're going to be more powerful. We talk a lot about this on the Marketing School podcast.
Here are some metrics on a couple of Adobe's other properties:
CMO.com ranks for 3.8 million keywords, despite having such a limited audience.
Behance has an Ahrefs rank of 107, which means it's just outside the top 100 sites in the entire world.
Basically, the Internet is a cesspool of junk, right?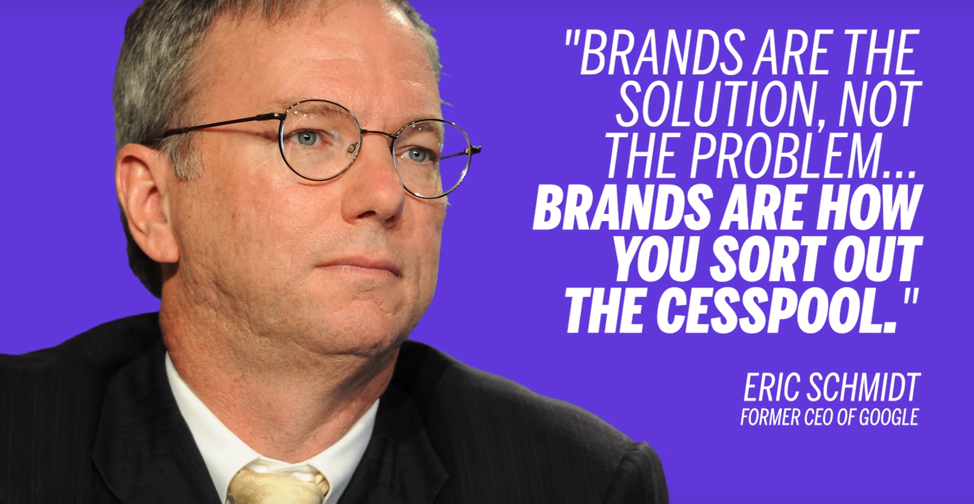 So at the end of the day, it's the brands that offer great products and services that are going to rise to the top because they're playing a long-term game. And Adobe, of course, has been in the game for a long time. They have that brand recognition, so they get all the links and mentions.
Here's another simple lesson when it comes to SEO: if you build amazing products, people are going to link to them.
Click To Tweet
Dive Deeper:
Adobe's Content Marketing Strategy
Adobe offers a wealth of content that caters to both of their important demographics: creatives and business leaders. CMO.com hits the latter, but their creative content taps into a strong community of people who actually use their design tools every day.
Behance was a smart play, because it's mostly user-generated content. It basically keeps itself running. And Adobe's blog is actually really good. They teach you how to do amazing things with effects, and they provide lots of tips: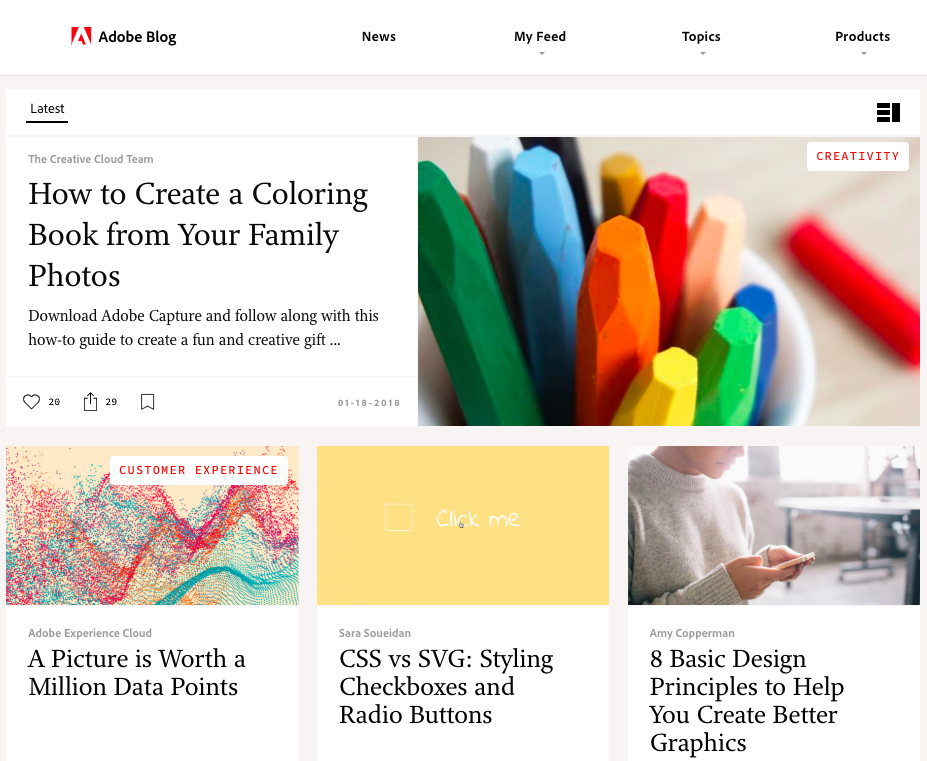 The design community is a rabid one. I used to work in that community (designers and developers), and they love this stuff. They eat it up, and they're always sharing stuff. They collaborate with each other. So giving them not only content but a chance to share and connect makes a lot of sense for Adobe as a brand.
Adobe also runs a few conferences:
These conferences offer creatives and digital marketing professionals an opportunity to network and learn, and feature famous artists, influencers and top marketers and executives. And that's also an effective form of content marketing.
Dive Deeper:
Adobe's Conversion Rate Optimization (CRO)
Adobe's conversion funnel is easy to navigate and really effective for moving users through the path to purchase. Their pricing structure (individuals, business, students & teachers) and what is included with each tier is straightforward and well laid out: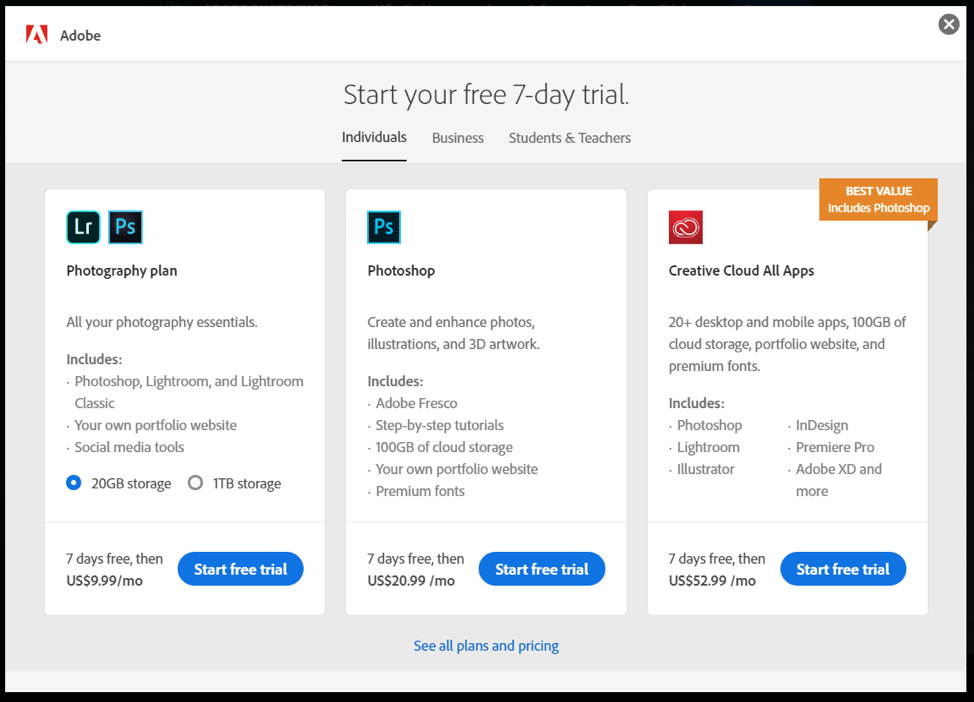 To increase conversions, Adobe also uses blog posts for cross-promotion of products in a smart way. At the beginning of many posts, they even have an "Adobe products in this article" call-out, with lots of links scattered throughout the post: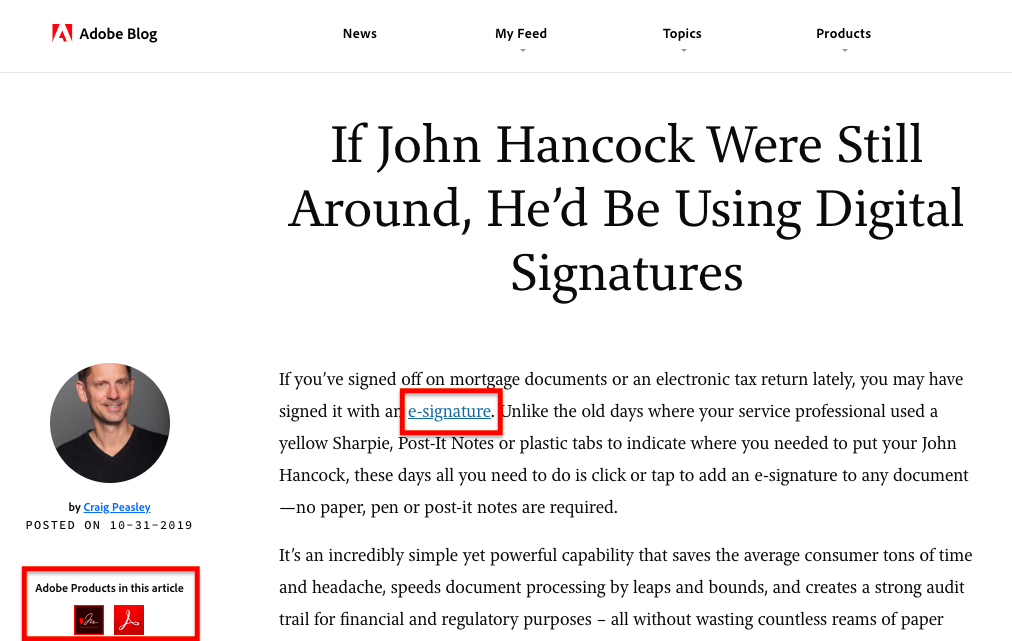 And a strong CTA at the end: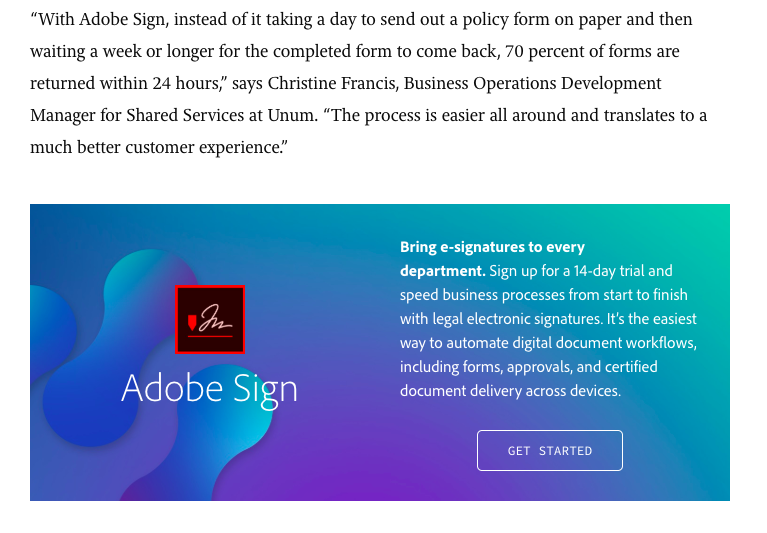 The only thing I think Adobe is missing, conversion-wise, is a chat function on the homepage (they have it elsewhere) and exit pop-ups for people who visit but don't sign up for a free trial or purchase a plan — something like what we have on Growth Everywhere: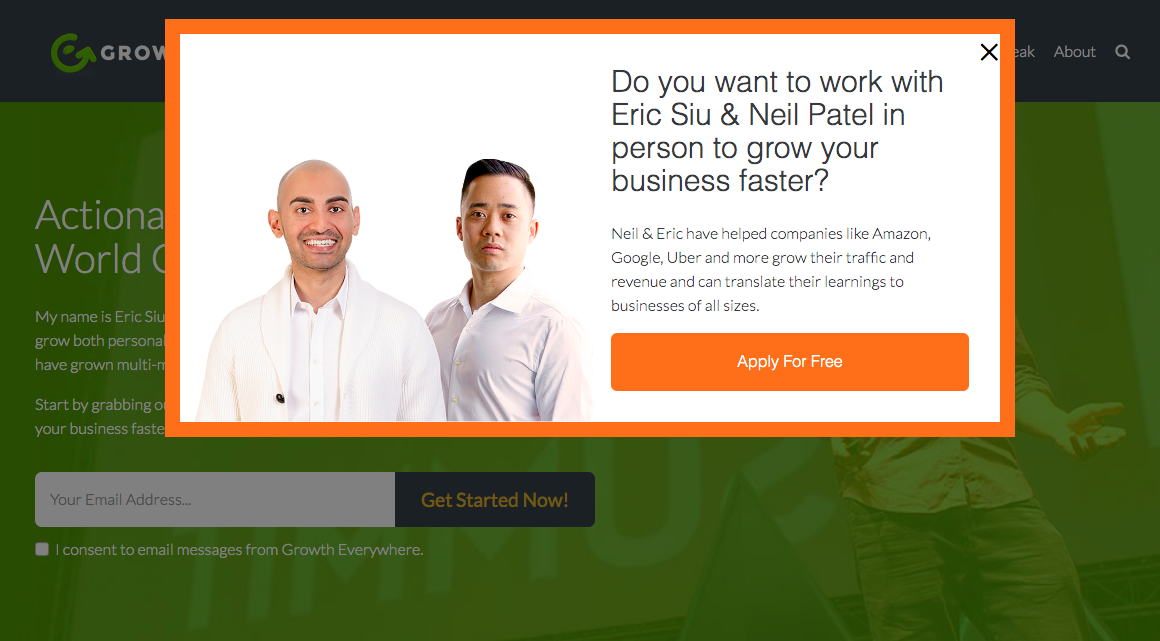 Dive Deeper:
How Adobe Spends Their Money
By using Adbeat, you can take a look at how and what any company is spending on digital advertising.
Below is an overview of Adobe's ad spend. You can see in the graph that their spending over time ebbs and flows, probably with new product releases or special promotions. For example, you can see that they ramped up their spending in April of this year: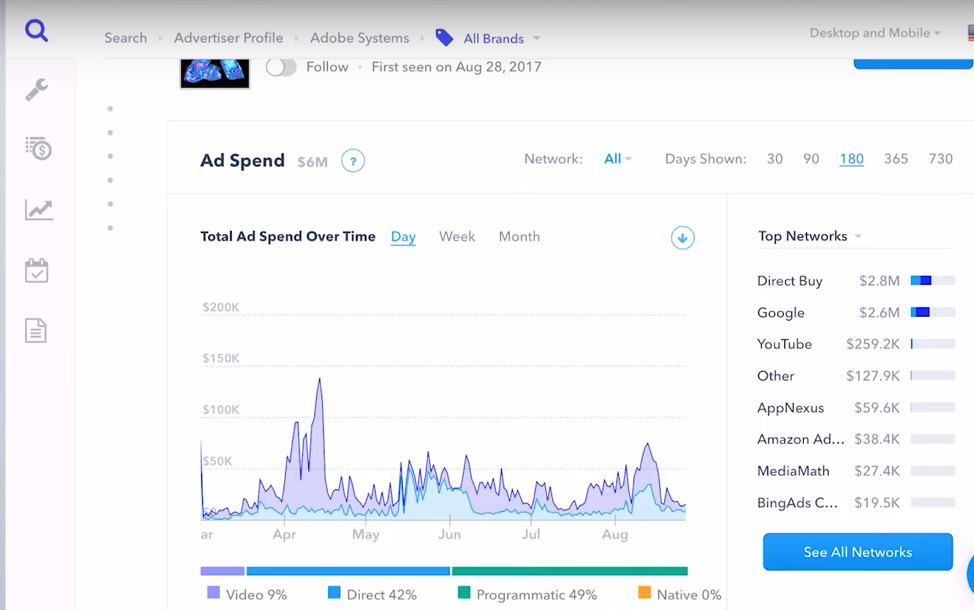 More helpful than looking at Adobe's overall spending is looking at exactly how they're spending their money:
9% of their spend goes into video
42% of their spend is direct
49% of their spend is programmatic
This gives you a good sense of how Adobe does things. If you dig into the charts a little deeper, you can see which sites they are advertising on, which regions they advertise in the most, and their top-performing ads: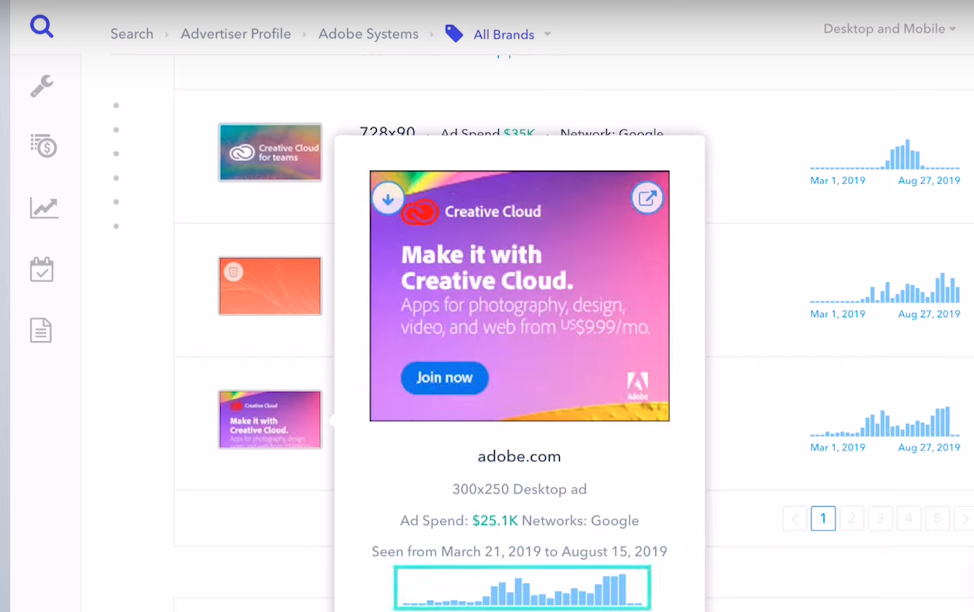 When you look at how long the ads ran, you can start to figure out which ones worked and which didn't. For example, with the above ad, you can see that it ran for quite a while (from March to August 2019) and that they increased spending over time. That tells you they were probably happy with the ROI. Other ads that ran for a short period of time likely didn't fare so well (or they were tied to a specific event or limited promotion).
Even though Adobe is a huge company, you can see that they're constantly testing things and paying attention to the fine details. If their ads are trending in the wrong direction, they redirect that money to the ones that are going the right way.
Dive Deeper:
Final Thoughts
After taking a look at how Adobe does marketing, I would give them an overall score of 92 out of 100 (basically an A across the board):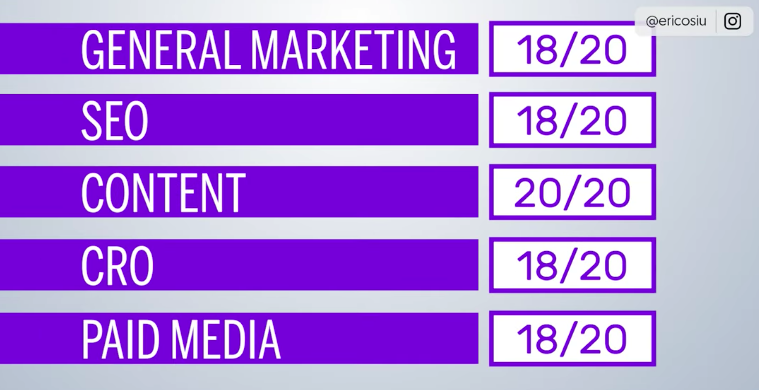 When you peek behind the curtain of a large, successful company like Adobe that has reinvented itself over and over, you can learn a lot about how to market your own products and services. You can also use these methods to explore what your competitors are doing so you can make sure that your business is doing it better.
At Single Grain, we drive persistent growth for remarkable companies. Need some help with your marketing? Click here for a free consultation.
Check out the video version of this article on our Leveling Up YouTube page where you can find tons more videos on marketing, SEO and growth!