Best Overall

Nextiva

Nextiva is an award-winning business phone service that simplifies all your communication.

Go to site

Best for Offices

Ooma

The smart phone system for small businesses, suitable for desks both at home and in the office.

Go to site

Best for Freelancers

Grasshopper

Grasshopper adds a business number to your personal phone. A solid choice for solopreneurs.

Go to site
If you're short on time, my favorite overall picks are Nextiva and Grasshopper. Both services provide the core features you'd expect—at prices that are reasonable for small businesses.
Are you looking for an affordable small business phone service?
In this post, you'll discover a summary of 8 of the top-rated VoIP phone services for business that we've tested.
You'll learn how much they cost, what features they include, what makes them great, and what makes them not so great. Let's dive in.
Best Overall Option:

Nextiva
Nextiva is a giant in the VoIP industry.
If you've heard of it, you're probably not surprised to see it making our top slot. Nextiva offers a high-end VoIP experience with a robust and reliable network, some great features, and a very affordable price to boot.
Nextiva was rated the #1 business phone service provider in 2022 by US News and World Report, and 94% of Nextiva customers said they were satisfied with their experience. Customer satisfaction rates like that are almost unheard of!
When looking through Nextiva's options, you get the feeling that the company has thought of everything. Plans come with desktop and conference room phones, making it one of the few VoIP services that include hardware. We use Nextiva ourselves at Single Grain, and the whole system works seamlessly.
Plus, Nextiva has a whole suite of video conference tools, making it a fantastic all-around communication package.
Expert Review: In our testing, Nextiva is the best overall small business phone service when taking into consideration pricing, features, and ease-of-use. Try Nextiva for free today.
Best Freelancer and Solopreneur Option: Grasshopper
Not every business needs a desktop phone and dozens of extensions. Freelancers and solopreneurs sometimes need a business phone service just like any other company does, even if their needs are slightly different.
Grasshopper caters precisely to this demographic. Unlike many of the other services on this list, this company doesn't focus on desktop phones. Instead, it provides a mobile app that makes it easier to run your business from your smartphone which, for many solopreneurs, also happens to be your personal phone.
For example, if you miss a call, you can have Grasshopper send an automatic text to follow up so that you don't lose the client to someone else. Or, if you find yourself getting caught off guard picking up business calls when you're in personal mode, you can ask Grasshopper to alert you when a call is business-related so you can move to a quiet area and prepare yourself to make a great impression.
Unfortunately, Grasshopper is a bit on the pricey side, especially considering that it doesn't come with any hardware. Still, if you're a solopreneur or freelancer, this is one business phone system that's definitely worth looking into.
Related Content: 6 Best Cloud Hosted PBX Providers for 2023
8 Best Business Phone Services
Before we go any further, here's a quick overview of our full list: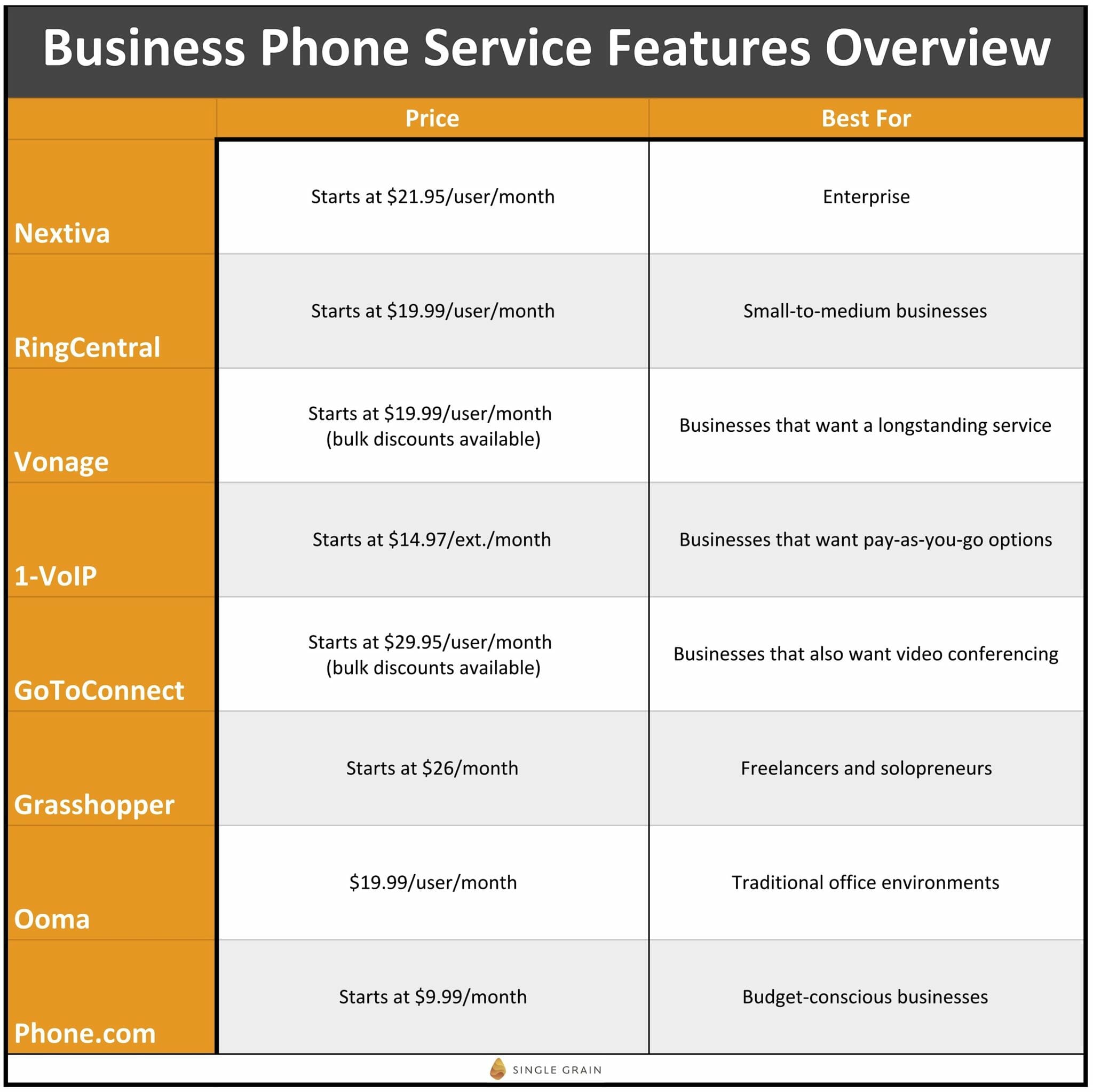 1) Nextiva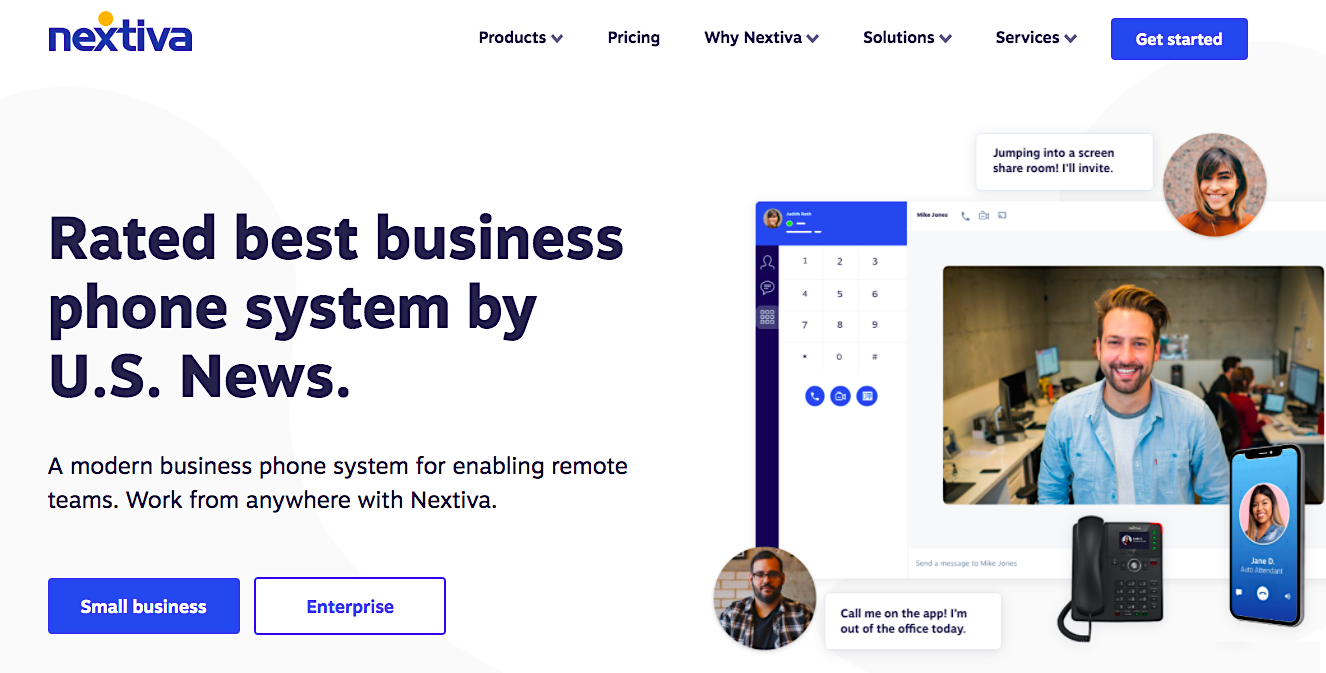 Out of all the providers we've looked at, Nextiva provides one of the most robust and reliable networks around and is a leader in the VoIP business phone space: They have connected over 1 billion calls, were rated the #1 business phone service in 2023 by US News and World Report, 94% of the businesses that have used Nextiva said they are satisfied with their service, and 90% of their customers say they'd recommend it to others.
So what makes Nextiva such a popular service? It offers enterprise business phone service at a very affordable price. Plus, it has great features, comes with the hardware you need, and has a very reliable network.
When you sign up with Nextiva, you'll get:
Desk phones
Conference room phones
Apps to manage your phone, text and email communications
A mobile app
CRM integrations like Salesforce and HubSpot
Nextiva offers three plans, the price of which depends on the number of users and the features provided. Here are the plans and some of their features:
Essential:
Starts at $21.95/user/month (discounts available for annual subscriptions)
Unlimited calling within the U.S. and Canada
1,000 toll-free minutes
Unlimited audio conferencing for up to 4 participants
Google and Outlook integrations
Professional:
Starts at $24.95/user/month (discounts available for annual subscriptions)
Unlimited business SMS
2,500 toll-free minutes
Unlimited audio conference calls for up to 40 participants
Unlimited video conferencing
Team messaging
Call recording
Enterprise: 
Starts at $31.95/user/month (discounts available for annual subscriptions)
10,000 toll-free minutes
Unlimited audio conference calls with unlimited participants
Call recording
Audio and video screen sharing
Zendesk, HubSpot, Salesforce, and ServiceNow integrations
Voicemail transcriptions
Each of these plans builds on the last, so if something is in the Essential plan, it will also be included in the Professional.
Learn more about Nextiva right here.
2) RingCentral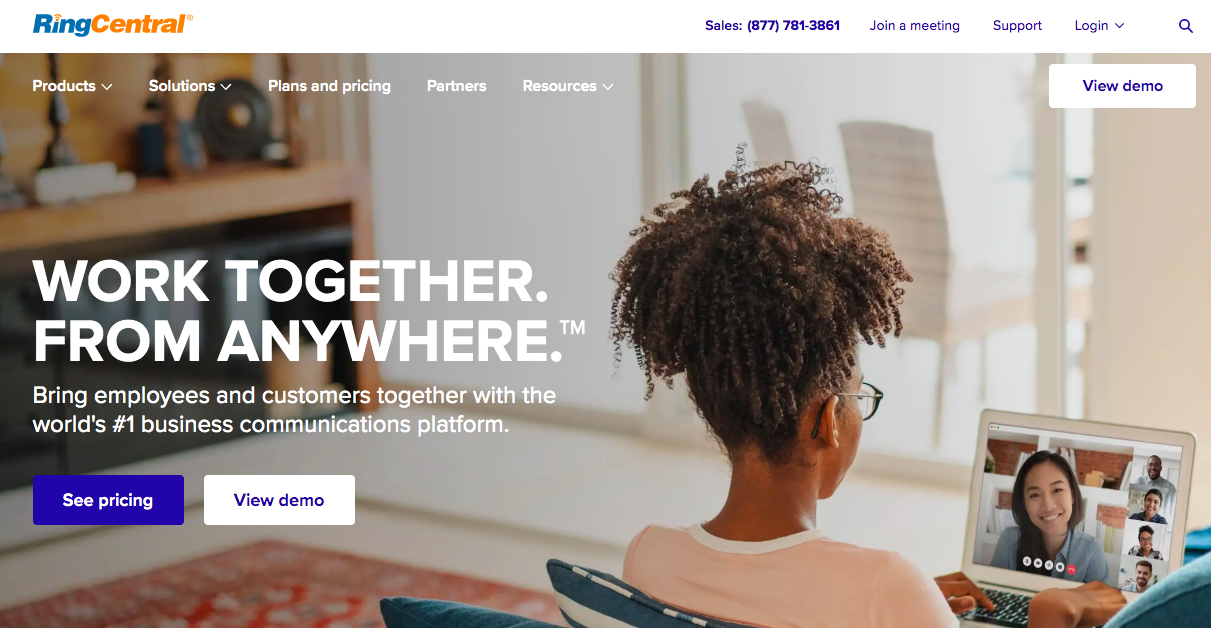 RingCentral is no small fry in the VoIP space. Touting over 2 million users, it's clear that the company is doing something right.
While there's a lot to like about RingCentral, one of its best points is that it has quite a few different plans available. Simply put, that means that users have options and won't be pigeonholed into having to decide between plans that have either far too much or far too little. Plus, plans can be customized to include additional features like vanity business phone numbers and international toll-free calling à la carte.
RingCentral offers four different plans, each building on the former:
Essentials:
Starts at $19.99/user/month
Maximum of 20 users
Provides 100 toll-free minutes/month
Unlimited domestic calls (U.S. and Canada)
Standard
Starts at $24.99/user/month
No users maximum
Provides 1,000 toll-free minutes/month
Unlimited audio and video meetings (maximum of 4 video participants)
Unlimited internet fax
On-demand call recording
Premium
Starts at $34.99/user/month
No user maximum
Provides 2,500 toll-free minutes/month
Video conference participant limit increased to 100
Integrates with Salesforce and ZenDesk
Automatic call recording
Ultimate
Starts at $49.99/user/month
No user maximum
Provides 10,000 toll-free minutes/month
Video conference participant limit increase to 200
Automatic call recording
And no matter which plan you choose, you'll have access to some features like:
Unlimited SMS
iOS and Android apps
HD voice
24/7 customer support
Call log reports
For most users, the deciding factors will be the number of toll-free minutes you get each month and how many people you can have on video calls at the same time. If you're planning to use your VoIP very rarely, the Essentials plan should serve you well. But if you're looking to use RingCentral for enterprise applications, you'll need to go with one of the higher plans.
Overall, RingCentral provides a reliable VoIP service that can be tailored to each business's needs.
3) Vonage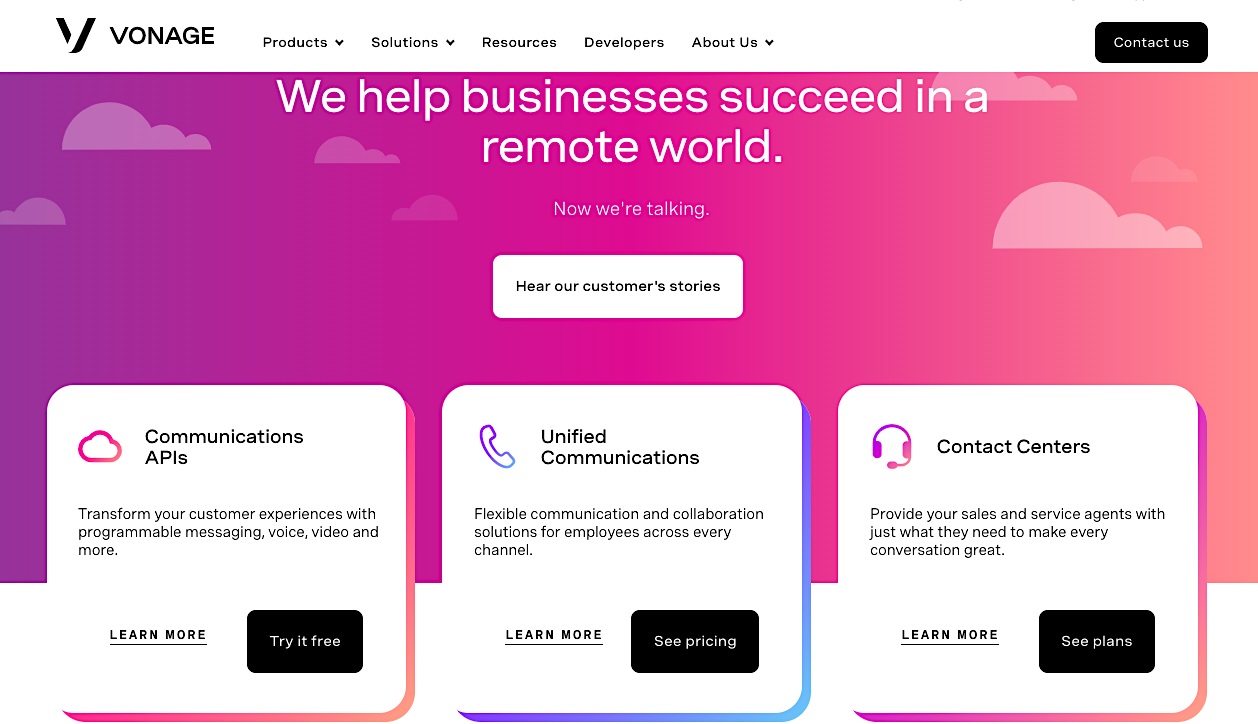 If you watched TV at all during the early 2000s, then Vonage may stir up some feelings of nostalgia for you. Back then, they were perhaps the best-known internet phone provider, thanks to its quirky commercials.
But although the company was focused on residential VoIP phone systems in its heyday, they have since pivoted to concentrate on the more lucrative business phone market. Vonage offers several products for businesses: communications APIs, unified communications, and solutions for contact centers. 
Vonage has three different plans, each of which has different prices depending on the number of lines you choose:
Mobile
Only allows calls to and from mobile devices and laptops or desktop computers
Designed for remote team members and businesses that don't require desk phones
Pricing:

1-4 lines: $19.99/month/line
5-19 lines: $17.99/month/line
20+ lines: $14.99/month/line
Premium
Allows calls from all types of devices, including traditional phones
Designed for businesses with traditional office environments
Pricing:

1-4 lines: $29.99/month/line
5-19 lines: $27.99/month/line
20+ lines: $24.99/month/line
Advanced
Includes additional calling features like visual voicemail and call groups
Provides a dedicated team for set up and onboarding
Pricing:

1-4 lines: $39.99/month/line
5-19 lines: $37.99/month/line
20+ lines: $34.99/month/line
But Vonage's plans are much more flexible than this list would have you believe. They offer a smorgasbord of add-on features to choose from, including visual voicemail, call recording and toll-free numbers.
Plus, they make it easy to purchase the hardware you need by providing you with a large selection of phones that have been tested for compatibility with Vonage. However, if you already have the hardware in place, they will work with you to make sure you can get your current setup working with their service.
You may also like:
4) 1-VoIP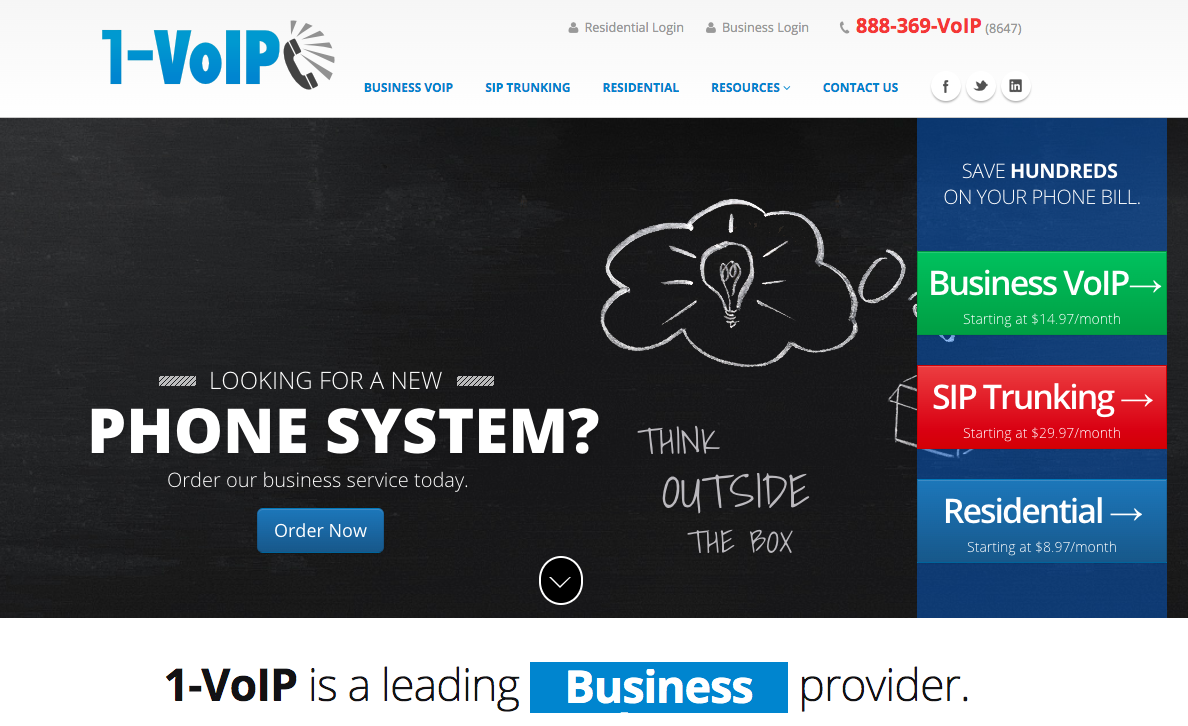 1-VoIP is the most flexible VoIP service on this list, and it's pretty cheap to boot, with a starting price of $14.97/extension/month.
Unlike many of the other providers on this list, 1-VoIP offers a "pay as you go" or "metered" option for phone service. Instead of paying a flat monthly fee for more minutes, you can opt to pay $0.02/minute in addition to the base $14.97/extension/month price. This works out pretty well as long as you keep your usage to 200 minutes per month or less (after this point, you'd do better upgrading to a higher plan).
1-VoIP offers three different plans:
Metered:
Starts at $14.97/extension/month
Pay for what you use at a rate of $0.02/minute
Corporate
Starts at $19.97/extension/month
Better deal if you use more than 200 minutes per month
Professional
Starts at $24.97/extension/month
Includes hardware costs
No matter which you choose, every 1-VoIP plan comes with the same standard features. And that's great considering there are over 40 of them. They include:
Configurable caller ID
Digital queues
Custom hold music
Voicemail
Unfortunately, 1-VoIP doesn't have a mobile app, but you can use ZoiPer Softphone (a third-party app) to get all the same features (picking up and making calls, etc.) that you would have if 1-VoIP did have a mobile app.
Overall, 1-VoIP is a very good choice for businesses that need flexibility or aren't sure how much they'll be using their phone. According to its site, they have some of the highest customer ratings in the VoIP space, so if they're to be believed, that's a very good sign that you'll likely have a good experience with their service.
5) GoToConnect (formerly Jive)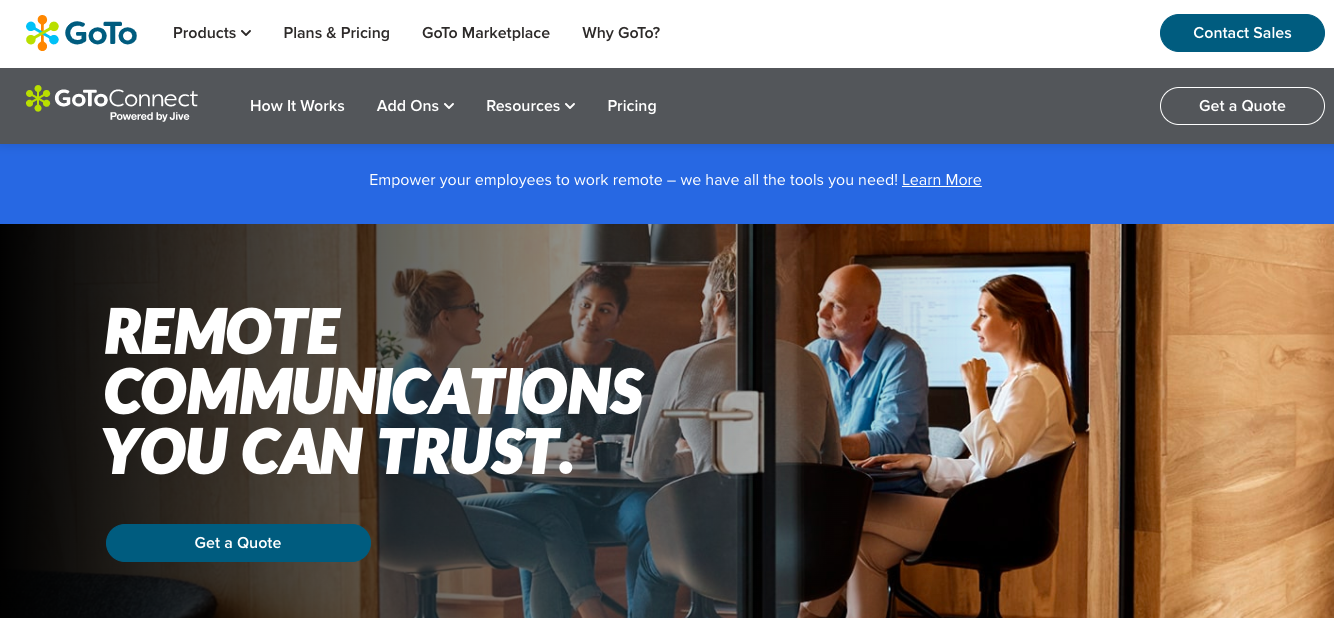 GoToConnect is a new offering that combines GoToMeeting's audio and video conferencing capabilities with Jive's VoIP phone service. The result is a one-stop communication package that provides everything most businesses will need to communicate effectively. It's also entirely cloud-based, which may make it easier to maintain your hardware.
Overall, GoToConnect strives to be all-inclusive. Unlike other providers that price their services based on the features you select, GoToConnect bases its pricing entirely on how many users you'll have. GoToConnect's prices are:
1-4 users: $29.95/user/month
5-9 users: $25.95/user/month
10-24 users: $23.95/user/month
25-49 users: $21.95/user/month
50+ users: $19.95/user/month
As you can see, the more users you add, the less you'll pay.
And GoToConnect offers all the same features regardless of how many users you have. There are over 80 features, so there's no doubt that this is one of the most complete packages on the market.
Some of GoToConnect's features include:
Call routing
Caller ID
Custom hold music
International calling
Wait time announcements
GoToConnect also stands out from the competition by offering features that are specifically designed for call centers, such as pre-call announcements, wait time announcements and unlimited call queues. It's one of the only companies that seems to be making an active effort to appeal to the needs of contact centers.
Overall, GoToConnect provides a high-end business phone experience. Compared to other services we've covered, it's a bit on the pricey side, with a starting price that's double 1-VoIP's lowest-cost option, for example. That said, if you need a service that's jam-packed with features, GoToConnect is definitely worth a look.
6) Grasshopper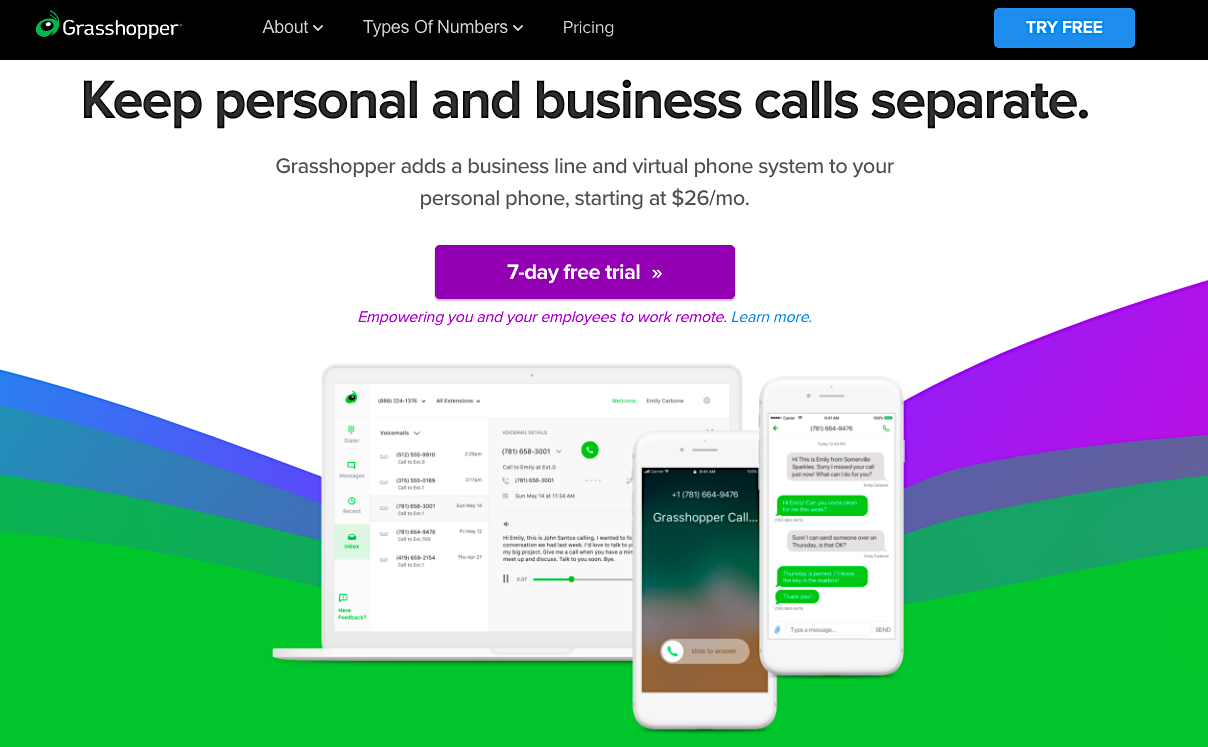 Unlike some of the other options on this list, Grasshopper is a pretty small company with a fairly modest offering. Whereas RingCentral has over 2 million users, Grasshopper has served just 350,000 "happy customers." However, a small user base can sometimes be a plus: With fewer users, the company can dedicate more time and effort toward each individual.
Most of the options we've looked at so far are geared towards traditional office setups with desk phones. However, Grasshopper is a better fit for freelancers, solopreneurs and small teams who are planning to use their cell phone to conduct business. Its main clientele is people who want a separation between their personal and business phones, but still want to use their mobile phone.
For example, real estate agents might want to give out their Grasshopper phone number to clients so that they can be easily reached without having to give out their personal number or carry around two phones all the time. It also alerts you when an incoming call is business-related so that you don't get caught unprepared when you pick up the phone expecting a personal call and quickly realize that it's a potential client.
Grasshopper offers two services: Grasshopper and Grasshopper Connect. The main difference between the two is that Grasshopper Connect doesn't just unify your business phone service; it also lets you view calls, texts and emails from one place.
Unfortunately, Grasshopper doesn't come cheap. With a starting price of $26/month, it's definitely a bit on the pricey side, especially considering that they don't offer any hardware. Grasshopper's pricing is as follows:
Solo: 1 number, 3 extensions, starting at $26/month
Partner: 3 numbers, 6 extensions, starting at $44/month
Small Business: 5 numbers, unlimited extensions, starting at $80/month
Keep in mind that with any plan you'll be treated to some innovative and advanced features, like auto-texting, which can automatically send a text to any missed calls to try to prevent them from taking their business elsewhere. Overall, a great business phone system for solopreneurs, freelancers and small businesses.
7) Ooma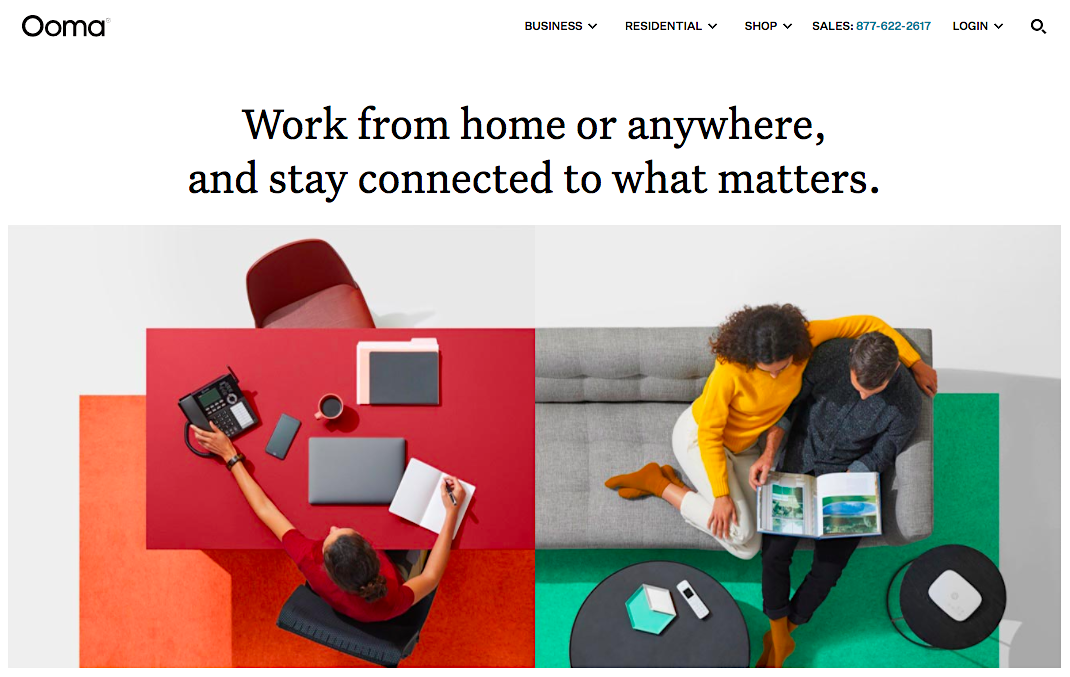 Ooma is a well-established VoIP provider with a long track record of customer satisfaction. For the past seven years, PC Magazine voted Ooma the number one business VoIP, and that should be enough to make anyone give it some careful consideration when looking for the best phone service for their business.
Ooma Office is an enterprise phone system for small businesses and includes "big business features at small business pricing" — and they're not lying. Ooma includes:
Extension dialing
Virtual receptionists
Hold music
The ability to keep your old number
The ability to use the Ooma mobile to make and receive calls
For all this, Ooma charges $19.99/user/month. This fee stays the same no matter how many users you have, which keeps the pricing simple and free of unwelcome surprises as you grow your business.
All this sounds a bit too good to be true and, unfortunately, it is: Ooma doesn't include the cost of hardware in its standard pricing. When you figure that in, Ooma doesn't end up being as cheap as it seems. For example, its Business Phone Starter Pack costs $99.99 and comes with one Ooma base station and two wireless extensions, which are compatible with existing analog phones. Other packages that include actual phones are more in the $200 range.
That said, it is possible to use Ooma exclusively with the mobile app, which would eliminate the need for hardware. However, if that's what you're looking for, you may be able to find better and cheaper options for your needs.
Assuming you do go all in with Ooma, you'll be happy to know that they provide superb customer service. Plus, they are known for having an easy set-up process, so between the ease of use and the helpline, you should be sailing smoothly after the initial financial investment.
8) Phone.com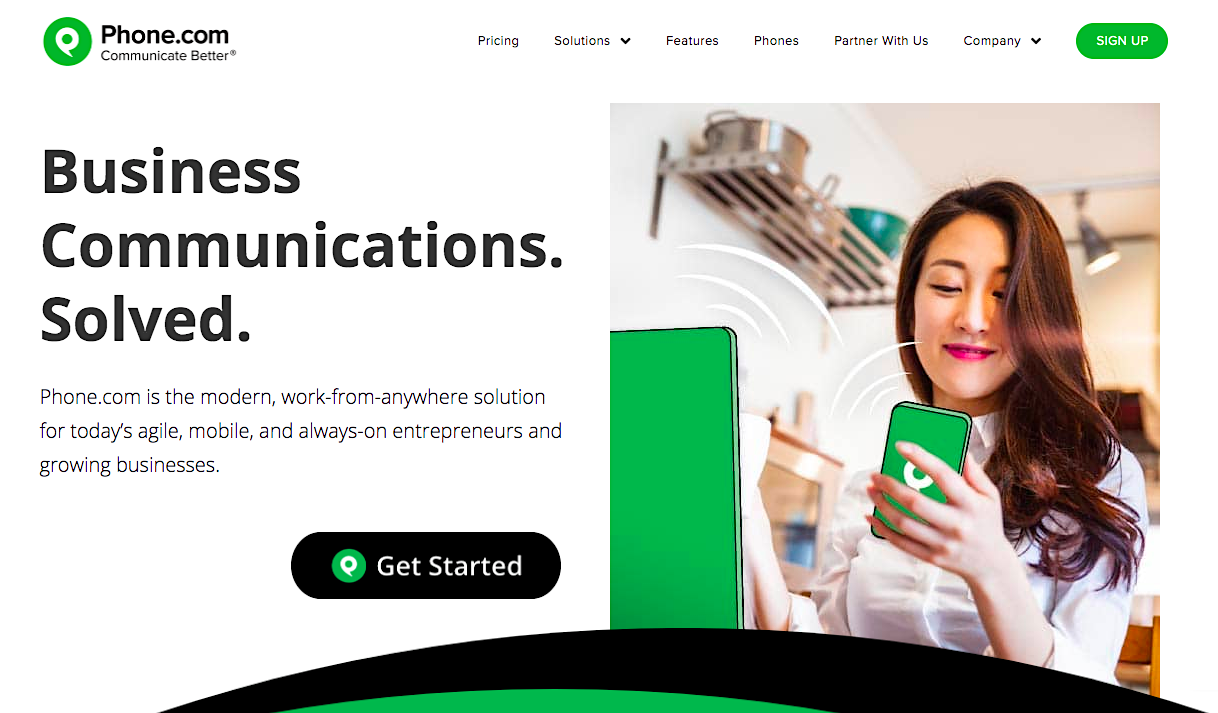 Phone.com differentiates itself in three ways:
It's cheap
It's HIPAA and HITECH compliant, so it's a natural choice for medical professionals and businesses
It's the only service on this list that's capable of dialing 911
With plans starting at just $9.99/month, Phone.com is the cheapest VoIP phone service you'll find. It also provides a good deal of flexibility with its pay-per-minute options.
Phone.com divides its pricing into two subgroups: pay-per-minute plans and unlimited plans.
The pay-per-minute plans have the following prices and features:
Base:
$12.99/month ($9.99/month if paid annually)
300 minutes/month
1 local or toll-free number
5,000 SMS messages
Over 40 features, including call queuing and voicemail to email
Plus:
$19.99/month ($14.99/month if paid annually)
500 minutes/month
2 local numbers or toll-free numbers
10,000 SMS messages
Additional features like premium hold music and automated voicemail-to-text
Pro:
$39.99/month ($29.99/month if paid annually)
1,000 minutes/month
3 local or toll-free numbers
20,000 SMS messages
Additional features like call analytics and 300 call recording minutes
The unlimited plans all have unlimited monthly minutes and unlimited user extensions:
Base:
$29.99/extension/month ($24.99/extension/month if paid annually)
1 local or toll-free number
5,000 SMS messages
Call forwarding
Plus:
$37.99/extension/month ($32.99/extension/month if paid annually)
2 local or toll-free numbers
10,000 SMS messages
Premium hold music
Pro:
$59.99/extension/month ($49.99/extension/month)
3 local or toll-free numbers
20,000 SMS messages
Call analytics
Despite their differences, all of these plans come with the same set of base features, such as:
Fax-to-email
Call routing
Audio conferencing
Voicemail-to-email
Dial-by-name directory
Auto attendant
As a whole, Phone.com is best viewed as a very good budget option. A good portion of the testimonials on its site mention that Phone.com is more reasonably priced than other comparable services and, luckily, they don't seem to sacrifice any call quality to reach this low price point. Instead, it simply gives users a variety of options to choose from so that they won't have to pay for more than they need.
You may also like:
How to Evaluate VoIP Business Phone Services on Your Own
In this guide, we've looked at eight of the best VoIP business phone services, but this list is by no means exhaustive. So if none of these options quite fits the bill, how do you go about evaluating other phone system offerings?
You can start by asking yourself these questions:
✔️ How large is my business?
Business phone systems often design their offerings with a certain type of business in mind, be it a solopreneur, small business or an enterprise. While many services offer different plans for different business sizes, some services are simply better equipped for one type.
When looking into VoIP providers, evaluate how their services might fit into your business. Does it provide enough extensions? Is the number of minutes sufficient for your needs?
✔️ How much phone time do you anticipate?
Business phone services tend to price their plans partially around the number of minutes provided. If you and your employees are constantly picking up the phone, then you'll likely need a provider that offers unlimited plans. But if making calls is a rarity, you may want to go with a metered or pay-per-minute option.
✔️ What's my budget?
It should come as no surprise that staying within budget is essential. Some providers are simply priced more competitively than others, so you'll have to consider how that fits into the bigger picture. For example, can you afford more features? Or will you be better off with fewer features but a lower price tag?
✔️ What features are absolutely essential?
Every business has its own unique needs to consider. Some businesses will require phone services that have desktop apps, while others will fare just fine with a mobile app. Make a list of the reasons that you need a business phone service in the first place, and score each option on how well it meets those needs.
As with most decisions, there is no one-size-fits-all phone solution. Business phone services come in many different shapes and sizes, so you'll need to find the one that fits best into your larger business strategy.
Despite the rise of text messaging and email in business communications, nothing really beats the ease of being able to simply dial up a colleague or client, make a personal connection, and talk things out.
Although video conferencing is gaining popularity, it's often viewed as more intrusive than phone calls. In fact, landline phone calls are still the go-to method:
A recent BrightLocal survey found that 60% of consumers prefer to contact businesses by phone.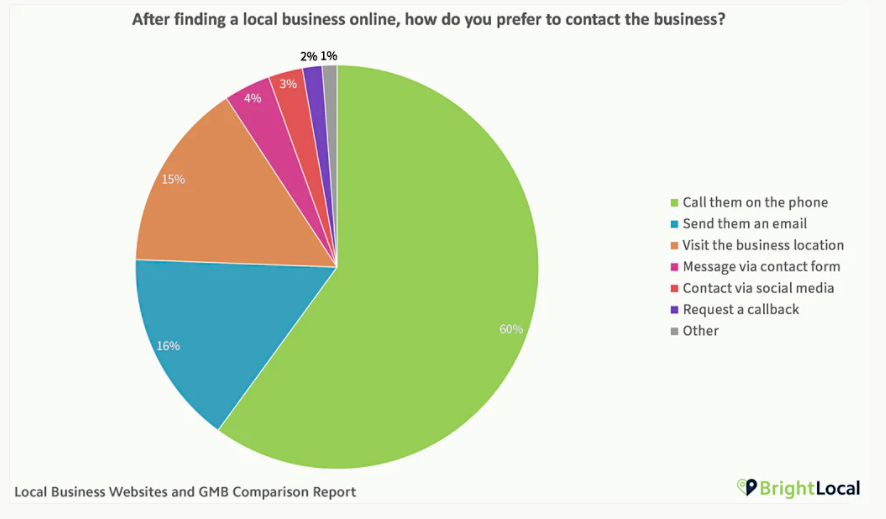 Today, voice over internet protocol (VoIP) services offer a low-cost and high-tech alternative to traditional public switched telephone network (PTSN) solutions. In short, VoIP services push your voice through and internet connection instead of a traditional phone line.
---